As long-term travellers, spending the holiday season abroad is inevitable. Many of us aren't home during this time and although we miss family, friends, traditions and food, spending Christmas overseas is a unique way to enjoy the holidays…and create some fantastic memories!
Here's what some of our favourite travel bloggers had to say about their fondest Christmas memories abroad.
Y Travel Blog:
Our favourite Christmas abroad was in 2003 at Victoria Falls, Zimbabwe. Victoria Falls exudes an atmosphere of peace and beauty, it was special to experience Christmas here.
On Christmas Eve, we did a sunset cruise on the Zambezi River for only $20 including food and drink. There is nothing like having a Zambezi beer on the Zambezi River with hippos yawning in the background as the sun is going down.
Craig and I started Christmas morning with a walk to the falls through the rainforest created by its roaring spray. We then ate a 5 course Christmas lunch, with wine, for only $15 each with the sound of the falls thundering and a halo of mist spraying in the background. It was pretty magical.
– Caz & Craig of Y Travel Blog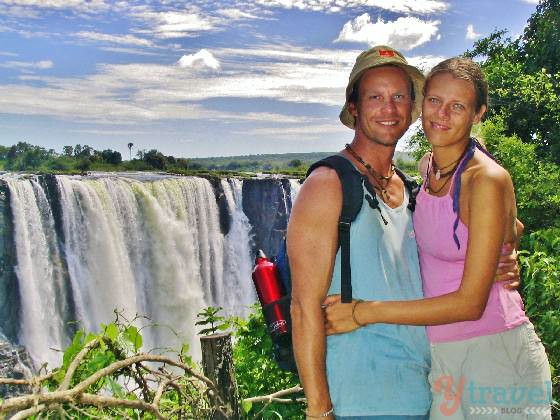 The Barefoot Nomad:
We've been traveling together since 2003, and we've spent Christmas all over the globe; everywhere from New Zealand to Mexico to the Philippines to Canada. Of all these, our Christmas in Merida, Mexico was probably my favorite. We rented a little colonial house in the city centre, with a lot of charm, but completely lacking in Christmas decorations. We didn't have a traditional Christmas tree, so Santa put the kids' presents under a vase of ostrich feathers we found in the front entrance. Our kids thought the ostrich tree was a lot of fun, and it brought home, yet again, that the best things about Christmas really don't depend on having the perfect decorations or the perfect location.
– Charles & Micki of The Barefoot Nomad
A Couple Travelers:
One of my favorite Christmases was in 2010. Dave and I were working full time in Washington DC and drove up to our families' houses in Massachusetts. From there my parents, Dave and I all headed to Bromont, Canada, where we spent the Christmas holidays at a ski resort with other family members and friends. All together we had a group of about 20 people all staying at a quaint and charming Chateau right outside the ski resort. We spent the days skiing, sitting by the fire, soaking in the outdoor roof jacuzzi, and just enjoying each others' company. I love to be surrounded by friends and family during the holidays, and with skiing being one of my favorite activities I got to have the best of both that Christmas.
– Vicky & Dave of A Couple Travelers
Uncornered Market:
A couple of years ago we spent Christmas with a good friend on the island of Koh Samui Thailand. On Christmas day, the three of us hopped on his motor bike, bought a couple of Santa hats outfitted with flashing lights and drove around the island like Christmas ambassadors. We waved to just about everyone we saw on the road. Though some of the locals probably thought we were a bit nuts, they too got into the spirit by wishing us a Merry Christmas and bursting into laughter, yielding plenty of Thai smiles.
We concluded our ride around the island with a visit to the local fresh market. Our Christmas dinner: freshly caught squid, giant prawns and snapper, grilled and sided chili pepper sauce for a tropical Christmas feast under the cover of palm trees on a balmy night. In keeping with a bit of our own tradition, we searched the island for ingredients to make Christmas cookies. While our cookies didn't taste quite like they might have at Christmases past, they were close enough.
A bit of home amidst the island exotic, this was our tropical Christmas abroad.
– Dan & Audrey of Uncornered Market
eTramping (Cez):
The 24th of December was just about the same as any other day in Siem Reap, Cambodia. It was extremely hot, sunny, dry and nobody had even thought of the possibility that snow would come. For many, it would be great to avoid the winter blues, but on this particular day, I missed the cold and white weather. However, that was not the only one thing I missed on that day. My family gathered for plenty of food, all together, all happy, all to put on some weight and share presents. I didn't expect to miss them so badly, but I did enjoy this special day with a bunch of backpackers from my hostel.
Cambodians are mostly Buddhists, so Christmas is a day like any other for them. Only tuk-tuk drivers seemed to be into the whole Christmas stuff. Wherever we went, we heard "Merry Christmas Sir, tuk-tuk?" or "Happy Christmas, tuk-tuk?". Yes, some were disguised as Santa (hat only). Thankfully, I was not alone in Siem Reap, I was surrounded by a great bunch of people, all in a similar position as me. All of us wanted to enjoy the companionship of others and some kind of Christmas Eve celebration. We had a nice dinner together and exchanged presents which landed underneath a Christmas tree, all nicely packed just like at home. Then everyone who took part had to write their name on a piece of paper, which was drawn later. The person whose name was drawn then had a choice: to open a new present or to "steal" one from someone who had opened one before them.
– Cez of eTramping
Anglo Italian Follow Us:
Our most memorable travel Christmas is from last year, but not for the best reasons.
At some point during our time in Japan a friend told us of the new tradition of young couples to spend Christmas Day much like we would Valentines Day in the west; the difference being that they all spend it eating chicken at the nearest KFC. Strange, but a curiously entertaining alternative.
Since we were in Asia I couldn't get the idea out of my head and I thought "Why not?!" and headed to the nearest KFC on the 25th – worst idea ever.
The chicken was oily and burnt and it put the worst downer on our day which Franca won't ever let me forget! This Christmas I think I'll leave Franca in control.
-Dave of Anglo Italian Follow Us
eTramping (Agness):
Believe me or not, but I spent my most memorable Christmas at work in one of the public schools I was working for at that time. Huayuan, a small village in China where I used to live, did not celebrate this special day at all. Although it was freezing cold outside and there was plenty of snow, it did not feel like Christmas. Nevertheless, I did not give up and tried to make this day as unforgettable and amazing as possible. I bought plenty of sweets, candies and chocolate for my high school students, brought a little Christmas tree to the classroom, downloaded some Christmas songs and put a Christmas cap on top of my head. When my class started, we all sang "Jingle bells" and "We wish you a Merry Christmas", exchanged greetings and wishes, had some nice food and drew some Christmas related pictures on the board. Oh, we had a blast that day! Everyone was cheering and jumping around like crazy. Although I still missed home badly, I felt blessed for having such an amazing experience!
-Agness of eTramping
Mallory On Travel:
Christmas has always meant skiing or snowboarding trips for me, especially while I was still serving in the Army. Mainly in the European skiing resorts of Austria, France, Switzerland and Italy. Getting some snow beneath my planks, racing the pistes or exploring the backcountry ski touring especially on Christmas Day wearing a Santa hat was my perfect holiday treat. The slopes are usually at their quietest, and there are plenty of opportunities to make fresh tracks.
One of my favourite places is Val Gardena, slap bag in the middle of the Italian Dolomites. Many kilometres of great skiing terrain, and lovely picture postcard villages, such as Ortisei, St Cristina and Selva Wolkenstein. There's also the famous Sella Ronda which provides half a day of good skiing in some spectacular scenery.
It's located in the Italian Südtirol, and German is the most common language, which suits me as my Italian is poor. There's a good mixture of bars, restaurants and coffee shops perfect for apres-ski, the Glühwein flows, and the welcome is usually a warm one.
Oh and one last thing…… Christmas is guaranteed to be white!
-Iain Mallory of Mallory On Travel
Goats On The Road:
This is a hard choice for us. We've spent Christmas in Vietnam, India and China, all of which were fantastic for different reasons. Since we have to choose just one, we choose our Christmas in India.
We ended up going to Jaipur for the holidays and stayed in a beautiful Maharajan styled, penthouse room! On Christmas Eve, we went out for a not-so-traditional meal of Domino's Pizza, complete with a slender Indian Santa welcoming us inside. On Christmas morning we awoke to chai tea, brought to our room, and Christmas carols playing on our computer.
Nick and I put on our Santa hats and handed out presents we had secretly bought for each other during the previous few months of travelling. It was pure bliss.
-Nick & Dariece of Goats On The Road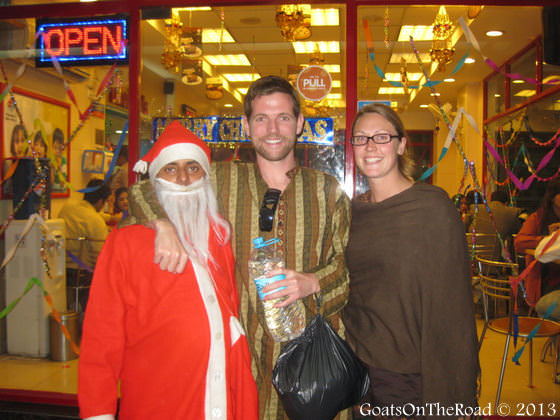 Have you ever spent Christmas abroad? Share your favourite memory with us below!
Like it? Pin it! 🙂