The Grenadines are a chain of 600 pristine islands between Grenada in the south and St. Vincent in the North. Our plan was to independently hop around a few of these islands, not flying or sailing like most people do. We weren't sure how easy it would be to travel without our own sailboat in this part of the world, but it can be done!
After the first leg of our journey from Grenada to Carriacou, we were feeling a bit rocky and woozy from the ferry ride over. We sauntered around at a very slow Caribbean pace, much slower than that of Grenada. It seemed as though people around here were crawling.
So, we did as the locals do and took our time exploring the main street, back streets and long stretches of sand. It was a Sunday, and in this part of the world, people go to church in the morning and spend the rest of the day "liming" (a Caribbean term meaning hanging out/relaxing/doing absolutely nothing). No shops are open on Sundays and rarely are there restaurants serving food.
Lucky for us, we didn't have to starve and were able to find lunch at a very colourful, funky looking cafe right on the sea. Owned by a South African woman, the Kayak Cafe serves delicious sandwiches and fresh passionfruit and soursop juice. We enjoyed our meal and the views for a couple of hours before venturing out to the sandy beach just in front of the main port town of Hillsborough.
Normally, finding a nice beach with calm waters for swimming means having to drive to a secluded bay outside of town. But here in Carriacou, the beach was literally just outside of our doorstep. We were staying at the Town House, which is on the main street in the perfect spot for eating and swimming.
Where we live in Grenada is lovely, but we aren't on the west side of the island, so we miss out on sunsets each night. We were pleasantly surprised around 6:00 when the sun began to hit the water far out in the distance, turning the sky an orange colour before disappearing completely. Sunsets are one of my favourite things and we thoroughly enjoyed this one with a beer on the beach.
We planned to stay on the island of Carriacou for two days before continuing our journey north. Unfortunately, unlike the Osprey between Grenada and Carriacou, there isn't a proper ferry that takes people between this passage. You either have to rent a private water taxi (which is just a very basic, overpriced fishing boat), come on your own sailboat, or wait for the cargo boat that apparently goes back and forth on Mondays and Thursdays.
We asked around town for the cargo ship that would take us, which we had heard was called The MV Jasper. Everyone we asked, including the tourism center, said that boat was out of commission and we needed to find someone named Troy. Our mission for the day was looking for this man and hopefully sorting out a ride on his boat. We found him at the local supermarket and told him we wanted to catch a ride to Union Island.
Since Union Island is part of the island nation of St. Vincent and The Grenadines, we needed to stamp out of Carriacou before travelling on. This was the interesting part.
We know that everything in the Caribbean is really relaxed, but we didn't think immigration would be – it never is. Troy had advised us to stamp out of the country early in the morning, even though the boat wasn't leaving until about 2:00pm. So, we listened to the captain and after receiving our exit stamp, we were able to go on about our day for the next 5 hours before departing.
We didn't have to wait in a holding room and weren't confined to an area, we could do what we wanted and according to our passports, we weren't in any country at that point!
Eventually it was time to leave and when we saw our little cargo boat being loaded up with Coke bottles, produce, canned food, beer and much more, we felt excited to be embarking on this epic adventure.
The waters weren't rough at all and our little wooden boat got us from Carriacou to Union in one piece. Luckily the journey was only 45 minutes, otherwise Nick and I would've passed out from the engine fumes! We had our heads hung out of the little cut-out windows for the entire ride, desperate to get fresh air.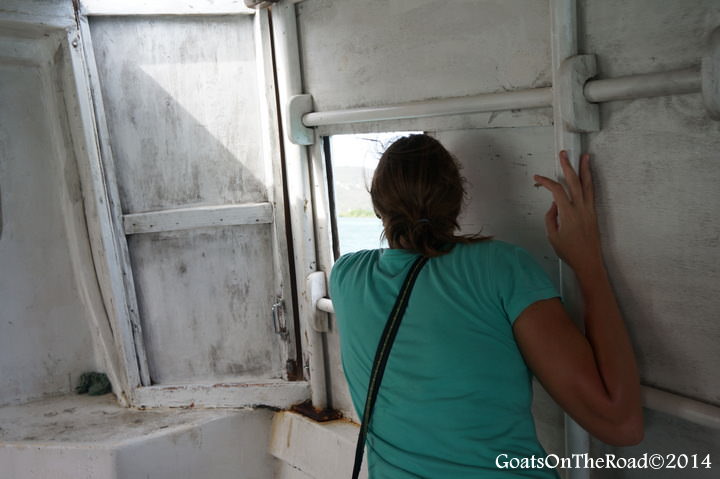 We docked at the town of Ashton on Union Island and were so excited to be visiting a new country. St. Vincent and The Grenadines, we have arrived.
Traveller's Notes & Tips:
The Town House is a clean, comfortable budget/midrange option in Carriacou. Double rooms with balcony, private bathroom and a/c cost $165EC. For reservations, call 473.409.0346 or 473.440.8126.
To get from Grenada to Carriacou or Petite Martinique, check out Osprey Lines Ferry. This is a safe, comfortable option. The price from Grenada to Carriacou is $80EC for adults, $10 – 50EC for children.
The cargo boat leaves from Carriacou to Union on Mondays and Thursdays at approximately 2:00pm. From Union back to Carriacou, the boat leaves on Mondays and Thursdays at 7:30am. The cost is $35EC/person. You will need to stamp out of the country a few hours before boarding the boat, in the case of Union to Carriacou, you must stamp out the day before.
There is a $20EC exit fee for leaving Grenada (Carriacou), payable at the immigration office.
Kayak Cafe is a funky restaurant set right next to the dock along Main St. (just across from the Townhouse). Owned by a friendly South African woman, the fresh fruit juice ($6EC), bacon & egg sandwich ($12EC) and massive conch-fritter meal ($25EC) are famous!
Check out the museum located just off of the main street. Entrance is only $5EC and there are some very interesting artifacts.
Taxis around the island of Carriacou are basically $30EC for anywhere you want to go. The island is quite small though, so we suggest doing some walking!
A big thanks to the Town House for hosting us during our stay in Carriacou. As always, all opinions and thoughts remain our own. 
Like it? Pin it! 🙂