At only a couple of miles long and with a population of around 100 residents, Staniel Cay may be small, but it packs a punch! If you're looking for a peaceful, yet fun vacation, read on to learn everything you need to know about Staniel Cay in the Exumas.
Initially, we were planning on spending 5 nights on the cay. It's so small, we didn't think there would be all that much to see and do there. We were wrong!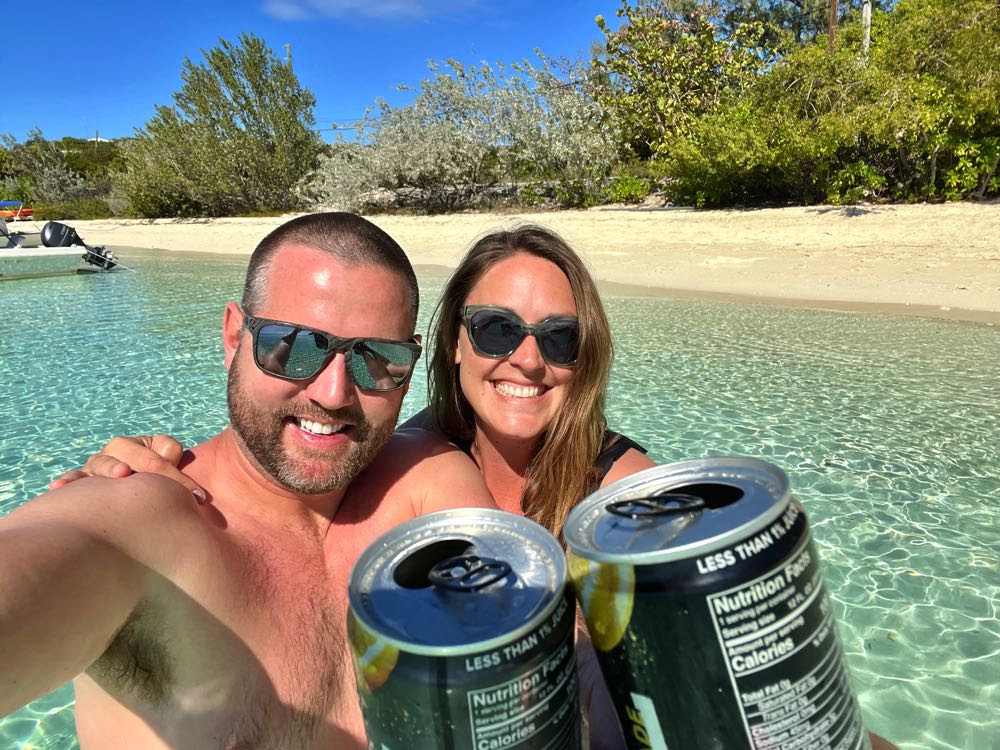 In fact, we ended up extending our stay to 10 nights and could have easily spent 2 weeks on and around beautiful Staniel Cay — there's just something magical about this place.
Known for the famous swimming pigs, the Thunderball grotto, pristine sandbars and so much more, it's no surprise people come from all around the world to visit this little piece of paradise.
In this guide, I'll share everything you need to know about visiting Staniel Cay in the Bahamas.
Getting to Staniel Cay
First of all, where is Staniel Cay and how do you get there?
Where is Staniel Cay?
This little cay is located in the Exumas, basically in the middle of the Bahamas. It's around 120 kilometers (75 miles) south of Nassau and 400 kilometers (250 miles) southeast of Florida.
There are 365 islands (cays) in the Exumas district of the Bahamas, with Staniel Cay being one of them.
How Do You Get to Staniel Cay?
Unless you have your own boat and are sailing or cruising around the Bahamas, the best way to get to Staniel Cay is by flight.
There is a mailboat that leaves from Nassau and heads to Staniel Cay once a week, but that takes 12 hours and all of the locals we spoke to said they wouldn't take it now that there are flight options.
From the United States, you can fly direct to Staniel Cay on a flight with Makers Air from Ft. Lauderdale. Or, take a commercial flight from Florida to Nassau and then a direct, 30-minute flight to Staniel Cay with Flamingo Air.
There are numerous flights per day.
We flew with Makers Air in a 9 seater plane from Ft. Lauderdale and the trip was comfortable and safe. We arrived at the hanger at the Executive Airport in Ft. Lauderdale just 1 hour before the flight was due to take off and enjoyed coffee and snacks in the lounge.
The flight was two hours and fifteen minutes, including a stop on Andros Island to complete immigration. The view from the plane was incredible!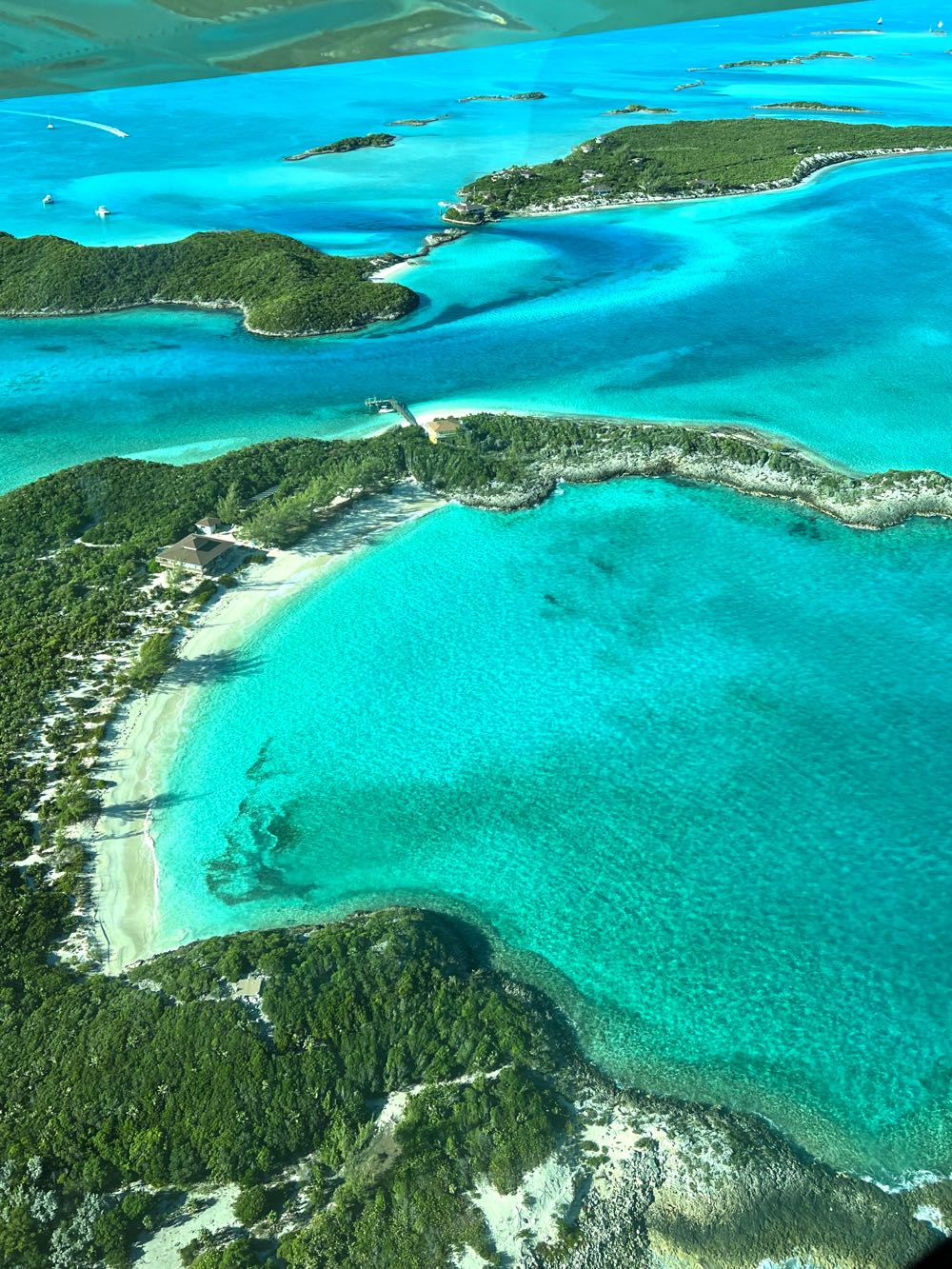 Once we arrived in Staniel Cay, we were greeted by Natajia from Embrace Resort and after a 2-minute golf cart ride, we arrived at our accommodation.
This was the easiest flight day we've ever had. Getting to Staniel Cay is simple.
Where to Stay in Staniel Cay
There are only a few accommodation options on Staniel Cay, including pricey vacation homes, bungalows, and the Staniel Cay Yacht Club. We spent 10 days at Embrace Resort and recommend it — we felt like family during our stay.
About Embrace Resort
The resort, which consists of just 7 colourful villas, is owned and operated by an all-female, local team. The staff really made our stay memorable.
The owner (Nikki) and her daughter (Natajia) were both born and raised on Staniel Cay! They know everything there is to know about the area and are happy to share their home with visitors.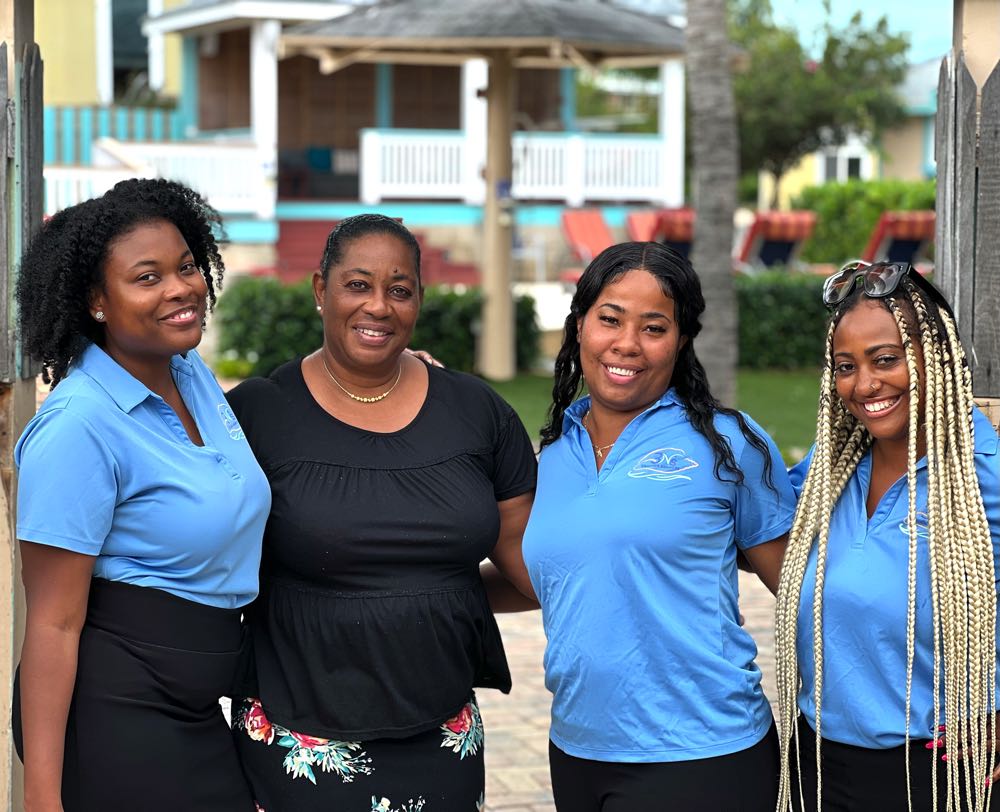 The Villas at Embrace Resort
The rooms showcase Bahamian culture, and each villa is named after one of the islands in the country.
We stayed in both Cat Island and Andros villas. Cat Island is a cute studio bungalow perfect for a couple, while Andros is a 2-level villa with 3 bedrooms, perfect for families or a group of friends.
The villas come with a microwave, coffee maker, kettle, and mini-fridge. In the case of the 2-level villas, there is a full kitchen as well.
You'll also find a flatscreen TV and as an added bonus, a cooler (icebox) to use on your daily adventures! Plus, there's an ice machine on the property. Click here to learn more and search for the latest prices.
Amenities
Embrace Resort is located right by the airport and they have their own private dock right near the resort. This makes day trips on the boat or renting your own boat really convenient.
The property isn't oceanfront, but there is a nice pool that the villas face. The onsite restaurant is expected to be complete this summer, followed by a gift shop, gym, and conference room. Lots of things going on here at Embrace!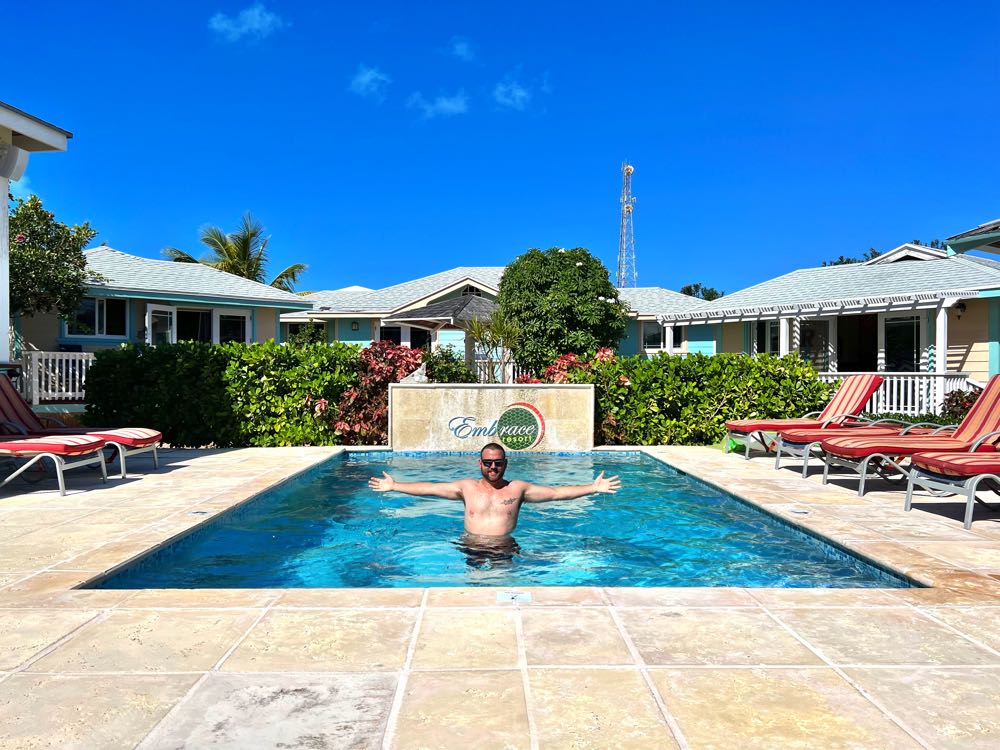 Currently, you can book tours, rent golf carts, and rent a boat on-site with 3N's Exuma Vacations.
Finally, if you need a negative antigen test for your next destination (ie: the USA), Embrace offers this service. The administrators of the test are professionally trained and first-aid certified.
We personally had two COVID tests each at Embrace resort and the tests were pain-free, quick, and easy.
Things To Do in Staniel Cay
We were never bored during our 10 day trip to Staniel Cay. Relaxed? Yes. Bored? Never. These are the top 5 things to see and do in Staniel Cay.
1. Join a Day Trip
The best way to see the main highlights around Staniel Cay is to join a day trip. We booked this excursion with 3N's Exuma Vacations and it was so much fun!
The highlight was the famous swimming pigs of the Bahamas, but, the tour offers so much more than the piggies.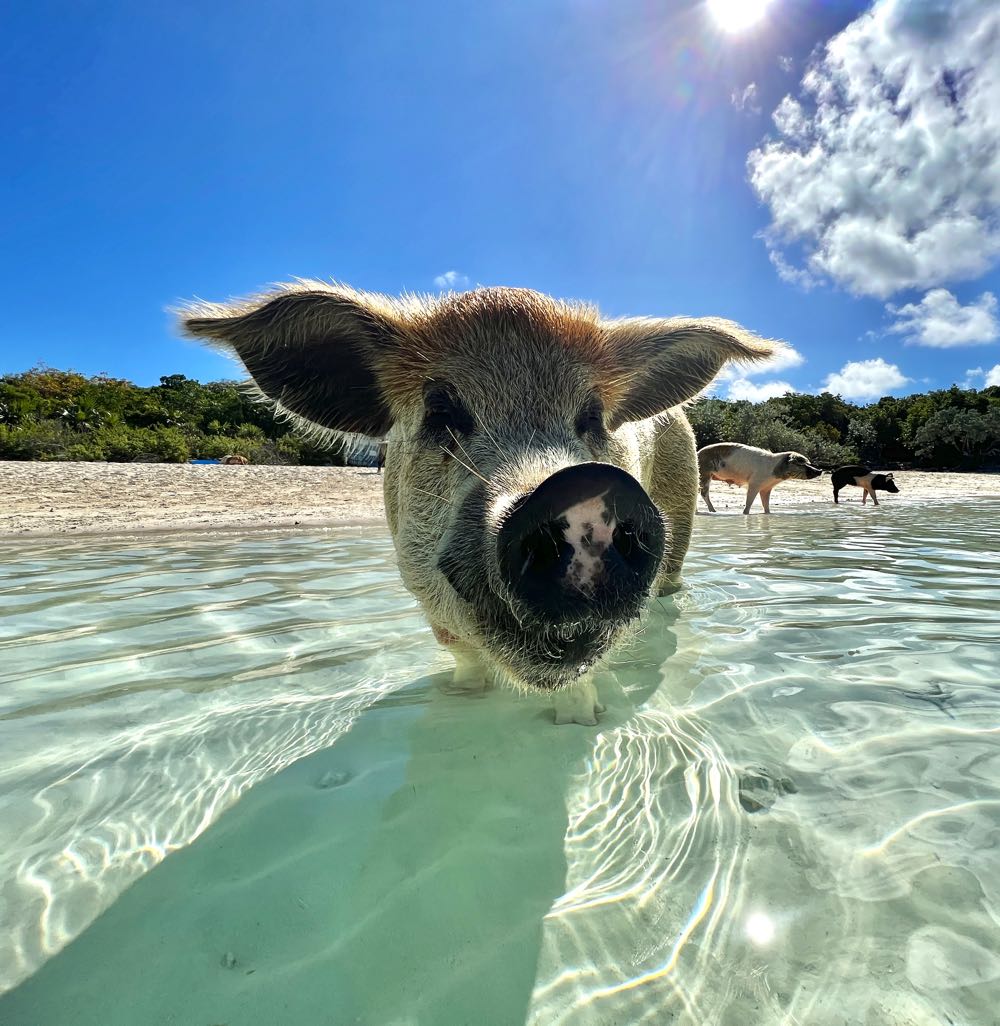 The highlights include: seeing the pigs, swimming with nurse sharks at Compass Cay, exploring Thunderball grotto, stepping foot on the gorgeous Pipe Creek sandbar, snorkelling over a sunken plane, and visiting the Bahamian rock iguanas at Bitter Guana Cay. There's also a lunch break on the tour.
I could have listed all of these things to do in Staniel Cay as separate items, but this day trip covers them all and is definitely worthwhile!
Joining the highlights day trip is one of the best things to do in Staniel Cay. Find out more here, or book on Viator if you'd prefer. Pro tip: if you stay at Embrace Resort, you receive 30% off the tour.
2. Rent a Boat and Discover Hidden Spots
Renting your own boat is possible in the Bahamas! Hire a boat and be a captain for the day.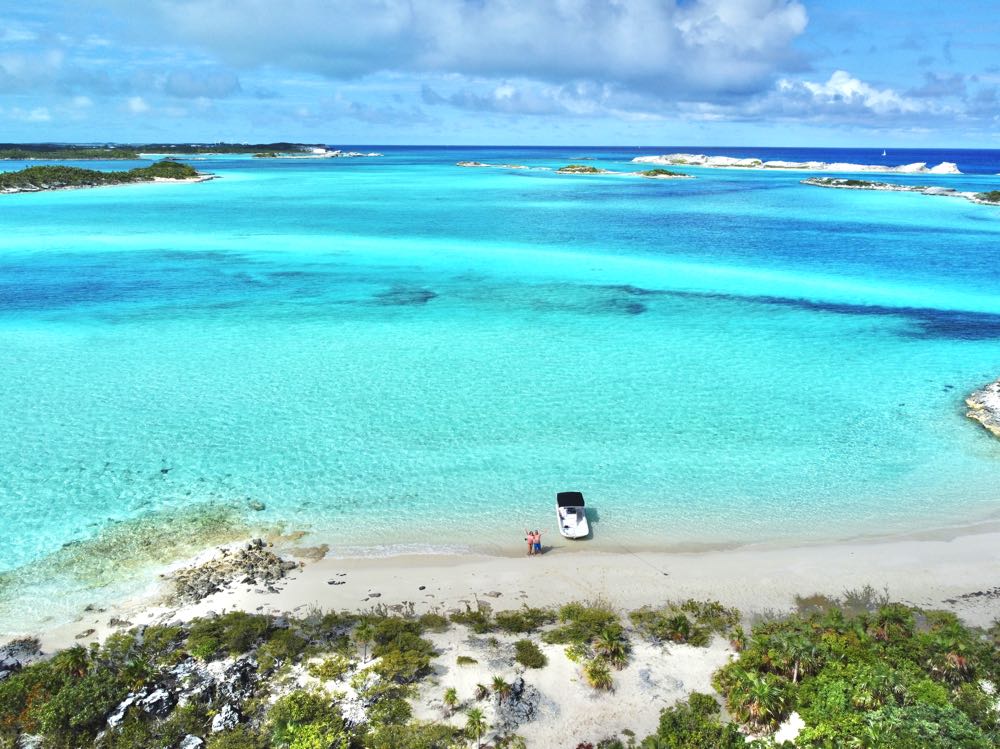 The water around the Exumas is calm and safe. We had a 17 foot Whaler boat for 3 days during our stay in Staniel Cay and had a blast finding hidden coves to call our own. Our favourite area was probably the sandbars near Sampson Cay — what an absolute dream.
We found so many amazing sandbars and empty beaches. It was a lot of fun mooring up, reading our books, suntanning, and then moving on to the next beautiful spot. Speak to your accommodation about renting a boat.
3. Explore by Golf Cart
One of the most unique things about Staniel Cay is the fact that people get around by golf cart here.
Rent a golf cart with 3N's Exuma Vacations and explore. The golf carts are electric, which is so nice as it makes for a peaceful way of getting around.
Seeing Staniel Cay by golf cart is the absolute best way. Pack the cart with your beach gear and a cooler filled with food and drinks and set off for a fun day of exploration.
Golf Cart rentals are $70 for 24 hours ($60 for Embrace Resort guests). Learn more and book your cart here.
4. Lounge on the Beach
For such a small place, Staniel Cay's beaches are varied and beautiful. We visited in February and had many of these gorgeous sandy spots to ourselves.
Bring your towel, a book, some food, and drinks, and enjoy the day. There are no facilities on any of these beaches.
Don't miss Public Beach (Town Beach), Pirate Beach, Ho Tai Cay Beach, South Beach and Ocean Beach. More on the best stretches of sand below.
5. Watch Sunset
The sunsets on Staniel Cay are magical. Grab a sundowner and head to your favourite spot on the west coast to witness the sun dip towards the ocean.
Our top sunset-watching spots were from the Yacht Club at the end of the jetty, and from Public Beach.
Best Staniel Cay Restaurants
There are only a handful of Staniel Cay restaurants, which is why it's so great that Embrace Resort is opening up a new one soon. For now, here are your options for dining out on Staniel Cay.
The Yacht Club
This is the main restaurant on the island. Here you can enjoy breakfast, lunch, and dinner. Or, just sit at the busy bar and sip on a drink while chatting with other travellers.
Make sure to try the peanut colada, you can thank me later!
For lunch, I recommend the fresh fish of the day, the burger, and the Asian tacos. For dinner, you can't go wrong with baby back ribs, lobster, or lamb.
For dinner, you must order in advance on the same day before 4:00pm. However, make sure to place your order as soon as you can, as you may not get a table.
You can find the menu here and reserve your spot by emailing: reservations@stanielcay.com.
Barbie's Kitchen
Barbara (aka Barbie) and Tameka are a local mother-daughter team who serve up fabulous lunches on the weekend. We were lucky enough to arrive on a Saturday and had the fried grouper with tartar sauce, potato salad, rice, green beans and plantain for dessert.
Ask at your accommodation for directions and the menu of the day.
Big Dogs
This is a chilled-out local bar with a nice atmosphere. The food here is Bahamian and is delicious. We ordered a lunch of stewed chicken with rice and peas and corn and were not disappointed! Find Big Dogs on the map here.
Cook for Yourself
Our villa at Embrace Resort had a full kitchen so we were able to cook for ourselves. It's always more fun to dine out, but you could whip up a quick breakfast, and for lunch maybe some pasta, soup and sandwich, or another simple meal.
Best Beaches in Staniel Cay
Considering it's a cay, it's no surprise that there are some pretty stretches of sand here. What surprised us, however, was that most of the time we had the beaches entirely to ourselves!
None of the beaches have any sort of amenities, so make sure you use the toilets before starting your beach day, and bring food and drinks.
These are the 5 main public beaches on Staniel Cay — of course, you could always search for your own hidden beach!
Pirate Beach
Located in the north of the island, this is a beautiful beach. The pirate beach offers soft, powdery sand and there's some shade here as well. At low tide, you can walk around the bend.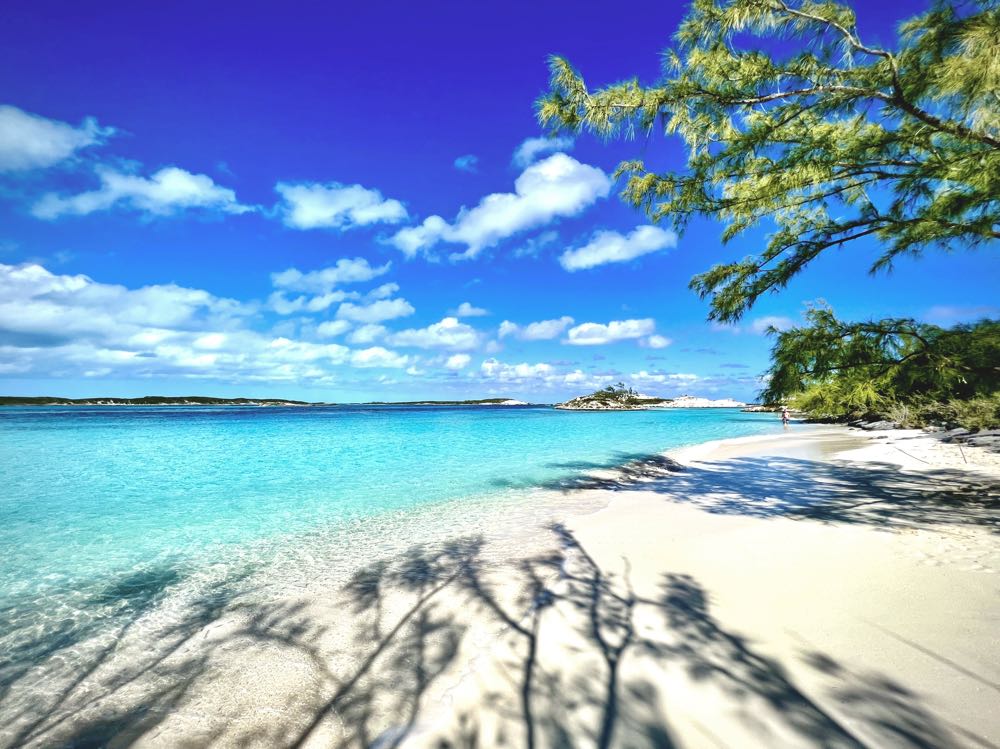 Keep in mind that there's a channel of rushing water offshore (it's very noticeable), so don't swim out too far. Find it on the map here.
Public Beach (Town Beach)
This stretch of sand is located next to the Staniel Cay Yacht Club, and while there are sometimes small boats moored up here, we still really loved this spot.
During our stay, there were four lounge chairs available and before we had data on our phones, we were able to connect to the wifi at the yacht club. We also spotted some nurse sharks, rays and turtles here.
Public Beach is also a great place to watch the sunset.
Ho Tai Cai
This is actually a group of two pretty beaches, which offers some shade as well. If you're driving a golf cart, you'll need to park near the airstrip and walk across the little creek — don't get the golf cart submerged in water, or stuck in the sand!
There are some basic wooden benches at Ho Tai Cai and it's a place where locals hangout with friends. Continue walking over a small hill and you'll arrive at the next beach…
South Beach
This was probably our favourite beach on Staniel Cay! There are a few vacation homes here, but again, no one was ever on the beach when we visited. You can walk the entire length, and then go for a swim.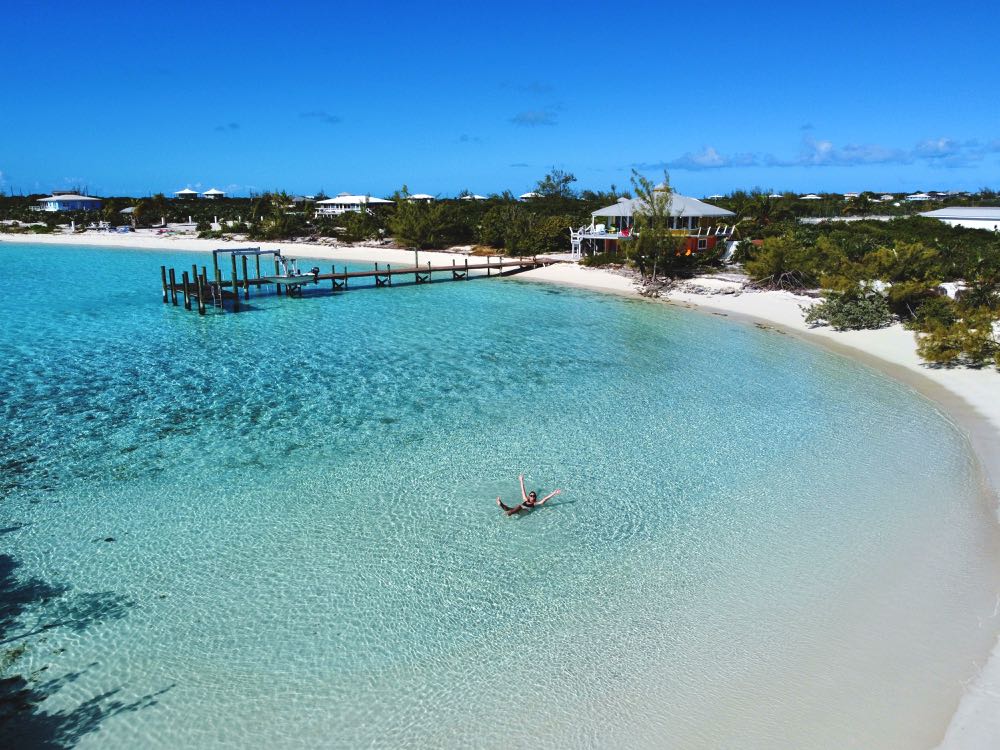 The water can be quite shallow here, but it's nice and calm. Keep your eyes open for stingrays — you don't want to step on one.
Ocean Beach
This isn't a beach for swimming, it's more of an exciting viewpoint and a great place to watch the sunset. When driving towards Pirate Beach, you'll see a trail sign. Park your golf cart and walk the path to Ocean Beach — you can't drive.
Don't swim here as the water is rough and there could be undertows and riptides.
Beaches Around Staniel Cay
As I mentioned before, one of the best things to do in Staniel Cay is to rent a boat and explore the nearby Exumas. This is where you'll find other gorgeous, deserted beaches…and sandbars!
Head north towards Pig Beach and Fowl Cay, and farther afield to Sampson Cay and Pipe Cay. In those areas is where we found our favourite beaches.
Amenities on Staniel Cay
Staniel Cay is small and rustic. You won't find shopping malls, cinemas, gyms, or anything like that — which is all part of the charm here.
There are 3 small grocery shops selling the basics: The Blue Store, Pink Pearls, and Isles General. For booze, you'll find a Laundromat/liquor store. Do your laundry while sipping on a beer!
There are a handful of restaurants (listed above), one church, a post office, a clinic, a library, and a telecommunications office where you can purchase a SIM card for your stay.
Is Staniel Cay Safe?
Yes, Staniel Cay is very safe for tourists. As the island is so small, everyone knows everyone — you couldn't get away with anything here.
People sleep with doors unlocked and leave keys in their golf carts and boats, theft and crime aren't a problem. Tourism is huge in Staniel Cay (and the Bahamas as a whole), meaning tourists are well taken care of.
The only thing I would be mindful of is the sun, dehydration, and potentially getting caught out in a storm on the sea. But even then, with a little common sense, you'll have no issues whatsoever.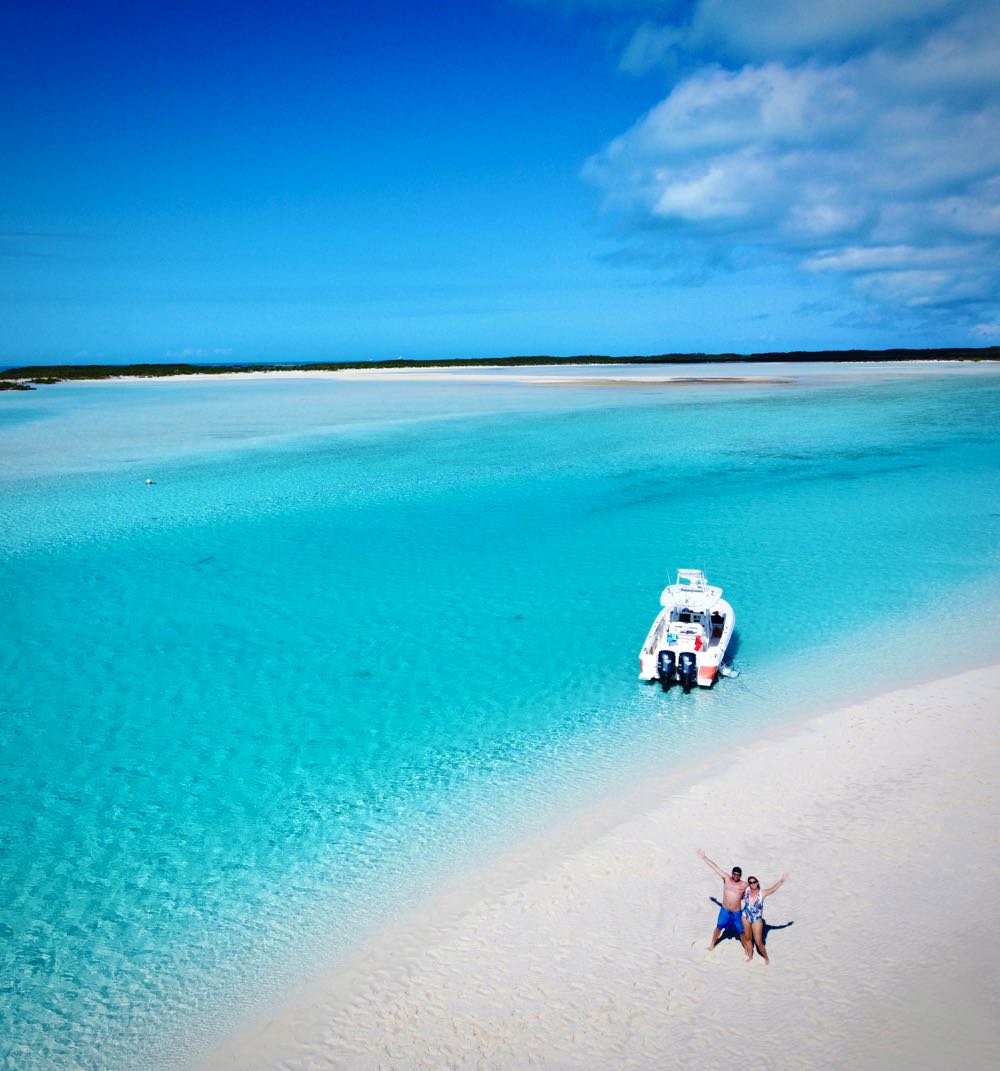 Wear a hat, put on sunscreen, and drink lots of water. When renting a boat or taking a tour, ensure lifejackets are on board, and there's a radio in case of emergencies.
We never felt uneasy once during our 10-day stay. All of the locals and tourists we met were incredibly friendly and welcoming. Staniel Cay is a very safe place.
Weather in Staniel Cay
The weather in Staniel Cay, Exumas is pretty much perfect year-round, with a high temperature of around 25 – 30 °Celcius (77 ° – 86 ° Fahrenheit).
We visited at the beginning of February and apart from one rainy afternoon, we had perfectly clear skies and temperatures of around 21 – 25 °Celcius (70 – 77 ° Fahrenheit).
If you want to visit in the off-season to avoid crowds and peak tourism prices, you only have a few options — February, September, October, and November.
Winter Season (December – February)
The winter season runs from December to February, which is the coolest time of the year. December and January are busy in Staniel Cay.
Spring Season (March – May)
Spring runs from March to May. At this time, the weather is more humid and warmer than in the winter. Spring is also one of the high tourism seasons in the area due to Spring Break and Easter vacations in Canada and the USA.
Summer Season (June – August)
Summer is from June to August and unlike the Caribbean islands in the south, this is actually considered the high tourism season for Staniel Cay. Summer months see almost no rain at all.
Autumn Season (September – November)
Fall runs from September to November and is considered the shoulder season in the Bahamas. However, keep in mind that October is the wettest month with around 12 days of rain during this time.
Money and ATMs
The Bahamian Dollar (BSD) is pegged 1:1 to the US Dollar and the Bahamas accepts US dollars interchangeably with Bahamian dollars.
So, you can bring your US cash and spend it around Staniel Cay. No matter which currency you spend, you might receive change in BSD or USD!
Keep in mind that there are no ATMs or banks on Staniel Cay. Make sure to bring enough cash for your stay, or pay for food, tours, and rentals with a credit card.
Cost of Travelling to Staniel Cay
Staniel Cay is a place to enjoy a romantic vacation, celebrate an important event, or have a fun trip with friends and family. The Bahamas isn't a budget destination, but it doesn't have to break the bank either.
As you can imagine, since Staniel Cay is a remote destination, basically all items need to be imported — either from the USA or "mainland" Nassau. Because of this, the cost of goods are higher.
At the high end, expect to spend $20 per person for lunch and $50 per person for dinner. Those prices are inclusive of 10% VAT and 15% gratuity.
I recommend budgeting $150 per day for a couple for food and drinks on Staniel Cay. You can always pay with your credit card if you go over that amount.
For transportation, you can rent a golf cart for $70 per day ($60 if you're staying at Embrace Resort), walk the island on foot, or rent a bicycle.
To join the swimming with pigs tour from Staniel Cay, that will cost $249 per person (Embrace Resort guests receive 30% off). Hiring a 17-foot boat for the day costs $250.
Frequently Asked Questions
Here are answers to some commonly asked questions about travelling to Staniel Cay.
Is there any nightlife on Staniel Cay?
There are no nightclubs or crazy bars here on Staniel Cay. After the sun sets, everyone seems to congregate at the Staniel Cay Yacht Club for dinner, drinks at the bar there, and a game of pool. When there are sporting events, the yacht clubs shows them on the TVs around the bar.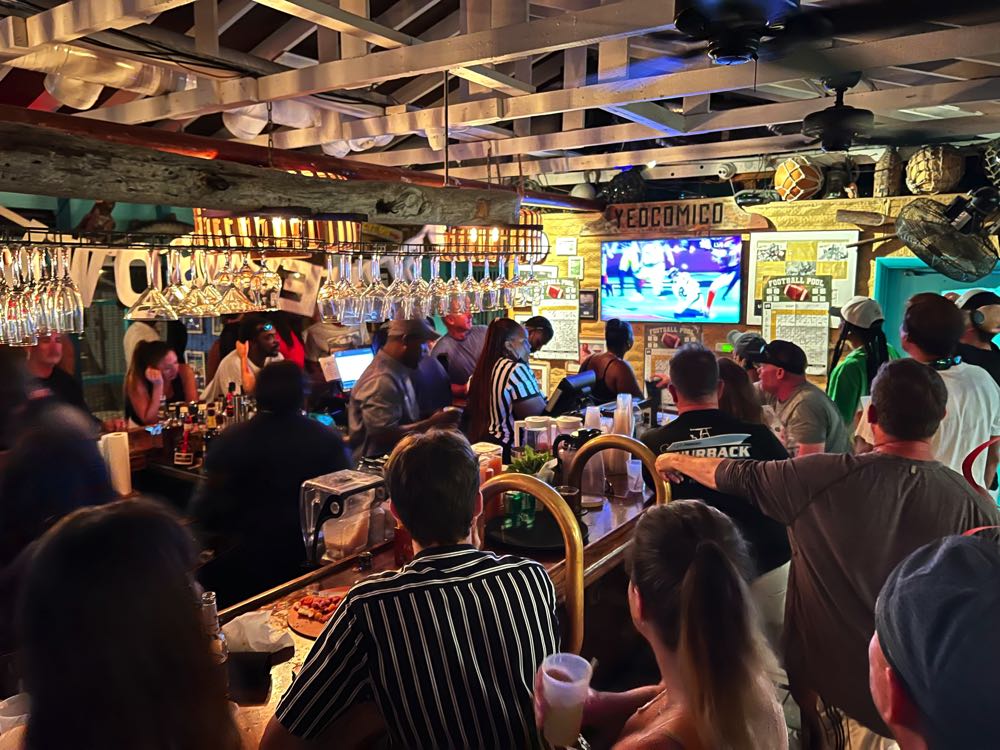 Are there any gyms on Staniel Cay?
No, currently there are no gyms or fitness centers. However, Embrace Resort is in the process of building one! For exercise, you can go swimming, kayaking, paddle boarding, cycling, or walking.
What are the COVID protocols for Staniel Cay?
The situation in the Bahamas has relaxed recently and entry is much easier than before. In our experience, life felt quite "normal" on Staniel Cay which was nice.
Currently, to enter the Bahamas if you're vaccinated, you must have a negative antigen test taken 24 hours before departure, or a negative PCR test taken no more than 72 hours prior to departure. If you're not vaccinated, you'll need a negative PCR test.
You will also need to fill out the Travel Health Visa Application, which includes health insurance for your stay in the Bahamas. In my experience, approval of the application only took about one hour.
Depending on where you're going after the Bahamas, you'll need a negative COVID antigen test. Embrace resort offers this service for guests and non-guests for $35.
What's the difference between an island and a cay?!
This is a good question. The Bahamas is home to islands and smaller "islands" called cays.
Islands are completely surrounded by water and are formed by a volcanic eruption or belong to a continental plate containing a larger landmass.
Cays are formed on coral reefs when sediment moves across the ocean and becomes "stuck" on the reef. Over time, that sediment builds up and creates sandy islands, called cays.
Since cays are also surrounded by water, really the only difference between an island and a cay is how they are formed.
Staniel Cay Travel Video
Check out our video which showcases the beautiful cay, as well as the fun things to see and do, where to stay, the best beaches, and more!
Enjoy Your Trip to Staniel Cay
We met so many friendly people during our trip to Staniel Cay — both foreign and local. What really stood out was the fact that many of them returned to this little cay each year. After our 10 days stay, I can see why! There's just something special about Staniel Cay.
I hope this guide helped plan your trip! Feel free to email me with any questions about visiting Staniel Cay and seeing all of the highlights of the Exumas.
Like This Article? Pin it!