It was mid-March 2011, and it was already hot at 9 am at the Casablanca Airport. We had been in Morocco for 3 weeks and were more than ready to head to our next country, Egypt. We were prepared and had everything in order for our flight.
We were at the airport early, probably earlier than we needed to be. We had spent every last Moroccan Dirham on our taxi to the airport, but we figured there would be an ATM machine waiting for us when we arrived. To our surprise, there wasn't. The terminal was so small that there was only one shop and a bathroom. So, there we sat, hungry, thirsty and bored.
We didn't want to go through customs any earlier than we had to, because we knew there would be even less to do on the other side! With about an hour before our flight was to take off, I decided to check the departure board. I'm not sure why we waited so long to check, we usually arrive at the airport, look at the board and get situated close to where our gate is.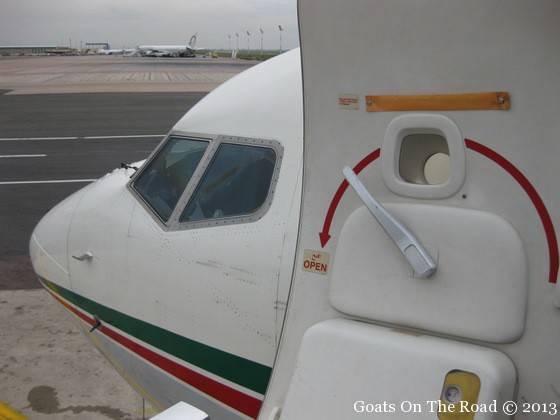 Our flight number wasn't on the list.
We asked around and it turned out that there were 2 terminals at this Casablanca airport and we were at the wrong one! Panicked, and money-less, we were trying to figure out how to get to the other terminal, which was about 30 mins away. The shuttle bus had just left and wouldn't be back for another 1/2 hour. There were no taxis or vehicles in sight, and even if there were, we had no money!
So, what did we do? We ran.
To this day, I still laugh when I remember the sight of Nick running down the highway. He had his backpack on the trolley, was running as fast as his legs would go and then suddenly, the backpack fell off of the cart. With one strap still attached he dragged it for a couple of minutes, ran it over with the trolley, before picking it up and taking off again. All while frantically yelling back at me to hurry up – as I'm bent over dying of laughter.
I have no idea why he opted for the trolley, but it made the scenario more hilarious for me, so I'm glad he did!
We were quite the sight that day. A couple of foreigners sprinting for about 20 minutes down the highway, sweating, dropping our bags and tripping over things. We were so rushed and panicked it was ridiculous!
In the end we made it to the right terminal and checked in just as the plane was about to leave for Cairo. Note to self and readers: do not arrive at the airport without any money and always check which terminal your plane leaves from!
Have you ever made a stupid mistake at the airport, please tell us below!
MODES OF TRANSPORT: THE GOOD, THE BAD AND THE VERY UNCOMFORTABLE!
Like this Post? Pin it!