This week's sunset is from Gili Air, Indonesia!
Gili Air is one of three islands just off the west coast of Lombok, and all three have their own distinct personalities. Gili Trawangan, is a haven for backpackers and party folk and is the most heavily developed. Gili Meno, which lies in the middle, is similar to a nature reserve and has an incredibly chilled vibe. Gili Air is a combination of the two and suited us perfectly. These islands are fantastic for snorkelling and diving enthusiasts with the abundance of reefs to explore.  
We have such fond memories of this little paradise, none more so than it being a welcome relief from the rigours of climbing Mt Rinjani and the fact that there are no motorised vehicles permitted – you traverse by foot, bicycle or Cimodo (small Indonesian pony and cart). It's incredibly peaceful and all you really hear is the jingle bells from the Cimodo's approach.
In the distance you can see the edge of Gili Meno and further beyond, the cone shaped silhouette of Bali's Mt Agung.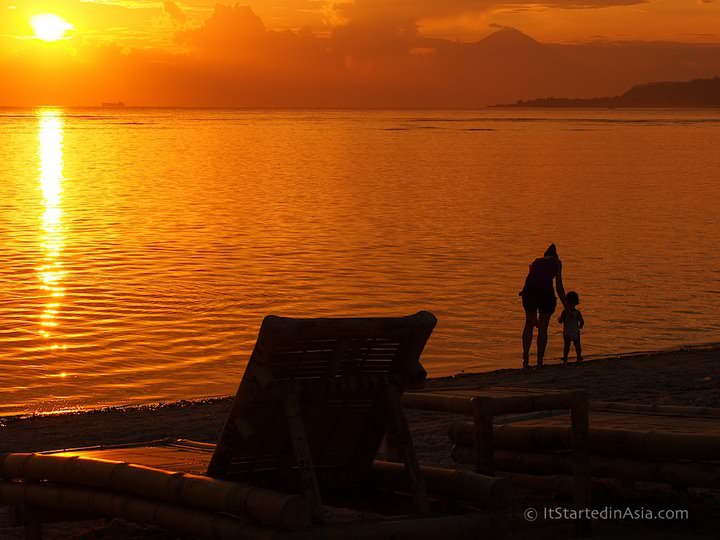 A big thank you to Anna for sharing this lovely sunset with us! It brought back memories of our time spent on Gili Trawangan…we'll have to go back to Indonesia to explore beautiful Gili Air Island!
Anna is the creator and chief blogger behind It Started in Asia, a travel blog designed to document adventures and provide first hand advice from experience for travellers seeking a mix of adventure, culture, food, roughing it, luxury and the odd dose of wellness. Travelling with her partner Matt whenever possible around full-time work, It Started in Asia is also an avenue to showcase Anna's passion for photography.
Do you have a sunset you would like to share on Goats On The Road? Send us an email and we'll be happy to feature you on our site!