Remote Jobs
Find a job that you can do remotely so that you can earn an income while traveling, while living abroad, or as a side hustle while living at home.
Ways To Earn Money Remotely
Do you want to travel the world long-term or forever? Here is where we'll help you to earn money on the road so that you can travel for as long as you want. We've personally taught English, volunteered, house-sat, freelanced, bartended, ran websites, and much more. Here you'll find information on earning money from lots of different remote jobs. Also, check out our list of 101 Travel Jobs and our guide on how to make money online.
101 Remote Jobs Ebook
Want to make money online, while on the road, or just earn an extra income from a side hustle while you're at home? Check out our 101 Remote Jobs Ebook. It's helped thousands of people find work online and earn a full-time income remotely.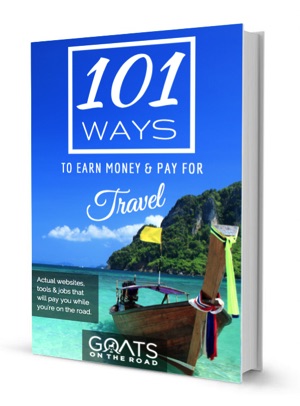 Build a Blog
Blogging is our favorite form of remote work. We have been blogging and earning a living from our websites since 2012 and it still amazes us just how fun, exciting, and rewarding this job can be. We love interacting with our readers, creating useful content that helps people, and with extra perks like free flights, free gear, hotels, tours, and once-in-a-lifetime experiences, what's not to love?
How To Get Started Blogging
Starting a blog is easy and can be done in just a few minutes, but growing it to the point that it can earn money will take time and commitment. We were able to grow this blog you're reading to a multi-6-figure online business within a few years, so we know it's possible. The best part is that we've averaged just 20 hours per week on our computers over that time.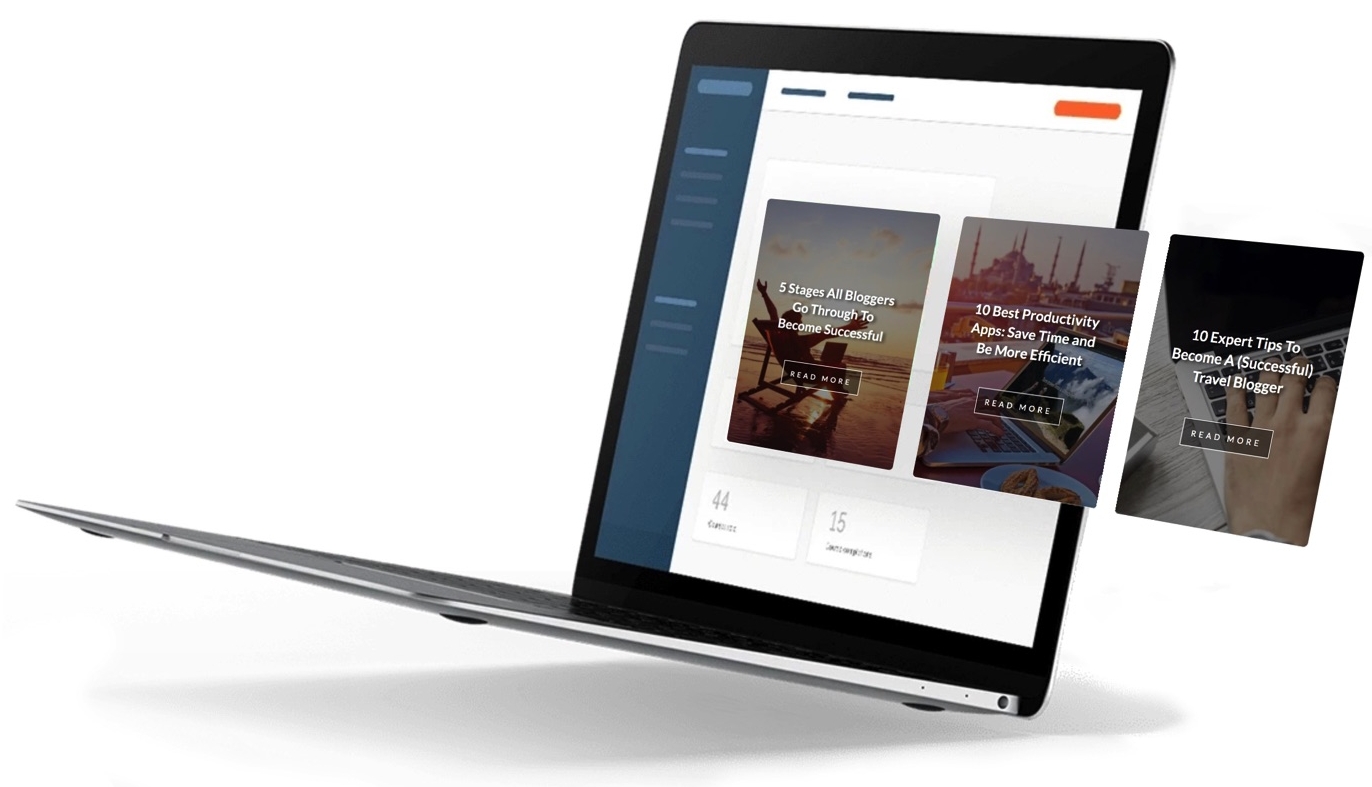 To start a blog, you'll need to pay for hosting. Luckily hosting is not overly expensive and you can start a blog today, and own the domain (ie: yournewblogname.com) for less than $40. On top of that, we offer a 4 Module, Beginner Blogging Training Course for free ($197 Value) when you start a blog using the button below.
We also have a lot of information about blogging. From tips for beginners, to how to write posts, how to design a professional site, and more, we share all of that information for free on our Blogging Page.
Why Blogging is a Great Remote Job
Blogging is perhaps the best business you can start with very little money. Most new businesses require a significant amount of investment upfront in order to start.
For instance, if you want to open a restaurant, you'll probably have to take out loans to pay for your first few month's rent, staffing costs, food costs, etc. With blogging, you need $40 to pay for hosting and you're off to the races.
On top of that, blogging doesn't require the same time investment as most remote jobs. If you work remotely for your company at home, they'll likely set your hours for you and as we all know, the standard is 40 hours per week, Monday to Friday.
On top of that, you may have to be on during those hours regardless of any inconvenient time zones you may be traveling/living in. With blogging, you work for yourself so you can make your own hours.
How Do Blogs Earn Money?
There are many different ways that blogs make money, including (but not limited to), advertising, affiliate marketing, email marketing, product sales, sales of services, coaching, and more. To learn more about how blogs make money, check out our full guide to blog monetization.
Start a Blog & Get a Free Course
We've created an in-depth video course with 4 complete modules that show you exactly how to start your own blog (on any topic) and grow it to the point that it can earn money. The best part… the course is FREE for anyone who starts their blog using the button below and you'll also get our 200-page blogging ebook for free ($120 total value).
Already have a blog? Click Here to grow your traffic.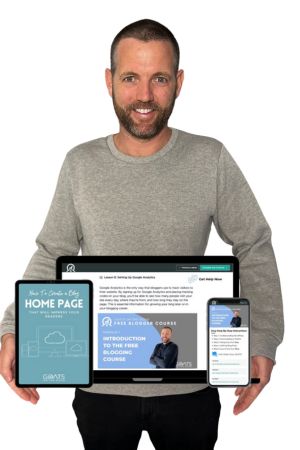 Become a Freelancer
Whether you want to be a freelance writer, a freelance photographer, or you want to start your own freelance business, you'll find all the info you need to live the life of a digital nomad as a freelancer. When we first started this life, we managed to get numerous jobs freelance writing for different companies, and within a year we were earning a full-time income from freelancing. It's one of the best remote jobs for people without prior experience working online.
How To Get Started Freelancing
The best way is to check out our post: How To Start Freelancing With No Experience. That will get you in the door to this amazing remote job as an absolute beginner. Then you can continue to return to this page for more useful tips on becoming a freelancer like How To Become a Freelance Writer, How To Start a Freelance Business, Best Freelance Websites To Find Jobs, the Best Freelance Writing Courses, and much more.
Why Freelancing is a Great Remote Job
What makes freelancing such a great remote job is the variety of freelancing jobs you can get. When a lot of people think of freelancing, they think of freelance writers. While this is a great remote job and in the past, we've made a full-time living from working as freelance writers. But, that's not the only freelance-related remote job you can do.
These days, you can teach pretty much any skill online using platforms like Teachable. Websites like Skillshare allow you to find work-sharing skills ranging from coding to crafts and much more.
How Much Do Freelancers Earn Online?
Freelancers earn anywhere from $15 – $100+ / hour working online depending on what freelance jobs they take on, whether they own their own business, and which clients they are hired by. We know some freelancers who are earning far more than this by running a full freelance business with employees.
More About Freelancing
Become a Proofreader
Want guaranteed remote work? Then proofreading might just be the best remote job for you. Take proofreader training with Knowadays and once you pass, they guarantee that they'll find you paid work as a proofreader. Even if you opt not to take a course, there are plenty of proofreading jobs available online, making this a great remote job for anyone looking to learn a new skill and work online.
How To Get Started Proofreading
The best way to get started proofreading is to take a proofreading course. The course can be completed in as little as just a few days, and once you're certified you should have no problem finding work. One of our team members here at Goats On The Road took the Knowadays Proofreading Course and loved it.
Once you pass the course, you'll have guaranteed work as a proofreader. With that, you can work from anywhere in the world.
Why Proofreading is a Great Remote Job
Proofreading is an excellent remote job because you can get certified within just a few days and after you're done taking a course in proofreading, you can get guaranteed work.
On top of that, proofreaders can choose their own hours, and work from anywhere in the world. Another benefit that not many people consider is that proofreading doesn't require fast internet.
For the most part, when you're proofreading you'll have to load a page once, then scan through the entire document or webpage to thoroughly edit it, then save it once at the end. Unlike bandwidth-extensive jobs like coding and graphic design, proofreaders can get by with much slower internet speeds.
How Much Do Proofreaders Earn Online?
Proofreaders earn anywhere from $15 – $40+ / hour. Generally, you'll be paid more as a certified proofreader, which is why we recommend if you're going into this line of remote work, you take a proofreading course. Click here to receive 10% off using promo code: GOATS10.
More About Proofreading
Teach Online
Did you know that you can earn money teaching just about anything online? Whether you want to teach English, Spanish, or another language, or teach other skills like how graphic design and art, you can do it remotely thanks to the internet.
How To Get Started Teaching Online
We have a lot of resources on this blog all about teaching online. Check out our dedicated Guide To Teaching English Online if you're looking for a job teaching online today.
The schools that were formerly run in China have mostly stopped hiring because of new laws in China, but there are also companies like EF Education First, Cambly, Italki, and PrePly.
Why Teaching Online is a Great Remote Job
While teaching online may not give the freedom to make your own hours like blogging does, it does allow you to teach people from all around the world a valuable new skill.
We've taught and learned languages both online and in person and it's still one of the most rewarding jobs we've done while overseas. The best part is, it's not very difficult to get started.
How Much Do Teachers Earn Online?
Teachers earn anywhere from $15 – $24 / hour working online. We know some teachers who are earning far more than this by hiring private one-on-one clients.
While you can't always choose which hours you work (as most students will request times that are convenient for them), you can choose how many hours you work. If you want to work 40 hours per week, you can do so, and earn great money while traveling or living abroad. It's really up to you.
House Sitting
We've house sat in luxury villas in the Caribbean, jungle bungalows in Costa Rica, and beautiful homes in North America. There are house sits all around the world and all you have to do is sign-up for a site like TrustedHouseSitters.com and you could find your dream sit tomorrow.
How To Get Started House Sitting
Getting started with house sitting is easy. We had our first house sit just a couple of weeks after signing up for TrustedHouseSitters.com. While there are other house-sitting platforms out there, we've always used Trusted House Sitters, as it is the most popular and has more house-sitting jobs than all of the other popular platforms combined.
There are really just 3 steps to getting a job as a house sitter. First, you'll need to Click Here to set up a profile and pay the annual fee of around $139 $111.20/year (special discount using this link).
Next, you'll sign up for notifications via email so you'll be the first to know about new house sits.
Lastly, you'll simply set up a time with the homeowner for an interview and if they like the interview, you'll be hired!
Why House Sitting is a Great Remote Job
While some house sitting jobs do pay (more on that below), most don't. But that doesn't mean it's not a great remote job. We highly recommend landing a few unpaid house sits when you first start out, just to build up the positive reviews from homeowners on your profile.
While you're sitting for free, you can take advantage of one of the many other remote jobs on this page to earn some money.
Even when you're not getting paid, you're saving a lot of money on accommodation! In total, we've house sat for free for over 2 years. That is A LOT of money saved on hotels and lodging.
Plus there have been a few times we've been paid, which is an added bonus.
House sits are available all around the world and you can pick and choose which ones work best for you, your schedule, and your travel bucket list.
How Much Do House Sitters Earn?
The most we ever received for house sitting was a few hundred dollars per month, but we do know some people who have been paid over $1000 per month to house sit. It all depends on the owner.
On Trusted House Sitters, the house sits are mostly unpaid because they have such an active community of house sitters. But what we've found is that while the homeowner may not be willing to pay you the first time, once they like you and trust you, they may be willing to pay you the next time in order to ensure you'll come to take care of their beloved pet or home.
More Remote Jobs
Still haven't found the perfect remote job yet? Don't worry, we've got over a hundred more for you to check out. We're constantly scouring the internet, researching, and interviewing remote workers here on the blog to find more lucrative remote jobs and side hustles, so be sure to subscribe so you're kept up-to-date with the newest remote work opportunities.
101 Remote Jobs Ebook
Want to make money online, while on the road, or just earn an extra income from a side hustle while you're at home? Check out our 101 Remote Jobs Ebook. It's helped thousands of people find work online and earn a full-time income remotely.