There are tons of fun things to do in New Orleans, but there are also plenty of great options for day trips outside of the city. While you're there, be sure to check out a swamp tour in New Orleans.
Since the city is located in the Mississippi Delta, it doesn't take too long to get to a swamp from NOLA. In fact, many people add a swap tour to their itinerary even if they have just 3 days in New Orleans.
In just 30 minutes, you can find yourself out in the Bayou surrounded by gators. Who knows — maybe you'll even spot the elusive Honey Island Swamp Monster!
There are several different options to choose from for visiting a New Orleans swamp.
In this guide, we'll take a closer look at these swamp tours and I'll give you some recommendations for the best companies to go with.
Click here to jump to the 7 Best New Orleans Swamp Tours, or continue reading below.
What to Expect on a New Orleans Swamp Tour
First of all, let's talk about where a swamp tour in New Orleans typically goes, what you can expect to see, and answer some commonly asked questions.
How Far are the Swamps from New Orleans?
The New Orleans swamps are reached in just 30 – 45 minutes from the French Quarter.
Some tours head north of the city to the Honey Island Swamp, some go south to the Jean Lafitte National Historical Park and Preserve, and others head west to Maurepas Swamp Wildlife Management Area.
What Types of Swamp Tours are There?
The most popular swamp tours in New Orleans are by boat.
There are large swamp boats, which are probably the most popular choice. If you prefer a bit more excitement, you can go on an airboat instead.
Or perhaps you'd rather enjoy the swamp at a leisurely pace and paddle yourself around in a canoe or kayak.
Whichever type of tour you choose, you'll get to explore the swamp and learn all about the environment from your knowledgeable guide. (I've listed more information about the different types of Bayou swamp tours below.)
What Animals Will You See on a Swamp Tour?
A major highlight of a swamp tour in New Orleans is getting up close and personal with the creatures of the swamp, such as wild boars, egrets, herons, turtles, and alligators.
During the fall and winter months, many of the cold-blooded animals hibernate. If you're really hoping to see alligators on your swamp tour in New Orleans, you should try to visit the city in spring or summer.
Some tour operators say they can still find alligators in winter, but there's no guarantee.
How Long Are New Orleans Swamp Tours?
Swamp tours typically take place during the day and last around 2 hours. There are additional tours at night on weekends in the summer months as well.
When booking a swamp tour in New Orleans, you usually have the option of getting yourself there or adding pick-up service from your accommodation for an additional fee.
What is The Best Time to Do a Swamp Tour?
You can visit the swamp year-round. However, the best time to do a swamp tour is the fall when the weather is cooler, the foliage is beautiful, there are fewer mosquitos, and lots of animals are around!
During the summer months, the weather is hot, humid, and sticky — plus, there are many mosquitos. BUT, all of the wildlife will be out and you'll easily spot gators, birds, turtles, and snakes.
In springtime, the weather will be pleasant with lots of flowers in bloom. Most of the wildlife will be out and there will be fewer mosquitos than in summer.
You can actually join a swamp tour in New Orleans in the winter months as well. There will be a lot less foliage and since alligators like the warmer weather, they will be harder to spot.
However, you'll be able to see deer, nutria, otters, minks, and birds. Make sure to dress warmly this time of year if joining an airboat swamp tour.
☞ SEE ALSO: Top 10 New Orleans Festivals – A Guide to the City's Best Events
What to Wear and Bring On a Swamp Tour
If you're wondering what to wear on a swamp tour in New Orleans, it all depends on the weather forecast and which type of tour you're going on. You should always bring a poncho or raincoat, as there's a good chance you'll get a little wet out there.
On a hot and sunny day, you'll definitely want to wear comfortable clothes like a t-shirt, shorts, and sandals. Make sure to drink plenty of water.
Don't forget to pack some sunscreen, sunglasses, and a hat as well. It's not a bad idea to pack a light jacket, either, especially if you're going on an airboat tour.
In the winter months, you should probably wear pants and bring a thicker jacket. In general, it's a good idea to wear light clothing and just put on a few layers if it's a bit colder out.
Whichever type of tour you go on, bring along some bug spray. There are definitely bugs in the New Orleans swamp and you don't want them ruining your tour!
You'll probably want to document this awesome experience, but make sure your device is protected. That means taking some kind of waterproof bag for your phone or just bringing a waterproof camera with you.
One thing you should definitely leave behind is any expensive jewelry. If you drop it in the swamp there's a good chance that you're not going to find it.
☞ SEE ALSO: New Orleans Bars – 10 Best Places to Grab a Drink
Various Types of Swamp Tours
Now that you know a bit about what to expect, let's take a look at the different kinds of swamp tours in New Orleans that you can choose from:
Swamp Boat
Taking a swamp boat tour is a classic Louisiana experience. This is an easy and affordable option for a swamp tour in New Orleans. It's possible to arrange a boat tour that includes hotel pick-up for just over $40.
Most swamp boats hold between 20-30 people. A lot of the companies also have smaller boats that they use for private swamp tours, but these are obviously a bit more expensive.
They move through the swamp at a leisurely pace, which is great for wildlife spotting. Along the way, you'll learn all about the environment and its inhabitants from your guide.
By Airboat
If you're in search of a more exhilarating adventure, you can opt for an airboat swamp tour in New Orleans. These boats are propelled by a huge fan on the back and they can get cruising over 35 mph (53km)!
In addition to higher speeds, the airboats can also access areas of the swamp where the traditional boats can't. Thanks to their smaller size, they can venture deeper into the swamp.
Airboats usually seat between 10-15 people. Taking an airboat tour with hotel pick-up typically runs about $75. You also have the option of paying a bit more to go on a smaller boat.
While these tours are definitely a lot of fun, they're not recommended for everyone. Pregnant women and very young children shouldn't go on airboat tours. It's also not a good idea if you have any back or neck issues.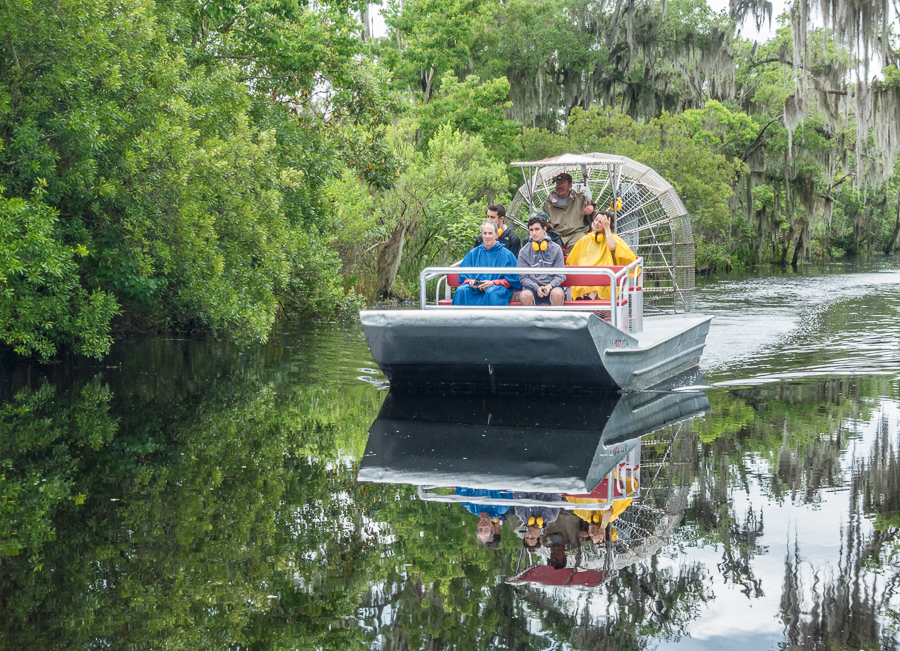 By Canoe/Kayak
A great option for taking a swamp tour in New Orleans while getting some exercise is by paddling a canoe or kayak. This allows you to get deeper into the swamps and bayous than any of the boat tours.
Canoe and kayak tours typically have between 2-10 people. These fun tours of the New Orleans swamp usually run 2-3 hours and are both fun and educational.
Going on a canoe or kayak tour costs a bit more than going by swamp boat, but less than the airboat. The experience is very peaceful and is a great way to have a more personal experience. Typical prices are around $75 per person. Click here for the best kayak tour of the Manchac Swamp.
Hiking
If you have your own wheels, you can always explore the swampland around New Orleans on foot. Just head to the Barataria Preserve that's located in the Jean Lafitte National Historical Park and Preserve.
There's a Visitor Center at the preserve where you can check out an exhibit about the swamp and pick up a map to go on a self-guided tour. You can read all about the different trail options on their website.
They also have free walking tours given by a ranger at 10 AM from Wednesday to Sunday. This is the perfect option for those looking to fit in a swamp tour in New Orleans on a budget.
☞ SEE ALSO: New Orleans Food – Top 10 Must Try Dishes
7 Best Swamp Tours in New Orleans
Here's a look at some of the best swamp tours available in New Orleans, including relevant info such as tour times and price:
1. Cajun Encounters
This is definitely one of the best swamp tours in New Orleans. Cajun Encounters brings you to the famous Honey Island Swamp for a tour you'll never forget.
Cajun Encounters has a few different options for exploring the New Orleans swamp. Their standard tour lasts two hours aboard a 22-passenger boat. They also have a smaller boat for their VIP tours which only fits 8-10 and can access more narrow waterways.
From May to September, you also have the option of joining a sunset swamp tour. The wildlife really comes out when the sun goes down, making for an incredible experience.
2. Louisiana Tour Company
Lousiana Tour Company is another name that comes recommended. If you're looking to go on a great swamp tour in New Orleans, they've got you covered with both swamp and airboat tours. Louisiana Tour Company offers a small group tour which is great.
Their tours operate out of Marrero, which is just a 35-minute drive from the French Quarter.
Just across from their dock is a 200-year-old cemetery that's located around an ancient Native American burial mound. You'll definitely hear some interesting stories about the area if you sign up for a New Orleans swamp tour with them.
You also have the option of booking a combination tour. Choose between the Oak Alley or Destrehan plantation to go along with your swamp tour in New Orleans.
You can also join their informative city tour before heading to the swamp to make for a great day in the Big Easy. For airboat tours, click here, or if you want to visit the plantation and the swamp click here to learn more and to book your tour online.
3. New Orleans Kayak Swamp Tours (Wild Louisiana)
If you'd rather explore the New Orleans swamp at a more leisurely pace, why not join a kayak tour? The team at Wild Louisiana Tours must be doing something right, as they have a perfect rating on both TripAdvisor and Google!
The 2-3 hour paddle is an easy one that everyone can enjoy. With the slow-moving bayou, it's a relaxing kayak trip filled with information, nature, and wildlife. No experience is necessary. Click here for more information and to book your New Orleans swamp tour.
☞ SEE ALSO: New Orleans Cocktails – 7 Must-Try Drinks in the Big Easy
4. Jean Lafitte Swamp (New Orleans Paddlewheels)
If you're traveling with kids and have your own vehicle, it's hard to top the excellent value provided by Jean Lafitte Swamp Tours.
Children ages 0-3 are totally free and kids from 3-12 can join a swamp boat tour for just $12. They even welcome school groups and have a picnic area, making this a great option for field trips.
Forgot to bring a bag lunch? No worries! These guys also have the option of adding on lunch at Restaurant Des Familles. This Cajun-Creole eatery features great views of the bayou and plenty of famous New Orleans dishes on the menu.
In addition to their classic swamp boat tours, they also have airboat options available here. Powered by Chevy 454, 450 horsepower engines, these airboats will take you deep into the bayou for an unforgettable adventure. Learn more about this NOLA swamp tour here.
5. Cajun Pride
If you want to learn the difference between crocodiles, alligators, and caymans, be sure to sign up for a swamp tour in New Orleans with Cajun Pride! Their guides are known to be very knowledgable and funny, which only adds to the experience.
One thing that sets these guys apart from other New Orleans swamp tours is that they actually have their own private swamp. The wildlife is protected here so the animals aren't shy.
As with many other operators, Cajun Pride gives you the option to book a combination swamp + plantation tour.
You can choose to visit either Laura or Oak Alley plantation in addition to checking out the New Orleans swamp. These tours depart at 10:30 and return around 6, with tickets costing $89 for adults and $55 for children.
To learn more about the $27 tour with Cajan Pride (and to book tickets), click here.
6. Airboat Adventures
When it comes to airboat swamp tours in New Orleans, Airboat Adventures is definitely one of the best choices. They're located just minutes from the Jean Lafitte National Historical Park and Preserve so you can be out in the swamp in under an hour from the city center.
Their small boats hold 6-8 passengers while the larger ones can fit 15-30. The extra cost for a small boat tour is worth it for a more up close and personal experience and the ability to access hard-to-reach areas in the swamp.
Before you embark on their tour, you can relax in their nice air-conditioned building that has a gift shop along with drinks and snacks for purchase. Enjoy the views from their outdoor patio, and be sure to meet Sugar — their rare albino alligator!
7. Canoe & Trail Adventures
If you're looking for a more affordable kayaking option, have a look at this highly rated, small group experience!
For an eco-friendly tour of the New Orleans swamp, look no further than Canoe & Trail Adventures. They've been running tours here since 1972 and manage to retain a perfect rating, so you know you're in good hands here.
Their classic kayak tour lasts for three hours and goes at a very laid-back pace. They provide all the equipment plus waterproof bags and cases for your phone or camera at no additional cost.
Along the way, you'll get to enjoy the scenery of cypress trees covered in Spanish Moss while you spot wildlife.
They have some of the most qualified and passionate guides around who will ensure you have an awesome time. They also run moonlight paddle tours by request if you want to see what the swamp looks like at night!
This is the best New Orleans swamp tour for those who want to get active while seeing the wildlife. In my opinion, it's also the best bayou tour because you get deeper into the swamps where other boats can't go.
8. Private Swamp Tour
If you're looking for a private swamp tour in New Orleans to celebrate a special occasion, or to simply have the swamp to yourself, have a look at this tour.
Enjoy your trip with lifetime resident Captain George as he tells you interesting stories about the swamp, New Orleans, and Louisiana in general.
Grab some food and booze from the bar near the dock, load up the boat, and enjoy a 2-hour trip through the swamp. The dock is located about 12 miles from the French Quarter, so you will need to arrange transport there yourself.
This private New Orleans swamp tour with alcohol (if you choose) is intimate, informative, and a lot of fun. Learn more here.
Ready for the Swamp?
As you can see, there are lots of fantastic options for taking a swamp tour in New Orleans. Whether you decide to paddle yourself around in a kayak, hop on a swamp boat with a big group, or zip through the bayou on an airboat, you're sure to have a great experience.
If you're heading to the Crescent City, be sure to add a swamp tour to your list of things to do! It's fun partying on Bourbon Street and all, but it's even better after a day of exploring the swamp and learning about all the amazing wildlife that calls it home.
So, are New Orleans swamp tours worth it? Absolutely! The value for money is excellent and the experience is one you won't forget.
Have you been on a New Orleans swamp tour before? If you have any tips or recommendations, go ahead and leave a comment below.
Some images in this article are courtesy of Shutterstock.com.
Like This Article? Pin it!
Disclaimer: Goats On The Road is an Amazon Associate and also an affiliate for some other retailers. This means we earn commissions if you click links on our blog and purchase from those retailers.