For many people, teaching English presents an exciting opportunity to travel, work overseas, and make a difference. Whether you plan to teach online or teach English abroad, having a TEFL certification can give you many more employment opportunities.
In this post, I'll break down everything you need to know about the popular (and affordable) TEFL company: MyTEFL.
Why Do You Need a TEFL Certification?
Getting TEFL certified can open the door to abundant teaching online and teaching abroad opportunities.TEFL certification will make you eligible for more jobs in more places. It can also allow you to potentially negotiate a higher pay rate.
Overall, TEFL certification courses teach you how to be a better English educator. You'll learn how to manage a classroom, plan lessons, and help your students thrive. These skills will make your life as a teacher much more enjoyable.
Quite often, in order to get a job teaching English in a foreign country, you'll need a120-hour TEFL Certification. To get a job as an online English tutor, you'll need either a teaching degree or a TEFL certification (or both in some cases).
While this requirement may sound daunting for people new to the teaching world, don't worry! TEFL courses like the one with MyTEFL make it easy for you to get the required certification quickly and affordably.
☞ Don't miss our article: 7 Best Online TEFL Courses For English Teachers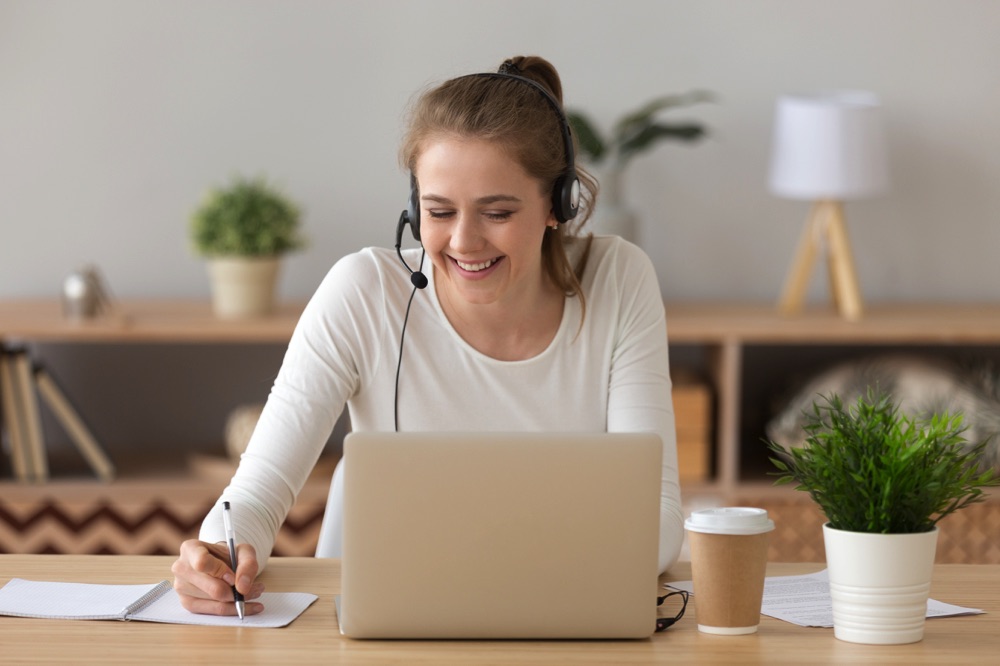 Why Choose MyTEFL?
MyTEFL is known for being a high-quality TEFL program at a lower price point.
With full accreditation, job placement assistance, and a variety of online and in-person courses, it's no wonder MyTEFL has awesome student reviews across the web.
Both the in-person and online TEFL courses with My TEFL cover the same important information:
Teaching foundations and classroom management
How to teach English speaking, listening, writing, and reading to ESL students
How to plan lessons and what activities to use in the classroom
Grammar review and best practices
How to create tests and assessments
At the end of the course, you'll receive an accredited TEFL certification that will qualify you for teaching jobs around the world!
Online Certification vs. In-Person Certification
One perk of My TEFL is that they offer both in-person and online TEFL certification opportunities.
If you want to explore a new destination while you get certified and want hands-on training, an in-person course is the way to go.
If you need a course that is flexible with your schedule and less expensive, the online course is a great option.
MyTEFL Online Courses
There are several online courses available. You can choose between:
40-hour Basic Course
60-hour Standard Course
80-hour Advanced Course
120-hour Professional course
If you're serious about teaching abroad or online, you should sign up for the 120-hour training. Many teaching companies require a minimum of a 120-hour certification, so you might not be eligible for your dream job if you take a shorter class.
The 120-hour online course is self-paced and features in-depth modules. Online tutor support and feedback on your assignments are included as well.
When you complete the course, you'll receive an accredited TEFL certificate, a letter of recommendation, and a lifetime of job search guidance.
You'll have three months to complete your online course and six months to access the material.
MyTEFL In-Person Courses
MyTEFL offers 120-hour in-person courses in Thailand, Argentina, and Spain. Courses last between three and four weeks depending on the location.
Thailand In-Person Courses: The Thailand courses take place in either Hua Hin or Chiang Mai. The MyTEFL program fee includes airport pick up, three weeks of accommodation walking distance to the TEFL training location, and job placement assistance in Thailand after completing the course.
The Thailand onsite courses include the following:
120-hour TEFL course and training
Lesson plan creation and collaboration
Real-world activities and lessons that can be used while teaching
Classroom observations
Thai cultural studies
Travel excursions like visiting a temple, taking a Muay Thai lesson, and touring a pineapple plantation
Argentina In-Person Courses: If Argentina is more your style, you can get certified in the vibrant city of Buenos Aires. MyTEFL courses in Argentina last four weeks and your course fee includes airport pick up, accommodation, in-person teaching practice, a resume writing workshop, and job search help in Buenos Aires after completion.
The Argentina onsite courses include the following:
120-hour TEFL course and training
Classroom observations
Chances to practice teaching with real students
Lesson plan creation and collaboration
Spain In-Person Courses: You can also get TEFL certified in Barcelona, Spain. The Barcelona TEFL course lasts for four weeks and the fee in-person teaching experience and workshops about your job search and hiring process.
Accommodation assistance is provided.
The Spain onsite courses include the following:
120-hour TEFL course and training
Create and collaborate on lesson plans and activities
Classroom observations
Classroom management skills
MyTEFL Internships
In addition to offering in-person and online TEFL courses, MyTEFL offers a variety of TEFL internships around the world.
Some of these internships are paid and some are volunteer, but all provide you with a chance to get experience before finding a teaching job on your own.
These internship opportunities can help your application stand out, especially if you're new to teaching or don't have a degree.
Thailand Internship
For the six-month Thailand Internship, you'll start by taking the 120-hour MyTEFL course online before you head to Thailand.
After completing the course, you'll travel to Thailand where you'll complete one week of orientation and receive your job placement.
Job placements are paid and MyTEFL will be there to help you get everything set up. To qualify for this internship, you must be between the ages of 20 and 50 and hold a passport from a native English speaking country.
Myanmar Internship
MyTEFL also offers three-month, six-month, and twelve-month paid internships in Myanmar. You'll take the 120-hour TEFL course before you leave and then head to Myanmar for Orientation and on-site training.
You can request the length of internship that works for you and all Myanmar placements are paid. To participate in the Myanmar internship, you must be between the ages of 19 and 45. You also must be a native English speaker from an English-speaking country.
Argentina Internship
In the four-month Argentina Internship program, you'll start by taking the 120-hour TEFL course at home and then fly to Buenos Aires for orientation. After completing orientation, you'll be placed with a host family near your teaching assignment.
Because the Argentina Internship features a homestay element, your meals and accommodations are included. Teachers will also receive a monthly stipend and Spanish lessons.
Applicants for the Argentina internship must be between the ages of 20 and 41 and hold a bachelor's degree.
South Africa Internship
This one-month volunteer internship will take you to the fascinating town of Port Elizabeth, South Africa. You'll complete your 120-hour TEFL training online before departing and once you arrive you'll work as a volunteer teacher, tutor, or mentor.
Meals, accommodation, and transportation are all provided to participants so you can focus on gaining experience and making a difference.
Is There Anything Else MyTEFL Includes?
MyTEFL is more than just a certification course. After you've completed your course, you'll have access to additional features through their program.
Job Search And Placement Assistance
MyTEFL includes job search guidance. Once you've finished your course, MyTEFL can help you find a job and get hired. Even better, this job placement assistance is good for life!
MyTEFL Job placement assistance includes:
Help with cover letters and CVs when applying for teaching jobs
Vetting employers to make sure students are in a safe and reliable placement
Helping MyTEFL graduates connect with the right employers where they want to go
In reading student reviews of MyTEFL, many people mentioned how effective and fast this job placement assistance was. With its wide range of connections, the MyTEFL team is quick to help graduates find a placement that works for them.
Recommendation Letter
A letter of recommendation is provided upon completion. When you finish your TEFL course, MyTEFL will provide you with a letter of recommendation and a breakdown of what material you covered in your course. This can be helpful when applying to competitive teaching jobs.
Charitable Donations
My TEFL makes charitable donations. Every time a student enrolls in an accredited course, MyTEFL makes a donation to an important cause. You can visit the MyTEFL website to read more about the charities that they support.
Internships Are Available
As I mentioned above, once you've completed the MyTEFL course, you can participate in a number of paid and volunteer internship opportunities around the world. This is a great option if you don't have a degree or don't have any experience and want to build up your CV.
Right now, MyTEFL offers internships in the following locations
Thailand (six-month paid internship)
Myanmar (six-month paid internship)
Argentina (five-month internship with a stipend and included homestay accommodation)
South Africa (one-month volunteer internship)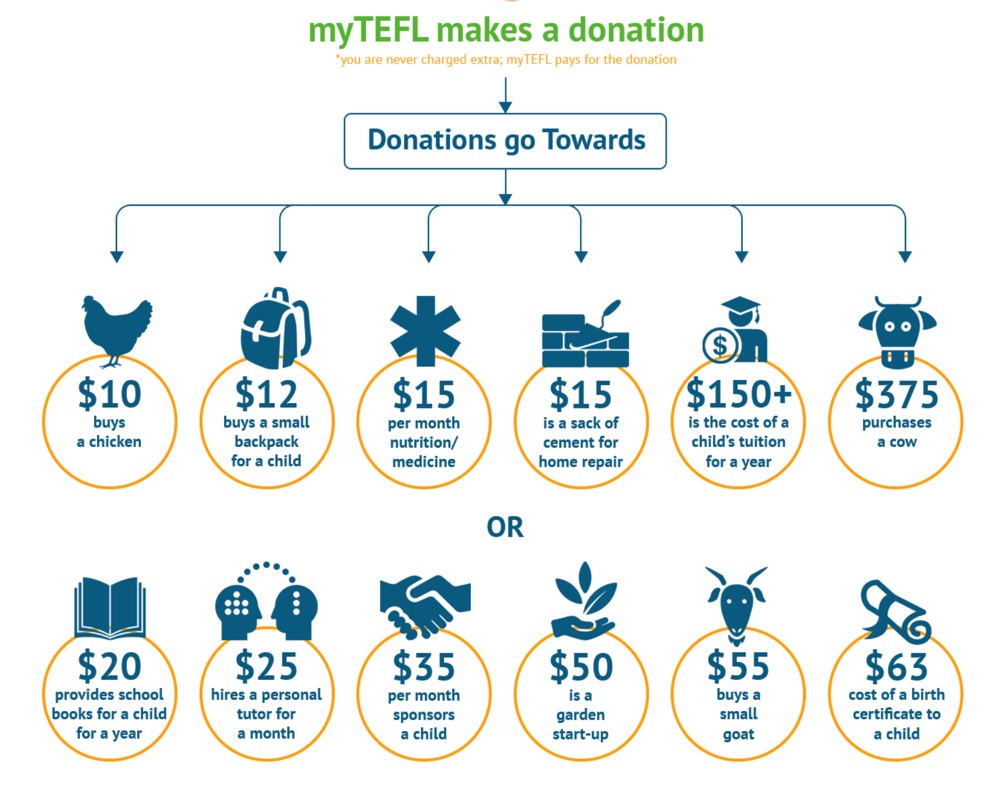 Cost of MyTEFL Courses
The price of the online TEFL course is far less than the in-person courses (for obvious reasons), here's a breakdown.
Online Course
The online courses with MyTEFL range from $139 – $299 USD.
MyTEFL often runs discounts on their website so make sure to check for that before you enroll. Currently, they are offering Goats On The Road readers a 35% discount using the code "goats35" at checkout! Click here for details.
In-Person Courses
The in-person courses with MyTEFL cost between $1900 – $2200 USD. They require a deposit of $500 – $600 USD to reserve your space.
Here's the price breakdown for each location:
Thailand: $1900 USD total price (you'll pay a $498 USD deposit to secure your spot)
Argentina: $1980 USD total price (you'll pay a $495 USD deposit to secure your spot)
Spain: $2195 USD total price (you'll pay a $549 USD deposit to secure your spot)
This cost does not include airfare, vaccines, or day to day expenses while you're onsite. For the Argentina and Thailand courses, this price does include accommodation. Accommodation is not included in the Spain onsite course.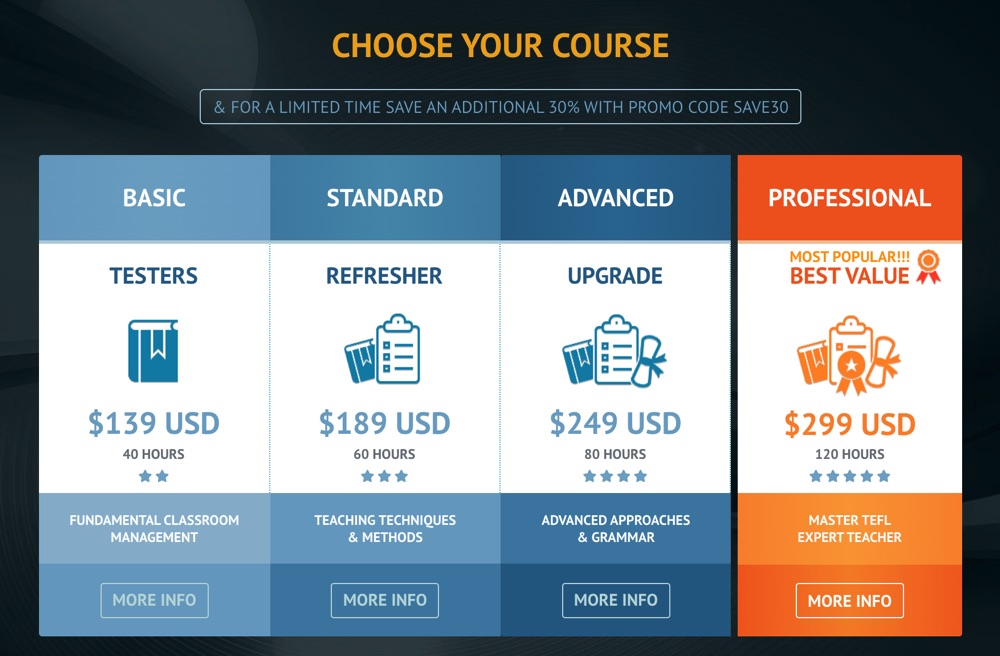 Pros and Cons of MyTEFL
As with anything, there are both pros and cons to getting certified through MyTEFL.
MyTEFL Pros
One of the biggest benefits of the 120-hour online MyTEFL Course is that it doesn't have a set schedule. This means that you can complete your TEFL course whenever it works for you.
Many people work on getting TEFL certified while still maintaining a traditional job. MyTEFL makes it easy to move towards certification even with a busy schedule.
MyTEFL has excellent student reviews across various teaching abroad platforms. Students often mention how this course is a great deal for the price and how the material was easy to follow.
Because you can access your course materials on many different devices, it's possible to work on your course from a phone or tablet. This is great for teachers who are often on the move.
Across the board, MyTEFL is one of the most affordable TEFL courses around. You can get a fully accredited TEFL certification for just under $300, which is pretty hard to beat!
MyTEFL Cons
The biggest downside of MyTEFL is that if you choose to take an online course, you won't receive any hands-on training. This means you might need to arrange your own hands-on experience independently, which can be challenging.
If you choose to do an in-person course, you'll get some practical experience. But at this time, the MyTEFL online courses don't have a practical teaching component.
There also isn't a final project or assessment with this course.
While some might see this as a good thing, the ending of the course can feel abrupt. Adding a final project or exam could give students a chance to demonstrate their new knowledge.
There's a lack of sample teaching videos throughout the course, and while there are some video elements within the modules, it would be nice to see videos of how full lessons look in a real classroom.
Finally, another downside is that the course resource library is only available for six months after completing the course.
Who Can Take This TEFL Course?
Anyone who is a fluent English speaker can take this TEFL course. It's okay if you're not a native speaker, but you should be proficient and comfortable communicating fluently in the English language.
Getting TEFL certified can lead to teaching opportunities, even if you don't have a traditional background in education.
If you have a TEFL certification, there are places where you won't need a degree or classroom experience to get a job teaching English.
How To Sign Up For The MyTEFL Course
To sign up for an online TEFL program, click on the "courses" tab in the top menu and select "online courses." Under each of the course offerings, you'll see a button where you can sign up.
You'll complete your personal information and payment information right on the website. You'll receive introductory materials and a message from a MyTEFL tutor to help you get started.
To sign up for an in-person course or internship abroad, contact MyTEFL through the email address provided on their website. They will guide you through the signup process to ensure you chose the right program to suit your needs.
Ready To Get TEFL Certified?!
I know signing up for a TEFL course can be daunting. You might be wondering where you'll find the time to enroll in a course or feel unsure about returning to the classroom.
Thankfully, programs like the courses offered through MyTEFL are flexible, well organized, and fun!
If you know you want to become an English teacher, either abroad or online, go ahead and enroll in your TEFL course as soon as possible.
Sometimes it can take a while to receive your paperwork after completing a course, and you don't want to end up in a time crunch.
If you decide to teach abroad in countries like China, you might need to get your certificate notarized or authenticated, which takes more time too.
Starting as soon as possible can help make your transition to life as an English teacher as seamless as possible.
Getting TEFL certified will give you more options as an ESL teacher. You'll walk away with a better understanding of how to run your classroom effectively, how to create meaningful ESL lessons, and how to inspire confidence in your students.
Like This Article? Pin it!