One of my favorite things about teaching is meeting students from all over the world! While many online English companies cater to the Chinese market, this post will take a look at some of the best companies to teach English online to Japanese students.
In my three years of online teaching experience, I've mostly worked with students from China. That said, working with students from a variety of countries is a fun way to learn about different cultures and meet interesting people from around the world!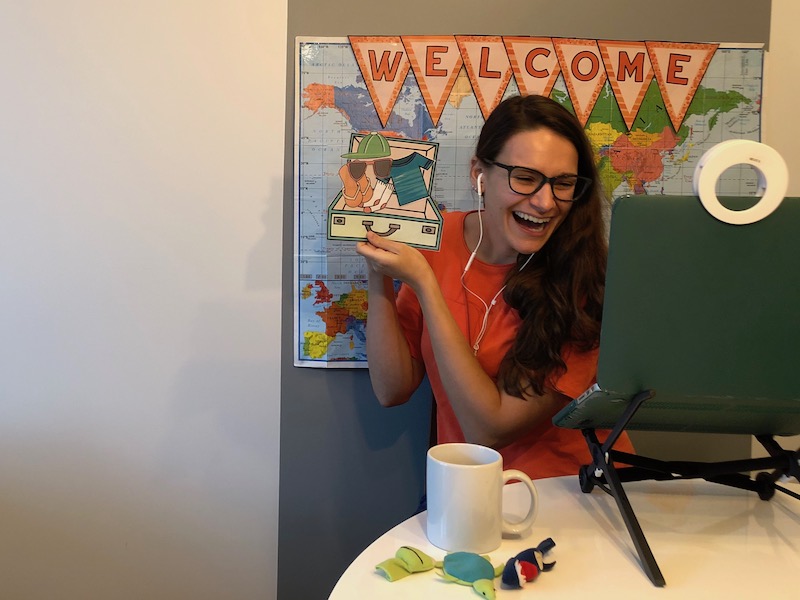 In Japan, the online language education market is booming. If you'd like to teach English online to Japanese students, these 5 companies are a great place to start.
1. English Everywhere
If you want to become an English teacher for Japanese students, English Everywhere might be a great fit for you.
This platform allows teachers to be fully in control of their hours and schedule. They offer a 100% online experience, so you can enjoy the perks of remote work while making money.
Students on the English Everywhere platform come from a variety of backgrounds. Some want business English lessons and others want casual conversation practice. It is up to the teacher to create lesson plans that suit the needs of each particular student.
Teacher Requirements
To teach English online to Japanese students with English Everywhere, you must have the following:
TEFL certification
Some experience teaching English as a second language.
You can teach with English Everywhere without having a Bachelor's Degree.
Teachers are required to use Skype for lessons so you should be comfortable with this platform. Also, teachers must be able to respond to emails from English Everywhere within 36 hours of receiving them in order to remain in good standing.
Payment Information
For your first ten classes with English Everywhere, you'll be paid 800 Yen ($7.50) per 30-minute class. After you've successfully taught 10 classes, your payment will be increased to 900 Yen ($8.50) per class.
Payment is sent once a month via Paypal. Teachers must have a Paypal account to receive payment.
Hours
One perk of English Everywhere is that teachers can set their own schedules and have schedule flexibility. When you fill out the application form, you'll be able to say which days and times you're free for bookings.
If a certain day or time doesn't work for you, you can leave it blank and students won't be able to book you.
You can update your availability schedule any time to open or close time slots. Students can only request classes during the times you're available.
How To Sign Up
To get started, head to this link and you'll see a large button to begin the application process.
Select this button and you'll be taken to a detailed contract and conditions page. Review the information and make sure you understand the company policies. Once you have read through the contract, select "I Accept" to move forward.
Next, you'll be taken to an application page. Fill in all the required information. In addition to logistical information like your preferred hours and contact information, you'll need to share your motivations for becoming a teacher as well as information about your teaching style.
You'll be able to select your availability on this application form too. Once the form is filled out, you'll submit it to English Everywhere. If you're approved, you'll have an interview with English Everywhere and you'll teach a sample lesson to a current student.
If your interviews are successful, you'll be added to the system as a teacher.
FIND OUT MORE AND SIGN UP WITH ENGLISH EVERYWHERE
2. Cena English
With Cena English (Cena Academy), native speakers from the USA can teach private English lessons online to Japanese students.
Cena English is unique because the company acts more as a matchmaker. They help English teachers find students, but after that, most logistics are handled by the student and teacher independently.
Teachers and students choose a time for lessons and students pay their teachers directly after the lesson has been taught.
It seems like teachers are responsible for providing their own materials since there is no mention of provided lesson plans on the website.
For this reason, Cena English is probably a good choice for a more independent teacher who wants lots of flexibility.
Teacher Requirements
In order to teach English online to Japanese students with Cena English, you must be meet the following requirements:
Be a native English speaker from the United States.
Teachers must have a Bachelor's degree or higher.
You must have a TEFL certification.
Experience teaching is preferred but not required. Teachers must be comfortable holding classes over Skype and will use the software "Audacity" to record their lessons to provide playback for students.
Teachers also need to have more than 1.5 Mbps upload and download speed on their device for smooth teaching.
Payment Information
There are three types of lessons on Cena English: trial lessons, regular lessons, and interviews.
Trial Lessons are 25 minutes long and the pay is $11 USD
Regular Lessons are 50 minutes long and the pay is $22 USD
Interviews are scheduled by existing Cena English students who want a new teacher and these are not paid.
Cena English is unique in how they handle payments. From what I can tell, the students are responsible for paying their teachers directly through Paypal.
The upside of this is that teachers get their full lesson fee delivered to them quickly without having to wait for the company to process payment.
The downside is that it is unclear how payment disputes or delays are handled since it's done between the student and the teacher directly.
According to their website, Paypal is the only way to receive payment at this time.
Hours
Teachers must be able to offer classes at times that work for their students in Japan. This means that you should have some availability during the Japanese daytime and evening time slots
Because students and their teachers arrange classes on a one-on-one basis, it seems like you could plan classes whenever it worked for you and your student.
How To Sign Up
To sign up, visit the Cena English website. It will default to Japanese, but if you select the "home" Cena button in the top menu, you'll find a drop-down menu to change the language.
After you've changed the language to English, in the drop-down menu, you'll see a button that says "Recruit." Clicking that button will take you to the teacher application instructions.
On this page, you'll see all the information they want you to provide to sign up, including your qualifications, internet speed, and time zone. They will also tell you what technology you need to have and explain some basic Cena procedures.
Once you're familiar with their requirements, you'll send all the requested information to the email address listed on the registration page. Someone will follow up with you about your application as soon as possible.
FIND OUT MORE AND SIGN UP WITH CENA ACADEMY
☞ SEE ALSO: Guide to Finding English Teaching Jobs in Japan
3. CafeTalk
CafeTalk is an online learning platform where teachers from around the world can teach any subject they're passionate about. Students can come from all over, but the majority are from Japan and Korea.
On CafeTalk, teachers can let their creativity shine in their lessons!
You can teach a language or another topic like yoga, cooking, dance, or music. Teachers will need to prepare their own lesson plans, but those looking for flexible teaching options should check them out.
Teacher Requirements
Because CafeTalk offers lessons in a variety of subjects, there isn't a uniform set of requirements for teachers. Tutors must be able to teach using the Skype platform and have to use a computer or tablet.
Payment Information
CafeTalk teachers set their own pay rate for lessons. When you're first starting out, CafeTalk keeps 40% of this lesson fee.
The more lessons you teach on the platform, the lower this percentage goes. For experienced teachers, CafeTalk might keep as low as 15% – 20%.
Teachers are paid monthly via Paypal or Payoneer.
Hours
On CafeTalk, you get to set your own hours and there are no minimum or maximum teaching requirements. Since students might be located all over the world, you can set your classtimes whenever you want.
However, if you're focusing on teaching students in Japan, make sure you offer classes at times that work in the Japanese time zone.
How To Sign Up
To join CafeTalk, go to the "Become a Tutor" page. Scroll down until you see the button to apply for a free account.
Next, you'll fill out your teacher profile and say which subjects you'd like to teach. You'll complete an interview and if you pass, you'll be able to list classes for students to book.
FIND OUT MORE AND SIGN UP WITH CAFE TALK
4. S-Lessons
With S-Lessons, you can become an English teacher for Japanese children. Classes on S-Lessons are 25 minutes long and there are two class types available: Regular Courses and Leave It To The Teacher courses.
"Regular courses" have a curriculum provided. "Leave it to the teacher courses" require that the teacher prepares the lesson.
Classes are all taught remotely over Skype.
Teacher Requirements
To teach with S-Lessons, you must have at least one year of experience teaching English. A degree and a TEFL Certification are not required for this platform, but they could help your application if you have them.
Payment Information
With S-Lessons, you can set your own pay rate per class. The S-Lessons platform keeps 30% of your lesson fee as their commission.
Hours
There are no minimum or maximum teaching hours with S-Lessons listed on their website. Teachers can set their own hours and should be mindful of what times might be in demand for students in Japan.
How To Sign Up
To sign up, fill out a written application and send your resume to S-Lessons. Next, you will conduct a Skype interview to learn more about the program. After, you will teach a sample lesson to an S-Lessons staff member.
Once you've been approved, you'll be able to open up your schedule and receive student bookings. S-Lessons will send you an email when a student books your class so you can coordinate via Skype.
FIND OUT MORE AND SIGN UP WITH S-LESSONS
5. Lyngo
Lyngo is looking for native English and native Japanese teachers who want to conduct lessons online. In general, Lyngo has good teacher reviews across the web. They strive to make learning a new language fun and interesting.
Lyngo provides all lesson materials and plans, so you don't have to reinvent the wheel when it comes to teaching. They also offer training so you feel more confident before your first class.
Teacher Requirements
In order to teach Japanese students English online with Lyngo, you must be a native English speaker or a native Japanese speaker. Training is provided so they do not require any certifications or additional experience. (But if you have them, great!)
Classes are taught on Skype so teachers should be comfortable with that platform. Also, all teachers should have high-speed internet, a webcam, and a headset with a microphone attachment.
Payment Information
Teachers can earn 900-1500 Yen ($8.50 – $14.25) per hour. The exact amount depends on what type of class it is and if the company is offering any bonuses at that time. Teachers are paid via Paypal.
Hours
You can teach on Lyngo from 5:00 am until 1:30 pm Japanese Standard Time. There is a higher demand for classes in the evening hours, Japan time.
Most teachers work between 6 and 40 hours per week.
How To Sign Up
To apply, go to the Lyngo website and click "Join Us" in the top menu. This will take you to a page with job information and the teacher requirements. You can apply by clicking the "Apply" button on that page.
You'll also need to submit your resume and a recent photo.
FIND OUT MORE AND SIGN UP WITH LYNGO
Tips For Teaching English Online to Japanese Students
You may find that some of these online Japanese English teaching jobs are full, or aren't currently hiring. This happens in the online teaching world from time to time.
It just means that they are looking for more students before hiring more teachers. If you find one company isn't hiring, move on to the next — and circle back to the first company in a few weeks.
To better your odds of getting hired, make sure to have as many qualifications as possible to give yourself a leg up on the competition. Find the top 7 TEFL courses in our article, here.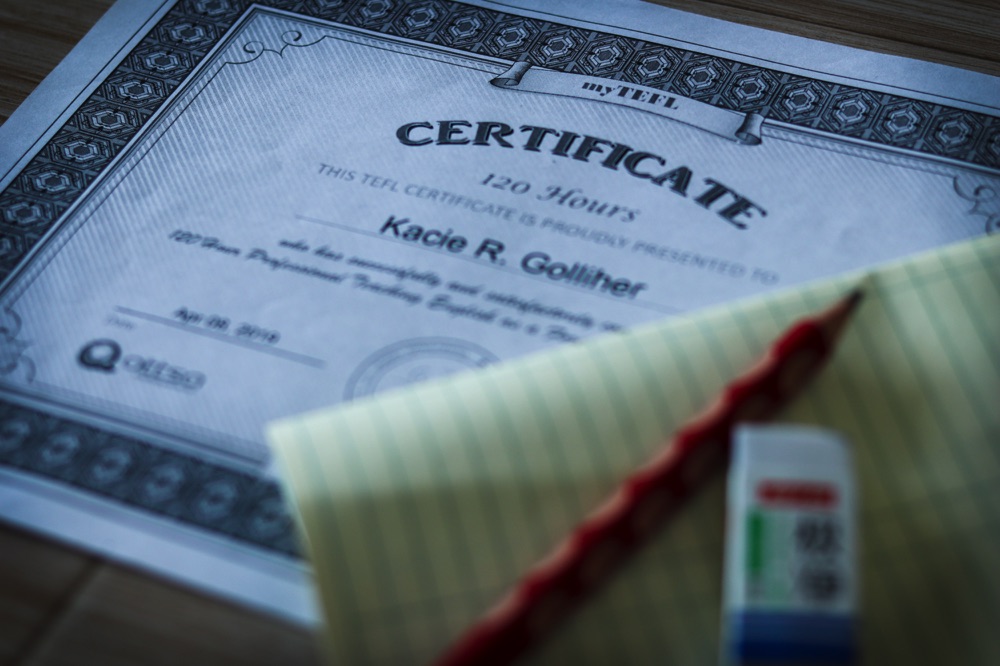 Before you pursue an online teaching job, make sure you have the basic internet and technology requirements covered.
Most online teaching jobs for Japanese students require you to teach from a laptop or desktop computer, but some allow you to teach from a smartphone or tablet.
If possible, use a wired internet connection for faster speeds while teaching. If you're teaching from WiFi, look for speeds of at least 10mbps if possible.
Using a headset with a microphone attachment will give your classroom better audio quality. You also want to make sure you're teaching from a quiet room with good lighting to give your students the best possible experience.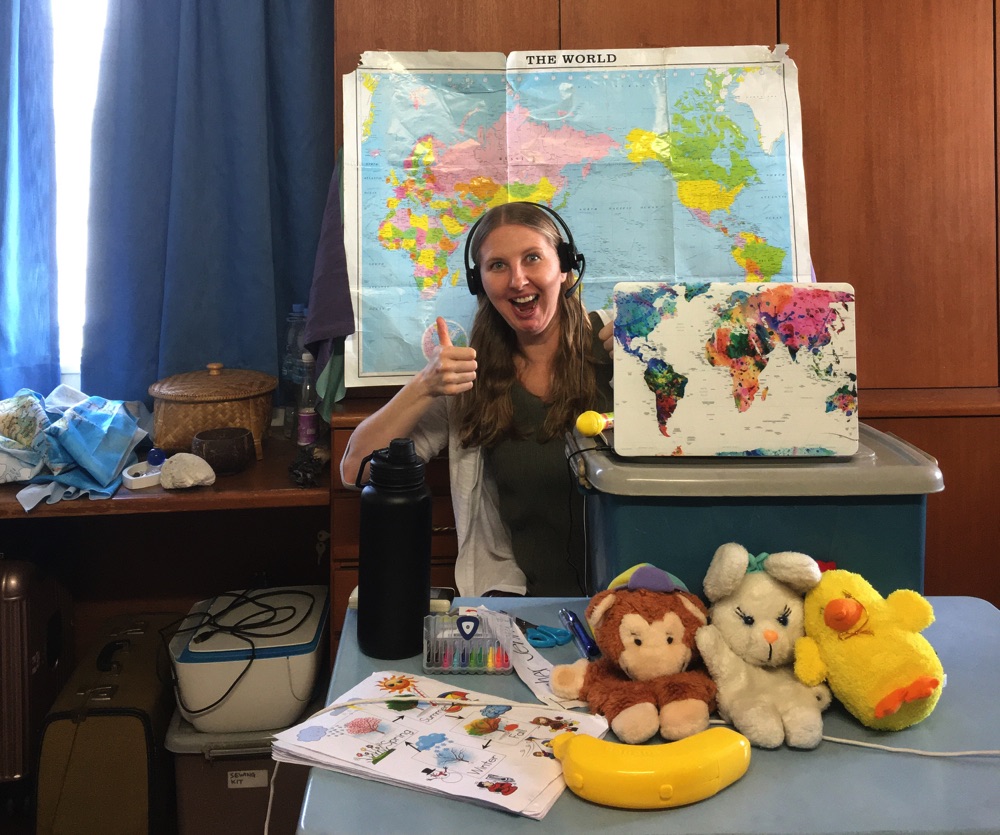 When teaching, make sure to stay true to yourself and have fun! If you're naturally more bubbly and energetic, bring that spark to your online classroom. If you are more serious by nature, you can offer a warm, calm, and studious experience for students.
Approaching each lesson with positivity, no matter your teaching style, will make your students feel valued and help you shine as a teacher.
The lead image in this article is courtesy of Shutterstock.com.
Like This Article? Pin it!