If you'd like to teach English online to Korean students, read on for a look at 10 established companies that pay.
One of my favorite things about teaching English online is the opportunity to meet students from all around the world. Some platforms have a global student base but others focus on teaching students from a specific country.
Teach English to Korean Students Online
In this post, we'll look at 10 companies where you can teach English online to Korean students, plus two more platforms for teaching students of many different nationalities.
I've been an online English teacher since 2017 and I love the location independence, schedule flexibility, and of course, spending time with my amazing learners!
It's pretty cool to think that you can travel virtually to the other side of the world without leaving home, and I've loved getting to learn about my student's cultures.
While I've primarily worked for Chinese online ESL companies, there are also plenty of exciting online English teaching jobs for Korean students.
Here are 10 companies where you can teach English online to Korean students from the comfort of home.
1. Nil English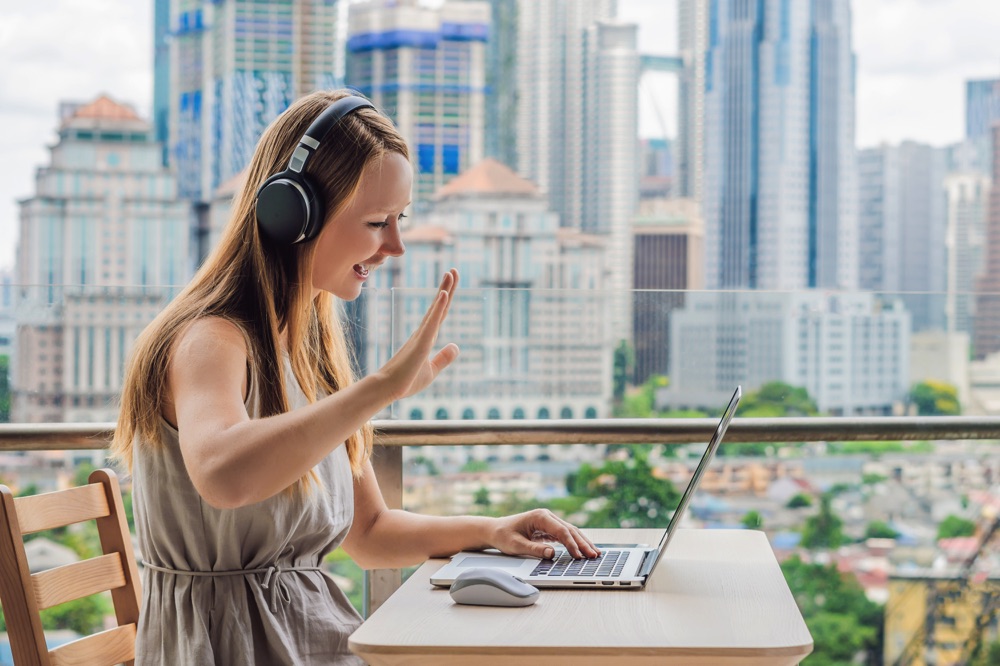 Nil English is a smaller online platform offering lessons to adults and children from Korea. Because Nil English serves clients of all ages, there is a wide range of hours available.
Students on Nil English will see you for several weeks at a time so you have some consistency in your schedule. Classes are held on Zoom, Skype, or over a phone call, depending on what the student prefers.
While specific lesson plans aren't provided, you will receive curriculum and guidelines from Nil English as to what your student is learning about.
Teacher Requirements
To teach with Nil English, you must be a native English speaker from the USA. A bachelor's degree or associates degree is required, a TEFL certification is preferred, but not required.
When you apply, make sure to include any teaching experiences or relevant qualifications on your resume to give yourself the best chance of getting accepted.
Payment Information
Teachers on Nil English make around $7-10 per hour at first. Teachers are paid $1.50 per 10-minute class and there are opportunities for raises every few months if you stick with the platform.
Hours
Classes can be anywhere from 10 mins to an hour, with classes starting early in the morning and ending at midnight Korea time.
How to Sign Up
To sign up for Nil English, all you need to do is send an email to info@nilenglish.com and attach your resume. You'll get an email to set up the interview on Skype they will ask about your background and experience.
If you're approved, they will send over your paperwork and you'll complete your profile. Then, they will assign you students to help you get started.
Get Your TEFL Certificate!
Increase your odds of being hired, receive higher-paid jobs, and meet the requirements of many teaching companies. Have a look at MyTEFL which is an affordable, accredited company. Click here and use promo code GOATS50 to receive 50% off your certification.
Or, check out the TEFL Academy for a Level 5 certification. Click here to receive 50% off your application.
2. Tutoring Go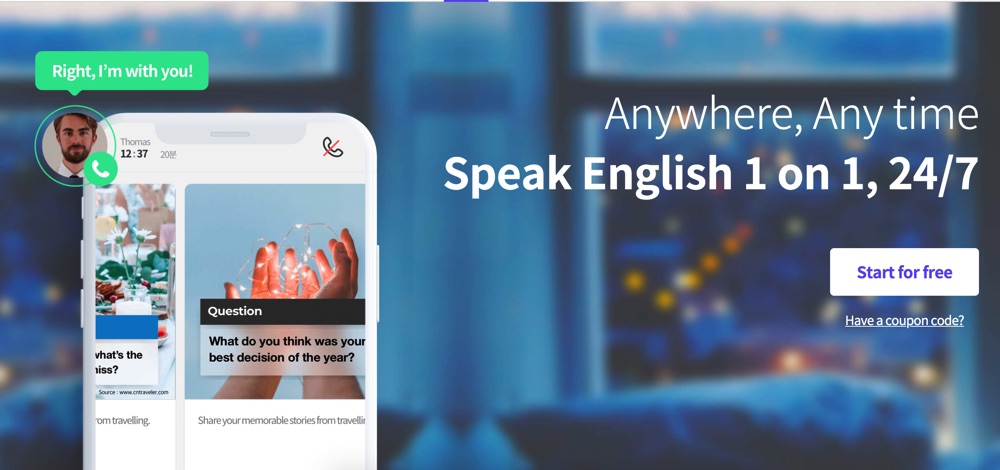 Tutoring (also called TutoringGo in some places) is an audio conversation platform for teaching English to Korean adults and children.
Classes are one-on-one and the platform is available 24/7, making this great for teachers who just want to hop on and teach when it suits their schedule.
Students can choose if they want a freestyle conversation a lesson from provided discussion topics and curriculum. Either way, there is minimal outside prep work for teachers.
Teacher Requirements
Tutoring offers two different programs for teachers: Global and Native.
The Global tutoring program is open to teachers from the Philipines and the Native tutoring program is open to teachers from the USA, Canada, the UK, Australia, New Zealand, and Ireland.
For both the Global and the Native teaching position, you must hold a bachelor's degree, have some experience teaching (online or in-classroom), and have a TEFL certificate.
This is one of the few companies I'm aware of that you can teach English online to Korean students as a citizen of the Philippines.
For technology, teachers will need to teach from a wired connection with 10mbps or above. WiFi is not permitted for teaching.
Payment Information
Teachers are paid $10 per class and will receive a bonus if they teach during peak hours. Peak time is from 6:00 am Korean time to 10:00 am Korean time. Teachers are paid through PayPal two times per month.
Hours
Tutoring Go is open 24 hours and classes are 20 minutes long. There are no minimum or maximum teaching hours and you can work whenever you want.
The highest demand for classes is during "peak time" which is from 6:00 am – 10:00 am Korean Time.
How to Sign Up
To sign up, click here. If there are any openings available, you'll be able to begin the hiring process.
To get hired by Tutoring, you'll start by submitting your documents and written application. You'll also submit an audio and video recording for evaluation.
If you pass, you'll be invited to a phone interview and mock class. Finally, you'll receive initial teacher training and ongoing support in your classroom.
3. EnglishHunt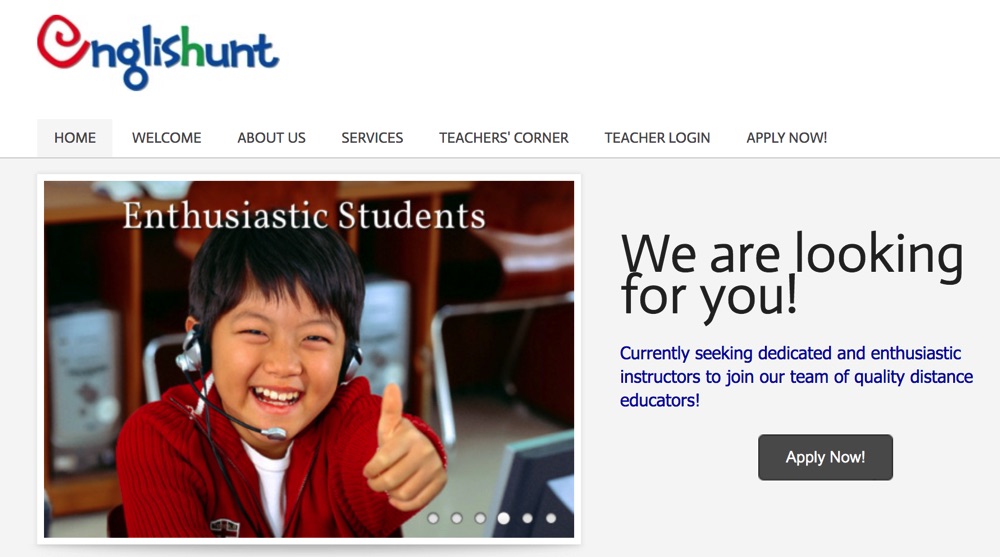 EnglishHunt has been offering online language lessons to students in Korea since the early 2000s. Overall, EnglishHunt has good reviews around the web. With an easy-going vibe, EnglishHunt is known for being a great way to teach Korean adults online.
Current teachers like the responsive staff and easygoing atmosphere but as with all platforms geared toward Asia, the hours are early. Lesson plans and materials are provided.
Teacher Requirements
EnglishHunt is hiring American citizens and you'll need an American bank account to receive payment.
To teach with EnglishHunt, you must have a bachelor's degree in any subject or four years of teaching experience. Teachers should also have a TEFL certification.
Unlike many popular platforms, the EnglishHunt teacher software only works with the windows operating system. According to their website, you will not be able to teach from an Apple or Mac computer, or from a tablet or Chromebook.
Teachers should also have an ethernet connection and a headset with a microphone.
Payment Information
EnglishHunt pays $16 USD per hour. Teachers are paid via direct deposit into their American bank account.
Hours
The highest demand for classes on EnglishHunt is from 1:00 am EST to 3:00 am EST. This corresponds with the afternoons in Korea.
The website doesn't specify a certain number of hours teachers must open, but it seems like they might only hire seasonally to correspond with their semesters.
They open a semester of classes starting in August and a semester of classes starting in March.
How to Sign Up
To join, simply click here. This will take you to the application and you can get started.
4. CafeTalk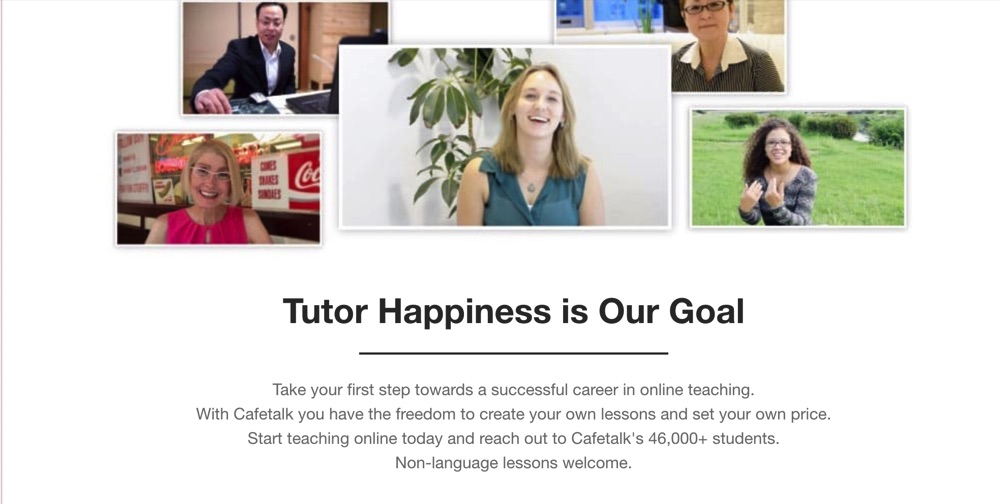 CafeTalk is an online learning platform with a large student base in Korea, Japan, and China. They have students all around the world too, but you'll likely be working with students from Korea at some point since that's a large percentage of students.
CafeTalk is unlike the other platforms on this list because you can teach more than just languages. On CafeTalk, you can actually teach any subject you're knowledgable about, such as yoga, math, and cooking classes in addition to language lessons.
Teacher Requirements
Because CafeTalk lessons can cover a variety of subjects, there isn't one set of requirements that must be met by all teachers. You should be an expert in the area you wish to teach and fluent in the language you wish to teach.
Also, teachers must hold classes using Skype on a tablet, laptop, or desktop. Classes cannot be taught from phones.
Payment Information
Tutors on CafeTalk can set their own pay rates. When you're first starting out, CafeTalk keeps 40% of the fee for each class. As you teach more on the platform, that percentage will drop down as low as 20%.
Hours
Because CafeTalk has students around the world, the platform is open 24/7. There are no minimum or maximum teaching hours and you can choose how long and when your classes are.
How to Sign Up
To sign up, click here to apply for an account. You'll fill out your profile and complete a simple interview. Once you've been approved by the CafeTalk team, you're ready to teach!
5. ZikTalk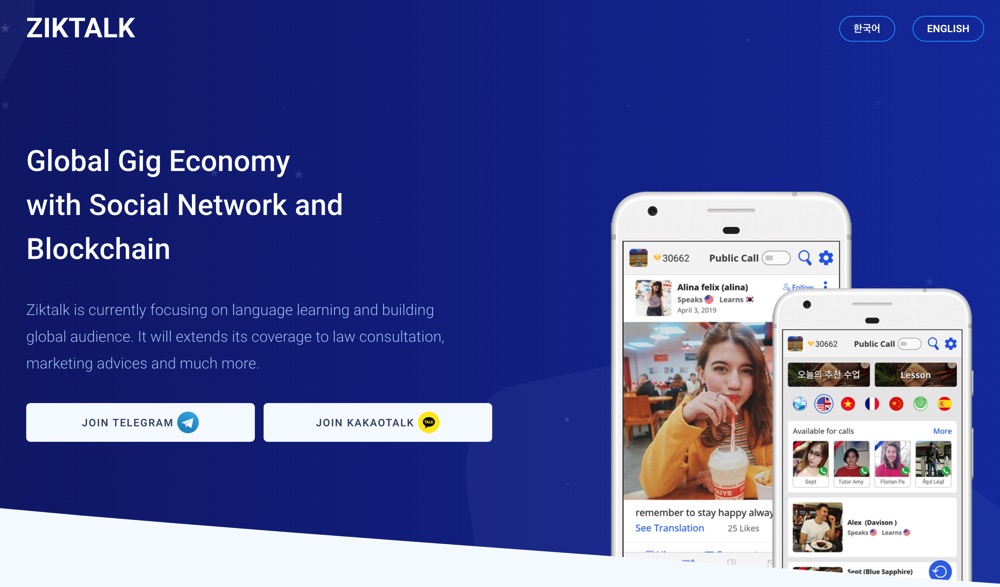 ZikTalk is the way to go if you want to become a causal online English tutor for Korean students. Part language platform, part social media hang out, ZikZalk is a community language exchange app that allows tutors to have conversations with language learners around the world.
With ZikTalk, teachers are paid by the minute to chat with Korean students through their phones. Lessons can be through video calls or audio-only phone calls.
Teacher Requirements
ZikTalk is a pretty casual platform so there aren't a lot of teacher requirements.
To be a Community Tutor, there are no degrees or requirements other than the ability to speak the language you want to teach.
To become a Professional Tutor, you must have one year of teaching experience and certification of some kind. The exact certifications aren't specified but usually, this means either a degree or a TEFL certification.
You will also need to have a reliable internet connection and the ability to download the ZikTalk app.
Payment Information
If you are a Community Tutor, you will make $3 per hour. If you are a Professional Tutor, you can set your own pay rate from $3-30 per hour.
Tutors are paid by the minute. The platform keeps 20% of whatever you earn from the lessons.
Hours
ZikTalk is a free chat platform. This means that when you are online a student can call in and you'll be paid by the minute for the duration of the call.
Even though you can be online whenever you want, remember that most of your students will be in Korea and will call at times that work with their schedules.
There are no minimum or maximum teaching hours. When you apply, you'll tell ZikTalk what your preferred teaching schedule is. When you're approved, your account will automatically become available during the schedule you set (meaning you can receive calls).
You can go in and manually close or open availability any time, so this isn't set in stone.
How to Sign Up
To sign up, download the ZikTalk App and make an account. Then you can apply to be a tutor directly in their phone app.
You will be taken to a screen where you set your hourly rate. You will be paid by the minute using this hourly rate as the baseline. Keep in mind that ZikTalk keeps 20% so account for that when you set your price.
On the next screen, you'll set your working hours. For your working hours, you will automatically show up as online and available to receive calls during this window.
You can manually disable this on a day to day basis if needed, but it will default to the on position. You can choose whichever hours and days of the week you want.
Next, you will complete your teacher profile. You will tell ZikTalk your fluency level in a variety of languages. You'll be able to add interest tags and upload a profile picture. You'll need to record a teacher introductory video and you can do that directly in the ZikTalk app.
Once your teacher profile is complete, you'll update documents to verify your identity — like your passport, degree, and any certifications.
You'll hit submit and then the ZikTak team will review everything you sent in. Once you're approved, you'll receive a message directly in the app letting you know you're ready to start teaching.
6. Nao Now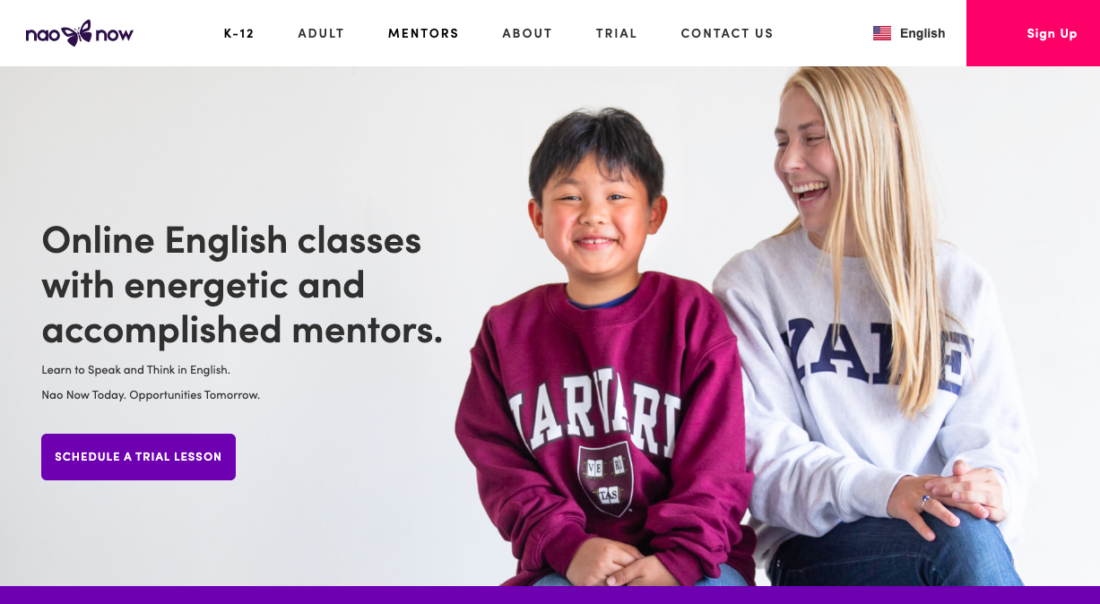 Nao Now offers a wide variety of courses to children and adults. The courses are designed for students to learn English in the American style through diverse subjects such as STEM, art, and travel.
Teachers are referred to as mentors, and they're encouraged to be enthusiastic and proactive in designing their lessons.
Nao Now doesn't publish payment information on their website, so contact them directly for more information. To apply, go to this page.
7. Skybel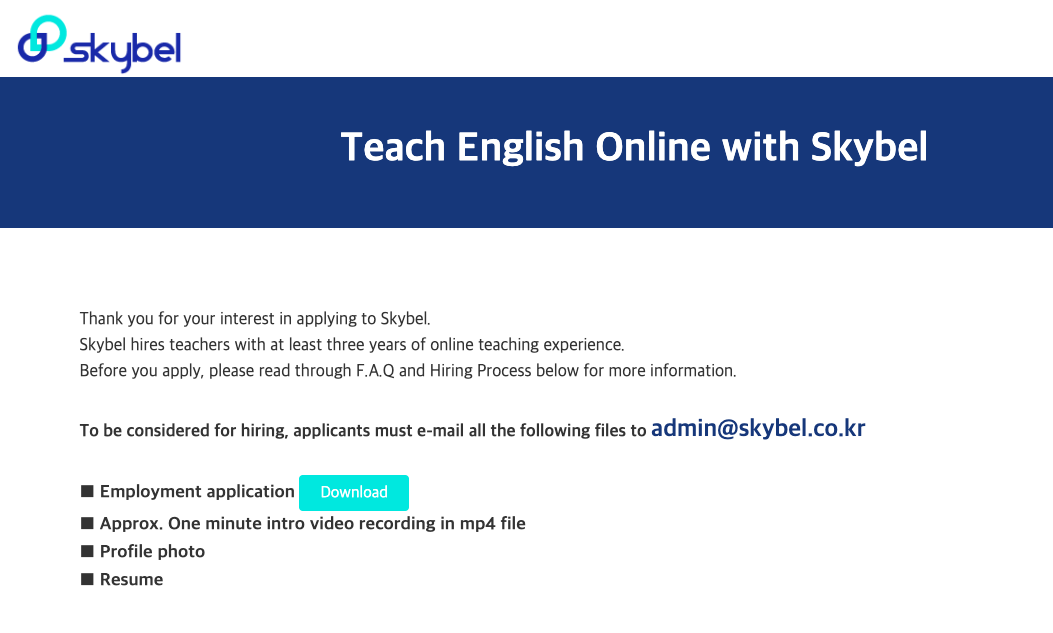 Skybel provides one-on-one classes through Skype for Korean students to improve their English speaking skills.
Teachers must have at least 3 years teaching experience, and native speakers must have a bachelor's degree. The company also hires non-native speakers from the Philippines.
Skybel doesn't post payment information online, so for more information or to apply, visit the application page on their website.
8. Bok Tutors
Bok Tutors provides customized online English lessons to Korean students of all ages. Like many others on this list, they use Skype as the means of communication.
There currently isn't any hiring information on their website, so the best way to learn more about Bok Tutors or to apply is by email: boktutors@hotmail.com 
9. GMNY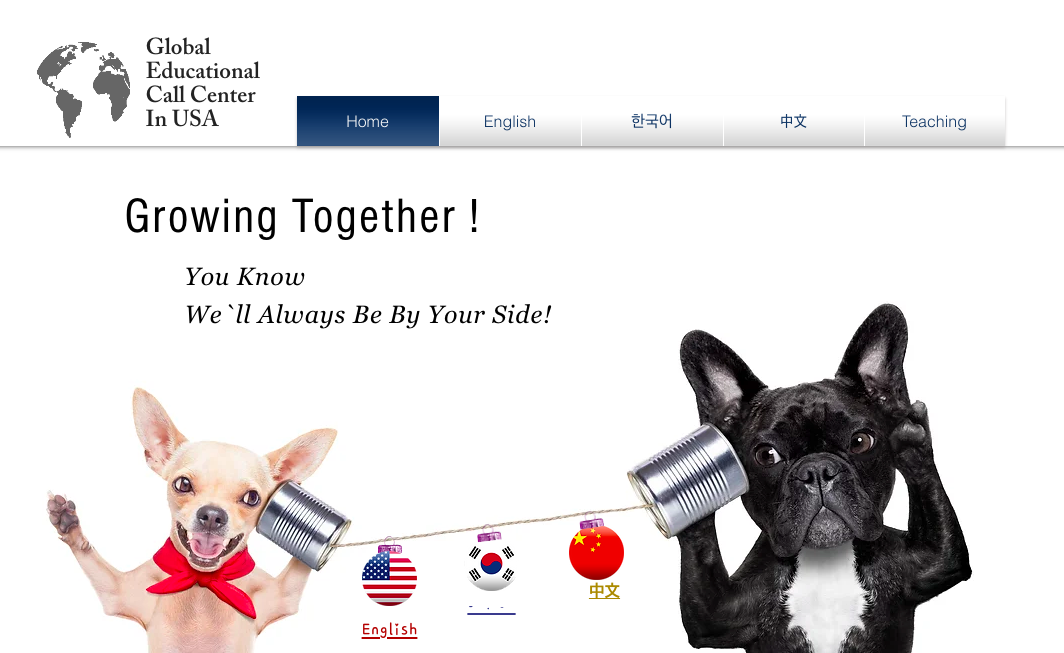 GMNY (which stands for Global Mate New York) is a platform for teaching English online to Korean and Chinese students.
A four-year college degree is the only requirement, although a teaching certificate and teaching experience is preferred. They provide free training and a six-month contract.
Go to their website to apply or to request more information, such as payment rates.
10. Engliphone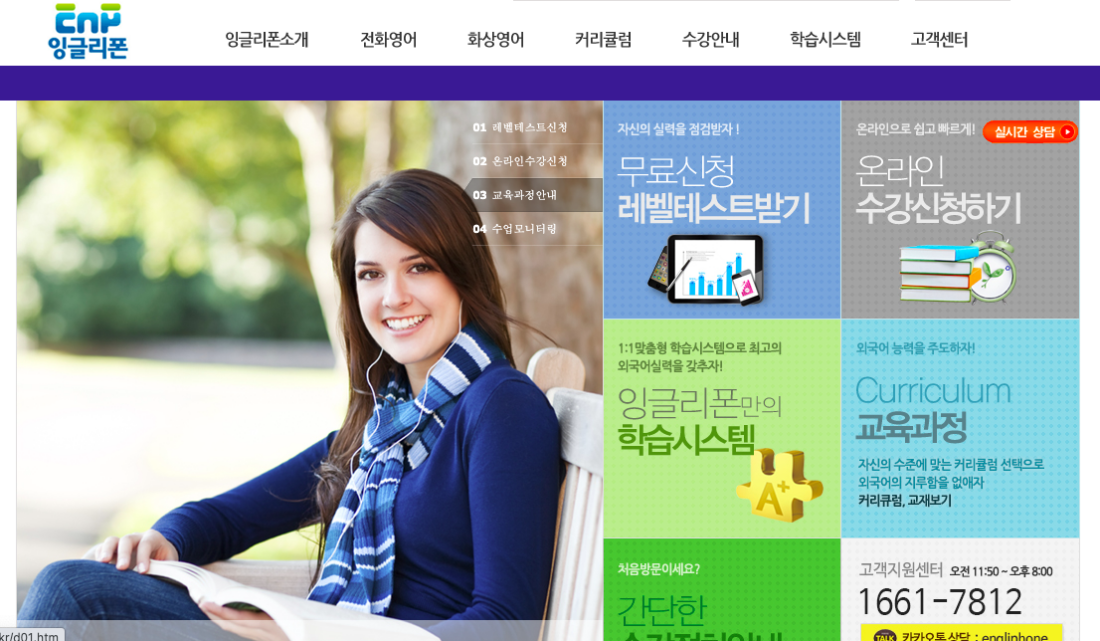 Based in the Philippines, Engliphone specializes in teaching English online to Korean students.
Their website is only in Korean, and although they do place ads looking for online English teachers on job search boards, the best way to contact them is by email: engliphone@naver.com
Other Platforms for Teaching English Online to Korean Students
Of course, you could always sign up with Cambly or PrePly where you can teach students from around the globe, including Koreans. While these 2 platforms aren't strictly for Korean students only, they are easy to use and are highly recommended.
With Cambly, you earn $0.17 per minute, or $10.20 per hour. Find out more in our guide to becoming a Cambly tutor or click here to be directed to their website.
With PrePly, you set your own rates, but top teachers are earning $500/week! Find out more about Preply in our guide to becoming a teacher with PrePly, or click here to be directed to their website.
Tips for Teaching English Online to Korean Students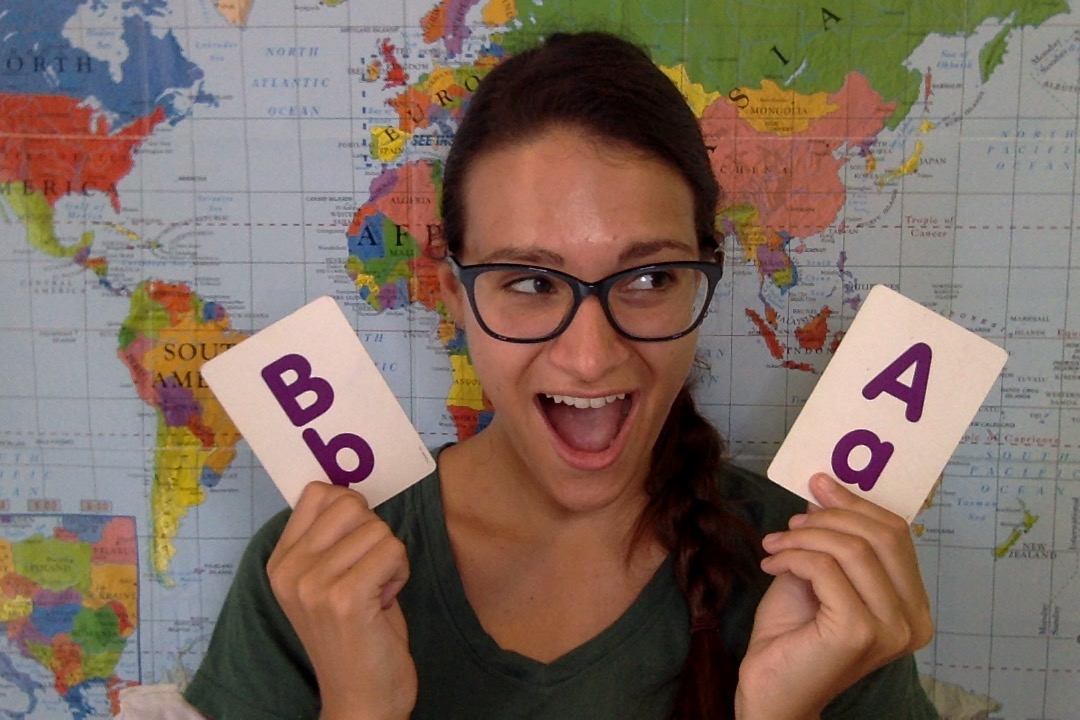 As you prepare for your first online English lessons for Korean students, remember the following tips.
Props and Visuals
If you're working with children, it can be helpful to have props like toys, a dry erase board, and flashcards to supplement the class.
Even though lessons are often provided, a little interactive toy can take a lesson from dry to fun in no time. I have a few beany baby toys and a set of small finger puppets on hand all the time.
If you're working with adults, having photos and magazines around can help strike up a conversation and enhance a topic of discussion.
Classroom Environment
A professional classroom environment is critical for any online English teacher. Make your classroom stand out by using good lighting and working from a quiet space.
Using a headset with a microphone attachment can help prevent distracting background noises and make it easier for your students to hear you. Having the proper teaching equipment can ensure students want to hire you for another class.
Go With the Flow
As a TEFL teacher, being able to adapt your lesson is a must! Sometimes students move through lessons faster than anticipated and sometimes you hardly get through a topic before the time is up.
To account for potential early finishers, I try to have a dry erase board around where we can quickly play some English games if needed.
Whatever happens, go with the flow and encourage your student to speak as much as possible.
A Note About Korean English Teaching Companies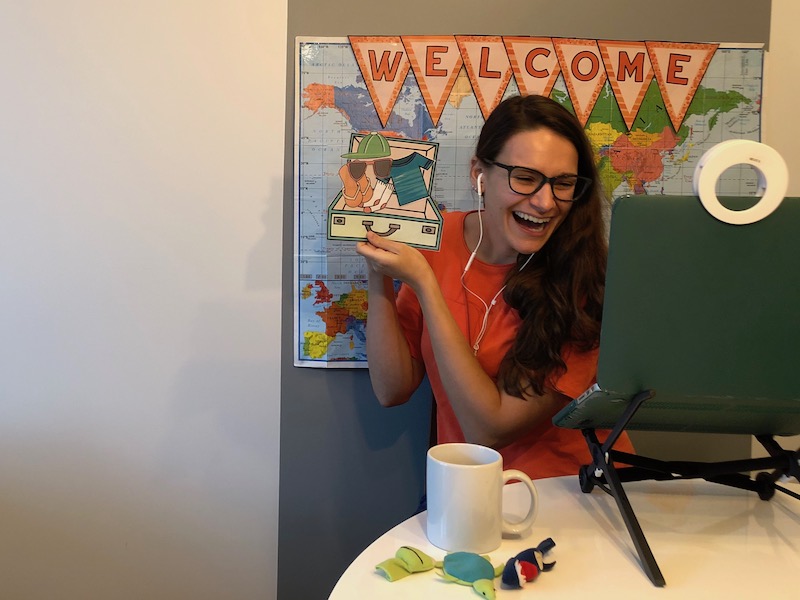 If you're used to teaching ESL for Chinese companies, you might notice that some of the Korean online teaching companies work a bit differently.
Many of the platforms I discussed in this post don't have designated websites for aspiring tutors.
You won't find dozens of YouTube videos from existing teachers walking you through everything, and it can be hard to find specific details about jobs before applying.
To apply, you'll often just need to send an email with your resume.
When you get in touch with your Korean online teaching company via email, make sure to ask them plenty of questions about your pay rate, hours, and responsibilities before committing.
Requirements and teacher packages can change at any time, so do your due diligence before accepting a position to make sure you know what to expect.
Finally, the positions might be available one day, but will be listed as "full" the next. Make sure to continuously check back to see if the teaching position has opened up.
At the end of the day, most students enroll in online classes to practice communication in another language. Being yourself and having fun in your classes will make it easier to connect with your student and give them the best experience possible.
If you're interested in taking your teaching career abroad, have a look at our guide to teaching English in South Korea.
FAQs About Teaching English Online to Korean Students
Want a quick answer to your question about how to teach English online to Korean students? Check out the FAQs below.
Are English teachers in demand in Korea?
English teachers are very much in demand in Korea, making it one of the top destinations for teaching English abroad. And if you can't or don't want to move to Korea, there are also many opportunities for teaching English online to Korean students.
Can I teach English to Korean students online?
Yes, if you meet some basic requirements: command of English, the necessary degrees or certificates (depending on the job), and a good internet connection. Take a look at some online teaching companies and apply. You'll probably need to attend an online interview and give a sample class (at a minimum).
What are the job requirements for teaching English online to Korean students?
Being a native speaker is the most important, although some platforms hire non-native English speakers from the Philippines. A bachelor's degree is also a usual requirement, as well as a TEFL/TESL certificate. Some jobs may ask for 1-3 years teaching experience.
How much does teaching English online to Koreans pay?
The pay varies widely for teaching Koreans English online. It depends on the platform you use and your experience. Expect anything from $3-30 an hour, with $10 an hour being common.
What are the working hours for teaching English online in Korea?
Most classes are held in early mornings and late evenings Korea time, along with weekends, when Korean English learners aren't at work or school.
See More Teaching Articles Here:
Like This Article? Pin It!