Whenever the topic of bucket list travel destinations comes up, there are a few countries that just about everyone wants to visit. Thailand is one such place. The Kingdom of Smiles is known for its picturesque beaches, glittering Buddhist temples, and mouthwatering cuisine. Travelling in beautiful Thailand travel definitely includes a bit of classic Asia sensory overload.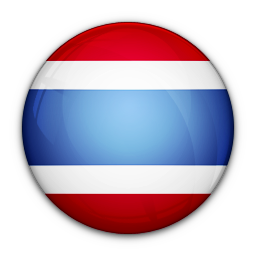 Thailand has been attracting all types of travelers for several decades now. It's a place where you'll find backpackers, honeymooners, expats, and retirees all hanging out at the same bar. Regardless of your budget and interests, Thailand has got something for you. Few places offer as much of a bang for your buck as this beautiful Southeast Asian nation.
Your options are nearly limitless when traveling in Thailand. Here you can go scuba diving, jungle trekking, ziplining, mountain biking, and every adventure in between. Bustling cities offer a wealth of temples, museums, and markets. You can even wander amongst the ruins of former Thai kingdoms. One thing's for sure – you'll never be bored when you travel Thailand.
Once you travel to Thailand, you'll likely be planning your return before you even leave. It's one of those places that just sucks you in and leaves you wanting more. I've spent several months traveling around Thailand and am always happy to return. If you're finally ready to plan that bucket list trip, read on for tons of useful information about Thailand travel.
Latest Thailand Blog Posts
Check out the blog posts we've about Thailand below. Having spent over 6 months both living and traveling in Thailand, we have quite a few posts! We do our best to cover as many different places as possible so that you can better plan your next trip to Thailand. Whether you're a budget backpacker or a luxury traveller, we have a bit for everyone in the posts below. Don't miss our things to do posts and places to visit in Thailand posts.
Pai Thailand is a small town located in Northern Thailand and due to its charm and the many different things ...
Plan Your Trip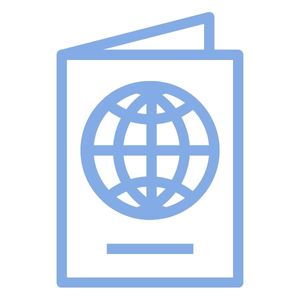 Visa Requirements
What you need to enter the country and travel for the duration of your intended trip.
Places To Visit In Thailand
There are countless different islands, atolls, cities, villages, mountain towns and National Parks to explore in Thailand. There is no way we could list them all on this page so we've just listed our top picks, but if you'd like to read more places to visit in Thailand, you can click the button below this quick list of our favourites.
Chiang Mai
The elephant is a national symbol of Thailand due to their special symbolism in Buddhism. Even the country's most famous beer brand (Chang) is named after them. Many people who travel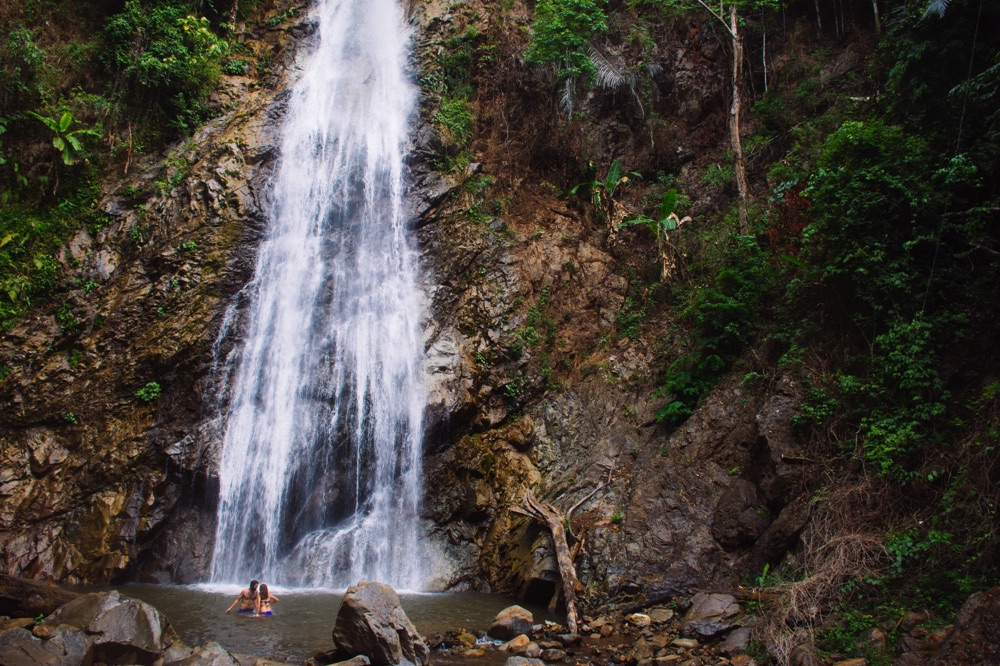 Thailand hope to get up close with the elephants, and you have several options for doing so. Please ensure that you do your research and do not support any elephant riding. The most reputable place in the country is the Elephant Nature Park in Chiang Mai.
Krabi
The beach towns of Railay and Tonsai in southern Thailand offer some world class rock climbing. Come strap in and scale the epic karst mountain peaks. There are hundreds of routes varying from beginner to advanced here. If you're a total beginner, you can do a 3-day climbing course for around $175. Or you can just head out on a deep water solo trip for $45 and skip all the gear. Just climb up and jump in the water when you can't go any further!
Koh Phangan
One of the most famous parties in all of Southeast Asia takes place on the island of Koh Phangan every month. The Full Moon Party is legendary and is a right of passage for backpackers.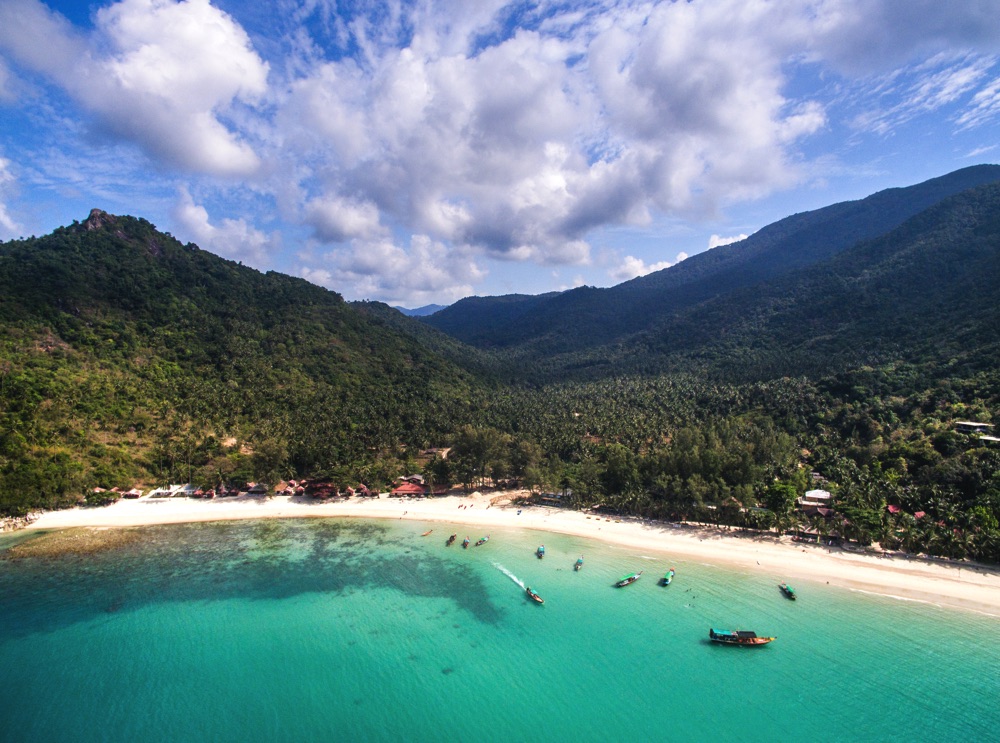 Cover yourself in day-glo paint, drink whiskey out of buckets, and dance til the sun comes up with 30,000 other revelers at this wild lunar bash. When you travel Thailand, this is one party you won't want to miss.
Sukhothai and Ayutthaya
If you're interested in learning more about Thai history and culture, you'll want to visit some of the impressive ruins. Rent a bicycle or hire a tuk-tuk for a day to explore these former Thai kingdoms. Your best bets are Sukhothai and Ayutthaya. Both are accessible by train, with the later being an easy day trip from Bangkok.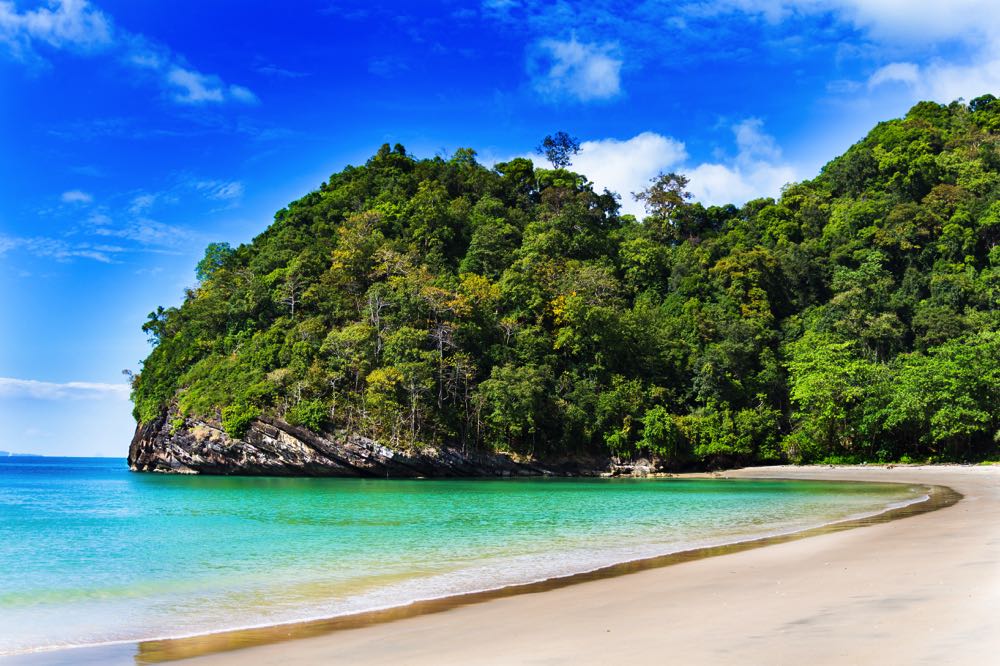 Things To Do in Thailand
From hiking and rock climbing to cooking classes and yoga, Thailand has something for every type of traveller. Whether you're an adventurer who enjoys an adrenaline rush or a holidaymaker who's just looking to laze on the beach, there's something for you in Thailand.
The Temples of Bangkok
The population of Thailand is around 95% Buddhist, and religion plays a very large role in Thai culture and society. There are thousands upon thousands of temples across the country, but the best and most important are in Bangkok.
At the very least, you'll want to visit Wat Pho (Temple of the Reclining Buddha), Wat Arun (Temple of the Dawn), and Wat Phra Kaew (Temple of the Emerald Buddha).
Ride the Mae Hong Son Loop
There are several opportunities for adventure travel in Thailand. One of the best is renting a motorbike and riding the 1,864 curves of the Mae Hong Son Loop. Rent some wheels in Chiang Mai and head out to visit national parks, waterfalls, caves, and more on this epic trip. It's best to give yourself at least a week to ten days to fully enjoy it.
Get Underwater
Thailand is one of the best places to get certified as a scuba diver. The island of Koh Tao has an abundance of dive shops that offer quality courses at a reasonable price. You can do an open water course for just around $300 here.
Once you're certified, you've got numerous options for fun dives on both coasts. Make sure you hit Sail Rock from either Koh Tao or Koh Phangan.
Trek Through the Jungle
If you get bored on the beach and need a break from the crowds in Bangkok, Thailand has some great hiking and trekking. You can visit national parks such as Khao Yai or Khao Sok, or join a multi-day trekking excursion out of Chiang Mai or Chiang Rai. You'll learn about the jungle, stay in remote villages, jump into rushing waterfalls, and so much more. The trek we did on our first trip to Thailand remains one of my favourite travel experiences ever.
Take Part in a Thai Festival
Thailand has many unique festivals throughout the year, and taking part in one is an experience you'll never forget. Your best choices include Songkran (the Thai New Year), which culminates in a massive water fight.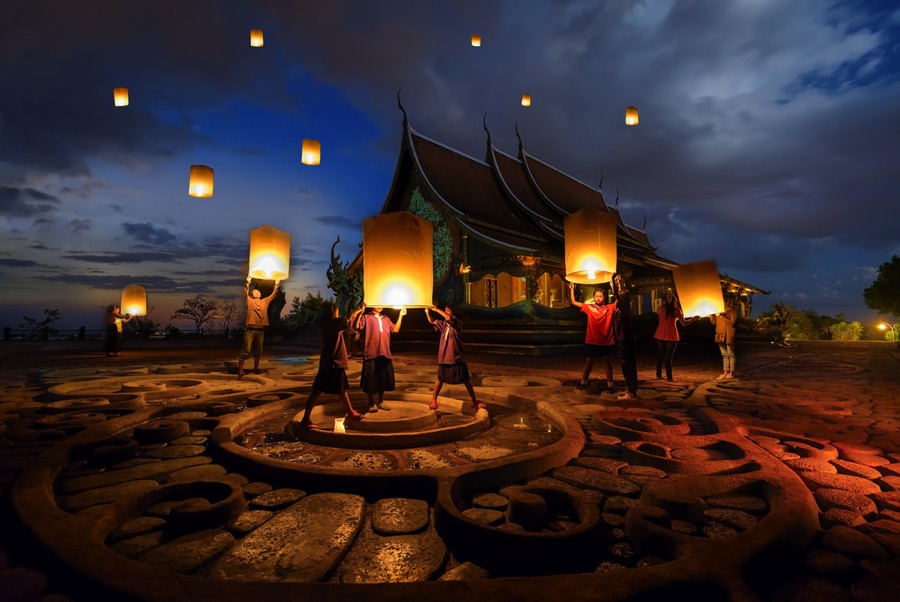 Another great choice is Loi Krathong, also known as the Floating Lantern Festival. In addition, there are several important Buddhist holidays throughout the year.
Visit a Floating Market
The people of Bangkok have long relied on the city's system of canals and waterways for transportation. As a result, many floating markets developed here. There are several you can visit on a daytrip from the city center, including Damnoen Saduak and Amphawa. While there are quite touristy, they're still a lot of fun and the food alone makes them worth a visit. Expect to pay around $30 to join a tour from the city.
Thailand Travel Budget
Thailand can be an incredibly cheap destination. It can also be incredibly expensive. It all depends on your tastes and your required level of comfort. Backpackers can get by on a shoestring budget, while honeymooners can splurge a bit for a serious luxury holiday. Most travellers will fall somewhere in between and can enjoy a high-quality trip without breaking the bank.
All of the essentials can be found for very cheap in Thailand. Domestic flights, trains, and long-distance buses are all very reasonable. There's no shortage of budget accommodation here, either. If you're fine with local markets and street food, you'll eat like a king here for pennies on the dollar.
Overall Budget
Backpacker: 1 person $30/day – 2 people $50/day
Midrange:

1 person $50/day – 2 people $85/day

Luxury:

1 person $100+/day – 2 people $200+/day
Of course, some areas are more expensive than others. You can expect to pay more for everything in Bangkok and Chiang Mai than you would in smaller cities and towns. It should come as no surprise that prices go up on the islands, especially the closer you are to the beach. Wherever you are, prices are substantially lower outside of tourist centers.
A great thing about Thailand travel is just how many activities you can enjoy without a huge price tag. Shopping, getting massages, visiting museums, seeing shows, eating out, and bar hopping are all very affordable here. In this section we'll take a closer look at the cost of travel in Thailand, broken down into a few categories.
Cost Of Accommodation
When it comes to finding a place to stay, it's possible to find a dorm bed in a decent hostel for $10 a night or less. Those seeking a bit more comfort and privacy can easily find private rooms in hostels or budget hotels for $25-30. It's also possible to spend hundreds of dollars a night on private villas or luxury hotels. The sky is really the limit here!
Hotels
Budget: On the budget end, it's possible to find a private room for as low as $10-15 a night. The cheapest rooms will have a shared bathroom and probably only a fan.

Mid-Range: For around $25-30 a night, you can easily find a private ensuite room with air conditioning. Many hotels at this price point also include free breakfast and even have a pool!
Top-End: Even at the top end, accommodation is reasonable in Thailand. You can find a room at a 5-star hotel in Phuket or Bangkok for around $100-125 a night. Enjoy all the amenities like a swimming pool, fitness center, spa, and satellite TV for far less than you'd pay in many parts of the world.
Hostels
As a top backpacker destination, it should come as no surprise that Thailand has tons of great and cheap hostels. You can score a bed in a dorm for less than $10 or get your own room with a private bath for $20-25. Most hostels have some sort of social area where you can meet other travellers and they also have different tours and activities.
Cost Of Food in Thailand
It's hard to find a better bargain out there than eating in Thailand. Of course, you'll find the best Thai food on Earth here. Not only is local food abundant and delicious, but it's also super cheap.
By going where the locals go, you'll also spend what they spend! It's possible to get a set meal from a market or food court for only $3-4. These usually include a soup, a main, rice, and a drink.If you're fine with sitting on a plastic stool and eating street food, you can get by spending even less. You can find simple dishes like kebabs, noodle soups or Pad Thai for just a couple of bucks.
When eating street food, be sure to stick to busy vendors so you know the food hasn't been sitting there in the sweltering Thai heat for too long.Those who prefer luxuries such as air-conditioning and an English menu will have to spend a bit more on eating out. A typical dinner at a mid-range Thai restaurant with a drink will cost $10-15 per person.
If you need a break from Thai food, it will cost a bit more to have western cuisine.Of course, there are plenty of options for high-end dining in Thailand, especially in places like Bangkok and Phuket. If you're looking to splurge on a fancy meal, you can easily spend upward of $100 per person at some of the country's most famous restaurants such as Colonnade in the capital.
Cost Of Alcohol in Thailand
Thailand is a legendary party destination, so it should come as no surprise that booze is readily available and quite cheap here. Just keep in mind that stores cannot sell alcohol from 2-5 PM or after midnight, and that no booze is sold at all on Buddhist holidays. We've experienced several disappointments due to these rules, although there always seems to be a way around them.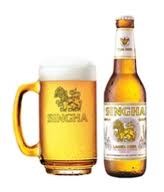 The most popular local beers in Thailand are Chang, Singha, and Leo. A big bottle costs around $1.50 from a convenience store and $3-4 at a run of the mill bar. Craft beer is catching on in Thailand, as evidenced by places like Beervana in Bangkok. Of course, you'll pay a bit more for an IPA than you will a Chang, but it's well worth it (they don't call it "Chang-Over" for nothing…).
Expect to spend $7-8 on a pint of craft beer.While Thailand isn't exactly known for its wine, more and more wineries are springing up and producing some pretty good stuff. If you need some vino in your life, it's best to stick to the local stuff anyways. Imported wines have a huge tax and will cost double what they cost where they're made.
You can expect to pay at least $15-20 for a bottle of pretty awful wine from a store. As far as the hard stuff goes, the most popular choices are Sangsom and Mekhong. You can get a pint of rum or whisky for around $2, and you'll probably want to pick up a few chasers as well. When you're out partying in many parts of Thailand, the drink of choice is a beach bucket full of booze, Coke or Sprite, and energy drinks with about 20 straws.
One of these usually runs around $6-7 and can definitely be shared with friends.If you're looking for a slightly classier experience, there are plenty of great cocktail bars. You'll pay a lot more for a craft cocktail with imported booze – around $10-12 – but it's nice every once in a while. One place you should definitely splurge on a drink is the Moon Bar at the Banyan Tree Hotel in Bangkok, which is located high on a rooftop.
You can have a big night out in Thailand without breaking the bank. By taking advantage of Happy Hours, pre-gaming at the hostel, and having a cheeky street beer from time to time, you can go out and bar hop all night and only spend $20-25 if you do it right.
Tipping
Tipping is not really a thing in Thailand, but it's definitely appreciated. If you enjoyed your meal at a sit-down restaurant, then leaving a 10% tip is a good idea. Some fancier restaurants may include a service charge, in which case no extra tip is needed. Small tips to bell boys, bartenders, masseuses, and drivers go a long way as they earn a pretty low wage.
Budget ($30-40/day)
By staying in dorms, using public transport, eating street food and finding free or cheap activities, you can keep your budget quite low.
Mid-Range ($80-100/day)
Spending a little more means you can get a private room, eat at decent restaurants, go out for a few drinks, and do a bit more sightseeing.
Top-End ($100+/day)
The sky is the limit a this point. There are plenty of Michelen-starred restaurants and luxury 5 start hotels in Thailand.
Money Saving Tips For Thailand
Thailand is already a very budget-friendly destination, but there are definitely a few ways you can stretch your money even further.
Book Flights Early
If you're hoping to cover a lot of ground in a short time, you'll probably need to take a domestic flight or two. Try to plan these out a few months in advance to take advantage of super low fares from budget airlines such as AirAsia or Nok. If you can go carry-on only, you'll save even more money.
Rent a Motorbike
This isn't exactly a viable option in Bangkok, but it's your best bet when travelling on the islands or in the north. With your own two wheels, you won't have to bother haggling with tuk-tuk drivers or trying to figure out complicated bus systems. Rent the bike for a week or more and you'll be able to get an even better rate.
Eat with the Locals
By eating a majority of your meals at local markets and food courts, you'll have plenty of money left over to go out for a couple of nice dinners or big nights out. When I studied Thai in Bangkok, I had lunch at an outdoor food court next door every day and never spent more than $3 for a huge meal.
Be a Happy Hour Hero
While the nightlife is excellent, you can burn through a lot of Baht if you spend all night in bars and clubs. Try to find Happy Hour deals and take advantage of them before going out, or grab some cheap Thai rum with some chasers and start a little party in front of the 7-11.
Off The Beaten Path in Thailand
At times, Thailand can feel overwhelmingly touristy. If you stay on Khao San Road in Bangkok or visit places like Koh Samui and Phuket, you'd be forgiven for looking around and wondering if you were even in Thailand. While many places in Thailand are firmly on the tourist trail, it's not that hard to get off the beaten path.
Isaan (Northeast)
Those looking for a more authentically Thai experience will want to head to the region known as Isaan (Northeast). This fascinating corner of the country is where Thailand, Laos, and Cambodia all meet. Here you'll find the country's most famous national park (Khao Yai), as well as several incredible Khmer temples.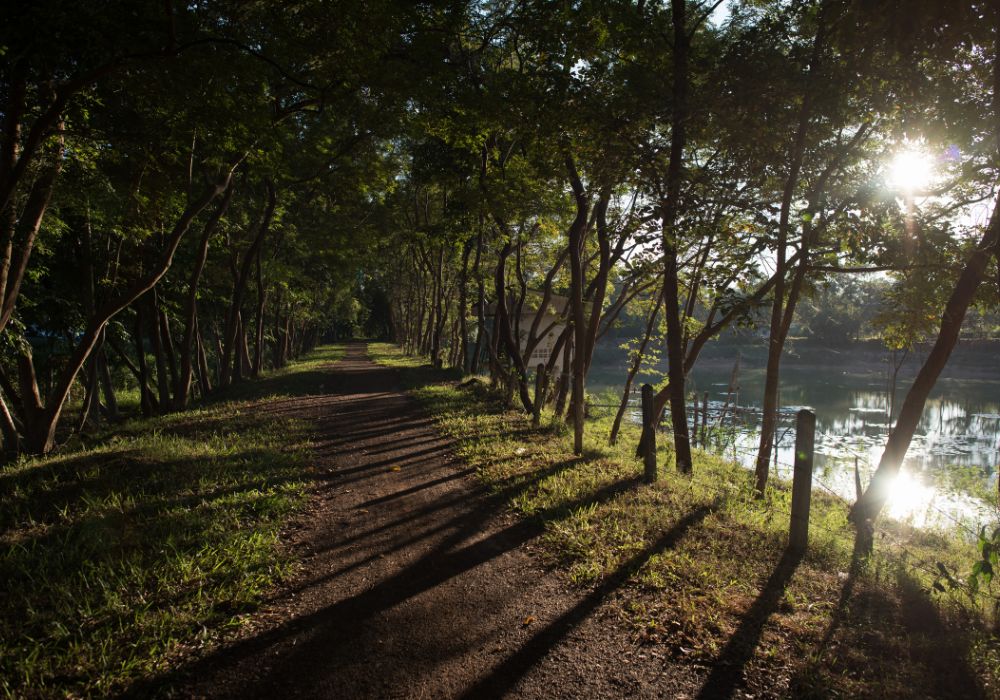 Koh Tarutao
As far as off the beaten path destinations go, it's hard to beat Koh Tarutao. This prison-turned-national-park is in the far south of the country and is overlooked by the majority of tourists who head instead to nearby Koh Lipe. This is the only place where I've ever experienced a totally empty beach in Thailand. It's an amazing place to spend a few days out in nature and away from the crowds.
Simply Sidestep
Even in super popular destinations, it's not hard to ditch the crowds. Look for accommodation in a more local part of town and you'll notice a huge difference. Get outside of the Old City in Chiang Mai or away from Haad Rin on Koh Phangan and your experience will see far more Thais and far fewer farangs.
Where To Stay in Thailand
A traveler's accommodation paradise, Thailand offers something for everyone. From the bright lights of Bangkok to the beautiful beaches of Phuket and Ko Samui, there's a place in Thailand to suit every budget and taste. When it comes to accommodation, there are plenty of options available, from luxurious hotels to budget-friendly hostels.
If you're looking for a luxurious stay in Thailand, consider one of the world-famous beach resorts like Phuket or Ko Samui. These resorts offer stunning ocean views and all the amenities you could want, including swimming pools, restaurants, and spas. Prices vary depending on the resort you choose, but expect to pay at least $150 per night.
If you're looking for something a little more affordable, consider an Airbnb or guest house. Airbnb rentals can be found in every corner of Thailand, and range from basic rooms to entire villas. Prices start at around $25 per night, making them a great option for budget-minded travellers. Guest houses are also a great option, with prices starting as low as $5 per night.
If you're looking for something really cheap, consider staying in a hostel or dorm room. Hostels are a great way to meet other travellers and get recommendations for what to do in Thailand. Dorm rooms start as low as $5 per night, making them a great option for those on a tight budget.
Food & Drink in Thailand
Thai food is famous the world over, and for good reason. The cuisine of Thailand is incredibly diverse, with each region and city having their own specialty dishes. In addition to tasting amazing, great attention to detail is given to the appearance, smell, and context of Thai dishes. A wide variety of herbs and spices are used in Thai cooking.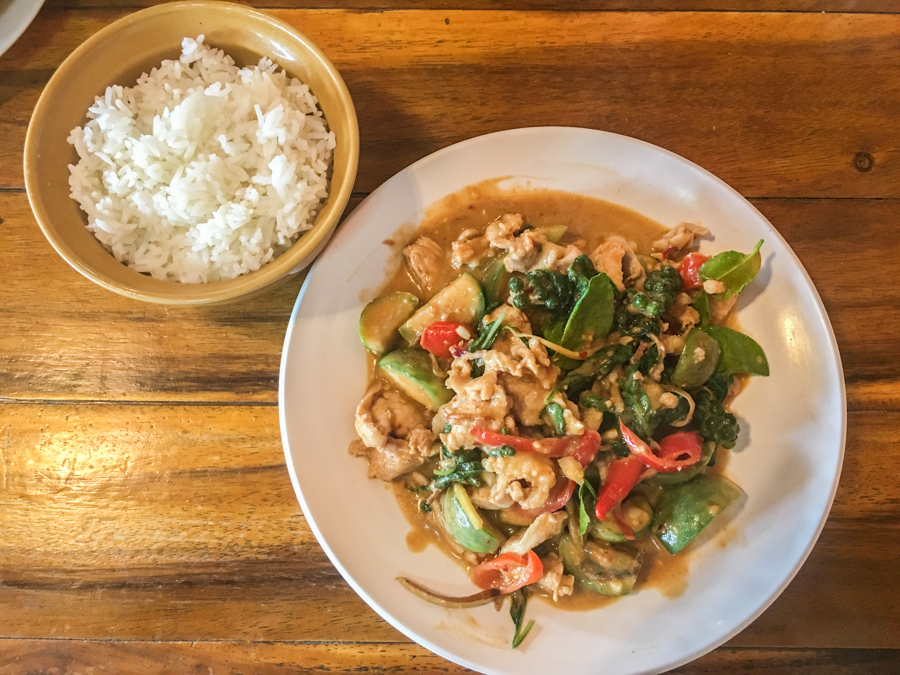 It's true that many dishes in Thailand can be mouth-numbingly spicy, but that's not always the case. In fact, few cuisines do a better job of expertly blending flavours. Sour, sweet, salty, bitter, and spicy all come together in a serious treat for your tastebuds.
Common ingredients in Thai cuisine include lemongrass, chilies, fish sauce, shrimp paste, and coconut milk. Most Thai dishes are served with either white rice or noodles, as both help to fill you up for a low price. Having rice also helps to dilute the spice a bit, which helps if you're not used to the heat of Thai food.
It really isn't a meal in Thailand unless there's a bowl of rice on the table. In some parts of the country, sticky rice is used instead.
Pad Thai
This is definitely the most well-known Thai dish out there. While the Chinese may have brought stir-fried noodles here, the Thais perfected them. A good plate of Pad Thai has eggs, green onions, peanuts, and garlic.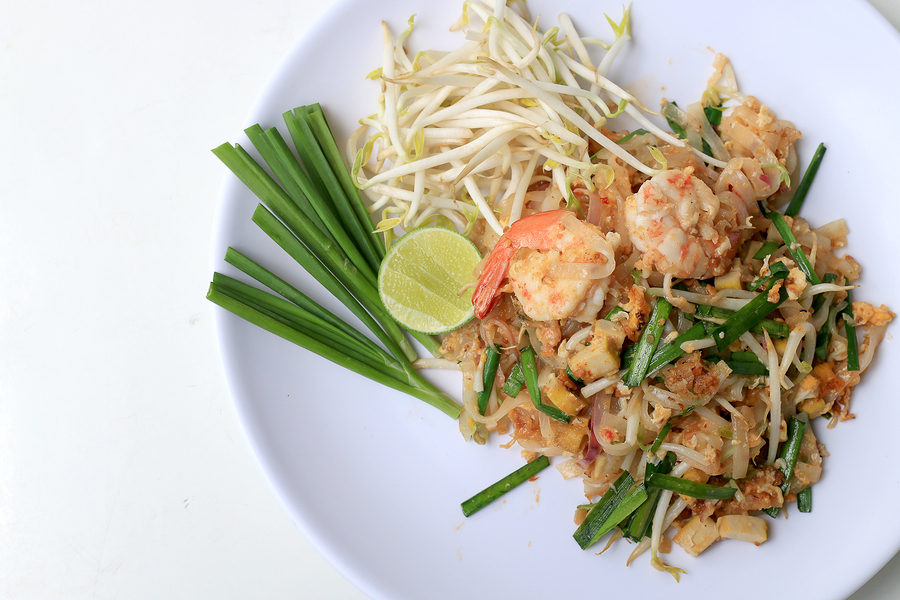 You can choose a protein such as chicken, shrimp, or tofu, and season it to your liking with fish sauce, chili sauce, and lime. The best Pad Thai I've ever had was from a place called Thipsamai in Bangkok.
Som Tam (Papaya Salad)
This spicy salad is made from shredded, unripe papaya. It's one of few dishes that combines all five flavors that are most frequently used in Thai cuisine, although the spice can often dominate. It's best to have a coconut or an iced tea ready when eating papaya salad.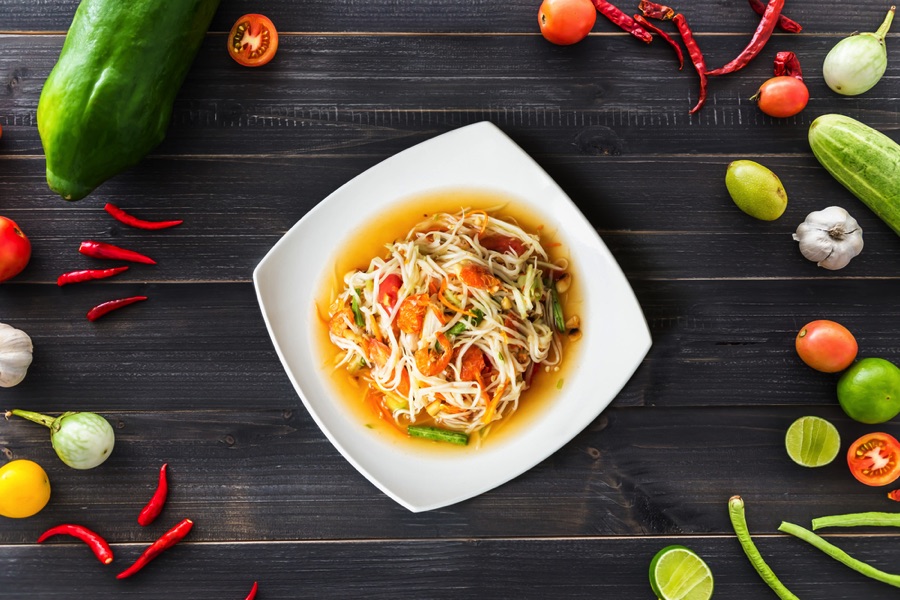 Tom Yum Goong
Tom Yum is a hot and sour soup and is one of the most famous Thai dishes. The broth consists of stock with range of ingredients – lemongrass, kaffir lime leaves, galangal, lime juice, and fish sauce. It's usually served with shrimp but is also often made with chicken or pork.
Khao Soy
When traveling in northern Thailand, you can't miss out on a piping hot bowl of khao soy. This coconut curry noodle dish (with a protein) is absolutely amazing and usually only costs $2 or so. Local markets in Chiang Mai always have it and always do it right
Best Restaurants in Thailand
Below you'll find a list of our top restaurants in Thailand. There are so many great places to eat in the country, but in our opinion the food is the best in the Capital of Bankgok.
Eat Me
This Bangkok joint made the list of Asia's 50 Best Restaurants. The menu fuses influences from all over the world, such as a tom yum Maine lobster starter or an Australian Wagyu beef tenderloin. They've also got a great cocktail list and they stay open until 1AM every day. Dinner and drinks here will cost around $100-120 for two.
Jay Fai
When you think of Michelin-star restaurants, fancy places usually come to mind. In Bangkok, 70-year old Jay Fai (also known as Auntie Fay) has received the honor for her street food stall specializing in massive crab omelettes. You'll have to wait in line and shell out around $25 to get one, but it's well worth the time and money.
Suay
This Phuket restaurant is run by Chef Tammasak, who takes a creative twist on traditional Thai cuisine. Try the amazing crab cakes with Sriracha chili aioli and mango chutney, grilled lamb tacos with lemongrass, or their signature "Phuket Paella." If you're overwhelmed by all the choices, go with a set menu for two for around $65 and let them figure it out for you.
Northeast
For a budget-friendly dining experience (but not lacking in flavour), make sure to check out Northeast Restaurant in Bangkok. The menu offers a wide variety of traditional eastern Thai food for around $4 a dish – plus the usual staples such as Pad Thai. Don't forget to check out the outdoor kitchen!
The Currency in Thailand
Thailand's currency is the Baht (THB). The exchange rate is usually around 30 Baht to $1. Be sure to download the XE currency converter app to stay on top of current rates. There are 20, 50, 100, 500, and 1,000 Baht notes. There are also 1, 2, 5, and 10 Baht coins.
How To Get Money
When it comes to spending your money, not all countries are created equal. It's important to know the best ways to take money out of your account. Traveller's checks are all but dead, but below are the best ways to take out your cash while travelling in Thailand.
ATMs: Thailand definitely wants you to be able to get to your money easily, so you're never far from an ATM. The problem with ATMs in Thailand is that almost all of them charge a 200 Baht fee, which is around $6.
This is in addition to whatever fees your bank charges at home. If you use an ATM several times throughout your trip, this could add up to a substantial chunk of change. If you're American, I highly recommend opening an account with Charles Schwab, as they reimburse all ATM fees at the end of the month. If you're Canadian, look into a TD All-Inclusive Checking Account.
Cash Exchanges: Another options for getting Thai Baht is to just bring a stack of dollars, euros, pounds, or whatever your home currency is and exchange it. Obviously you won't want to go changing all of your money at the first exchange window in the airport, as they typically have terrible rates. If you're worried about having a bunch of cash, wear a money belt and book a hotel with a safe.
Credit Cards: Cash is definitely still king in Thailand, but there are many places where you'll be able to swipe your credit card. Supermarkets, mid to high-end restaurants, travel agents, and many bars will all happily take credit. Just make sure you're not paying any foreign transaction fees on your card and that you let your bank know where you're travelling to.
The History of Thailand
Thailand has gone through many different eras throughout history. The first kingdom of Thailand was Sukhothai, which was founded in the 13th century. Next in line was the kingdom of Ayutthaya.
You can visit the ruins of both former kingdoms if you're interested in learning more about Thai history. Some years later (1782), King Rama I took control and moved the capital to Bangkok.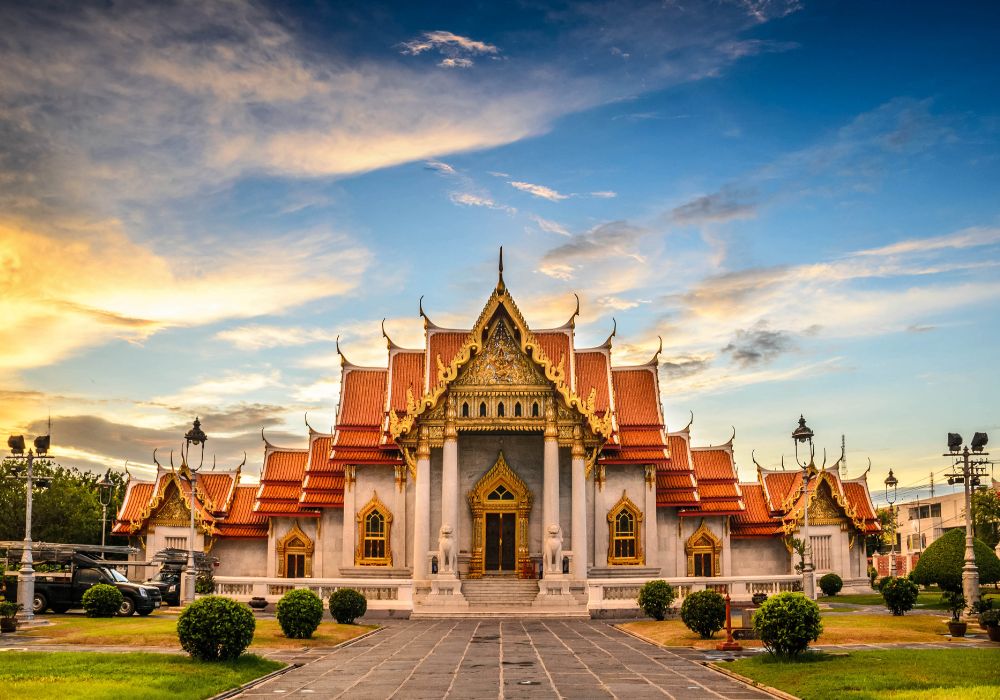 Under the reign of the next two kings (Rama II and Rama III), Thai culture flourished. Many reforms and changes in the government would come with the following monarchs. In 1932, the Siamese Revolution ended absolute monarchy in Thailand, which became a constitutional monarchy.
When the French and British were conquering much of Southeast Asia, Thailand was the only country in the region to not be colonized. They were, however, forced to cede quite a large amount of territory to the two nations. In 1946, the name of the country was changed from Siam to Thailand.
That same year, King Bhumibol (Rama IX) took power. His reign lasted until his death in 2016, at which time he was the longest-serving head of state in the world.
Although there was a King, Thailand underwent 60 years of military dictatorship. It eventually became a parliamentary democracy, but a coup in 2014 saw the military once again come to power. Thanks to a new constitution, it looks like the junta will remain in charge for the foreseeable future.
Culture & Traditions
Every culture has its own unique culture and with historical differences come some particular traditions and behaviors that travellers should be aware of when travelling around any country. Before travelling to Thailand, you should be conscious of the following customs.
The Wai
In Thailand, the most typical way to greet someone is with a wai. This is when you clasp your hands together as if you're about to pray, and then do a slight bow. While it may seem simple, there are actually many subtleties to it when it comes to who you wai to and how you do it. If you're a clueless farang, it's best to just leave it to the Thai people and do your usual handshake instead.
Don't Touch Heads or Point Feet
It's considered very rude to touch someone's head in Thailand, as the head is the highest and most sacred part of the body. Conversely, the feet are the lowest and the dirtiest part, so it's important never to point your feet at people or put them up on a chair or table. Also, never ever point your feet towards at statue of Buddha!
It's Gotta be Sanuk
Thailand is known as the Land of Smiles due to its incredibly friendly people. Thai people love to have a good time, so much so that they believe if something isn't sanuk (fun), then it's not worth doing at all! It's about more than having fun, though. Sanuk is basically a philosophy that means you should strive to find satisfaction in all things that you do.
Worshipping the King
The previous king of Thailand was basically a deity in the country. His face appears on all the bills and people hang pictures of him in their homes and businesses. King Bhumibol passed away in 2016 and his son took the throne shortly thereafter. Thailand has very strict lese majeste laws, and criticizing the king could land you in prison.
Tipping
Tipping is not really a thing in Thailand, but it's definitely appreciated. If you enjoyed your meal at a sit-down restaurant, then leaving a 10% tip is a good idea. Some fancier restaurants may include a service charge, in which case no extra tip is needed. Small tips to bell boys, bartenders, masseuses, and drivers go a long way as they earn a pretty low wage.
Pros of Travelling in Thailand
Thailand is one of the most popular countries to visit in the world, so there are clearly many pros of travelling here.
Bang for Your Baht
Considering the quality of what you get, travelling in Thailand is a great bargain. You can stay in private rooms, ride in a 1st class sleeper train, eat like a king, and party until the sun comes up without burning a hole in your wallet. Even big-ticket activities like scuba diving and jungle trekking are very affordable here.
Thai Food
A major highlight of travel to Thailand is eating your way across the country. Whether it's a bowl of khao soy in Chiang Mai, some sticky rice with larb in Isaan, or a spicy curry down south, there's always something delicious being cooked up in Thailand.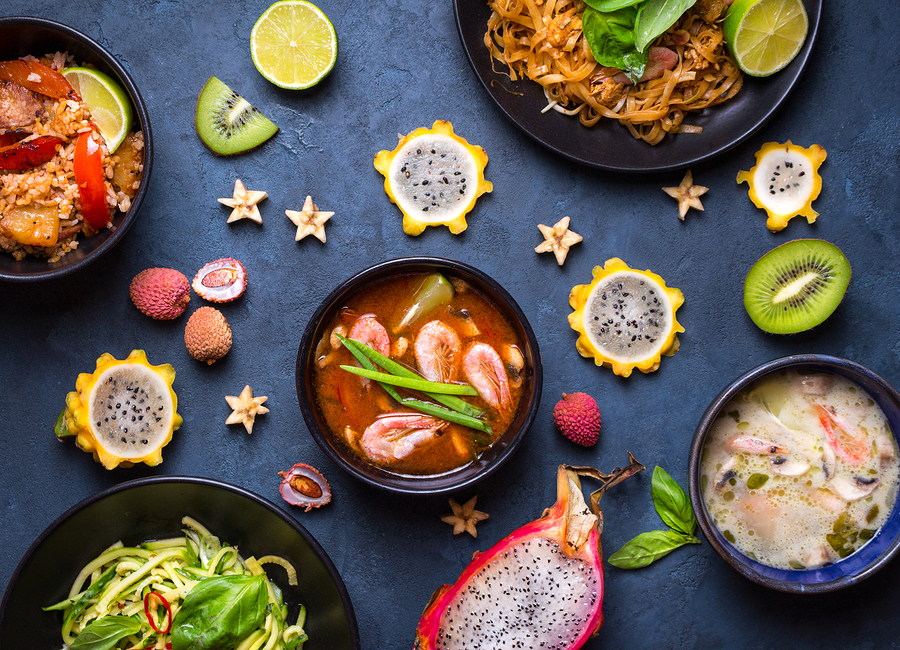 It's Just So Damn Fun
Most people who visit Thailand do so to have a good time. From gap year backpackers and jet setting honeymooners, to expats looking for an exotic home base, most people you meet in Thailand are looking to let loose and enjoy themselves. And let's not forget about the Thai people, who believe if something isn't sanuk (fun), it's not worth doing at all!
Adventures Around Every Corner
If you're an adventure-lover, then you're probably going to fall in love with Thailand. With just a week or two here, you can easily get out in the water to do some diving, try your hand at rock climbing, go on a multi-day jungle trek, fly through the trees on a zipline course, and tear down some rapids on a rafting trip.
Cons of Travelling in Thailand
There's no such thing as a perfect travel destination, and there are most certainly a few cons of travel in Thailand.
Walking ATM
When travelling in tourist hot spots like Phuket or Koh Samui, it's easy to feel like a walking ATM at times. It seems like everyone you meet wants to sell you something, and that's not far from the truth. Although Thai people generally are quite friendly, sometimes it's hard to tell whether it's in earnest or if they just want you to give them business.
Petty Theft
With so many tourists passing through, there are plenty of nefarious characters looking to make a quick buck. When travelling on ferries and buses, you can be quite sure that your bag will be rifled through regardless of whether or not you have a lock on it.
Take it from me – my wife's bag was broken into on our first trip. The thief picked the lock, made off with some valuables, and put the lock back on all in the span of about a 20-minute bus ride. Always take good care of your valuables and don't leave them out of sight.
Too Many Farang
At points in your trip, you may find yourself wondering whether or not you're actually in Thailand. Looking around, you'll see plenty of Aussies, French, and Brits, but barely any Thais. It's true that Thailand is very much on the beaten path, especially if you stick primarily to Bangkok, the islands, and Chiang Mai.
Things Take a While
People regularly show up at least 15-30 minutes late in Thailand. It's also common for people to tell you that something will happen right away or very soon, when in fact it's going to take a while. This gets under the skin of many visitors to Thailand, so just be prepared to take it easy and not be in a hurry.
The People You'll Meet
As of 2016, the population of Thailand was estimated at just under 70 million. As with many countries in the region, the ethnic makeup of the population is difficult to explain. Of course, all people from Thailand are considered Thai, but the government recognizes 62 different ethnic communities.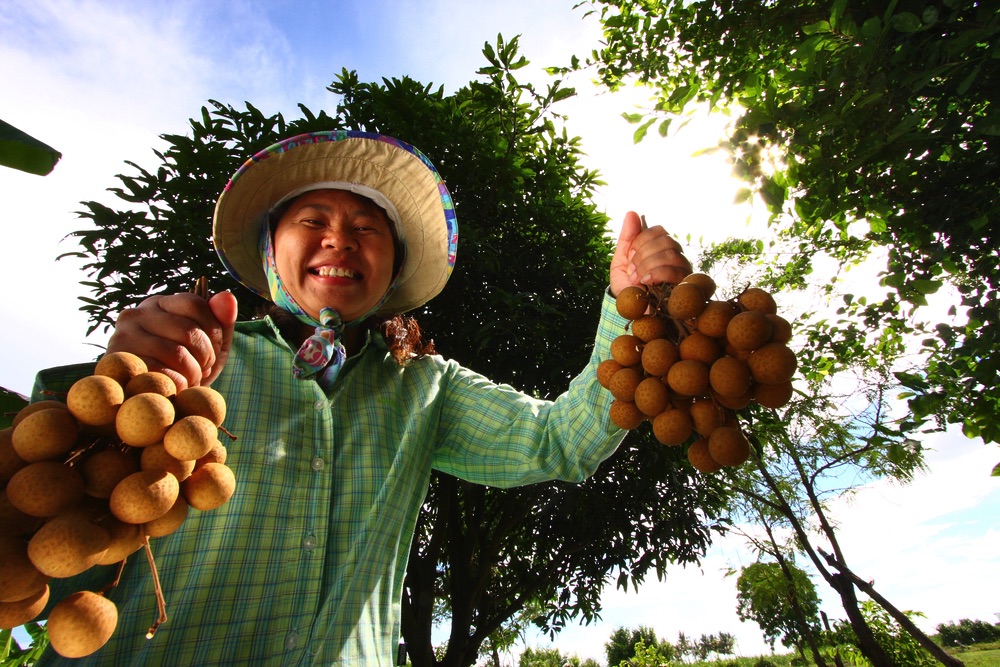 About 14% of the population has Chinese origins, and around ⅓ of the people are ethnic Lao with some Khmer minority. In recent years, there has also been a large influx of refugees from Myanmar.As a very popular travel destination, you'll meet people from many different countries when travelling in Thailand. You'll find just about every type of traveller imaginable – backpackers, packaged tour groups, honeymooners, expats, digital nomads – the list goes on and on. Let's take a closer look at the people you'll meet when you travel to Thailand.
The Locals
Thailand is known as the Kingdom of Smiles thanks to its friendly and fun-loving people. Thai people take pride in their reputation for being very generous and accommodating. As a matter of fact, there isn't even a direct word for "no" in Thai! The closest thing is mai chai, which can be translated as "not yes."Most people in Thailand have rural residency but spend much of the year in urban areas. It's very common to work in the cities most of the time but return home to help with seasonal field work. After the rice harvest is complete, they'll head back to cities like Chiang Mai or Bangkok. Around 45% of people live in the greater Bangkok area.
Despite its reputation as a wild party destination, most people in Thailand are quite conservative and traditional. A vast majority (90-95%) of people follow Theravada Buddhism, so Buddhist customs and beliefs are very important here.
Thai society is also very group-orientated. People tend to try and avoid conflict. If you get into an argument with local people, try to stay calm and avoid raising your voice or causing a scene, as this is very much looked down upon.
Types of Other Travellers
One great thing about travelling in Thailand is that you'll meet people from all over the world of all ages and backgrounds. Of course, there are plenty of spritely backpackers here making their way around the Banana Pancake Trail of Southeast Asia.
You can spot them by their ridiculous elephant pants, Full Moon Party singlets, and buckets of whiskey in hand, probably somewhere in the vicinity of Khao San Road.These days, more and more digital nomads are flocking to Thailand to work remotely.
Chiang Mai is perhaps the biggest DN hub in the world, making it a great choice if you're looking to ditch the cubicle and try something new. Other popular nomad hubs include Koh Phangan and Bangkok.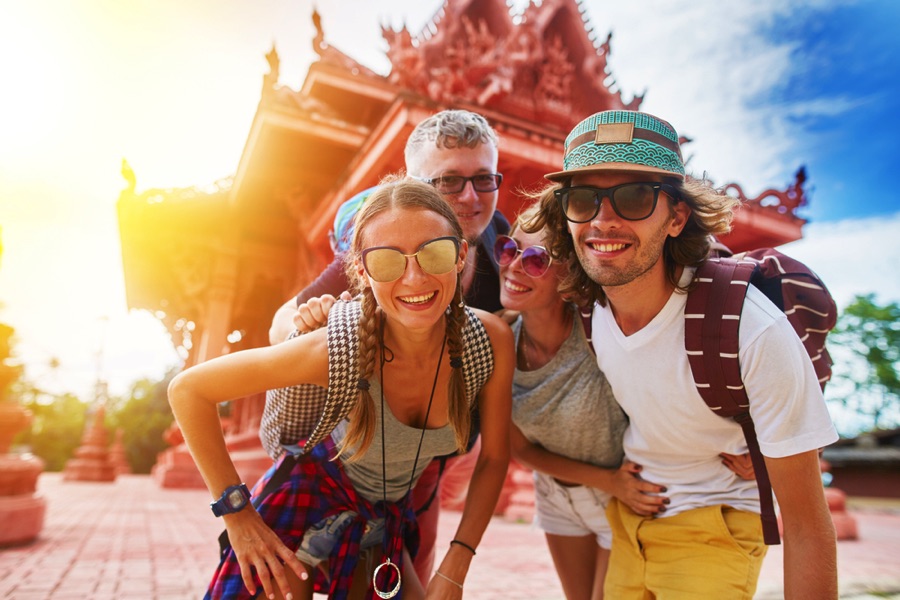 Unfortunately, a common sight across Thailand is an older white man with a much younger Thai girl. Whether it's for love, money, or both, this is simply a reality of visiting Thailand. Plenty of men come here simply for the go-go bars and everything that comes along with them.
Our Thailand Travel Blog Posts
Sometimes the best way to understand a destination is through the lens of other travellers. Below you'll find our personal travel experiences and travel blogs from Thailand. We have visited Thailand for over 12 months in total at the time of writing and we plan to explore some more soon!
Thailand Travel Tips & Info
Traveling Thailand is relatively straightforward thanks to its well-versed travel infastructure, however, there's still a few things to know that can make your trip a lot easier. Here are some useful travel tips:
Know The Weather: When planning your trip, be sure to consider the rainy season. The rainy season in Thailand lasts from June to October, and most of the country sees about two-thirds of its annual rainfall during this time.
Get Off-Track: Bangkok is a huge city with a population of over 8 million people. If you're looking for a more relaxed and rural Thai experience, explore some of the smaller towns and villages instead.
Know The Customs: Many temples in Thailand require that visitors dress appropriately before entering, so be sure to check out what's allowed before heading into any temples. For example, women should avoid wearing shorts or skirts above the knees, and men should avoid wearing tank tops or short pants.
Don't Over Tip: While tipping is not customary in Thailand like it is in America, it is always appreciated by service workers if you do choose to tip them. A good rule of thumb is to round up your total bill to the nearest dollar amount.
Below you'll find some useful information about Thailand and some handy words / phrases you can learn to help your trip go more smoothly.
The Religion
Around 95% of Thais are Buddhist, and religion plays a very important role in the country's culture and society. While it isn't a national religion, it is true that the king of Thailand is required to follow Theravada Buddhism. There are literally thousands of Buddhist temples across the country, characterized by their glittery golden stupas.
Making merit is a big part of Thai culture. It's common for people to give alms to monks early in the morning and donate money to their local temples. There are several different Buddhist holidays throughout the year in Thailand, such as Asahna Bucha Day, which commemorates the Buddha's first sermon.
The Language
Thai is the official language of Thailand, with around 20 million native speakers. It's an incredibly difficult language to pick up thanks to its tones and its complex alphabet. As a matter of fact, it's not an alphabet at all – it's technically an abugida. Go ahead and Google it and get ready for the inevitable confusion that follows.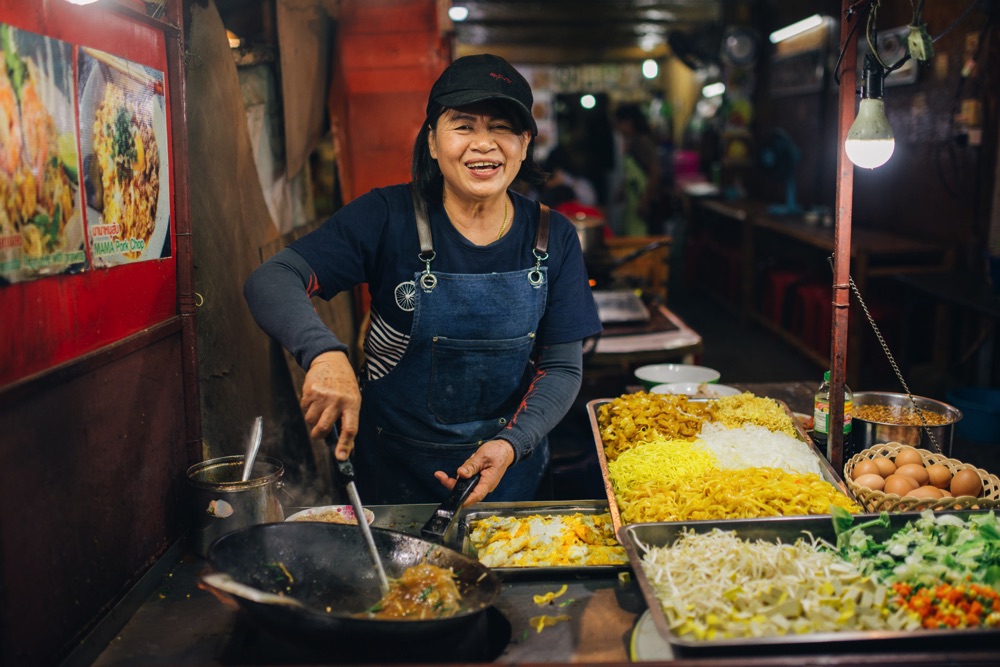 One important thing to note when speaking Thai is the use of polite particles. For men, the particle krap is often added to the end of a sentence, while for women it is kah. When in doubt, just add it, as it's better to be more polite than less!Many Thai words are actually borrowed from other languages such as Sanskrit, Mon, and Old Khmer.
Although their written systems are slightly different, Thai is mutually intelligible with Lao. As if Thai wasn't difficult enough, there are also several regional dialects spoken across the country. You're certainly not going to become fluent in Thai anytime soon, but here are some survival phrases to get you started.
A Few Key Phrases In Thai
Sawatdee (krap/kah) = HelloSabai dee ru (krap/kah) = How are you?Ga roo nah = PleaseKhob khun (krap/kah) = Thank youChai = YesMai chai = NoMai pen rai = Never mind/It's finePood Thai mai dai = I don't speak ThaiNee tao rai? = How much?Hong nam yoo tee nai? = Where is the bathroom?Chai yoh = Cheers
When To Travel To Thailand
Thailand has three seasons – hot, cool, and wet. Of course, the climate can vary depending on where you are in the country. For example, the monsoon season usually hits the coasts at different times of the year.
You'll also find that temperatures will be much cooler up in the north than they are down south on the islands.As far as tourism goes, there's definitely a high and low season here. Many travellers flock to Thailand in the winter months to escape bitter cold at home, and few want to be there during the super humid and rainy months.
If you can handle a bit of humidity and the occasional shower, though, you'll be rewarded with smaller crowds and lower prices.
Peak Season
Thailand's high season lasts from November until March. This is considered to be the cool season here, but chances are it's still much warmer than where you're from. The islands are very busy during this time, especially around Christmas and New Year's. Prices skyrocket during the holidays, so it's important to book in advance or wait until sometime in January.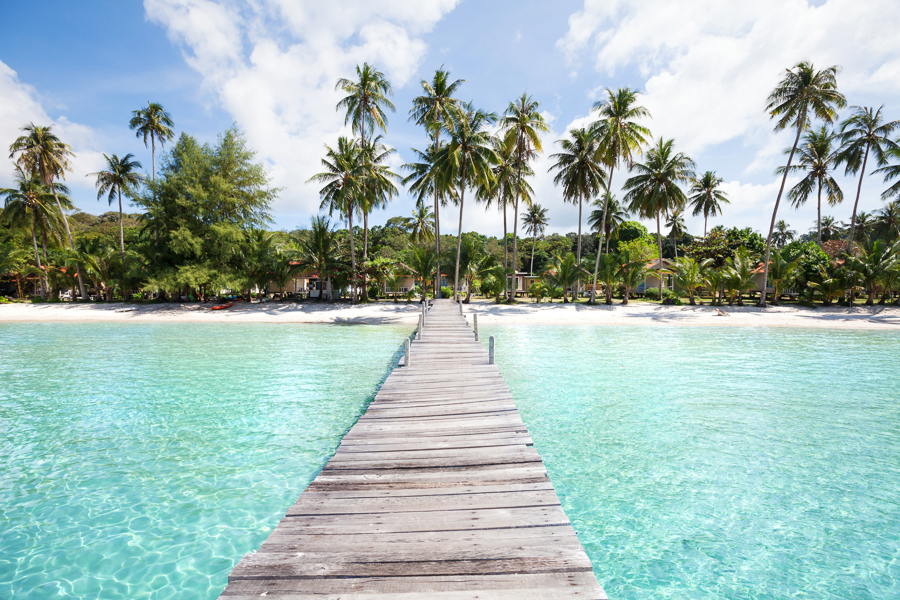 Shoulder Season
If you want to have decent weather and avoid the huge crowds, your best bets are late April-mid June or November. While all of April is pleasant enough, the Songkran festival in the middle is the busiest time of year for locals. November is a great choice as you'll beat the holiday crowds and still get nice weather in most parts of the country.
Off-Season
September and October are typically the wettest and most humid months of the year in Thailand, meaning far fewer tourists. You may deal with rough seas and experience plenty of rain, but at least the beaches will be relatively empty. This is the best time of the year to score a deal on accommodation and tours.
Getting Around Thailand
You've got plenty of options for travelling around Thailand. Flying domestically is quite affordable thanks to budget airlines like AirAsia and Nok. It's possible to fly from Bangkok to Chiang Mai or down south to the islands for as little as $20 one way if booked in advance.There's a decent rail network in Thailand that connects major hubs.
A popular route is the overnight train from Bangkok up to Chiang Mai. You can get a sleeper ticket on the train for around $25. If headed to the islands, you'll have to buy a combo train + ferry ticket, or plane and ferry ticket which will run $40-50. If the train or a flight isn't an option, you can always catch a bus.
Buses go everywhere in Thailand and are usually super cheap. You'll usually pay around $10-20 for longer rides. Not all buses are created equal, so you might want to do a little research before you book a ticket. We can't talk about transportation in Thailand without mentioning the tuk-tuk.
These loud, colorful three-wheeled vehicles are common across the country. They're a fun, although at times terrifying, way to get around places like Bangkok or Chiang Mai. Just beware that tuk-tuk drivers are known to rip tourists off. Be sure to agree on a price before you go anywhere and refuse any forced shopping stops. Trust me – they're not worth the small discount you may get on the ride.
Getting There & Away
Many visitors to Thailand will arrive at one of Bangkok's two international airports, as there are direct flights to many cities in other parts of Asia, Europe, and even Australia. Those on an extended backpacking trip in the region have many options for travelling to Thailand overland as well.
By Land: If you're on the famed Banana Pancake Trail in SE Asia, you'll probably cross into Thailand overland. This can be done from Myanmar, Laos, Cambodia, or Malaysia. One of the most popular routes is to go from Luang Prabang in Laos to Chiang Rai in northern Thailand or vice versa.
You can choose to travel in a bus or take the scenic way and hop on the slow boat up or down the Mekong River. On the other side of the country, you can easily catch a ferry and bus from islands like Koh Lipe or Ko Tarutao and get to Penang, Malaysia.
By Sea: While you'll most likely take a boat at some point during your travels in Thailand, you don't have many options for reaching the country by sea. The only viable option is to go from Langkawi, Malaysia to the Thai island of Koh Lipe.
There are ferries connecting the two islands, but only during the high season (roughly October to June). It may not technically be the sea, but you can also get to Thailand from Laos by taking the slow boat on the Mekong River.
By Air: It's possible to fly direct to Bangkok from most major cities in Asia and quite a few European ones as well. There are even direct flights from Sydney to the Thai capital. North Americans have no choice but to connect at least once along the way.
Other major airports include Chiang Mai and Phuket, with both offering several options for direct international flights. While round-trip tickets to Thailand may cost upwards of $1,000, great deals often pop up. I've recently seen Chicago-Bangkok going for as little as $550!
Thailand Travel Requirements
If you're looking for visa free countries, you'll be happy to know that citizens of 57 different countries can visit Thailand visa-free for stays varying from 14 to 90 days. A vast majority of people get 30 days on arrival.
While there is no limit to the amount of times you can enter Thailand by air, the authorities have began cracking down on "visa runs" to neighboring countries. Just be aware that if you make a quick trip over to Laos, you may very well be denied entry if you try to cross right back into Thailand.
Those hoping to spend more time in Thailand may want to consider applying for a 60-day tourist visa in advance. These can also be extended once for an additional 30 days. It will cost you in time and money, but then you'll be able to potentially spend 90 days in the country. There are also 21 countries whose citizens can get a visa on arrival.
Everyone else needs to obtain a visa in advance from a Thai embassy or consulate. Do your research before booking flights to see where you fall on the visa spectrum.
Health & Safety While Travelling Thailand
If you plan to travel to Thailand, it's recommended that you are up to date on common vaccinations such as tetanus, measles, and mumps. It's also recommended to get vaccinations for both Hepatitis A and typhoid to cover against food-borne illnesses.
If you plan on doing some trekking and getting out in the countryside, it's not a bad idea to also be covered for Hepatitis B and rabies. Whether or not you choose to take malaria medicine is entirely up to you and depends largely on your plans. It's best to consult with a doctor before your trip to get professional advice.
For the most part, Thailand is a very safe country to travel in. Your biggest concerns are petty theft and getting ripped off. Whenever you take a bus, train, or ferry in Thailand, be sure to keep all your valuables on your person. There's a very good chance that your bag will be opened and rifled through, regardless of whether or not it's locked up.
When you're out partying in Thailand, be sure to keep an eye on your drink. There have been many instances of people getting drugged. Speaking of drugs, be very careful if you choose to buy them at places like the Full Moon Party. Chances are very high you'll either be sold something like roofies or arrested by an undercover cop. Stick to the buckets, kids!
Phone & Internet in Thailand
It's not hard to find decent internet in the cities and tourist hot spots. Your hotel/hostel will most likely have free WiFi, and it's never hard to find in cafes and restaurants.
As Thailand is a huge digital nomad hub, there are also many co-working spaces in places like Bangkok, Chiang Mai, Ko Pha Ngan. A recent study showed Thailand's download speed to be around 17 Mbps, putting it 2nd behind only Singapore in Southeast Asia.As for getting a local SIM card, that's super easy.
There are three major companies, with the best one being AIS. Your best bet is getting one at the airport if you're arriving by plane. These will only cost you a few bucks, and you can then get a pay as you go daily or monthly plan. Even if you're only staying for a week or two, it's best to just go with the month.
This will only cost around $10 and will give you a few gigs of data plus calls and unlimited social media such as Facebook and WhatsApp. The telecom companies also allow you to access their WiFi hot spots, which you can find all over the place.
More Thailand Media
So you've finally decided to go to Thailand and booked that ticket. The problem is your trip isn't for another couple of months. While you're waiting, you might as well learn more about the country through movies, books, and blogs. Here are some quality choices for all to keep you busy and get you even more excited for your trip.
Movies About Thailand
If you're planning to travel Thailand, you're probably super excited already. Why not get even more stoked for your upcoming travels to the Kingdom of Smiles by watching some movies about it? Here are a few of the best:
The Railway Man: This tear-jerker tells the story of an ex-POW who was interred and tortured by the Japanese in WWII. This film gives you a glimpse into what it was like building the infamous "Death Railway" between Thailand and what was then Burma. It's got some big names, with Colin Firth and Nicole Kidman.
The Man with the Golden Gun: If you want to know why there's an island in Thailand that's called "James Bond Island," watch this 1974 classic Bond film. A few sequences were shot in the beautiful Phang Nga Bay, which returned in the '97 film "Tomorrow Never Knows."
The Hangover II: Yes, it's true that this movie is absolutely ridiculous. It's a lot of fun, though, and that's probably what you're looking for when you travel to Thailand anyways!
Books About Thailand
Chances are you'll end up having a long flight to and from Thailand, so why not pick up some reading material about the country to help kill the time? Here are a few great books about Thailand that are worth checking out:
Lonely Planet Thailand Travel Guide: The latest guide from Lonely Planet is packed with useful information on all things Thailand to help you plan your trip.
The Beach: The backpacker cult classic novel that turned into a Leo Dicaprio film is a must-read if you're travelling to Thailand. Having seen the movie and read the book, I much prefer the written version.
A History of Thailand: Get schooled on the political, economic, social, and cultural history of Thailand in this excellent book.
Thailand – The Solo Girl's Travel Guide: Alexa West gives the best possible pitch for her book – "Ditch the generic travel guides that are impersonal AF and feel like they were written for your nerdy cousin who wears socks with sandals."
Blogs About Thailand
When planning your trip to Thailand, blogs are a great resource. As such a popular tourist destination, there are probably blogs about Thailand in just about every language. Here are some good choices in English:
Goats on the Road Thailand Guides: Need some ideas for your trip to Thailand? The Goats on the Road have plenty of articles about travelling and living in the country.
How to Spend an Awesome Month in Thailand: Yes this is a shameless plug for my own blog, but I think we put together a pretty sweet itinerary for a month-long adventure in Thailand.
Migrationology: Mark Wiens is an all-star blogger and YouTuber who calls Thailand home. He has tons of useful posts and videos with a focus on the mouth-watering Thai cuisine.
Travel Fish: This is a great resource not only for Thailand, but for all of SE Asia in general. We used Travel Fish so much during our long backpacking trip around the region and highly recommend it.
Richard Barrow: British expat Richard Barrow has been living in and blogging about Thailand for several decades. His website is a one-stop-shop for all things you may need and want to know about the country.
She Simmers: Food writer Leela Punyaratabandhu focuses on Thai cuisine and even has tons of simple recipes so you can try to recreate the magic in your own kitchen.
Travel Resources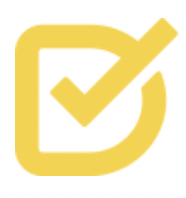 DiscoverCars
Discover Cars searches across all the main car rental sites and finds the best deal. Opt for full insurance coverage for more peace of mind and enjoy the freedom of a car.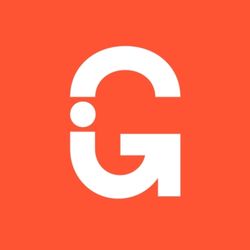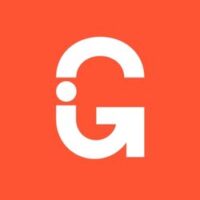 Get-Your-Guide
Our go-to website for booking tours around the world. Get-Your-Guide has a massive library of cool local experiences in almost every country.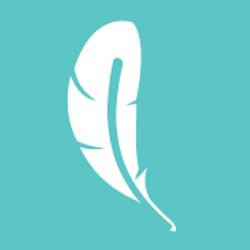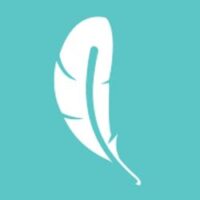 SafetyWing
The best travel insurance for full-time nomads by far. Get awesome rates, and excellent coverage, and sleep easy knowing you're insured against COVID.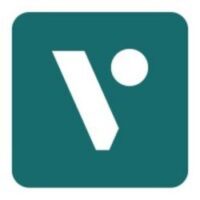 Viator
Another excellent tour booking engine that's better for available tours in the US. Viator also has great local experiences around the world.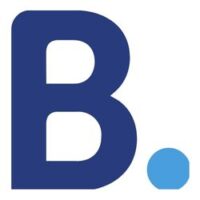 Booking.com
Our top choice for booking hotels and hostels, Booking.com is the easiest-to-use accommodation booking engine and often has the best prices on hotels.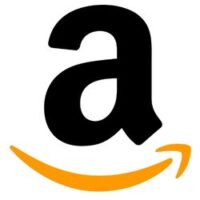 Amazon Gear
Anything from backpacks and luggage, to AirTags and guidebooks, you'll find everything you need for travel on the Amazon store.