We've written about what we consider to be "backpack essentials" for a trip around the world, but we thought we should put together a travel packing list to show exactly what's in each of our backpacks. Obviously, there are differences between what Nick packs and what I pack, so this post will be all about what a woman should pack on a journey around the world.
Disclaimer: GoatsOnTheRoad.com is a participant in the Amazon Services LLC Associates Program, as an Amazon Associate we earn from qualifying purchases. Please see our Privacy Page for more information.
However, before you even attempt to start making a travel packing list, you'll need to choose a backpack and then purchase the essential travel item: packing cubes. These little things are amazing. They keep your clothing squished down (so to take up less room in your bag) and keep everything organized. Priceless.
The most important things a woman should pack when travelling are her intuition and Diva Cup (see below for details). However, if you only brought those 2 things, you'd be freezing cold, but at least you'd be having a comfortable period!
In all seriousness, here's my Travel Packing List For Women embarking on a long trip around the world, from tropical to freezing cold climates:
(Note: I've since upgraded my backpack to an Osprey Kestrel 32L, check out my review of it here)
Tops:
1 x thermal, base layer, long sleeve shirt
1 x tight-fitting fleece
1 x lightweight, waterproof, windproof jacket (make sure it can roll up very small)
2 x tight-fitting undershirts/tank tops (great for wearing underneath other shirts when it's cold, or by themselves when it's hot )
2 x cotton t-shirts
2 x loose-fitting, flowing, 3/4 sleeve shirts (ideal for travelling in conservative places, wearing to bed or throwing on over a bathing suit)
1 x dressy top for going out at night
2 x bras
1 x bathing suit
Bottoms:
1 x thermal base layer pants
1 x black leggings
1 x hiking pants (lightweight, quick drying, with side pockets)
1 x capri pants
1 x loose capri pants (with a draw string top, comfortable)
1 x short'ish skirt
1 x sarong (perfect as a blanket, scarf, skirt, dress or cover-up at the beach. So many uses)
5 x pairs of cotton underwear
1 x pair of warm socks (for cold climates and trekking)
3 x pairs of thin, quick drying regular socks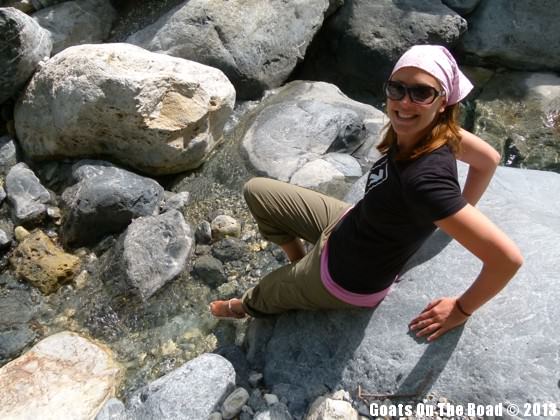 Shoes:
1 x pair of flip-flops (just a basic pair, when/if they break, just buy some new ones along the way)
1 x pair of hiking/walking shoes (Merrell and Solomon make sturdy shoes)
Accessories:
1 x bandana (ideal for covering up unwashed hair!)
1 x headband
2 x scarves (these can add some style, cover up your hair in conservative places or be held over your head to make shade while walking through the desert)
1 x travel purse/cloth bag – picked up along the way
1 x pair of sunglasses
1 x toque (for non-Canadians, this is a winter hat or beenie) – bought along the way
1 x pair of mittens/gloves – bought along the way
Hair elastics and bobby pins
Lots of travel bracelets, anklets, rings and necklaces accumulated from different countries
Toiletries:
1 x toothbrush
1 x small tube of toothpaste (buy small tubes rather than carrying a big one)
1 x 2-in-1 bottle of shampoo/conditioner (small-sized ones are available on the road)
1 x bar of soap and soapbox
1 x deodorant (available in all countries)
1 x bottle of sunscreen (available overseas but it can be quite pricey)
1 x small bottle of hand/face lotion
1 x razor and blades
***I don't choose to carry make-up when travelling. I don't think there's any need for it, but if you must, then just bring a tube of mascara and maybe some lip gloss.
Other:
1 x Diva Cup – This little silicone menstrual cup has been a lifesaver each month while travelling. It takes the place of pads and tampons so you don't need to pack hundreds of tampons or worry about where to buy them. You just insert the cup and you're covered for 8 or more hours…ideal for long, overnight journeys. A must-have in every woman's backpack.
1 x fast-drying, anti-microbial towel (many guesthouses won't have towels)
1 x pillow case (I put it over gross hostel pillows and you can stuff it with comfy clothing to make your own pillow on a bus ride)
1 x bed sheet (Nick and I each carry one. Again, for putting over gross hostel beds, keeping warm on an overnight journey or laying down for a picnic)
1 x headlamp
1 x small packet of laundry detergent for hand-washing your clothing
1 x heating coil – We learned about this amazing item only recently. It's a small coil that plugs into the wall. You place the coil bit into a metal cup of water and within minutes the liquid is at a rolling boil. We've boiled eggs in a cup, boiled hot water for instant noodles, oatmeal and drinks!
1 x lightweight, stainless steel travel cup (great for mixing instant oatmeal, having instant coffee, tea or cocktails even!) – bought overseas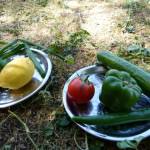 1 x stainless steel travel plate (ideal for eating messy foods on a bus, train or having a picnic) – bought overseas
1 x multi-use knife (used for multiple things, obviously)
1 x medical kit (click here for our full list of items)
Electronics. I carry a laptop, an external hard drive, an Ipod and a camera.
Large/Heavy Items Purchased Along The Way:
1 x mosquito net – Depending on where you're going, this may or may not be a must-have. Some countries supply them, but they usually have holes in them or smell rotten. We bought ours when we arrived in South Africa and used it all over the continent & in parts of SE Asia.
1 x down filled, -10 degree sleeping bag (used for trekking in the Himalayas, purchased in Nepal)
1 x pair of trekking poles – unless you're planning to do lots of serious hiking/trekking, you won't need these. Mine were bought in Nepal for trekking the Himalayas.
Guidebooks. Buy them as you need them, otherwise your bag will be super heavy. Alternatively, download them to your laptop, Kindle or Iphone.
Going Camping or Trekking? Check out our What to Pack for a Trekking & Camping Trip post!
***Notes:
*We don't  (usually) carry a tent, but if you were going somewhere specifically meant for camping, it would be worth bringing a lightweight one.
The name of the game is lightweight, fast-drying clothes. Constantly have that in mind while packing.
Bring clothes that you can mix & match, that way you'll feel like you have more outfits. I tend to go for green, brown, beige, gray and black when choosing colours and then maybe add a bright scarf or something to make it look a bit nicer and more feminine.
I don't recommend bringing any hair product, make-up, a blow dryer, a hair straightener or jeans! Denim is heavy and takes forever to dry.
I typically leave my good clothing at home so I don't have to worry about them getting stained, shrinking or deteriorating from taking a laundry beating!
You'll constantly be buying new clothes, leaving old ones behind and ditching the worn-out ones! So if you think you forgot something, you can buy it overseas, don't worry.
Ok, I think that wraps up the list of what's in my backpack. The most important thing is to be mindful of the different cultures and customs in each country you're visiting.
I may wear a skirt and t-shirt in the Philippines, but I'll change into long pants, long-sleeved shirt and scarf before arriving in India. Be respectful and you'll have no unwanted or negative attention coming your way!
Everyone's travel packing list is different. Everyone has their personal "must-have's" but this trusty list has worked for me for my 3 years of travelling the world, hopefully it'll do the same for you.
Guys, check out: The Complete Travel Packing List For Men.
What do you think? What are necessities in your backpack…did I miss anything?!
Like it? Pin it! 🙂