The largest island in the Caribbean also packs the most punch. Travellers will be staggered by its astounding history, architecture, music, dance and hospitality. Backpacking Cuba is easy, exhilarating and extremely rewarding. If you want to go travelling in Cuba without staying at a resort and without taking a guided tour of Cuba, then this is the guide for you.
We spent a month backpacking Cuba and when our time was up, we didn't want to go home. You can stay with local families, wander through tobacco plantations, explore cities lost in time, dive & snorkel some of the world's most unexplored reefs and of course, laze on bleach-white Caribbean sand.
Pin this Ultimate Guide to Backpacking Cuba for Later!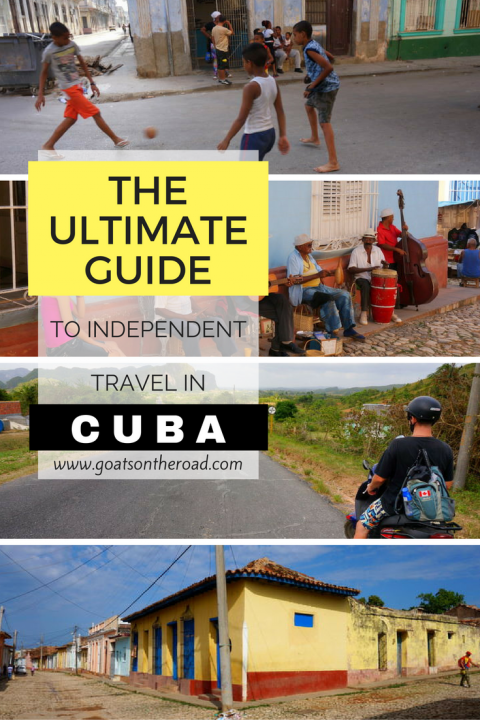 Cuba is alive with an energy that permeates through every aspect of its culture. The music, the dance, and the history all come to life under the same contagious and relentless vibe. From the moment you land in Havana, until the time you fly out, you'll be invigorated by the country's undying spirit. It's time to leave the cultureless resorts behind, say good-bye to Varadero and explore the real Cuba. It's truly one of the most fascinating travel destinations on our planet.
☞ Planning a Trip to Cuba: To-Do List Before Travel
IMPORTANT 2017 UPDATE: US and Cuban relations were finally starting to thaw with President Barrack Obama taking a diplomatic approach and looking to a future of free-travel for US citizens in Cuba. However, as of June, 2017, President Trump has announced that Americans can no longer travel under the "People to People" category. But, you can still travel under 11 other categories – such as "Support For The Cuban People" when booking your flight and accommodation. Click here to learn more about the 11 approved categories.
Jump To: Must-see Places | Must-Have Experiences | Off The Beaten Path | Pros | Cons | Transport | Visas | Health | Weather | MORE CUBA BLOGS
How Much Will Backpacking Cuba Cost?
**IMPORTANT** There are two currencies in Cuba making your travel budget vary depending on how often you use each one – purchasing with CUP is cheap while CUC is more expensive. You can only use CUP for basic street food, produce and some local transport. Please see the "Cuban Currency" section below for more information.
NOTE: All figures are quoted in US Dollars unless otherwise stated.
Budget for Cuba:
$50 – $100 / day for a Couple
$45 – $65 / day for Solo Travellers
Backpacking Cuba can be incredibly cheap. If you frequently spend CUP and eat at peso food stands 3 meals a day, a couple could easily get by on around $50 / day. But you should keep in mind that these cheap meals don't offer a lot of variety, so if you really want to experience Cuban cuisine, you should up your Cuba budget to include some meals in nicer restaurants (which always charge in CUC).
Tours are of good value in Cuba but they will quickly add up. Entrance fees in Havana are quite expensive so your time in the capital will probably cost you more than the rest of the country (unless you completely avoid museums / history while you're there).
Let's break these costs down:
Budget Accommodation: (Average $20 / night)
Casa Particulares (Cuban home stays) are a fantastic option for budget travellers in Cuba. In fact, we recommend that everybody who is travelling in Cuba stays in casas because they offer the best value and the best travel experience.
If you would rather book an apartment or stay with a host on Airbnb while you're travelling in Cuba, why not get an Airbnb discount while you're at it? Make sure you use our special $25 Airbnb Coupon Code and save money!
For $15 – $20 / night, you get to stay with a local family, enjoy home cooked meals (extra $5 – $10 each) and learn about the Cuban way of life, but you still get your own private room and bathroom. Usually there is an entire section of the home reserved just for travellers.
There is often a kitchen available for your use and in our experience, the families were always fantastic. Check out Airbnb and Booking.com as they have a lot of great Casa Particulares that are very affordable.
Eating: ($0.50 – $15 / meal)
I know, that's a pretty big difference in meal costs. But when you're backpacking Cuba, if you eat at a local National Peso (CUP) food restaurant, you can get a small pizza or an egg and cheese sandwich for just 50 cents!
But if you want to step it up and eat in a nicer restaurant (charged in CUC) then you'll have to spend at least $5. The good news is that this meal cost tops out at around $15, so you can get a huge lobster meal for this price… or even less.
We highly recommend that you eat at least one meal at each Casa Particular that you stay in while you're backpacking Cuba. The food is fresh, home-cooked and absolutely delicious. In our experience, these were by far the best meals we had.
Usually meals cooked by your casa owner will cost between $5 and $10 / person, but will be much larger portion sizes than you'll find at a restaurant, and oftentimes, they include a cocktail and coffee at the end of your meal.
Entrance Fees: ($5 – $10/person)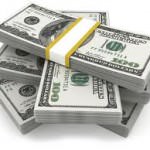 This is where you'll see the full might of the dual currency in Cuba at work. Locals will pay around 7 CUP (28 cents) for many museum entrances in Havana, while tourists will have to pay 7 CUC ($7).
That's 25 times more for visitors!
Some museums are less than this, but they average around $7 / entrance. The good news is that, aside from entrance fees, when you pay for something using CUP in the rest of the country, you should get the same rate as the locals.
If an apple is 1 CUP for a local, it will be 1 CUP for you too. The CUC is not a "tourist currency" and locals have to use it to buy "luxury" items as well. But entrance fees will cost you more. In Havana, our budget went through the roof because we visited so many history and art museums.
Alcohol: ($1 Beer, $3 Cocktails)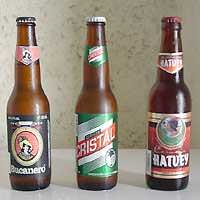 Alcohol is very inexpensive, even for budget backpackers in Cuba, especially when compared to some other Caribbean islands.
Generally you can get a local Crystal or Bucanero beer for a buck or two, while cocktails will rarely cost more than $3. Some expensive restaurants will charge much more than this, but with so many great, cheap bars and clubs popping up all over Cuba, there's no need to break the bank on booze.
If you really want to save money, pick up your booze from the local supermarkets. You can get a litre of Havana Club Rum for around $5! A bottle of wine will cost around $10 – $15. Surprisingly, beer is very close to the same price in restaurants as it is at the store. Usually it's worth the pleasant ambiance, live music and beautiful views to just pay for beers at restaurants.
Tipping: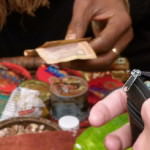 Tipping is very much a part of Cuban culture. If 10% service isn't already added to your bill, you'll be expected to tip between 10% and 15%. Unfortunately, service in Cuba is rarely worth tipping for and if it's added to the bill, you'll have no choice but to pay it.
If it's not already added you can leave without tipping, but you will be making a statement that you didn't enjoy the service.
If you manage to get a taxi to use the meter, a small tip is welcomed, but if you've agreed on a price before taking off (recommended) then no tip is necessary.
If you stay at a fancy hotel and a porter brings your bags to your room, a small tip will be expected. There is no need to tip at your Casa Particulares, but a small gift from your home country would be very much appreciated.
Cuban Currency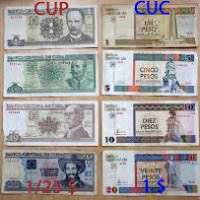 Current Exchange Rate: $1 USD = 1 CUC $1 USD = 25 CUP
**IMPORTANT**
There are two currencies in Cuba. The CUC (Convertable Peso) and CUP (National Peso). The dual currency system can be confusing for travellers, but this section will help you to understand how it works.
CUC (Convertible Pesos): This is the currency you will be using most often when backpacking Cuba. While you can still procure and spend CUP, the CUC (pronounced "kook") is your main currency because you will need it to pay for restaurants, hotels, transport, souvenirs, alcohol, etc.
The CUC is pegged equal to the USD and can be obtained from ATM machines, or via Cadecas (Cuban money exchange booths) around the country.
CUP (National Pesos): This is the currency that the locals are generally paid in (unless they're in the tourism business).
1 CUP is about 4 cents CUC and you won't be able to withdrawal this currency from local ATMs with foreign debit or credit card. It's not possible to pay for hotels or luxury items using CUP, but you can buy cheap produce, street snacks, local transport and eat at basic restaurants with it. Locals often refer to CUP as simply "peso" although they sometimes call CUC the same thing so it can be confusing.
We recommend carrying around 250 – 500 CUP in your wallet at all times so that you can take advantage of peso meals and produce when you have the opportunity. Keep the CUP in a separate pocket in your wallet so that you don't confuse them.
Is CUC a "Tourist Currency"? NO. Cubans need CUC to pay for the same items as you need it for. At supermarkets, nice restaurants, internet "cafes" and on Viazul buses for example, locals will be charged the same as you and they will have to pay with CUC.
This is not a currency made up just to charge tourists more. The locals have to use it as well. Casa Particular owners and people in the tourism industry are paid / tipped in CUC, so they are significantly more wealthy than their government employed counterparts who are paid in CUP.
How do you tell the difference? Basically the easiest way to tell if you're spending CUC or CUP is to look on the bill for the word "Pesos Convertibles". This will tell you that it is CUC.
The colors are also different, but overall the bills look surprisingly similar, so it is recommended that you study and get used to them when you first arrive in Cuba. A common and easy scam in Cuba is simply giving tourists back change in CUP instead of CUC.
Beware of Scams: Aside from giving your change back in the wrong currency when you buy something, Cubans are notorious for a few other little scams.
Always count your change whenever you purchase something.
While you're backpacking Cuba, you may be surprised at how often the change you are given is incorrect. Always check your bill before paying, there will almost always be extra charges. Also, only buy things with price tags on them if possible.
Water should never cost more than 0.70 CUC for 1.5L, but tourists are often charged upwards of 2 CUC. In Cuba's intense heat, that can add up quickly as you slam back over-charged agua. Scams are far more common in Havana than compared to the rest of the country.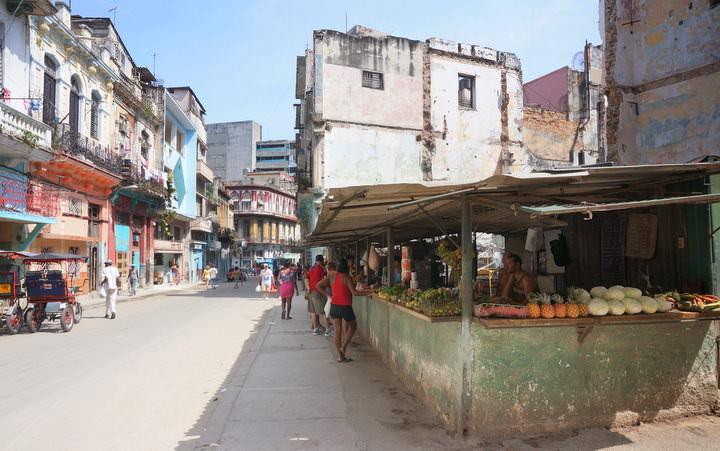 Exchanging Money: When you're backpacking Cuba, it's best not to bring USD because when you convert USD to CUC or CUP, you will be charged an extra 10%. The best currencies to bring are Mexican Pesos, Canadian Dollars, Euros, Great British Pounds etc. and convert that money at Cadecas in country.
To avoid fees from Cuban ATM machines, we recommend bringing all of the money you will need in one of the forieign currencies listed above. Yes, that's a lot of cash to carry while travelling, but it will save you 3% or more off of your total trip.
As long as your bank isn't associated with an American institution (ie: Citibank, Bank Of America etc.) you will be able to withdrawal money from your debit card and your credit card at ATM machines in Cuba.
These transactions will incur a 3% "currency exchange fee" on top of any fees your local bank may charge. This fee will not be charged when converting cash at Carecas, which is why we recommend you bring sufficient cash for backpacking Cuba.

Must-See Places When Backpacking Cuba
There are far too many "must-see places" to list here. We spent a lot of time backpacking Cuba and we still have much to see. If you plan to travel Cuba all the way from east to west, we recommend flying one direction because it is a very long way to go.
Jump To: Must-Have Experiences | Off The Beaten Path | Pros | Cons | Transport | Visas | Health | Weather | MORE CUBA BLOGS
Havana
Ah, Havana. Cuba's vibrant, energetic, historical and colourful capital. Few introductions into a country can be as exhilarating as landing in the Havana airport, hopping in a 1950's classic car, cruising through busy back streets and arriving at your Casa Particular which is situated in a 400-year-old building. Welcome to Havana and welcome to Cuba.
The capital is a microcosm of what the rest of the country has to offer. The music, the dance, the food, the energy and the culture is all here in Havana and you can feel it the moment you get off of the plane.
Some of the best sites, live music and museums are found here. Your time will most likely be spent wandering around Habana Vieja (Old Havana), the city's Spanish Colonial quarter which boasts hundreds of well restored buildings, churches, homes and museums.
A walk along the malecón is likely to be a highlight of your trip here as well. We recommend walking the length of the malecón in the morning, during sunset and at night to get a real feel for the bustle of this famous seaside street. Also don't miss La Cabaña Fort and cruising the malecón in an old car (touristy, but fun).
Havana is very safe and while you shouldn't be too flashy, crime rates are very low here and walking around at night is safe in most areas.
Some Sites To See In Havana:
Old Havana (Havana Vieja)
Centro Havana (Less Touristy, more raw and authentic, but not as aesthetically pleasing)
Plaza Vieja
Plaza De La Catedral
Museum of Fine Arts
El Morro
The malecón
Plaza De Armas (Havana's Best Plaza)
San Fransisco Square
Castillo de San Carlos de la Cabana (La Cabana Fort)
Paseo Del Prado
Havana Cathedral
Gran Teatro de La Habana
El Capitolio
For more information on this incredible city, check out:
The Ultimate Guide to Independently Travelling Havana
Havana, Cuba: Could This Be Our Favourite City?
Viñales
Close your eyes and picture a vivid shade of green. Lay that palette over rolling hills and sprinkle them with tiny wooden homes and enormous palm and Bougainvillea trees. Now pierce through the emerald floor dozens of massive limestone karsts. Hear pure silence interrupted only by the creaking wheel of an ox-drawn carriage and the occasional whinny of a horse in the distance.
You are now in Viñales!
This is where the lion's share of Cuba's famous cigars are rolled, pressed and shipped and it is also the best destination for backpackers and independent travellers in Cuba. There are literally hundreds of great Casa Particulares here and some of the country's best restaurants line this tiny town's main road. This is definitely one of the best places for travelling in Cuba.
What makes Viñales so special is the opportunity to walk through the tobacco plantations, meet local families and learn how the precious leaf is grown, cropped, dried, rolled and sold. There are no boundaries, fences or closed doors in the countryside around Viñales, so get out and explore. This is the best place in Cuba to mingle with local people and learn about rural life in the country.
Aside from walking through plantations and meeting families, Viñales boasts the beautiful nearby beach of Cayo Jutias which is reachable by tour bus (15 CUC / person), by taxi (50 CUC / day) or by rented motorbike (25 CUC / day). You can also hire a guide and go horseback riding in the valley, or visit one of the many caves. There are some nice gardens in town and some nearby waterfalls as well.
Note: We recommend renting a motorbike for at least one day while you're in Viñales. The rental shop is on the main road and a 50 cc moped will only cost 25 CUC ($25) / day. For two people riding one moped, it's usually much cheaper to drive to sites rather than hopping on crowded tour buses. It will also give you the freedom to find your own special place for sunset.
For more information:
☞ Finding The Real Cuba in Viñales
Cienfuegos
A seemingly more upscale and well-kept colonial town, Cienfuegos has a lot of charm, but it may not reveal itself right away. Sure it has the bold, stately buildings and broad boulevards that you find in the rest of Cuba, but you can find better examples of these in Havana, Camagüey and Trinidad.
The construction here, while still conforming to the classic colonial style, is actually dated in the mid-19th century when a settler from France named Don Louis de Clouet called upon his French countrymen to move to Cienfuegos to colonize the bay of Jagua.

There's a beautiful seaside promenade here, an important naval base, an offshore fort, a beautiful plaza and theater and affordable restaurants. For us, the buildings felt more clean and well-presented than other cities in Cuba. And although beautiful, we didn't find them as charming.
The real joy of staying in Cienfuegos was our time spent at Hostal El Patio Andalu. The owners Joel and Ivet were excellent hosts and they introduced us to the fascinating world of Flamenco in Cuba. If you're heading to Cienfuegos, it would be a shame to miss the hospitality, fantastic Spanish cooking and genuinely kind nature of these wonderful casa owners. We're still in contact with them today!
Some Sites to See In Cienfuegos:
El Nicho Waterfalls
Teatro Terry
Guanaroca Lagoon
Plaza Jose Marti
Palacio de Valle
Punta Gorda Area
Tomas Acea Cemetery
Jagua Castle
Catedral de la Purisima Concepcion
Read More:
☞ A Mini-Guide to Visiting Cienfuegos
☞ Cuba With a Splash of Spain: Experiencing the Unique Side of Cienfuegos
Camagüey:
Aside from Havana, this was our favourite city while backpacking Cuba (and it's a very close second). Not only did the jumbled maze of back streets and old buildings impress us at every turn, but the people seemed friendlier, there was no hassle and everything seemed cheaper in Camagüey.
The Avenida de Los Mártires is a beautiful road with more examples of Spanish column entrance-ways than anywhere else in Cuba. Calle República is a pedestrian-only walkway that streches for over a kilometer and is a fantastic place to stroll and enjoy good restaurants, buzzing nightlife and of course, the best of Camagüey's incredible architecture.
Try to see a show at one of the many theatres while you're in Camagüey. We also had a great lunch in the wine cellar at La Cava restaurant (which is set below the Lonely Planet recommended Cafe Cuidad). The service was great, the tapas and cheese platters were delicious and there were tasty imported wines for as little as $10 / bottle!

Note: If you're heading from Camagüey to Trinidad, you'll find that the Lonely Planet only lists one bus at 2:30 am. There is another, much better option. Take a Viazul bus to Sancti Spiritus (about 3 hours, many departures throughout the day) and then hop in a state taxi to Trinidad (30 CUC, 40 mins, any time of day). It may cost a bit more than the direct bus, but it's worth not having to get up at 2:00 in the morning! A direct taxi from Camagüey to Trinidad is around $100 if you've got the budget for it.
Some Sites To See in Camagüey:
Plaza Del Carmen
Coco Beach (nearby)
Plaza San Juan de Dios
Catedral de Senora de la Candelaria
Iglesia de la Soledad
La Cava Wine Cellar
☞ A Mini Guide to Travelling Camaguey
Trinidad
Another fantastic UNESCO World Heritage city in Cuba, Trinidad has two draw cards that set it apart from other colonial cities we've listed in this post.
First, there is the beautiful Playa Ancon beach just a 15 minute taxi ride away (8 – 10 CUC return for a full car), and secondly, there is the enormous Valle De Los Ingenios just a quick horse ride outside of town.
If you grow tired of looking up at 500-year-old Spanish architecture, you can head to the beach or go on a 4 hour horse trek (20 CUC / person) into the nearby valley. There are also some waterfalls close by.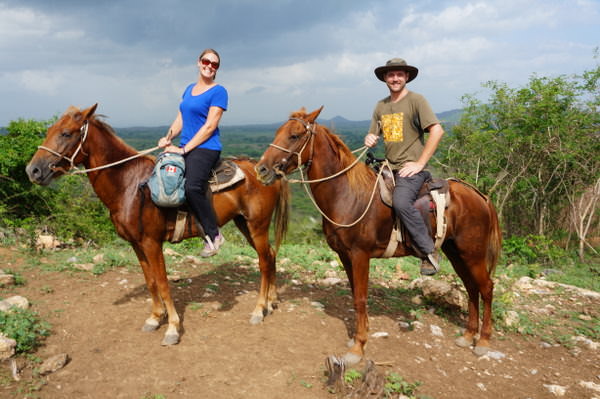 If Trinidad has a flaw, it's definitely the constant "hassle". It's never too aggressive or obtrusive, but you will constantly be asked "Taxi a la Playa?", "Taxi to the beach?", "Horse ride tour?", "Walking tour?", "Cigars?", "Weed?" "Taxi to Havana, Vinales, Cienfuegos?" …. everything is available and constantly promoted by street touts in Trinidad.
Consider heading into a state-run Infotur office and arrange transport, guides and tours rather than supporting these jineteros. If you bargain with the street touts, you'll be giving them reason to continue hassling tourists. If you'd rather put your money into local pockets instead of Infotur, ask your casa owner or find a less aggressive street tout.
Sites To See In Trinidad:
Plaza Mayor
Valle De Los Ingenios (horse & walking tours)
Ancon Beach
Casa De La Musica (Live music & dance on amphitheatre)
Romance Museum
Iglesia Parroquial de la Santisima Trinidad
Trinidad Architecture Museum
Salto del Caburni (nearby waterfall)
Casa de la Trova (Live music)
Palenque De Los Congos Reales (excellent Afro-Cuban Rumba dancing)