The mere mention of Acapulco conjures images of Mexican-style paradise: frosted margarita glasses in the shade of swaying palm trees on a half-moon beach of gleaming white hotels. This is true, but there are many more things to do in Acapulco than go to the beach.
And although Acapulco's reputation has suffered in recent years due to escalating crime rates, the tourist zone is safe, and prices for hotel rooms and tours are better than ever. Although, I recommend doing your research on the current situation before visiting.
It's easy to get to Acapulco from anywhere in Mexico, especially Mexico City, which has direct buses and regular flights.
I went several times a year during the decade I lived in Mexico — on weekend getaways, for friend's weddings, and as the final destination of marathon bike rides.
Each time I visited, I discovered more places to visit in Acapulco, such as tranquil parks, local fish restaurants, and remote sections of beach. And that's just in the daytime!
After dark, Acapulco offers wild nightclubs, mojitos to go, and delicious after-midnight tacos.
You can make the most of a trip here by checking out this list of the 15 best things to do in Acapulco.
1. Hit the Beach in Acapulco
Hitting the beach comes first, right? It's obviously one of the activities in Acapulco that everyone has in mind.
Acapulco Bay contains the main beaches and most Acapulco attractions. Rugged mountains rise up behind the bay, dividing the tourist zone on the ocean from the otherwise average small Mexican city on the other side.
The bay blocks most of the big waves rolling in from the Pacific Ocean, so swimming is safe and easy, unlike some other beaches on Mexico's west coast. A long swim out into calm water is one of the things to do in Acapulco that everyone dreams about.
In roughly the middle of the bay, two long beaches are separated by cliffs with large hotels on top. From most parts of the beach, you can see a few rocky islands near that separation point.
The beaches to the west of the cliffs get more crowded, being closer to the old downtown and the party spots of Costera Street, which follows the beach.
The beaches to the east of the cliffs are lined with luxury hotels and are a little quieter, though everywhere gets crowded on Mexican holidays.
Basically anywhere you choose, you'll have gorgeous views of the mountains on each side of the bay, where tall hotels and apartment buildings have been built into high, rocky bluffs.
2. Enjoy Aquatic Sports
An iconic Acapulco activity is riding a banana boat, although you can go parasailing, rent a jet ski, rent a sailboat, and go snorkeling, among other options.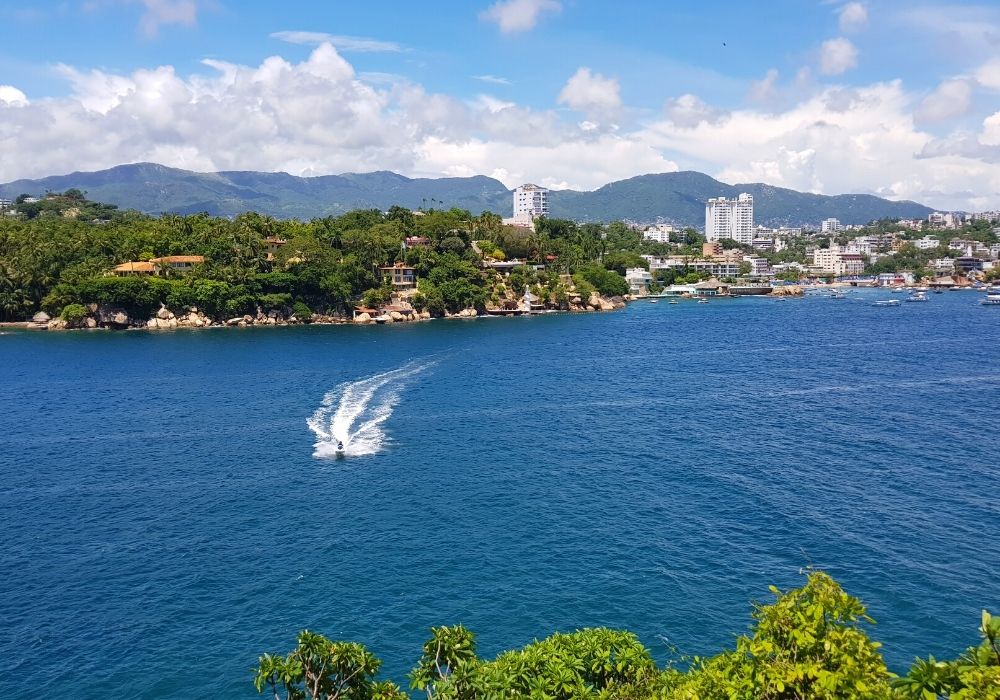 Guys with laminated lists of activities walk up and down the beach all day, every day. Prices go up according to how busy the beach is and how little Spanish you speak.
Whatever you choose, try to find others to do it with you, because this is one of the things to do in Acapulco that's much more fun in a group.
An alternative is to arrange a tour beforehand, which will take haggling and confusion out of the equation. This tour includes snorkeling, stand-up paddleboarding, and lunch.
3. Party in the Beach Bars of Costera Street
Costera Street follows the beaches from the fishing docks near downtown on the far west side to the row of luxury hotels and all-inclusive resorts on the east side of the bay.
You can explore the neighborhoods behind the east side of the beach for seafood restaurants, taco shops, and a few foreigner hangouts.
For what to do in Acapulco after dark, check out the noisy bars and nightclubs all along the central-western side of Costera Street, right after the hotels on the cliffs that separate the two main beaches.
Most bars have multiple levels and big platforms for dancing that face the beach. Look for the pirate ship and the spot for bungee jumping (Paradise Bungy Acapulco) next door. Between the clubs are some taquerias and seafood restaurants that serve food late.
Even more bars are located among the shopping malls and souvenir markets of Costera Street as it gets closer to downtown. Check out the rowdy bars and late-night restaurants near the iconic statue of Diana the Hunter in a large traffic circle on Costera Street.
Most of these places have no cover and good happy hour specials, making a night out in the area one of the most accessible things to do in Acapulco if you're on a budget.
Plus, they're right on the beach, providing great ocean views and a cool breeze while you dance the night away.
4. Dance All Night in a World Famous Nightclub
Fancy nightclubs with world-famous DJs, bright lights, and all-night partying are all around Acapulco, including high up in the hills.
Palladium, with its panoramic views of Acapulco at night, is one of the best. It also has a huge dance floor and one of the best light and sound systems in the world.
It opens at 11 AM and closes sometime around six in the morning. The cover varies depending on the DJs. It includes an open bar.
Rivaling Palladium for the title of Acapulco's best (or at least most notorious) nightclub is Baby O, located closer to sea level near the east side of Acapulco Bay.
It may not be as refined as Palladium, but it has more history, as it's been a storied celebrity hangout since the days of Elizabeth Taylor.
The music is more varied too, with theme nights of '80s club hits and Mexican banda music. The line is long and the cover is high, but if it's good enough for John Travolta and Bono, then there must be something going on.
5. Feast on Mexican-style Seafood
Mexican food is delicious, and this includes seafood in all its variety. Since the city is right on the ocean, eating seafood is an obligatory Acapulco activity.
Los Buzos Restaurante Bar serves some of the best seafood not only in Acapulco, but in all of Mexico. There are several branches in the area, meaning that no matter where your hotel is located, you can probably walk to one.
Besides Buzos, there are quality seafood restaurants around every corner. Fancier doesn't always mean better, so other than asking a local for suggestions, the best way to choose a seafood restaurant in Acapulco is to pick the busiest place you see.
Buzos (which means "scuba divers") is definitely my favorite, and every time I visit Acapulco I go there at least once to devour a plate of coconut shrimp, fish tacos, and octopus tostadas, washed down with multiple margaritas.
6. Marvel at the Divers at La Quebrada
The tall cliffs of La Quebrada is one of the most popular things to see in Acapulco, but not just for the scenery.
Local divers jump from as high as 40 meters (130 feet) into a narrow gap of ocean surrounded by boulders. This amazing display of courage and skill can be seen from various platforms on the cliffs.
Hiring a guide and taking a tour means that you'll be shown the right place to watch it at the right time. Other tours bring you to the cliffside La Perla restaurant, where you can enjoy a few drinks while watching the divers.
7. Explore the Old Downtown
Like nearly every city in Mexico, Acapulco has a zocalo, a central square surrounded by the cathedral and government buildings.
Although it's not exactly one of the can't-miss things to do in Acapulco, visiting the area around the zocalo will give you a glimpse of regular life in a hot Mexican coastal town.
Small shops and restaurants are on the streets surrounding the zocalo, and just south is the malecon, a walkway along the water with views of the bay. Fishing boats and some tour boats depart from here.
Among the interesting Acapulco attractions on the zocalo is the Eastern Orthodox-style cathedral, with its seafaring vibe of white walls and blue domes. In fact, it was originally built as part of a movie set in the days when many films were made in the area.
8. Take a Boat Trip to Snorkel at Roqueta Island
Taking a boat trip is one of the popular things to do in Acapulco, and Isla la Roqueta is a common destination that has beautiful sand and excellent snorkeling.
You can find tours to Roqueta (and elsewhere) advertised in the lobbies of most hotels, or visit the boat piers near downtown to arrange one.
Or, you can check out this tour which includes many fun activities in Acapulco, such as swimming, snorkeling, hiking, and relaxing in the sand, all at Roqueta Island.
9. Learn Some History at San Diego Fort
From the backseat of a taxi speeding by, you might miss the old Spanish fort between the beach and the zocalo.
San Diego Fort was built in 1616 to give protection against pirates to Spanish galleons making the long trip to Manila. Today it's one of the best things to see in Acapulco, and certainly the most historical.
You can explore the pentagon-shaped fort and then check out the displays in the Acapulco Historical Museum located at the site. Access is 65 pesos (about $3.20 USD), and the fort and museum are closed on Mondays.
Because the fort is near La Quebrada, some tours combine them for a full day of history and excitement.
10. Check Out Diego Rivera's Mural at the House of the Winds
The famous Mexican artist Diego Rivera completed his final works in the beautiful House of the Winds (Casa de los Vientos, also known as Exekatlkalli), where he died in 1957.
These include five murals: two on the ceiling, two on the facade, and one on the terrace.
The most famous mural is a seashell mosaic of Quetzalcoatl, a winged serpent and ancient Mexican God. The mosaic contains other symbolic images like a frog, dog, and hammer and sickle.
Today, this former private home of Dolores Olmeda (a businesswoman, philanthropist and musician who was Rivera's final lover), first built in 1943, is a cultural center open from Monday to Friday with free admission.
Visiting Exekatlkalli is easily one of the best things to do in Acapulco when you're tired of the beach and want to enjoy some art and culture.
11. Immerse Yourself in Nature in the Acapulco Botanical Garden
High up in the mountains above Acapulco Bay is the Acapulco Botanical Garden (Jardin Botanico de Acapulco), which opened in 2002.
Visiting the garden and hiking its main path is one of the best things to do in Acapulco to get a sense of the original nature of the area.
Tropical trees and other plants are labeled with their country of origin, and you might get lucky and show up when the flowers are blooming.
Plus, there are sweeping views of the bay from the top of the hill. Just follow the trail up, and don't forget a bottle of water.
Admission to the Acapulco Botanical Garden costs 70 pesos (about $3.5 USD), and guided walks are available.
12. Get Amazing Views from the Capilla de la Paz
More excellent views of Acapulco Bay can be seen from the Acapulco Peace Chapel (Capilla de la Paz Acapulco), which features a 40 meter high cross.
Other than the cross, the church is non-denominational, built by a family to welcome people of all religions and also to commemorate the family tragedy of a fatal air accident.
It's a moving site, and not only for the panoramic views. Besides the elegant minimalist chapel, you'll also see the Hands of Brotherhood statue in its position of praying to the sky.
You can visit the chapel on your own by taking a taxi or a long hot walk up the mountain road. Or, you can see it as part of a sightseeing tour. Many tours include other famous places to visit in Acapulco like La Quebrada or San Diego Fort.
13. Feel the Adrenaline in Puerto Marques Bay
East of Acapulco Bay, the much smaller bay of Puerto Marques has secluded beaches, amazing mountain views, and good snorkeling. It's a great place to find some seclusion on a much smaller beach than next door at Acapulco.
One way to enjoy it is to take a tour that includes a visit to a turtle sanctuary and a horseback ride.
Or, if chilling out isn't what you had in mind, you can spend the day at the Xtasea Adventure Park, also located in Puerto Marques Bay. Xtasea claims to have the world's largest zipline over water, which will surely get your blood pumping.
14. Have a Getaway at Diamante Beach
Beyond Puerto Marques Bay is the next large beach, Diamante (Diamond) Beach. In many ways, it's a nicer beach than Acapulco. It's broad, flat, and lined with tall hotels and timeshare apartments.
Unlike Acapulco Bay, however, Diamante is on the open ocean, meaning constant waves and occasional riptides. This also means good wakeboarding and decent surfing too.
Shopping fanatics must check out La Isla, a large open-air mall near Diamante, with both luxury brands and local shops. An excellent seafood restaurant nearby is La Finca on the main road.
A newly-built bicycle path begins at the Forum Mundo Imperial Arena (near the airport) and goes all the way to Barra Vieja. You can rent a bicycle to spend a day pedaling and sweating on the path.
15. Relax All Day at Barra Vieja
On the far eastern end of the same beach as Diamante is Barra Vieja, a collection of small hotels and seafood restaurants on a section of remote beach.
A great way to relax is to choose one of these restaurants, order lunch, and then hang out all day. As long as you keep ordering drinks, they won't mind. Many have pools, and they all have broad beachfronts.
Barra Vieja is also a good place to inquire about tours in the enormous Laguna de Tres Palos (Three Sticks Lake) and the surrounding El Veladero National Park, a massive natural area full of crocodiles and exotic birds that's one of the best birdwatching areas in all of Mexico.
The lake follows Diamante Beach to the south, although it's hidden behind the hotels, warehouses, and other buildings on the other side of the highway from the beach.
It's a little hard to get to, so a good option for experiencing the Laguna de Tres Palos is with a guided boat tour.
Now You Know What to Do in Acapulco
The beach put it on the map, but as you can see, there are many more things to do in Acapulco than lay in the sand all day.
This Mexican getaway has attracted stars from Frank Sinatra to Jennifer Lopez, along with pretty much every Mexican celebrity imaginable.
It's the beach most easily reached from Mexico City, meaning that nearly every Mexican has visited at some point in their lives.
They come for the beach or nightlife, but keep coming back for all the other amazing things to do in Acapulco, like enjoying history, nature, and seafood.
And if it's only the beach you're looking for, you won't be disappointed.
Like This Article? Pin it!