Glittering temples and sleazy go-go bars. Towering high-rises and riverside shanty towns. Alms-receiving monks and bucket-guzzling backpackers. This, my friends, is a city of contrasts. Welcome to Bangkok, the Thai capital often referred to as the Big Mango. This is definitely one of the top places to visit in Thailand.
But, with so much going on, it can be hard to figure out the best things to do in Bangkok. Read on to find out the best 13 things you don't want to miss!
1. Go Temple Hopping
In the capital of a country that is nearly 95% Buddhist, you'll want to make sure to visit several temples. At the very least, be sure to check out Wat Pho (Temple of the Reclining Buddha), Wat Arun (Temple of the Dawn) and Wat Phra Kaew (Temple of the Emerald Buddha). The latter is the most sacred and important temple in all of Thailand and is absolutely stunning.
When temple hopping, be sure to wear the proper attire. This means shoulders and knees should be covered. Not only will you offend the locals if you don't dress appropriately, but you'll end up needing to buy some silly elephant pajama pants outside the temple just to be allowed in. A day of visiting the sparkling temples is hands down one of the best things to do in Bangkok, regardless of what kind of pants you have on.
Book Overland Transport From Bangkok
2. Cruise the Chao Phraya River
The Chao Phraya is known as the River of Kings, and it's incredibly important to the city and its people. Several of the top sights in Bangkok are located on or near the banks of the river, as well as thousands upon thousands of homes. Spending some time cruising the river is definitely one of the best things to do in Bangkok.
You've got quite a few options for taking in the sights of the Chao Phraya. It's possible to hire your own boat and driver, take a dinner cruise, ride the tourist boats, or just take the public ferry. Which one you choose depends on what you want out of the experience and how much you're willing to spend on it.
Where to Stay in Bangkok
Here is a list of the top 3 rated, affordable properties in Bangkok. Click on the links and check them out for yourself!
La Locanda – From $21 / Night, Rating 9. Click here to see the latest price on Booking.com
Vera Nidhra – From $51 / Night, Rating 9.7. Click here to see the latest price on Booking.com
Uncle Loy's Boutique House – From $90 / Night, Rating 9.6. Click here to see the latest price on Booking.com
☞ Click here to see all accommodation options available in Bangkok on Booking.com

3. Chatuchak Weekend Market
Be sure to get to Bangkok on a weekend so you can visit the epic Chatuchak Market. You name it, and you can buy it there. We're talking everything but the kitchen sink, people. Come to think of it, you'll probably also find a few sinks for sale. They're right down the way from the freaky skeleton signs.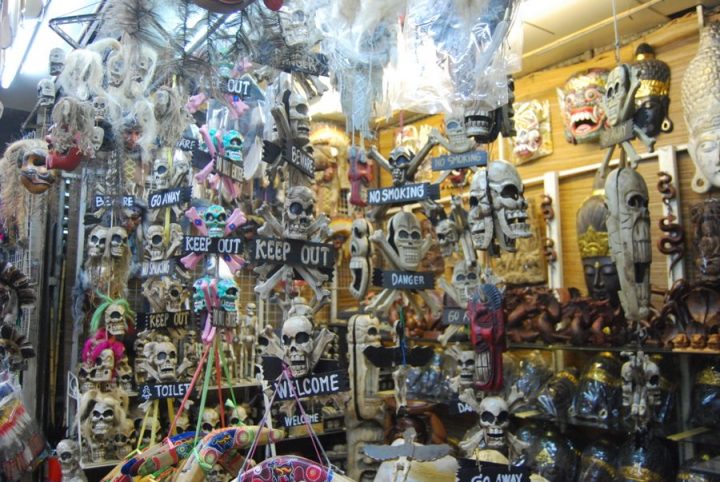 The market is a maze of over 15,000 stalls spanning around 27 acres. With plenty of food vendors, cafes, and even nail salons and spas set up, you could spend the entire day here. Even if most of the time you absolutely loathe shopping, you'll have to admit that Chatuchak is one of the best things to do in Bangkok.
☞ Looking for more Thailand articles? Check out the top things to do in Pai, things to do in Chiang Mai and the top things to do in Chiang Rai. If you're heading to the islands, check out the best things to do in Koh Lipe and the awesome things to do in Koh Phangan. There are so many things to do in Thailand, check out our articles and start planning your trip!
4. Visit the Jim Thompson House
There are several museums in Bangkok, but it's hard to top the Jim Thompson House. He was an American businessman and architect who had a passion for Thai art and architecture. Over the years, he developed an impressive collection and began working on a museum to house everything.
Sadly, Thompson disappeared on a trip in Malaysia in 1967. An extensive search turned up no results, and his disappearance remains a mystery to this day. Compulsory guided tours of the property leave every half hour or so throughout the day.
☞ RELATED POST: Things To Do in Chiang Mai – Top 17 things you can't miss!
5. Eat All the Food
Thai food is awesome. You probably know this by now, but it's worth repeating. Naturally, Thai food in the Thai capital is beyond awesome. The best ever pad Thai, papaya salad, and Massaman curry awaits you. From street stalls to high-end restaurants, you've got a plethora of options for satisfying your hunger.
For those of you who enjoy street food but prefer A/C and aren't too fond of rats, be sure to check out the outstanding Eathai food court in the Central Embassy Mall. Here you can go on a gastronomical tour of Thailand in just one evening. Be sure to come hungry and save room for dessert. Sitting down to a meal (whether on the street or in a restaurant) is definitely one of the best things to do in Bangkok.
6. Take a Tuk-Tuk
Sure they are a bit terrifying, but you can't come to Bangkok and not ride in a tuk-tuk. These ubiquitous 3-wheeled vehicles are a symbol of not only Bangkok, but SE Asia in general. Bargain hard with your driver, agree on a plan and price before getting in, and hold on for dear life as you zoom across the city.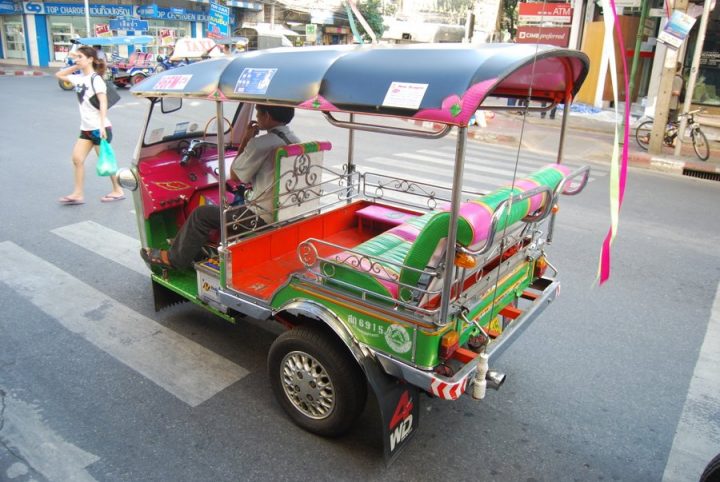 If you can work it out so your driver waits for you and takes you to a few temples, taking a tuk-tuk can actually be a huge time and money saver. That's because most of the major temples aren't exactly near a subway stop. You may fear for your life, but riding a tuk-tuk is still one of the best things to do in Bangkok.
7. Drinks With a View (one of the coolest things to do in Bangkok)
One of the best things to do in Bangkok is to hit a rooftop bar for some drinks with a view. Yes, you'll have to wear something other than your Full Moon Party singlet and it'll cost as much as four orders of pad Thai, but it's worth it.
One of the top choices is Moon Bar, which sits way up on the 61st floor of the Banyan Tree hotel. Sip on a fancy cocktail and look out over the sprawling metropolis below. Bangkok can be a bit rough around the edges, but damn it looks sexy from up here.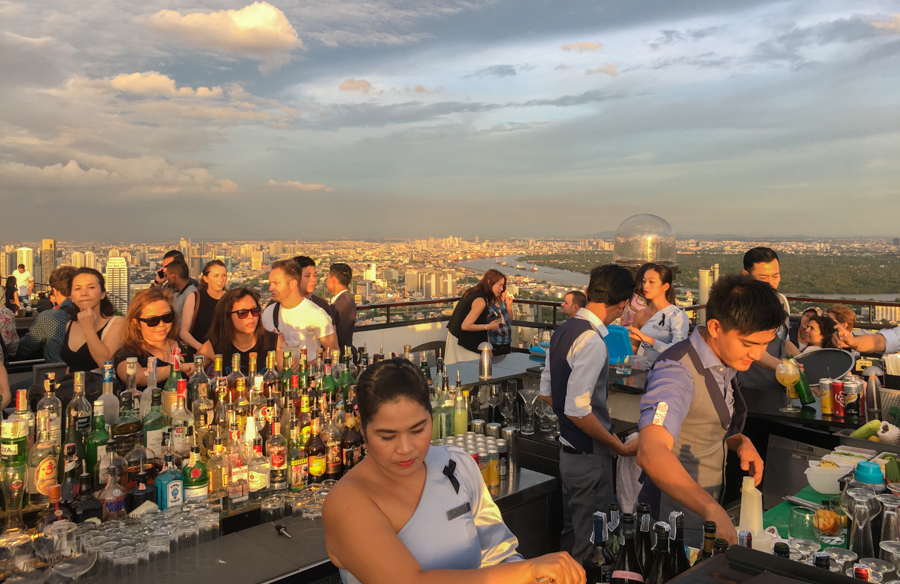 8. Explore Chinatown and Little India
Don't have time to hop over to China and India on this trip? It's all good, just go check out Bangkok's Chinatown and Little India neighborhoods. In Chinatown, you can see the massive Golden Buddha at Wat Traimit and get lost in some wild markets. Head to the India Emporium next, where you can shop for silk or Bollywood DVDs.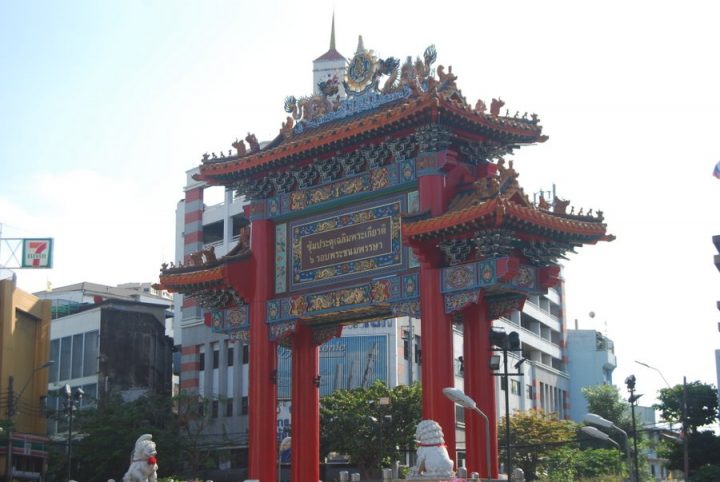 Of course, we can't mention the Chinese and Indian 'hoods without talking about the food. Whether it's the fantastic street food in Chinatown or a big bowl of curry with some naan, you're spoiled for choices here. There's something tasty being cooked up on every street corner in these parts of towns, so be sure you bring your appetite.
9. Hang Out on Soi 11
If you're looking for a place to grab a bite, hit a Happy Hour or two, and dance the night away, look no further than Soi 11. This street packed with restaurants, bars, and clubs is a favorite of expats and locals alike and makes for a great evening out. Make sure you drop by Cheap Charlie's, which is a legendary dive bar.
Soi 11 and the surrounding area also makes for a great home base in the city, as it's quite central and is right off the BTS subway line. With all the options for dining and partying in the area, you could go out every night here, do something new each time, and walk back to your place. With so many things to do in Bangkok, you'll be able to access a lot of them from Soi 11.
☞ SEE ALSO: Silom Road Bangkok – Everything You Need to Know
10. Visit the National Museum
Get your fill of Thai culture and history by visiting the National Museum. It was established by King Rama V to house the collection of antiquities held by his father who ruled before him. The museum grounds are located on the former site of the Wang Na Palace, and it's actually the largest in Southeast Asia.
The museum is open from Wednesday-Sunday, and there are free guided tours given in English on Wed. and Thurs. at 9:30 AM. You'll still have to pay to get into the museum, but you'll learn a lot more about the various artifacts on display by joining the tour. Combine this with a visit to Wat Phra Kaew and Sanam Luang park for a great day in Bangkok.
11. Party on Khao San Road
Ahh, good old Khao San Road. In terms of Thailand party places, the full moon party is one of the top things to do in Koh Phangan, while Koh San Road is one of the top places for a party in Bangkok.
If you've traveled around Southeast Asia before, chances are you've been here once or twice. Bangkok's infamous backpacker ghetto is a rowdy few blocks of hostels, travel agents, convenience stores, massage parlors, street food, and dive bars. Any day of the week, there's a party going on here.
Even if it's not your scene, it's worth a stroll. At the very least, you'll meet some fellow travelers, enjoy a cheap drink (or seven), and get to eat things on sticks in the street. Who doesn't love that? These are definitely some of the best things to do in Bangkok and a visit to Khao San Road is an experience in itself when backpacking Thailand.
12. Bangkok Art and Culture Center
For a more modern look at the art scene in the city, head to the Bangkok Art and Culture Center. It's a huge building full of art galleries, cafes, bookstores, an art library, and more. There are rotating exhibits in the larger spaces spotlighting both Thai and international artists, so there's always something new going on here.
While it's still definitely a work in progress, it's great to see the push for a shared artistic space in the city. Most exhibits are free or super cheap, so it's worth it to stop in for a coffee and a quick look. It's a beautiful building and has lots of potential once more people start paying attention.
13. Shop 'til You Drop
In a city that's often sweltering hot or in the midst of a downpour, it should come as no surprise that people in Bangkok like to spend a lot of time in shopping malls. You've got several choices, from Siam Paragon, the MBK Center, and CentralWorld. Sightseeing is great and all, but sometimes you just want to sit in an air-conditioned movie theater and get your munch on in a food court.
Whenever you need a break from the heat, you can take solace in the fact that you're probably really close to a mega-mall. Go ahead, get in there and get yourself an ice cream sundae while you bask in the glorious A/C.
14. Pak Khlong Talat Flower Market
To see a riot of colour and flowery scents, head to the old city to see the biggest flower market in Bangkok: an amazing treat for all the senses, with fruit, vegetables and flowers jostling for position on the roadside. A huge variety of flowers are available to buy very cheaply, but even if you're not shopping it's just a great experience and you'll get some brilliant photos.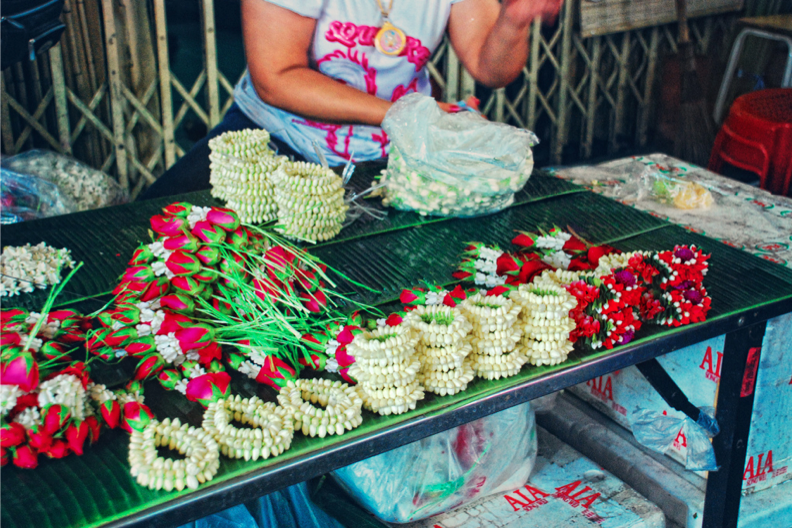 ☞ SEE ALSO:
15. Visit Bangkok's Creepiest Museum
The Bangkok Forensic Museum is probably different to any other museum you have ever visited. If you're a bit morbid, this old hospital will excite you: there's a pathology section, anatomy section and a forensic section. This is a truly unusual, thrilling and pretty gruesome place to visit, definitely not for the faint hearted.
16. Take a Klong Tour
The klongs (canals) are a fantastic way to see Bangkok, with tours available on the waterways using a long-tail boat. In places like Thonburi you'll be given glimpses of old Thailand: what the city was like before the skyscrapers were built. You'll learn the history of the older buildings on this side of the river, and you'll see the river commuters on their way to work, along with the barges and water taxis which are part of Bangkok's everyday life.
17. Artist's House
Still in Thonburi, visit the Artist's House (Baan Silapin): it's a traditional wooden Thai house which used to line the river. This one has been restored and renovated to its original condition and it's more than two hundred years old. But what will strike you most – and you may see it from the river if you take a klong tour – are the brightly painted life-size human statues watching the river from the house. The highlight of your visit will be the traditional Thai puppet show at 2pm every day, with traditionally crafted puppets which are now very rare.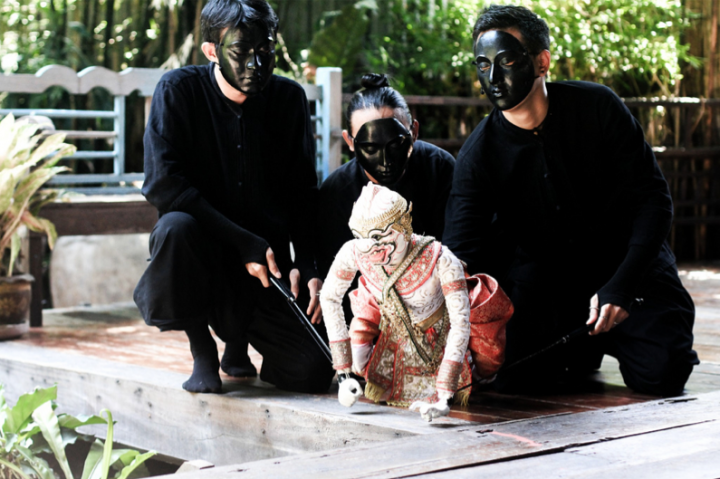 [widget id="shortcodes-ultimate-5″]
18. The Bookshop Bar
When your legs are tired and you're looking for an evening sit down, the Bookshop Bar is the perfect unusual destination. Located on Sukhumvit 38, stepping into this bar is like stepping into a fairyland. There are staircases leading into the ceiling, floating shelves and moving books sliding around on suspended shelves. The whole place is curved and shimmering, like you've walked into an MC Escher painting. You'll need a drink to get over the shock – and luckily the cocktails are amazing!
Bangkok is bristling with hidden gems and unusual destinations, so pack up your bag and take a visit. See as much as you can, and look around you all the time – don't miss a thing in this fantastic bustling wonderland.
Images by Irene2005, deepwarren, Rodrigo SEPÚLVEDA SCHULZ, Timo Kozlowski and vinylmeister used under creative commons license.
Ready For Bangkok?
With days full of gorgeous temples and bustling markets, and nights full of mouth-watering Thai cuisine and raucous nightlife, it's really hard to top Bangkok. The city doesn't always give off the best first impression, but dig a little deeper and you'll surely find yourself begging for another bite of that Big Mango. With three days in Bangkok, you'll be able to tackle most of the items on this list. Whatever you miss, you'll just have to save for your next trip.
Like This Article? Pin it!