Have you ever been to a city that you immediately fell in love with? It doesn't happen often to me, as I usually need some time to feel out a city. Budapest was different, though. Something about the Hungarian capital just clicked with me from day one. There are numerous things to do in Budapest and while soaking in thermal baths and drinking in ruin bars are my top choices, I'll list many more things below.
Back in the day, this was actually two cities on opposite sides of the Danube River — Buda and Pest. They combined forces quite some time ago (way back in 1873), but people continue to refer to them as opposite cities. After visiting both sides of the river, you'll see why.
On the west side of the Danube lies Buda, full of rolling hills and home to a castle. This is a quiet area that's primarily residential. It's a whole different world over in Pest, where all the action happens. It's said that when Buda goes to sleep, Pest wakes up. I can attest to the fact that there's some pretty epic nightlife over in Pest!
Whichever side of the river you're on, there are plenty of fun things to do in Budapest (many of which are budget-friendly). With a few days in the Hungarian capital, you can take in the tourist attractions during the day, relax in a few thermal baths in the evening, and hit the town at night.
I recently did just that on my way to the World Cup in Russia and had an absolute blast. Not only is Budapest a fun city, but Hungary is one of the best value European destinations (your wallet will thank you!).
If you're wondering what to do in Budapest, read on for a detailed look at some of the best sights, attractions and activities in this fascinating city.
1. Join a Free Walking Tour
The best way to get introduced to Budapest is by taking a free walking tour. In just a few hours, you'll see many of the city's most iconic landmarks, learn a ton of history, and make some new friends.
There are actually several options for free walking tours of the city. Trip to Budapest runs daily tours on topics ranging from communism to street art. Click here to peruse all of their different options.
If you're new in town, your best bet is starting off with their original walking tour. These run daily at 10:30 and 2:30 and are a great way to get to know Budapest.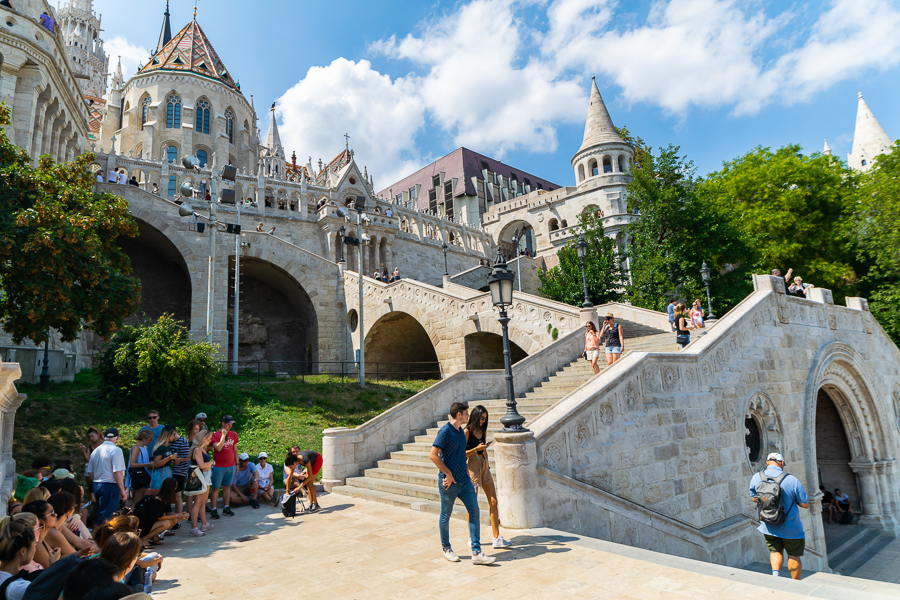 These free walking tours move rather quickly, so you'll have to return to some of the places if you really want to dive in. The guides are super friendly and helpful, so be sure to ask for their recommendations on what to do in Budapest and the best places to eat and drink.
2. Visit The Hungarian Parliament
One of the most popular things to do in Budapest is paying a visit to the Hungarian Parliament. This gorgeous neo-Gothic building dates back to 1896 and the 1,000th anniversary of Hungary.
After the fall of communism, it was here that President Matyas Szuros said: "'I solemnly declare that as of today, the 23rd of October 1989, Hungary is a republic and its name is the Republic of Hungary." Shortly thereafter, the city removed the red star from atop the dome.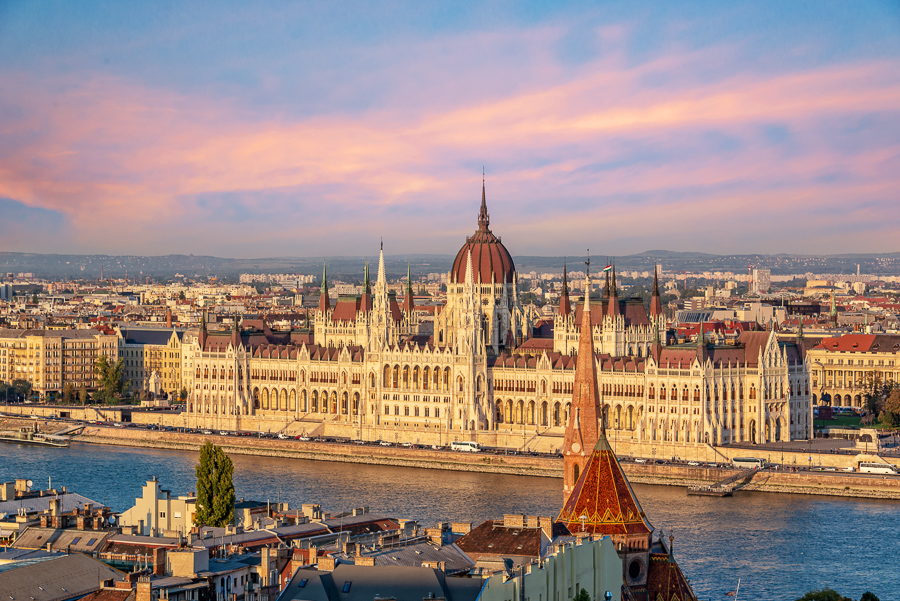 They offer tours of parliament in several different languages. English tours are quite popular and sell out well in advance, so you'll want to book these ahead of time. Ticket prices vary, click here to check tour times and book your tickets online.
The building is open from 8 AM-6 PM from April 1st until October 31st and it closes at 4 the rest of the year. It's located right on the banks of the Danube on the east side and is very hard to miss (click here for directions).
3. Soak in Thermal Baths
Once upon a time, Budapest was a part of the Ottoman Empire. It's not too hard to see the lasting influence of this time in Hungary's history. One need look no further than the multitude of thermal baths that were brought here during the Ottoman era and remain popular to this very day.
The Turks built grand bathhouses of stone, highlighted by cupola domes. They took advantage of the multitude of geothermal springs running beneath the city to fill the baths, making for the perfect place to relax.
Whenever you're not quite sure what to do in Budapest, you can always go for a leisurely soak in one of the thermal baths. There are options on both the Buda and Pest sides of the city, with some of the best being Gellert, Rudas, and Szechenyi.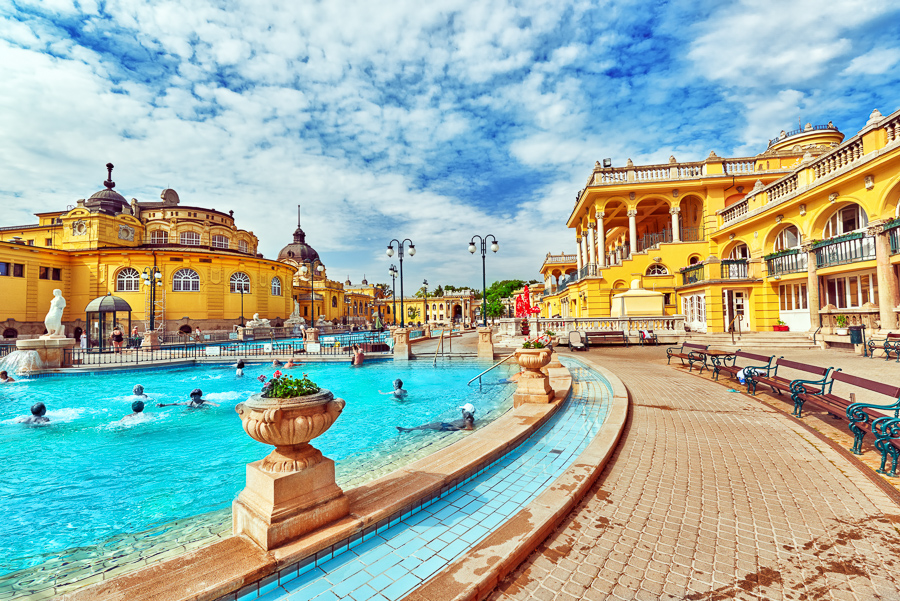 The price of admission depends on which bath you visit, what day of the week it is, whether you need a cabin, and so on. The cheapest option is around $15 a person. For a detailed look at all the options and the prices, click one of the images below.
I only made it to the Gellert baths on my visit, as I only had a few days in the city. Despite the crowds, it was a very relaxing way to spend a few hours. If you decide to check out Gellert, you'll be right beside to the next item on our list of things to do in Budapest.

4. See the Citadella
From the thermal baths, it's a relatively easy walk uphill to the Citadella. This fortress on the hillside has a history that's about as complicated as that of the city itself.
The Hapsburgs built this fortress in 1851, a few years after the Hungarian Revolution. It was an attempt to suppress the movement towards an independent Hungary and was actually built by forced Hungarian laborers.
It took about twenty years of a bloody struggle for there to be a compromise between the Hungarians and Austrians. Garrison troops remained at the Citadella another 30 years, though. When they finally left in 1897, Hungarians demanded the destruction of this monument to foreign oppression. While they somewhat succeeded, much of it remained intact.
☞ RELATED POST: Travelling Central and Eastern Europe – Top Travel Tips and Highlights
Over the next century, the Citadella would be used by both the Nazis and the Soviets. The latter used the strategic location of the hill to overthrow yet another Hungarian Revolution in 1956 by firing tanks into the city. They put up a monument to the Soviet army featuring a few different statues. One of them, the Liberty Statue, still remains long after the fall of the Soviet Union. Turns out the people eventually took a liking to this one and decided to keep it!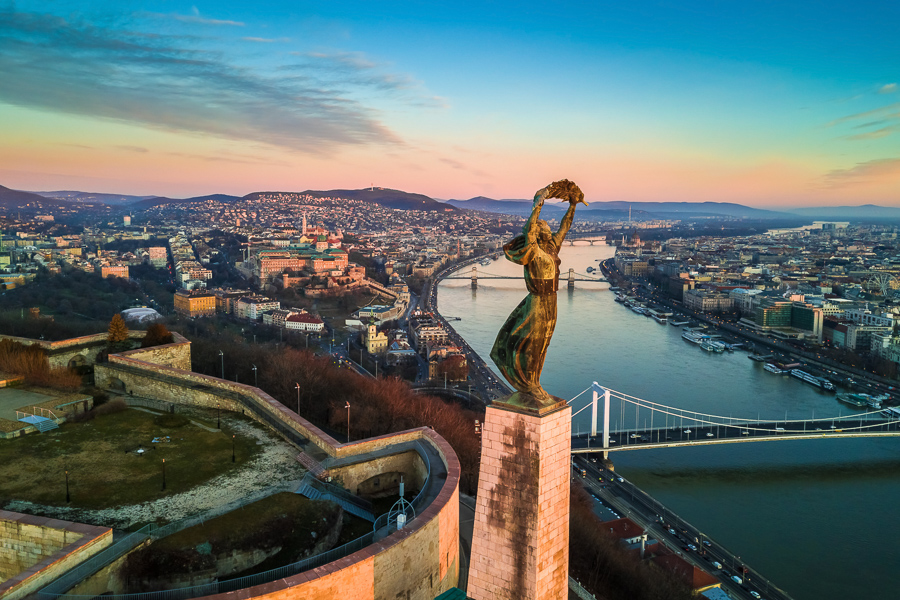 These days, the Citadella is a popular place for locals and tourists alike to come and enjoy the views of the Danube River and the city. Try to time your visit around sunset to watch Budapest light up. The Citadella is located on the Buda side on top of Gellert Hill (click here for directions).
5. Try Hungarian Food and Booze
We can't talk about the things to do in Budapest without mentioning the local cuisine and booze. Hungarian food is heavy and rich, often topped with cheese and/or sour cream. Perhaps the most ubiquitous ingredient is paprika, another thing we have the Ottomans to thank for.
Let's start out with the national dish of Hungary — goulash. This soup is usually made with beef, vegetables, and plenty of paprika. Another common dish is chicken paprikash. This is a creamy chicken stew with a sauce made of, you guessed it, paprika! it's typically served alongside some mashed potatoes or Hungarian dumplings and it is absolutely delicious.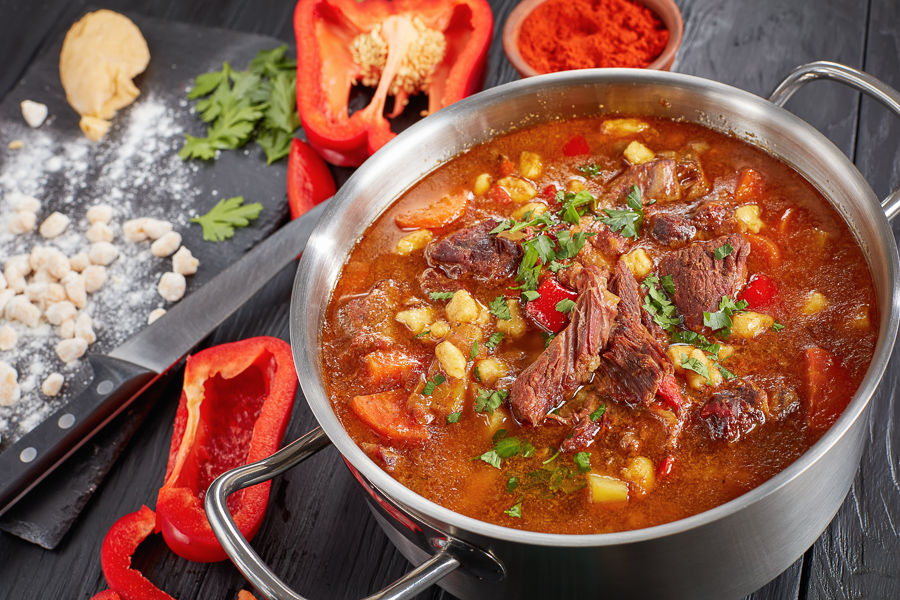 When partying in Budapest, you must try langos. This popular street food consists of deep-fried dough topped with sour cream and cheese. Locals refer to it as a "Communist pizza," which I got a kick out of. It's nice to see people retain a sense of humor despite the dark and turbulent recent history.
Whatever you eat in Budapest, be sure to try some palinka to go with it. This local firewater is a fruit brandy that comes in many different flavors. Sampling Hungarian food and booze should definitely be high on your list of things to do in Budapest.
Check out some of these popular foodie tours in Budapest:


6. Walk Across the Chain Bridge
A major reason why Buda and Pest merged to become one city was the building of the Chain Bridge. Originally built in 1849, it was the first permanent bridge across the Danube. Much of it was destroyed by retreating German forces during World War II, but it was rebuilt a few years later.
While many know of it simply as the "Chain Bridge," the official name is Széchenyi Lánchíd. It was named after István Széchenyi, a politician whom many locals refer to as "the Greatest Hungarian." He supported connecting Buda and Pest by building a bridge across the river, which eventually led to the merging of the two cities.
The Chain Bridge remains an important symbol of the city. It has great importance in the economic, cultural, and social life of Hungarians. It's depicted on the 200 forint coin and there's even a festival on the bridge during weekends in the summer.
Walking across the Chain Bridge is one of the top things to do in Budapest, as you can enjoy some incredible views off to the side. If you walk across the bridge from Pest to Buda, you'll be right where you need to be to visit the next place on our list of what to do in Budapest.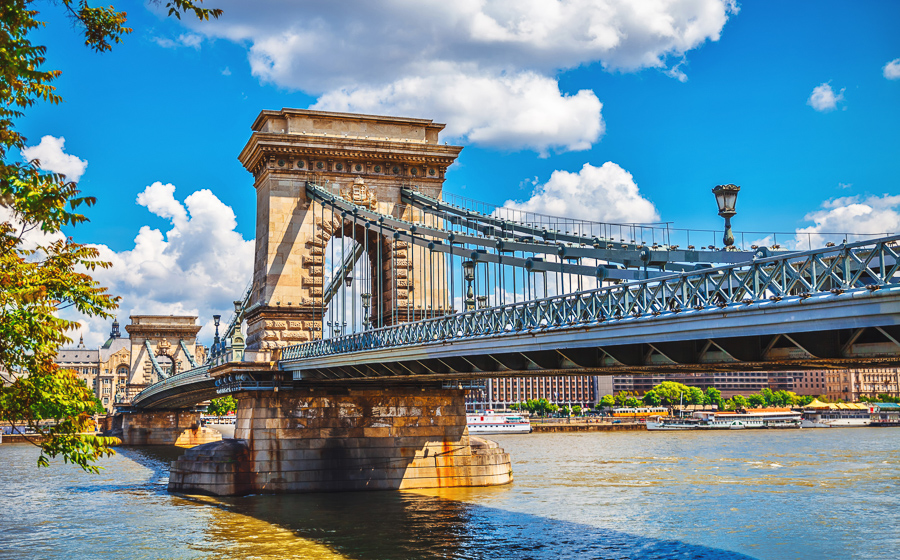 7. Visit Buda Castle
Another must-see in Budapest is the Buda Castle. As with the city itself, this building has a long and complicated history. It dates back to 1265 when it was built to protect against invading Mongols.
Over the centuries, the castle has been destroyed and rebuilt on several occasions. Most recently, it was badly damaged during WWII and then restored yet again. In its current incarnation, it's an 18th-century Neo-Baroque style building.
While much of the exterior was restored, most of the interior was irrevocably destroyed. Thanks to renovations, there are now some parts of the once-grand palace that are open to visitors. These days, it's home to the National Gallery and the Budapest History Museum.
In addition, the castle also hosts several festivals throughout the year. How cool would it be to go to a beer festival in a castle?! The Buda Castle is located just south of the Chain Bridge and can be reached on foot or by funicular. Click here for directions.
8. Find Your Way Through the Labyrinth
One of the creepiest things to do in Budapest is exploring the Labyrinth tunnels underneath Buda Castle. This series of caves and tunnels served as a bomb shelter, a prison, and a Turkish harem at different points in history and is now a popular tourist attraction.
As the legend has it, Vlad Tepes (also known as Vlad the Impaler) was held as a prisoner here for many years. Another name for him was Vlad Dracula, and it's believed that he may have been part of the inspiration for Bram Stoker's Dracula.
The original labyrinth mysteriously closed down in 2011 after a police raid, but a new attraction called Panoptikum opened in its place a few years later. Reviews are very mixed, with some people loving it and others absolutely hating it. At the very least, it's something to do on a hot day as the cold, dark tunnels provide a nice escape!
Tickets cost about $10.50 for adults and $8.50 for children. You can visit on your own and make your way through the dim tunnels by holding onto a rail or you can join one of their oil lamp tours starting at 6 every evening. Click here to get directions.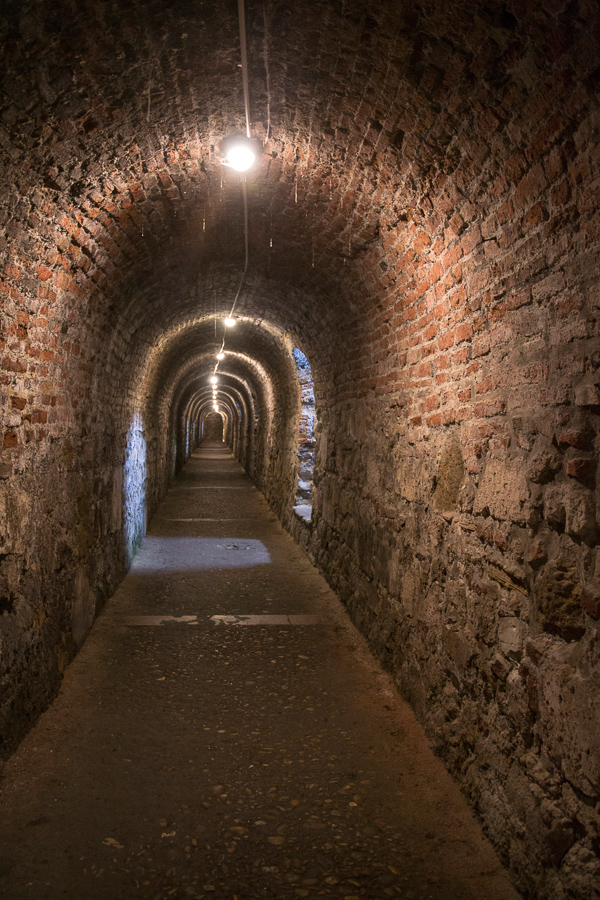 9. Drink in Ruin Bars
No guide on what to do in Budapest would be complete without mentioning the city's awesome ruin bars. "What are ruin bars?" you may be asking yourself. Well you see, creative and entrepreneurial young Hungarians took dilapidated old buildings and turned them into fun places to hang out!
Most of the ruin bars in Budapest are located in the city's old Jewish quarter. The idea is quite simple, really — take an old building, fill it with secondhand furniture and random decorations, sell cheap drinks, and voila! It's basically like every house I lived in during college only way cooler.
The original ruin bar is Szimpla Kert, dating back to 2001. Once an abandoned factory, it's now one of the most happening spots in Budapest. There are several rooms spread out over a few floors, each with its own theme. In one room, there's a random bathtub you can sit in, for example.
This is very much a late-night spot, with the party going until the wee hours of the morning. The line starts forming around 11, so you may want to get there a bit early if you don't feel like waiting around. Click here for directions.
While Szimpla Kert is the most well-known of the ruin bars, it's certainly not the only one. I also really enjoyed hanging out at Anker't and Kuplung, and there are countless other ruin bars to choose from. For a really fun night out, you might want to consider signing up for a pub crawl.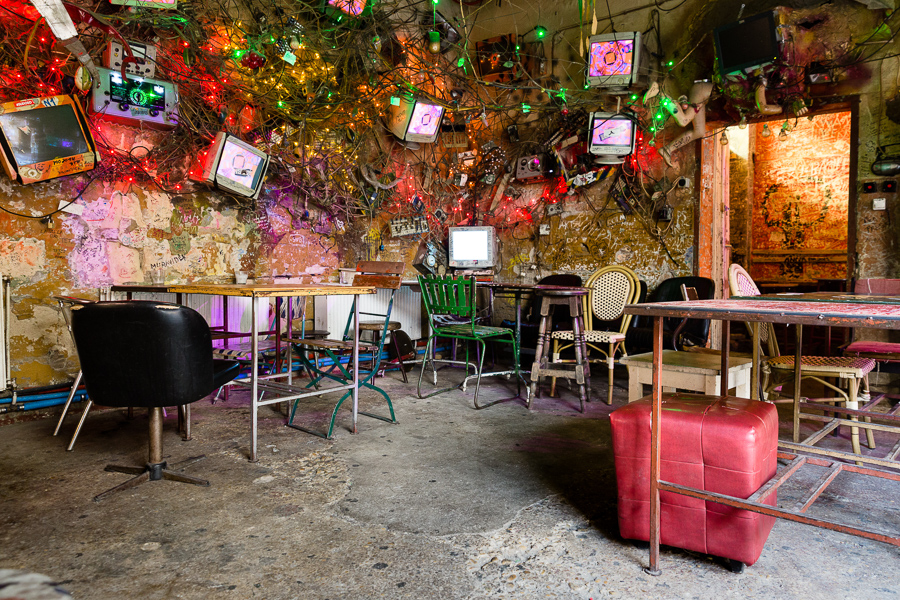 10. Enjoy a Danube River Cruise
It's been mentioned several times already, so we may as well include the Danube River itself in this guide of things to do in Budapest. This is the 2nd largest river in all of Europe. It actually flows through 10 different countries, which is more than any other river on Earth!
Strolling along the Danube River is definitely one of the best things to do in Budapest. In addition to enjoying the views along the way, you can see the Shoes on the Danube Bank memorial. This honors the Jews who were murdered here during WWII by fascist militiamen. They were forced to take their shoes off, then shot at the edge of the river so they fell in and drifted away.

Down by the Chain Bridge, there are a few bars looking out onto the Danube. I enjoyed taking a break from sightseeing with a cold brew at Pontoon along with some great views of the bridge and river.
Another popular way to experience the Danube is on a river cruise. There are all sorts of options, from a romantic dinner cruise to a fun-filled booze cruise. These start at around $15 per person for adults up to $100 for those including free-flow drinks.
Check out these 3 popular river cruises in Budapest:



11. See St. Stephen's Basilica
One of the most beautiful buildings in all of Budapest is St. Stephen's Basilica. It took more than 50 years to complete since the dome collapsed at one point and they had to start all over. When you see this gorgeous neo-classical church, you'll realize that it was worth the wait!
Here's an interesting tidbit of information — both the basilica and parliament stand at 96 meters tall. They're tied for the tallest building in the city, and it's not just a random coincidence. This shows that church and state are of equal importance in Hungary. As a matter of fact, current regulations state that no building in the city can be higher.
The basilica was named after St. Stephen, the first King of Hungary. It's believed that his right hand was "incorruptible," and it's actually on display here. That's right, you can see a mummified hand at this church in Budapest. Just put a 200 fornit coin in a machine in order for a light to illuminate it!
It's free to visit the basilica, but it costs about $2 to go up to the observation deck. You can also hop on a guided tour of the church between 10-3 from Monday to Friday. These tours cost $7 and can be arranged there. Click here to get directions to the basilica.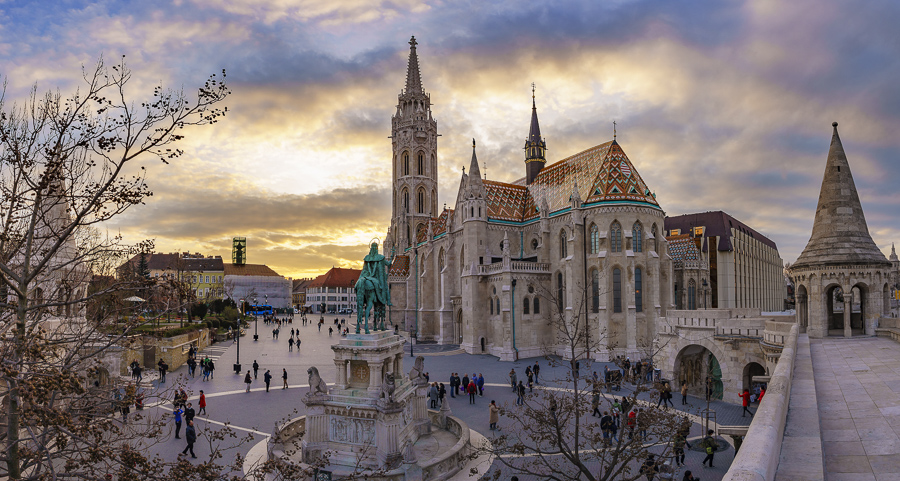 12. Ride The Budapest Eye
Add Budapest to the list of cities with a scenic Ferris wheel. The Budapest Eye is one of the most popular attractions in the city and a fun activity to tack on to your itinerary.
Towering over the city at 65 meters, only the parliament and the basilica are taller. Thus, a ride on the Budapest Eye provides some sweeping panoramic views of the city. It's especially beautiful at night when the Ferris wheel and the city are illuminated.
Tickets for the Budapest Eye cost $10 for adults and $5 for children. They have a combo deal for families where you get tickets for two adults and two kids for $27. They even have a VIP ticket where you get to skip the line and sip on a glass of bubbly for a very reasonable $20.
The Budapest Eye is open daily starting at 10 am. It closes between 11 PM and 1 AM depending on the day, staying open late on Friday and Saturday nights. It's located in Erzsebet Square (click here to get directions).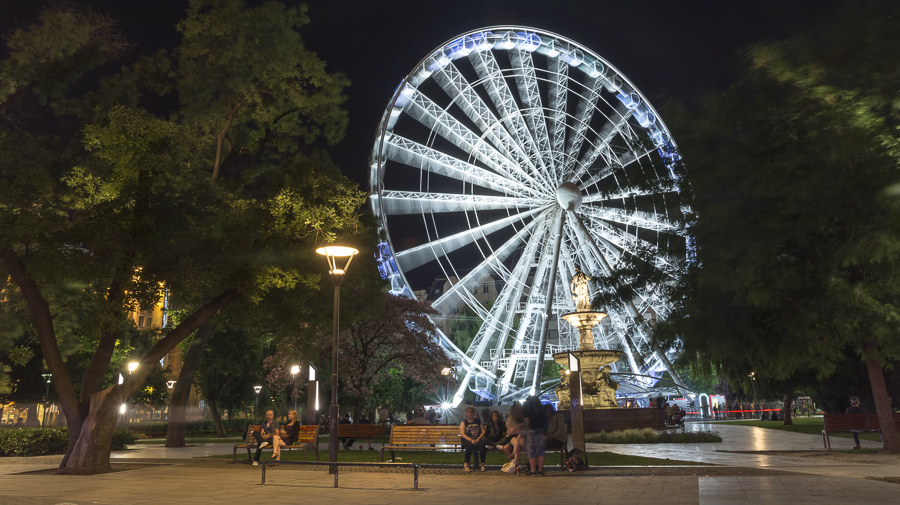 13. Check Out Fisherman's Bastion & Matthias Church
Without a doubt, one of the top things to do in Budapest is taking in the views from Fisherman's Bastion. Perched atop castle hill on the Buda side of the river, this is one of the most scenic places in the city.
These seven towers represent the seven Magyar tribes who first founded the country in 895. If you're wondering where the name comes from, it's because of the fishermen's guild who was in charge of defending it during the Middle Ages.
The lower balconies of the towers are free to visit, but you need to pay an entrance fee of $3.50 to access the upper ones between March and October. They're totally free to visit the rest of the year as well as on Hungary's national day (August 20).
While you're up here, you should check out the stunning Matthias Church as well. It's believed that there was a church here as early as 1015 that was founded by St. Stephen, but no archaeological evidence exists. The earliest remains date back to 1241 when King Bela IV had it built after the Mongol invasion.
The name of the church comes from King Matthias Corvinus, who expanded and remodeled the church by adding the southern high tower. One interesting historical tidbit is that he became king without an ancestral connection. He was crowned right here in the church and had both of his weddings here as well.
Admission to the church costs $6 for adults and $4 for children. You have to buy another ticket at the same price if you want to go up the tower as well. You can also take a small group tour for just $8.50. Click here to get directions to Fisherman's Bastion. The church is right next door so you can easily visit both in a few hours.
14. Go To The Islands in the River
Ask locals what to do in Budapest and chances are they'll tell you to head to Margaret Island. This island in the middle of the Danube River is a beautiful place and a favorite local hangout.
There's enough to see and do on Margaret Island to keep you busy for a while. Lace-up your running shoes to go for a jog on the track that surrounds the island and be sure to pack your bathing suit to visit the Palatinus water park.
If you don't feel like walking or running, there are plenty of fun vehicles available for rent. The island has bikes, golf carts, scooters, Segways, and more. While you're over here, you can also check out the lovely Japanese garden and watch the musical fountain.
Speaking of music, the nearby Obudai Island hosts the Sziget Festival every August. This is one of the biggest and best music festivals in all of Europe, and it's definitely high on my list!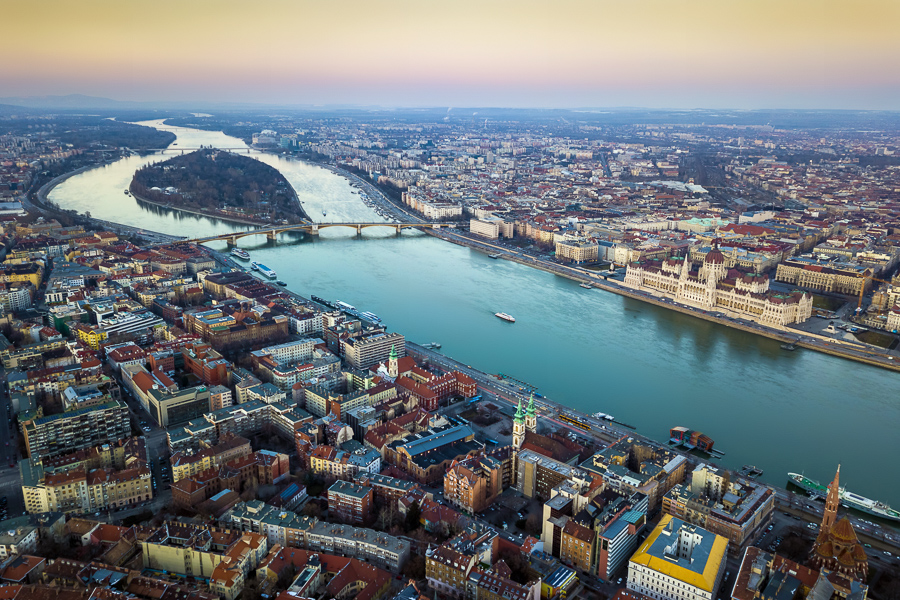 15. Experience Memento Park
Last but not least on our list of things to do in Budapest is Memento Park. Here you'll see a wide variety of statues and plaques from the Communist period of Hungary's history.
I would try to explain the concept of the park to you, but the architect Ákos Eleőd already did an excellent job with this quote:
"This park is about dictatorship. And at the same time, because it can be talked about, described, built, this park is about democracy. After all, only democracy is able to give the opportunity to let us think freely about dictatorship."
It's divided into two sections — Statue Park and Witness Square. The former is also known as A Sentence About Tyranny Park and it's home to over 40 statues that were removed after the fall of Communism. One of the most famous statues here is titled "Stalin's Boots" — a life-sized copy of the boots that were left behind after a statue of Stalin was torn down in protest.
Tickets for the park cost about $5 for adults and $4 for children. You can visit on your own or pay an extra $5 to join a guided tour. It's open daily from 10-7.
Memento Park is located south of the city center (click here for directions). The easiest way to get there is by taking their shuttle from Deak Square. These depart at 11 AM every day, except from November 1-March 31 when they only run Saturday, Sunday, and Monday.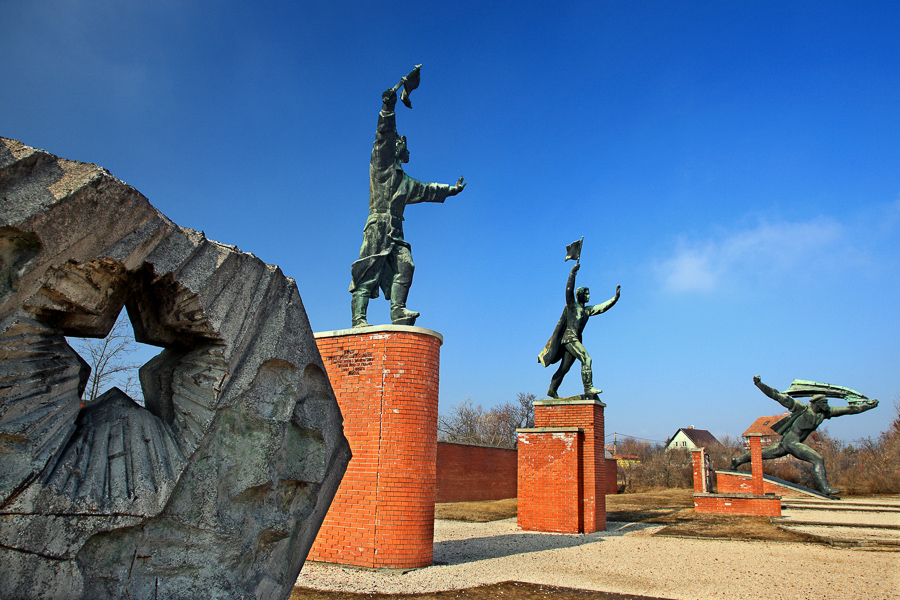 Ready for Budapest?
Hopefully, now you've got a better idea of what to do in Budapest when you head there. As you can see, there really is a lot going on in the Hungarian capital! It's definitely one of my favorite cities I've ever visited.
Of course, there's much more to see and do in this bustling European capital city. Have you been to Budapest and have some good recommendations? Drop a comment below and let us know!
Images in this article are courtesy of Shutterstock.
Like This Article? Pin it!