Chiang Rai is a quirky, artistic city in northern Thailand, offering a surprising number of things to see and do. Close to the borders of both Laos and Myanmar, it's a great base for visiting hill tribes, and for scenic mountain trekking (one of the most adventurous things to do in Chiang Mai!).
The city is also home to an incredible number of beautiful temples — from historic jewelled monuments to unusual contemporary artworks.
There are numerous interesting things to do in Chiang Rai. This is definitely one of the top places to visit in Thailand.
It's possible to visit Chiang Rai for just a couple of hours as a day trip from Chiang Mai, which is the bigger and better-known city in northern Thailand. It's a 3-4 hour bus ride from Chiang Mai, along winding mountain roads.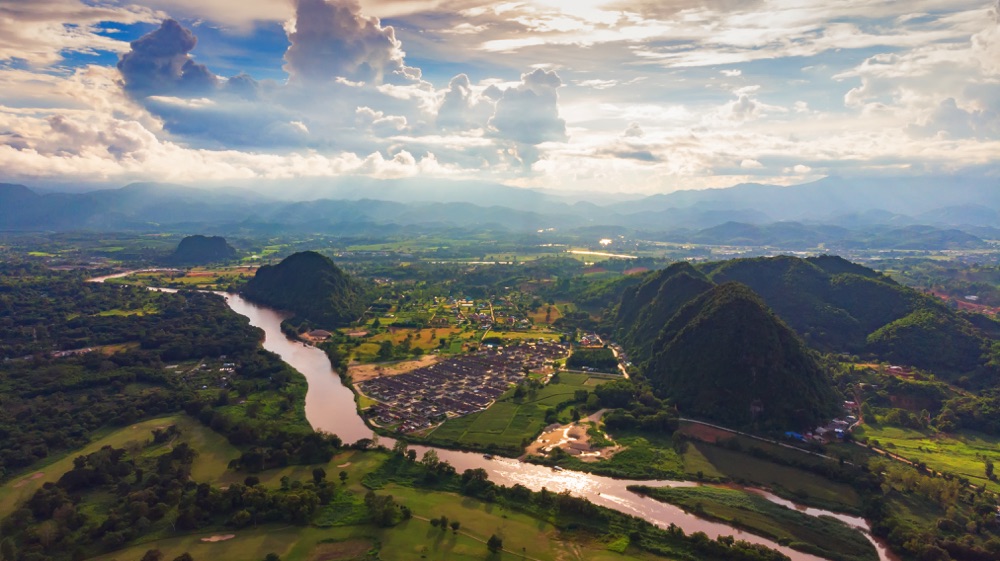 Many people who visit Chiang Rai either come for the day or stay for one night and pack in as many activities as possible on a 1-day group tour.
I think this is a mistake!
I stayed in Chiang Rai for over a week during my recent trip to Thailand, and I still didn't manage to see everything. I think it's an amazing city that deserves to be included on every Northern Thailand travel itinerary.
Here are my top 21 things to do in Chiang Rai:
1. Visit the White Temple
The epic White Temple, otherwise known as Wat Rong Khun, had to be first on the list. It's definitely one of the most famous things to do in Chiang Rai, and in this case, its iconic status is deserved. The White Temple is a sparkling-white modern temple with a huge number of quirky, surreal touches. It's a genuinely breathtaking sight, and I was surprised by just how much I loved it.
The White Temple was designed by Thai artist Chalermchai Kositpipat. Apart from the famous temple itself, there are other buildings and interesting objects you can walk around, plus a gallery of unusual paintings by the same artist. It's actually still a work in progress, with surrounding buildings being constructed.
You could easily spend a couple of hours taking in the small, surprising details that make up this beautiful temple complex — such as the most beautiful and disturbing No Smoking sign I've ever seen, or Keanu Reeves in his Matrix outfit painted onto the wall inside the temple.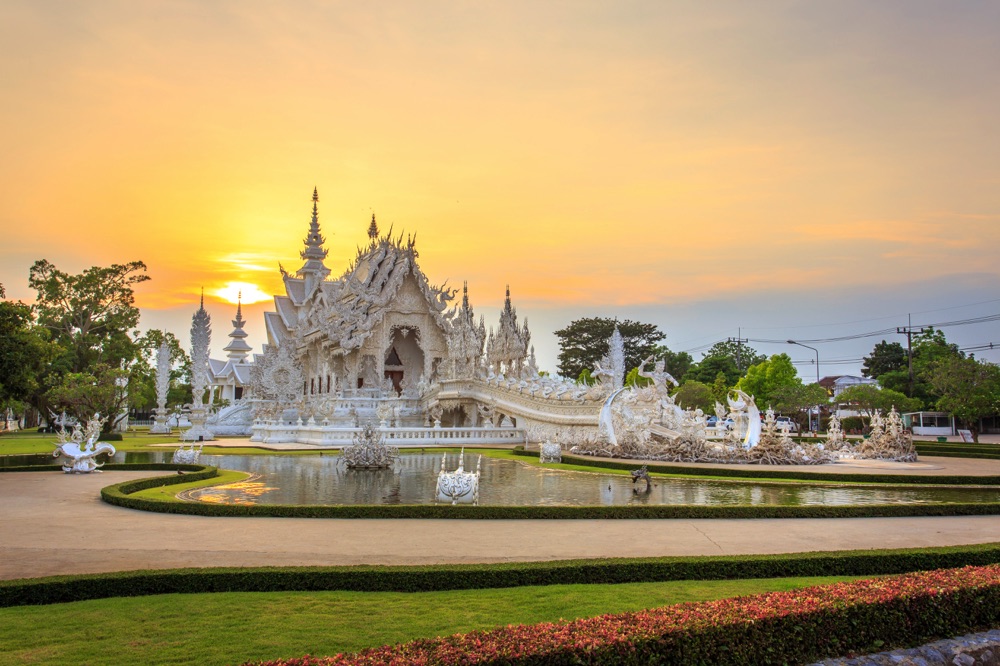 I've read a lot of negative comments about the White Temple. The biggest complaint being that this famous temple has become too crowded and touristy, which is true, but it's still one of the best Chiang Rai attractions.
You'll absolutely have to negotiate the crowds and wait for a gap in the hordes of tourists crowding every inch of the temple to snap the perfect photo.
The White Temple is definitely still worth visiting, despite the number of tourists. You can also avoid some of the worst times by visiting early in the day. A lot of people visit later in the day, on a day trip from Chiang Mai. So if you stay overnight in Chiang Rai and make it to the temple first thing in the morning you'll have the best chance of having a great experience.
💵There's an entrance fee of 50 baht ($1.60) for foreigners to visit the White Temple.
✓ It's important to note that this is a Buddhist temple, so dress accordingly (covering shoulders and knees).
📍60 หมู่ที่ 1 Phahonyothin Rd, Pa O Don Chai, Mueang Chiang Rai District. Find the temple on the map, here.
🕰 Hours: 8am – 5pm Monday to Friday. Saturday and Sunday 8am – 5:30pm.
2. Explore the Black House
Sometimes (incorrectly) called the Black Temple, the Black House is actually a collection of painted wooden houses featuring art by Thai contemporary artists, most notably its designer Thawan Duchanee.
Also called the Baan Dam, the Black House has a similar surreal modern vibe to the White Temple. Some of the buildings do look very much like black temples, but there are several other bizarre buildings dotted around. Some resemble igloos, while there's one giant construction that looks like a beached submarine.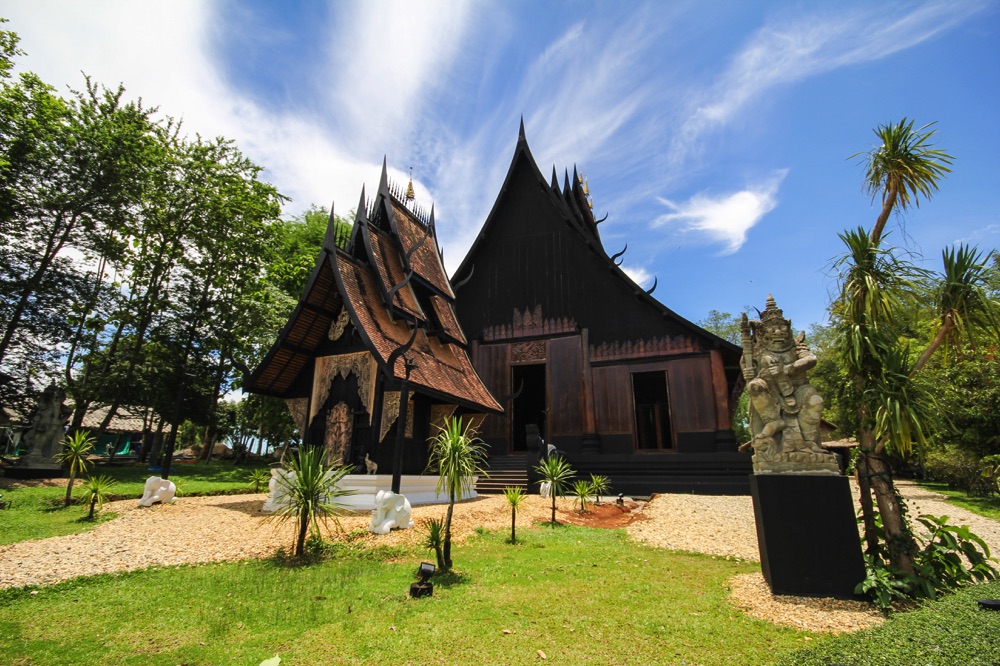 After the pure glory of the White Temple, I have to admit that the Black House didn't quite match up for me, but it was still an incredible attraction and I would definitely recommend visiting. But, seeing it straight after the mesmerizing White Temple probably didn't do it any favours. It was also more crowded than the White Temple.
💵The entrance fee is 80 baht ($2.50).
📍Address: 333​ หมู่ 13 พิพิธภัณฑ์บ้านดำ Nang Lae, อำเภอเมือง Chiang Rai
🕰 Hours: Monday – Sunday 9am – 5pm.
3. Visit The Blue Temple
Before visiting Chiang Rai, I'd heard plenty about the wonders of the White Temple and the Black House, but for some reason, I'd never heard of the Blue Temple.
I have absolutely no idea why, because this incredible modern temple completely blew me away! It's vibrantly coloured, contemporary and kitsch (but in a good way). The inside is also painted in incredible bright patterns and colours.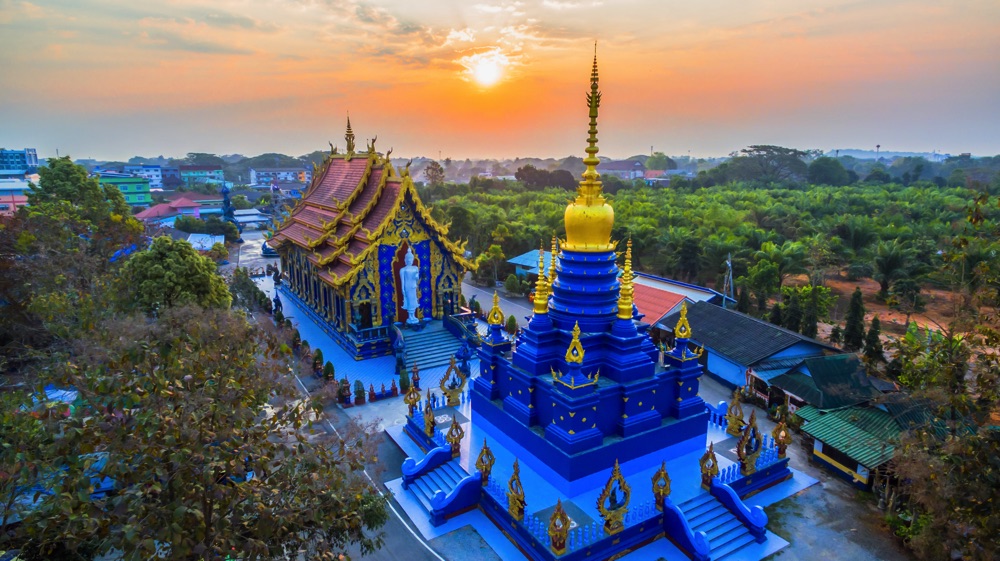 Also known as Wat Rong Seua Ten, the temple was only completed in 2016 and I think that's why it isn't as well-known as some of Chiang Rai's other more famous attractions. I'm pretty certain that's about to change. Visiting the Blue Temple was actually one of my absolute favourite things to do in Chiang Rai.
💵 Free!
📍Address: หมู่ที่ 2 306 Maekok Rd, Mueang Chiang Rai District, Chiang Rai
🕰 Hours: Monday – Sunday: 7am to 8pm
4. Have an Iced Drink at Betty Coffee – a great pit stop when checking out all the things to do in Chiang Rai
I fell in love with this small, unassuming coffee shop thanks to its great iced coffees, and even better decor. The colourful cafe is basically a shrine to the cartoon character Betty Boop. Betty-themed posters and dolls cover every inch of the space. It's just down the road from Wat Klang Wieng, which makes it an ideal quirky rest stop between temple hopping. Click here for directions.
5. Dodge Monkeys at the Monkey Temple
Also known as the Fish Cave Temple or Wat Tham Pla, the monkey temple is protected by a dramatic staircase with 7-headed Nagas (mythical serpents) and is absolutely overrun with monkeys. They're actually quite menacing and are known to jump on unsuspecting tourists and snatch their things, so visit at your own risk!
The monkey cave is a short drive from Chiang Rai and you'll need a car or scooter to visit. I didn't rent a motorbike in Chiang Rai but there are several motorcycle rental shops near the central clock tower.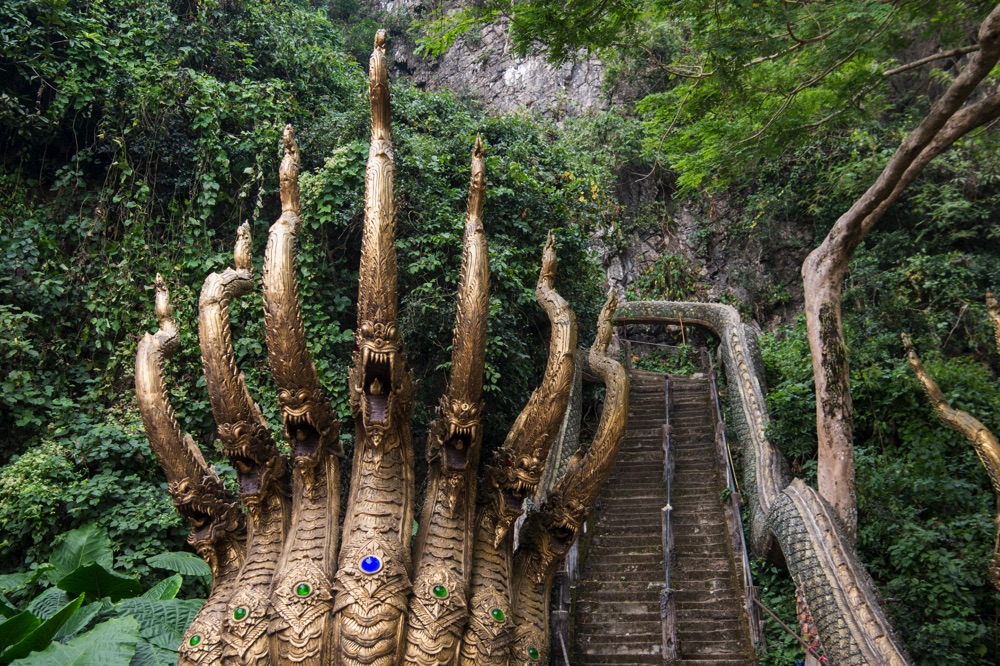 The cost will depend on the type of bike you're looking for. Typically it's about 200 baht ($6 USD) per day. Although plenty of travellers ride scooters and motorbikes in Thailand, be aware that traffic can be extremely hectic. If you're in an accident your travel insurance may not cover you if you don't have a motorbike license.
Alternatively, you can negotiate a price for a return journey with a car or motorbike taxi driver, or join a group tour – more on this below.
💵 Free entrance.
📍 Address: Click here for directions.
6. Feast On Thai Treats at The Night Market
The Chiang Rai night market isn't the biggest I've ever seen, but there are a host of incredible food stalls serving up northern Thai specialities like Khao Soi, an absolutely delicious curried noodle dish with a distinctive flavour you can't get anywhere else. This is one of the top foods in Thailand.
The night market in Chiang Rai is quieter and more relaxing than any other Thai night market I've experienced (and I've been to a lot!) so this is a great place for stocking up on souvenirs. Not to mention, a visit here is one of the best things to do in Chiang Rai for foodies.
📍 Address: Thanalai, Tambon Wiang, Mueang Chiang Rai District, Chiang Rai
🕰 Hours: Saturday from 4:30pm to 12:30am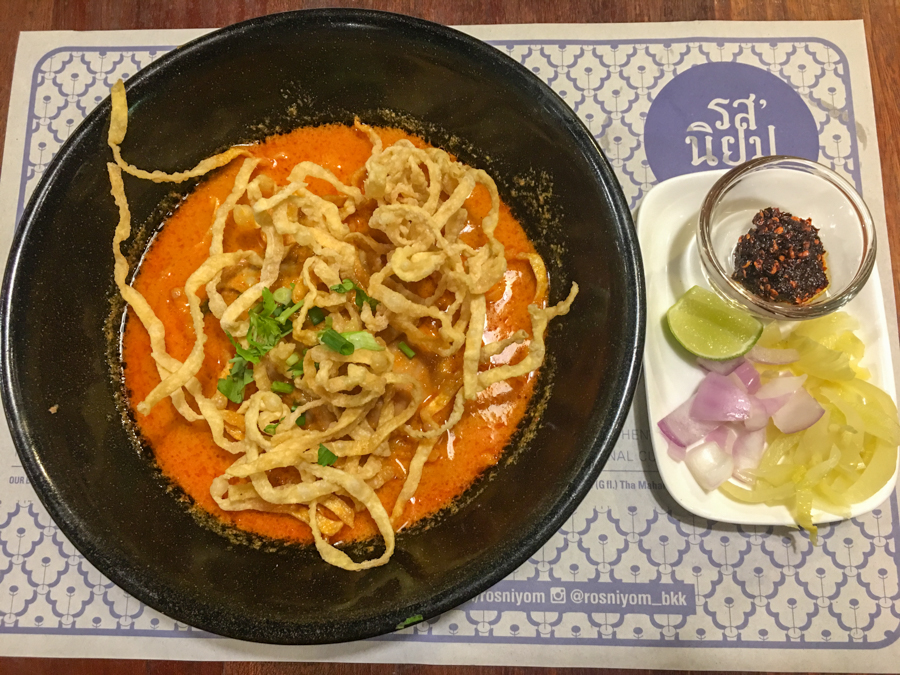 7. Go Temple Hopping in Chiang Rai's Town Centre
While the famous modern temples are on Chiang Rai's outskirts, the old city itself is also home to a number of impressive older temples, some of which are famous in their own right and have a far more sacred place in Thai history than the surrealist contemporary upstarts mentioned above.
If temple hopping is your thing, you could spend hours walking through Chiang Rai's city centre, taking in some incredible architecture. Two of my favourites are Wat Klang Wieng and Wat Ming Meuang, a 13th-century temple covered in iridescent crystals, and Wat Phra Singh with its impressive golden spires.
8. Visit Wat Phra Kaew
The most famous historic temple in Chiang Rai is probably Wat Phra Kaew. This beautiful but small temple once housed the revered Emerald Buddha, which is now in the Grand Palace in Bangkok.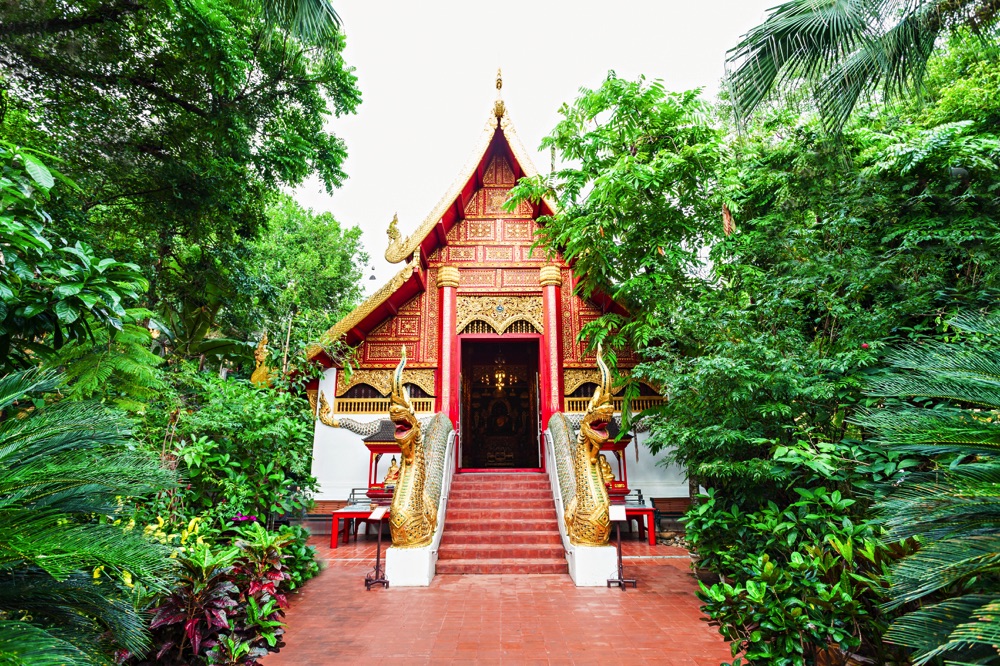 Legend has it that the Emerald Buddha was hidden in a chedi (dome-shaped shrine), and was discovered after the chedi was struck by lightning. Although the statue has been moved to Bangkok, you can see a replica in Wat Phra Kaew in Chiang Rai.
📍 Address: 19 หมู่ที่ 1 Trairat Rd, Wiang, Mueang Chiang Rai District
9. Watch the Clock Tower Light Show
Chiang Rai's ornate clock tower was designed by the same artist who created the famous White Temple. It's set in a not-very-attractive busy traffic intersection. Although it's intricate and impressive as far as clock towers go, I wasn't blown away when I first saw it, surrounded by honking traffic under a cloudy sky.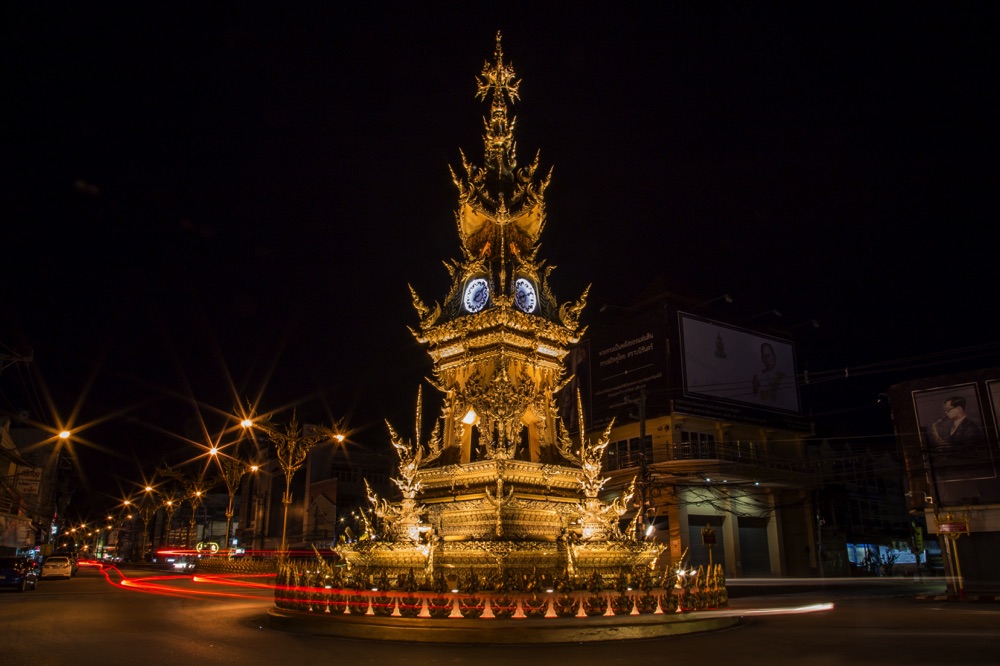 That said, after dark the clock tower becomes the site of a colourful light show, flashing different colours in time to music. It feels as though the whole town (and certainly all of the tourists in residence) turn out to watch the spectacle, and it's actually a fun experience. This is one of the most popular things to do in Chiang Mai when the sun goes down.
📍Address: Suk Sathit, Tambon Wiang, Mueang Chiang Rai District
✓ I recommend having a snack or drink at one of the restaurants or cafes that line the streets in this area. Several have outdoor tables with front row seats.
🕰 Hours: Daily at 7pm, 8pm and 9pm.
10. Have a Drink at Cat Bar
Chiang Rai is not a huge party town — in fact, I found it pretty quiet, even though I visited in January, in peak tourist season. Even so, there was a great vibe at Cat Bar. It feels like a good old fashioned dive bar, with a pool table, low lighting and rock tunes. Click here for directions.
11. Visit the Northern Most Point of Thailand
Chiang Rai is so far north that it's only a short drive (around 20 miles) from Thailand's northernmost point. You can actually visit this point — it's marked with a signpost and intersects with the Myanmar border.
There's a bridge joining the two countries and you can watch people crossing into Myanmar. There are also lots of restaurants and shops selling jewellery and ornaments made (allegedly) from Myanmar jade.
12. Visit the Tree Top Adventure Park
Take a treetop canopy walk 30 metres above the ground at Chiang Rai's Mae Fah Luang Garden. You can expect rope bridges, swings and giant zip lines, all in beautiful natural surroundings.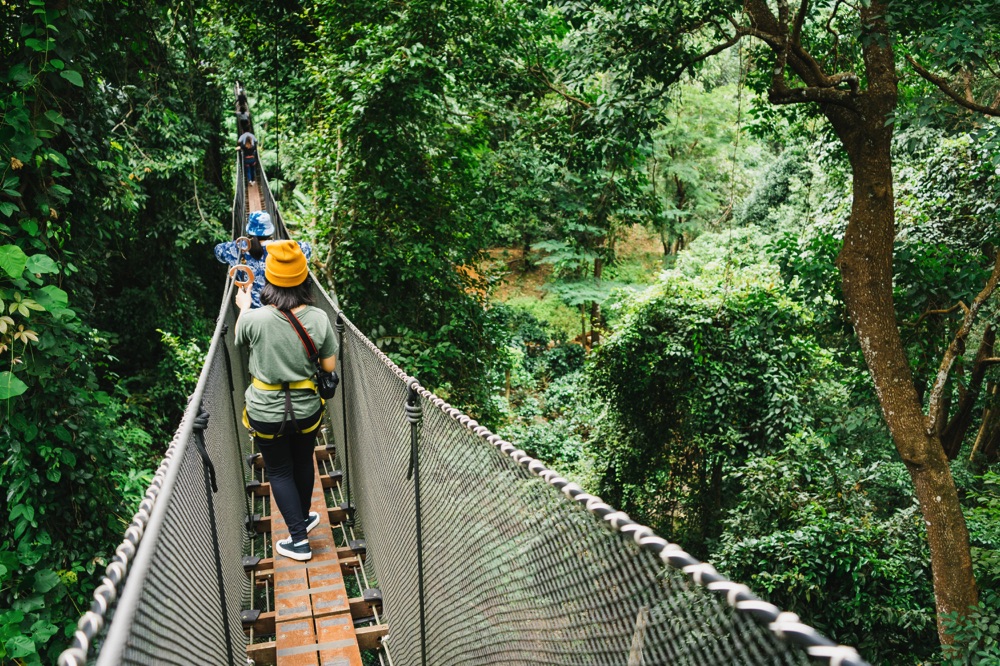 The garden is in the northern part of the Chiang Rai region, near the border with Myanmar, so it's a great attraction to pair with the next few things to do in Chiang Rai.
📍 Address: Huai Khrai, Mae Sai District, Chiang Rai
💵 Tickets cost 150 Thai baht (around $4.50 USD) for both adults and children.
13. Survey Three Countries from the Golden Triangle
The Golden Triangle is the spot where Thailand, Laos and Myanmar meet — and where the Mekong and Ruak Rivers intersect. You can stand on a balcony high on a hilltop, looking out at breathtaking views of the rivers and land below.
Down below the lookout point is a giant golden Buddha statue overlooking the Mekong River, and up the hill above it is an ancient ruined temple.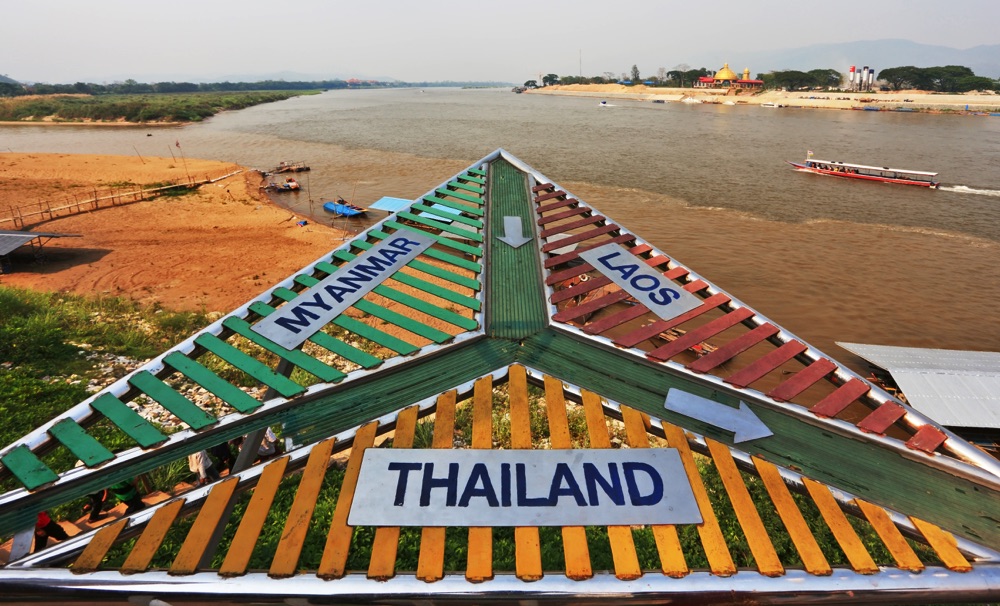 The Golden Triangle is around 50km from Chiang Rai, but there are several other places of interest in the vicinity, so it's a popular stop on a day trip taking in the best things to do in and around Chiang Rai.
14. Learn About Opium's Turbulent History at the Hall of Opium Museum
Located next to the Golden Triangle, the Hall of Opium is a small museum with an exhibition focusing on the opium trade. The Golden Triangle area was historically known for poppy cultivation and opium trade and smuggling, and the Hall of Opium traces this history, along with the trade's ill effects on the region.
📍 Address: Wiang, Chiang Saen District, Chiang Rai
🕰 Hours: 8:30am – 5pm, Monday – Saturday
💵 200 baht ($6.40)
15. Visit a Hill Tribe Village
The hills and mountains around Chiang Rai are dotted with hill tribe villages. The people in these villages are often nomadic tribes from outside Thailand and include the famous "long neck" Karen hilltop tribes. These groups historically came to Thailand from Myanmar, and the women may wear brass rings around their necks.
In my opinion, if you decide to visit a hill tribe village, it's important to carefully consider the experience you're booking and make sure it's ethical. Some of the hill tribe visits, especially those included as an "attraction" on cheap whistle-stop day trips, could be seen as exploitative.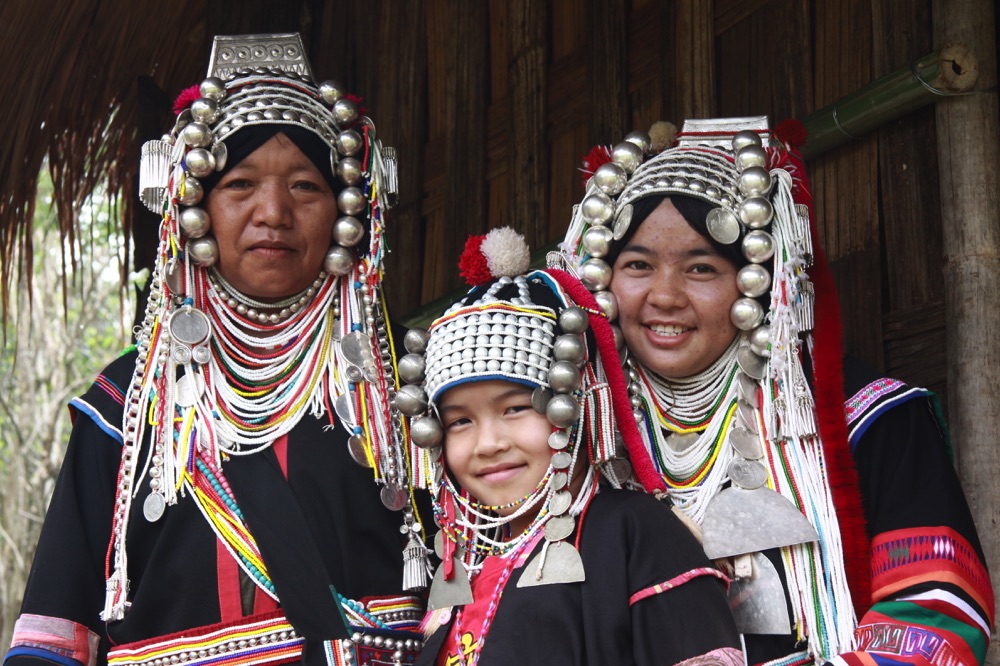 16. Go Mountain Trekking (one of the most adventurous things to do in Chiang Rai)
Chiang Rai is one of the most famous areas of Thailand for trekking, and many routes take in the forests, waterfalls and rivers of the Lum Nam Kok National Park. Most treks take at least a couple of days to complete and involve a rustic homestay in a hilltop village.
It's easy to book day treks, or multi-night treks including overnight homestays, through several of the travel agencies that line the central tourist streets of Chiang Rai. Unfortunately, though, some of the packages include elephant riding, so check this before you book. Note: Goats On The Road does not condone animal tourism or any activities to do with animals in captivity. Do your part to be a responsible traveller and say "no" to elephant riding.
Travellers highly recommend Lanna Trek. The cost for a 2-day, 1-night trek is 2,800 Thai baht ($84 USD) per person for groups of 2-3 people. A private tour costs more and bigger groups are slightly cheaper.
17. Get Close to Nature at Singha Park
Singha Park is a picturesque park in the Chiang Rai countryside, several parts of which are a working farm. It's actually owned by the Singha Beer company, but the focus is on nature and sustainability, rather than drinking. There are walking and cycling routes, tea plantations, fruit orchards, zip lining and an adventure rope course. Click here for directions.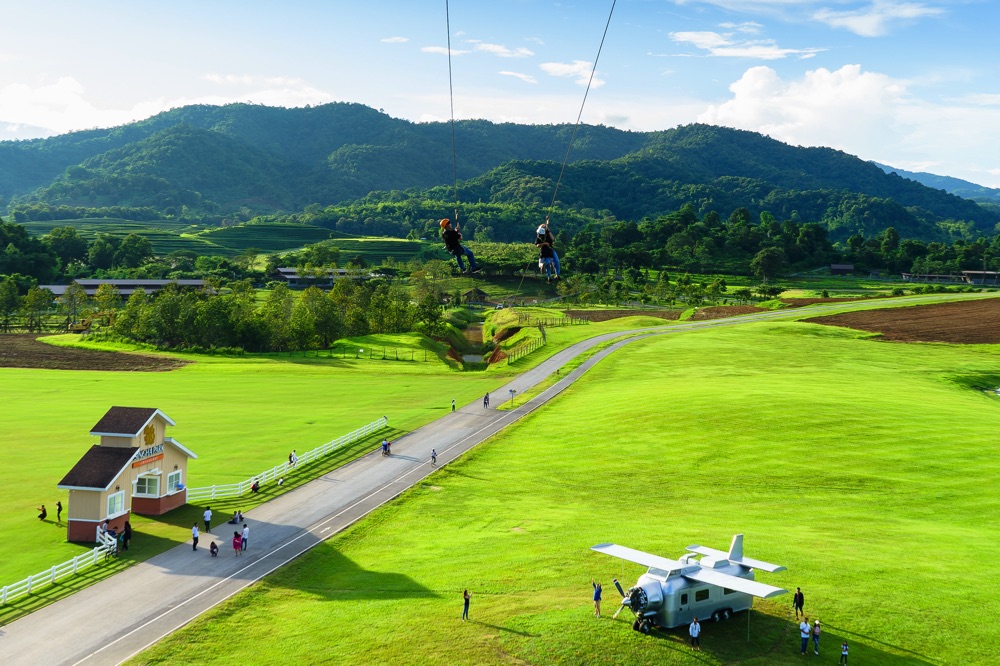 18. Go Stalactite-Spotting at the Chiang Dao Cave
Chiang Dao is actually a couple of hours' drive from Chiang Rai, but still close enough for an easy day trip. The main attraction is the mountain of Doi Chiang Dao, with Chiang Dao Cave at its base. One of the deepest limestone caves in Thailand, the Chiang Dao Cave features stalactites and crystal formations.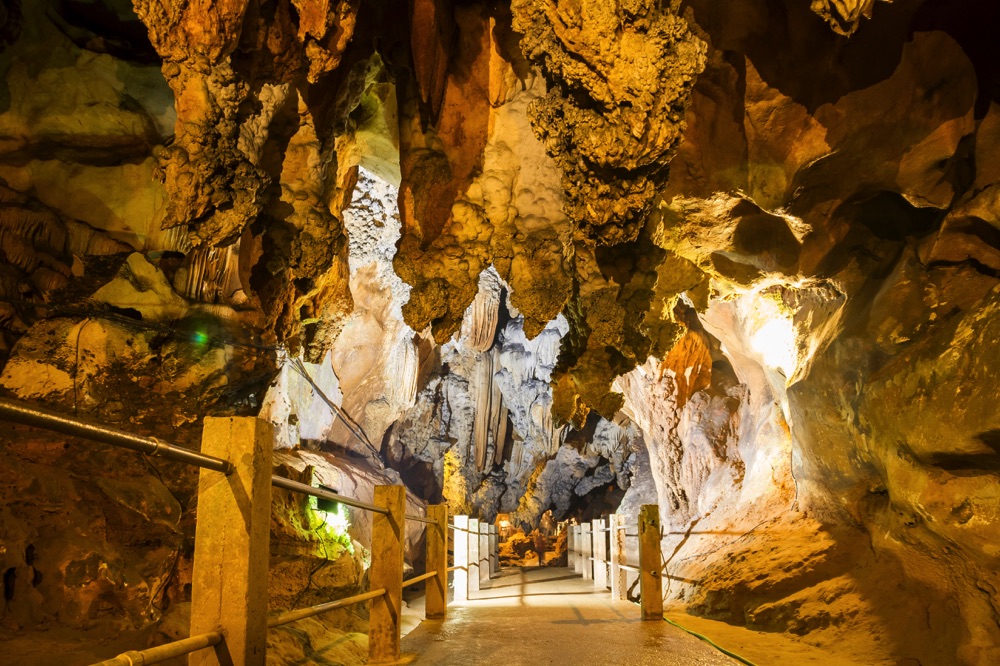 📍 Address: 273 หมู่ 5 Chiang Dao, Chiang Dao District, Chiang Mai
💵 Entrance to the caves costs 40 Thai baht ($1.20 USD) but since the caves are vast and poorly lit, you will probably need to hire a local guide and rent a flashlight to properly explore them, which will be another 150-200 baht ($4.50 – $6).
19. Go Chasing Waterfalls
Surrounded by lakes and mountains, Chiang Rai is an ideal spot for waterfall chasing. Don't miss the Khun Korn Waterfall, which at 70 metres is the highest waterfall in the region and one of the best things to do in Chiang Rai.
It's around a 30-minute walk through a forest to get to the base of the waterfall, and you can swim when you get there. Make sure you bring comfortable walking shoes and swimming clothes, plus waterproof gear for your phone and camera to protect them from the spray.
📍Address: Highway 1208, Mae Kon, 57000 Mueang Chiang Rai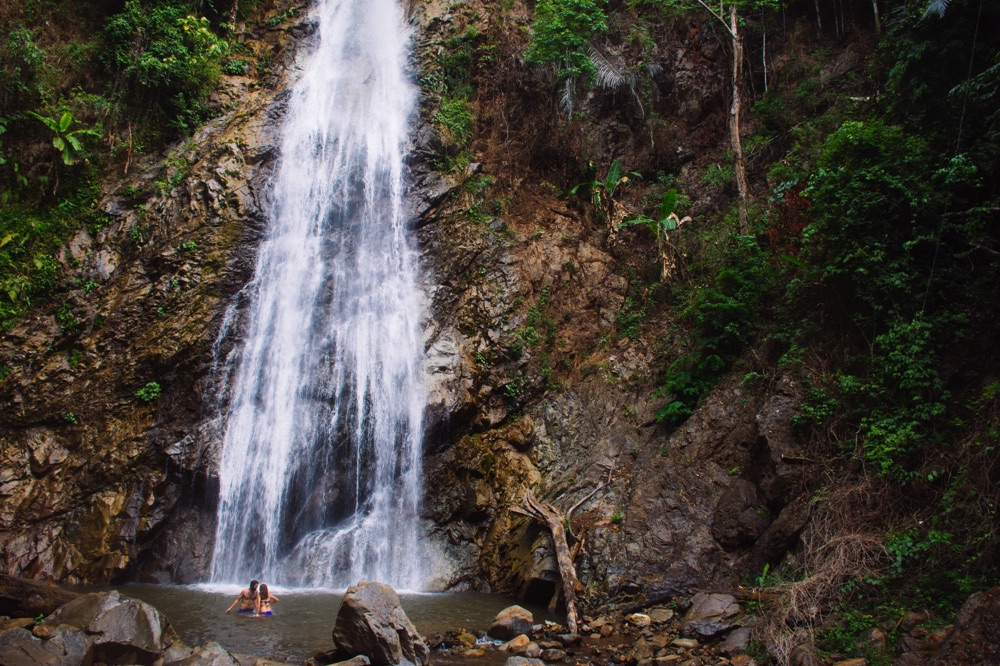 20. Take a Dip in a Hot Spring
The Chiang Rai region is home to a number of natural hot springs set in beautiful scenic surroundings. Check out Huay Mak Lium Hot Spring, Pong Phra Bat Hot Spring and Fang Hot Spring (although, this one is about a 2-hour drive from Chiang Rai).
Soaking in a hot spring is definitely one of the top things to do in Chiang Rai during the cooler winter months. Entry costs from around 20-50 baht ($0.60 – $1.50) depending on the spring.
21. Take the Slow Boat to Laos
Ok, so perhaps this isn't exactly one of the best things to do in Chiang Rai, but the city is the jumping-off point for travelling by land or boat from northern Thailand to Laos.
To experience the slow boat to Luang Prabang from Thailand, you first need to take a bus from Chiang Rai to the border, then catch a boat that sails along the Mekong River and eventually takes you to Luang Prabang. The journey takes two days, including an overnight stay at the halfway point.
You can book a travel package through a travel agency in Chiang Rai, some of which include the bus trip to the border and an overnight stay in Chiang Khong (the Thai border town), as well as the boat cruise.
Alternatively, you can take a bus to Chiang Khong yourself, cross the border into Laos and buy tickets for the boat trip there. This is the cheaper but less smooth option. Mekong Smile Cruise offers a package including pick-up from Chiang Rai, hotel and a stop at the Pak Ou Caves for 200 USD. Learn more about the journey in this post.
How to See and Do Everything When You're Short on Time
A lot of people who visit Chiang Rai stay only for a couple of days. Even though I stayed for longer than that, I was still overwhelmed by the sheer number of things to do in Chiang Rai.
I wasn't sure how I could fit everything in, especially since almost all of Chiang Rai's top attractions are quite far-flung. The White Temple, Blue Temple and Black House are all on the outskirts of Chiang Rai, but most of the other attractions are even farther away.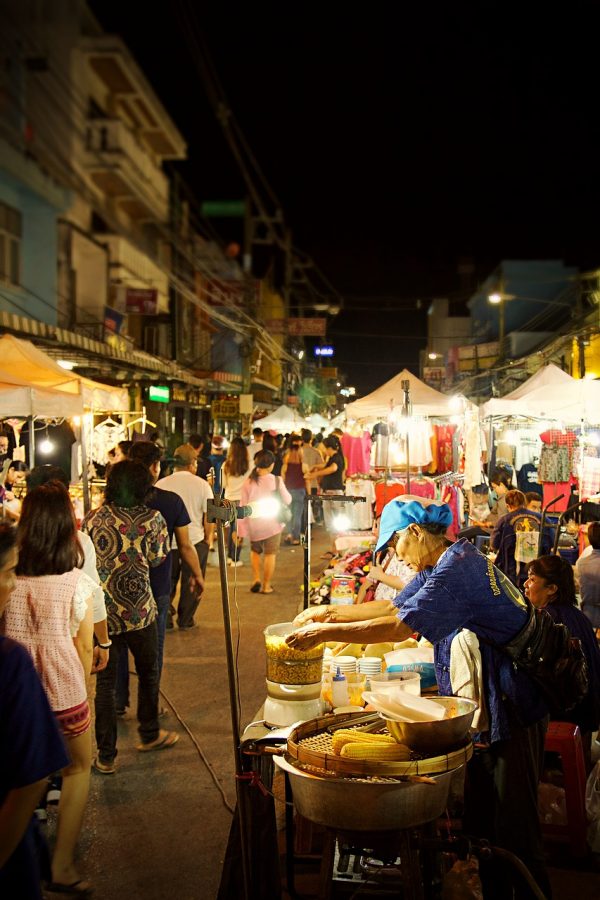 If you want to travel independently, it's entirely possible to see all of Chiang Rai's attractions on your own. You can catch a bus to some of the closer sights such as the White Temple, hire a driver for a day, or ride a scooter.
But since the best things to do cover such a wide area, if you really want to fit in all of the top things to do in Chiang Rai in just a couple of days, this is one destination where joining a group tour really does make sense.
Apart from hill tribe trekking and visiting a homestay in the mountains, which can take a few days and needs to be arranged separately, most of the other attractions work well as part of a (very busy!) day trip. If you choose to book a day tour with a group in a shared minibus, this is also the cheapest way to get around Chiang Rai and see its main sights in a short time.
When you walk down Chiang Rai's main streets, you'll see numerous travel agencies offering day trips, each cramming an absolutely crazy number of attractions into one day. These whistle-stop tours are really easy to find and book, and great value. Most of the ones I saw included transport, pick up and drop off at your hotel, plus lunch. They all cost around 1000 baht ($30).
Pay attention to the tours or activities you book in Chiang Rai to ensure you get an experience you're comfortable with. Some travel agencies in Chiang Rai don't approach the tours they provide ethically — such as the hill tribe visit where people are treated very much like animals in a zoo. And unfortunately, many companies still offer elephant rides as well.
That said, overall I had an incredible time and will definitely return to experience more of the amazing things to do in Chiang Rai.
Now You Know What To Do in Chiang Rai!
For me, the most exciting part about visiting Chiang Rai was the city's artistic spirit — the fact that in such a small city, so many incredible contemporary temples have sprung up in just a few years. And I especially enjoyed the way these surreal artworks stood next to amazing, historic monuments. Make sure you also experience more of the region's natural beauty with some waterfall hopping and hill treks! For such a small place, there are numerous fun things to do in Chiang Rai. Happy travels!
Note: Images in this article are provided by Shutterstock, a website for sourcing royalty-free images and videos.
Like This Article? Pin it!