Ho Chi Minh City may not be the capital of Vietnam (that's Hanoi in the north), but it's the country's largest and most visited city. There are so many awesome things to do in Ho Chi Minh that it's no wonder this is one of the top places to visit in Vietnam.
The city formerly known as Saigon was nearly destroyed in the not-too-distant past, but it has rebuilt and is now the financial center of Vietnam. This is a place where you're constantly reminded of the history, yet also always getting glimpses into the future.
In this guide, we'll take a look at what to do in Ho Chi Minh to help you plan your adventure in this bustling metropolis!
1. Take a Free Walking Tour
If you're not sure what to do in Ho Chi Minh, the best place to begin is with a free walking tour. These free tours are a great introduction into the city as well as a chance to make some new friends.
Saigon Free Walking Tours has been running free walking tours for several years and come highly recommended. Their classic Saigon City Tour takes in many of the highlights of HCMC in a jam-packed tour. These leave every morning at 8AM and last until noon.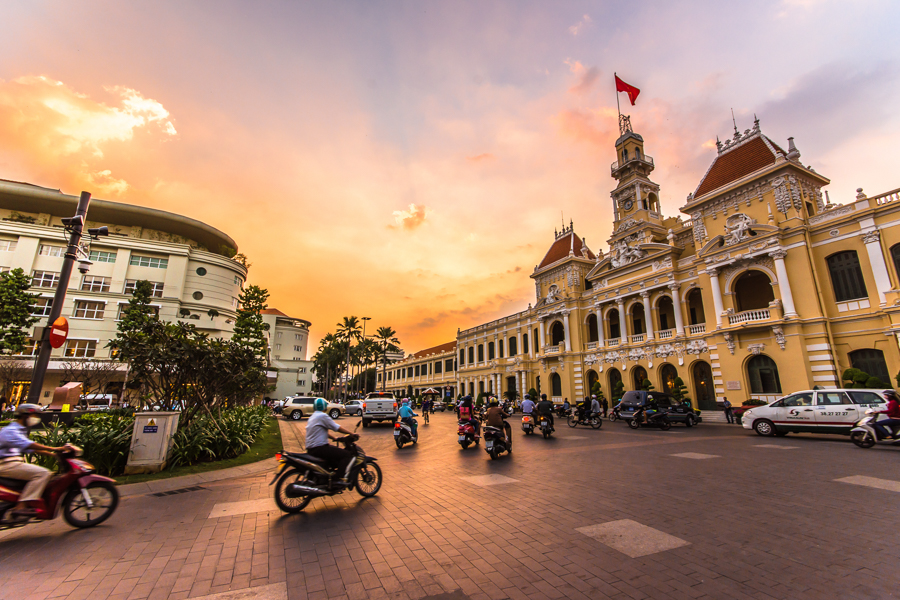 The tours are run by local university students who are studying hospitality and tourism. They're very passionate about their city and are eager to get to know visitors, making for a very fun environment throughout the tour.
While you're with a local guide who speaks English, be sure to get some recommendations on places to visit, shop, and eat. The valuable advice you'll get is just another reason why these free walking tours top our list of things to do in Ho Chi Minh!
2. Visit Independence Palace
There are many important historical attractions in Ho Chi Minh City, including the Independence Palace. On April 30th, 1975, a tank crashed through the front gate here, officially putting an end to the disastrous war.
This building has a history going back much longer, though. It was originally called the Norodom Palace and was home to the French Governor of Cochin-China. Japan took over for a brief time during World War II, but the palace was returned to France after their eventual surrender.
During the Vietnam War, it was home to the president of South Vietnam. It was actually bombed and rebuilt during the war, which officially came to an end in 1975 with the fall of Saigon to the north.
These days, it serves as a museum and looks much like it did on that fateful day in 1975. There's a lot to see here, including grand meeting rooms, the president's living quarters, and a bunker full of equipment from the war.
Tickets for the museum coast 40,000 dong (about $1.75) for adults and half that for children. It's open every day from 7:30-11AM and then again from 1-4PM. You can find Independence Palace on the map and get directions here.
3. Ben Thanh Market (one of the best things to do in Ho Chi Minh for foodies!)
If you need to pick up a random item you forgot to pack, score some fresh produce, do some souvenir shopping, or just sit down to a cheap meal, Ben Thanh Market is the place to go.
It's an absolutely massive market and is very easy to get lost in. It's also a bit of an assault on your senses, with so many different sounds, smells, and tastes coming at you from all directions.
Ben Thanh Market is located in District 1 in the heart of the city (check the map here). It's open all day, and is at its busiest in the early morning. Many shops begin to close down late in the afternoon.
A visit to the market is for sure one of the top things to do in Ho Chi Minh. Chances are you'll end up here on several occasions during your stay in the city. I know we did!
4. Day Trip to Cu Chi Tunnels
When you're deciding what to do in Ho Chi Minh, be sure to add a day trip out to see the Cu Chi Tunnels to your itinerary. This vast network of tunnels was used by the Viet Cong during the war and were of great importance to their success.
Not only were the tunnels used as hiding places, but they also served as supply routes, storage areas, and even living quarters. During periods of heavy bombing, people were forced to stay underground in the tunnels for several days at a time.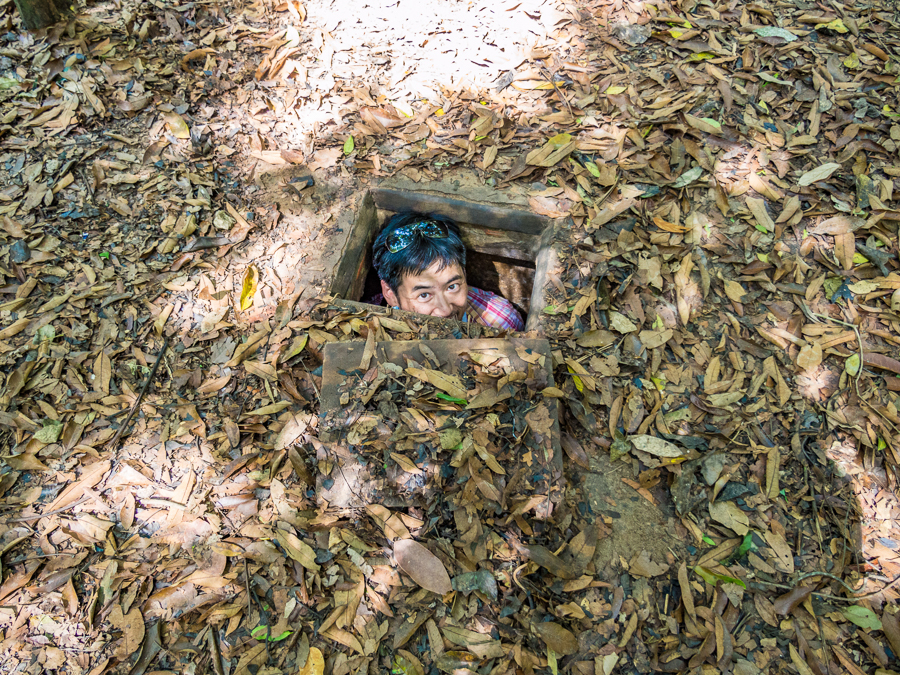 These days, the Cu Chi tunnels are a tourist attraction and one of the most popular things to do in Saigon. On a trip here, you can learn all about the tunnels, see the various booby traps that were set, and even go in to explore the tunnels a bit. There's even a shooting range here if you feel like firing an M-16.
Just about every single tour operator in HCMC can set you up to visit the Cu Chi tunnels. Tours range from $10-50 depending on what is included, the level of comfort, and size of the group. If you've got a motorbike, you can drive yourself out there (check the map here).
5. Visit The Notre Dame Cathedral
You probably know about the famous Notre Dame Cathedral in Paris, but did you know that there's one right here in Ho Chi Minh as well? It was built in the 1880s by French colonists from red brick imported all the way from Marseille and remains one of the most beautiful buildings in the city, and one of the top Ho Chi Minh City attractions.
The cathedral is highlighted by its two Romanesque bell towers, which are nearly 60 meters tall. There's also a statue of the Virgin Mary in front of the church, which many locals believe actually shed tears on one occasion.
You're free to visit the cathedral at any time, but just remember it is an active religious institution. They still hold mass here every Sunday morning and worshipers are always coming and going. You can find the Notre Dame Cathedral on the map here.
6. Check Out The Central Post Office
Right across from the cathedral, you'll find the Saigon Central Post Office. It may seem a bit odd to see a post office on this list of the top things to do in Ho Chi Minh, but it definitely deserves its spot.
First of all, this isnt' your average post office. It was designed in Gothic, Renaissance and French colonial styles and is an absolutely gorgeous building. I know the post offices where I come from look nothing like this!
While it looks great from the outside, you still have to go in and have a look around. With its arched windows, old phone booths, and oil paintings, you'll feel like you've stepped back into 19th-century France. That is of course, until you see that massive portrait of Uncle Ho himself smiling down on the place.
This is the perfect place to finally pick up those postcards you've been putting off writing. You'll find plenty of inspiration in what has to be one of the most scenic post offices in the world. Once it's ready, you can even use the old-fashioned glue pots to stick a stamp on it and mail it home!
7. Wander Nguyen Hue Walking Street
One of the first things you'll likely notice about Ho Chi Minh City is that it's not the most walkable place out there. Most of the time, you're dodging an endless stream of motorbikes in a dangerous game of human Frogger just trying to cross the street!
Thankfully there's at least one place in this bustling metropolis where you can enjoy a leisurely stroll. The Nguyen Hue Walking Street starts down at the Saigon River and stretches up to City Hall. Along the way, you can enjoy the colonial architecture, a fountain show, and a statue of Ho Chi Minh waving at the masses.
If you feel like chilling out here for a while, there are plenty of benches where you can sit and enjoy some quality people watching. There are also several cafes and restaurants along this short pedestrian-friendly promenade. Click here to find the walking street on Google Maps, this is definitely one of the best places to visit in Ho Chi Minh to avoid the crazy traffic.
8. Relax in Local Parks
I always love hanging out in local parks when I travel. They're a great place to absorb the culture, get some exercise, and enjoy a brief escape from the hustle and bustle of city life.
In Ho Chi Minh City, an excellent choice is September 23rd Park. This place is always full of locals in the afternoon, who come here to play badminton, do a bit of group aerobics, or just relax and chat. Don't be surprised if some curious local kids approach you to practice their English. It's easy to make new friends at the local parks here!
Another option is Le Van Tam Park, which has plenty of nice walking trails as well as a decent outdoor fitness center. If you're like me and miss having a gym when traveling, this is the perfect way to get your workout in while taking in the local culture.
9. Visit The War Remnants Museum
One of the top things to do in Ho Chi Minh is visiting the War Remnants Museum. Through a variety of exhibits on the Vietnam War (known as the American War here, by the way) and the Indochina War with France, the museum seeks to showcase the horrors of war and its effects on people.
The first thing you'll see at the museum is the collection of American tanks, jets, and helicopters out on the front lawn. Things take a much more somber tone once you enter the building, where you'll see a French guillotine as well as the inhumane "tiger cages" that were used to house prisoners.
Most striking of all, the museum has countless photos showing the horrendous effects of Agent Orange along with another exhibit dedicated to all the journalists who went missing or were killed during the war.
The museum is open daily from 7:30-6 but is closed for a short lunch break from 12-1:30. Tickets cost 40,000 dong (about $1.75). You can find the museum on the map and get directions here.
10. Temple and Pagoda Hopping
Whenever you're looking for things to do in Saigon, you can always go check out a temple or pagoda. That's because there are so many of them here in Vietnam's largest city!
In HCMC, you can find Buddhist, Taoist, and Hindu temples and pagodas. One of the most famous to visit is the JJade Emperor Pagoda (Ngọc Hoàng Pagoda). Even former US President Barack Obama once visited this scenic Taoist pagoda. Be sure to add a stop here to your growing list of things to do in Ho Chi Minh.
You'll find many of the best temples and pagodas in the city's Chinatown, including Quan Am Pagoda and Hau Thien temple. Speaking of Chinatown, that brings us to the next item on our list.
11. Check Out Chinatown
There are many cities around the world with a Chinatown neighborhood, and HCMC has one of the biggest. The city's Chinatown is called Cholon and it dates way back to 1778.
In addition to the temples and pagodas, you can check out the Binh Tay market. The name Cholon actually translates to "big market," and the area has basically been a big market for several hundred years. During the war, American soldiers maintained a black market here bartering for US Army-issued goods.
You can also peruse shops with red lanterns hanging out front and dig in to some tasty Chinese cuisine in one of the many restaurants here. It's definitely worth adding a stop to Cholon to your list of things to do in Saigon. Start off in the market (check the map here) and just wander around taking it all in.
12. Go On A Bike Tour
It seems as if every one of Ho Chi Minh City's 8 million people has a motorbike. Seeing as the motorbike is so ubiquitous here, it's only fitting that taking a bike tour makes our list of the top things to do in Ho Chi Minh City!
There are plenty of places to rent a motorbike here if you're an experienced rider, so you can just make up your own tour if you prefer.
Ho Chi Minh City is also a popular place to begin an Easy Rider tour where you get out and explore more of the country with a local guide leading the way. After one month in Vietnam our Easy Rider tour was hands down the best experience of the trip, so I highly recommend it!
If you're not exactly comfortable jumping on a bike and riding off into the chaotic traffic here, never fear. The team at Vietnam Vespa Adventures run a few awesome tours of the city where you just hop on the back of the bike and enjoy the ride.
They have options ranging from a Saigon craft beer tour and an After Dark Tour (with street food!), to a Half Day Trip which takes in many sites in the city.
13. Sip On Rooftop Cocktails
After a big day of exploring Ho Chi Minh City, it's time for some drinks with a view. The city is home to several excellent rooftop bars where you can take in the skyline with a tasty adult beverage in hand.
In a city that's continuously building higher and higher, there's no shortage of rooftop bars to choose from. One of the most popular is the Air 360 Sky Lounge. Here you can enjoy panoramic views of the city and some live music to go along with their craft cocktails.
Another solid choice is the Glow Sky Bar, located on top of the President Place building. This tropical beach-themed club is the perfect place to chill out after running around the city sightseeing. Get here for their Happy Hour from 5-8PM to enjoy 50% off your drinks!
14. Have Fun On The River
The Saigon River cuts right through Ho Chi Minh City, and there are plenty of options for fun on the water. Whether it's a short dinner cruise at night or a longer trip down to the Mekong Delta, you'll definitely want to add a trip on the river to your list of things to do in Ho Chi Minh.
You can book a dinner cruise along the Saigon River for around $40-45 per person. Take in the scenery of the city as it lights up at night while you enjoy a tasty meal and some live entertainment.
Those looking to visit the Mekong Delta on their trip may want to check out one of the full or multi-day cruises headed out of HCMC. These range in price from about $70-75 for a full day tour to $170 for a 3-day trip. Checking out the floating markets of the region is one of the coolest things to do in Vietnam.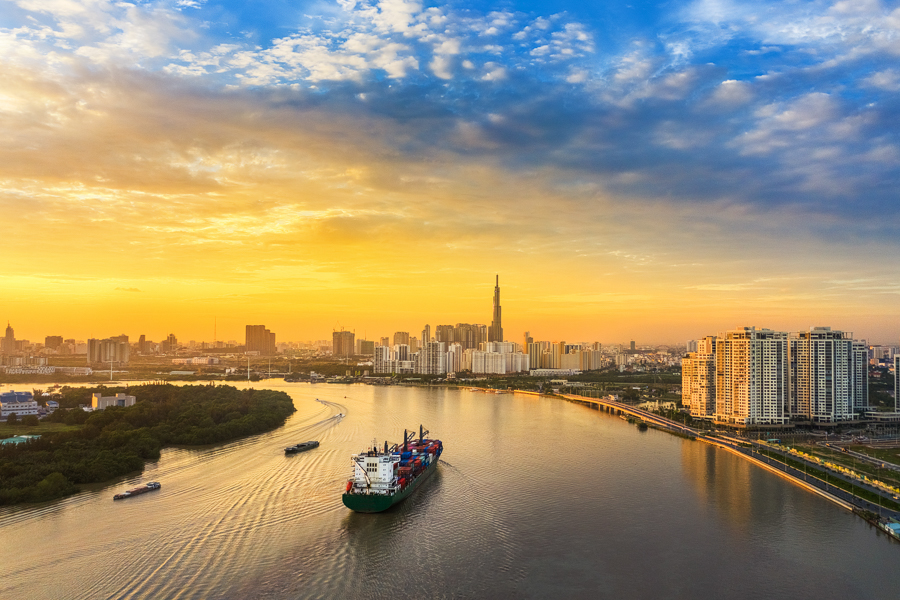 15. See A Show At The Saigon Opera House
If you enjoy a night out at the theater when you travel, be sure to include a trip to the Saigon Opera House. This beautiful French colonial theater has been here since the turn of the 20th century and has had quite the interesting history.
While it was originally built as a theater, the building became Southern Vietnam's Assembly House starting in 1956. It wasn't until the end of the war nearly 20 years later that it returned to its original use. It was also given a serious face lift in 1998 in preparation for the 300th anniversary of the city.
They rotate a few different shows at the opera house, including the A O Show, The Mist, and Teh Dar. There really isn't a bad seat in the house here and the acoustics are pretty amazing.
Tickets range from 700,000 dong ($30) to 1.6 million (about $70) and can be booked online here.
16. Eat Street Food
Whether you call it Ho Chi Minh or Saigon, there's no denying this city has some pretty incredible street food. From a piping hot bowl of pho to a fresh banh mi sandwich, there's something tasty being cooked up around every corner here.
One place you can go to sample different street food on your own is the aforementioned Ben Thanh Market. In the evenings, the street outside the market is lined with vendors whipping up all sorts of local classics.
Those who would prefer to have a guide schooling them on what to (and not to) eat can book a tour instead. Street Food Man comes highly recommended and has an awesome food tour, covering some serious ground and trying many tasty meals. Click here for details about the tour.
17. Visit The Museum of Vietnamese History
If you want to dive more into the fascinating past of this Southeast Asian country, put the Museum of Vietnamese History on your list of things to do in Ho Chi Minh. It's home to a wide variety of artifacts covering the long history of Vietnam from the prehistoric era to independence.
The captions in the museum are lacking a bit, so a little prior research will be helpful. While you're here, you can stick around for a traditional water puppet show. It only costs a few dollars extra on top of the $1 ticket to get into the museum, so you might as well.
When you're finished in the museum, you can check out the botanical gardens next door, but we advise you to skip out on the zoo, as we don't condone the captivity (and cruelty) of animals.
18. See The Bitexco Financial Tower
During your exploration of Ho Chi Minh City, you're sure to notice one particularly interesting looking skyscraper. That's the Bitexco Financial Tower, one of the tallest buildings in the country and one of the coolest skyscrapers in the world.
The tower stands at 262.5 meters (861 feet) and has a very unique design. In case you were wondering, it's meant to resemble the lotus — Vietnam's national flower. The part of the building that serves as the bud of the flower is actually a helipad!
On the 49th floor of the building, you'll find the Saigon Skydeck. Here you can enjoy 360-degree panoramic views of the city for just under $10. You can check the location of the tower on the map here.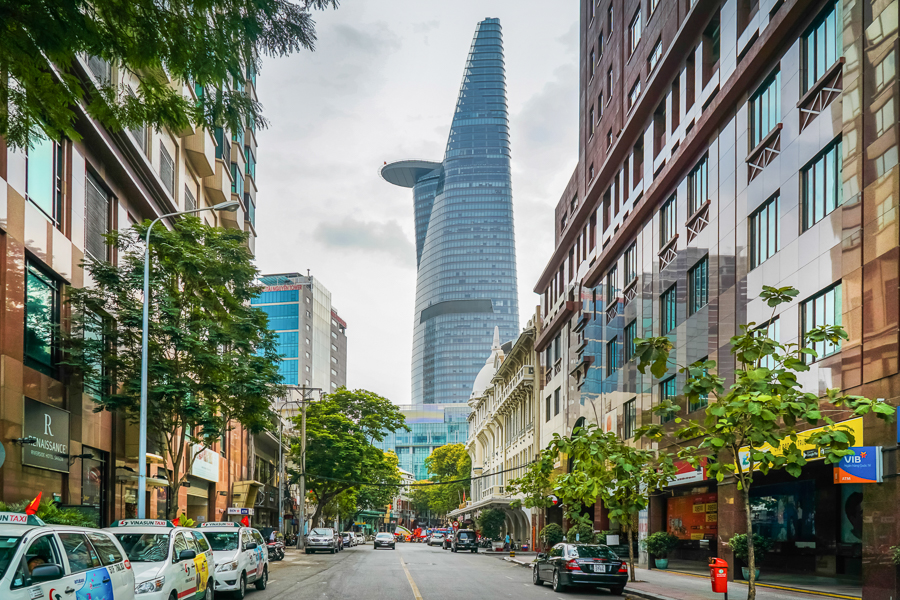 19. Visit a Theme Park
One of the best places to visit in Ho Chi Minh City is Dam Sen Park. This sprawling park is just a short drive from the city center and is fun for the whole family.
There's a lot going on at Dam Sen, with over 30 areas in total. Here you can go boating on a lake, do some bird watching in the tropical garden, and even go for a ride on a monorail. You could easily spend the whole day here and not get bored.
It can get really hot and muggy here, so one of the best things to do in Ho Chi Minh is cool off in a water park. Dam Sen actually has a separate water park with plenty of water slides, a wave pool, and some cool water games. Tickets for the Dam Sen water park cost 170,000 dong ($7) for adults and 130,000 for children ($5.50).
20. Take a Cooking Class
A major highlight of your trip to HCMC is sure to be all the mouth-watering Vietnamese food you get to enjoy. Instead of missing legit Vietnamese cuisine when you go home, why not learn to make it yourself?
There are plenty of excellent cooking classes available in the city. Most classes include a trip to a local market first where you shop for fresh ingredients. Next up you'll get to work cooking up some classic Vietnamese dishes, which you'll finally get to sit down and enjoy at the end.
For foodies, joining a cooking class is one of the best things to do in Ho Chi Minh City.
One place that comes highly recommended is HCM Cooking Class. Their classes take place in an agricultural village, where you'll get to cook with vegetables straight from their garden. They have several different options for classes, so be sure to check their website for schedules and prices.
21. Experience the Nightlife
If you're like me and enjoy throwing back cheap draft beer while munching on street food, then you'll feel right at home on Bui Vien Street. It's also known as the "Backpacker Street" thanks to the countless hostels that are located in the area.
Pull up a plastic stool, order up some bia hoi (for about $0.25 each), grab a few meat sticks, and strike up a conversation with whoever else is squished around you in these tight quarters. The people watching alone is worth the trip to this infamous party street.
Admittedly, Bui Vien is a bit seedy and can get a little ridiculous, even for this old party animal. If you need to class it up a bit, there are plenty of establishments in HCMC where you can drink indoors without being constantly accosted by vendors and street performers.
Ready For The Fun Things To Do in Ho Chi Minh?!
While you might be intimidated by the chaotic traffic and seemingly never-ending development of Vietnam's largest city, hopefully this guide has shown you there are plenty of awesome things to do in Ho Chi Minh.
Once you've fully explored this fascinating city, there's a lot more to see and do in Vietnam. If you're trying to plan the rest of your adventure, be sure to check this post on where to go in Vietnam.
Like This Article? Pin it!