It's hard to visit Nepal without going through its capital and experiencing the many things to do in Kathmandu. Full of contradictions and organized chaos, Kathmandu is an assault on every sense in the best possible way. Every traveller to Nepal inevitably stops in Kathmandu, but a few days devoted to the city itself really is worth it.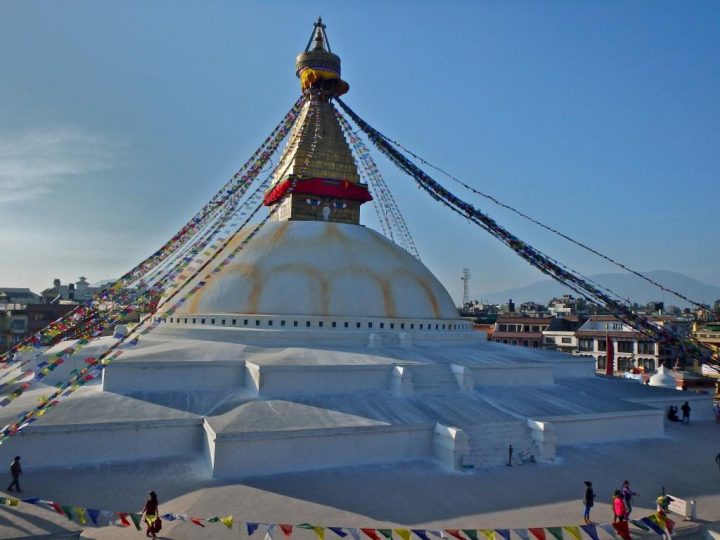 I wasn't sure if I would enjoy Kathmandu. I was drawn to Nepal by the mountains and the tranquility of the countryside. What I learned was that there is beauty right in Kathmandu, but in a much more exciting way.
After living in Kathmandu for over two months, my love for the city was honest and real. The city had pushed me to my limits but then shown me such beauty along the way.
Kathmandu, and Nepal in general, are many things. But since the earthquake in 2015, the best word to describe Kathmandu is resilient. Relief efforts flooded the country, and although Kathmandu is not what it was before the shaking, what drew folks to this great city still exists. Vibrance, character, charm, and a daily unknown.
If it's excitement you are looking for, Kathmandu can definitely provide! Exploring Kathmandu and the surrounding area could take weeks. But with so many great things to do in Kathmandu, it's best to narrow it down slightly.
Here's my list of the top 7 things to do in Kathmandu:
1. The Holi Festival
Every spring, Kathmandu descends into a colourful chaos known as the Holi Festival. A Hindu festival celebrated all over Nepal and India, Holi is the least religious event you could find. Dedicated to revelry, people of all ages join together all across the city to throw coloured powder and water balloons at each other, all in great fun.
Foreigners are very welcome to join in the events, but be warned, the clothing you wear will never be the same. The coloured powder covers clothes, skin, and hair, making the city seem full of multi-coloured zombies. Carry a waterproof camera, and hit either Thamel or Durbar Square for the craziest of the crazy things to do in Kathmandu.
2. Visit Swayambhu Temple and Meet the Monkeys
To be honest, I hated Swayambhu Temple. Not because of the temple itself, but because I hate monkeys. Which is not a good thing when you're visiting a place nicknamed the Monkey Temple!
But, most people rate Swayambhu as one of the best things to do in Kathmandu exactly because of the monkeys. It's also loved because it offers one of the best views of Kathmandu anywhere. Located west of central Kathmandu, Swayambhu is a must see, even if you hate monkeys, like I do.
Climb the many, many stairs, and the reward will be an excellent vista of Kathmandu and the environs. If you're lucky and happen to be there on a clear day, the Himalayan range north and west of the city will be visible. There is nothing more exciting than spotting those mountains.
The monkeys are clearly what makes Swayambhu extra exciting. Unless you have a crippling fear, being around hoards of these "cute" creatures is fun for a lot of people. It's not everyday that monkeys are hanging out in a beautiful spot asking for the perfect picture to be captured. Admittedly, when monkeys are calm, quiet, and still they can be picturesque.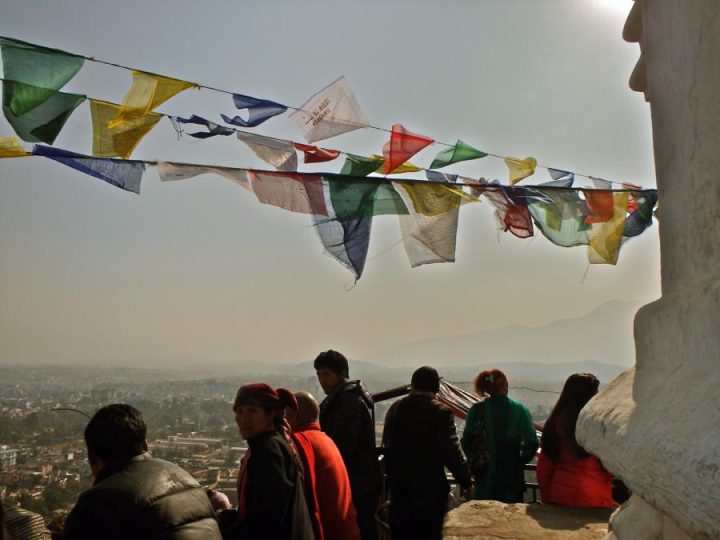 3. Momo Mania
It will not take a Kathmandu visitor long to find out what a momo is and how important they are to daily survival. Momos are Nepal's answer to dumplings, these steamed buns are filled with a variety of cheese, vegetables or meat. They're a staple in most visitors' diets while in Nepal.
Each year, Kathmandu momo shops hear the cries for more momos and respond accordingly with a one day extravaganza. This exciting event in Kathmandu features unlimited momos, a momo eating competition, live music, free drinks and more.
Eating out is such a huge part of life here. Because of this, gorging on momos is one of the essential things to do in Kathmandu. The Momo Mania event really does encompass this gluttony perfectly. Even if you don't attend the festival, you'll enjoy eating momos in Kathmandu.
Where to Stay in Kathmandu
---
Here is a list of the top 3 rated, affordable properties in Kathmandu. Click on the links and check them out for yourself!
Sunrise Homestay & Apartment – From $44 / Night, Rating 10. Click here to see the latest price on Booking.com
Hotel Magnificent View – From $23 / Night, Rating 9.5. Click here to see the latest price on Booking.com
M Hotel Thamel-Kathmandu – From $114 / Night, Rating 9.5. Click here to see the latest price on Booking.com
☞ Click here to see all accommodation options available in Kathmandu on Booking.com
4. Club Hopping in Thamel
Even if you think your clubbing days are behind you, the nightlife of Thamel will surely tempt you back into the scene. Thamel is well-known as the backpacker district of Kathmandu, meaning it's busy and full of foreigners. While this can be off-putting, Thamel is THE place for great restaurants and bars in Kathmandu. So if you are looking for an exciting night out, the only destination is Thamel.
Bars and clubs range from all types and sizes. But unlike many backpacker districts in the world, Thamel is the hot neighbourhood for local Nepalis as well. Mixing with the hipsters of the Kathmandu scene will have you dancing the night away.
5. Travel like a Local in Kathmandu
One of the most defining features of Kathmandu is the traffic. Certain roads and intersections are non-stop, and at times there seems to be no method to the madness. Rest assured, most of the people on the streets know what is going on, it's usually just you who doesn't.
But to get a great feeling of life in Kathmandu, hitch a ride in a shared minibus or a tuk tuk and cruise the city like a local. Shared minibuses are either minivans that are constantly overpacked with people, or pick-up trucks with under cover seating in the back. Either way, your idea of personal space will be invaded, but you will gain a massive understanding for the pace and thrill of Kathmandu.
I love riding public transport while in major cities, especially in countries where that transportation could never meet the strict safety regulations back home. I think travelling like the locals is one of the best things to do in Kathmandu, and I did it frequently. It is also very easy on the budget.
So to really get an exciting sense of Kathmandu, hop on the back of a moving pick-up and just hold on.
6. See the Kumari Devi Living Goddess
The Kumari Devi is a true living goddess who lives in Durbar Square in Old Kathmandu. The Kumari Devi is held in extremely high regard and is kept as safe as possible until she reaches menstruation. At that time, a new Kumari is selected. Every day, this young girl, who was selected at the age of three from a Newar village outside of Kathmandu, appears at her window to see visiting worshippers (and tourists).
It's September that brings the real excitement though. The Kumari is the main centrepiece guest for the Indra Jatra holiday each year. She is carried throughout Old Kathmandu for three days for worshippers to pay their homage. It's not every day you see a Living Goddess, and it's definitely one of the best things to do in Kathmandu.
[widget id="shortcodes-ultimate-5″]
7. Things to Do in Kathmandu to Escape the Craziness
Kathmandu is a vibrant city, pulsing with life, and unabashedly authentic in every aspect. There are also downsides to this type of city. Namely traffic, pollution, and an inexhaustible rush that you feel you never escape. But oddly enough, despite the excitement of Kathmandu, the city offers many ways to escape the craziness, without even leaving town.
A trip to Boudha at sunset will rejuvenate your spirit as you gaze at the worshippers praying and chanting. This massive structure is the centre of the Boudha neighbourhood, which splays out from the round circle of the stupa.
Streets leave in all directions, so finding your way out can be a chore. But enjoying the hum of the chanting and the colours of the setting sun while eating momos on a rooftop terrace is more peaceful than I thought possible in Kathmandu.
The Garden of Dreams actually is an impressive garden which is the literal embodiment of someone's flora dreams. You'll find it just north of Thamel, running alongside the busiest road in Kathmandu. Somehow, the Garden of Dreams cuts down the noise of the outside world creating a magical bubble of serenity.
Bhaktapur is Kathmandu's chilled out cousin and only an easy 35 minutes bus ride away. A day wandering Bhaktapur can calm the nerves and will provide a vivid picture of what Kathmandu was centuries ago.
Bhaktapur's Durbar Square is fascinating, and Bhaktapur is a great place to sample Newari cuisine as well as King's Curd, a deliciously rich and thick yogurt. All kinds of great artisans call Bhaktapur home, making this a great day trip to escape Kathmandu and do an epic afternoon of crafts shopping.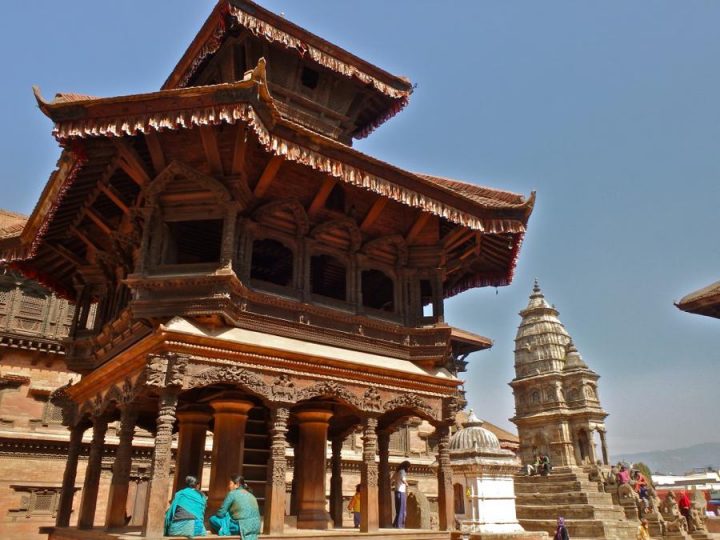 Making the Most of Kathmandu
Regardless of your reason for travelling to Nepal, enjoying some time in Kathmandu really is worth it. Whether you are acclimatizing to the altitude before trekking Annapurna, recovering from a mountain biking adventure in the Mustang, or touching down in Nepal for the first time, Kathmandu has all of the amenities a visitor could need.
All too many tourists don't take advantage of the great things to do in Kathmandu in their rush to get to the mountains and the 'real' Nepal. But take a day or two, enjoy the city. Kathmandu is as real as Nepal gets!
Like This Article? Pin it!