With all of the things to do in Koh Phangan, it's nothing short of paradisiacal. Its golden beaches and turquoise water are rivaled in beauty only by its own towering palms and lush jungle.
The island sits in the Gulf of Thailand and thrums with energy 24/7. There are numerous incredible places to visit in Thailand, but make sure you put this island on your list.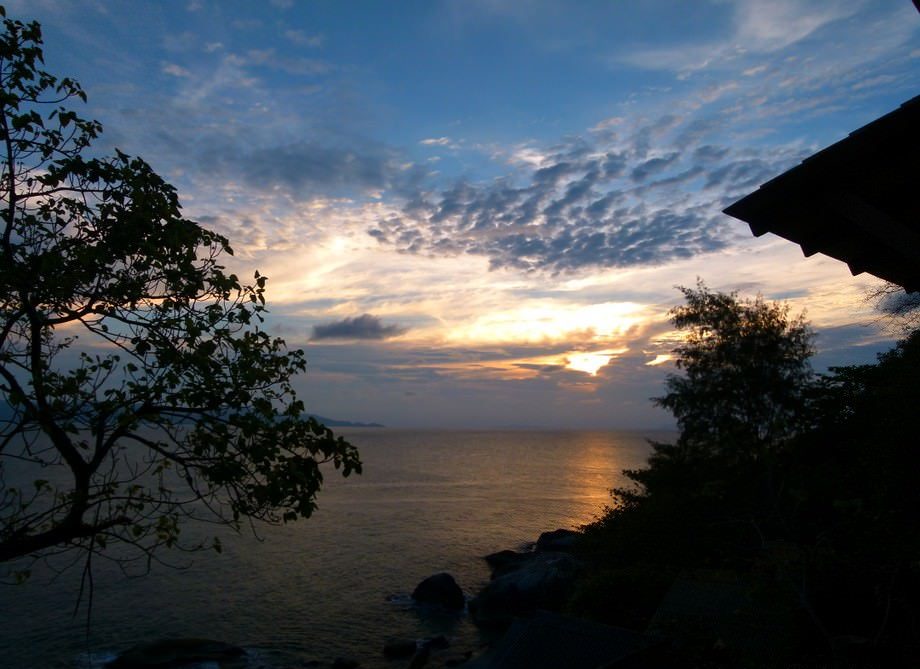 This is one of my favorite islands in Thailand, I had such a great experience here. From the bustling streets lined with food stalls to the serenity of secret beaches, there is an endless list of things to do in Koh Phangan, but here are my top 25.
1. Experience The Full Moon Party
Ok, so my first one isn't unique, but the rest are!
Let's start with the most obvious and popular thing to do in Koh Phangan. The majority of people who go to Koh Phangan do so for the Full Moon Party. The party takes place on Haad Rin Beach every month and brings in around 30,000 party-goers.
To get the full experience, cover yourself in UV paint, drink alcohol from a bucket, and party until sunrise. If you're into parties, this is definitely one of the coolest things to do in Thailand.
Where: Haad Rin Beach
When: Every full moon
How: Stay in one of the many accommodations near Haad Rin Beach and then walk to the party with the other neon ravers
Cost: The party is free so just budget for however much alcohol and paint you want to buy

2. Go Diving at Sail Rock
Sail Rock is without a doubt the best dive site in the Gulf of Thailand. The rock is about an hour's boat ride from Koh Phangan and suitable for divers of all levels. Star players at this dive site include manta rays, barracuda, and whale sharks.
Where: Sail Rock, situated between Koh Phangan and Koh Tao
When: Year-round but the best diving conditions are from April – October
How: Book a diving tour from one of the reputable dive schools on the island. Click here for a beginner dive, and click here if you're already certified.
Cost: 2000 – 2500 Baht ($70-80USD)
☞ SEE ALSO: Things To Do in Bangkok – Top 13 Awesome Things You Won't Want to Miss
3. Gorge on Thai Food in The Thong Sala Night Market
The energy in the Thong Sala Night Market alone makes it one of the best things to do in Koh Phangan. But, that's not why you go. From steaming bowls of pad thai to fresh falafel slathered in hummus, the night market is a foodie paradise. There are so many incredible foods to try in Thailand, with markets usually offering the best.
Where: Thong Sala ($4 in a cab from Haad Rin)
When: Every night
How: Just rock up with an empty stomach and order anything that takes your fancy
Cost: 150 Baht ($5) for dinner and a beer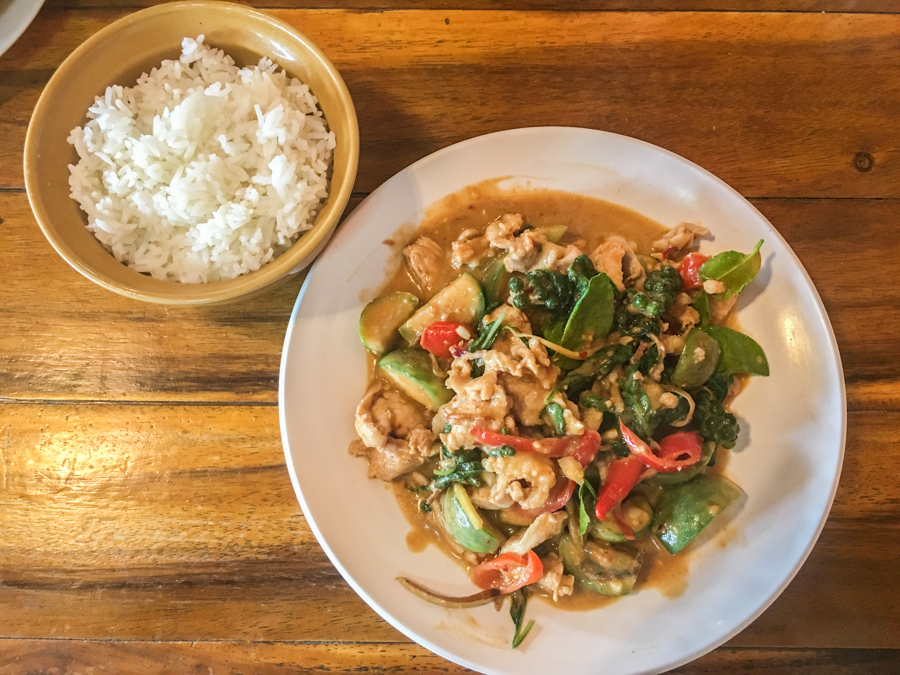 4. Hike Up Khao Ra (One of the Best Things To Do in Koh Phangan)
I bet you didn't think you'd be hiking on this party island, did you? If you've done your packing properly and have what you need to hike in comfort, this trip is well worth doing. The round trip up and down takes around 3 hours depending on your pace and it is a pretty easy climb – you don't need a guide.
While the path is well-maintained, it's not marked very well. There are a few intersections where you'll be unsure of which way to go, but after about 100m, you'll see a sign…you might have to backtrack a couple of times. Click here for more details.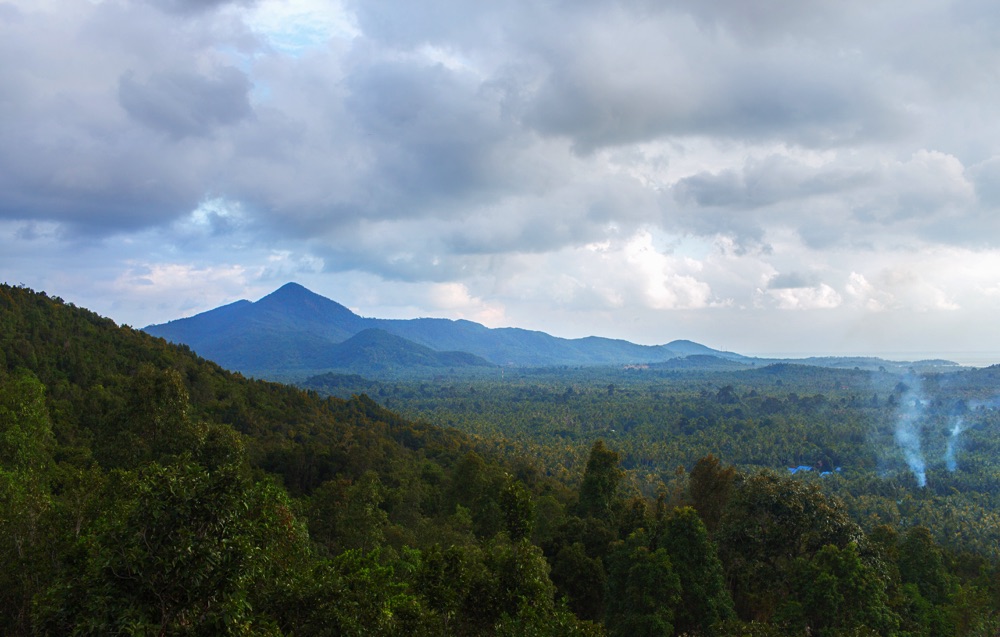 Where: In the North of the island
When: Either early in the morning or late in the afternoon to avoid the midday heat
How: Start at Khao Ra Retreat and Guesthouse and follow the path from there
Cost: Free
5. Get Wet at Challenge Phangan
Have you ever watched Total Wipeout on TV and wished you could do it? Well, since this is one of the things to do in Koh Phangan, you can! This water-based obstacle course is so much fun and will have you in stitches as you bounce, flip, and faceplant into the water. Grab some friends and enjoy. Click here to learn more.
Where:90/22 Moo 1, Bantai, Koh Phangan
When: Every day 10am – 6pm
How: Hop in a cab, they'll know where to go
Cost: 500 Baht ($15)
6. Go To The Half Moon Party
If you aren't going to be in Koh Phangan for the Full Moon Party but still want some UV rave action, this will sort you out. The Half Moon Party takes place in a huge open-air venue and has three music stages: psytrance, house and hip-hop. The festival doesn't book big names and has a maximum capacity of around 4,000, making it much more low-key than the Full Moon Party.
Where: In the forest, north of Baan Tai
When: One week before and one week after the Full Moon Party (every half moon)
How: Every taxi on the island will know how to get there
Cost: 1,500 Baht ($45) at the door
7. Enjoy The Sunset From Secret Mountain
Sitting atop a steep hill is Secret Mountain, a local restaurant with unparalleled views. People tend to head up here in the late afternoon to eat and drink while they watch the sun set over the horizon. From way up there, you get panoramic vistas over the island and you can even see the Ang Thong Islands rising up out of the water. This is one of the best things to do in Koh Phangan at the end of the day.
Where: 42/3 Baan Nai Suan, Moo 2. Click here for more.
When: Every day just before sunset
How: Either drive to the top of the hill or hike if you're feeling energetic
Cost: 50 Baht ($1.50) to use the pool, 500 Baht ($15) for food and drinks
8. Eat Some Israeli Food at Paprika
Israeli food might not be the first thing you want to eat when you get to Thailand, but if you need a break from pad thai, Paprika has some of the finest culinary offerings on the island. The food is fresh, delicious, and cheap; and the portion sizes are more than sufficient even for a big eater like myself.
Where: Moo 6, Haad Rin
When: Every day 11am-11pm
How: Walk there from your accommodation in Haad Rin or get a cab
Cost: 300 Baht ($10) for food and drinks
9. Explore The Ang Thong National Park
If you want adventure and activity, put Ang Thong National Park at the top of your list of things to do in Koh Phangan. The park comprises huge green islands that loom dramatically over the water. Housing secret caves that can be explored by kayak or simply by swimming, the park makes for a seriously cool experience.
Where: In the Gulf of Thailand between Koh Phangan and Koh Samui
When: Year-round or April – October for the best weather conditions
How: Boat tour
Cost: 1800 Baht ($55) for a speedboat tour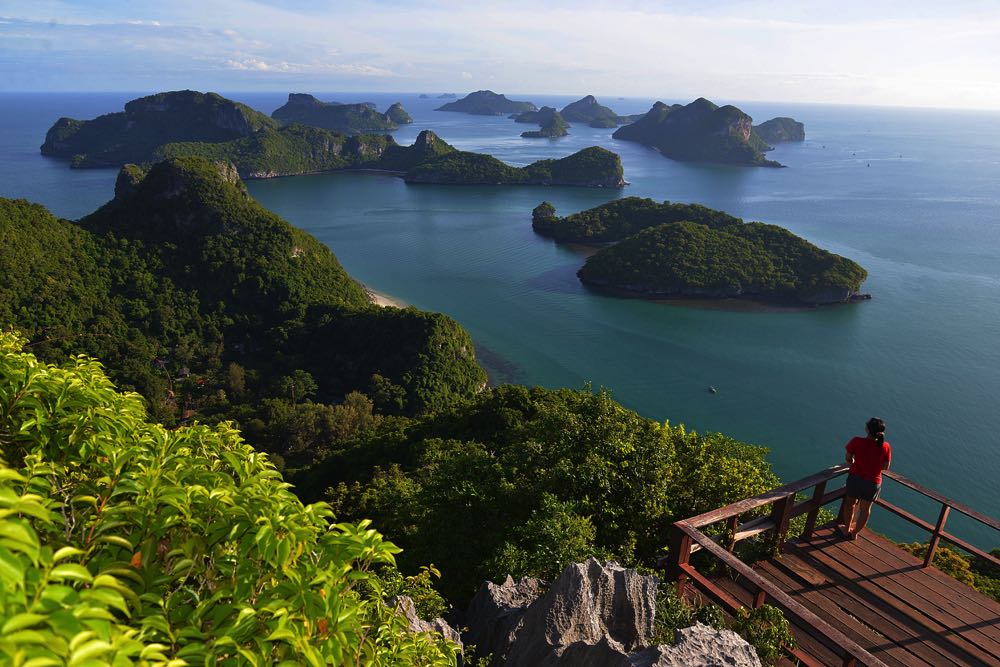 ☞ SEE ALSO: Things To Do in Chiang Mai – A List of The Top 17 Best, 21 awesome things to do in Chiang Rai and Things To Do in Pai. If you're heading to other islands, don't miss the awesome things to do in Koh Lipe. There are so many amazing places to visit in Thailand 😀
10. Kayak Around The Island
If you are the kind of person who likes to explore solo, as opposed to in a tour group, then grab yourself a kayak and start paddling. Most beaches have kayaks for hire but find out what the currents at that beach are like before you commit.
Wok Tum to Koh Ma along the west coast generally has calm water as well as pristine hidden beaches to which you can paddle. Always heed the advice of locals before setting off, and ensure you have proper safety equipment on board (life jacket, water, etc.)
Where: Anywhere, but Wok Tum to Koh Ma is a good bet.
When: Whenever you want
How: Go to the beach and hire a kayak
Cost: 150 Baht ($5) per hour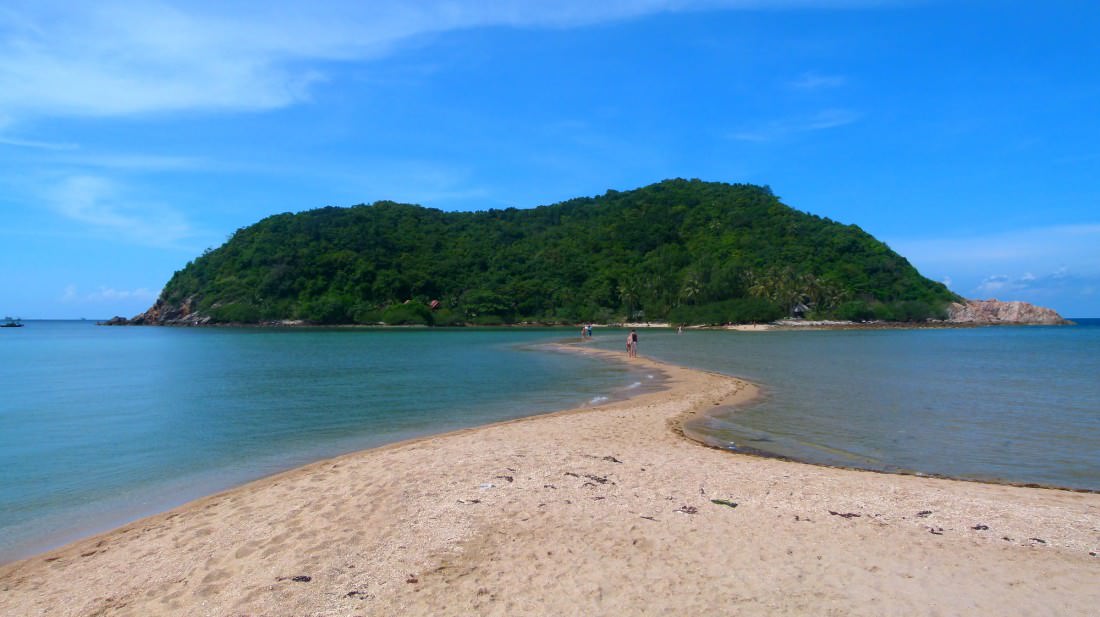 11. Trek to Bottle Beach
Conde Nast Traveller called this beach the best in Koh Phangan and I have to say I agree. The trek through the jungle is challenging and you will seriously regret it if you don't lather yourself in bug spray beforehand, but it will all be worth it when you get there.
Altogether, it will take you about an hour and a half to complete the trek from Coconut Beach to Bottle Beach. This was probably one of my favourite things to do in Koh Phangan!
Where: The island's North Coast
When: Year-round but avoid November as this is when the rain is heaviest
How: Go to Chalok Lam and then carry on to Coconut Beach. From there just follow the path all the way to Bottle Beach.

Cost: Free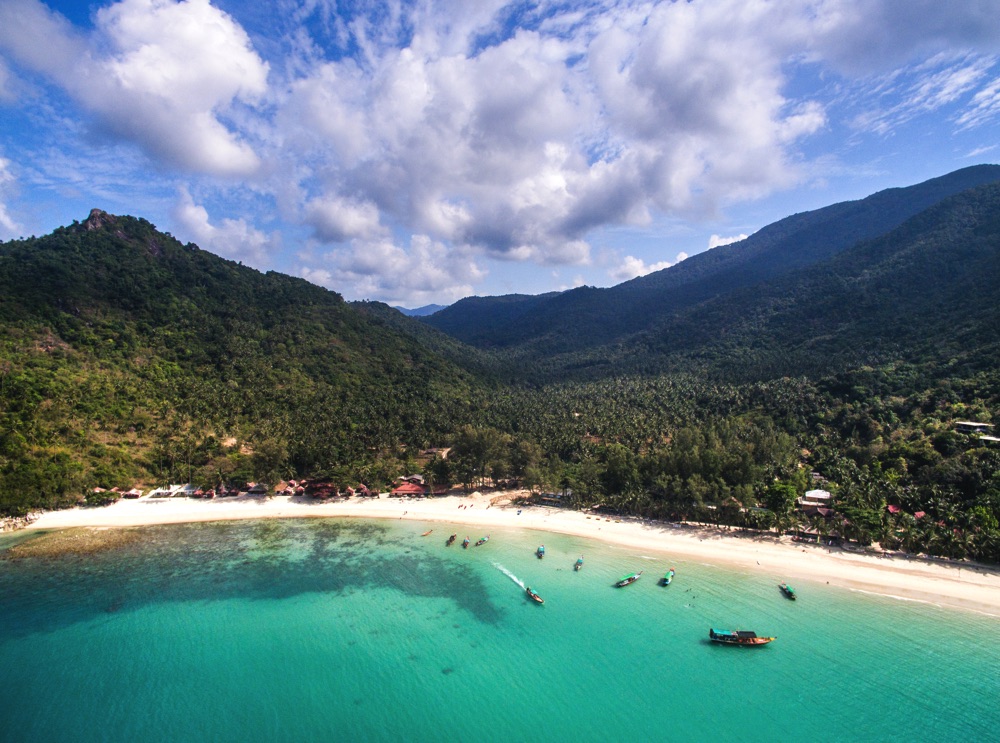 ☞ SEE ALSO: Backpacking Thailand – The Ultimate Travel Guide
12. Learn How To Cook Thai Food
Want to impress your friends at your next dinner party? Learn to make Thai food. Seriously, it works. Have a look at this highly-rated Thai cooking class run by a local woman. You'll visit the organic farm and see where all of the ingredients you'll be cooking with come from, then learn how to make traditional Thai dishes. Best of all, you get to eat everything you make at the end.
Where: Meet at Pantip Market, Thong Sala
When: Check the schedule
How: Check availability and sign up here
Cost: $53 for a half-day class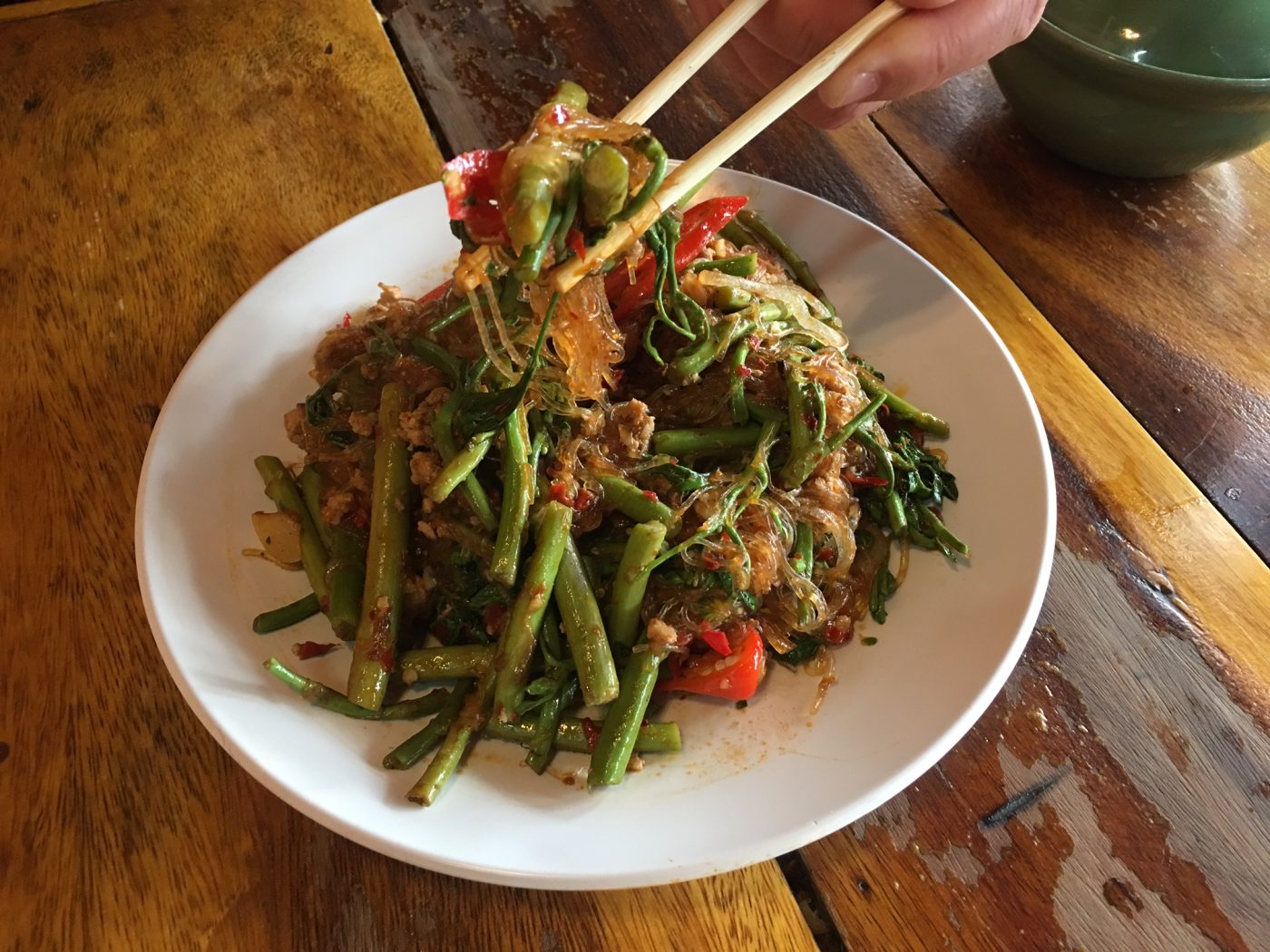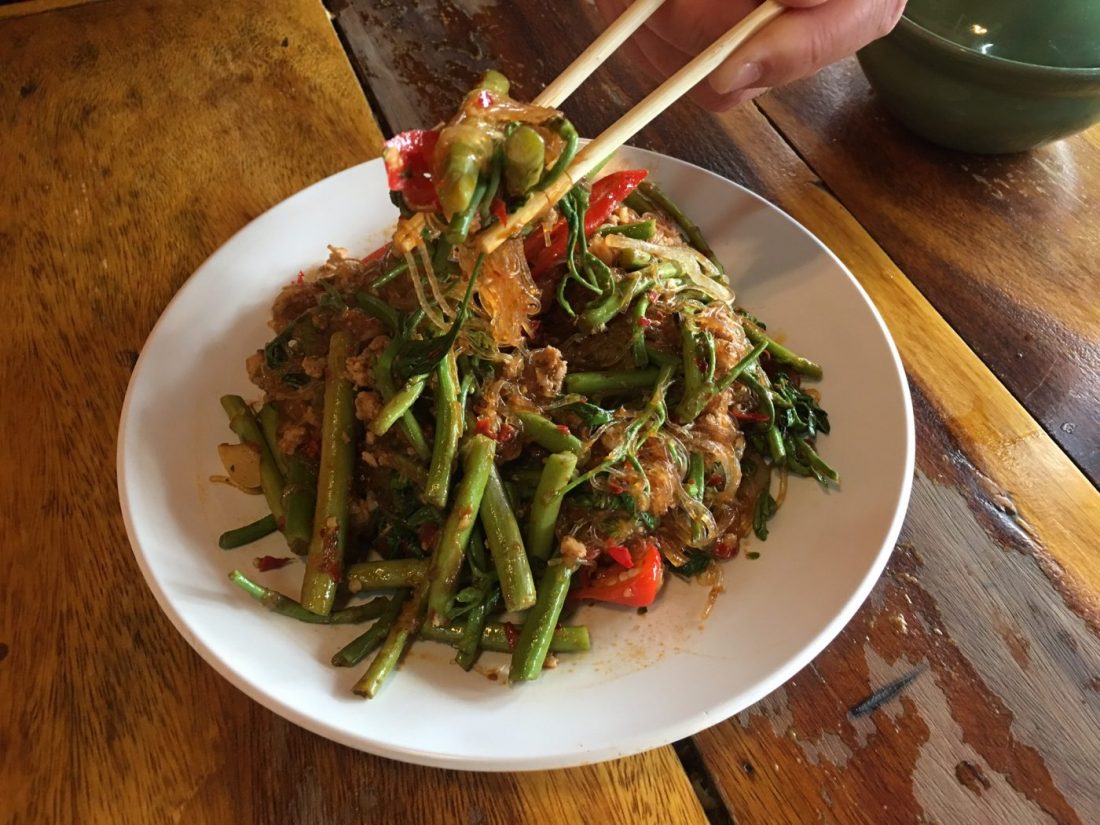 13. Hire a Bike and Explore The Island
Most people who hire motorbikes on Koh Phangan will live to tell the tale. However, there are some who think wearing a helmet is uncool and speeding around corners is fun. These people get injured. Do not be one of these people.
I've rented a motorbike many times, always worn a helmet and driven cautiously and never had any issues. If you're safe and you drive sensibly, hiring a motorbike will be one of the best things you do in Koh Phangan. It gives you the freedom to explore at your leisure and stop whenever you see something interesting.
Speaking of renting a motorbike, the Mae Hong Son Loop is a popular, beautiful journey you won't want to miss.
Another fun option is to rent a bicycle and join this day half-day trip with a guide. Bikes, snacks, water and a guide are included in the fun day trip. Click here for details.
Where: There are rental places all over the island
When: Year-round
How: Hiring a motorbike is easy but you may need to hand over your passport as a deposit (try your best to not do this). Make sure you take photos of the bike before you ride it in case they try to blame you for any dings the vehicle already had. Don't ride without insurance either. Click here to join a half-day cycling trip.
Cost: 150 Baht/$5 per day for a motorbike.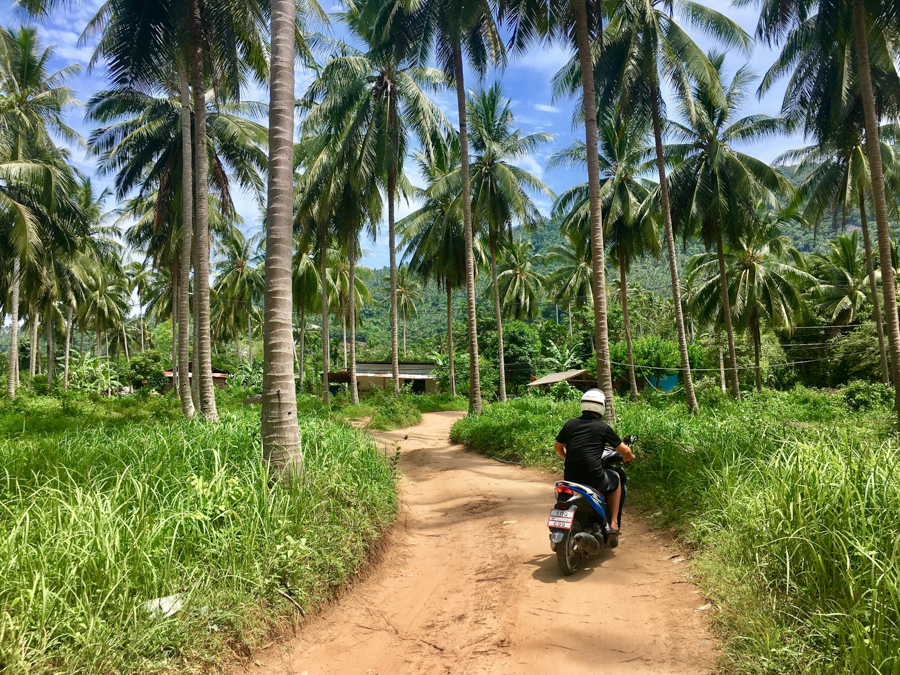 14. Detox at The Yoga Retreat
After running around the island, taking in all the things to do in Koh Phangan, a detox is very much in order. The Yoga Retreat is hidden away in the jungle and offers retreats ranging from a week to a whole month.
During your retreat, you will spend hours meditating, doing yoga, and feasting on vegan cuisine. If you don't have time for a full-blown retreat, the Yoga Retreat also offers drop-in yoga classes.
Where: In the jungle, ten minutes from Haad Salad Beach
When: Every day
How: Taxis are your best option
Cost: 300 Baht/ $9 for a drop in class
☞ SEE ALSO: Top 10 Foods To Try in Thailand
15. Relax in The Baan Tai Herbal Sauna
If you went a bit too hard at the Full Moon Party, you can get all of those toxins out of your body by sweating for an hour or two in the herbal sauna. They also do massages here if you want a bit of extra pampering.
While most think the only things to do in Koh Phangan involve partying to some degree, Koh Phangan also offers tons of ways to relax and is actually a popular place for retreats.
Where: Wat Pho Temple, Baan Tai
When: Every day from 2pm-9pm
How: Taxi
Cost: 100 Baht/ $3
16. Feast On Seafood at Milky Bay
Where better to feast on seafood than on a tropical island? Situated on the edge of a white sand beach and boasting a pool looking out over the sea, this is the very definition of food with a view. Milky Bay is perfect for peaceful dining in the glorious sunshine, and is one of the best restaurants on the island.
Where: Baan Tai
When: Every day
How: Taxi
Cost: 500 Baht/$15 for food and a drink
17. Get a Massage
What better way to nurse your post-Full Moon Party hangover than by being kneaded like dough by a deceptively strong Thai woman? Prepare yourself, these massages are hardcore and at points, you feel like you're being folded up like origami.
But, the pain is worth it for the light and limber feeling you get afterward. I always get a massage when in Koh Phangan, it's a must-do.
This isn't just one of the top things to do in Koh Phangan, it's one of the best things to do in Thailand in general! Don't leave without getting one.
Where: All over the island
When: Anytime
How: No need to book for most places, just walk in
Cost: 300-1500 Baht/$10-45 for an hour depending on the quality of the establishment (street masseurs will charge a lot less than those in proper salons)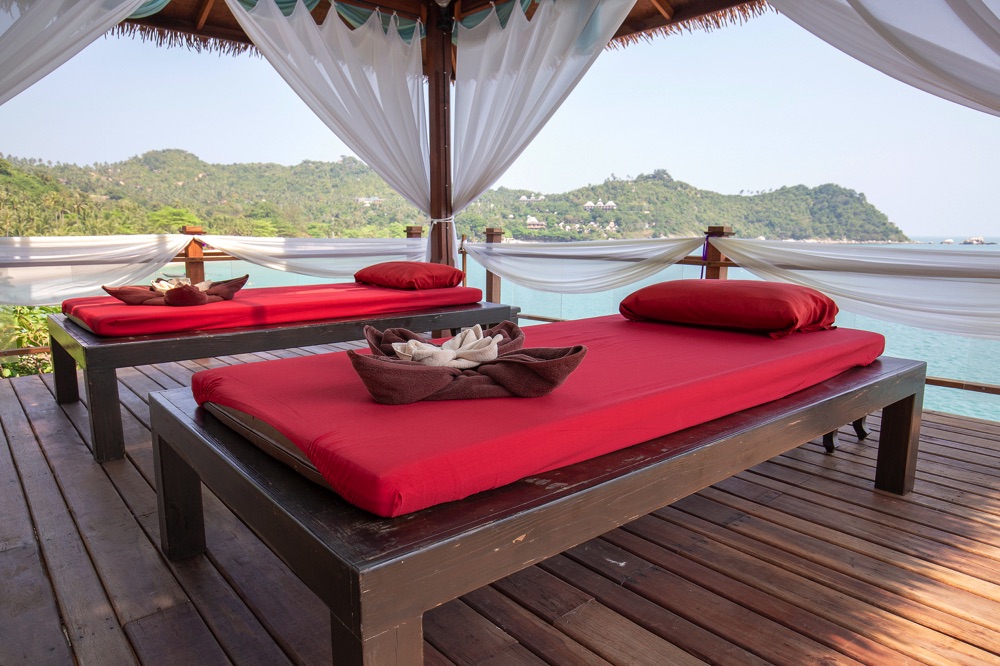 ☞ See Also: Ayutthaya Historical Park – The Ultimate Travel Guide
18. Meditate With Phra Olarn
Experiencing mindfulness and connecting with yourself on a deeper level can really make a difference to the state of your mental health. Phra Olarn uses special breathing techniques and walking meditation to enhance wellness and peace of mind. Whether you've meditated before or not, this is definitely worth trying out.
Where: Wat Samai Kongkha
When: Every day
How: Taxi or walk from Salad Beach
Cost: 30,000 Baht/$930 for a 7 day mindfulness retreat
19. Sunbathe On Thong Nai Pan Beach
Thong Nai Pan is exactly what you would expect a beach on a Thai island to look like. Pearly white sand, lush, swaying palms, and turquoise water that glimmers under endless sunshine. Grab yourself an ice-cold drink and while away the hours as you get your tan on.
Where: On the Northeast Coast
When: Every day
How: Stay in Panburi Village and go from there
Cost: Free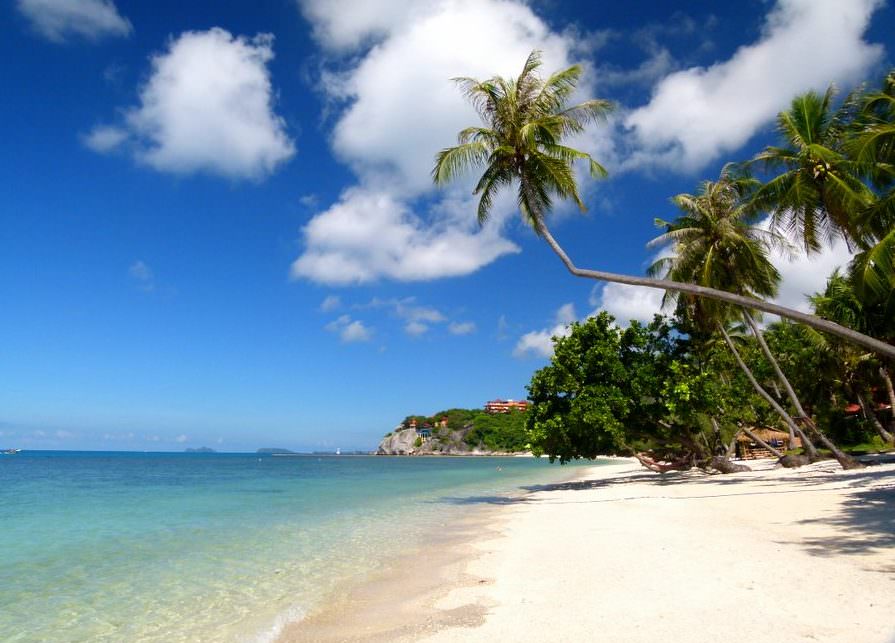 20. Snorkel At Mae Haad Beach
Snorkelling is definitely one of my favourite things to do in Koh Phangan. There's a lot going on in the water around the island and lucky snorkellers will have the chance to admire tropical fish, coral, rays and other marine wildlife.
Where: North Coast
When: During daylight hours, every day
How: Either bring your own snorkel gear or hire it on the island
Cost: 100 baht/$3 per hour
21. Take a Day Trip To Koh Tao
Think you've done all the things to do in Koh Phangan? Hop in a boat and head off to neighbouring Koh Tao (Turtle Island). Although it may be smaller and quieter than Koh Phangan, there are numerous things to do in Koh Tao to keep you busy…it's also a great spot for chilling out.
Koh Tao offers some world-class scuba diving, and affordable PADI certifications. If you're into diving, a visit here is one of the best things to do in Koh Phangan.
Where: North of Koh Phangan
When: Year-round
How: There are boats that leave regularly throughout the day from Haad Rin and Thong Sala piers
Cost: 400 Baht/ $12
22. See The Waterfalls
Tired of the gorgeous sea? Koh Phangan is home to numerous cascading waterfalls, but make sure you check out Paradise Falls, Phaeng Falls, and Than Sadet, which is an important site for Thai people due to the inscriptions left on the rocks by King Rama VI.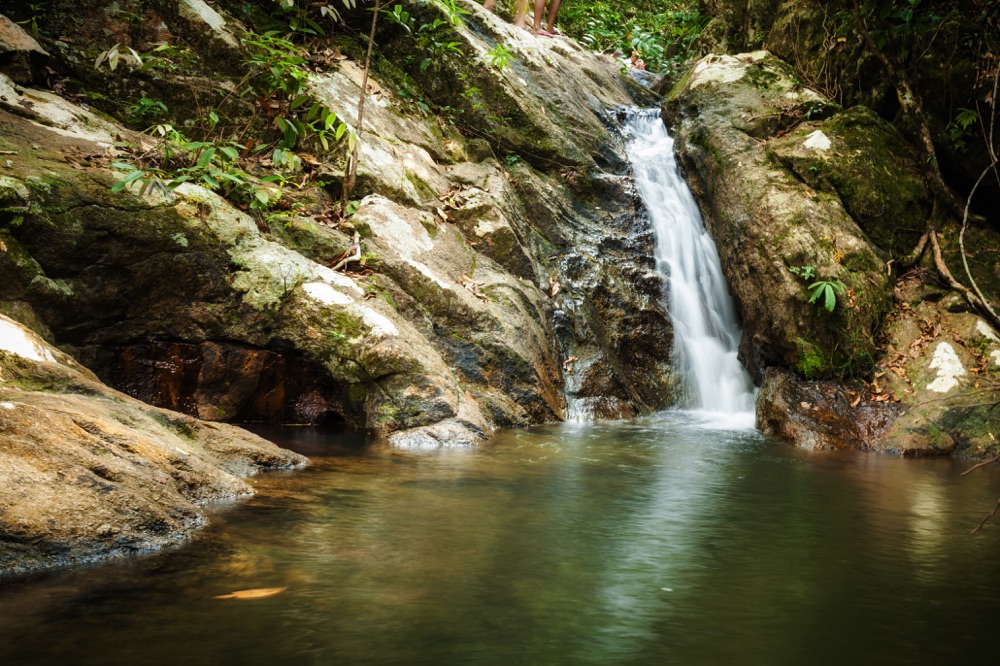 23. Try Kitesurfing
If you've ever wanted to give kitesurfing a go, Koh Phangan is a great place to try it out. AccroKite Koh Phangan is affiliated with IKO (International Kitesurf Organization), so you know you're in good hands!
During the 3-hour experience, you'll learn theory on the beach, discuss the wind, safety, how to set up the kite, and how to fly. Then, you'll enter the water and learn how to manage the kite.
Besides having a good time and learning something new, included in the day are equipment, an IKO experienced instructor, and an IKO license at the end. Click here for more details.
24. ATV Around the Island
Koh Phangan is a jungly, mountainous island, which makes exploring by ATV all the more fun! This is a unique thing to do in Koh Phangan and a great way to explore the island.
The adventurous tour is fun for all levels. Rip around off-track dirt tracks, pull up to amazing lookout points to see the ocean, and enjoy the lush jungle. Included in the trip is a guide, equipment, water, and insurance. Click here for details.
25. Full-Day Road Trip Adventure
A great way to see the whole island and explore the beautiful nature (beaches, jungle, mountains), is by joining a day trip.
On this group tour, you'll check out the best beaches on the island, natural swimming pools and waterfalls, go snorkeling, and have sundowners at a beach bar. Roundtrip transfers between Haadrin and Thong Sala are included. Find out more about this budget-friendly activity in Koh Phangan, here.
If you'd rather enjoy a day on the island with your own group of friends, you and your partner, or simply by yourself, you can check out this private tour instead. You can customize your itinerary and have a driver and an air-conditioned vehicle at your disposal all day! Click here for details.
Where to Stay in Koh Phangan
Here are some top hotels, hostels & B&B's in Koh Phangan.
Budget
So Good Haad Rin Hostel – rated "Superb" 9.1/10. This is one of the highest-rated hostels on the entire island. People love this place. It's all dorm room accommodation but they have female and coed dorms and they're all super clean and comfy. The place also has a fun vibe to it. Click here for details.
Coral Bungalows – rated "Good" 7.2/10. The budget bungalows are around $10 per night and they harken back to Thailand of old. Basic comfy bed with a nice window, close to the beach. There's also an onsite pool. What more can you ask for? Click here for details.
Alcove Bungalow – rated "Superb" 9.1/10. This property is located on the west coast of Koh Phangan. Although it's in a bit more secluded area, there are bicycles and motorbikes for rent, day trips can be arranged, and you'll find water sports like snorkeling and SUP. There's also an onsite restaurant serving Thai and French cuisine. The bungalows here are tastefully decorated and offer air-conditioning and ensuite bathrooms. Click here to learn more and book this accommodation.
Midrange
Castaway Beach Bungalows – rated "Superb" 9.4/10. If you're looking for a chilled-out place to stay, which is located right on the sand, then check out these beach bungalows! The wooden bungalows offer amazing views, a 4-poster bed, a fridge, a balcony and a hammock. Next door you'll find a funky beach bar – great for meeting other travelers. Click here to learn more and book this bungalow.
Le Divine Comedie Beach Resort – rated "Very Good" 8.5/10. Located just 8 kilometers from Haad Rin Beach, this property offers affordable luxury. There's an outdoor infinity pool and an onsite restaurant serving up Thai and Burmese food. Each of the rooms are uniquely designed and offers private balconies, air-conditioning and a minibar. Click here to learn more and book this accommodation.
Top End
Panviman Koh Phangan – rated "Fabulous" 8.7/10. This place is something out of a dream! For around $100/night, you can enjoy this luxurious retreat overlooking Thong Nai Pan. There's a spa, infinity pool and 2 beachfront restaurants. The modern, superior double rooms offer a sea view, private balcony, air-conditioning and much more. Click here to learn more and book this accommodation.
Ready for Koh Phangan?
Touching down in Thailand for the first time is an experience unlike any other. From the second you leave the airport in Bangkok, you are swept up in a cacophony of color and noise. It is exciting and new but also a little overwhelming. Koh Phangan offers some respite from the 24/7 chaos of the capital.
Koh Phangan may be buzzing with energy, but it also has peaceful enclaves where you can escape the world for a moment. It offers a mixture of natural beauty and adventure opportunities and combines serenity with adrenaline. It's a curious and unique place that you'll just have to discover for yourself to truly understand.
Some images in this post are courtesy of Shutterstock. Check them out for royalty-free images and videos.
---
Goats On The Road Recommended Resources For Koh Phangan, Thailand
✓ There are so many adventurous things to do in Koh Phangan. It's important to make sure you have adequate travel insurance before embarking on any trip, but especially one where you'll be partaking in outdoor activities such as snorkelling, diving, kayaking, hiking, etc.. World Nomads covers almost all adventurous activities that you can think of. Click here to get a free quote and learn more about this popular travel insurance.
✓ We recommend purchasing eco-friendly products for your stay in Koh Phangan. We're personally trying to reduce the amount of single-use plastic that we use, and encourage you to do the same during your travels.
To avoid purchasing plastic water bottles while in Koh Phangan, consider buying a water bottle with a built-in filter such as LifeStraw or GrayL, or get yourself a Steri-Pen. In terms of utensils, this bamboo set is great for picnics on the beach, while these glass or metal straws are perfect for cocktails, fruit juices or a glass of water. Say no to straws and plastic utensils, bring your own.
✓ There are numerous affordable places to stay in Koh Phangan. Goats On The Road uses and recommends Booking.com due to their excellent prices, and cancellation options. We also frequently use Airbnb when we want to book a short-term apartment. Click here to search for accommodation in Koh Phangan on Booking.com.
Like This Article? Pin it!