When it comes to places to see in Greece, the idyllic island of Mykonos is at the top of most travelers' lists.
Known for its whitewashed blue-roofed homes, this island has reached worldwide fame and has become a hotspot for jet setters, honeymooners, and party-goers.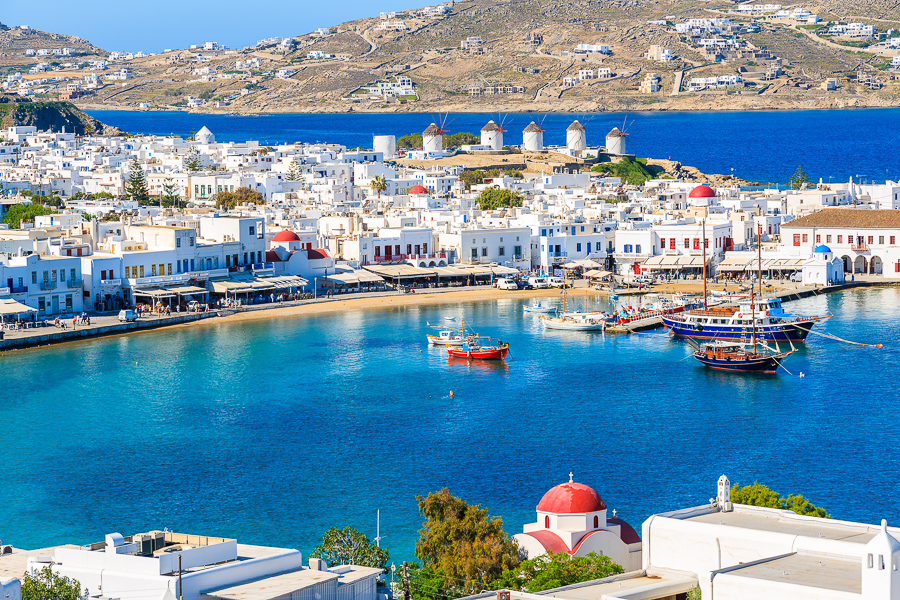 There are around 200 islands in the Cyclades, with Mykonos being one of the most popular — for good reason.
There's something for everyone on Mykonos island and (if you want) it's definitely possible to escape the crowds and parties. In fact, on this list of things to do in Mykonos, you'll only find one party-related item!
Best Things To Do in Mykonos, Greece
The villages across this Cycladic island are a labyrinth of narrow streets and alleyways, which were used as a way to confuse pirates.
Its stunning coastline is perfect for sipping wine while taking in the golden sunset, and its rocky landscape and mountainous roads are great for ATV and motorbike trips. Mykonos is one of the best islands to visit in Greece, and in this guide, I'll cover 21 of the best things to do in Mykonos you won't want to miss.
See Also: The Ultimate Greece Travel Guide
1. Visit the Windmills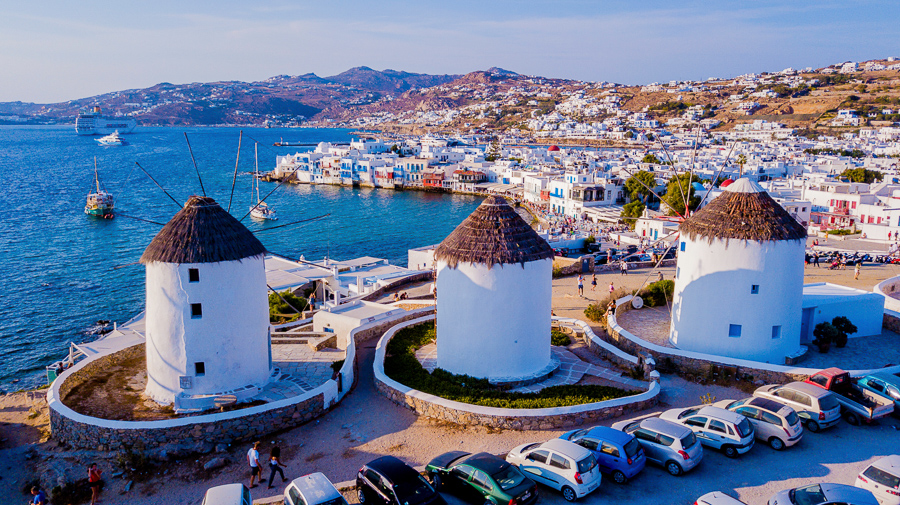 Sitting on the coast just outside the neighborhood of Little Venice in Mykonos Town lie these white and brown windmills.
Throughout history, Mykonos was known across Greece for its wheat production. During its height, there were over 20 windmills spread around the island, each one vital for its production and the island's economy.
Today there are only seven windmills left, and these remnants of a not-so-distant past have transformed into one of the island's most iconic sites.
The best thing about these windmills is that they are free to visit, are great for photos, and are one of my favorite spots to watch the sunset. Or, check out this half-day trip which takes in the windmills.
Address: Mpaoumi, Mikonos 846 00, Greece. Click here to find the windmills on the map.
2. Day Trip to Delos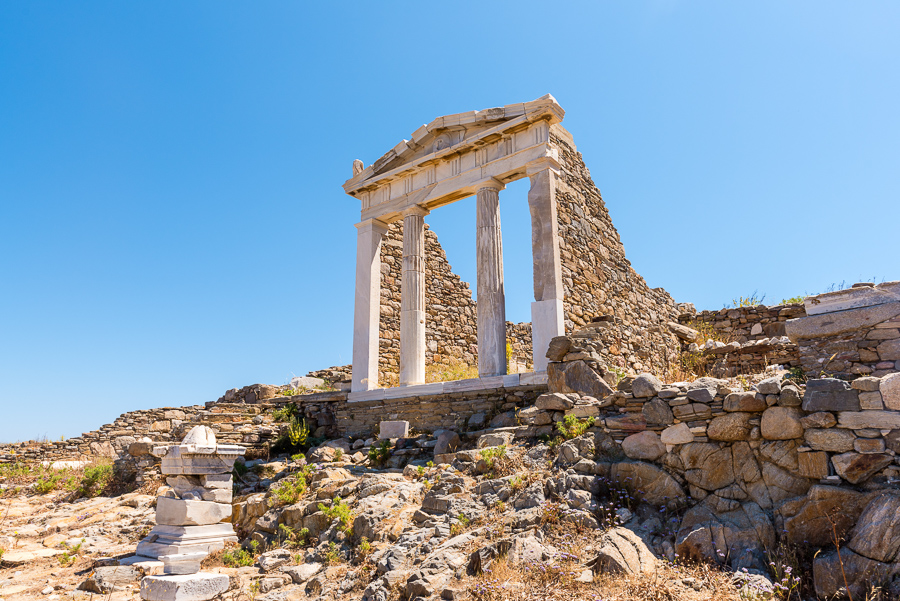 This tiny island is not only scenic but also plays a vital role in Greek history and mythology. Delos is the "Delphi" of the Cycladic Islands and was a major religious spot in ancient Greece.
On the island shrouded in brush, there is a large palm tree that marks the only fresh water on the island. Plus, this is where the Titan Leto gave birth to Apollo.
Today, there are ruins of various temples scattered around that cover a range of different eras. There's also a museum that showcases a vast amount of achronological and religious finds.
Personally, my favorite thing to do is to climb to the top of the largest mountain. This short (but intense) hike gives you a spectacular view of every corner of Delos as well as a great view of the Aegean and the nearby islands.
Delos is just a 30-minute ferry ride from Mykonos, making it one of the best day trips you can do. Click here to learn about the highly-rated tour which includes the ferry, entrance ticket, and guide.
3. Explore Little Venice (one of the best things to do in Mykonos)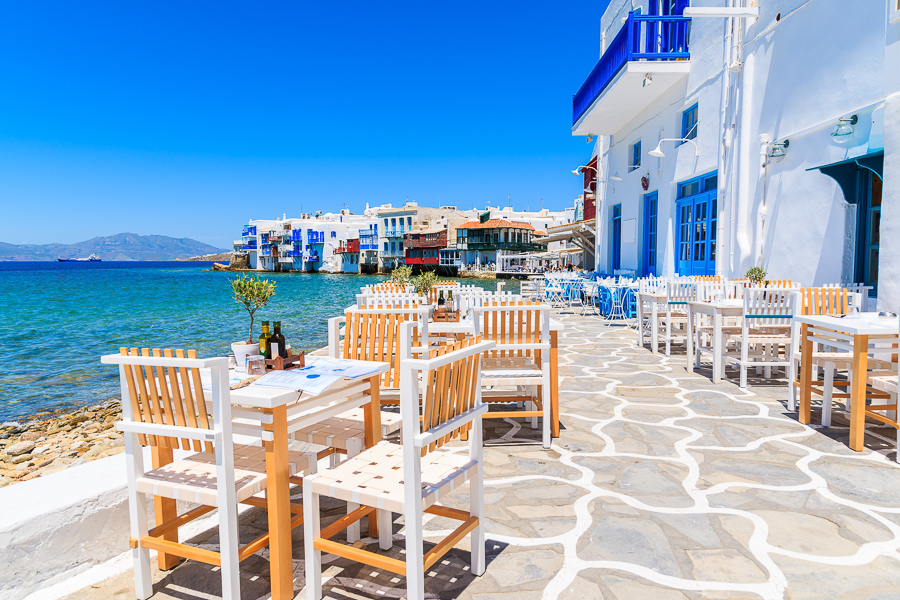 The most famous neighborhood on Mykonos is commonly known as Little Venice.
Located in the town of Mykonos, what makes little Venice so appealing (besides its beauty) is that there's something for everyone here.
The area is perfect for taking photos, enjoying meals at small intimate restaurants (many of which are built in former sea captain's houses), souvenir shopping, and sipping on drinks at one of the bars.
This scenic section of the town lies along the southwest part of the harbor and is one of the best places to visit in Mykonos. Click here to find Little Venice on the map. Or, have a look at this fun half-day trip which includes Little Venice.
☞ SEE ALSO: 15 Best Things To Do in Santorini
4. Scuba Dive at Paradise Reef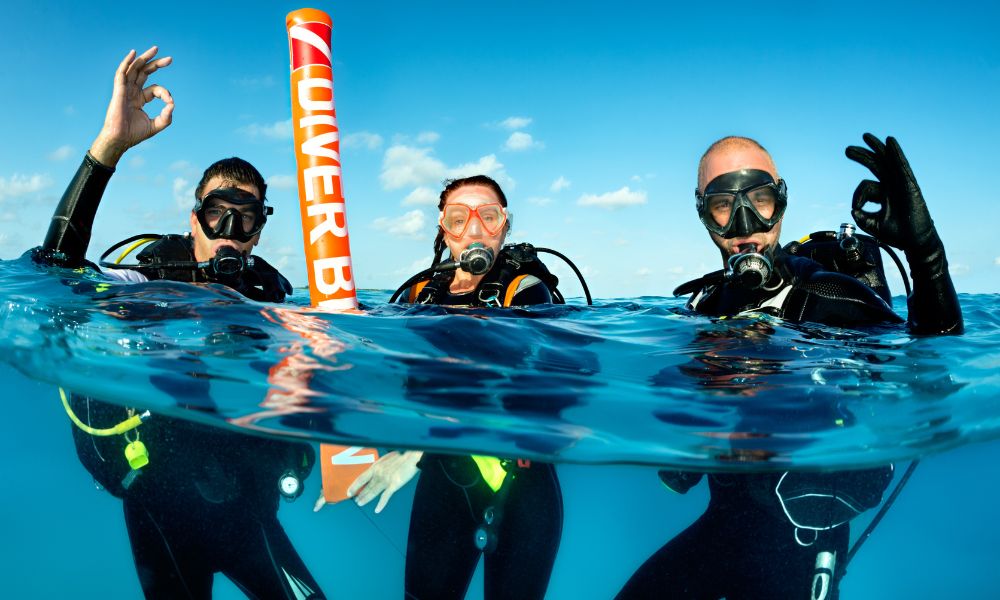 There is much more to the island than rocky hills and white houses.
One of the best things to do in Mykonos for any adventure-seeker is to head underwater and explore the wide array of plant and marine life.
Divers are treated to up-close views of barracuda, octopus, starfish, sponges, and more. Go Dive Mykonos Dive Center and the Mykonos Dive Center are good options and offer lessons that range from beginner to expert.
If you'd like to try a beginner dive, click here for details. If you're already certified, click here to book a dive.
The prices tend to vary according to the season and type of classes you want, but a fun dive costs between 100 – 150 euros. Always do your own research before choosing a dive operator.
5. Eat the Local Cusine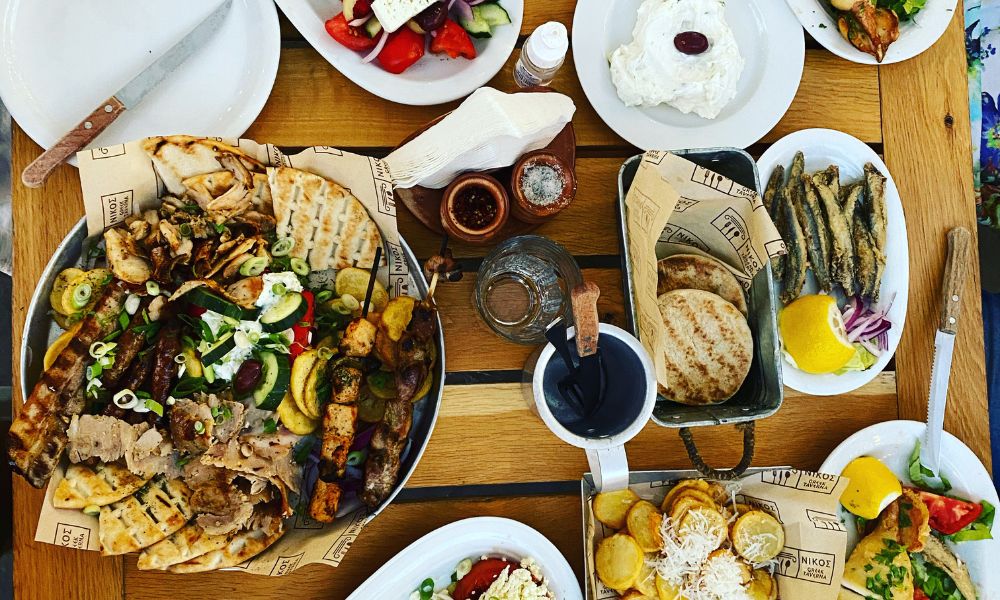 One aspect that gets lost in Mykonos's beauty is the local cuisine. Dining out here is one of the top foodie activities in Mykonos.
This island has a lot of great restaurants and signature dishes that you have to try. My advice is to find a restaurant that merges local delicacies with incredible views of the Aegean.
Food is a little more expensive in Mykonos than in less touristy islands like Naxos, Chios, and Kefalonia. However, you can still get a nice meal for 10 to 15 Euros.
Eating is one of the top things to do in all of Greece, don't miss the tasty local cuisine here. If you're into food and wine, then this 2-hour experience is a great option. Sip and swirl wines at a local winery and enjoy appetizers as you learn about winemaking in Greece. Click here for details.
A few of the island's most essential dishes to try include things like kopanisti, a wonderfully refreshing spicy cheese spread, ksinotiti, the island's famous sour cheese, and louza, which is thinly sliced spicy pork.
I should also warn you that food the Greeks call "spicy" isn't actually that hot.
The Greek diet has very little heat. This is great news for people who can't handle spicy foods, but not so great for those of you who crave some heat (like I do!).
Other foods to try are refreshing salads, fresh seafood, and honey-soaked baklava for dessert. If you're a foodie, dining will be one of your favourite things to do in Mykonos.
☞ SEE ALSO: Top 15 Things To Do in Zakynthos Greece
6. Party at Paradise Beach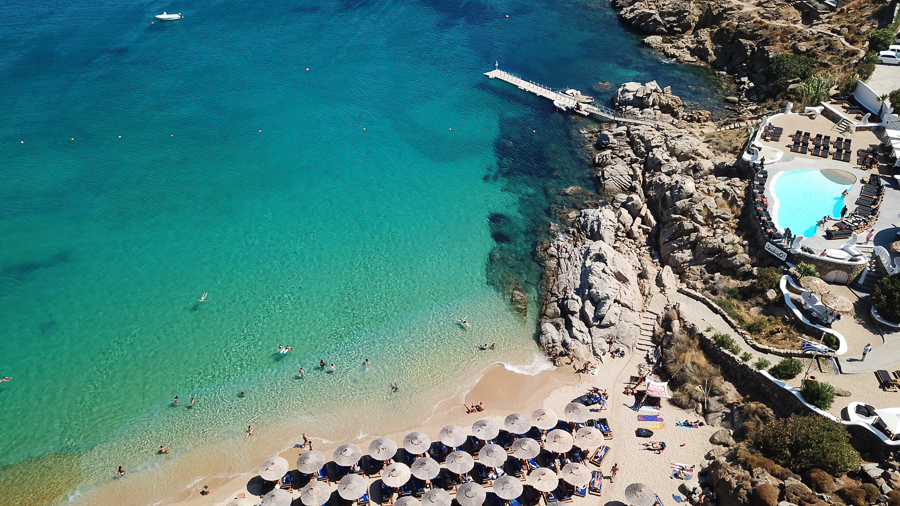 For those heading to Mykonos for nightlife, the major tourist spot is Paradise Beach.
Spread across the towns and beaches are a variety of bars and nightclubs offering drink specials, beach parties, and music.
In the summer months, certain clubs even draw the attention of world-class DJs. Perhaps the best-known club on Paradise Beach is Cavo Paradiso which is often packed with thousands of people during the high season.
It should be noted that because of the enormous crowds of partiers and music lovers, you should book a table in advance.
This area is popular among backpackers and travelers, but don't expect a local atmosphere or prices. Cocktails cost around 14 Euros (16 USD) while beers will set you back at least 7 Euros (9 USD).
7. Visit the Maritime Museum


For thousands of years, the Greeks have had a deep relationship with the sea. Even today the country relies heavily on massive ferries to transport goods, services, locals, and tourists around the islands.
One of the best ways to celebrate this history is at the Aegean Maritime Museum.
Here you can see relics and replicas that date back to prehistoric and ancient Greece as well as today's world. There are fun things to check out, such as maps, coins, and statues.
It is worth a visit to learn more about some of the most quintessential parts of the country's history. The museum is open from April – October, 7 days a week from 10:30am – 1:00pm and again from 6:30pm – 9:00pm. The entrance fee is €4.
Address: Enoplon Dinameon 10, Mikonos 846 00, Greece. Click here to find it on the map.
☞ SEE ALSO: 15 Things To Do in Corfu You Don't Want to Miss
8. Go On a Bike Tour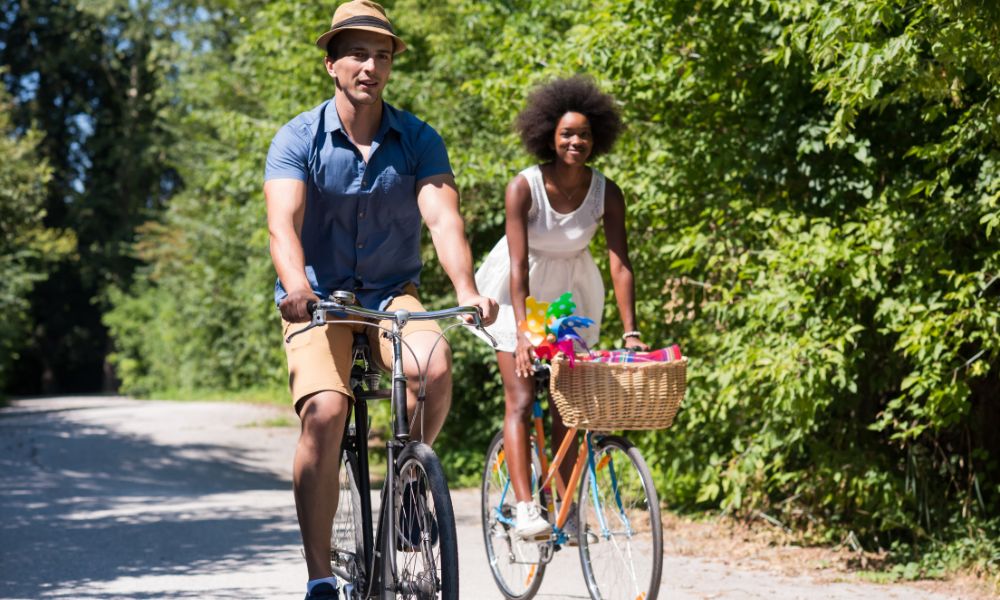 I always think bikes are one of the best ways to explore a new area, and biking around Mykonos is no different.
Mykonos is a mountainous island, so it is wise to book a tour that's familiar with the variety of routes around the island. One company to check out is Yummy Pedals.
They have different routes that cover all skill levels, and you'll visit some off-the-beaten-track sites, beaches, lookouts, and churches. If you're wondering what to do in Mykonos to get some exercise, this is a great option.
And, if you're looking for things to do in Mykonos for couples, check out this bike trip which includes a romantic private picnic at the beach.
☞ SEE ALSO: Rhodes Greece – A Complete Travel Guide
9. Chill Out on Stunning Beaches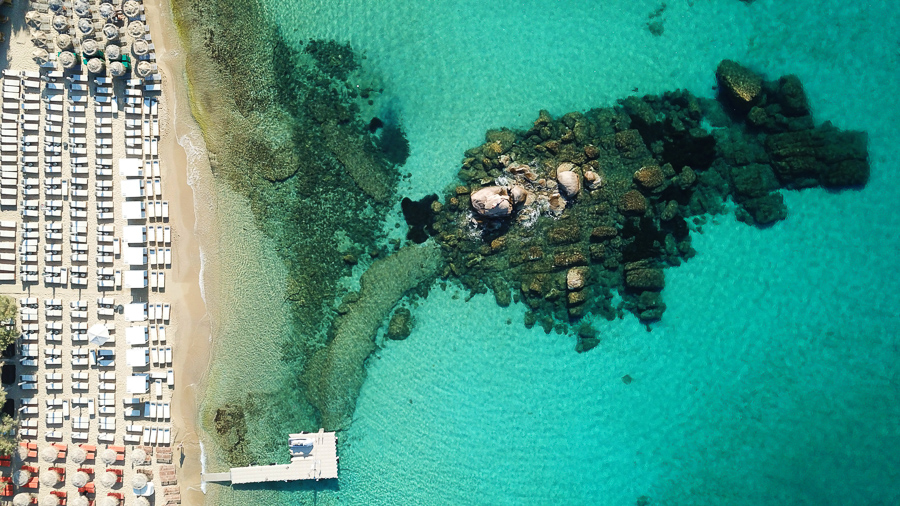 Greek beaches are beautiful, so it's no surprise that one of the major appeals of Mykonos is the array of diverse beaches spread around the island.
Perhaps the most gorgeous beach is Paraga, which has stunning waters, soft sand, and beachside bars. Sadly, all this beauty comes at a price as it's one of the most crowded beaches on the island.
Another famous beach is Psarou Beach, which is worth visiting for the light blue water, incredible bay, and activities such as snorkeling and scuba diving.
Keep in mind that you will be sharing this beach with a lot of other locals and travelers.
Elia Beach is the longest on the island, and less crowded — although it's popular among surfers and nudists. During the summer the beach draws DJs and big parties to Elia. A bonus of going to Elia is that it's easy to get to by local bus.
If you are traveling with family, then head to Ornos Beach, which is less than two miles south of Mykonos Town. This beach caters to families and has a lot of fresh seafood taverns, and fun tours in the area.
☞ SEE ALSO: Meteora Monasteries – A Guide to Greece's Mythical Landscape
10. Visit an Organic Farm
If you are a food lover like me and are looking for a unique place to visit, look no further than an organic farm. This is a haven for traditional products such as cheeses, hams, rusks, and of course, wine.
The landscape here is beautiful!
Enjoy fantastic views of the hills and vineyards that surround you. Even if you're staying somewhere more central on the island, it's worth traveling here to learn about traditional food and explore the farm.
This farm offers an exceptional experience that will only enhance your time on Mykonos. The organic farm lies just outside the village of Ano Mera.
If you've rented a car, you can visit here yourself. But, if you plan on sampling wine and would rather have transportation and itinerary already sorted out for you, make sure to have a look at this fun trip to the organic farm. The trip includes cooking class, checking out the farm, interaction with animals, drinks and more.
☞ SEE ALSO: 15 Best Airbnbs in Naxos, Greece
11. Day Trip to Rhenia Island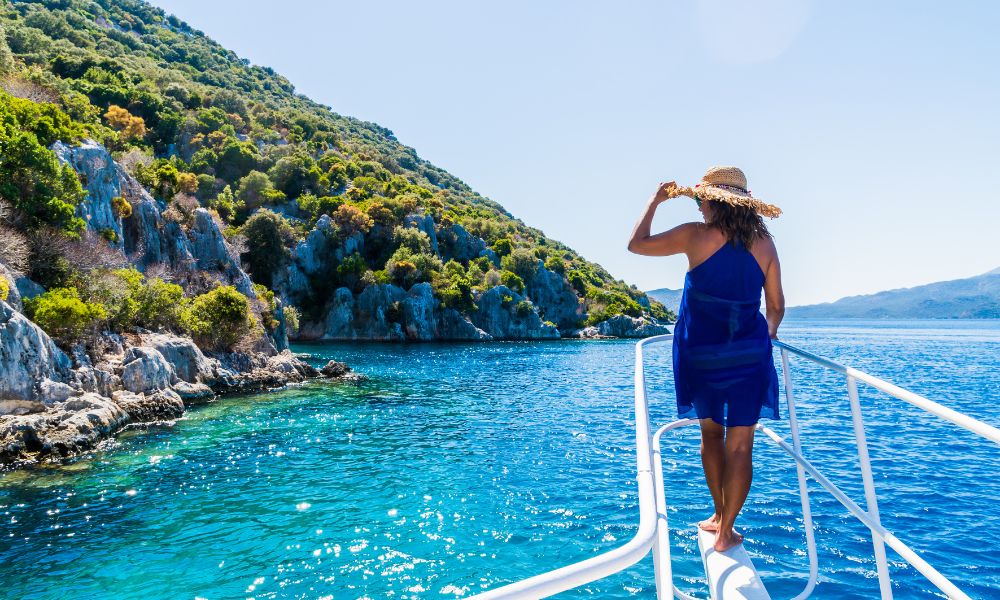 Another great way to see more of the area surrounding Mykonos is to embark on a day tour to Rhenia Island.
The water here is clear and pristine, making it a great place to swim and relax. Getting here is a fun-filled day of sailing, meeting new friends, and taking in the beauty of the Cycladic islands.
There are a lot of day tours that will take you to both Delos and Rhenia, with prices generally costing around $125. The tour typically lasts 6-7 hours and includes a multicourse Greek meal and unlimited alcohol. This is a fun trip and a top activity in Mykonos. Click here to learn more.
☞ SEE ALSO: Weather in Greece – When is The Best Time to Visit?
12. Go Shopping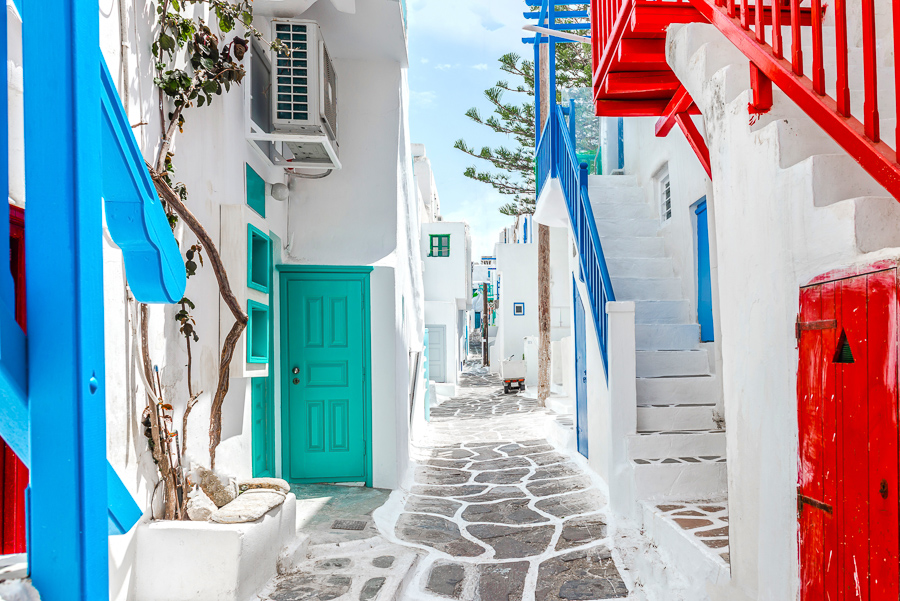 Mykonos isn't just all about beaches, nightclubs, and windmills. It is also a great shopping destination for those looking for handmade souvenirs, international brands, and art. The best place for shopping is Matogianni.
This long little alley is lined with both local and luxury shops, as well as cafes and taverns perfect for grabbing a bite to eat, and a little jolt of caffeine.
While shopping is not up my alley (pun intended) I love this street because it showcases the incredible architecture of the Cycladic islands.
Address: Mikonos 846 00, Greece. Click here to find Matogianni Street on the map.
13. See the Church of Panagia Paraportiani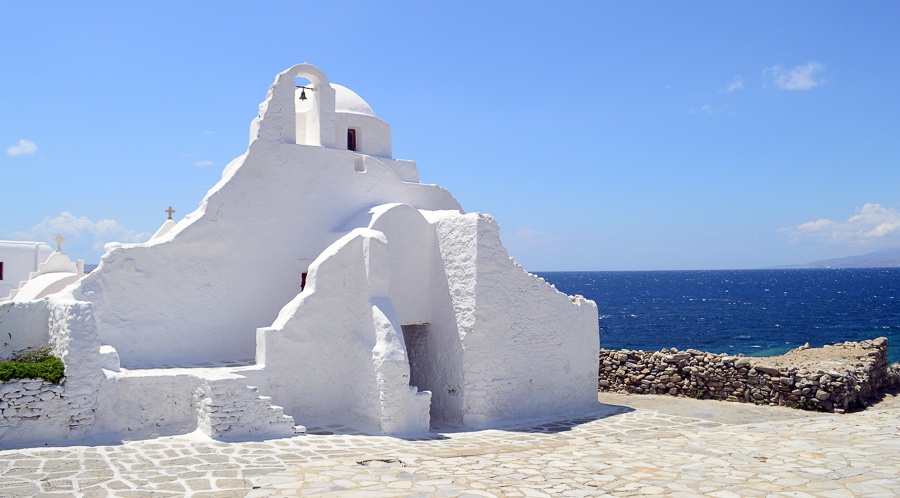 While the whitewashed houses of Mykonos are known around the world, perhaps the most notable building is the Panagia Paraportiani.
This church located in the Kastro neighborhood is one of the most amazing churches in the entire world. What makes it so popular is that it's not just one church.
Actually, it is five small churches built almost on top of each other across several centuries.
In fact, the Panagia Paraportiani isn't even the main church but acts like a dome to the other five churches. If you are an Instagrammer, aspiring photographer, or just looking for a lovely view then this is one place on Mykonos that you simply can't miss.
Address: Χώρα, Mikonos 846 00, Greece. This local icon is located in Chora (also known as Mykonos Town). Find it on the map here.
14. Visit the Old Port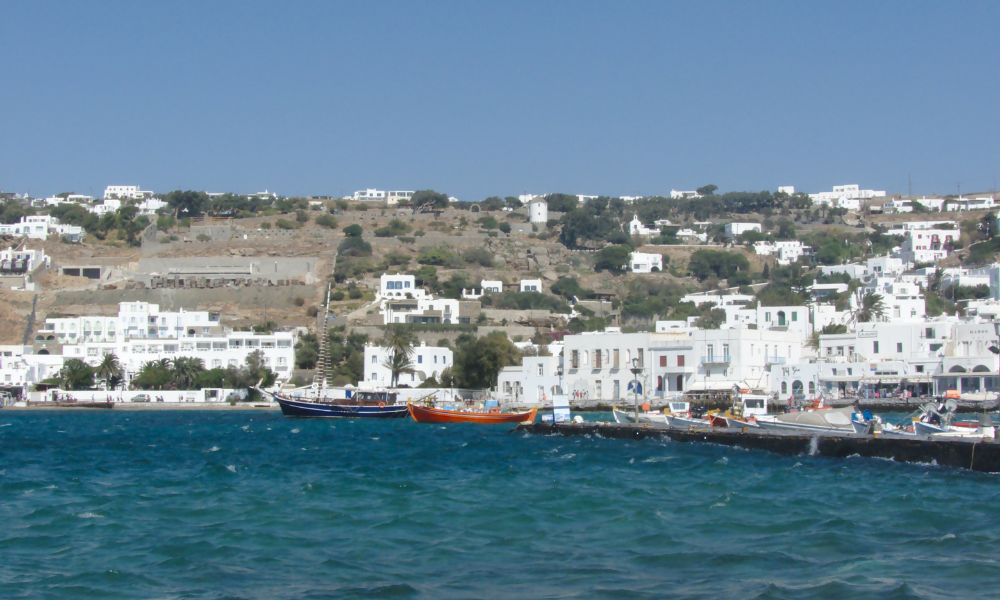 Another area worth walking around is the old port in Mykonos Town.
What I love about this area is the maze of alleys, friendly locals, and family-run shops. This area was once the major port of the island, but since the newer port has opened this section of the city has all but been forgotten.
Now the old port is only reserved for fishermen and smaller boats. It's a great place to people watch and gives you insight into local life away from the touristy streets.
Address: Unnamed Road, Mikonos 846 00, Greece. Find it here on the map.
☞ SEE ALSO: 27 Amazing Things To Do in Athens
15. Check Out The Folklore Museum
After snapping all your Instagram photos at Paraportiani Church head to the nearby Folklore museum. You will find it in the rarely visited Kastro neighborhood.
The Folklore Museum is about what you would expect — it's a tribute to the island's history, both old and new. Inside the museum, you will find both traditional and historically significant pieces of Mykonos history.
It covers a lot of ground displaying everything from photographs to ancient tools. The museum has split hours meaning it is closed in the afternoon for the Greek siesta. It is open from 10:30 am until 2:00 pm and from 5:30pm to 8:30pm. Entrance is by donation.
Address: Μύκονος 846 00, Greece. Find it here on the map.
16. Visit Ano Mera Village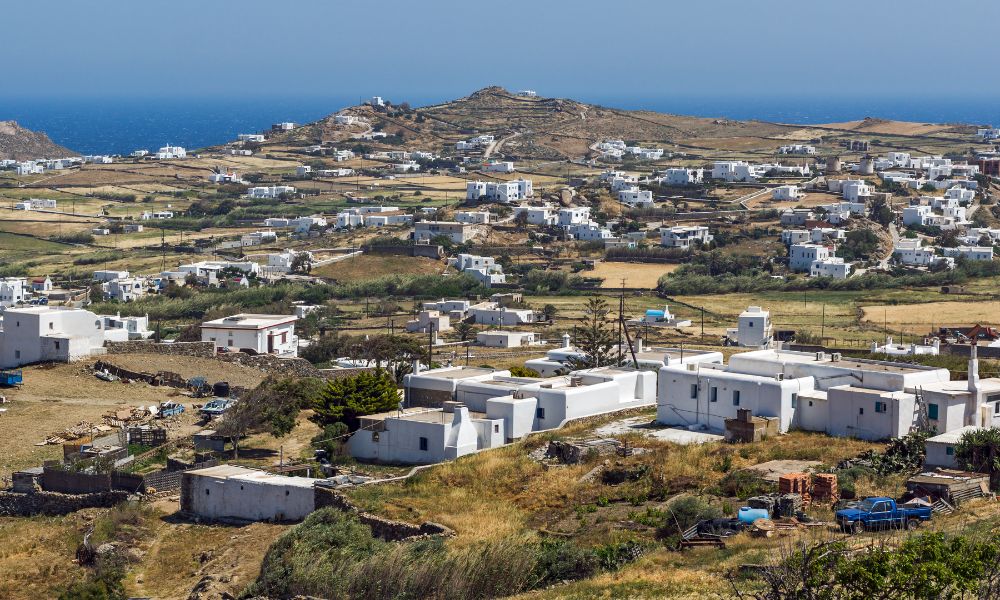 Ano Mera is one of the oldest villages on the entire island so you might find it surprising that it is so rarely visited by other travelers (other than those stopping by to take photos at Paleokastro Monastery).
It's worth some time to walk around and explore the village, enjoy the peace and quiet, and check out the other sites in the area.
Strolling around here is one of the best things to do in Mykonos to get away from the crowds. You can reach Ano Mera by local bus or taxi. Or, you can join this fun day trip which takes in Ano Mera as well as other highlights around Mykonos.
17. Visit the Monastery of Panagia Tourliani
Another site to visit in Ano Mera is the five-hundred-year-old monastery of Panagia Tourliani. Recently restored (at least in historical terms) this monastery has an impressive design. The marble fountain sitting in the outside courtyard is also a notable site.
The inside of the monastery is equally impressive with remarkable woodwork, fire bells, vestments, and more. It's open every day from 9:00 am to 1:00 pm and from 2:00 pm to 7:30 pm.
A great way to visit this Mykonos must-see is to join this half-day tour, which takes in the Panagia Tourliani, a beautiful farm and a beach as well.
Address: Άνω Μέρα 846 00, Greece. Click here for directions.
18. See the Armenistis Lighthouse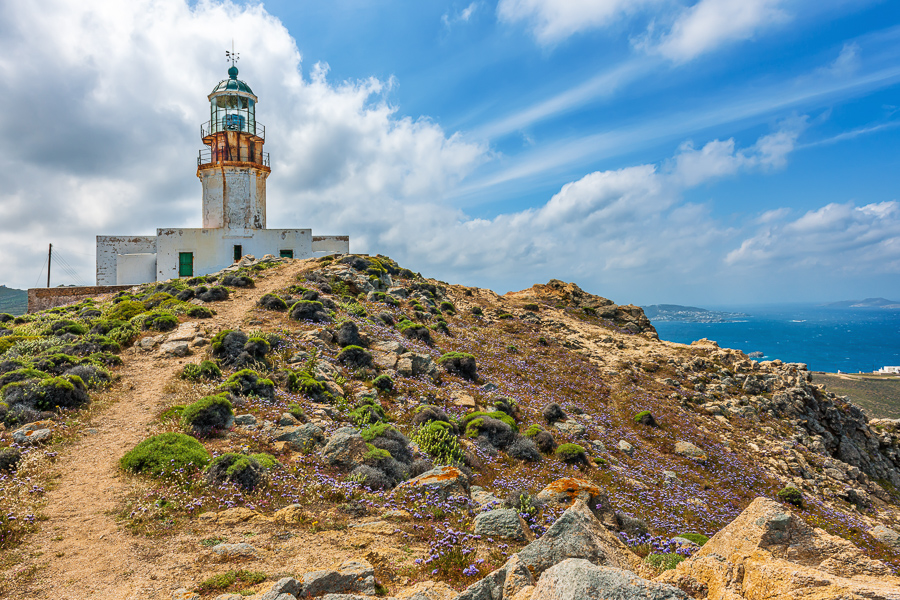 One site that pleases everyone is the Armenistis Lighthouse. As you can tell from the other items on this list of things to do in Mykonos, this island has a rich maritime history.
This lighthouse pays tribute to that history. It was built over 100 years ago in response to a ship that sank off the coast — a wreck in which 11 people lost their lives.
The lighthouse is also built in the perfect sunset spot on the northwest part of the island, around 4 miles (6.4km) outside of Chora (Mykonos Town). From the lighthouse, you can gaze at Mykonos's smaller brother, Tinos.
The lighthouse is loved by photographers, sunset seekers, couples, and solo travelers. It is a perfect spot for anyone to visit. The three ways to get to this lighthouse are by taxi, bus, or hike.
Address: Northwest, Mikonos 846 00, Greece. Find it here on the map.
19. Kayak Around the Island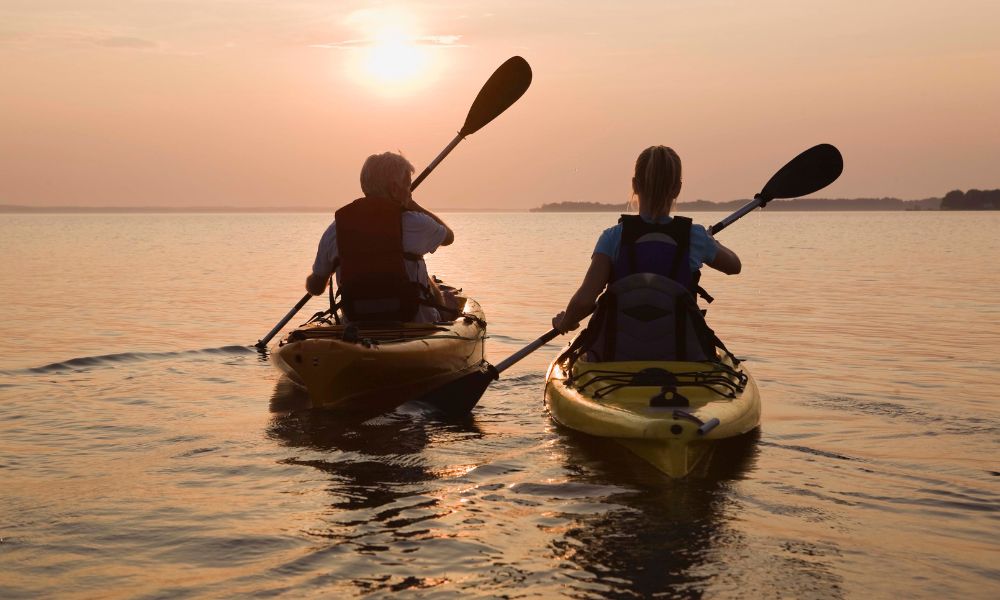 One of the more adventurous things to do in Mykonos is to get a view of the island from the water.
There are some awesome kayak tours around Mykonos that take you out on the sea to experience some of the hard-to-reach sights. Plus, you'll get to enjoy a different (stunning) vantage point of the island.
Mykonos Kayak offers a range of different tours and trips. They also have offices all around the island, and the glassy waters of the Aegean are perfect for a beginner. Tours start at around $100. Click here to learn more about kayaking in Mykonos.
☞ SEE ALSO: 15 Best Things To Do in Crete
20. Enjoy a Mykonos Sailing Tour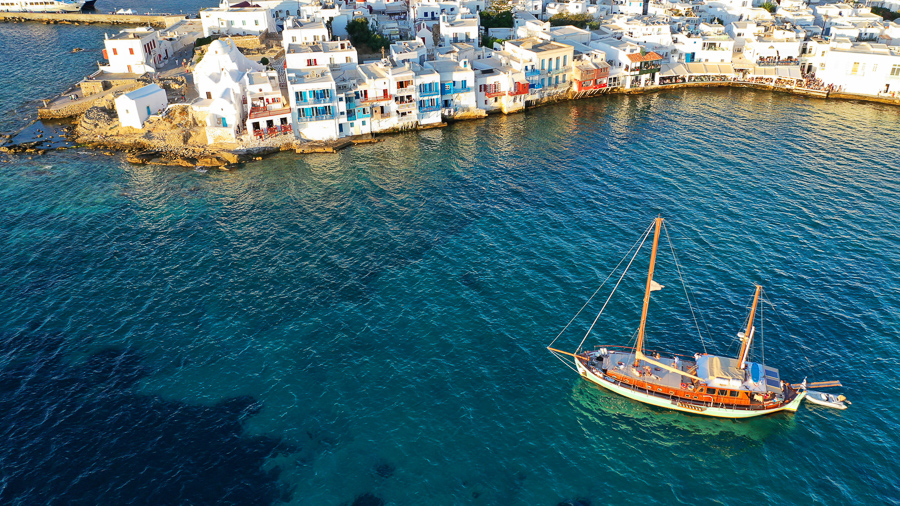 Another fun thing to do in Mykonos is to sail around to the islands of Rheina and the mythical Delos. This highly-rated catamaran trip is a must-do in Mykonos.
Enjoy a day on the water, while stopping in at pristine beaches for a swim and snorkel. The sail also includes unlimited drinks and a fantastic multi-course Greek meal. Click here to learn more about this relaxing day at sea.
Another option is a sunset sail which is one of the most romantic things to do in Mykonos. This gets you away from the crowded beaches to more remote parts of the island. Included in the sunset sail are drinks, food, snorkel gear and more. Click here to book your spot.
21. Experience Summer Festivals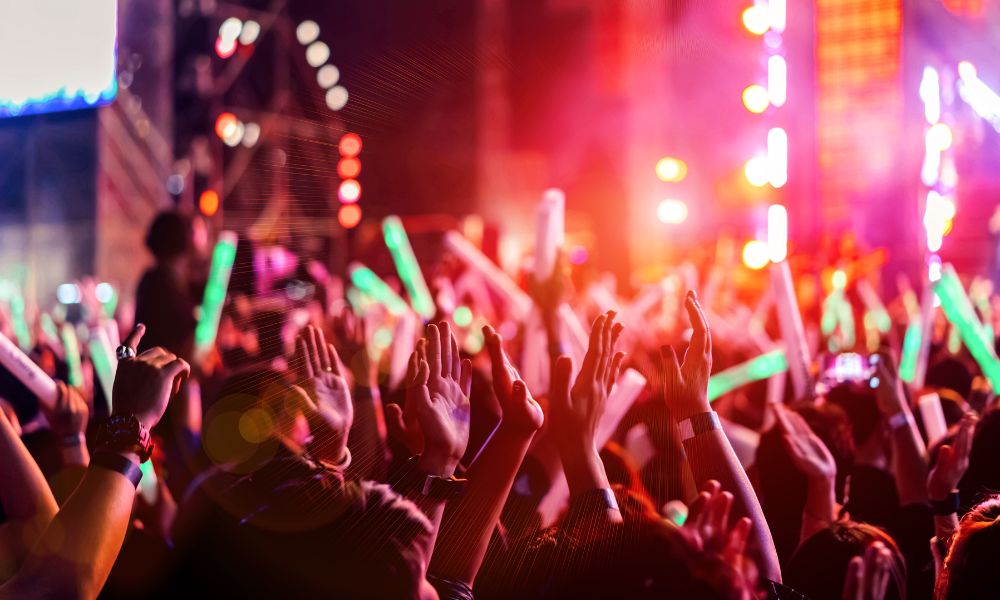 If you time your visit right, you can enjoy a lot of entertainment. July and August are the prime months when Mykonos turns into a non-stop music festival. The beaches, bars, and nightclubs are pumping during these months.
The weather is hot and perfect for sipping cocktails while laying on the beach and listening to live music. The summer festivals draw DJ's and musicians from all over the world. If partying is your thing, don't miss the summer months in Mykonos. Learn about the festivals, here.
More Mykonos Activities
There are so many fun things to do in Mykonos that I had to add a few more to this list.
Brewery Tour (and tasting!)
If you're into craft beer, you'll want to check out Mykonos Brewing Company. This affordable experience gets you a tour of the brewery and you'll learn how to convert ingredients into beer…all while sipping on 5 of the small-batch brews on offer. Find out more here.
Cooking Class
This is one of the top things to do in Mykonos for foodies. If you like spinach pie, tzatziki, pita, stuffed peppers, booze, and meeting new friends, this experience is for you. The cooking class is actually set in the farm estate, giving it a truly authentic feel. Learn more about this highly-rated class here.
Wine Tasting at a Mykonian Farm
This is one of the most romantic things to do in Mykonos — although, you could definitely enjoy this experience with friends as well. Travel to a traditional Mykonian farm in the center of the island and enjoy a wine tasting paired with typical dishes. Sniff, swirl and sip on a variety of wines and snack on local dishes while learning about Mykonos, Greece, and wine from your knowledgeable guide. Find out more here.
Best Things To Do in Mykonos: FAQ's
Some answers to typical questions about traveling to Mykonos.
What is Mykonos Known For?
Mykonos is best known for many things: its vibrant nightlife, being LGBTQ-friendly, the photogenic white buildings of Mykonos town, and shopping.
Is Santorini or Mykonos Better?
This depends entirely on what you want out of your Greece holiday. Santorini and Mykonos both have beautiful white-washed buildings, but Santorini has more picturesque areas. Mykonos has a younger crowd and is known for its nightlife and parties, while Santorini is a more romantic, quiet place that's popular with couples and honeymooners. 

The beaches are better in Mykonos, but Santorini's sunset and views are second to none. Both islands have airports, and both are reachable by ferry from Athens (Santorini takes around 5-8 hours, while Mykonos is 2.5-6 hours depending on the ferry). Search for ferry times and prices here.
How to Get to Mykonos
There are two ways to get to Mykonos, you can fly (Mykonos has an airport), or you can take the ferry. The ferry is cheaper and more comfortable. It takes 3-5 hours to reach Mykonos from Athens depending on which type of boat you book. Search for ferry times and prices here.

The ferry from Santorini to Mykonos takes between 1.5 hours and 3.5 hours depending on the type of boat you book. Search for ferries from Santorini to Mykonos here. You can also fly from Athens airport to Mykonos which takes around 45 minutes. 
Is 3 days enough in Mykonos?
3 days is enough time to see the main highlights of Mykonos, including the beautiful beaches, windmills, and world-class nightlife. However, if you want more time for other activities in Mykonos (such as cooking classes, sailing, winery tours, etc.), you could spend much longer.
Is Mykonos a walkable city?
The center of Mykonos is walkable. You can walk to the windmills, the old port, Little Venice and lots of shops and restaurants. If you want to venture farther out, you can rent a car with Discover Cars, hire a taxi, or join a tour.
Which month is best in Mykonos?
Spring and fall are the best months in Mykonos to avoid crowds but still have nice weather. Summer months are very busy with partygoers, festivals, and vacationers, but the weather is nice and hot. So, it depends on what sort of vibe you want.
Now You Know What To Do in Mykonos
The island of Mykonos offered more than I ever expected. After visiting, it's easy to see why this small island has become so popular among travelers. I hope this list of things to do in Mykonos will help you make the most out of your time exploring this island in the Cyclades.
Like This Article? Pin it!