Pai Thailand is a small town located in Northern Thailand and due to its charm and the many different things to do in Pai, it has become a popular place for travelers.
From visiting waterfalls and hiking the Pai Canyon, to checking out the Big Buddha and exploring by scooter, Pai offers numerous attractions for backpackers, travelers, expats, and everyone in between.
For such a small place, the list of things to do in Pai is huge! This town is growing and so are the many activities available in Pai for travelers. This is definitely one of the best places to visit in Thailand.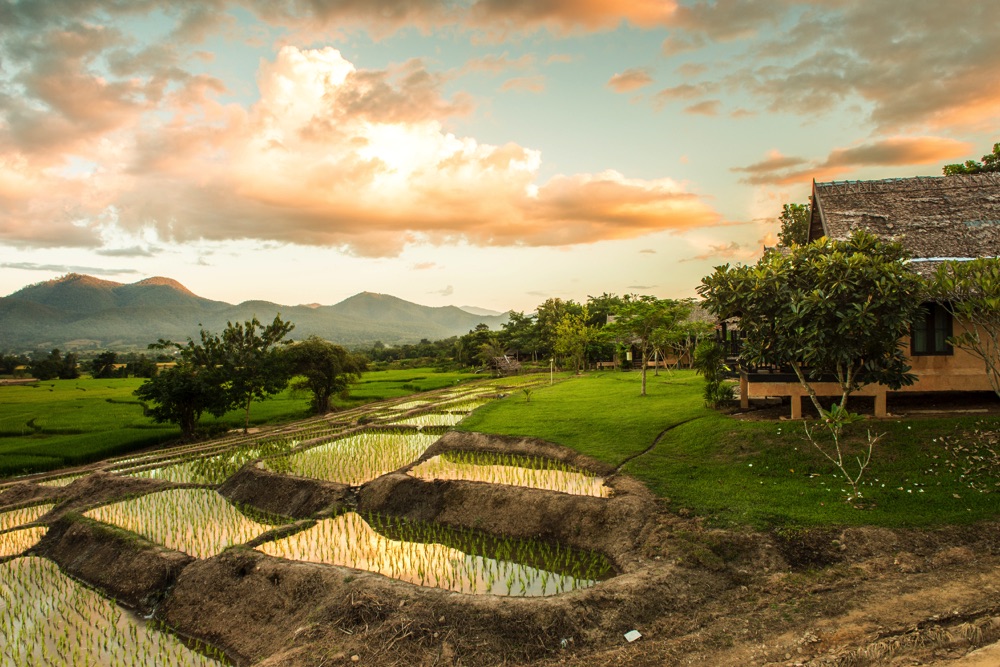 The road between the northern city of Chiang Mai and Pai is an exciting adventure all on its own. In fact, this journey was the main reason I went to Pai in the first place.
But to my surprise, Pai was a town that stole my heart, and I would return to it in a heartbeat. In fact, visiting Pai was one of my Southeast Asia highlights.
Here's a list of the top 21 things to do in Pai you won't want to miss!
21 Things To Do in Pai Thailand
Here's my list of 21 things to do in Pai Thailand after visiting multiple times for extended periods of time. Of course, I did a lot more in Pai than these 21 things, but I've narrowed the list down to what I think are the best attractions and experiences in Pai for travelers of all kinds.
1. Learn To Ride a Scooter
Learning to ride a scooter is first on my list of things to do in Pai for a reason — it's basically an essential activity in this tiny town. Like me, if you have never ridden a motorbike or scooter before, Pai is the place to don a helmet and try.
Why is learning to drive a scooter essential? Well, many of the activities in Pai aren't actually in the town center, but a couple of minutes drive out of town.
Because Pai is famous for tourists renting scooters as their main mode of transportation, there aren't too many tuk-tuks in town. Plus, part of the charm of Pai is that there isn't much traffic, making it a good place for newbies to learn.
That all being said, tourists walk around Pai like mummies, all bandaged up from scooter accidents. So much so, that you don't even need to ask somebody "what happened" when you see their battered knee, it's just assumed it was a scooter accident.
Make sure you wear a helmet, drive cautiously, and of course, don't drink and drive.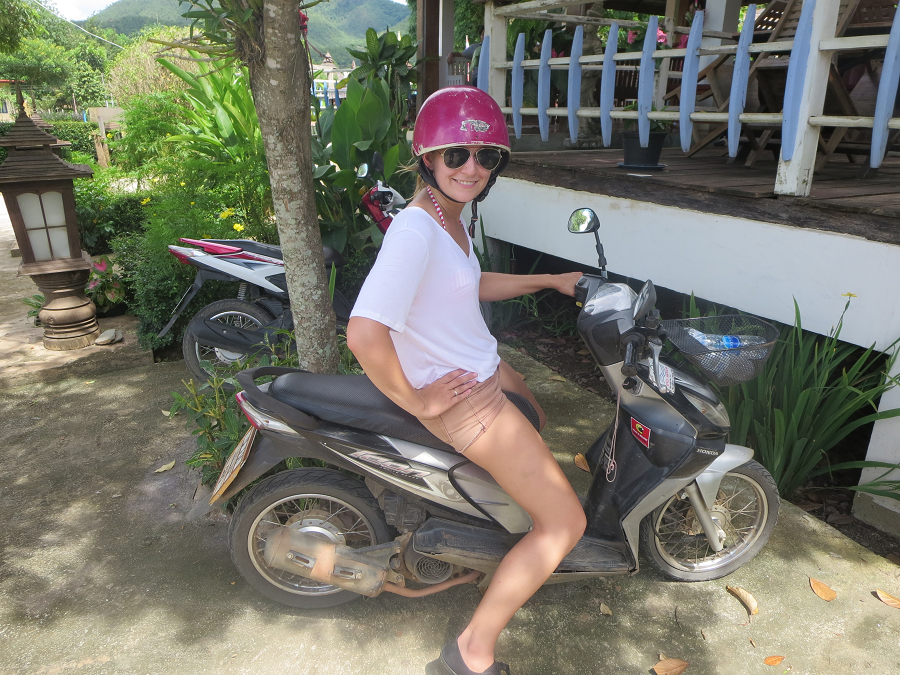 I rented a scooter for two full days while I was in Pai and it cost 500 Baht for both days for an automatic scooter, which was a great deal. It was a lot of fun learning how to ride, and was also a useful means of transport for getting around to the many things to do in Pai.
There are many different rental shops along the main walking street in Pai. You will have to leave a cash deposit that you will get back once you return the scooter in its original condition — don't leave your passport, even if they ask.
You can purchase insurance for the scooter from these rental shops as well which may be a good idea if it is your first time riding a scooter!
If you want to do a longer trip, the Mae Hong Son Loop is Thailand's most popular and stunning journey. Learn more about it here.
2. Wander the Night Markets (One of the Best Things To Do in Pai in the Evening)
Wondering what to do in Pai in the evenings? Every night there are markets in Pai along the walking street. For such a small town, these markets are quite impressive. Here, you can find everything from clothing to food, with the best cheap street food options being found at the night markets.
At the night markets, you will also be tempted by the shopping. There are souvenirs, herbal remedies, clothing, and more – basically anything you could think of, you'll find!
But regardless of whether or not you want to buy something, the markets are always a lot of fun and are one of the free things to do in Pai.
3. Climb to The Big White Buddha (Wat Phra That Mae Yen)
If you have been backpacking Thailand for a while, visiting another Buddha statue might not sound all that appealing, but this one is worth it simply for the view!
The steps to get to the top will have you working up a sweat, but the panoramic view from next to the Buddha is worth it. Make sure you also have a look at the blindingly white Buddha statue, it's pretty impressive.
A visit to the Big Buddha is easy. You will see it from town so just drive in that direction and you will get there. Visiting the Big Buddha is free and will take you about an hour to walk to the top, enjoy the views and take pictures, and walk back down. Make sure you dress appropriately and bring some water with you.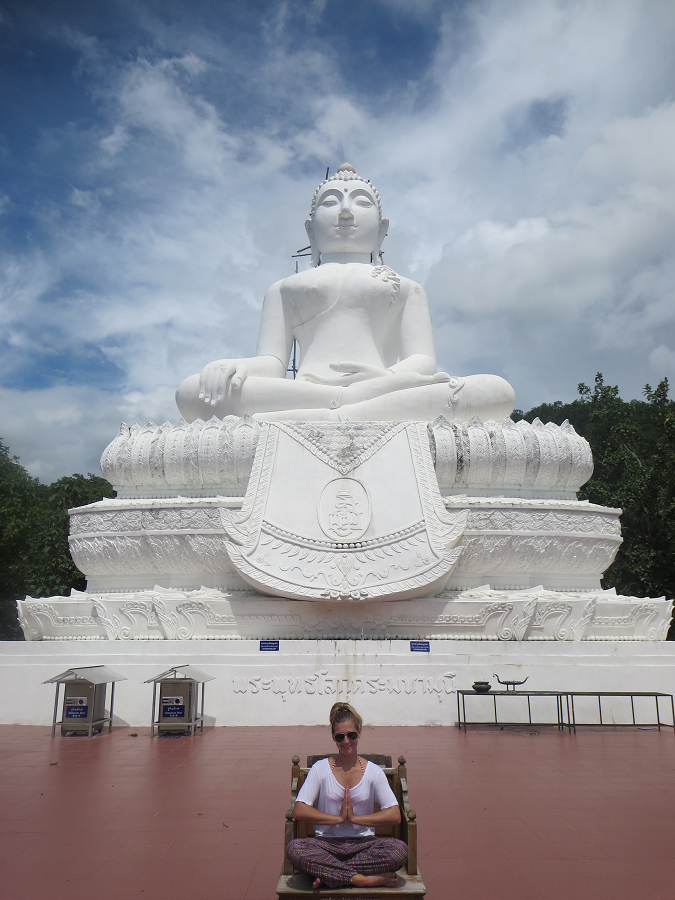 4. Party at Sunset Bar
No trip to Pai would be complete without a visit to the Sunset Bar. The Sunset Bar is just as the name suggests, the place to go at sunset (and stay well after dark.)
The Sunset Bar is one of the most popular things to do in Pai amongst travelers as it's situated just outside of the main town center, but still within walking distance (meaning you don't have to drink and drive home).
The bar is up in the trees and offers a great view of the sunset each night. Cushions line the floor as seating and create a relaxed atmosphere for backpackers wanting to share some travel stories over a drink. Expect to pay around 100 Baht for a drink, but sometimes they do have 2-for-1 specials.
5. Go Tubing on The Pai River
Tubing along the Pai river is one of the most popular things to do in Pai. It's affordable, only takes about an hour, and is available most months of the year.
Unfortunately, when I was there, there had just been some heavy rainfall and the river was flowing so rapidly that it was unsafe for tubing.
Some people still tried to sell us the activity even though we were told by several others that the river was unsafe. Keep your wits about you and only tube when it's safe to do so. The most common months for heavy rain in Pai are from May to October.
It costs between 200-300 Baht ($6 – $9) for a trip which includes your tube rental as well as drop-off and pick-up. The tubing journey lasts for about one hour. Tubing can be booked easily through your accommodation, through a travel agency, or simply with one of the guys walking around town trying to sell tubing tours.
☞ If you're looking for more Thailand articles, make sure to check out our Things To Do in Koh Phangan article, and our Things To Do in Bangkok post. There are so many amazing places to visit in Thailand!
6. Whitewater Rafting (One of the More Adventurous Things To Do in Pai)
In Pai, whitewater rafting combined with hiking is becoming a popular activity. A few different tour operators organize these kinds of trips and multi-day options are also available.
One of the most popular companies for this kind of trip is called Active Thailand, they can be contacted on their website. There are also lots of travel agency booking places in Pai that can help organize this trip for you.
Prices depend on the number of people you can get together for a trip, the length of the trip, and the type of accommodation you require.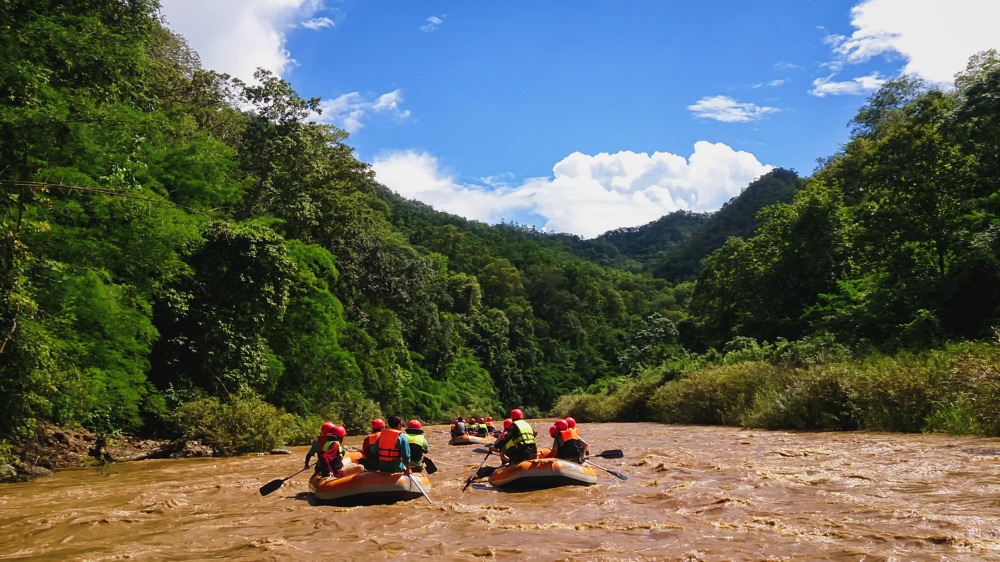 For a two-day, 1 night trip with basic accommodation (sleeping in a jungle camp on bamboo with mosquito nets) expect to pay about 3,500Baht or 100 USD. For the outdoor adventurer, this would be one of the best things to do in Pai.
7. Walk the WWII (Memorial) Bridge
The WWII Bridge was built by the Japanese back in 1942. The bridge was used to transport weapons and supplies to Myanmar during WWII. Out of all the places to see in Pai, this bridge has the most historical significance.
But besides its history, it's also just a nice place to go for a walk. The bridge crosses a gorgeous river making for some good photo opportunities. Going to the WWII Bridge is free, but keep in mind that it is a popular tourist hotspot so it can be very busy.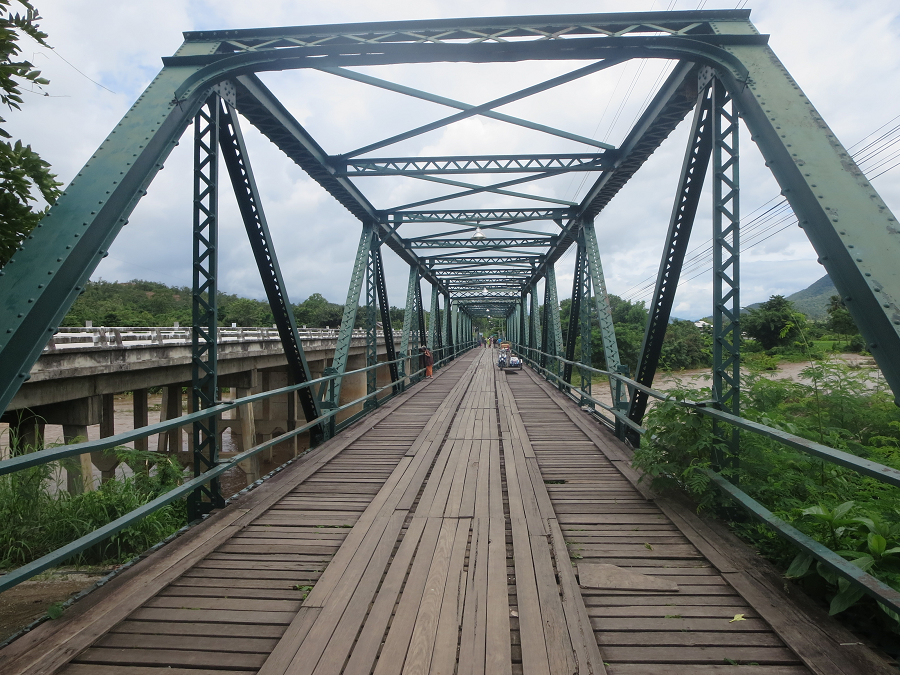 8. Eat Healthy Food
Unless your Southeast Asia trip has included Canggu Bali, you are probably craving a good salad complete with avocado! There are several different places in Pai where you can get that healthy food fix.
A café called Earth Tone is a very popular restaurant serving high-quality vegetarian food. They have amazing waffles with fruit, sandwiches, salads, smoothies and more. Earth Tone is just one of the many places to eat healthy while in Pai. In fact, you'll find vegetarian and gluten-free options in cafes all over town.
9. Eat Street Food
While the healthy options are great in Pai, the unhealthy street food options are just as good! When the sun starts going down many different little street food stands open up and cheap food takes over the bustling daytime café scene.
Like anywhere in Thailand, Pad Thai and various other noodle dishes are available for only a few baht. But in Pai, the locals are a little more creative with their street food, with stalls selling donuts and Indian food! Western food options like pizza and hamburgers are also readily available as well.
However, since one of the best things to do in Thailand is to eat Thai food, it's recommended that you sample the local eats, you won't be disappointed.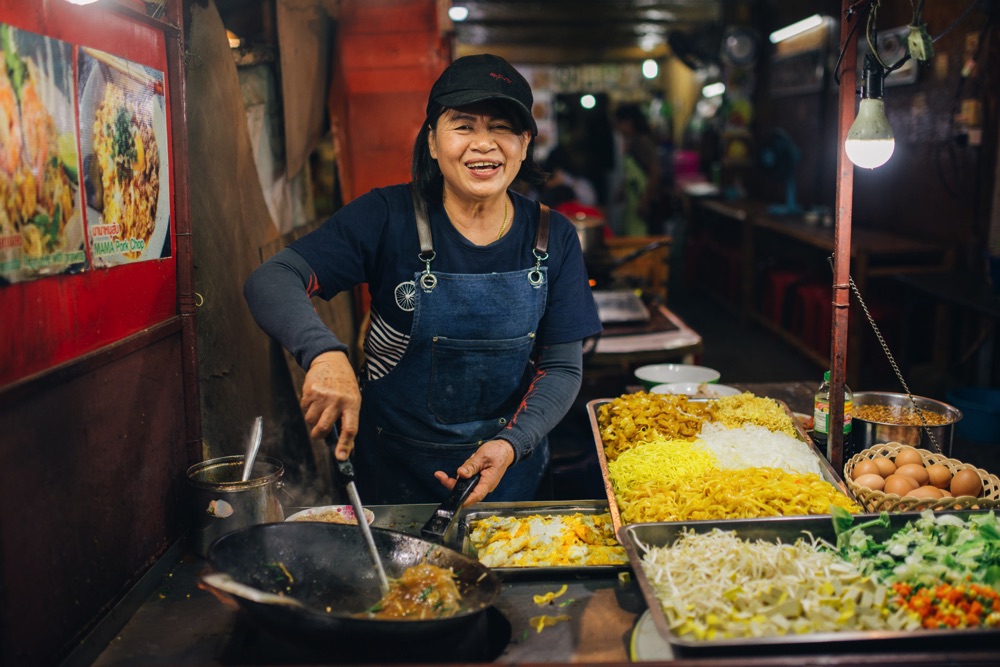 10. Practice Yoga
Pai is a perfect little town for yoga lovers. There are a few different yoga retreats around, but there are also places in Pai where visitors can just drop in for a class or two.
The Famous Pai Circus Hostel offers yoga classes most mornings at 9:30 am. The Swadasee Pai Resort also offers yoga classes most mornings. I recommend asking at your hostel or hotel when you arrive about current yoga classes in the area, as the class times and locations can change.
11. Hike the Pai Canyon
In my opinion, out of all of the things to do in Pai, hiking the Pai Canyon is the best! The Pai Canyon is a beautiful canyon with various hiking trails and lookouts over the countryside.
You will need a scooter or tuk-tuk to get out to the Pai Canyon as it is a few minute's drive out of town. Once you're there, you'll enjoy walking along the canyon ridges and being out in nature.
It's really a beautiful place to visit. Many people explore the Pai Canyon at sunset for even more spectacular views. Entrance to the Pai Canyon is completely free. Just make sure you wear good walking shoes and bring plenty of water.
12. Have a " Love Strawberry" Milkshake
The Love Strawberry farm and store is a fun stop on the way back into town from the Pai Canyon. It is a bit of a tourist trap, but that doesn't mean it isn't worth visiting!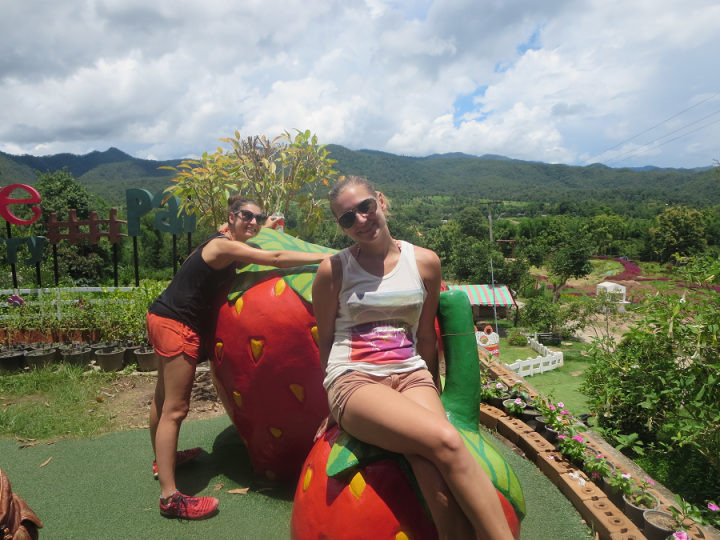 When I was there I had a strawberry milkshake which was delicious. Exploring the property and taking some pictures are definitely some of the most touristy things to do in Pai.
13. Visit Tham Lod Cave
The Tham Lod Cave is huge (more than 1,600m long and 50m high), with a visit here being one of the most common things to do in Pai – but for good reason. Due to its sheer size, this cave is known as one of the most impressive in Thailand.
Inside you'll find many limestone stalactite and stalagmite formations hanging from above (and some bats!), and since the Lang River flows through this cave, a portion of the cave is only accessible by bamboo boat. Because of this, a guide is mandatory in order to enter.
From Pai, it's possible to visit Tham Lod Cave on a tour or to go on your own with a scooter. Either way, the drive takes about 45 minutes. Expect to pay about 600 Baht ($18) for a full-day tour from Pai including the guide once at Tham Lod Cave.
If you want to go independently, you will still have to pay for a guide once at the cave. The price depends on your group size but expect to pay about 200 Baht ($6) per person for the cave guide. Tham Lod Cave is one of the top places to visit in Pai, don't miss it!
14. Sai Ngam Hot Springs
The Sai Ngam Hot Springs is also known as the "Secret" Hot Springs as they are a little outside of town and less developed than some of the other hot springs around Pai. But honestly, they are no secret and can be quite busy!
These hot springs are right in the jungle making them feel tranquil and a perfect place to relax away from the hustle and bustle of Pai.
The beautiful natural surroundings of the Sai Ngam Hot Springs combined with the low cost makes them one of the top things to do in Pai for both locals and tourists.
Sai Ngam Hot Springs are easily reached by scooter only 30 minutes from Pai. They are along the same road that leads to Tham Lom Cave so both of these activities could be done in one day. The entrance fee is 20 Baht ($0.60).
15. Explore the Santichon Village
Santichon Village is a small Yunnan cultural center about 5km outside of Pai, reached with a fun (very windy) road. This village was settled by the Chinese who fled the revolution of Mao Tse Tung, and after all these years, descendants of these settlers still live here making it an interesting place to visit.
There are a couple of different things to do at Santichon Village. The first would be to wander around and check out the clay houses and eat some of the traditional Yunnanese cuisine. Fried shiitake mushrooms and steamed black chicken are just a couple of the popular dishes.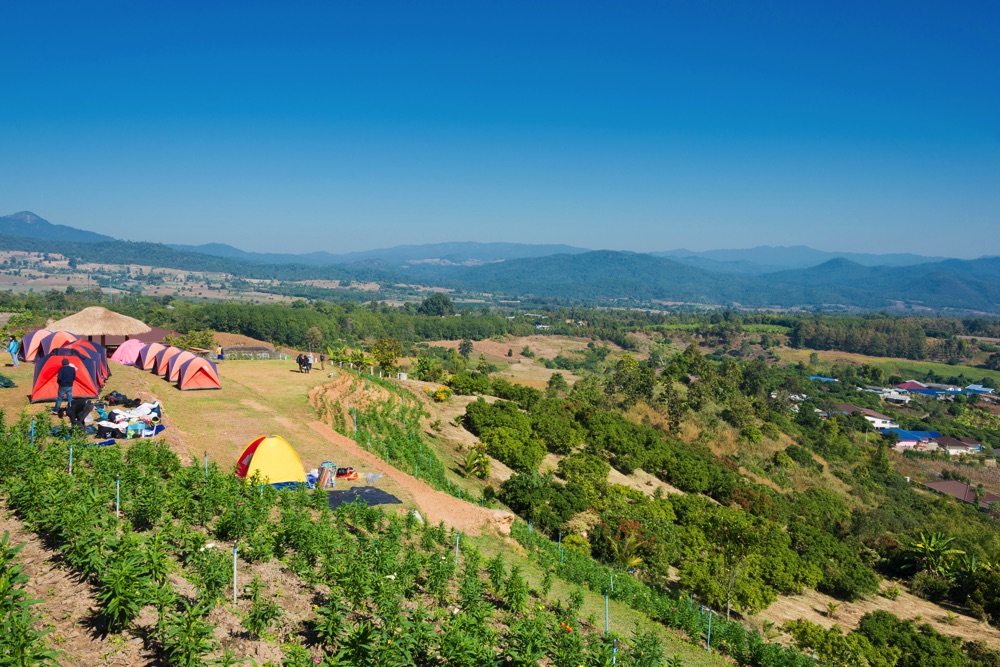 Walking around the village you will see beautiful buildings in typical Yunnan style, and some fish ponds as well. It's possible to buy fish food and feed the hundreds of koi fish, which is surprisingly a lot more entertaining than I expected it to be. Santichon Village is completely free to enter.
16. Ride the Human Powered Ferris Wheel
At the Santichon Village, there is a human-powered Ferris Wheel. We couldn't get it going ourselves but then a local came and helped us out. While it seems a little dangerous it was a lot of fun! We probably spent a lot longer than we should have playing with this kid's toy!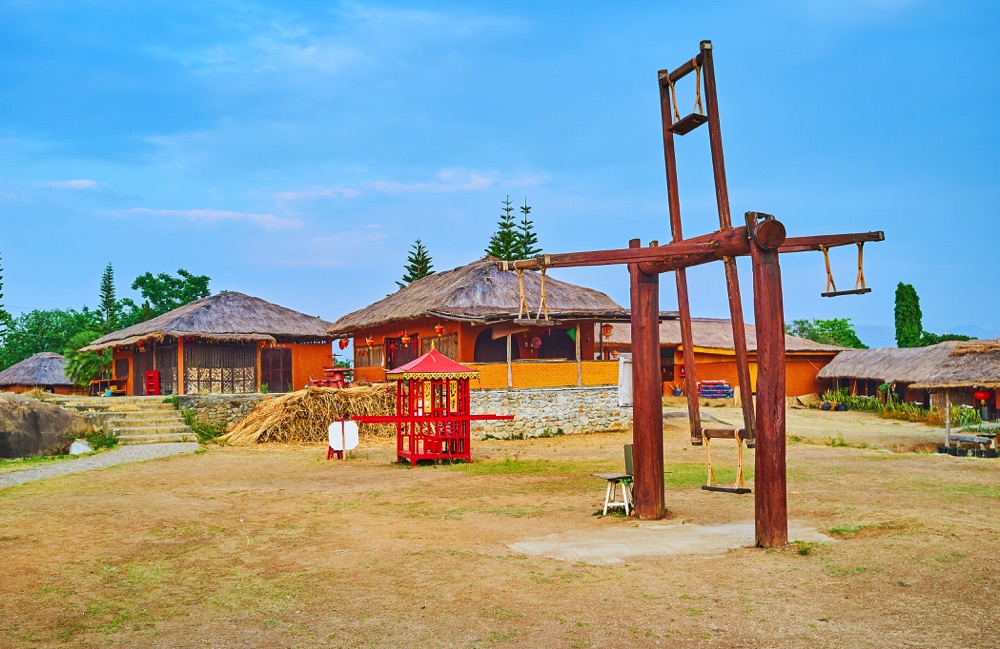 17. Yun Lai Viewpoint
Just past the Santichon Village is the Yun Lai Viewpoint. It is accessible only by a very bumpy road. Once there, it costs 20 Baht to enter and then you will have a view overlooking Pai. This is one of the best places to visit in Pai for sunrise.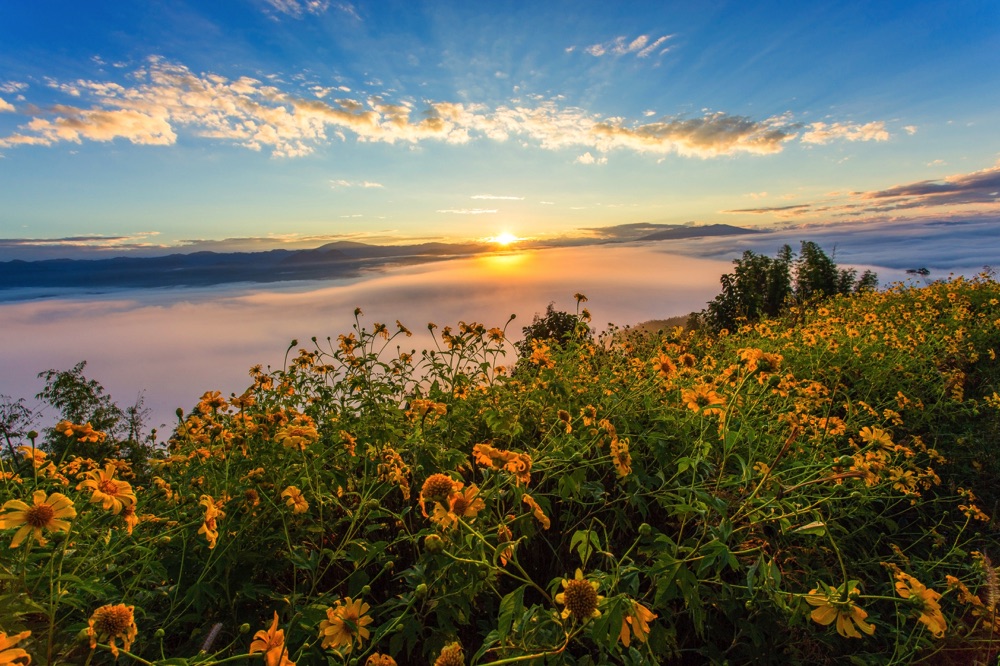 18. Go Piranha Fishing
This is one of the most unusual things to do in Pai. At the Piranha Fishing Park, there is a series of man-made lakes for fishing. You pay for a select amount of time and the workers will show you how to fish for the piranhas.
You are given a fishing rod as well as bread and a net. I was having some trouble at the beginning but the workers were super helpful and taught me the tricks. We only managed to catch one small piranha during our time there but some other people manage to catch some huge ones.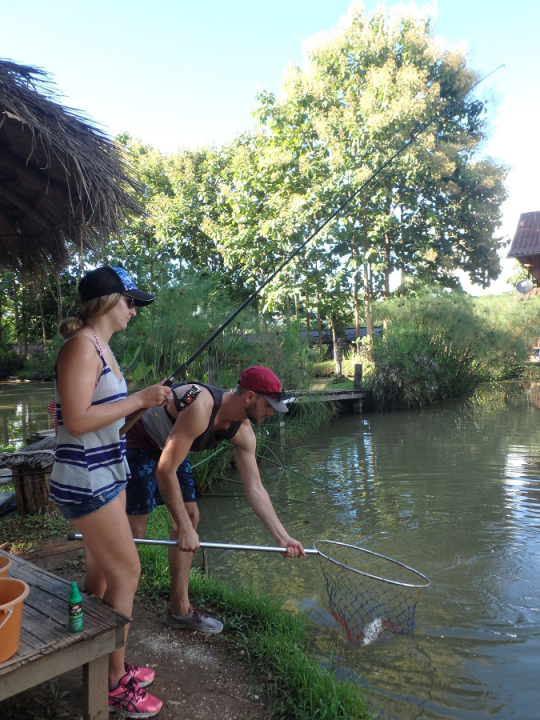 This is purely a recreational activity and all of the piranhas are released back into the lake once they are caught. They only use barbless hooks.
Prices depend on the season and length of time you want to go fishing but expect to pay around 200 Baht for three hours worth of fishing including some bait.
19. Swim at Mor Paeng Waterfall
Only 7km outside of Pai is the three-tiered Mor Paeng waterfall. While there are many waterfalls near Pai, Mor Paeng is one of the most popular due to its easy access, and because of how fun it is to swim and slide there!
Mor Paeng is best reached by motorbike along the same road as the Santichon Village and the piranha fishing. It's a free activity but the local kids will want a small tip if they help you climb the waterfall and slide down.
There is a small area here for parking your bike, and from the car park it's about a 200m walk through the jungle to get to the waterfall. If you're looking for something to cool you off, visiting this waterfall is one of the best things to do in Pai.
20. Drink Mojitos
I personally loved the mojitos in Pai! One afternoon, some friends and I walked the streets of Pai in search of some good "happy hour" deals. What we found was that happy hour existed everywhere, but not for just one hour, for most of the day – and often featured Mojitos.
I simply couldn't turn down 2 for 1 Mojitos and needless to say I had a great evening full of rum and sugar!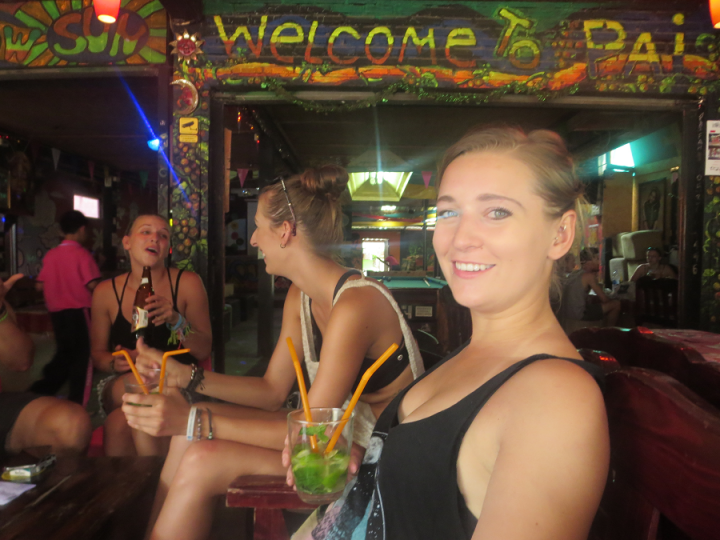 Pai is a very social place for travelers. The atmosphere in pubs and restaurants is friendly and inviting, and I'm almost certain that you will make many friends over a mojito in Pai.
21. Drive to Chiang Mai
There are many fun things to do in Chiang Mai as well, so once you've checked out Pai, make your way there. The road between Chiang Mai and Pai is famous for being very scenic, but also for making people very car sick!
Before we left Chiang Mai for Pai, other travelers cautioned us about the many turns and how everyone pretty much is guaranteed to get at least a little motion sick.
Regardless of how uncomfortable the ride might be, it is truly beautiful! I would recommend renting a motorbike and driving yourself in order to stop as frequently as you want.
However, if you are not an experienced rider then don't do this as it's a road on which locals drive very fast and the many sharp turns could be a problem.
If you don't want to drive a motorbike there yourself, you could hire a driver to take you, or simply just catch a bus. While the buses are not comfortable and don't stop often, it is still a fun ride and gets you from point A to B. The drive takes approximately 3 hours without stopping.
Where to Stay in Pai, Thailand
Here are a few top recommended accommodation options in Pai. Whether you're looking for some luxury, or are traveling on a budget, there's something to suit everyone.
Budget:
The Countryside Pai – rated "Fabulous" 8.9/10. The cute bungalows here offer guests a private rooftop balcony, ensuite bathroom and shower, and lovely mountain and rice field views. Plus, there's an onsite pool! These cute bungalows are a unique place to stay in Pai and go from around $17-$20/night. Click here to learn more and book.
Villa de Pai – rated "Very Good" 8.2/10. These bungalows are comfortable and have a private balcony with a hammock for chillin' out. Free coffee, tea and fruits are available in the morning. Some rooms offer air-conditioning while others are fans only. Rooms for two people go from around $13/night. Click here to learn more and to book.
Click here to search for more budget accommodation in Pai.
Midrange:
Pai Vieng Fa Resort – rated "Very Good" 8.4/10. This tropical property offers guests accommodation in beautiful bungalows, complete with a private balcony and mountain scenery. There's air-conditioning, and an onsite swimming pool. If you're looking for comfort and affordability, this is a good option. Bungalows here are from $30/night. Click here to learn more and to book.
Tarnjedton Pai Resort – rated "Exceptional" 9.0/10. The beautiful cottages here are set in the mountains, offering a peaceful stay for visitors. Rooms include a fan, ensuite bathroom, private balcony, TV and fridge. Breakfast is included in the room rate, which starts at around $39/night. Click here to learn more and to book.
Click here to search through more mid-range properties in Pai, Thailand.
Top End:
Pai Village Boutique Resort & Farm – rated "Wonderful" 9.1/10. The property here is stunning! Set along the banks of the Pai River, the wooden cottages offer guests views of the mountains or garden from the private balconies. The ensuite bathrooms have hot water showers, and the rooms have sitting areas and kettles for guests' use as well.
You'll have access to the property's private farm which is 5 kilometers away, and after a day of enjoying all the things to do in Pai, you can relax with a massage. There's also an onsite restaurant. Breakfast is included in the room rate, which starts at $85/night. Click here to learn more and to book.
Click here to search through more top-end properties in Pai.
Pai Thailand FAQs
Is Pai Thailand Worth Visiting?
Absolutely Pai Thailand is worth visiting! Pai is widely considered by travelers to be one of the top sites in Thailand and even in all of Southeast Asia thanks to its laidback vibe, fun things to do, and great accommodation options.
How long should you spend in Pai, Thailand?
3 nights is generally enough time to see the main sites in Pai as well as a day trip out to the Pang Mapha district. If you have more time, you could easily spend a week in Pai and not get bored.
What is Pai Thailand known for?
Pai is known for its laid-back vibe and as a hippie destination in Thailand. Cool accommodation in thatched huts, nice nature walks and a less crowded feel is what drive tourists here each year.
Can you do a day trip from Chang Mai to Pai?
As the drive between Chang Mai and Pai is around 3 hours, you can definitely visit Pai as a day trip from Chang Mai, but it is recommended to spend at least a night or two in Pai to experience the many things to do in this tiny mountain village and at the nearby sites.
When is the best time to visit Pai?
Most travelers will want to visit Pai between November and February when there are fewer rainy days and the temperature is more bearable. In the summer months of April to June, Pai can get extremely hot and humid with a significant amount of rainfall.
Is Pai Thailand Safe?
Absolutely! There have been a few reports of petty theft in Pai, but that is the same for pretty much anywhere. Pai Thailand is safe as long as you don't go out looking for trouble by looking to buy drugs or walking home intoxicated in the wee hours of the morning.
Is Pai cheaper than Chang Mai?
In general, yes. Pai is a cheaper destination than Chang Mai with some cheaper accommodation options and cheaper restaurants. Both are very affordable destinations.
Now You Know What To Do in Pai
Based on this list of things to do in Pai, you can probably tell that it isn't your typical town in Thailand. There are no beaches, island parties, or streets fully dedicated to night-clubbing, but this is what makes Pai a unique place to visit.
With that being said, it is still a charming town where tourists feel comfortable, making it a popular place for backpackers to visit while in Thailand. I hope this list gave you some ideas for things to do during your trip to Pai. Happy travels!
Images in this post are courtesy of Shutterstock. Learn more about their royalty-free images here.
Goats On The Road Recommended Resources For Pai, Thailand
✓ There are so many adventurous things to do in Pai. It's important to make sure you have adequate travel insurance before embarking on any trip, but especially one where you'll be partaking in outdoor activities such as snorkelling, diving, kayaking, hiking, etc. We use and recommend Safety Wing.
✓ We recommend purchasing eco-friendly products for your stay in Pai. We're personally trying to reduce the amount of single-use plastic that we use, and encourage you to do the same during your travels.
To avoid purchasing plastic water bottles while in Pai, consider buying a water bottle with a built-in filter such as LifeStraw or GrayL, or get yourself a Steri-Pen. In terms of utensils, this bamboo set is great for picnics, while these glass or metal straws are perfect for cocktails, fruit juices or a glass of water. Say no to straws and plastic utensils, bring your own.
Like This Article? Pin it!