When we were Googling things to do in Paris, the first thing we realized is that pretty much every list that came up was the same. While there are a few things in Paris that everyone has to do, like visit the Louvre and the Eiffel Tower, there is so much more to the city than just ticking items off your landmark check-list.
That's why we visited the French capital with the goal of having some more off-track experiences and trying to get under the skin of Paris. We've never been ones to follow the tour groups, so even when exploring the sixth-most visited city in the world, we found our own little slice of it.
We used recommendations from our Parisian and ex-pat readers, as well as from our local tour guides, hosts and people we met along the way to come up with the absolute best things to do in Paris, including those things that aren't too swamped with tourists.
In this post, I'm going to list the best things to see in Paris, from the must-visit sights and attractions to the unique experiences that may just end up being your favourite.
Top Sights in Paris
In this post, I'll break down different areas of Paris by Arrondissement and the best things to do in each. I'll also give you directions to our top 5 favourite sightseeing walks in the city, which take in pretty much every sight you'd want to see on your first and second trip to Paris.
But just for clarity and ease of reading, here's a quick list of the sights we'll cover in this post.
Surprisingly, we were able to see most of these on our short 5-day trip, but you'd be able to see many of them with just a couple of days in Paris. We didn't feel too rushed, but because we tackled the city in the way I'll show you in this post, we were able to get a lot done.
The Landmarks
Place Saint Michel
The Notre Dame de Paris
Eiffel Tower
The River Seine
Pont Neuf Bridge
The Louvre Museum
The Palace of Justice
Sainte Chapelle
Musée d'Orsay
Place de la Concorde
Sacre Coeur Basilica
Montmartre
Pantheon
Bastille Market
The Catacombs of Paris
The Wall of Love
Luxemburg Gardens
Montparnasse Tower
Archives Nationales
Petite Ceinture Railway
Montmartre Cemetary
Promenade Planteé
Berthillon
The Ile de la Cite
Jardin des Plantes
Hôtel de Ville
The Army Museum
The Invalides
The Invalides Hotel
Champ de Mars Park
Place Joffre
Statue of Marshal Joseph Joffre
Pont d'Iéna Bridge
Trocadéro Gardens
Palais de Chaillot
Arc de Triomphe
Ave Champs-Élysées
Cour Carrée
Square du Vert Galant
Marché aux Fleurs
Saint Genevieve
Jardin des Tuileries
Jardin du Palais Royal
… and much more.
There are plenty of things to do in Paris and to us, the best part of the city is often walking between the sights, because it's such a great city for walking, particularly in the 1st to 4th Arrondissements where many of the historical landmarks are located.
The Top Things To Do in Paris
We'll start the post off with the items that you'll find on everyone's list. These are the must-sees and the places to visit in Paris that you probably don't want to miss. Funnily enough, you won't see the most visited place in Paris on this list and you probably won't be able to guess it either.
It's not the Eiffel Tower or The Louvre… it's Disneyland. Anyways, on with the list of Parisian things that are worth visiting.
1. Join a Free Walking Tour
This is our best recommendation for getting to see Paris while ticking off some of the major sites and actually learning a lot about the city along the way. There are free walking tours in most major cities in Europe and we've done plenty of them over the years.
They never seem to disappoint and the Free Walking Tour in Paris was no different.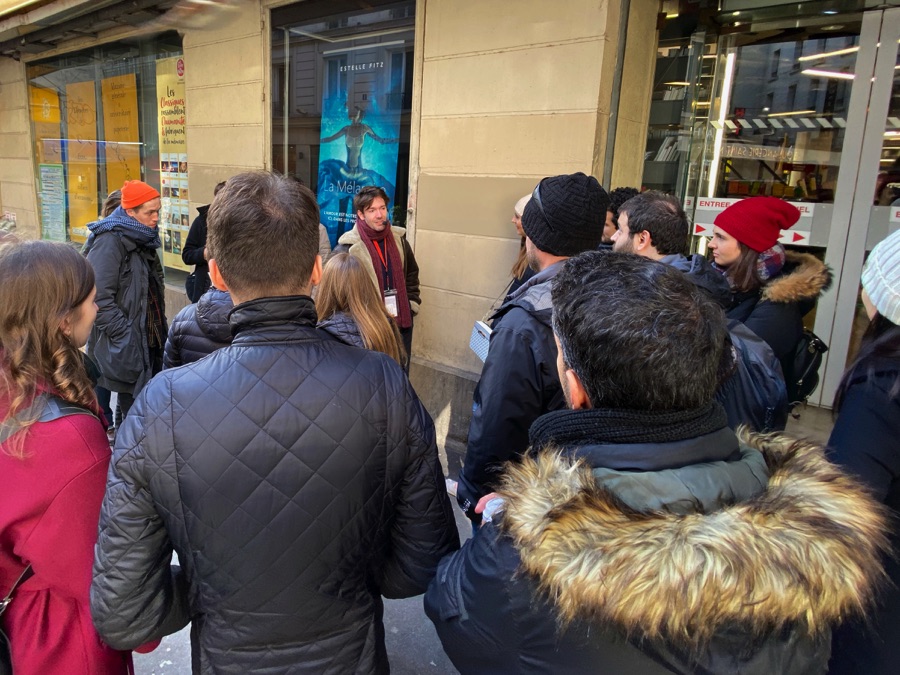 We booked our free walking tour with Sandemans and we would definitely recommend the tour. Our guide was Oliver, a theatre major from the UK who has lived in Paris for 8 years.
He was passionate about the city, spoke perfect English (of course), and gave us a lot of great tips about the city, without boring us too much with specific dates and moments in history that we'd forget anyways.
This free walking tour takes you through the main sights in the 1st, 2nd, 3rd & 4th Arrondissements such as Place Saint Michel, the Notre Dame de Paris, the famous River Seine, Pont Neuf, the outside of the Louvre, the Palace of Justice, Sainte Chapelle, the Musée d'Orsay and Place de la Concorde.
If you've never done a free walking tour before, at the end it's expected that you give a small tip per person. Usually, €5-10 is fine.

2. Visit The Louvre
The largest single-building museum in the world and without a doubt, one of the most stunning displays of art and history in the world, the Louvre is one of the main things to do in Paris that most visitors won't want to miss.
This is evident in the lines. More than 10 million people visit The Louvre each year, so you'll want to purchase your ticket ahead of time. We bought our "Skip The Line Tickets" through Get Your Guide and we were able to pretty much walk right into the museum without waiting. Well worth the extra few Euro it cost us.
If you're really into art and history, you'll most likely want to join a guided tour of the Louve (which also includes skip the line access). Learn more about those tickets here.
However you get your ticket, you'll want to have a plan once you enter the Louvre. Everyone has a few things they want to see when they enter.
Whether it's the oldest piece of art in the world (8,000+ years old), the Mona Lisa, the $65 million Regent Jewels or the Venus de Milo, if you're not going with a guide, you're going to want to have a game plan to navigate the 60,000-meter ² (652,000 square foot) museum.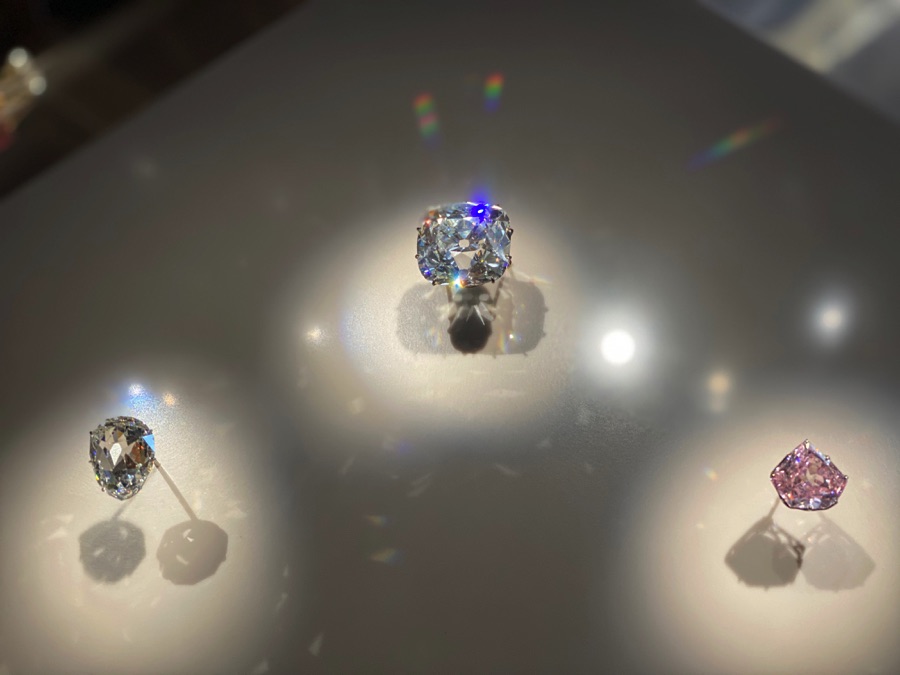 Dariece and I were in and out in a little over an hour. We had a few main things we wanted to see and that was it. All of Paris is a living museum, so by sauntering around hallways with 60,000 other tourists, we felt like we were losing time exploring the fascinating streets of the city and meeting local people.
Having said that, we're not huge museum people but the Louvre was one of our favourites for sure. It's worth adding to your must-see list of things to do in Paris.
Pro Tip: Download Rick Steeve's Europe City Guides app and then download the audio guide for The Louvre in-app. It'll give you a good 2-hour tour of the museum for free (but make sure you still get your skip the line ticket!).
3. Take Photos of The Notre Dame
Once demanding nearly a half-day to explore as it was the grandest, most visited and most recognizable religious structure in the world, today the mostly burnt down Notre Dame Cathedral can only be glimpsed from the outside as a decade-long restoration effort is underway.
Nevertheless, getting a selfie from below this towering gothic masterpiece is still on every Paris visitor's list, so I'm adding it to mine. We gazed at the once grander monolith in awe, more so knowing that it was once even more impressive.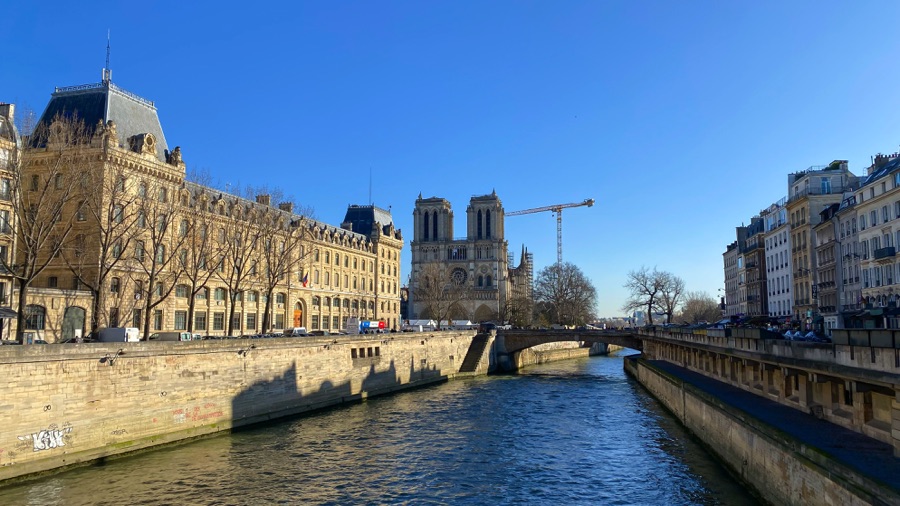 You can see the Notre Dame from pretty much anywhere in the 4th, 2nd, 5th and 11th Arrondisments so once you catch a glimpse of the tower, just head towards it and cross the bridge for the best view. Take your photo and move on, keeping in mind that you'll have to return in 10-15 years to see it again once the repairs are complete.
4. Get a Selfie By The Eiffel Tower
Probably the most iconic structure in all of Europe, the Eiffel tower is a pillar that defines Paris. Love it or hate it, it has become the most recognizable part of the city.
Originally built by engineer Gustave Eiffel as the entrance to the World's Fair in 1889, the 324 meter (1,063 ft) tall rod iron tower was once the tallest structure in the world.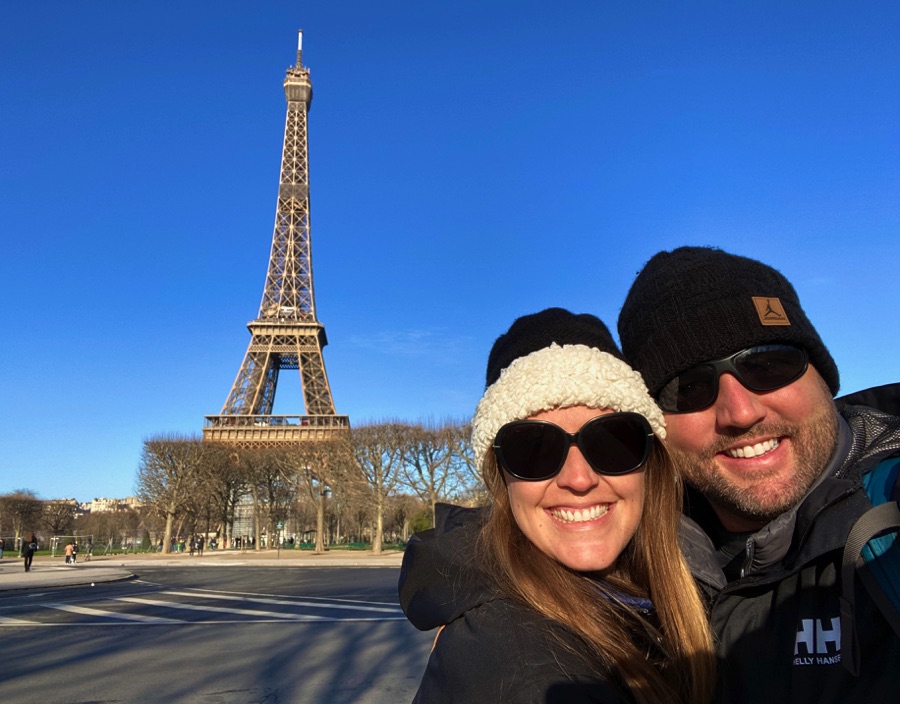 Today it is the most-visited paid monument in the world with nearly 7 million people buying tickets to enter it every year. But, there's actually not much reason to pay to go up the Eiffel Tower.
Parisians will all tell you that it's better to go up the Montparnasse Tower, the most hideous structure in the city. That way, you get a view of Paris with the Eiffel Tower and without the eyesore of Montparnasse itself (more on that later in this post). Having said that, many people want to actually go inside the famous tower. You'll need a ticket for that, which you can get here.
5. Climb The Steps of Montmarte & Gaze Up At The Sacre Coeur Basilica
The artistic capital of the city and home to the breathtaking Sacre Coeur Basilica, Montmartre was one of our favourite areas of Paris to walk around. Because it's set on a hill 130 meters above the city, there are views of Paris from every narrow alleyway and open plaza.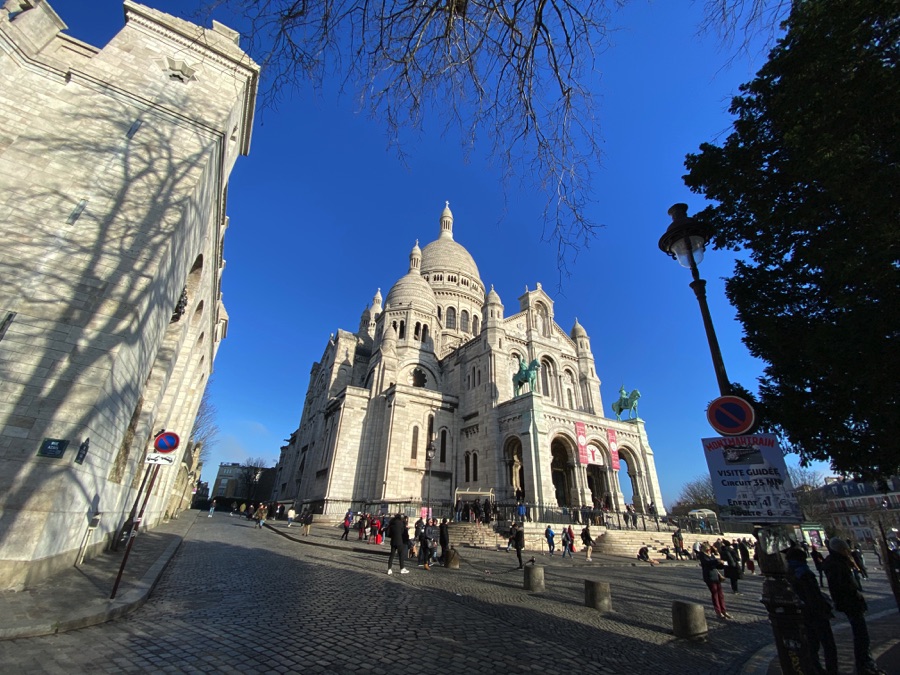 There are plenty of tourists around the Sacre Coeur, but as you get farther away from the basilica there are enough quiet alleyways and narrow streets to get lost in. Having said that, you'll still want to enter the Sacre Coeur. It's free and well worth a visit.
6. Walk Along The Seine
The Seine River is a 777-kilometer long waterway and important commercial transportation route that runs through the center of Paris.
Many of the city's top sites lie on the banks of the Seine so one of the best things to do in Paris is to take the metro to any stop along the banks of the river, get off and simply walk for hours along the broad boardwalks that are built on either side of it.
We have some self-guided sightseeing walks that you can do along the Seine River later in this post.
Less-Visited Things To Do in Paris
These are the things that aren't completely off-track, but where you'll find fewer tourists and maybe feel a little bit like you're in real Paris rather than just following crowds of tourists around. We'll get to more off the beaten path experiences a little later in this post.
7. Walk Around The Pantheon
We decided to stop at the Pantheon because we were already walking from the 2nd Arrondissement to the catacombs in the 14th (we recommend this 45-minute stroll as a thing to do in Paris by itself). We were pleasantly surprised that the Pantheon area was actually quite breathtaking.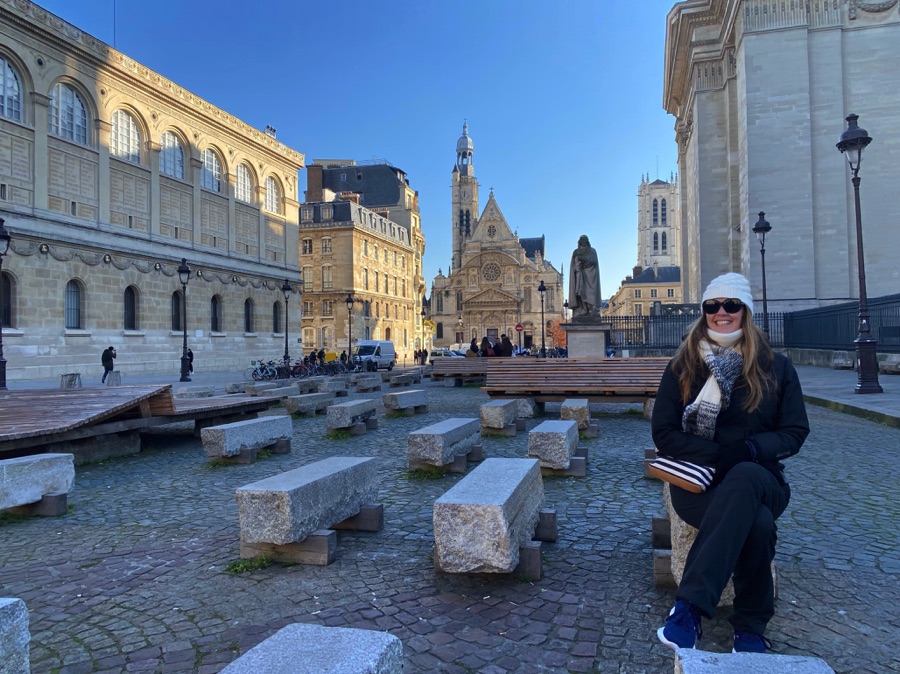 Located in the Latin Quarter, the 18th-century structure was first built as a church dedicated to the patron saint of Paris, Saint Genevieve.
Today it stands as a wonderful example of neo-classicism and yes, the front facade is modeled after the more famous Pantheon in Rome.
Nearby buildings worth checking out include the Gothic-Renaissance church of Saint-Étienne-du-Mont, the imposing Research Institute Judicial Pierre Raynaud, and the Town Hall of Paris.
All of these stunning buildings are built around the Pantheon, making the entire open area feel like a museum of architecture. Definitely worth a visit, even if you don't decide to pay the €9 entrance fee to enter the Pantheon.
8. Go Shopping At The Bastille Market
This open-air market is one of the largest and liveliest Parisian street markets and stretches for 10 city blocks from The Place de la Bastille to Rue Chemin Vert. Open only on Thursdays and Sundays from 8 am to 1 pm, if you're in Paris during these times don't miss this place!
It's one of the best markets that we've ever been to.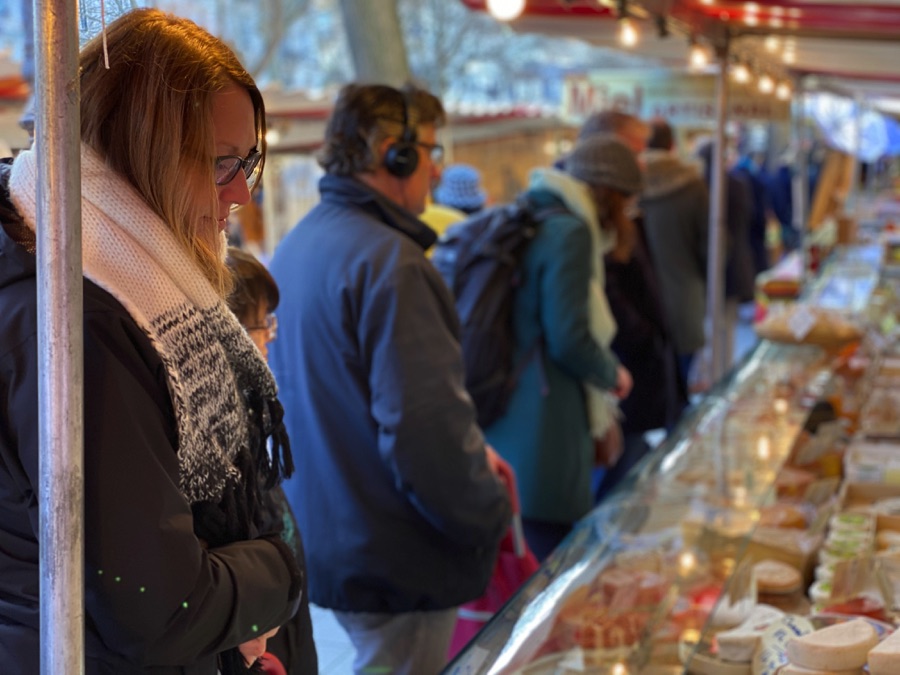 Venders call out the quality of their products from each of their stands which sell anything from meats and cheeses to last year's Parisian fashions, all under the backdrop of the beautiful Colonne de Juillet looming overhead.
Come here to buy some fresh vegetables, cheeses, meats, and bread and then plan to have a picnic somewhere in the neighbourhood afterward.
9. Descend Into The Catacombs of Paris
Not for the squeamish or the extremely claustrophobic, the Catacombs of Paris are an incredible sight to behold. There are over 350 kilometers of old limestone quarries built in a labyrinth 30 meters below the city, but visitors have access to around 2 kilometers of the eerie tunnels.
You pay an entrance fee of €14, plus €5 extra for the audio guide (well worth the money), and then you descend down a spiral staircase into the depths of the catacombs. If you don't feel like waiting in line all day, it's recommended to get a skip the line ticket so you can enter the catacombs when you arrive.
In the tunnels lie the skeletal remains of between 6 – 8 million bodies that were buried here or moved here from local cemeteries in the late 18th century.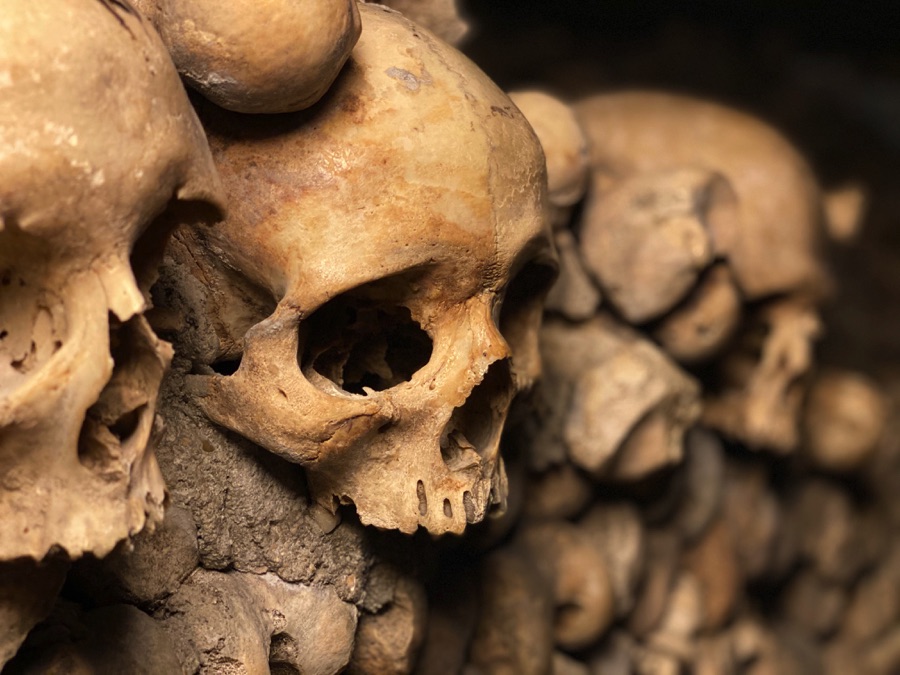 The spooky thing about these dimly-lit chambers is that the skeletons, including the skulls, are not behind glass kept out of reach of visitors. This adds to the peculiar experience of walking through a sea of skeletons 100 feet below the city of Paris. This is an experience that shouldn't be missed for sure.
10. Take a Minute at The Wall of Love
I wouldn't really recommend a trip specifically for the wall of love, but if you're walking down from Montmartre back towards the center of Paris (as we did and many others do), then you might as well detour a few minutes to check out this cool blue tile wall.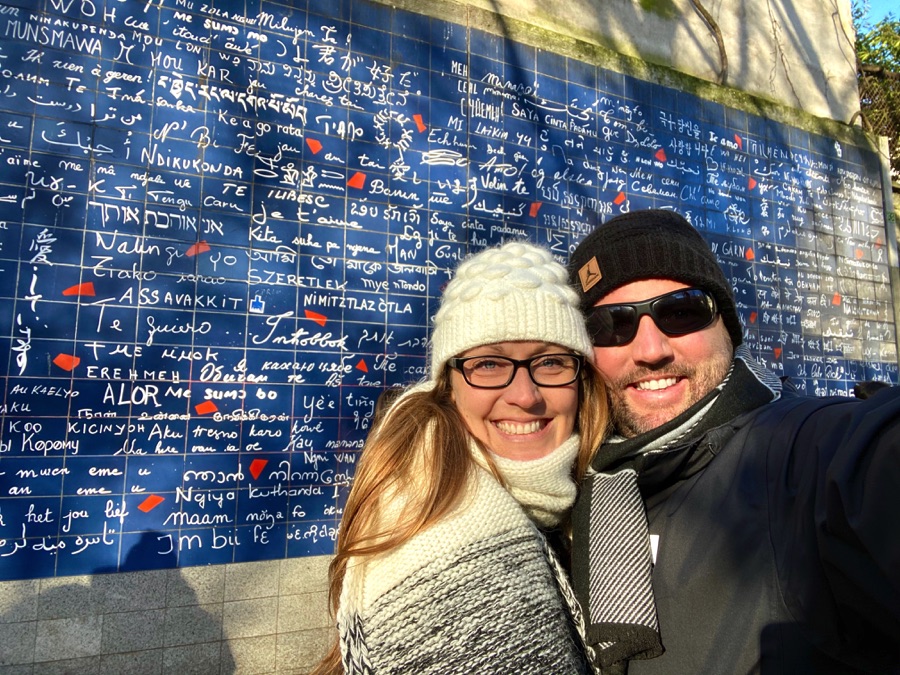 It has the words "I love you" written in 250+ languages. There's usually a line-up for selfies forming so just follow the crowds.
11. Picnic with Locals in Luxemburg Gardens
This is one of the most beautiful open gardens in Paris (in our opinion). Pick up a snack from one of the nearby pâtisserie or boulangerie, get a bottle of wine and enjoy the late afternoon sunlight while people-watching in this beautiful park.
We stopped here, along with a stop at the Pantheon, on our 45-minute walk from the 4th to the Catacombs.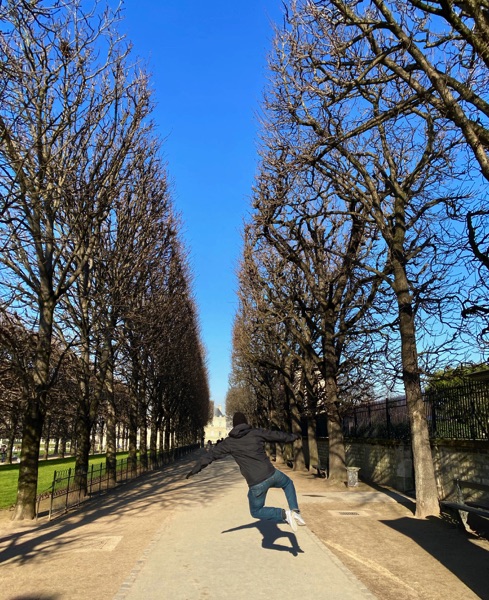 12. Glimpse a City View of Paris From The Montparnasse Tower
This is one thing we planned to do but just didn't end up having time, but we were recommended it from numerous sources and would definitely try to do it on our return.
We decided not to pay the fee or wait in line for the climb up the Eiffel Tower with the thought that we'd head up the Montparnasse Tower for a better view of the city. Many people do this and it's definitely the best view of Paris.
Offtrack Things To Do in Paris
There are plenty of offtrack things to do in Paris. To us, the best experiences are those with people who actually live in the city. Airbnb Experiences are a great way to have a unique insight into the city of Paris. Here are some activities in Paris you won't want to miss.
13. Stroll The Petite Ceinture Railway
It might not quite wow visitors like the Highline in New York or the 606 in Chicago, but this abandoned railway (only open to visitors in a couple of sections) is still worth a visit if you want to get away from the crowds and have a unique, peaceful experience in Paris.
The railway is no longer in use and was only actually running from 1962 for a little under a century, but recently more areas have been opening up so visitors can enjoy a slice away from the bustle of Paris.
To get here, enter in near Parc Georges Brassens in the 15th Arrondissement — a section of the tracks known as the 'Passage de la Petite Ceinture'. Here it's legal to visit and won't cost you a penny. Stroll along the tree-lined tracks along with joggers, cyclists, and local families.
14. Browse The Archives Nationales
This state museum of French history and the small gardens that surround it are often called one of the romantic places to visit in Paris. I don't think I'd go as far as agreeing completely with that moniker, but nonetheless, the archives and the leafy area surrounding it is definitely worth a visit.
It'll only take you a few minutes to stroll through the gardens and check out the inside of this 14th-century building.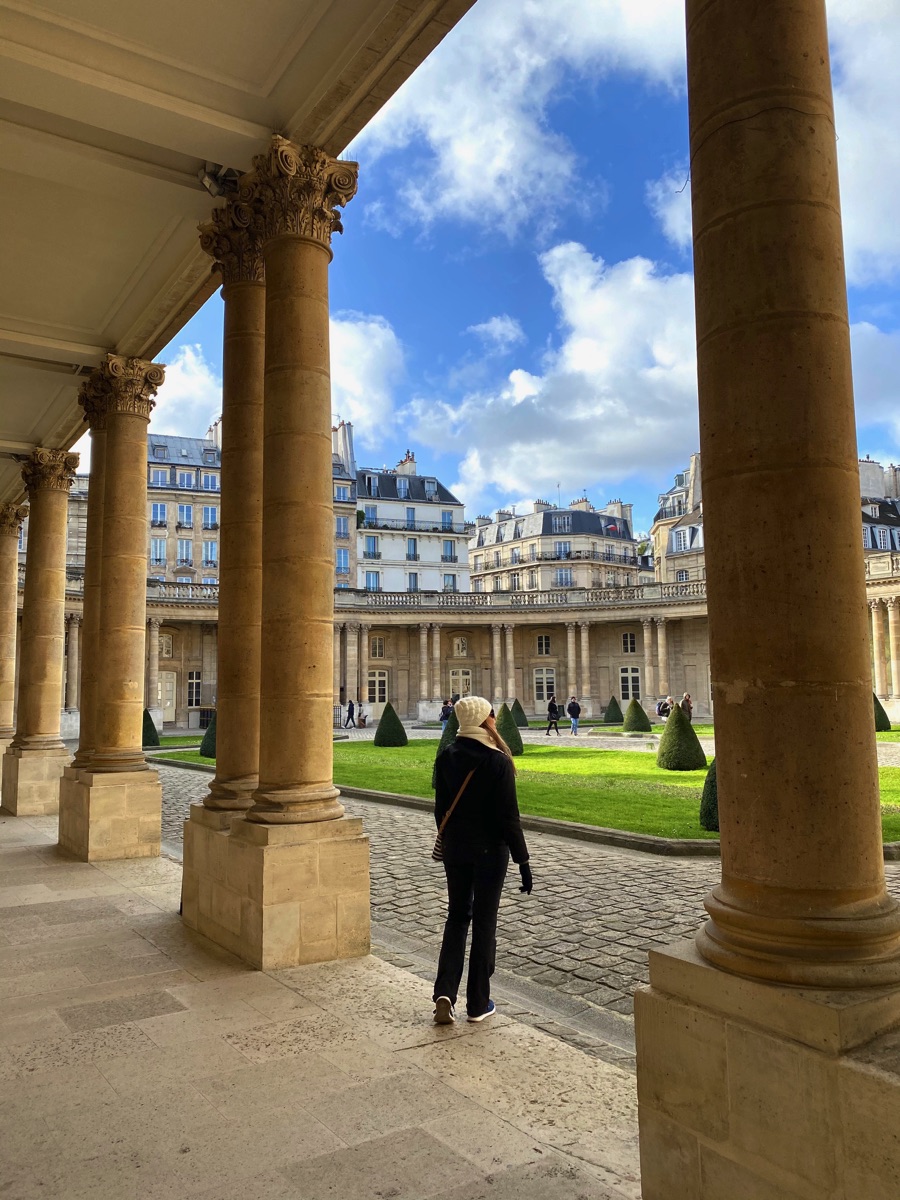 15. Check Out The Montmartre Cemetary
This cemetery isn't far from the Sacre Coeur Basilica in Montmartre so it's definitely worth strolling through if you're already in the area.
Wander past cobwebbed mausoleums, cracked tombstones and some 180-year-old graves with hardly another visitor in sight.
Tip: Not too creeped out by cemeteries? You might also want to head to Pere Lachaise Paris Cemetery where you'll find the burial site of Jim Morrison. With more than 3.5 million visitors annually, this is the most visited cemetery on earth, so not very "off-track".
However, it's still worth a visit if you're interested in visiting the graves of Mr. Morrison, as well as Oscar Wilde, Victor Noir, Édith Piaf, and many other famous individuals.
16. Walk Along The Promenade Planteé (Coulée Verte René-Dumont)
Another abandoned railway! Ever since our visit to New York and Chicago, we've loved checking these ones out. Well, the Promenade Planteé is actually the first of its kind in the world. Until New York copied their idea, this was the only elevated park built on an old railway anywhere.
Here you can stroll in peace, high above the bustling capital below. There are birds chirping, flowers in bloom, trees, ponds and nice areas to visit. The Promenade stretches for 4.7 kilometers from Bastille to the edge of the city, so it's worth checking this out after a visit to the Bastille Market.
Best Things To Do in Paris For Foodies
If you've been following this blog, our YouTube or our social media for a while, you'll know that Dariece and I are self-proclaimed foodies. To us, food is one of the best parts of travel, not just because it tastes good, but because it often gives you a unique insight into culture, tradition and family life.
Paris is no different. Parisians take their food very seriously and there are some amazing things to do in Paris for foodies.
Not all foodie experiences can be enjoyed in a normal restaurant. Sometimes, true foodies have to book a tour or an experience to have their tastebuds tantalized in an extra-memorable way. Here are our top 3 foodie experiences/tours that you'll have to book a day or two in advance.
17. Enjoy Wine & Cheese Tasting in an Old Wine Cave
When we came to this experience we really didn't know what to expect, but we really enjoyed it. Set in a cave at the bottom of one of the oldest buildings in Paris, this experience is casual, so don't worry about being surrounded by pretentious wine sniffers.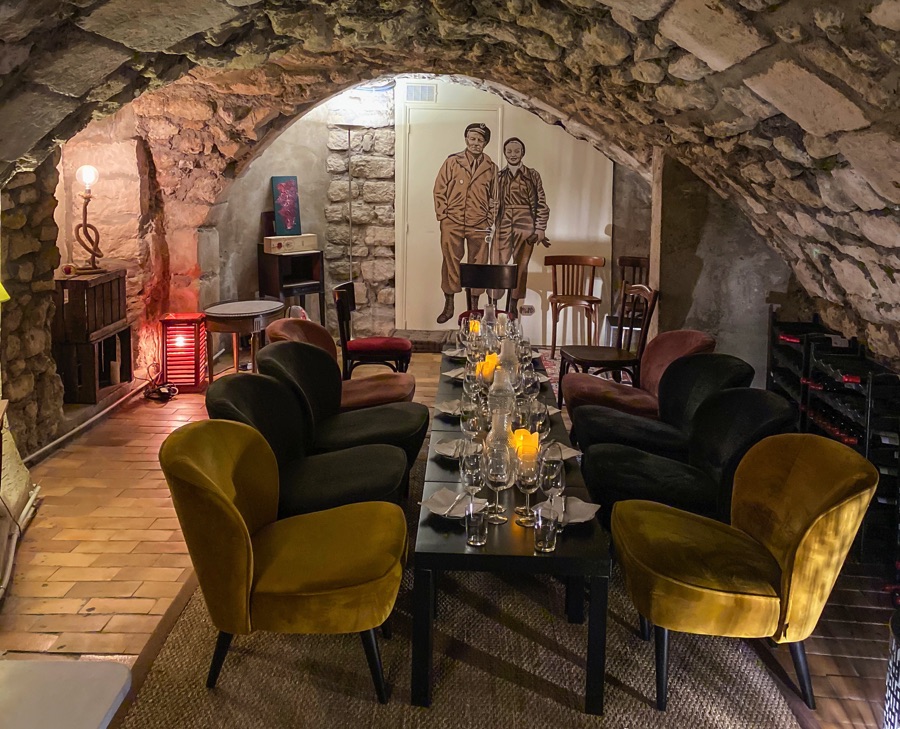 Instead, it's just a group of people sitting around and tasting different French regional wines with some cheeses. The host, Simon, is laid back and has no judgment, which is always nice when tasting wines!
18. Take a Food Tour Around Paris
We ran out of time to do a food tour in Paris, but we have booked with GetYourGuide so many times before on different experiences, so I'm confident that this one would be great. The 3-hour small-group tour takes you through the center of Paris to try 5 different Parisian favourites.
They also tell you where Parisians get their cheese, charcuterie, wine, bread, and pastries. These tours are a great way to add to your list of must-visit restaurants and must-try foods in the city.
19. Join a Chef's Table Dinner With a Parisian Chef
This is one of the best food experiences we've done to date. Set in an old atelier (art studio) of a famous painter, this experience takes you (and your tastebuds) on a historical journey through the life and times of the artist.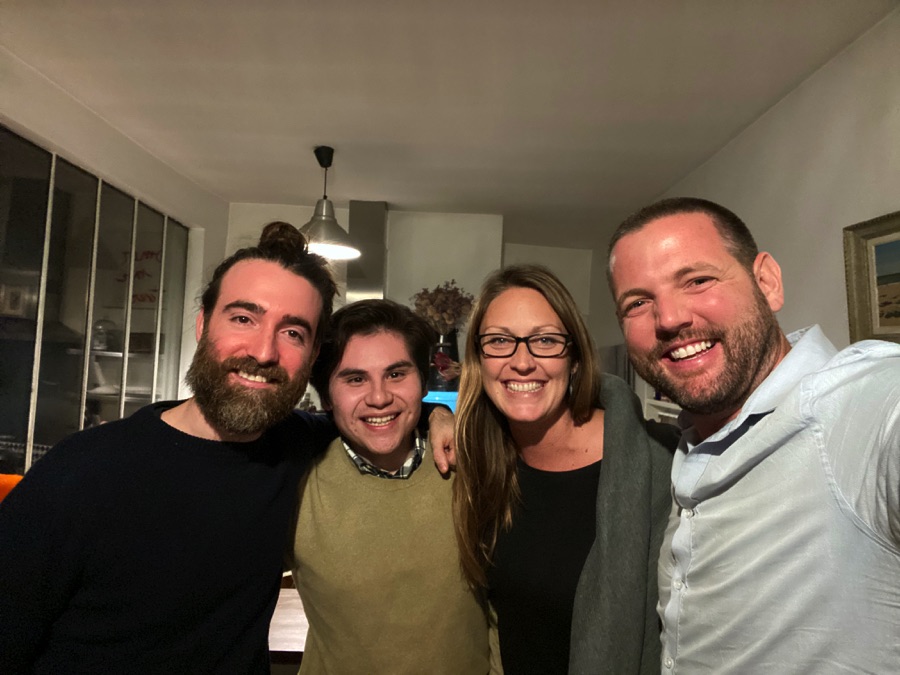 The French chef prepares a fabulous meal for you as you sit around chatting with other travellers and the chef himself. I can't tell you what artist lived here, or much more about the dinner because the host has asked me to keep his wonderful experience a secret. So I'll say no more… other than "don't miss it"!
20. Dine at Tasty Restaurants in Paris
Speaking of must-visit restaurants, we ate at a new restaurant every breakfast, lunch, and dinner so that we could share with you the best places to eat around the city. Here's our list of the best restaurants, just in case (like us) one of the main things you want to do in Paris is eat.
Many of these were recommended to us by Parisians and the more local ones didn't disappoint. A useful tip for finding restaurants more frequented by locals is to search Google Maps for restaurants nearby, then click on the reviews and change the order to "Newest" rather than "Relevant" (that way, you'll see reviews in all languages).
Bistrot Victoires
📍6 Rue de la Vrillière, 75001 Paris (2nd Arrondissement)
⭐️4.4/5 (2,023 Google Reviews)
💵€10-€12 / Plate
This little place is one of our favourites in Paris for sure. We popped in during lunch rush hour and the bistro was buzzing. Most of the people were speaking French, so we figured that even though the restaurant is so close to The Louvre, it was a pretty local joint.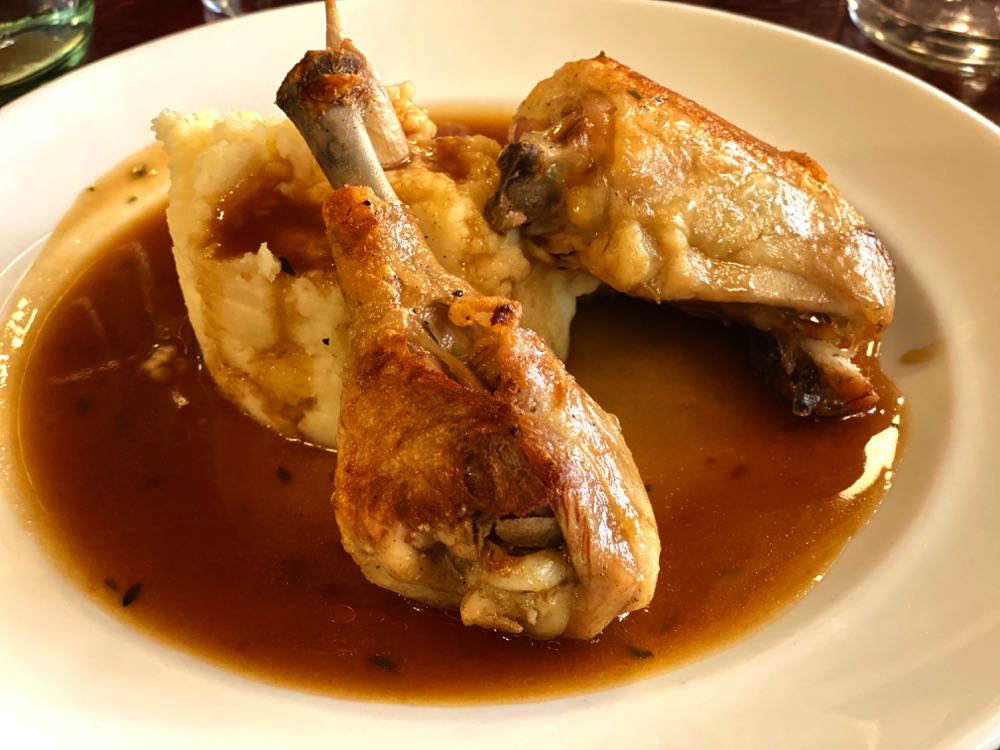 When the food came, we were amazed. The duck confit that I had and the roast chicken that Dariece ordered were both fantastic and were under €11 each!
Le Coup de Torchon
📍187 Rue Saint-Jacques, 75005 Paris (5th Arrondissement)
⭐️4.5/5 (155 Google Reviews)
💵€14-€16 Set Lunch (1 Main with Starter or Dessert)
This little place won't be on most restaurant lists for Paris because very few travellers know about it, but it's a hidden gem. Located close to the Pantheon in the 5th Arrondissement, this was one of the more affordable restaurants we ate at in Paris.
Try the delicious foie gras salad and the French onion soup to start, and the duck skewers and pasta mains. We had this, along with a cheeky lunch carafe of wine and it only cost us around €28 in total.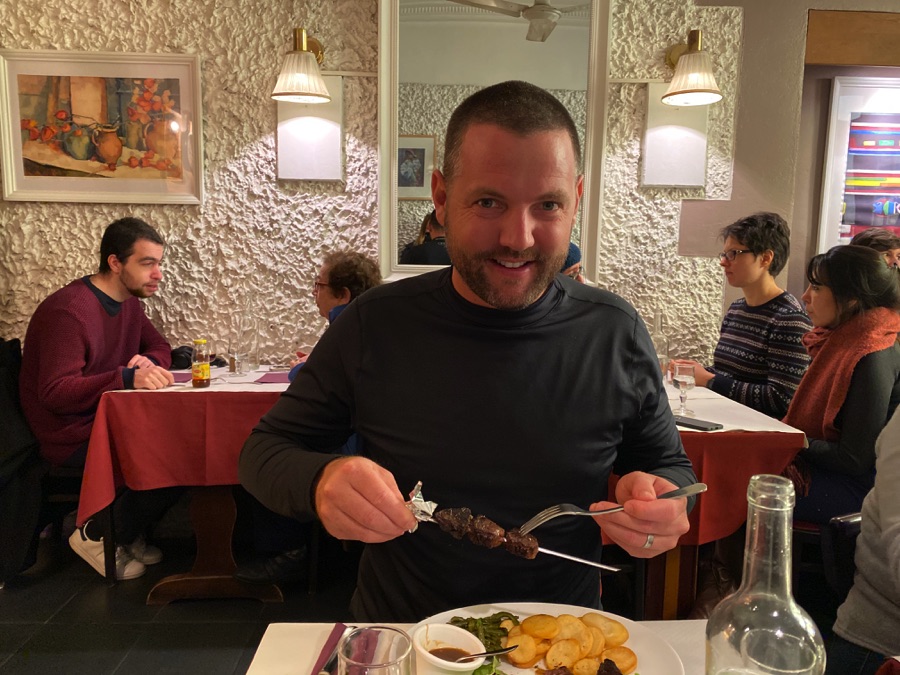 Constant Cafe
📍139 Rue Saint-Dominique, 75007 Paris, France
⭐️4.1/5 (1,875 Google Reviews)
💵€10-€13 Starters / €19-€21 Mains, €8-11 Deserts, €37 Set Meals
Run by a Michelin starred chef, we went to this little place around 8 pm one night and it was buzzing with mostly Parisians and a few foreigners. The food was fantastic. Dariece had cream of pumpkin with chestnut soup to start and the Beef Bourguignon as her main.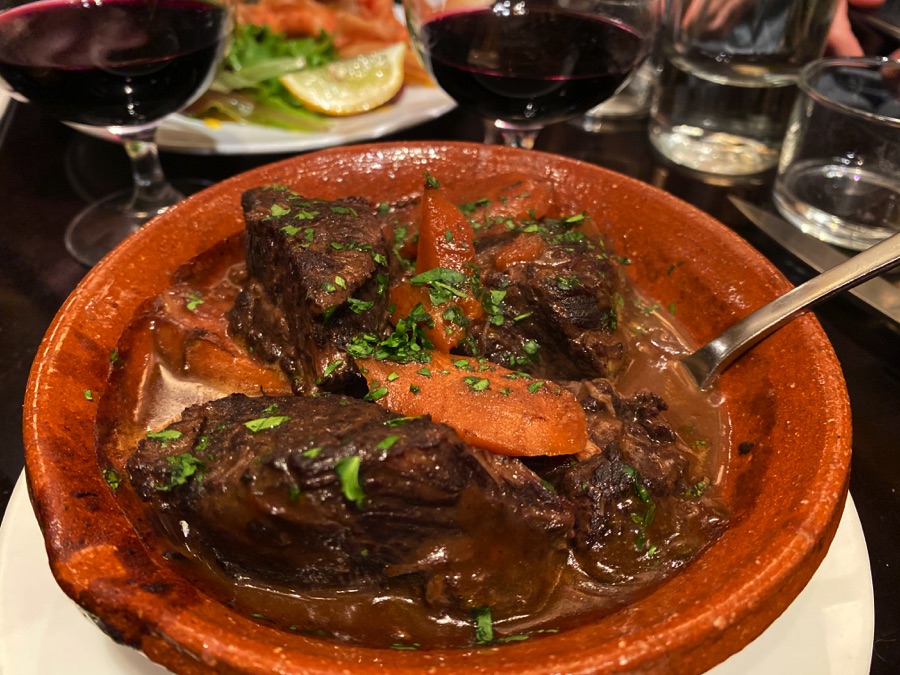 I had Escargot to start with the prawn main course. We shared cheese and profiteroles for dessert and all were fantastic. I really can't recommend this place enough.
Chez Hanna Falafel
📍54 Rue des Rosiers, 75004 Paris, France
⭐️4.0/5 (906 Google Reviews)
💵€5.50 Falafel, €8.50 Shawarma
We actually went to this place accidentally. We were on our way to the more famous L'As du Fallafel and when we saw the sign for "Best Falafel In The World" we just assumed that we were at the right place.
It turned out that this was a pretty good mistake because the falafel was excellent and we didn't have to wait in line, while the more popular place was lined up around the block. If you're hungry and don't want to wait for L'As du Fallafel, then definitely pop into Chez Hanna as they make a great falafel.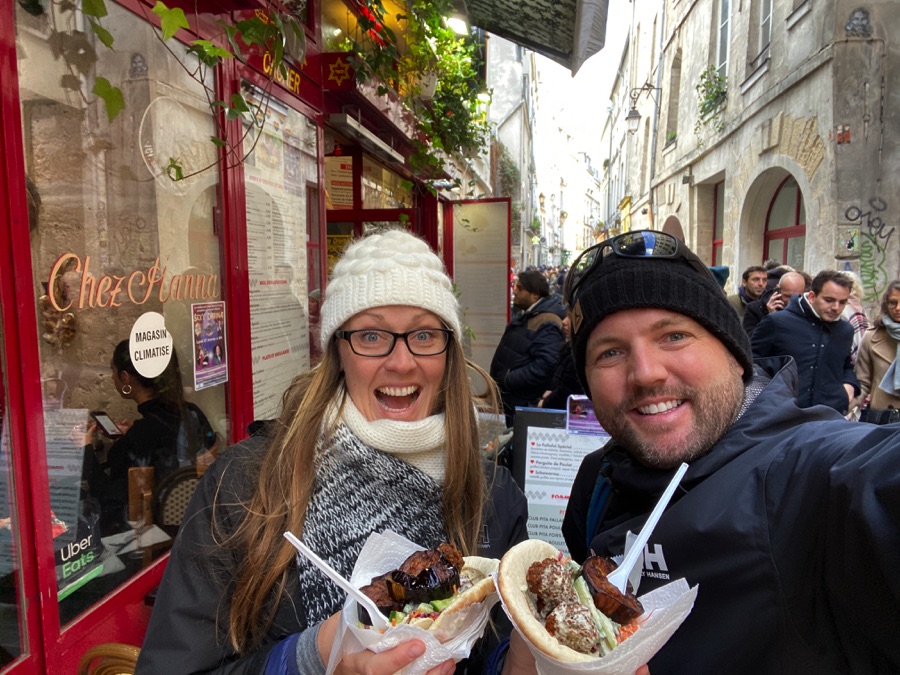 Bastille Market
📍Boulevard Richard-Lenoir, 75011 Paris, France
⭐️4.5/5 (250 Google Reviews)
💵Affordable Meats, Cheeses, Fruit, Veg and Full Meals
I know that this isn't technically a restaurant, but it would be such a shame to miss this place if you're a foodie. Come here with a reusable bag and plan to pick up some food here and either eat at the market or go picnic on a nearby step and people watch.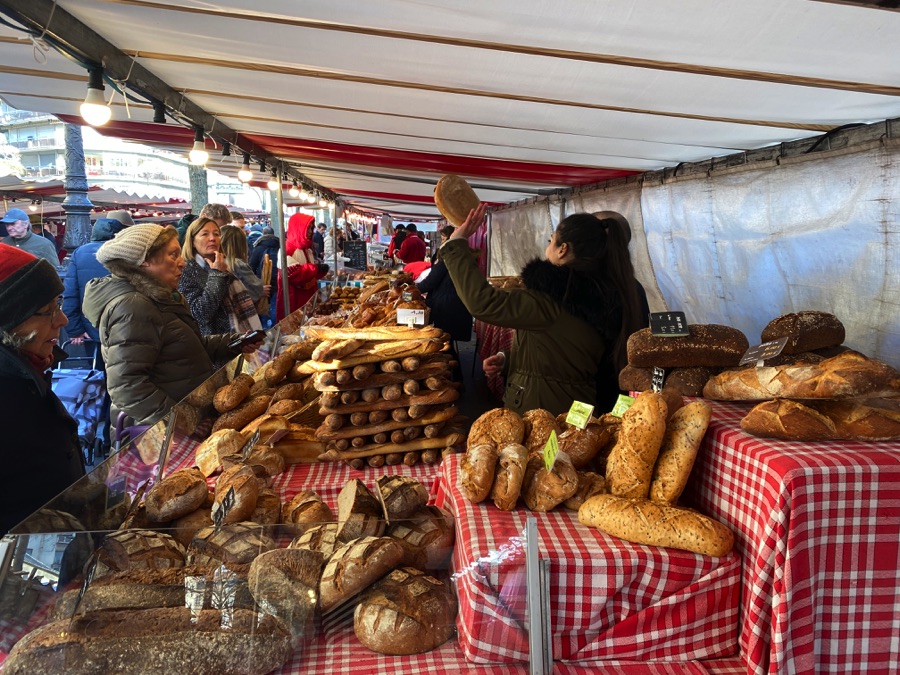 The Bastille Market is only open on Thursdays and Sundays but if you're in Paris on these days, make sure to visit!
21. Take a Sightseeing Walk On Your Own
Get your walking shoes ready for your trip to Paris, you'll be walking… a lot. We were putting in around 26,000 steps every day according to our iPhone health apps and our legs could feel it at the end of the day for sure.
The best thing about walking around Paris is that you get to take in the city's best sites along the way. Here are our favourite 3 sightseeing walks that we did in the city.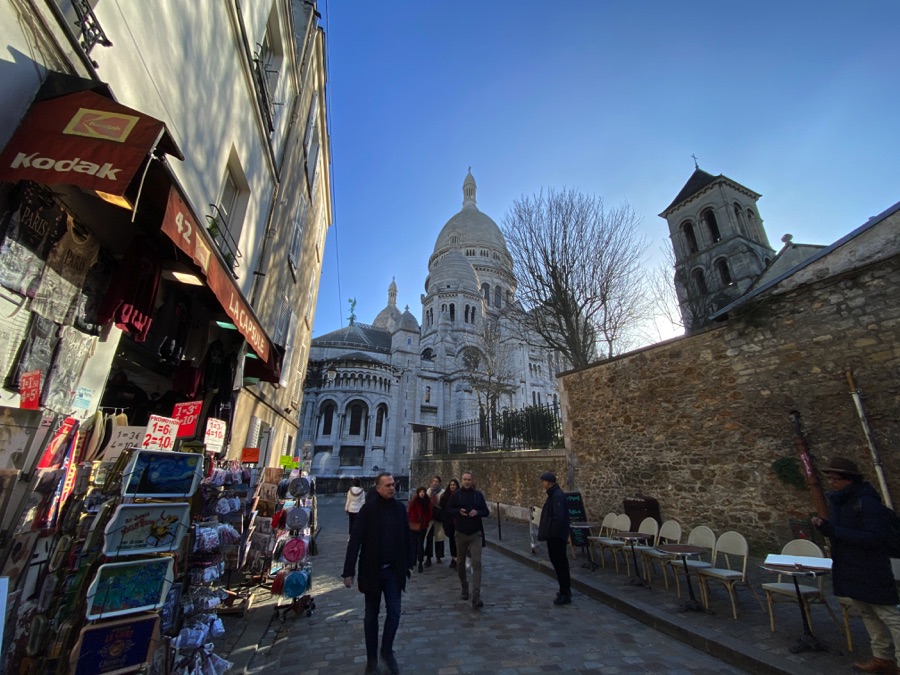 Between these 5 independent strolls, you can take in most of the must-see sights in Paris. You can combine a couple of them to make an entire day of sightseeing around the city as well.
The times given below are giving plenty of time to sightsee and people-watch along the way. If you were to just walk these without stopping you could complete the walks much quicker.
The Seine Sightseeing Walk
I recommend getting off at the Concorde metro stop and walking from Place de la Concorde to Jardin des Plantes (near the Gare d'Austerlitz metro stop), taking in the sites of the Louvre, Jardin des Tuileries, Jardin du Palais Royal, Cour Carrée, Square du Vert Galant, Marché aux Fleurs, Love Locks bridge, Pont Neuf Bridge (the oldest in Paris), Berthillon, the Ile de la Cite (a small island in the center of the Seine), The Notre Dame and Jardin des Plantes along the way.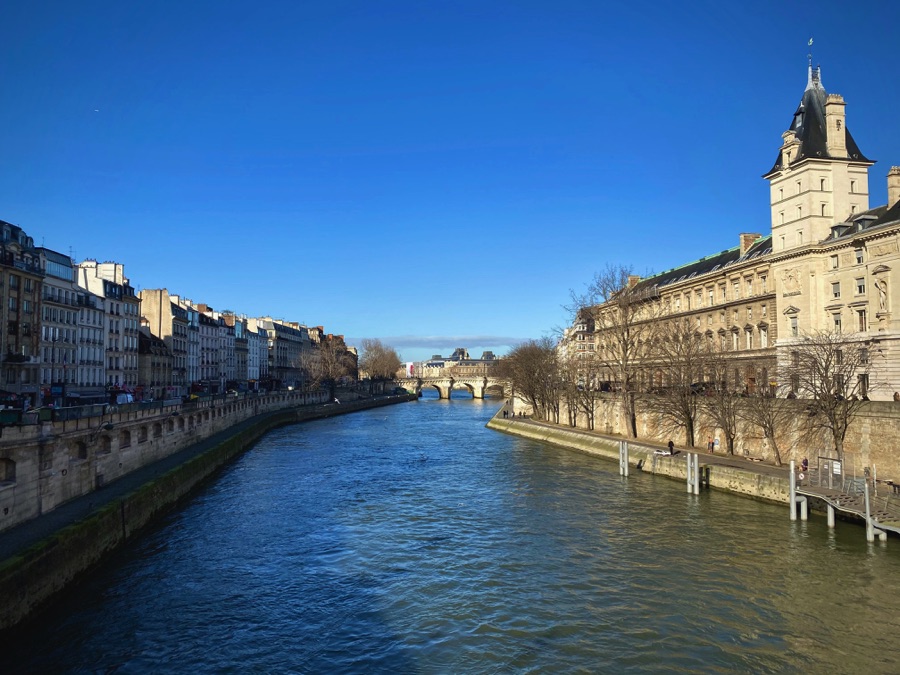 The walk is around 7 kilometers long and will probably take you around 3 hours to complete including time to take photos. Give yourself an extra hour or so to just sit on the banks of the Seine and people watch, which is arguably better than the actual sites.
Walking From the 4th to The Catacombs
As I've mentioned earlier in this post, this was one of our favourite walks in the city. We got off at the Hôtel de Ville metro stop in the 4th Arrondissement, then we crossed the Pont Notre-Dame bridge and headed south towards the catacombs, stopping in at The Luxemburg Gardens and The Pantheon along the way.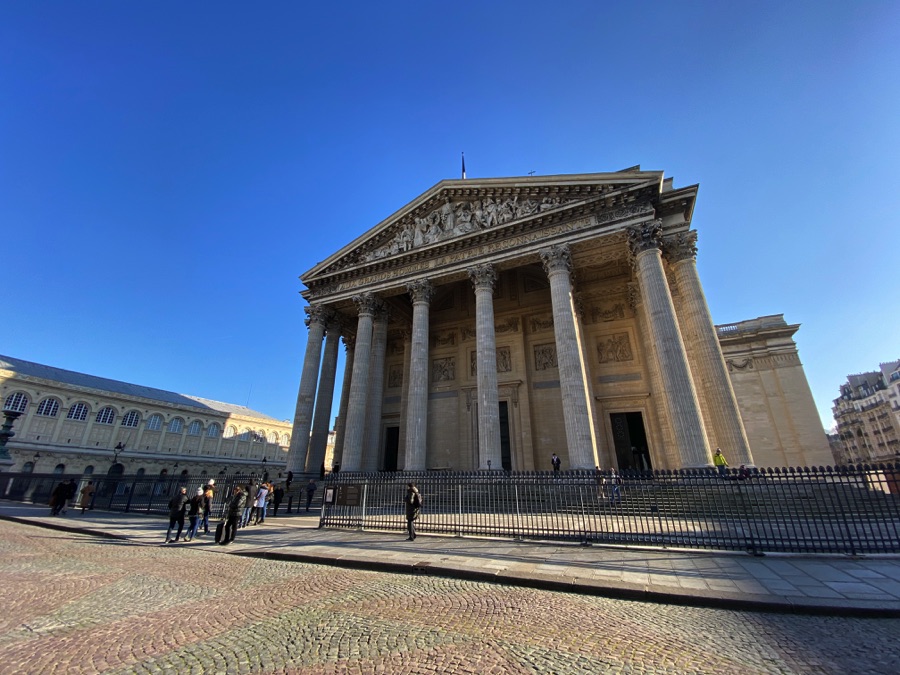 If you have time, stop in at Odette Paris sweet shop for a little treat just after getting off the bridge on the south side of the river.
If you're taking this stroll around mealtime, don't miss the Le Coup de Torchon restaurant, which was one of our favourite French Bistros that we ate at while in Paris (listed above).
The Essentials of The 7th, 8th
Get off the metro or take a taxi/Uber to Saint-François Xavier where you'll find The Army Museum. Then walk through The Invalides looping past The Invalides Hotel towards the Eiffel Tower, stopping at Bleu Olive Cafe for brunch or coffee, Notre Patisserie for a croissant or pain au chocolat. And, if you're here at dinnertime, check out Constant Cafe.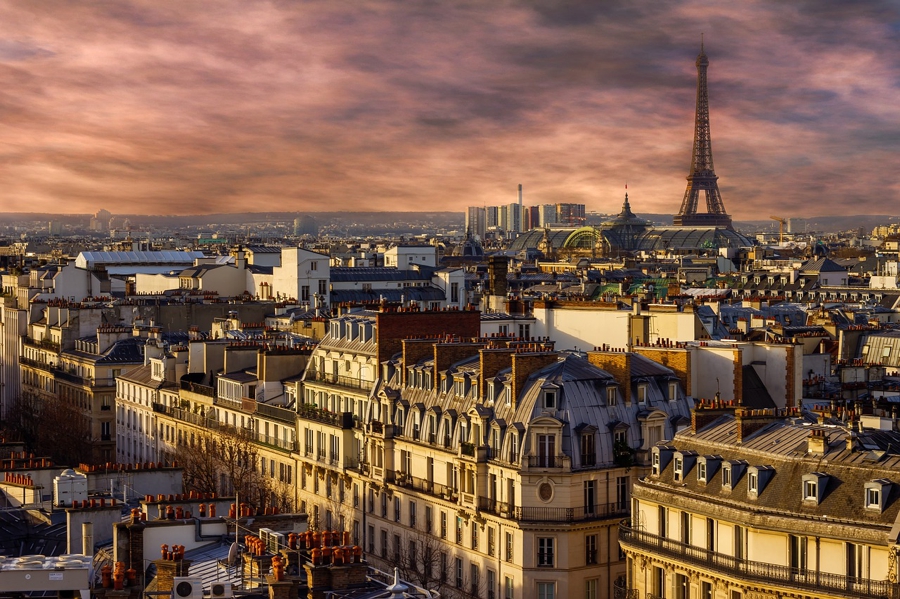 Enter in the Champ de Mars park from Place Joffre street near the Statue of Marshal Joseph Joffre and walk to the Eiffel Tower before passing under it and across the Pont d'Iéna bridge.
From there, check out the Trocadéro Gardens and the Palais de Chaillot, before heading northeast along Avenue Kléber towards the Arc de Triomphe.
Strolling Champs-Élysées To The Louvre
From the Arc de Triomphe, follow Ave Champs-Élysées towards Champs-Élysées and Place de la Concorde. Walk Through the Tuileries Garden to the Carrousel Arc de Triomphe and finishing at the Louvre.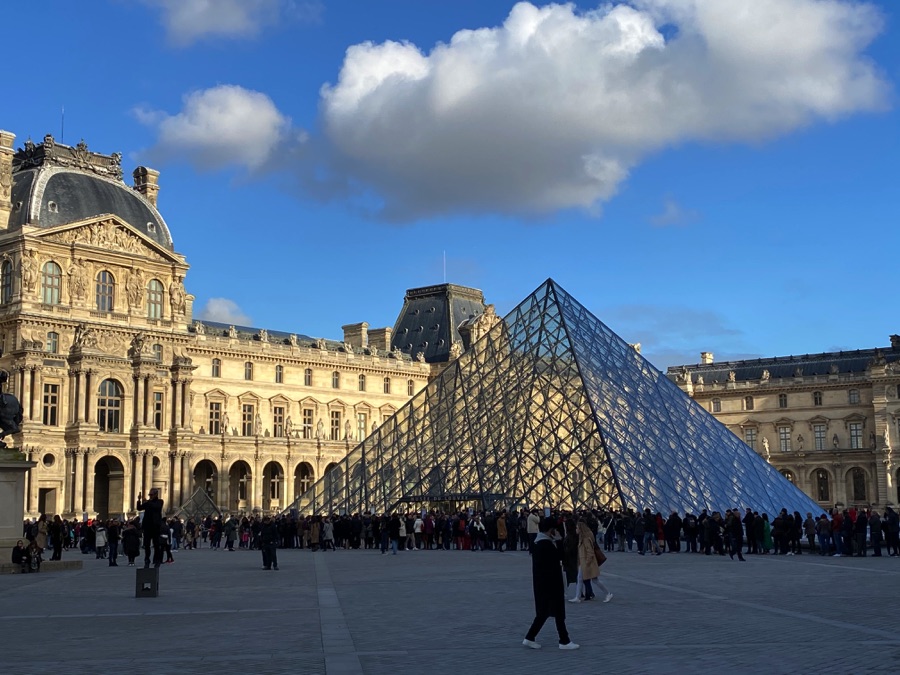 If you're here around mealtime, don't miss our favourite restaurant in Paris, the affordable and delicious Bistrot Victoires. Get the duck confit!
Montmartre to The 1st
After strolling around Montmartre for a few hours and checking out the Sacre Coeur Basilica, head down the stairs through the Square Louise-Michel and towards the Wall of Love (Le Mur des Je t'aime).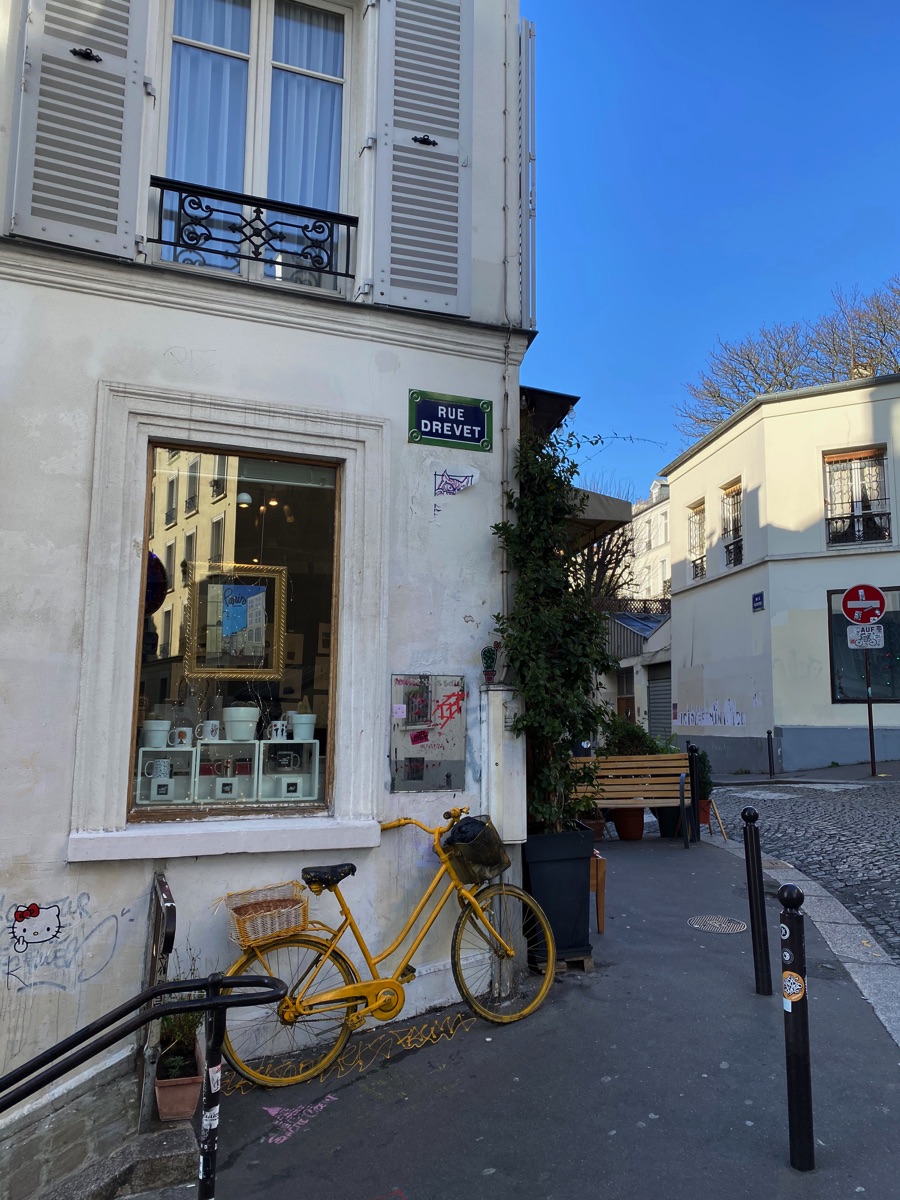 Then head south and if you're hungry, stop in at the Chéri Charlot sandwich shop before continuing through the Jardin du Palais Royal gardens, and ending at the Louvre or at the Seine.
Getting Around Paris
Getting around Paris is extremely easy. The best way is to walk, that way you'll see all of the in-between bits. In Paris, it really is just as much about the journey as it is the destination.
We visited during the transportation strikes in the city, but even with reduced runtimes, the metro and buses were quick, convenient and easy to navigate. I have two tips for you to make your visit to Paris much less frustrating.
First, pick up an Orange SIM Card (for as little as €11 for 1GB) when you land in Paris and put it in your unlocked smartphone. Then, make sure you have the Google Maps app on your phone. Having data and using Google Maps will make navigating the metro system in the city a breeze.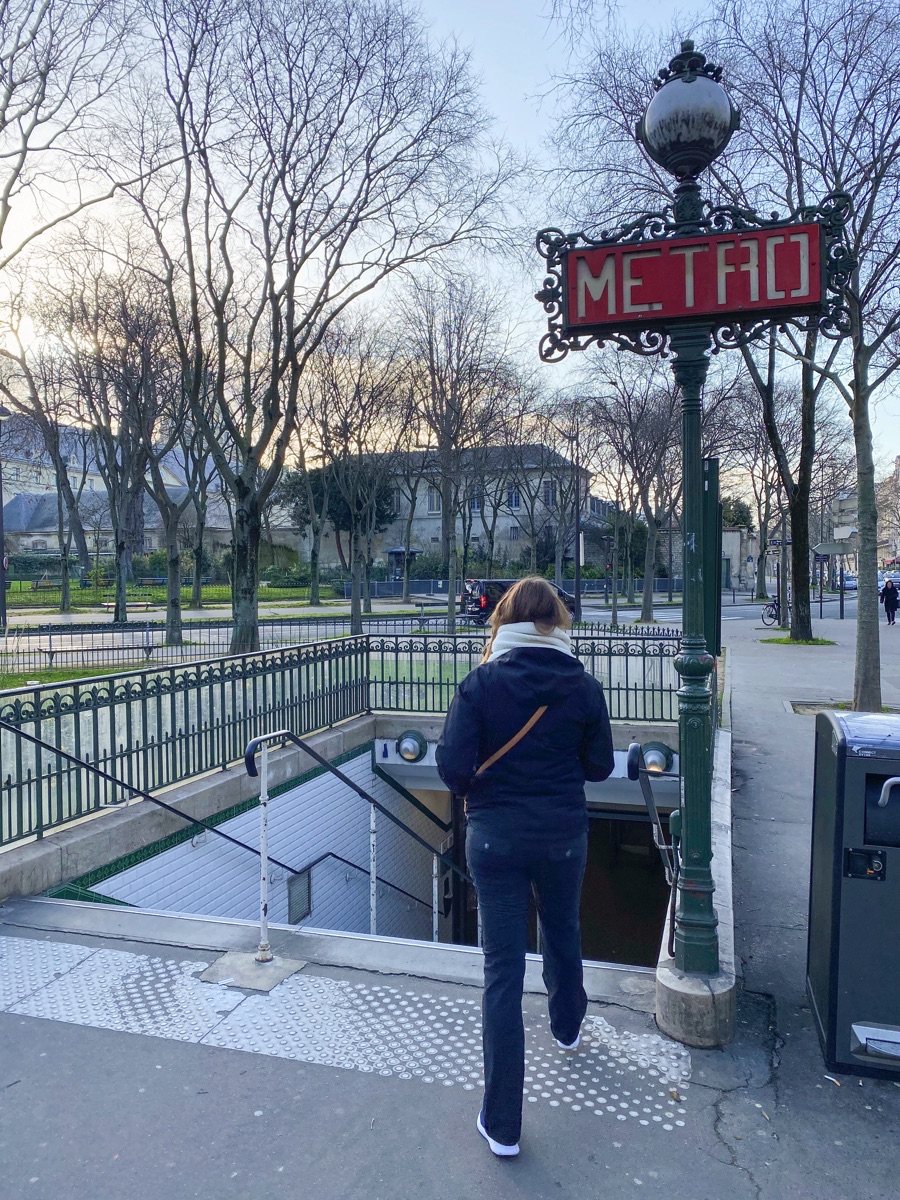 Just type into the maps where you want to go and click directions, then click the public transport tab and Google will tell you where to walk to get to the nearest subway, what times they run at, what stop to get off at and everything else you can think of. I honestly don't know how we got around before this app.
You can also use your data for calling UBER, reserving tables at restaurants with The Fork (La Fourchette) app, making phone calls and using electric scooters through the Lime app. Getting around Paris can be a bit confusing, but it's a breeze when you have data and utilize technology.
More Things To Do in Paris?
Of course, when it comes to things to do in Paris, there is always more to add to the list, but I think that this post gives you enough to satisfy even a two-week visit to the city.
One thing that's more important than actually seeing the sights is giving yourself enough time to simply feel Paris. Don't spend all of your days rushing from one landmark to another, effectively wasting your time in queue.
Instead, give yourself time to wander around the Arrondissements, getting lost in the charm that is Paris. There's a reason this is one of the most visited cities on earth and if you spend too much gawking at the tourist sites, you might miss it.
Looking for more places to visit in France, check out our list of the best 31 destinations! And, for more on Paris, check out our post on planning a getaway, the best Airbnbs in Paris, and our Paris itinerary for how to spend the perfect weekend in the city.
---
► Watch The Videos
I've also created a video of the top 10 best things to do in Paris. Check it out! To help us, if you click the title at the top of the video, you'll be brought to YouTube where you can like, comment, share and subscribe. Thanks for your support!
---
Like This Article? Pin it!