Portland is one of the best cities to visit in the USA. With several excellent parks, a thriving music and art scene, and an abundance of food trucks and breweries, there's no shortage of fun things to do in Portland, Oregon!
A popular slogan here is "Keep Portland Weird," as the city and its residents are known for their creativity and independence.
The city hosts funky annual events like the World Naked Bike Ride and the Adult Soapbox Derby. It's also home to places like the Freakybuttrue Peculiarium and a vacuum museum — oh ya, there are lots of weird things to do in Portland!
Weirdness aside, there are plenty of awesome Portland attractions to visit, from one of the largest urban parks in the country to a French Renaissance mansion.
Add in all the museums, galleries, markets, and live music venues, and you'll never be bored when traveling in the city.
I've been all over the country and Portland is hands-down one of my favorite American cities to visit. What can I say? I'm a sucker for the great outdoors, efficient public transportation, and craft beer.
Here's a list of the top 15 things to do in Portland.
1. Join a Walking Tour
Get to know the city known as Portlandia by taking a walking tour. There are several different options for exploring the best that Portland has to offer on foot.
Around Portland Tours runs their Intro to Portland Walking Tour daily and it's just that — the perfect introduction to the city.
On this entertaining and informative tour, you'll learn why Portland is considered one of the best cities to call home in the US. After the tour, you might want to move here!
Tickets cost $25 per person for the 2.5-hour tour. Click here to learn more about this affordable, fun and informative tour.
If you'd rather add some craft beer to your walking tour, have a look at this tour.
You'll check out the Inner Eastside neighbourhood with a knowledgable guide, while stopping at breweries to sample sours, craft barrel-aging, Belgians, wits, imperial IPAs, and more. This fun and boozy thing to do in Portland is about 2.5 hours long. Learn more here.
2. Visit Pioneer Courthouse Square
Dubbed the "living room" of the city, this has been a central gathering place in Portland for 35 years.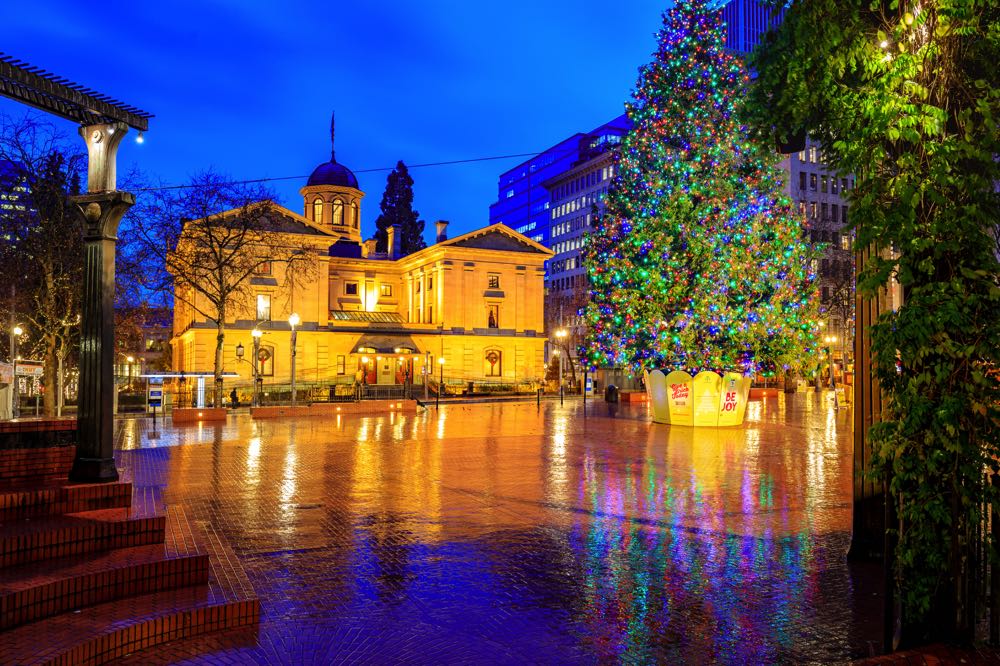 One interesting feature of the square is that there are over 70,000 bricks with names on them. Citizens and businesses purchased the bricks with donations of $15 to help fund the square's construction in the early '80s.
Inside the square, you'll find the Waterfall Fountain and several different artworks.
One of the most famous is Allow Me, which depicts a businessman offering his umbrella. The square is also home to the Weather Machine — a sculpture that predicts the following day's weather at noon with a bit of fanfare.
There are over 300 events that take place in the square throughout the year. From concerts to fitness classes to movie screenings, there's a lot going on here. Be sure to check their calendar of events to see what's happening.
Pioneer Courthouse Square is also home to an information center where you can get tons of info on the various Portland attractions.
3. Enjoy Washington Park
One of the top things to do in Portland is to visit is Washington Park. Actually, this massive park is several attractions rolled into one. There's so much going on here that the park could be its own list!
In the City of Roses, you should start your visit to the park at the International Rose Garden. There are over 10,000 rose bushes here, and they're in bloom between April and October. The Rose Garden is included in this Morning Highlights Tour.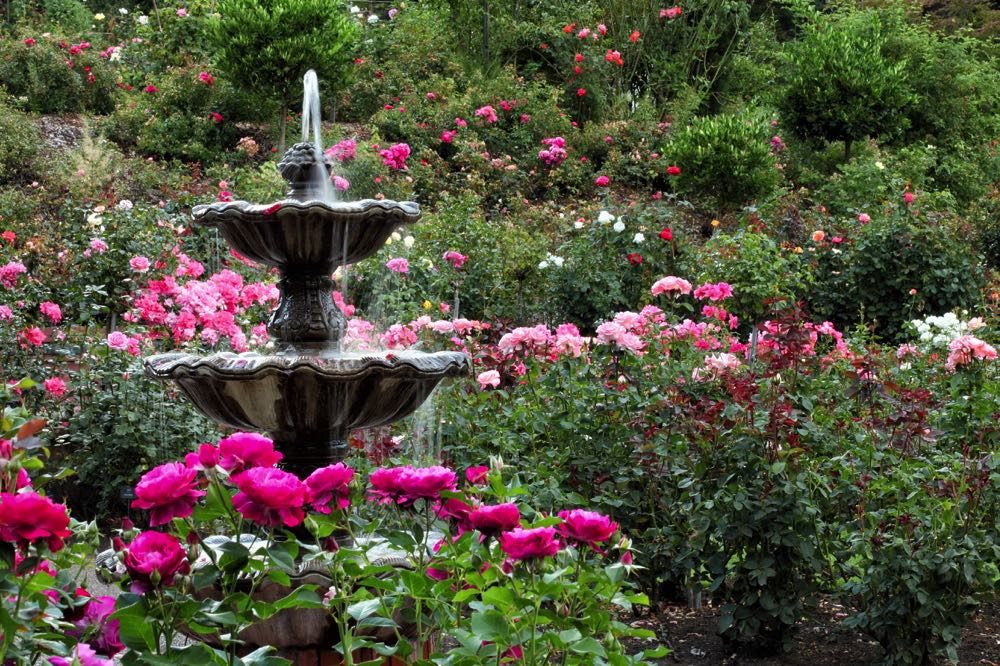 From Memorial Day to Labor Day, they also run free public tours every day at 1 PM.
The park is also home to the beautiful Portland Japanese Garden. It features eight unique garden areas, as well as a Cultural Village where you can immerse yourself in Japanese culture. Tickets cost $18.95 for adults and $13.50 for children (click here to book them online).
We haven't even scratched the surface of all that's on tap in the sprawling Washington Park. Here you'll also find the Children's Museum, the Hoyt Arboretum, and so much more.
With over 15 miles of trails, it's also a great place to enjoy a bit of hiking in the city. Check their website for a detailed look at all the various attractions.
The park is open daily from 5 AM to 10 PM. You can easily reach the park by light rail. From May to October, there's also a free shuttle that makes a loop of the park, stopping at the top attractions. Click here for directions to Washington Park.
4. Go Museum Hopping
While you can easily fill your days outdoors in Portland, it does tend to rain up here in the Pacific Northwest. Thankfully there are several great museums you can add to your list of things to do in Portland Oregon for those inevitable rainy days.
Portland Art Museum
One of the best choices is the Portland Art Museum, which is known for its impressive collections of Native American and Asian art. They're always adding exciting new exhibitions, so be sure to check their website to see what's currently on display.
The art museum is open from 10 am – 5pm Wednesday to Sunday. It's closed on Monday and Tuesday. Tickets cost $20 for adults and children 17 & under are totally free. Click here to get directions.
Oregon Historical Society
Right across the street, you'll find the Oregon Historical Society. This fun and interactive museum aims to make the history of the state both visible and accessible to visitors.
Here you can learn all about the people, places, and events that have shaped the state of Oregon. It's open from 10 am – 5 pm Monday to Saturday, and noon – 5 pm on Sunday. Tickets to the museum cost $10 for adults and $5 for kids.
Weird Museums to Visit in Portland
Remember how I said the city has a slogan that goes "Keep Portland Weird"? Well, that definitely applies here, as you'll also find museums dedicated to hats, puppets, toys, and even vacuum cleaners…
5. Visit Powell's City of Books
This may be hard to believe in the year 2021, but one of the top things to do in Portland Oregon is hanging out in a bookstore.
This isn't just any old bookstore, though — Powell's City of Books is the largest independent new and used bookstore in the world!
The store takes up an entire city block, and it's composed of nine color-coded rooms with over 3,500 sections.
They claim to buy over 3,000 used books every day and house up to one million at any given time! The place is so massive that they actually hand out maps to help you find your way around.
Drop into Powell's, grab a coffee, and peruse this one-of-a-kind collection.
A major highlight is their Rare Book Room that's full of antique furniture and several thousand of their most valuable and unique books. Be sure to take a look at their calendar of events before you visit to see what's going on here.
Powell's City Books is open daily from 9 AM-11 PM. They run free guided tours every Sunday at 10 if you happen to be in town over the weekend. Click here to get directions.
6. Visit Forest Park
If you're like me and would rather be hiking in the forest than walking through the concrete jungle, be sure to pay a visit to Forest Park.
Located just a short trip west of downtown, this massive urban forest covers over 5,000 acres. It's one of the biggest in the country and one of the best places to visit in Portland.
Stretching for around 8 miles on the eastern slopes of the Tualatin Mountains and overlooking the Williamette River, this is an incredibly scenic area. It's located just a short drive from downtown Portland, allowing you to experience a true Northwest forest within the city limits.
Forest Park is home to an astounding 70 miles (about 110 km) of trails.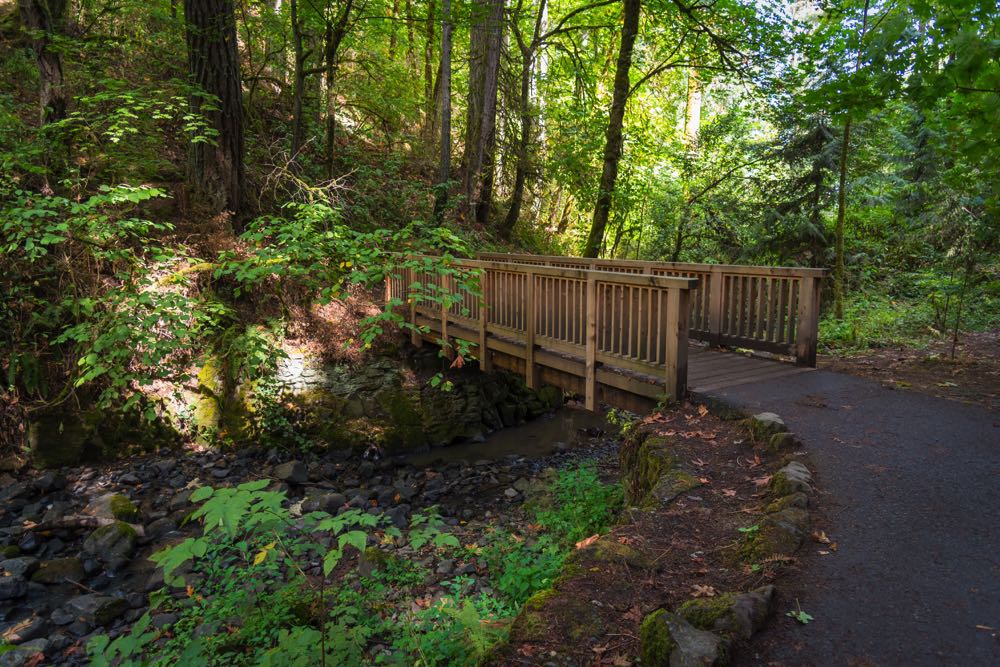 The Wildwood Trail section of the famous 40-Mile-Loop that goes around the city is a part of the park if you want to do some serious walking. You can see a map of all the various trailheads with descriptions on their website.
The park is open every day from 5 AM-10 PM. They also frequently do guided tours of the park, so you'll want to take a look at their calendar to see if you can join one. If so, it's definitely worth adding to your list of things to do in Portland.
If you'd rather head out to Forest Park with a guide and enjoy a 4.5 – 5 mile (8-9 kilometer) hike. This is a great way to not get lost, and learn about the place you're visiting. Of course, there has to be something weird to do in Portland added to this hike, so you'll also visit the Witch's Castle… Find out more here.
Portland's Smallest Park
Now that you know about one of the biggest urban parks in the USA, how about visiting the smallest in the world. 
A classic example of Portland's famous weirdness is the fact that the city is home to the world's smallest park. Mils End Park covers just 452 squares inches (0.292 square meters), so it won't take you long to visit!
Oh yeah, and it was dedicated on St. Patrick's Day as "the only leprechaun colony west of Ireland" as well. Click here to get directions to this hilarious tiny park.
7. Wander Around Chinatown
While it's not as famous as its counterparts in New York or San Francisco, Portland's Chinatown is well worth a visit. It's also known as Old Town, which is a fitting name seeing as how it's the city's oldest neighborhood.
At the corner of NW 4th Ave. and W Burnside St, you'll find the Chinese gate and lion statues. Find Chinatown on the map, here.
After snapping a photo there, you can head a block north to check out the Portland Chinatown Museum. It's open Thursday-Sunday from 12-5 in the summer and costs $8 for adults or $5 for children.
Without a doubt, the highlight of this part of Portlandia is the Lan Su Chinese Garden. It was built after Suzhou became a sister city of Portland, as it's famous for its traditional gardens.
The Chinese name translates as "Garden of the Awakening Orchids," and it's an absolutely gorgeous place to spend a few hours.
The Chinese garden is open daily at 10:00 am, and the closing hours depend on the season. The garden stays open until 6:00 pm during the summer months, but closes as early as 4:00 in the winter.
Ticket prices vary as well, costing $12.95 for adults and $9.95 for kids in the summer months. Check their event calendar to see what's happening and be sure to drop by their lovely tea house as well. You can find it on the map, here.
8. Eat At The Food Trucks (one of the best things to do in Portland for foodies)
One of the tastiest things to do in Portland Oregon is eating your way across the city's countless food trucks. Portlandia boasts an impressive 500+ different food trucks, which are grouped into pods all over the city.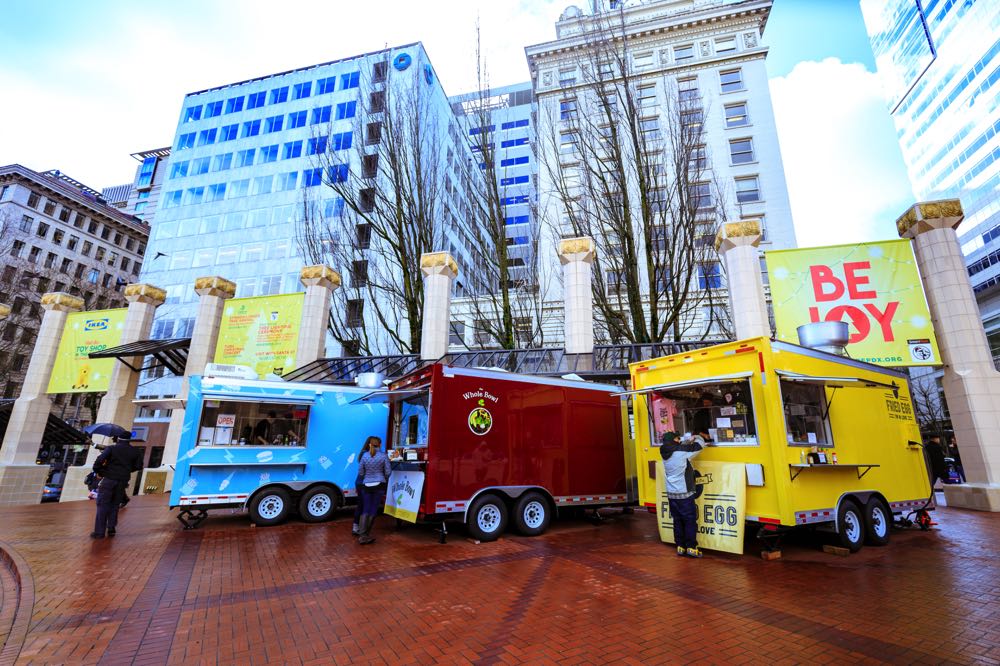 Unfortunately, the biggest food truck pod in Portland recently had to close down. The 10th and Adler pod was previously known as the largest concentration of street food in America, so it's sad to see it go.
These days, one of the best spots to get a variety of street food is the pod on 3rd and Washington (click here for directions). Take your pick from around 20 carts cooking up Mexican, Korean, Egyptian, Greek, and much more.
Another excellent choice is Cartopia in East Portland. It's mostly a late-night spot, so it's the perfect place to grub down after a big night out on the town.
A great way to experience the food "pods" is to join this fun foodie tour. Together with your guide, you'll walk through Central Eastside Portland, while sampling food from 7 food trucks. Plus, you'll enjoy a cold beer to wash it all down. Find out more and book with your platform of choice: Get Your Guide or Viator.
9. Crystal Springs Rhododendron Garden
We've already covered a few parks, but it's definitely worth adding another one. The Crystal Springs Rhododendron Garden in southeast Portland is a beautiful place to escape to for a few hours.
Founded back in 1950 as a test garden, it currently has over 2,500 rhododendrons, azaleas, and many other plants. It's set on Crystal Springs Lake and features several paths that lead you around the garden. This is the spot for your own personal moment of zen in Portlandia.
In addition to all the pretty flowers, this is also a great spot for some bird watching. There are over 100 species of birds and other animals here, including ducks, blackbirds, sparrows, herons, and more.
The garden can be enjoyed year-round, but the best time to see the rhododendrons is between late April and early May. They have two large events during this time — the Rhododendron & Daffodil Show and then a larger one over Mother's Day weekend.
It's free to visit from October 1-February 28 and always free on Monday. From March 1 to September 30, they charge $5 admission for adults. The garden is open from dawn to dusk year-round. Click here to get directions.
10. Watch Live Music
While it may not be as famous as its neighbour, Seattle, there's a solid live music scene in Portland as well. The city has music venues of all shapes and sizes and there are shows going on every night of the week here.
From local bands trying to make a name for themselves at dive bars to big-name headliners playing at the arena, there are plenty of options for rocking out in Portlandia.
Some of the best places to catch live music include Doug Fir Lounge, Roseland Theater, Crystal Ballroom, and Mississippi Studios.
My wife and I went through Portland on our month of music trip around the country and had a blast. Check this calendar of events to see who's playing when you'll be in town and add an evening of live tunes to your list of things to do in Portland Oregon.
11. Visit Pittock Mansion
One of the most popular Portland attractions is the Pittock Mansion. This 46-room mansion was built in 1914 in both Victorian and French Renaissance architectural styles.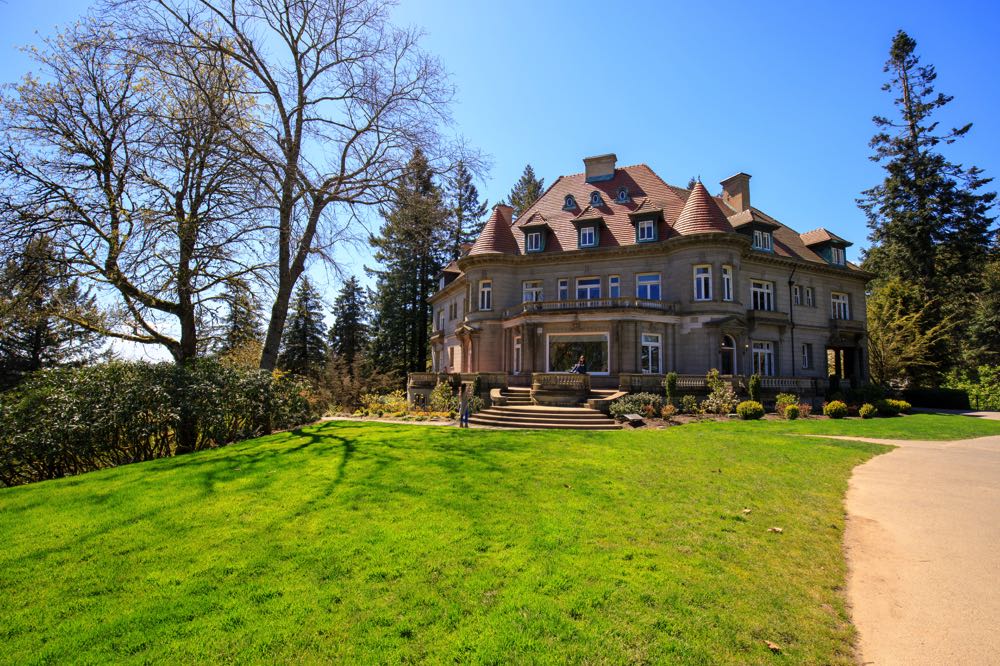 This gorgeous mansion was home to Henry Pittock, published in the Oregonian newspaper, and his wife Georgiana. He chose the location on the West Hills above Portland for the panoramic views of the city, river, and mountains.
Unfortunately, they both passed away within five years of moving in.
The house remained in the family for decades, but it sustained serious damage during a storm and was almost demolished. Locals helped raise nearly $70,000 to protect the property and the city of Portland eventually bought it and turned it into a museum.
This half-day, small-group tour takes in many activities in Portland, including a visit to the Pittock Mansion. Learn more here.
The Pittock Mansion is open daily from 10 am – 4 pm. Tickets cost $12 for adults and $8 for children. Be sure to check their website to read more about their different options for tours.
12. Shop At The Saturday Market
If you're in town on a weekend, you'll definitely want to add a trip to the Saturday Market to your list of fun things to do in Portland. This bustling arts & crafts market is the largest of its kind in the entire United States and is a really fun place to explore.
The market is located on the west side of the river right under the Burnside Bridge. While you're in the area, you can also check out some popular spots for photos such as the Skidmore Fountain and the famous White Stag sign. Click here to get directions.
It's open every Saturday from 10 am to 5 pm from March through to Christmas Eve.
In the week leading up to Christmas, it becomes the "Festival of the Last Minute" — the perfect place for slackers to finish up that holiday shopping!
There's a lot going on at the Portland Saturday Market, so you can easily spend a few hours there.
In addition to the wide variety of vendors, they also have a kid's corner, live music, and a food court. Head to their website to find out what's going on while you're in town.
13. Ride Across Bridges
In addition to its weirdness, Portland is also known for its bridges and cycling. Why not go ahead and combine the two? After all, Portland is known as the most bike-friendly city in the country and Bridge Town is one of its many nicknames.
First up, you're going to need some wheels.
Shared Bikes
BIKETOWN is the city's bike-share program and it's very easy to get started. Just sign up, unlock the bike, ride, and lock it back up when you're finished.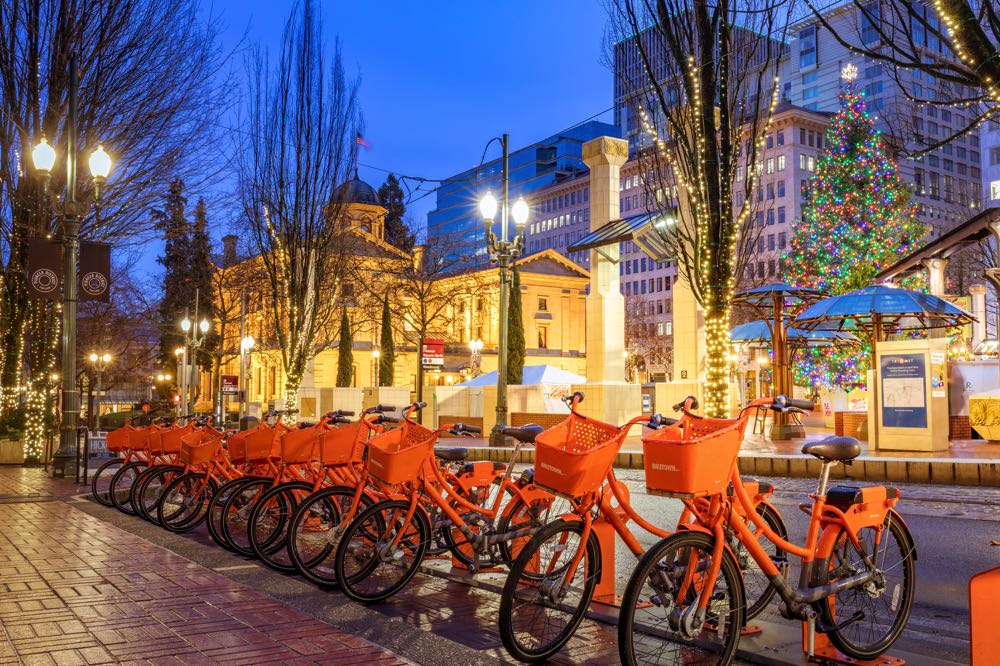 There are over 1,000 bikes and 100 stations around the city, so they're always easy to find. For visitors, you can just pay a $5 sign-up fee and then $0.08 per minute. Check their website to get the app.
Bike Tours
If you'd rather experience the city with a group, you can sign up for one of the excellent tours with Pedal Bike Tours. On their classic Downtown Portland tour, you'll get a fun crash course on PDX.
Along the way, you get to enjoy some awesome views of the river and the many bridges that span it.
Tours cost $50 per person and last for 3 hours. You'll ride about 9 miles in total but it's mostly flat terrain.
They also have a few other tours that focus on some of the finer things Portland is famous for — doughnuts and beer. Find out more about the very popular brewery and bike tour here.
Speaking of Homer Simpson's favorite things, that brings us to the final items our list of things to do in Portland…
14. Sample All The Beer
As if Portland doesn't have enough nicknames, let's add another one to the list — Beervana.
This one is deserved, though, as the metro area is home to an astounding 100+ breweries! Don't believe me? Just click here to see the official count.
With so many delicious beers to choose from, where does one start? You can join the aforementioned Oregon Brewery Trail tour with Pedal, where you'll visit three different brewpubs by bike.
If you're feeling a bit more adventurous, check out one of the options from BrewGroup PDX. Their BrewCycle tours are done on party bikes that can seat 6, 11, or 15 and are tons of fun.
You also have the option of getting out in the water on their BrewBardge pedal-powered boats. Tours cost between $30-40 depending on which one you choose and the day of the week. Check their website for all the info.
If you'd rather walk than cycle, the folks at Around Portland have the perfect tour for you. Their brewery tour also has three stops, and you get 6 different samples. Click here to learn more and book online.
15. Doughnuts Galore!
You can't leave Portland without eating some donuts! The obsession with fried dough in Portland started out with Voodoo Doughnuts. Known for their eclectic decor and unconventional toppings (Cap'n Crunch, dried chili, bacon, etc.), this place is a local legend.
There's almost always an hour-long line (get skip the line tickets here), and many locals will dismiss it as being "for tourists" these days, but it's worth it to try the famed doughnuts at least once — with more than 16,000 reviews on Google, they're definitely doing something right.
Their Old Town location is even open 24/7, so you can satisfy your sweet tooth after a night of bar-hopping if you want.
Another solid option for satisfying your doughnut craving is Blue Star. They've got some wild flavors here, such as Blueberry Bourbon Basil and Mexican Hot Chocolate. These are definitely some high-end doughnuts here.
Both Blue Star and Voodoo have several locations across Portland, so you're never too far from some delicious fried dough.
Want your doughnuts with a side of information and fun with a group? Join a doughnut tour!
The tour includes stops at 4 doughnut institutions (including the two mentioned above), information about Portland while walking and eating, and "skip-the-line" tickets for Voodoo where people wait up to an hour. Find out more here.
Bonus! Visit The Wineries
The Willamette Valley in Oregon is making a name for itself as a top producer of Pinot Noir. With 676 wineries in the region and just around 1 hour outside of the city, this is a day trip from Portland you won't want to miss!
You can rent a car and visit yourself, but drinking and driving is never a good idea. A better plan is to join one of the great trips from Portland, which include transportation, and in some cases, lunch and/or tastings.
The Southern Willamette Valley Wine Tour includes a trip to 3 wineries, several tastings of wine at each winery, a cheese and cracker board, and water. And of course, transportation and guide are included. Learn more and book on your choice of platform: Get Your Guide or Viator.
If you'd prefer to have a meal included, and purchase wine tastings of your choice, The Willamette Valley Wine Tour from Portland with Lunch tour includes a visit to 3-5 wineries, a country picnic-style lunch at a winery, water and transportation. Wine tastings are not included. Learn more about this highly rated trip here.
If you're a wine aficionado, a trip to the wineries in the Willamette Valley is one of the best things to do in Portland.
Now You Know What To Do in Portland
Well, that does it. If you weren't sold on traveling to Portland already, I'm sure the beer and doughnuts sealed the deal. At least you'll be doing plenty of hiking and cycling to walk off all those calories!
Writing this guide reminds me of how much I love Portland. Although I visit frequently, I haven't lived in the US in over a decade now and don't really plan on moving back, but if I did, Portlandia would be high on my list.
It's a beautiful city surrounded by nature, you can get everywhere on public transport or by bike, and it has a vibrant culture that's all its own.
I hope this guide helps you discover the top things to do in Portland. If you have any recommendations for things to do in the City of Roses, feel free to leave a comment and let us know!
Images in this post are courtesy of Shutterstock. Check them out for royalty-free pictures and videos.
Like This Article? Pin it!