If you took the many things that make Mexico great and squeezed them into one place, you'd have Puebla. This mid-sized city in central Mexico has incredible food, gorgeous colonial architecture, an abundance of culture, friendly people, and even a claim to the world's smallest volcano.
There are many things to do in Puebla to keep you busy. Sure, there's no beach in Puebla, but for a safe, easily navigable city only a few hours from Mexico City, Puebla can't be beat.
Its location on the Central Mexican Plateau means it has a pleasant year-round climate, and it's surrounded by stunning natural scenery like towering volcanoes covered in dense pine forest.
During my 10 years of living in Mexico, I visited many times — sometimes for work, sometimes for fun, and sometimes on my way to Oaxaca farther south. Each time, I was surprised by the number of cool things to do in Puebla.
So, what's there to do in Puebla? Read on for my list of the best 15 attractions and activities.
1. Hang Out in the Zocalo
As with nearly everywhere else in Mexico, the zocalo (central square) is the physical and practical focal point of the city. Many famous and historically significant things to do in Puebla are located nearby.
Some are wide-open spaces with an enormous flag in the middle, like in Mexico City, but the zocalo in Puebla is full of fountains, park benches, and tall leafy trees. It's a great place to people watch, eat some Mexican street food, or relax.
The stately Puebla Cathedral is on the south side, and across the zocalo you can't miss the imposing Municipal Palace, where the local government meets. These iconic buildings are two of the most popular things to see in Puebla City.
On the left side of the palace is a narrow alley, the Pasaje de Ayuntamiento, where you can gaze up at the high glass ceiling and browse for souvenirs in the small shops on either side of the arcade.
Next to the cathedral on the other side of the zocalo is the opulent Biblioteca Palafoxiana (Palafoxiana Library), which was founded in 1646. If you want to learn about this and the many other Puebla attractions to visit around the zocalo, you can take this full half-day tour of Puebla with transport, or this cheaper walking tour of the city .
Items 2-13 on this list of things to do in Puebla are all within walking distance of the zocalo. The zocalo itself is surrounded by good restaurants, many with outdoor seating, where you sample famous dishes from Puebla like Mole Poblano, Chalupas, and Chiles en Nogada.
2. Eat Chiles en Nogada
With so many things to do in Puebla City, you'll surely build up an appetite. Fortunately, one of the best things to do in Puebla is to sample its incredible food.
Chiles en Nogada is undoubtedly a standout. It's a big poblano pepper (like an elongated green pepper) stuffed with fruit, nuts, spices, and ground beef and pork.
Sounds delicious? Well, it gets better. The sauce, the "nogada" of Chiles en Nogada, is a mix of cream and finely ground walnut, which is then topped with fresh pomegranate seeds and parsley.
What's more, it's a meal with a history. Legend has it that a group of nuns in Puebla created the dish to honor General Agustin de Iturbide, an important leader in the Mexican War for Independence, as he marched through Puebla.
They chose ingredients corresponding to the colors of the Mexican flag: red pomegranate, white sauce, and green parsley (and the chile).
Chiles en Nogada is only available in the late summer and early fall, when pomegranate is in season. The popular restaurant Mi Viejo Pueblito overlooking the cathedral from the east side of the zocalo serves an excellent Chile en Nogada, along with other Puebla specialties like Mole Poblano.
3. Try Mole Poblano
If Chiles en Nogada are out of season, then your next best option for iconic food from Puebla is Mole Poblano. It's an ancient dish that's much older than the Spanish conquest, although nowadays it's usually served with chicken, which wasn't found in pre-Hispanic Mexico.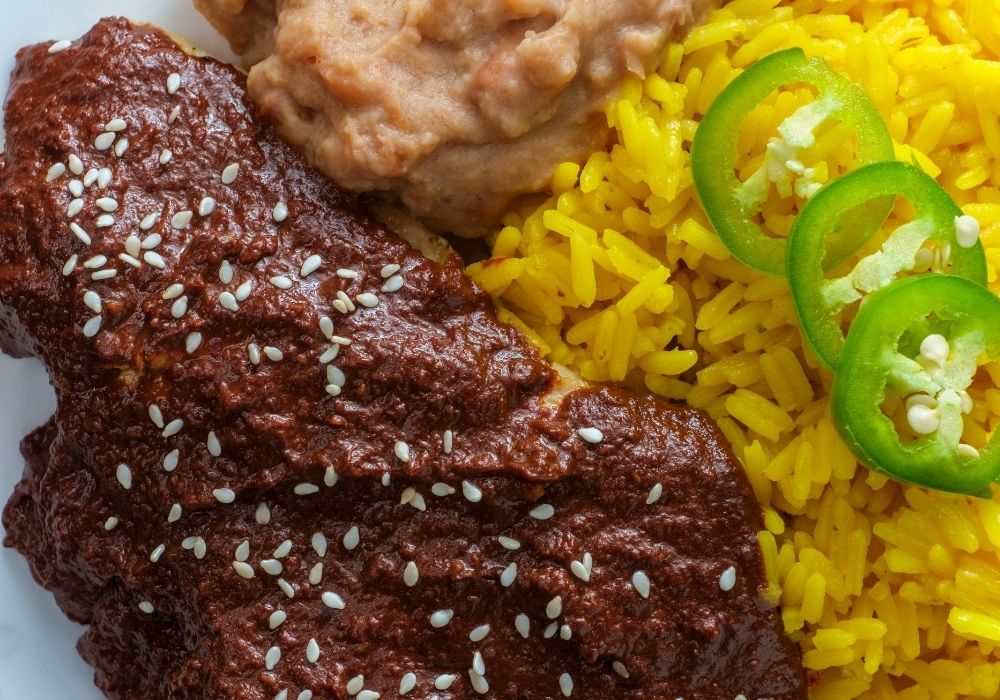 Mole is like a Mexican curry, a secret sauce of many different ingredients. It comes in green, black, red, brown, and more.
You can find mole all over Mexico, but most Mexicans agree that the most delicious versions of it are made in the states of Oaxaca and Puebla. Indeed, seeking out a good mole is one of the can't-miss things to do in Puebla for travelers.
Mole Poblano is the most representative mole in Puebla, as evident from the name, which means "Puebla Mole." ("Poblano" is the adjective for things and people from Puebla.) It's a thick, shimmering, dark brown sauce made from more than 20 ingredients, including chili peppers and cacao.
The stylish restaurants along the zocalo serve a decent Mole Poblano, or you can seek out a much cheaper and possibly better version in a small restaurant on a side street or in a public market.
A great way to sample all of the amazing cuisine in Puebla is to join a food tour. Visit authentic eateries and sample more than 15 foods and beverages! Click here to learn more.
4. Stroll Down Cinco de Mayo Street
Cinco de Mayo is a long pedestrian street starting at the northwest corner of the zocalo. Slow walking under twisting trees will take you past countless restaurants and shops in well-preserved Spanish-colonial buildings.
This pleasant walk is easily one of the best things to do in Puebla, and it will take you past many interesting places to visit in Puebla City.
A few blocks from the zocalo is the Santo Domingo Chapel, another beautiful church in a city famed for having one for every day of the year (like its neighboring city Cholula).
Just past the church is the ornate, arched entrance to the Plaza Victoria shopping mall, a Puebla attraction which is at once traditional and modern.
5. Explore a Massive Public Market
Visiting public markets is one of my favorite activities in Mexico. Not only can you pick up fresh fruit and other local specialties, but you can soak up some local culture while practicing your Spanish and gaining insight into how thousands of Mexicans make their livelihoods.
As with elsewhere in the country, wandering around big public markets is one of the things to do in Puebla City that not many tourists consider doing.
One of the biggest and oldest markets in Puebla is the Cinco de Mayo Market. You can get there by walking two blocks past the end of the pedestrian part of Cinco de Mayo Street, taking a left, and then walking for two more blocks.
If you can't get enough of markets, you can find La Merced Market, another big one, a few blocks north of Paseo Bravo Park (#11 on this list). These two markets may be somewhat unusual places to visit in Puebla, but they're worth checking out.
6. Try a Cemita
If you'd like some traditional food that's a little less elaborate than Chiles en Nogada or Mole Poblano, then grab a Cemita. It's a type of torta — a Mexican sandwich — and is yet another famous food from Puebla.
It comes on a large bun (which is also called Cemita) covered in sesame seeds and is filled with meat, stringy white cheese, sliced avocado, hot peppers, and papalo herbs. Sounds good? It sure is.
Markets are a good place to find Cemitas, or at small restaurants throughout the city. If you're overwhelmed by all the options, you can join a Puebla street food tour to ensure you get the most delicious Cemita possible while also checking out some more things to see in Puebla.
7. Learn About Trains in Mexico
The National Museum of Mexican Railways (Museo Nacional De Los Ferrocarriles Mexicanos) is located roughly halfway between the Cinco de Mayo and La Merced markets. It's definitely one of the less famous things to do in Puebla, but well worth visiting.
It's a massive compound with numerous trains on display outdoors, representing the many distinct eras of the development of Mexican railways and rail travel. You can enter many of them to absorb the contrast between high-luxury transit, utilitarian freight transport, and everything in between.
The museum costs 16 pesos (less than $1 USD) to enter, and it's free on Sundays. It's open Tuesday to Sunday from 9 AM to 5 PM and closed on Mondays and holidays.
8. Visit the Amparo Museum
If you're more interested in art than trains, then you'll want to check out the Amparo Museum. For memorable things to do in Puebla, it's a great choice — not only one of the most famous and well-respected museums in Puebla, but in all of Mexico.
The Amparo Museum specializes in pre-Hispanic art, but other Mexican styles are represented as well.
It's inside two elegant colonial-era buildings, once of which used to be a hospital. The Amparo Museum is open from 11 AM to 5 PM and is closed on Tuesdays. Tickets currently cost 35 pesos (about $1.7 USD), and check their website to see which days or times of day the entrance is free.
9. Marvel at the Callejon de los Sapos
The Callejon de los Sapos — Frog Alley — is a narrow street of brightly-painted colonial homes. It's a top Puebla attraction that's a nice place for photographs, souvenir shopping, or discovering an up-and-coming cafe or restaurant.
Smaller alleys branch off from the main one, so you should take some time to wander around and let yourself get lost. It's located about two blocks east of the zocalo and block from the Amparo Museum.
10. Pick Out Some Traditional Candy
Every time I visited Puebla, my Mexican friends asked me to bring them back some camotes, a sweet potato candy.
They come in strawberry, vanilla, chocolate, honey, and many more flavors, meaning that you'd never guess that they were actually made from sweet potatoes. Instead, they're a natural-tasting candy that you can't get enough of.
Other famous candies from Puebla include borrachitos — "little drunks" — which are candies with liquor inside; cocadas, which are fried shredded coconut; dulce de leche, made from milk; and ate, tiny squares of candy made from many kinds of fruit.
You can find camotes and other candies throughout the city (as well as the state of Puebla), including souvenir shops on the Callejon de los Sapos and elsewhere.
Camotes come in small white boxes, and are also sold on street corners, in markets, and in several traditional shops near the entrance to the cathedral.
11. Pose for Photographs in Paseo Bravo Park
West of the zocalo (in the opposite direction of the Callejon de los Sapos), narrow streets lined with Spanish colonial buildings and churches lead to pleasant Paseo Bravo Park. On the north side is the El Gallito Clocktower, with the brightly-tiled Villa de Guadalupe church behind.
The park is filled with fountains, palm trees, and statues like the large Monument to the Heroes of the Independence. It's a great place to take photographs or relax with an ice cream on a park bench. You might also catch a street performer playing music or entertaining children with a clown show.
12. Check Out the Nightlife on Juarez Street
From near the center of Paseo Bravo begins wide Juarez Street, which runs in the direction away from the zocalo.
It's a wide, tree-lined avenue of refurbished mansions and some more modern constructions that contain Mexican-style seafood restaurants, Irish pubs, sushi bars, and everything in between.
If you're wondering what to do in Puebla after dark, then this is the area for you. After dark, the salsa and rock clubs come alive, making it one of the best places in the city to search for nightlife. If you'd prefer something quieter, you can also find literary cafes, cozy corner bars, and pool halls.
13. Ride the Tourist Train to Cholula
Near Puebla is another fascinating Mexican city, Cholula. With similar colonial architecture but a more laid-back vibe, it's an excellent destination in its own right, and the free tourist train between Puebla to Cholula means it's an easy day trip from Puebla.
The terminal in Puebla is one block north of the Railway Museum, meaning it's just outside of the historic center proper, but still within walking distance of the zocalo. The terminal in Cholula is right downtown, which means getting anywhere within the smaller city is easy.
Monday to Friday, the train only runs three times a day, so be sure to check out the website for the current schedule. It makes many more trips on the weekends, however.
Like Puebla, Cholula has many attractions, but the undisputed must-see destination is the Cholula Archeological Zone.
A colonial-era church sits on top of a massive pyramid, most of which is buried beneath centuries of earth, so it looks like a hill. Some lower sections and passageways have been excavated, and you can explore several narrow tunnels.
Entrance to the archeological zone costs 75 pesos (about $3.60 USD), which includes the tunnels and a small museum.
The view from the church on top is outstanding. You can gaze at Cholula's colorful neighborhoods with the massive peaks of the volcanoes Iztaccíhuatl and Popocatépetl (commonly abbreviated to Itza and Popo) beyond.
A few blocks from the archeological zone is Cholula's large zocalo and central park, where you can find many restaurants, nightclubs, and a large historic convent. Close by is an expansive public market, where small restaurants serve Cholula's versions of famous Puebla food like Cemitas and Mole Poblano.
If you'd rather hike the towering volcanoes, click here to learn about a highly rated, private tour.
14. Climb Into the World's (Supposedly) Smallest Volcano
In sharp contrast to the humungous nearby volcanoes Izta and Popo — the second and third highest peaks in Mexico — tiny Cuexcomate stands in the middle of a small park in an otherwise unremarkable working-class Puebla neighborhood.
At 43 feet high, Cuexcomate (pronounced kwesh-ko-MA-tey) is claimed by some sources to be the smallest active volcano in the world. It's not, however — technically it's an inactive geyser.
But don't let that fact spoil your enthusiasm to visit, because visiting it's one of the best things to do in Puebla City, and many visitors don't bother to go there.
You can admire the strange lumpy shape from the park outside, and then climb down a metal staircase into the crater and deep into Cuexcomate's belly. The entrance is 12.5 pesos (about 50 U.S. cents).
Around the corner from the park is a small, funky neighborhood market with a surreal (yet peeling) mural of the volcano on one side of the building.
Getting to Cuexcomate on public transportation is possible, though complicated. I recommend calling an Uber, or asking the person at the front desk of your hotel to call a taxi.
15. Take a Day Trip to Val'quirico
On a large site that originally contained a hacienda, the community of Val'quirico was built by Italian expats to resemble a Tuscan village. It's a little bit of Europe in the Mexican countryside, and it's easily reached on a day trip from Puebla City.
With its sandy-brown buildings, tiled rooftops, cobblestone streets, and wide array of international restaurants, Val'quirico is a fun place to spend a day exploring. Bring your camera for scenery that's unlike anywhere else in Mexico.
It's not actually in the state of Puebla, but in neighboring Tlaxcala. It's about 40 minutes from Puebla City by car. No public buses go there, so you'll need an Uber, taxi, or a tour.
It costs 40 pesos (about $2 USD) to enter Val'quirico, and upon entry, you can ask about their various packages that come with meals, boat rides, and other activities.
Now You Know What To Do in Puebla
Because of its phenomenal food, classic atmosphere, fascinating history, innumerable attractions, and many possibilities for day trips, Puebla is one of my favorite cities in all of Latin America. There are so many things to do in Puebla, Mexico that you could easily spend a week there and never get bored.
With so many things to do and places to go in Mexico, somewhat lesser-known spots like Puebla may be overlooked. But no visit to central Mexico or Mexico City would be complete without a side trip to Puebla.
One final tip—come hungry!
Like This Article? Pin it!