After spending weeks visiting and traveling around the city, meeting up with locals who showed me around, I've compiled this list of the best things to do in Santiago Chile.
Surrounded by the Andes mountains, Santiago has to be one of the most beautiful capital cities on the planet. It's also a very fun place to visit, with a rich history, vibrant culture, and great tourism infrastructure.
If you're ready to plan a big trip to Chile for hiking in Patagonia or exploring the Atacama Desert, be sure you dedicate at least a few days to taking in all that the capital city has to offer.
With a few days in Santiago, you can enjoy the sights, go trekking in the Andes, cycle to vineyards for wine tastings, explore local markets, partake in the city's fun nightlife, and much more. These are just some of the many awesome things to do in Santiago Chile.
Key Takeaways:
Best Tours: The best tours in Santiago include a bicycle tour, free walking tours, and tours to nearby vineyards
Top Attractions: Plaza de Armas, The Museums, and Pablo Neruda's Home are the top cultural attractions
Best Views: Santa Lucia Hill, San Cristobal Hill, Sky Costanera, and Completo have the best views of Santiago
Best Day Trips: The best day trips from Santiago are to Nearby Vineyards, Mountains, and Cajon del Maipo
Rainy Days: On a rainy day in Santiago, consider visiting the central market, going museum hopping, or seeing a show
Read on for recommendations on what to do in Santiago, including plenty of useful info to help you plan the perfect trip there.
The Best Things To Do in Santiago
I've visited Santiago more times than most and in all of my years of returning to Chile's vibrant capital, I've always tried to see as much as I can.
I've seen and done more things in Santiago than I can count, but I've narrowed them down to this list of 21 things to do in Santiago that anyone could conquer with a few days in the city.
1. Explore the Plaza de Armas
The best place to begin your exploration of the Chilean capital is the Plaza de Armas. As is the case with most major cities in South America, this "Square of Weapons" was designed to be the city centre. Santiago's main plaza has been just that since the city was founded back in 1541.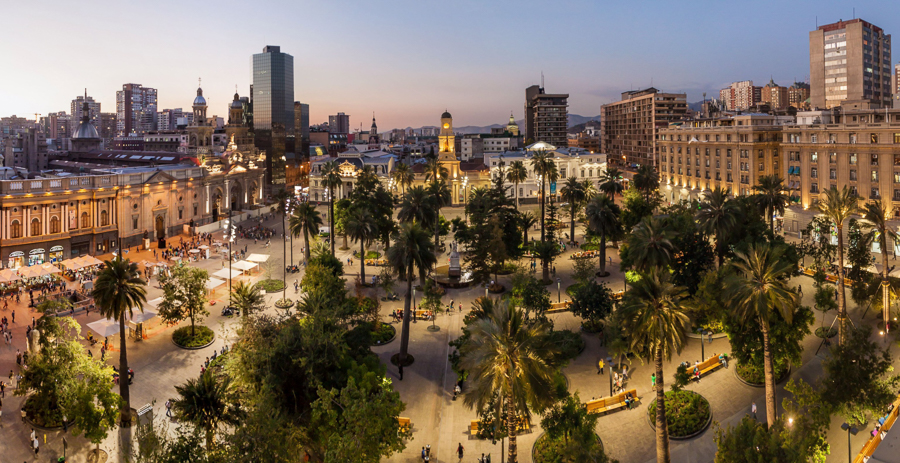 Back in colonial times, you would find the gallows at the heart of the Plaza de Armas. Thankfully, those have been replaced by a fountain celebrating Simon Bolivar. The plaza is full of Chilean palm trees and benches, making it a popular place to relax and socialize during the day.
Walking around the plaza, you might find people engaged in a heated game of chess, busting a move with some group dancing, or just laughing hysterically at a clown show. Exploring the Plaza de Armas is definitely one of the most entertaining things to do in Santiago!
Surrounding the square are several historical and cultural landmarks, such as the Metropolitan Cathedral, Royal Court Palace, and the Central Post Office. You could easily spend an entire day just taking in all the sights in and around the plaza. Get directions to the Plaza de Armas by checking the map here.
2. Take a Free Walking Tour
When you're new in a city, it's a great idea to take advantage of the free walking tours on offer. Not only do you get to learn something about the place from a local, but you'll also make new friends in the process. This is the best thing to do when you first arrive in Santiago.
In Santiago, the best free walking tours are run by Tours 4 Tips. They run two different tours every day of the week. Their 10AM Santiago offbeat tour checks out a market and the cemetery, while their 3PM tour covers some of the highlights of the Chilean capital. Both tours last around 3 hours and cover a few kilometers.
The guides are super friendly and knowledgable, and they're always happy to point you in the right direction with recommendations on where to eat, shop, and party. They're also really easy to find, as they all dress like Waldo from the popular children's books.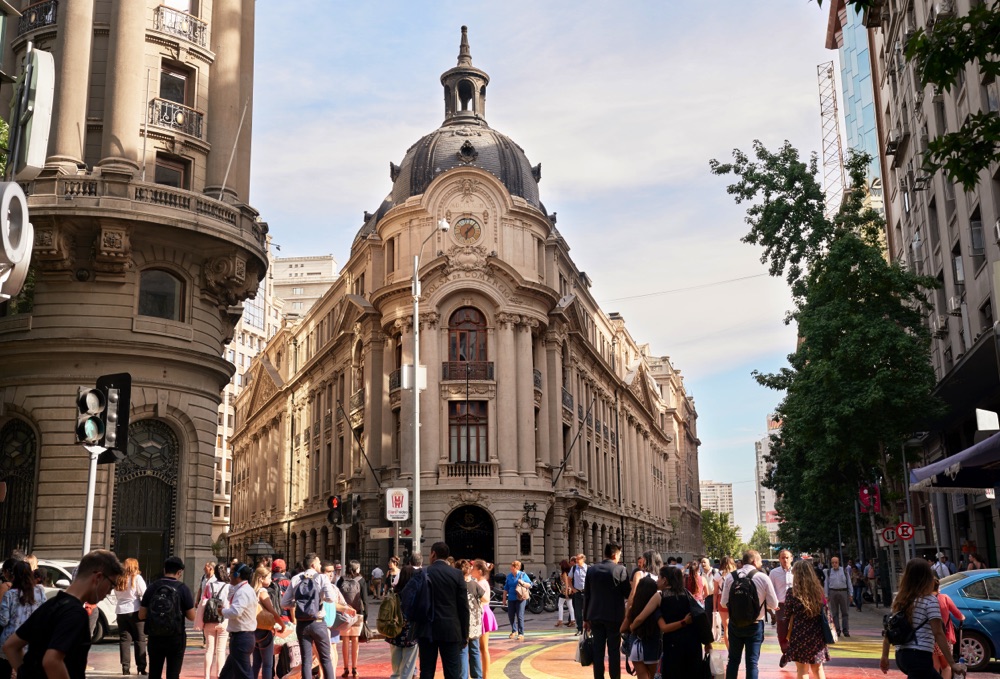 3. Climb Santa Lucia Hill
Climbing Santa Lucia Hill is definitely one of the best things to do in Santiago Chile. This large park is located in the city centre just a few blocks away from the Plaza de Armas and is a great place to spend an afternoon.
There's actually quite a bit of history behind this park. First of all, this hill is the remnant of a 15 million-year-old volcano. It was also here that the Spanish conquistador Pedro de Valdivia founded the city of Santiago in 1541.
Upon entering the park, you'll be greeted by the gorgeous Neptune Fountain. From here you can follow the system of trails and stone staircases to the top of the hill. Along the way, you'll pass by the Castillo Hidalgo, which was built in 1816 to protect the city.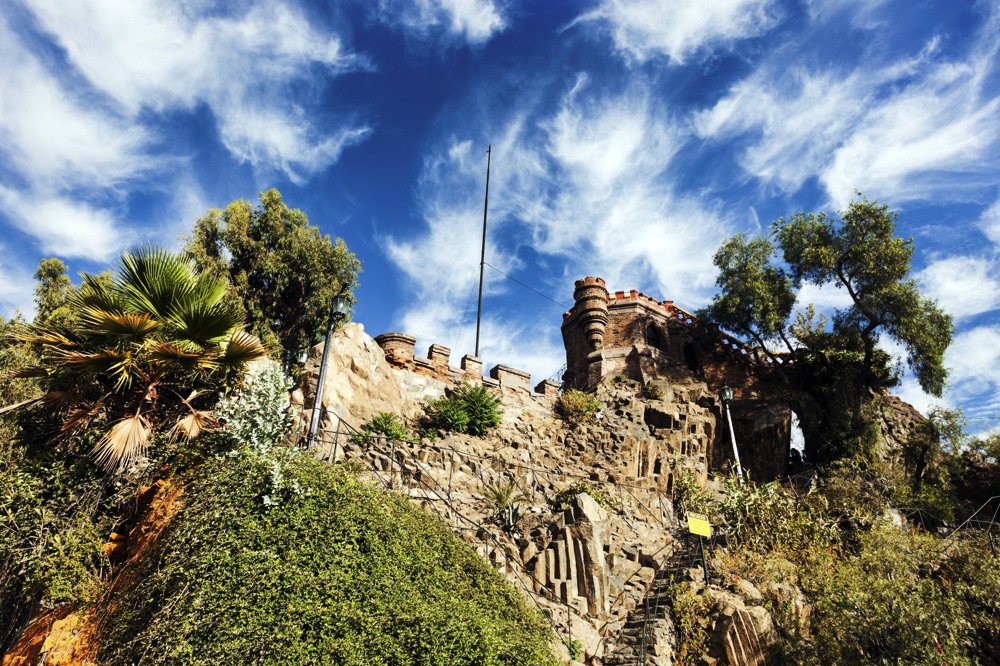 Keep on going until you reach the stunning viewpoint at the very top of the hill. If you visit on a clear day, you'll get some fantastic views of the city and the surrounding mountains. The park is free to visit and is open every day from 9AM to 7PM. You can find it on the map here.
4. Go Museum Hopping
As the capital city of Chile, it should come as no surprise that Santiago is full of excellent museums. You'll definitely want to make sure you carve out some time to visit a few while you're in town.
A great place to start on your museum-hopping journey is the Museum of National History. It's located in the historic Royal Court Palace, which once served as the seat of government. After checking out the beautiful exterior, head inside to explore the many exhibits.
While you're there, be sure to climb the clock tower for an unbeatable view of the Plaza de Armas. The museum is open Tuesday-Sunday from 9AM to 6PM and is free to visit.
Another can't-miss museum in Santiago is the Museum of Memory and Human Rights. This museum commemorates the many victims of human rights violations during the brutal regime of Augusto Pinochet between 1973 and 1990.
It opened in 2010 to mark the bicentennial of Chile's independence and serves as an important reminder of the country's recent dark past. It's open from Tuesday to Sunday from 10AM to 7PM and is also free to visit. You can find the museum here on the map.
5. Eat Seafood in the Central Market
Without a doubt, one of the tastiest things to do in Santiago is eating seafood in Mercado Central. This bustling market has been in business since way back in 1872 and continues to be a popular place to shop and eat.
Explore it on your own or join this fun guided tour of the city that includes a delicious lunch at Mercado Central. Click Here to learn more.
Thanks to its long coastline and booming fishing industry, Chile is home to a vast array of delicious seafood. Santiago's Central Market is a bustling place every day of the week. Locals come in the morning to do their shopping, while tourists frequent the market in the afternoon to dine in the many restaurants.
The seafood here is all super fresh and delicious, whether you order a plate of ceviche, king crab, or clams au gratin. It's a bit touristy, sure, but it's a nice place to experience at least once on your visit.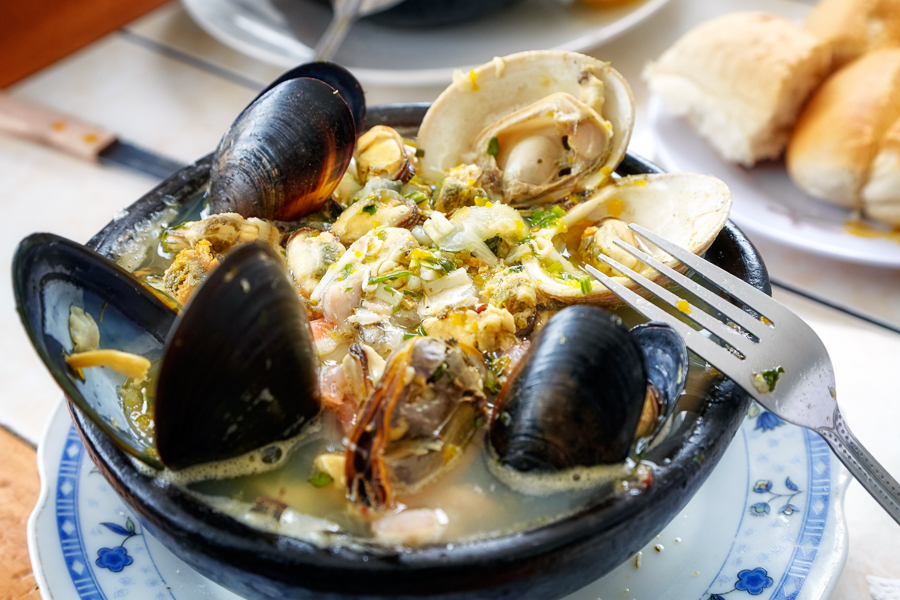 The Central Market is open every day, but the vendors and restaurants keep different hours. You'll want to get there early in the morning if you want to see the market at its busiest and be sure to get there before 5 if you hope to get a table and eat. You can find the market on the map here.
6. Take a Bicycle Tour
Santiago may be a sprawling capital city, but it's still a very bike-friendly place. There are dedicated bike lanes everywhere and it's very easy to find a bike for rent. Exploring the city by bike is easily one of the top things to do in Santiago Chile.
While you could just rent a bike and go off on your own, you'll get a lot more out of it and have way more fun on a bike tour. The folks at Huaso Bike Tours have several excellent options for you to explore Santiago on two wheels.
They have half-day tours where you take in the highlights of Santiago and visit several markets. You can also choose to do a cultural bike tour, or evening tour.
Their 3-hour tour in the city costs $56 per person, with a guide and equipment included. Click here to learn more about the bike tours in Santiago.
7. Drink Pisco
Pisco is a high-proof brandy that's made from fermented grape juice. It's definitely the most popular booze in Chile and Peru as well, so you know that trying some of it has to make our list of the best things to do in Santiago.
There's an ongoing debate between Chile and Peru about who created pisco and who does it the best, but we're not going to get into that heated argument here. I will instead point you in the direction of an excellent establishment that celebrates the pisco of both countries!
This awesome Santiago bar-restaurant has to have one of the coolest names and concepts ever. It's called Chipe Libre – Républica Independiente del Pisco. The "Chipe" is a combination of Chile and Peru, and the name translates to the Independent Republic of Pisco.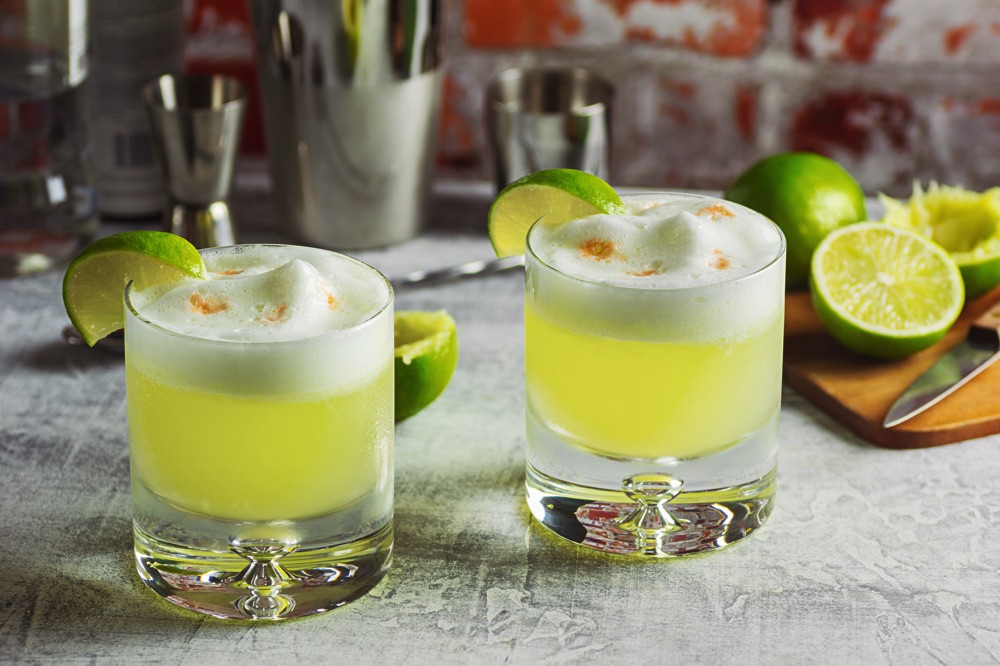 Rather than argue over who made it first and who does it better, this place serves up pisco from both countries. What an awesome idea! Go ahead and order a flight to sample the best of both Chilean and Peruvian pisco, or just stick with the classic Pisco Sour cocktail. You can find Chipe Libre on the map and get directions here.
8. Explore the Art Scene
Art lovers will definitely want to pay a visit to the National Museum of Fine Arts. The beautiful building it's housed in dates back to 1910 and was a commemoration of the centennial of Chilean independence. It's also free and is open Tuesday to Sunday from 10AM to 6:45PM. You can find the museum and get directions here.
If galleries are more your scene than museums, you've got plenty of options for those as well. A popular place to visit is the Centro Cultural Matucana 100, an art centre housed in an old government warehouse. In addition to the spacious art gallery, they also show films and have concerts here. Find them on the map here.
Finally, you'll want to be sure to check out some street art in Santiago as well. While it may not be as much of a street art haven as nearby Valparaiso, there are still plenty of awesome murals in Santiago. Speaking of Valpo, it's one of the best places to ring in the New Year in all of South America. We started our year-long party with New Year's Eve in Valparaiso and had an absolute blast!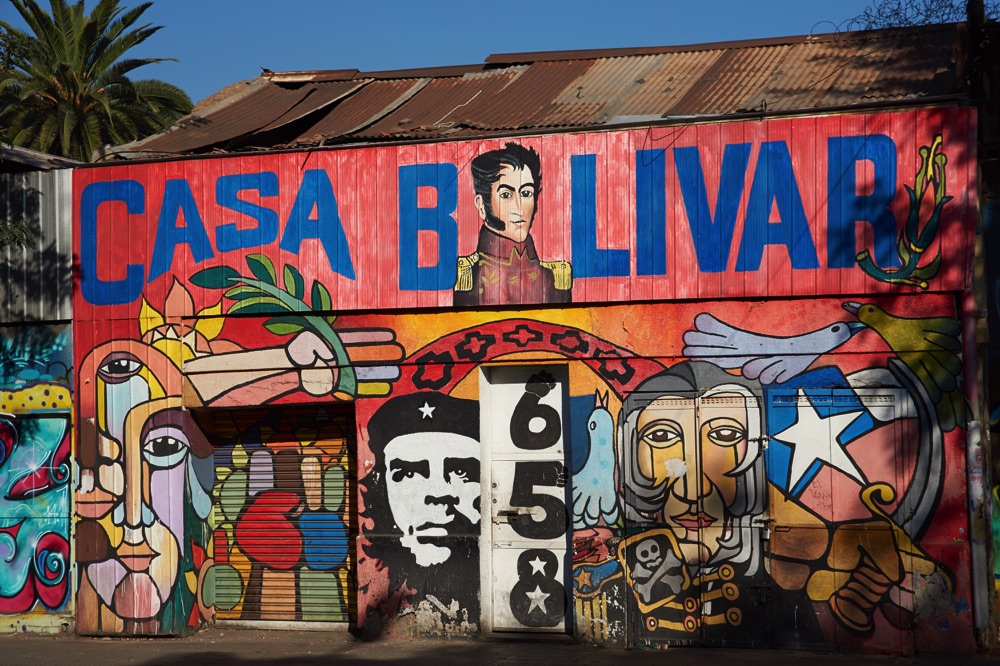 You can go off in search of street art on your own, or sign up for a tour with Urban Adventure. Their tour visits the Open Sky Museum in the San Miguel district of Santiago. Tours last 3.5 hours and cost about $60 per person, including transportation and a typical Chilean tea time snack.
9. See a Show
Santiago is a very cultured city, so you've got lots of great options when it comes to the performing arts. Seeing a show at one of the city's many venues is one of the top things to do in Santiago Chile.
Certainly, the classiest place to see a show in Santiago is the Teatro Municipal (Municipal Theatre). This beautiful neo-classical theatre was built in 1857 and hosts performances of opera, choir, and ballet.
You can check their website to see showtimes and ticket prices, but be warned that it's only in Spanish. Alternatively, just drop by the box office and see what's playing while you're in town. Tickets are as cheap as $3, so why not? You can get directions and find the theatre on the map here.
10. Spend a Day on San Cristobal Hill
San Cristobal Hill makes just about every list of the top things to do in Santiago, and for good reason. From high up here, you're treated to some incredible panoramic views of the city.
There's an easy way and a hard way to get to the top of Cerro San Cristobal. The easy way is hopping in the cable car, which is a nice scenic ride across the park. It's open on Mondays from 1:30-5:30PM and Tuesday-Sunday from 11:30AM-5:30PM. Tickets cost about $5 for adults and $2.50 for children.
Of course, you can always just hoof it! The hike takes about an hour depending on how fast you move. However you decide to get there, your ultimate goal is to reach the sanctuary dedicated to the Immaculate Conception. Outside, you'll find a 22-meter statue of the Virgin Mary.
The hill is a part of the larger Metropolitan Park, which is the largest in the city. In addition to the sanctuary, there's also a Japanese Garden, and even a few pools that are open in the summertime.
11. Tour the Home of Pablo Neruda
In the Bellavista neighborhood of Santiago, you'll find La Chascona. Once home to the famous Chilean poet Pablo Neruda, it's now a museum that's open to the public.
Neruda had this home built for his third wife, Matilde Urrutia. Actually, she was his secret lover when he started work on the house. He called her La Chascona (tangle-haired woman) for her wavy red hair.
Inside the museum, you'll find a wide variety of quirky artifacts that Neruda collected. Of course, there's plenty of artwork as well, including a famous portrait of the house's namesake created by Neruda's friend Diego Rivera.
One tricky thing about visiting La Chascona is that it's only open on a first-come, first-serve basis. They open at 10AM from Tuesday to Sunday, so it's best to get there early to guarantee your spot. Tickets cost about $10 and include an audio guide. Check the location on the map here. Another option is to join a day tour which includes a winery visit and the home of Pablo Neruda.
12. Head to the Top of Sky Costanera
If you want to take in the views of Santiago from above, don't miss out on a trip to Sky Costanera. At 300 meters, their observatory is the highest in all of Latin America.
In just two minutes, the elevator takes you to the 360-degree observatory. Try to time your visit so you can watch the sunset and see the city light up. It's definitely one of the coolest things to do in Santiago Chile. Don't miss this attraction! Get your tickets here.
It's open every day from 10AM-10PM with the last elevator rides going up at 9. Tickets cost $22 for adults ($18 when booked online here) and $15 for kids ages 4-12. It's located right on the Mapocoho River, which you can see on the map here.
13. Eat a Completo With a View
I realize not everyone is going to want to fork over $20+ to head to the top of the Sky Costanera tower. It's alright – I totally understand. I rarely buy those tickets but feel like they're still good items to include on a list like this.
If you're on a budget, you can just head to the food court in the Costanera Centre Mall. They have an outdoor seating area that still has a great view, even if it isn't the tallest in Latin America.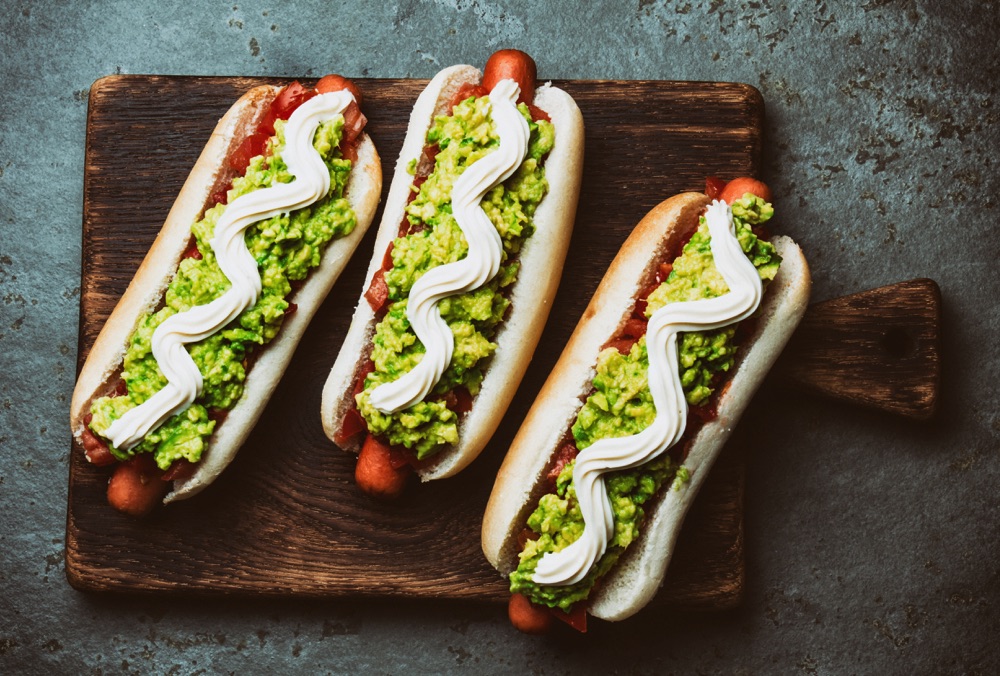 While you're here, you may as well try a local favourite – a completo. This Chilean hot dog comes loaded with chopped tomatoes, avocado, sauerkraut, and a big ole' glob of mayonnaise. One of these and some fries will fill you up for a while and only cost you a couple of bucks!
14. Check Out La Moneda
Washington D.C. has the White House, London has Buckingham Palace, and Santiago has La Moneda. Currently the office of Chile's president, it was once the official mint of the country. Hence the name, which means "the coin" in Spanish.
This beautiful neoclassical building was designed by Italian architect Joaquín Toesca and completed in 1805. It was badly damaged in 1973 during the military coup.
The Chilean air force bombed the palace when then-president Salvador Allende refused to leave. He died later that day, which remains controversial to this day. Some believe it was an assassination and not a suicide, as the official story goes.
You can take a tour of La Moneda but you need to sign up at least seven days in advance. You can find the form that you need to fill out in English here. If you can't get on a tour, you should still come to check out the changing of the guard ceremony. It happens every other day (odd-numbered days in odd-numbered months, even in even) at 10AM or 11AM on Saturdays.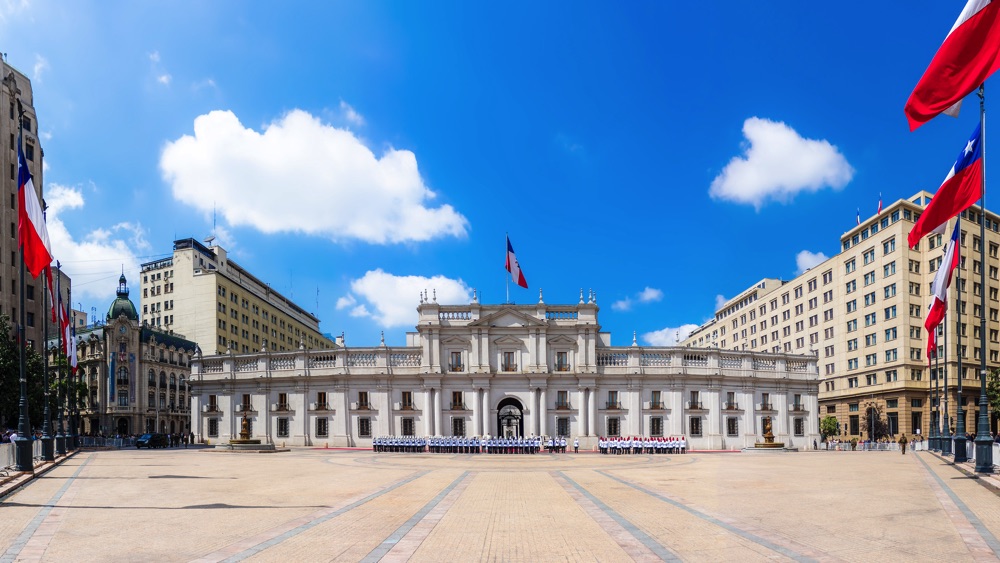 15. Get Out in the Mountains
Santiago is surrounded by the Andes Mountains, so why not plan for a day trip out there while you're in town? In the warmer months, you can head out to the mountains to go enjoy a nice day of hiking, biking, or even horseback riding.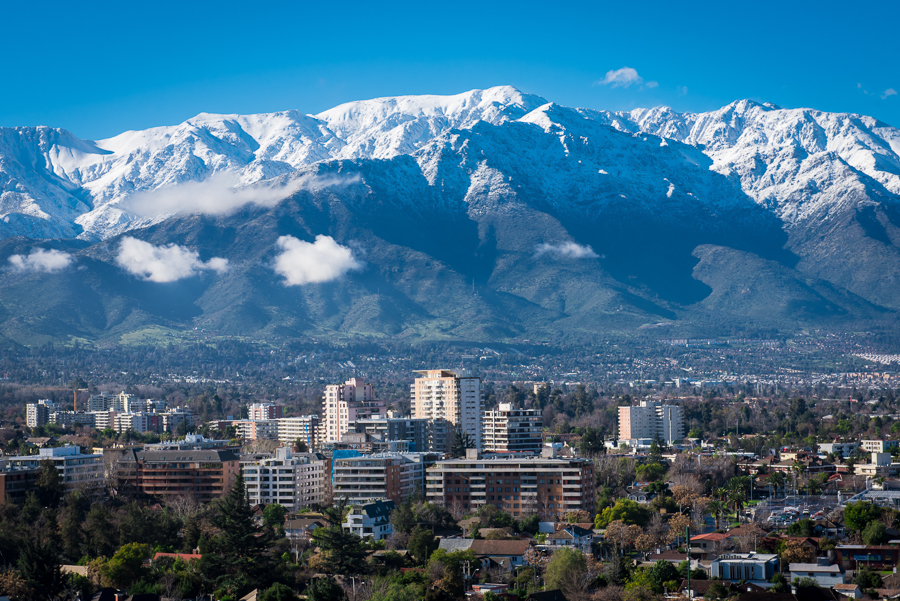 Some of the most popular spots near Santiago for hiking include Provincia, Manquehue, and Pochoco. If you want to do a little bit of hiking, with a side of hot springs, check out this awesome tour of the Maipo Canyon and Volcano. For a stunning 8 kilometer hike in the canyon, click here. It can be tricky trying to get yourself to trailheads on public transportation, so if you don't plan on renting a car you're better off just signing up for a tour.
Once winter rolls around, the snow-capped Andes are the place to be if you enjoy skiing. There are several ski resorts within a 60-90 minute drive. Many of the resorts run shuttles that leave between 8-9AM and return between 4-5PM. Check out El Colorado, La Parva, Valle Nevado or Portillo.
If you made it all the way to Chile, chances are you're planning on heading to Patagonia. Be sure to read this huge guide to trekking and camping on the famous "O" circuit in Torres del Paine. If you're not sure what to pack, we've got you covered with that as well!
16. Ice Cream at Emporio La Rosa
I'm really not a huge fan of sweets, so you know a place has got to be good if I'm recommending ice cream as one of the top things to do in Santiago! Emporio La Rosa is a local favourite, which you'll notice right away from the long queue out the door. Don't worry, it moves fast and is well worth the short wait.
My amiga from the city took us to this place when we first got to town, and we liked it so much we came back for my wife's birthday a few weeks later. They have a bunch of different ice cream flavours as well as several different cakes and various sweets. I also tried their empanadas and they were fantastic!
There's an outdoor seating area and there are often wandering musicians who stop to serenade the crowd. It's a nice place to go for a snack, a coffee, and some people watching. You can find them on the map here.
17. Tour a Vineyard
Chile is known for making excellent wine, as the climate here is perfect for harvesting grapes. Visiting a vineyard easily makes the cut on this list of the best things to do in Santiago.
The great news is you don't even have to travel very far out of the city centre to visit a vineyard. Cousiño Macul is located about 15km from the central part of Santiago and can be easily reached by cab or even a local bus.
This vineyard has been operating since way back in 1856. It's still run by the Cousiño family and is currently run by the sixth generation. They definitely know what they're doing when it comes to making wine here!
They have a few options for tours at the vineyard, with the regular tour costing about $22 and the premium version going for $38. This gets you the tour, a tasting of six wines, a souvenir glass and corkscrew, and even a cheese & fruit plate. They have four tours a day during the week, two on Saturday, and are closed on Sunday. You can find them on the map here.
For those of you who want to learn more about the popular Concha y Toro (the main exporter of wines from South America) and Unduragga brands of wine, don't miss a visit to their vineyards. From $22 for a visit with tastings.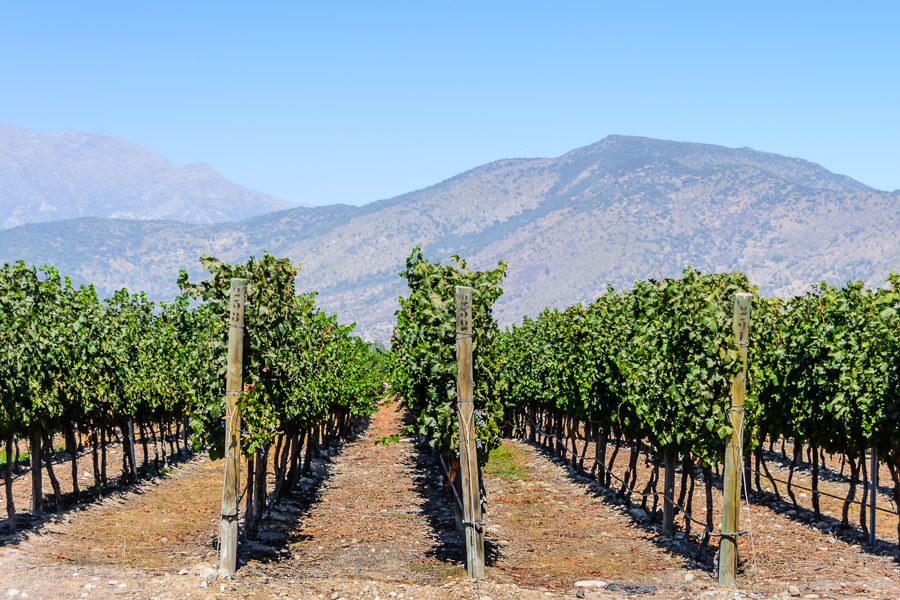 18. Experience a Local Festival
There are all sorts of festivals going on in Santiago throughout the year. The Chilean capital has festivals for literature, film, music, dance, food, and more. Here's just a taste of what's on tap for festivals in Santiago.
In January, Santiago a Mil is a performing-arts festival where over 1,000 shows take place across the city. Best of all, many of them are in parks and plazas and totally free to attend!
Another great choice is the Providencia Jazz Festival. It takes place over a weekend in January in the Parque de las Esculturas and is free, but you'll have to grab tickets in advance as it's very popular.
Movie lovers may want to come to Santiago in August for the International Film Festival. Several different cinemas across the city show independent films from Chile and beyond and has grown into one of the most prestigious film festivals in the region.
19. Day Trip to Cajon del Maipo
While there are plenty of excellent things to do in Santiago, you definitely need to carve out some time for day trips out to the natural wonders that surround the city. A trip to Cajon del Maipo is a great choice for spending a day out in nature.
This canyon in the Andes is a beautiful place to visit with captivating scenery all around. There are some great trekking opportunities here of varying difficulty, including one that brings you to a high-altitude reservoir 2,500 meters above sea level.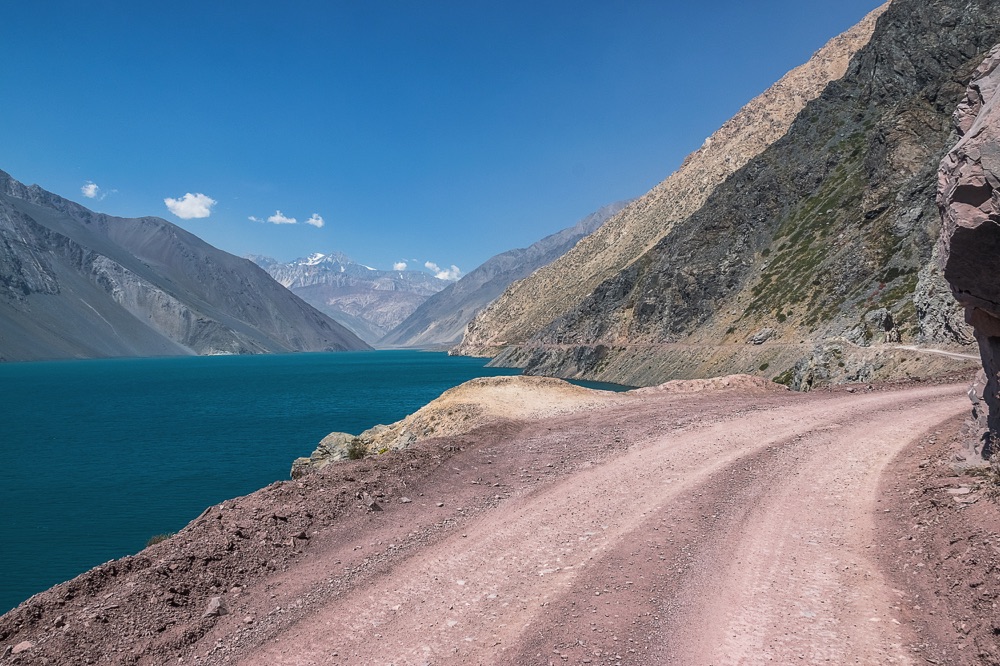 After a tough hike, there's nothing better than soaking in some natural hot springs, and that's exactly what you can do out here! Other activities available include horseback riding, ziplining, and whitewater rafting.
Your best bet for exploring all that Cajon del Maipo has to offer is hopping on a tour out of Santiago. There are plenty of options, including a tour that includes a bit of trekking and a visit to the hot springs from around $55 per person.
20. Take a Cooking Class
Since you're going to eat plenty of delicious Chilean food in Santiago, why not learn how to cook some of it yourself? There are plenty of cooking classes available in Santiago, so get in the kitchen and get cooking!
Uncorked is a popular choice for a cooking class in Santiago. It starts with visits to some of the city's markets to pick up some fresh ingredients, and you'll then head into the kitchen to whip up some Chilean classics. Classes cost $95 per person and include some Chilean wines.
Another option is Chile Cooks, which runs tours every day at 10AM. You'll cook dishes such as pastel de choclo, empanadas, or cazuela while enjoying a Pisco Sour and some Chilean wines. Their classes are a bit cheaper as well, at $80 per person.
21. Hang Out in Bellavista
Located between the Mapocho River and San Cristobal Hill, Bellavista is Santiago's bohemian quarter and a fun place to hang out day or night. You can combine a visit here with a trip to the hill and Neruda's house to make for one exciting day in the capital.
During the day, you can enjoy a stroll around the area taking in the street art, perusing the markets, and stopping to relax in one of the many cafes. Once night falls, Bellavista really comes to life as locals and tourists flock to the countless restaurants, bars, and clubs.
FAQs About Santiago
Is Santiago worth visiting?
Absolutely Santiago is worth a visit! The city is vibrant and exciting, there are countless things to see and do and it's the perfect jumping off point to the rest of Chile.
What is Santiago Chile best known for?
Santiago is best known for its street dancing, nightlife, and amazing tourist attractions like the Central Market, Plaza de Armas, Cerro Santa Lucia, La Moneda Palace, La Chascona, San Cristobal Hill, and Museo de la Memoria Chilena.
What should I do with 2 days in Santiago?
With 48 hours in Santiago, you should start with a free walking tour to get the lay of the city and learn about the history and culture while seeing the main sights. Then have lunch at Mercado Central, explore the art district, and try to catch a street performance before having dinner with a view at Sky Sommolier. On day 2, go museum hopping, take a bike tour, and then finish the day with sundowner cocktails at Terraza K.
How many days is enough to visit Santiago?
The length of your stay in Santiago depends on how much time you have to visit Chile. If you only have a week in Chile, I'd give Santiago just 2 days so that you can explore the nature of Patagonia and cool cities like Valparaiso. If you have 2 or more weeks in Chile, then you could definitely visit Santiago for 3-5 days.
Now You Know What To Do in Santiago, Chile!
That's a wrap for this list of the top things to do in Santiago Chile. As you can see, the Chilean capital really packs a punch when it comes to activities on offer. Here you can hike in the Andes one day and cycle through a historic vineyard the next. How cool is that?!
Santiago is definitely one of the best cities to visit in South America, and it's the perfect jumping-off point for adventures to places like Patagonia and the Atacama Desert. With its wealth of activities and big-city amenities, Santiago is a solid choice for a home base while exploring the region.
Note: Photos in the post are courtesy of Shutterstock
Like This Article? Pin it!