If you're planning a trip to South Korea, chances are you'll be spending some time in Seoul. The capital is definitely the center of the action, as nearly half of the country's population lives in the metro area. With about 25 million people, it's the 4th largest metropolitan area in the world.
A visit to Seoul is a bit like being in a real-life version of "Back to the Future." One minute you're walking around an ancient palace and the next you're gazing up at a futuristic shopping mall. On your way to explore a Confucian shrine, you'll see Koreans fixated on their smartphone, enjoying lightning-fast WiFi on the subway.
There's definitely an interesting mix of tradition and modernity here.
While traditional hanbok clothing is still around, the youth of Seoul have their own unique fashion sense. Vendors still cook up classic Korean dishes, but you'll also find Western fast-food chains around every corner.
There are plenty of fun things to do in Seoul to keep you busy. The city boasts some impressive museums, bustling markets, lovely parks, and some pretty wild nightlife. Here you can enjoy a hike up in the mountains during the day and relax in a massive spa complex at night.
I almost moved to Seoul. It came down to the Korean capital or Beijing, and I opted for the latter so I could check out the 2008 Olympics and study Chinese. We visited Seoul a few times when we were living in China and had a blast on each trip.
It's definitely one of my favorite cities in Asia, and I'm actually returning in 2020 to explore more of the awesome places to visit in the city.
For a detailed look at what to do in Seoul, read on for some of the very best things to do in South Korea's capital.
1. Explore Ancient Palaces
We'll begin our journey around Seoul by stepping into the city's past. The Joseon Dynasty was the last kingdom in Korea, lasting from 1392 up until 1910. Over the centuries, the Joseon kings built several palaces here. Visiting a few of the Five Grand Palaces should be atop your list of things to do in Seoul.
There are five different palaces that you can visit — Gyeongbokgung, Changdeokgung, Changgyeonggung, Deoksugung, and Gyeonghuigung. I listed them in order from the most impressive to the smallest. Gyeongbokgung is definitely the grandest of them all, while Gyeonghuigung is usually overlooked.
How many of the palaces you decide to see depends entirely on how long you have in Seoul and what your interests are. At the very least, you should definitely check out Gyeongbokgung. The name means "Palace Greatly Blessed by Heaven," and it's a beautiful place to explore.
Those who have a strong interest in Korean history and culture would do well to add a few more palaces to their itinerary. Changdeokgung and Changgyeonggung are right next door to each other so it's easy to hit both in half a day. The former is especially nice to visit thanks to its tranquil "secret garden."
Gyeongbokgung
is open every day (except for Tuesday) from 9:00 AM to either 5:00 or 6:30 PM. Between 11:00 and 3:00pm, they do a changing of the guard ceremony every hour on the hour. There are also free tours in English that start at 11:00, 1:30 and 3:30. Tickets cost about $2.50.
They're both open Tuesday to Sunday from 9:00-5:30 or 6:30. Tickets cost $2.50 for Changdeokgung and an extra $4 or so to visit the gardens. Meanwhile, Changgyeonggung costs less than a dollar. You can also snag combination tickets that grant you access to all of the palaces plus the Jongmyo Shrine for about $8.50.
For a guided morning walking tour, which includes a visit to Gyeongbokgung, click here, or the image below to learn more.
2. Visit The Jongmyo Shrine
Next on our list of things to do in Seoul is this Confucian shrine. It's a UNESCO World Heritage site and an important part of the city's history.
During the Joseon Dynasty, this was a place of worship for the kings. Here, they would perform a memorial ritual known as Jongmyo Jaerye for the deceased royalty. These continue to this day accompanied by traditional music and dance. It's said that the music invites their spirits to return from the heavens.
The Jongmyo Shrine is open every day except for Tuesday. On weekdays and Sundays, you can only visit as part of a tour. Their English tours happen at 10:00, 12:00, 2:00, and 4:00. Head there on a Saturday or the last Wednesday of the month to explore the shrine on your own.
Tickets cost just under $1 for the Jongmyo Shrine if you don't have the combination pass. It's easy to combine a visit to the shrine with trips to the nearby palaces. Click here to get directions.
3. Hike Around Namsan Park and N Seoul Tower
Despite being a megacity of over 25 million, Seoul is still home to many excellent public parks. The largest park in the city is Namsan (South Mountain), and it's a great place to visit.
South Koreans love to go hiking, and there are plenty of trails here at Namsan. Escape the chaos of the city streets for a bit and walk up to the peak. At 262 meters, you'll enjoy some epic views of Seoul from here.
For an even better view, head to the top of the N Seoul Tower. This adds another 262 meters and provides the best panoramas of the city. It's open every day from 9 AM until 11 PM or midnight and costs about $9 for adults. You can also indulge in a fabulous meal at the top of N Seoul Tower, click here for information about that.
Be sure you add a trip to the park and the top of the tower to your itinerary, this is one of the top Seoul attractions. There are several entrances to access the park. Check the map for directions.
4. See Traditional Hanok Homes
One thing I love about Seoul is how proud the city is of its past. It's great to see how this bustling city of the future still holds on to tradition. The Namsangol Hanok Village is one of the best places to take a glimpse into the Seoul of years gone by.
While massive apartment buildings dominate the skyline of Seoul these days, people here used to live in traditional hanok homes. A handful of these have been restored and filled with antique furniture, art, and other household items. It's an interesting contrast walking around the restored hanok homes as you see cranes towering in the distance, building the Seoul of tomorrow.
Here you'll also find the city's thousand-year time capsule. This was buried here in 1994 to mark Seoul's 600th anniversary and it will be opened in 2394 for its millennial celebration.
The Hanok Village is located at the foot of Namsan,
click here
for directions. It's open from Tuesday to Sunday from 9 AM until either 8:00 or 9 PM depending on the month. Best of all, it's totally free to visit! If you would like to combine the Hanok Village with some of the palaces listed above, check out
this walking tour
.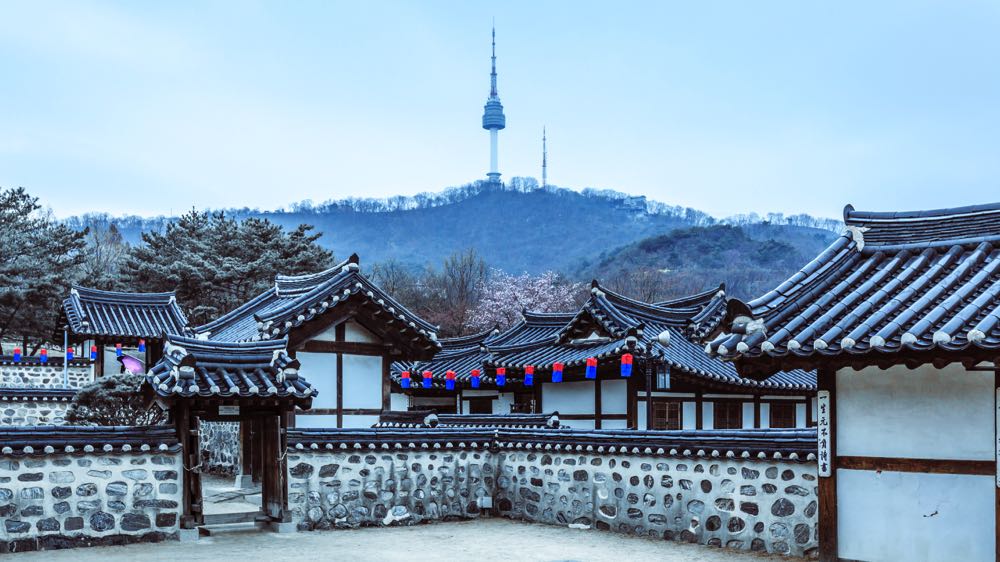 5. Indulge in Korean Cuisine
If you're ever unsure of what to do in Seoul, just stop for a snack. There's so much mouth-watering Korean food on every street here, so dig in!
When it comes to Korean food, kimchi is the king. This spicy, fermented cabbage is considered the national dish of Korea. It's on the table at every meal here and is an essential part of Korean culture.
While kimchi is delicious, it's more of a side than a meal. In fact, Korean meals usually have a bunch of sides that are collectively known as banchan. In addition to kimchi, other sides range from potato pancakes, rolled omelettes, and tofu simmered in soy sauce. One of the best parts about eating Korean food is getting to sample numerous dishes in one sitting without feeling guilty!
There are so many tasty Korean meals that this guide would go on forever if I talked about them all. Definitely be sure to try some bibimbap (mixed rice), japchae (stir-fried noodles), and of course, Korean BBQ. Order up a plate of bulgogi (marinated beef), toss it on the grill, and get ready for an incredible meal.
6. Walk Along The Cheonggye Stream
Since you'll be stuffing your face with delectable Korean snacks for a few days, it's a good idea to lace up your walking shoes. Thankfully this bustling metropolis is actually quite pedestrian-friendly.
One of the best places to go for a stroll in Seoul is along the Cheonggye Stream. There was a stream here many centuries ago during the Joseon Dynasty. Makeshift homes along the stream led the city to build a road over it at one point to kick the people out.
Thankfully, Seoul has been striving towards more environmentally-friendly development in recent decades. The city decided to restore the stream and set up a nice pedestrian path along it. While it took several years and a lot of money, it's largely viewed as a success.
Walking along the stream feels totally removed from the busy city streets, as it's a few meters below street level. It's particularly scenic at night when you can see a light and sound show on some of the fountains. You can head to the Cheonggye Plaza and start from there.
7. Visit a Jimjilbang (one of the most relaxing things to do in Seoul!)
One of the quintessential things to do in Seoul is chilling out at a jimjilbang. "What on Earth is a jimjilbang?", you may be asking. Well, this is a little slice of heaven right in the middle of Seoul.
Basically, a jimjilbang is a large facility for relaxation and entertainment. They typically have a variety of pools and saunas in addition to spa treatments, restaurants, arcades, and so much more. A trip to a jimjilbang is always high on my list of things to do in Seoul.
There are many high-quality jimjilbang across the city, but on both of our visits to Seoul, we frequented Dragon Hill. This huge complex has it all, including a full gym and a cinema. Admission is good for 12 hours here, so you can even save on a night of accommodation costs and just crash in the sleeping room.
Tickets cost $11 during the day from Monday to Friday and about $13.50 for nights, weekends, and holidays. It's always open 24/7 so you can come anytime you like! Click here to get directions.
8. Snap Photos at Ihwa Mural Village
If you're looking for that perfect artsy pic to post to the 'gram, head on over to the Ihwa Mural Village. Once upon a time, this neighborhood was slated to be demolished. The city started a public art project here in 2006 to try and save the area, with about 70 artists participating.
While many are happy with the results of the project, it hasn't been all great for residents. Many complain about the noise and litter that tourists bring with them. Some residents even painted over some of the most popular murals to try and deter visitors. Not everyone was happy that their neighborhood suddenly became a tourist attraction.
That being said, it's still worth it to visit, especially if you enjoy street art and photography. Just remember that this is a residential area and show the proper respect to locals. As long as you're not poking into people's homes and snapping pictures of them, you'll have a pleasant experience.
Try to speak some Korean to locals and drop into local businesses for a snack or drink to show your support. Ihwa Mural Village is located on a hilltop near Naksan Park. Click here to get directions.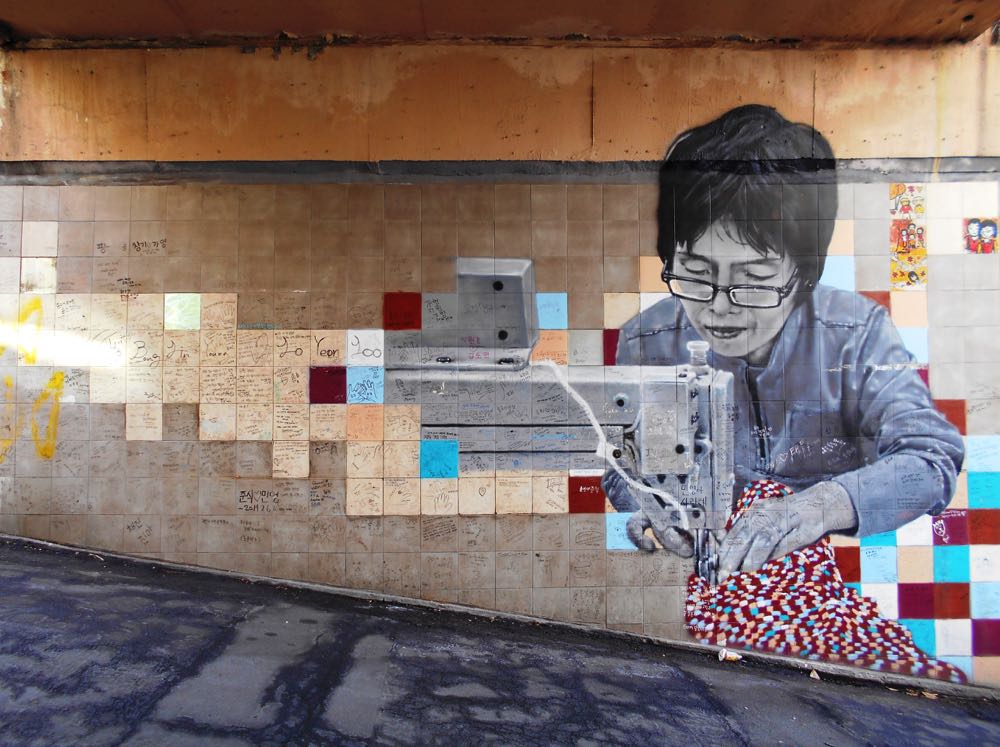 9. Visit the National Museum of Korea
Learning more about Korean history and art is definitely one of the best things to do in Seoul. That's why you'll want to be sure to include a stop at the National Museum of Korea on your itinerary.
This is far and away the largest and most important museum in the country. Learn about ancient history up to early modern times as you visit exhibitions on painting, calligraphy, Asian arts, and more.
The National Museum is open every day at 10 AM. It stays open until 6 PM on Monday, Tuesday, Thursday, and Friday, 7 on Sunday, and 9 on Wednesday and Saturday. It's located in Yongsan Park (click here to get directions) and is free to visit the main exhibitions.
10. Try Soju
No article on what to do in Seoul would be complete without a bit of soju. Korea's most famous booze is traditionally distilled from rice, barley, or wheat. It's a clear beverage and is usually between 15-20% and is super popular here.
As far as liquor goes, soju is pretty easy-drinking. It's got a neutral taste a bit like vodka, but far less strong. People usually drink it neat out of small glasses, although it also mixes well into cocktails. More commonly, a bit of soju is poured into a glass then topped off with beer. Just be careful — it really sneaks up on you!
Apparently, the average person aged 20 and older in South Korea drinks nearly 90 bottles of soju a year. That's a lot of soju! In Korean culture, it's typical to just drink lots of soju at a restaurant and not bother with going to a bar. You can even just grab a little bottle of it from a convenience store and sip it along with some street food.
For more on how and where to drink soju in Seoul, check out this article.
11. Peruse Local Markets
Whether you're looking to pick up some unique souvenirs, down some yummy street food, or just enjoy some good old people watching, be sure to hit some local markets in Seoul. There are several types of markets in Seoul, from fish to electronics to flowers.
One of the oldest and most famous markets in the city is Gwangjang. It opened back in 1905 and was the first market that was actually open every day. It's been an important center of commerce in the city ever since.
The main reason to head to Gwangjang Market is to sample Korean street food. Here you can try kimbap (Korean-style sushi), blood sausage, and the classic tteokbokki – stir-fried rice cakes bathed in a red chili sauce.
Gwangjang is open daily starting at 8 AM until around 6 in the evening, although some food vendors stay open later. Click here to get directions.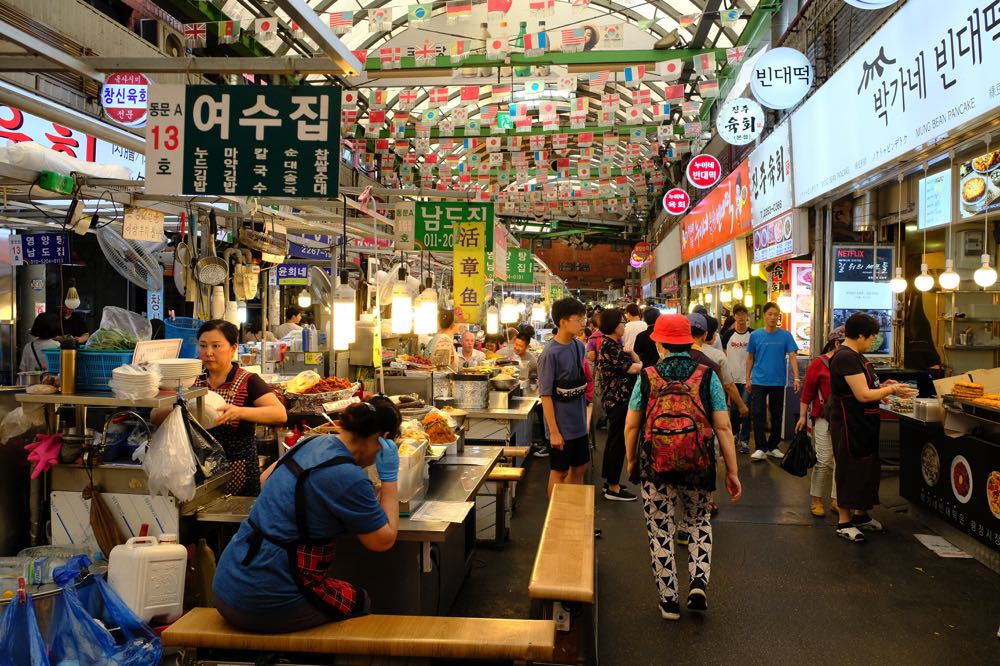 12. Walk Along Seoullo 7017
Similar to the Cheonggye Stream, Seoullo 7017 was a big restoration project to take an old road and turn it into a public park. Once a highway overpass, it's now an elevated linear park. It's kind of like Seoul's answer to the High Line in New York City.
Also known as the Skygarden, it's a pleasant place for a stroll. There are several gardens, terraces, and cafes along the way where you can stop. There's even a foot bath area if you need to give your tired feet a rest.
If you're wondering where the name comes from, it's in reference to the year the overpass was built (1970) and the year it was reborn as a pedestrian walkway (2017). Be sure to add a walk along Seoullo 7017 to your list of things to do in Seoul. Click here to get directions.
13. Fun on the River
The Han River pretty much cuts Seoul in half. To the north lies Gangbuk, the more historical side of the city. Meanwhile, to the south you'll find Gangnam (yes, as in "Gangnam Style"), the more trendy and modern area.
There's plenty to see and do along the river. Riverside trails are a popular place to go jogging, cycling, or skating. Meanwhile, you can go kayaking, wake-boarding, or even water-skiing on the river. If that's too intense, why not just rent a swan-shaped paddleboat or take a river cruise?
Swimming in the river isn't allowed, but there are several pools along the riverfront where you can cool off in the hot summer months. There are also nearly a dozen scenic parks where you can enjoy a picnic.
One thing you won't want to miss here is the Banpo Bridge Rainbow Fountain. This show of water, lights, and music runs several times a day from April to October. It's especially beautiful at night when it's illuminated in hundreds of lights. Click here to get directions.
14. Explore Bukhansan National Park
If you love the great outdoors, you'll be happy to hear that there's a huge national park just a short trip from the center of Seoul. Bukhansan (Mountains North of the Han River) is a popular place to go hiking, especially on the weekends. Try to time your visit during the week if you want to avoid crowds.
The park is divided into north and south areas. On the southern side, you'll find Seoul's highest peak — Baegundae (836 meters). Head to the Bukhansanseong trail to begin the ascent. It's a moderate hike that will take 3.5-4 hours round-trip.
You can access the park by public transportation. Hop on Subway Line 3 to Gupabal Station, head out of Exit 1, then jump on bus 704. Click here to get directions to the start of the trail. The park is free to visit, but make sure to bring things like water, snacks, and sunscreen.
15. Experience the Nightlife
While there are plenty of fun things to do in Seoul during the day, make sure you save some energy for the night. This is a city that knows how to have a good time once the sun goes down!
You know that old adage "Work hard, play hard"? The people of Seoul definitely take that one seriously! Despite being known for rigorous study and work schedules, Koreans sure know how to let loose.
If you want to party the local way in Seoul, start out with a bottle of soju and perhaps some beers at dinner. From there, move to one of the countless bars. Whether you're looking for craft beer, wine, or a nice cocktail, you can find it here. The best places to go for nightlife in Seoul include Hongdae, Itaewon, and Gangnam.
As the night progresses, you can head to a night club to tear up the dance floor or perhaps dabble in a bit of karaoke. Belting out some K-Pop with a healthy soju buzz has got to be on your agenda when travelling around Seoul.
Ready for the amazing things to do in Seoul?
There are so many awesome things to do in Seoul that this list could go on and on with no end in sight! This guide should help you fill your itinerary for your first (and maybe even your second) trip to the Korean capital.
While Seoul is an incredible city with lots to offer, I highly recommend you add a few more stops to your South Korea itinerary. It's a pretty small country, you can get from coast to coast in 3 hours on a bus or train. Last time we visited we headed to Gyeong-ju and Busan in addition to Seoul and had a fantastic trip. Other cool places to visit include Jeonju and Sokcho. There are some cool day trips from Seoul as well, don't miss out!
Have you been to Seoul? What were your favorite things to do in the city? Drop a comment below and let us hear about them!
Like This Article? Pin it!