With so many things to do in Tulum, Mexico, it's no wonder that this former sleepy fishing village has recently become of the most popular destinations on the planet.
The incredible white sand beaches of Tulum are the main attraction here, but there are a ton of awesome places to visit in Tulum beyond the shore. With endless things to do in Mexico, make sure Tulum is on your list.
I spent over six months living in Mexico's Yucatan peninsula, and have visited Tulum almost a dozen separate times. Each time, I'm blown away at just how many incredible places are packed into this tiny town. This is definitely one of the best places to visit in Mexico.
To help you make the most out of your visit, I've put together a list of the 21 best things to do in Tulum.
1. Hang Out on Playa Paraiso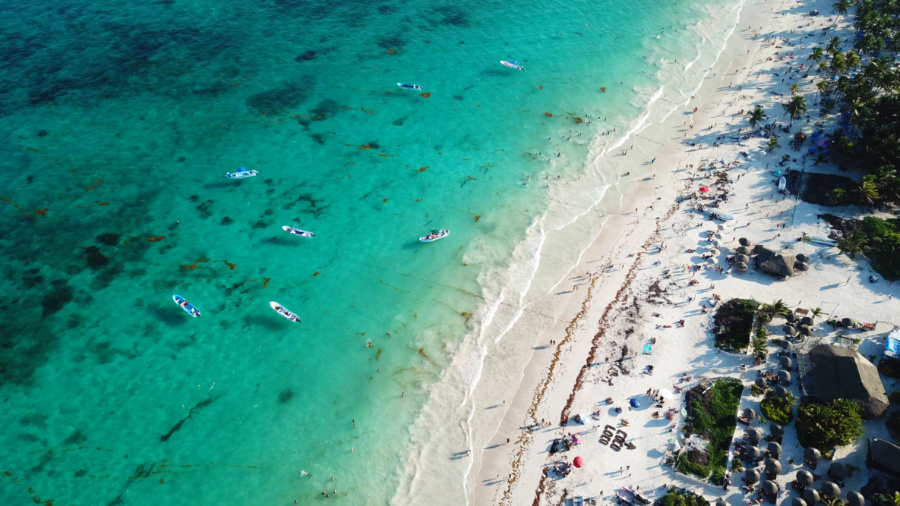 After enjoying all of the awesome things to do in Mexico City, head to Tulum to enjoy some sun and the beaches!
The beaches of Tulum are the town's main attraction for a reason, and the best of the bunch is Playa Paraiso. Once you see the beach's white sand and turquoise water, you'll understand why it has been a winner of TripAdvisor's Traveler's Choice award for the best beach in all of Mexico.
Best of all, Playa Paraiso is a publicly accessible beach, meaning a visit to this natural wonder is one of the great free things to do in Tulum. Or, if you want to spend a little cash, Villa Pescadores and El Paraiso beach clubs offer loungers for a minimum spend on drinks and food.
It's an easy walk from here to the second best thing to do in Tulum…..
2. Marvel at the Ruins (one of the best things to do in Tulum)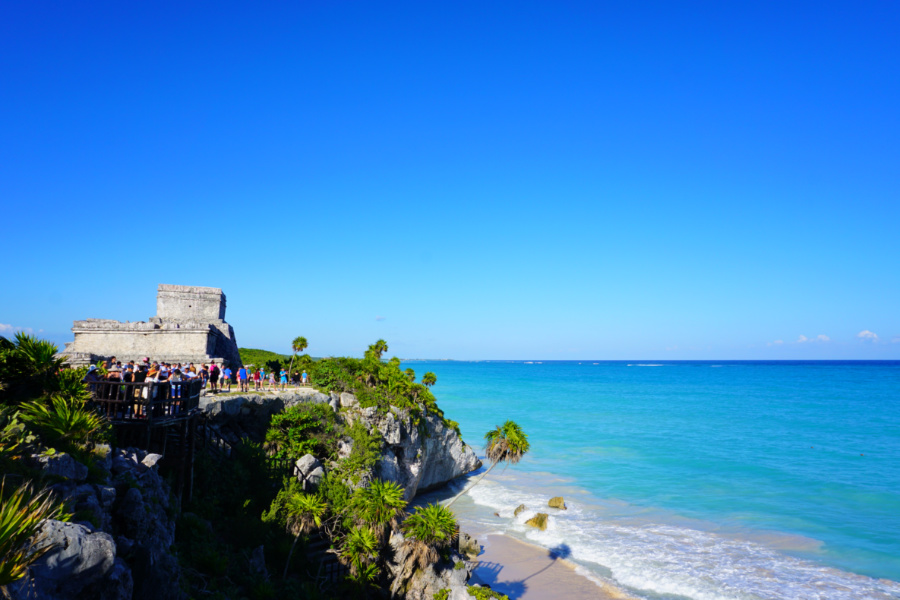 They may not be the largest Mayan ruins in Mexico, but their spectacular location on a cliff overlooking the beach makes the Tulum ruins a marvelous site to behold. A visit here is a must from anywhere in the Yucatan, and it's definitely one of the top things to do in Playa del Carmen as well.
With Tulum's meteoric rise on the tourist scene, the 13th-century ruins can get a bit crowded. So visit early in the day for the best chance to snap that envy-inducing Instagram shot without pushing your way through a crowd of visitors.
A great option for visiting the Tulum ruins is this highly-rated experience which includes a walking tour of the ruins, and lunch. Find out more here.
Don't miss these spectacular ruins on your trip to the Yucatan. See our full guide to visiting the Tulum Ruins.
3. Take a Mud Bath in a Lagoon
One of the best-kept secrets in Tulum is the Laguna de Kaan Luum, which sits just 9 kilometers south of Tulum town.
This magical lagoon hosts a huge cenote (underground spring) in its center, which imbues the lagoon's water with a spectacular array of colors.
Visit the lagoon and bath in the mud that's produced by the cenote, which according to legend has healing properties. Plus, its reasonable entrance fee (50 pesos), makes it one of the great budget things to do in Tulum.
Another option if you'd rather join a unique experience is to meet up with life coach Susan for an enlightening day filled with manifestation, self-love, and of course, the mud clay exfoliation at the lagoon.
Gain clarity on what you want in life with help from Susan. Find out more about this highly rated, unique thing to do in Tulum here.
4. Fall in Love at Burrito Amor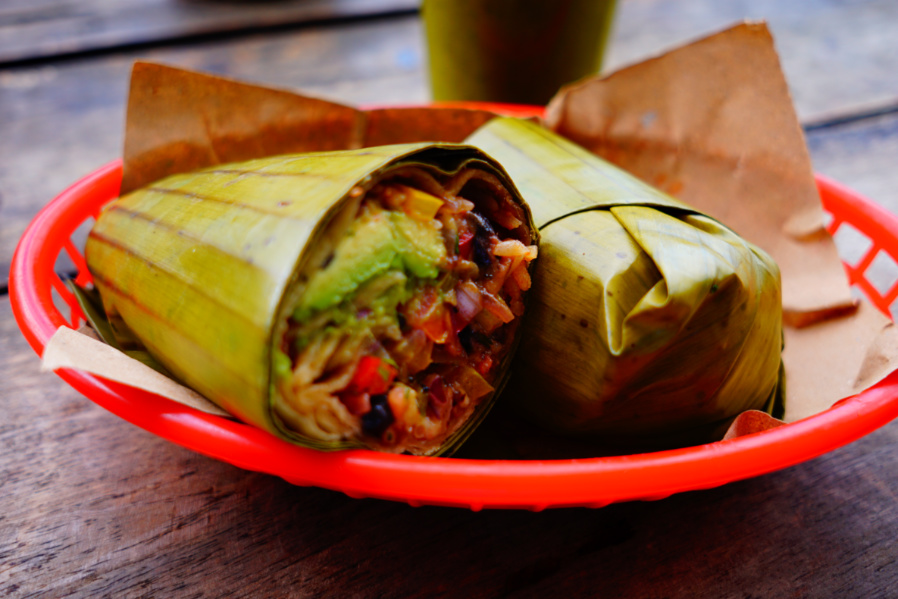 I've probably had thousands of burritos in my lifetime, and I can't think of any tastier than the creative banana-leaf-wrapped burritos served up at Burrito Amor.
Seriously, they are that good.
Located along Tulum's main road on the south end of town, Burrito Amor serves up some of the most delicious food in the town. And, best of all, the average price is only about 100 pesos ($5.25), making it a welcome respite from the soaring prices that have infected much of Tulum recently.
This is easily one of the best places to eat in Tulum, and a can't-miss stop when you are in Tulum town.
5. Sip a Mojito at Batey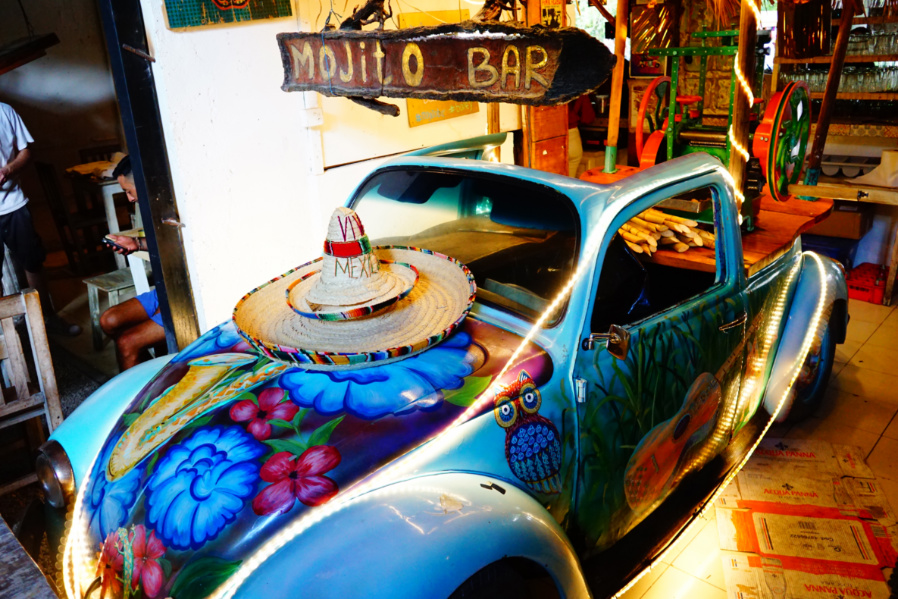 As Tulum's nightlife scene explodes, the same unassuming bar still remains the go-to place to start your night out. At Batey you'll find live music in the evenings and an energetic crowd spilling into the streets with tropical drinks in hand.
Oh, and you can even watch them press the sugarcane for your mojito! It doesn't get much fresher than that.
Mojitos go for 120 pesos ($6.30), and while that's a bit pricey when backpacking Mexico, the drinks are worth every peso. The vibe here is excellent and it's always packed with people looking to have a good time.
☞ Looking for other places in Mexico to have a good time and a fun night out? Make sure to check out Cancun, Puerto Vallarta, Cabo San Lucas and Cozumel. All four places have awesome nightlife! See these articles: Things To Do in Cancun, Things To Do in Puerto Vallarta, Things To Do in Cabo San Lucas, Things To Do in La Paz and Things To Do in Cozumel – and enjoy Mexico travel!
6. Explore the Sian Ka'an Biosphere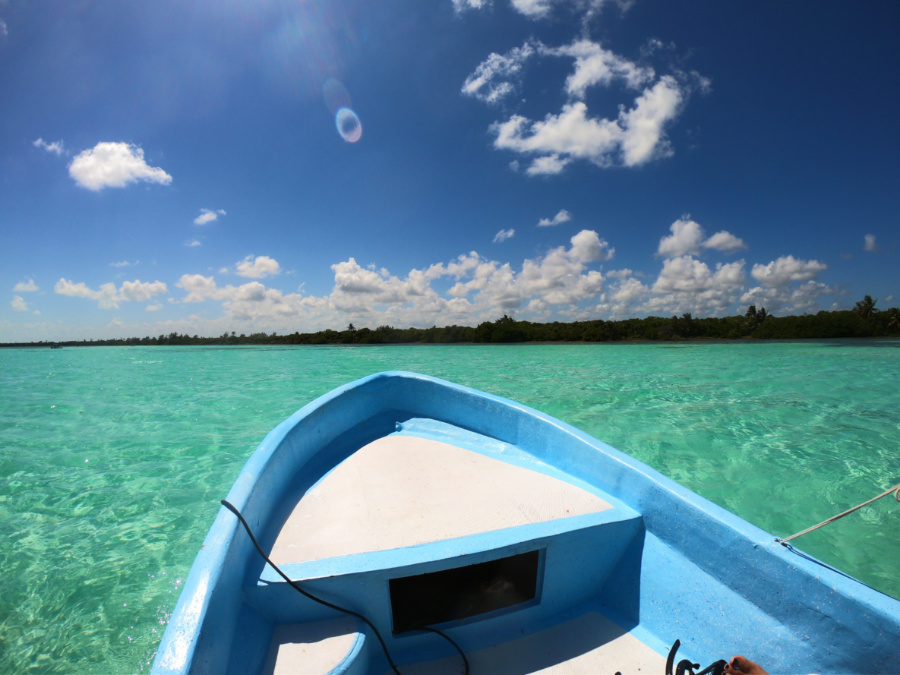 Just south of Tulum lies the enormous Sian Ka'an Biosphere, a protected area home to thousands of species of flora and fauna, as well as some of the most pristine water in Mexico. Inside the park, you'll find dolphins, turtles, and more fish and birds than you can count.
Note that the long road through the park is very rough, so you'll either need to rent a 4×4 for the drive or sign up for a tour (which is a lot of fun and takes the hassle out of getting to Sian Ka'an). It makes for a great day trip from Tulum.
7. Go Into The Jungle to Witness Coba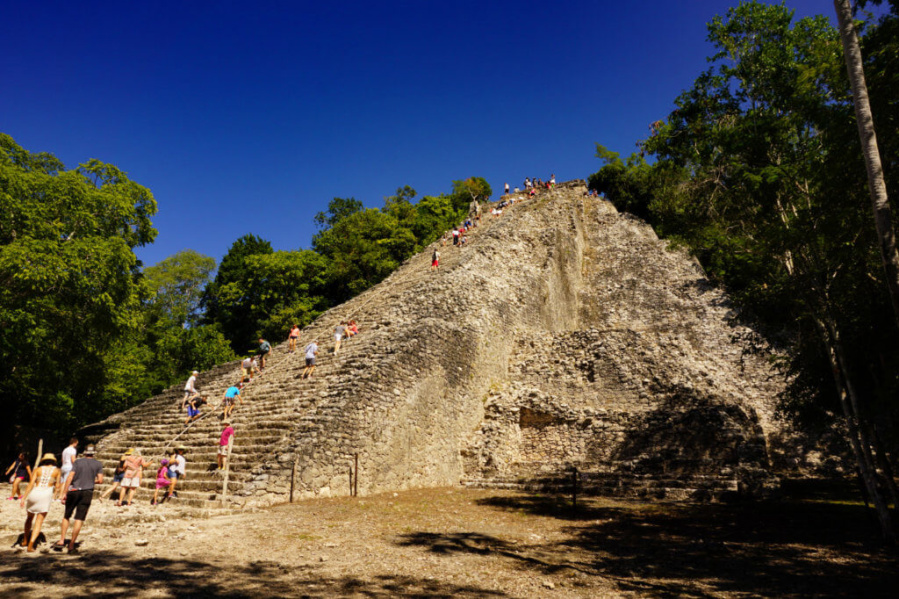 The Tulum ruins are great for their setting, but if you're looking for a more substantial Mayan pyramid, you still don't have to go far from Tulum.
Though slightly less popular than the famous ruins at Chichen Itza, I think the Coba ruins make for a much more enjoyable day trip from Tulum.
Why?
Well, for one thing, you have to bike through thick jungle to reach them (45 pesos / $2.40 for a bike rental). And, for another, you can still climb to the top of the main pyramid at Coba (climbing is forbidden at the more-famous Chichen Itza ruins).
You'll have to climb up 120 steep stone steps to the top of Coba, but it's worth the effort for the views from the summit.
To get here, you can take the local ADO bus, rent a car, hire a private taxi, or take a tour.
8. Take a Dip in a Cenote
The most refreshing thing to do in Tulum is to take a dip in a "cenote," jungle swimming holes formed when underground springs cut into the limestone bedrock.
There are dozens of cenotes in the Tulum area to choose from, but one of the most popular is Cenote Dos Ojos, which is located just 20 minutes north of town (you can get there by collectivo or via a taxi). And actually, if you are a scuba diver, you can do a dive at Dos Ojos!
You may wonder why you'd ever leave the gorgeous beaches in Tulum, but once you try a dip in a cenote, you'll understand why the locals actually prefer the cool fresh water of the cenotes to the sea.
9. Rent a Daybed at Beach Club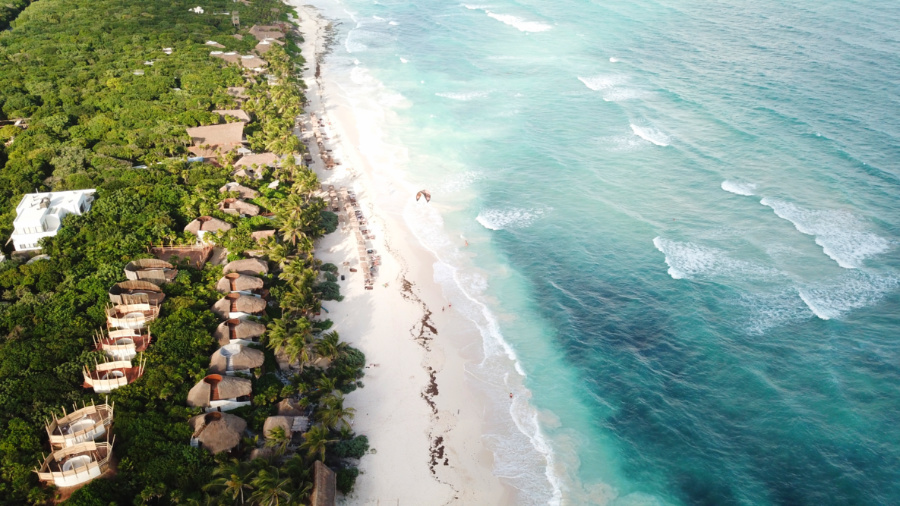 Tulum's south beach is gorgeous but can be difficult to access unless you are staying at one of the many resorts that control the beachfront.
One way around that is to rent out a day bed at a beach club, and the best of the bunch is Papaya Playa Project. Less pretentious than its neighbours, this bohemian beach club serves up some seriously delicious food in an Instagram-worthy setting.
Note that while there is officially a minimum spend of 500 pesos ($26), I've often found the servers willing to lower or waive that if you ask in advance.
10. Go Kitesurfing
One of the few drawbacks to the amazing beaches in Tulum is that they can get a bit windy at times. But this also makes Tulum the perfect place to try your hand at kitesurfing.
There are several operators along Tulum's south beach that will teach you how to crush those waves. It's a great adventure activity and one of the best things to do in Tulum if you're looking to get a workout.
Book your lesson with an International Kiteboarding Association certified guide and enjoy a few hours on the water. Learn more here.
11. Try Cold Brewed Coffee on Tap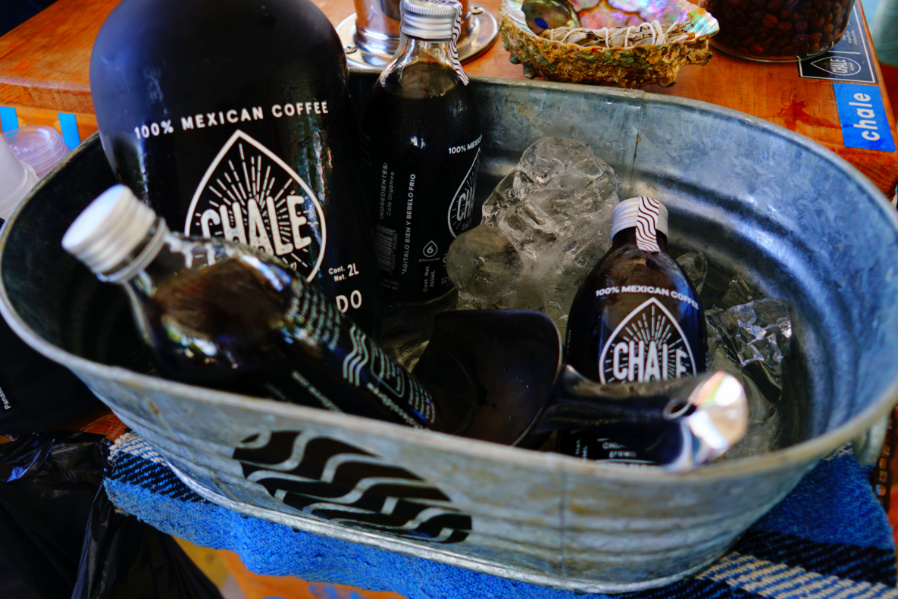 A cup of joe may not seem worthy of inclusion on a list of the best things to do in Tulum. But, as someone who used to work as a barista, let me tell you that Chale's cold-brewed coffee is no ordinary cup of coffee.
This local roaster doesn't have a physical location, but you can find Chale cold brew in coffee shops all around town. But for a special treat, be sure to head to Matcha Mama, where you can try it straight from the tap.
12. Browse Tulum's Boutique Shops
If you're the kind of person who cares about fashion, you'll love the many boutique vendors that sell hippie-inspired wear in Tulum.
No wonder why shopping is one of the most popular things to do in Tulum. Just be prepared for sticker shock, as Western prices dominate here.
There are several clusters of popular shops along Tulum's south beach road – just walk or bike the road and stop along the way.
13. Ride a Bicycle
One of the more annoying aspects of visiting Tulum is the constant need to shuttle yourself between the beaches and Tulum town.
While there are plenty of taxis that ply that route, a fun and affordable way to get around Tulum is to rent bicycles and power yourself with your own feet.
Nearly every hotel in town will rent you bikes, and there are several large bike paths in Tulum that make biking the best way to get around and one of the most popular activities in Tulum. Bicycle rentals are around 100 pesos ($5.25) per day.
14. Explore the Caves at Cenote Caracol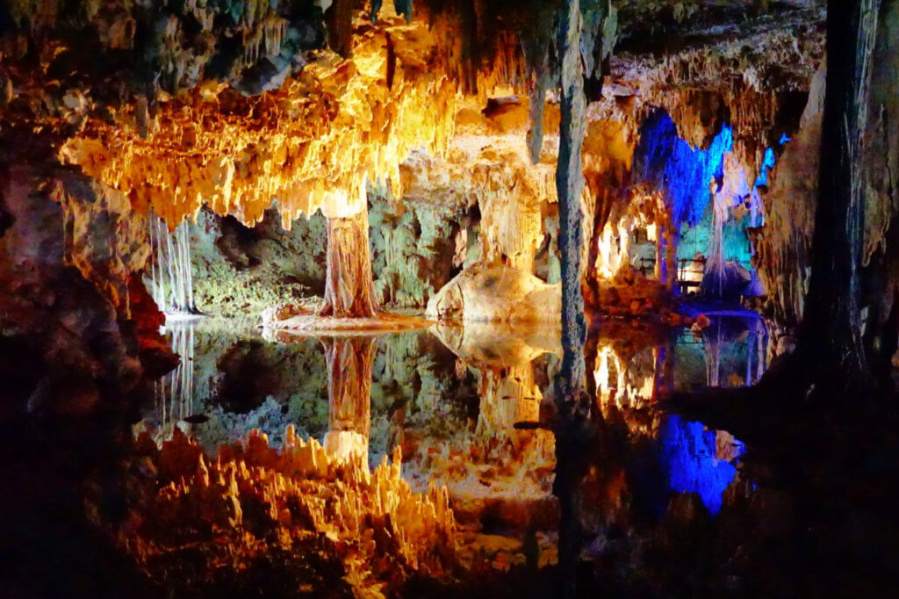 Just a few miles north of Tulum lies a cave and cenote complex that will make you feel like you've left Mexico and landed on another planet. The pools of spring water inside the caves make for a spectacular sight as they reflect the hanging stalactites.
Best of all, Caracol is a bit of a hidden gem, so it's a great thing to do in Tulum to get away from the crowds.
To get here, you'll either need to rent a car and drive yourself or go as part of an organized tour. The entrance fee (starting at 500 pesos) is steep but worth it. If you're wondering what to do in Tulum when it's raining, this may just be it.
15. Dance the Night Away at Santino
Tulum isn't known for its nightlife (my theory is that the sun sucks the energy out of people during the day), but if you're in the mood to go out anywhere, Santino bar is the spot to be.
This tiny bar and club in the middle of town boasts a small but pulsating dance floor, strong cocktails, and the best music in town.
16. Join a Dinner Party with Mezcal
If you're looking for unique social things to do in Tulum, you'll love this 3-course dinner party with mezcal tasting in a private jungle setting.
This highly rated adult dinner party (you must be 18+ to join) is one of the best things to do in Tulum at night for couples and friends. Enjoy drinks and tasty food in a stunning setting with new friends. Find out more here.
17. Take a Photo at the Tulum Sign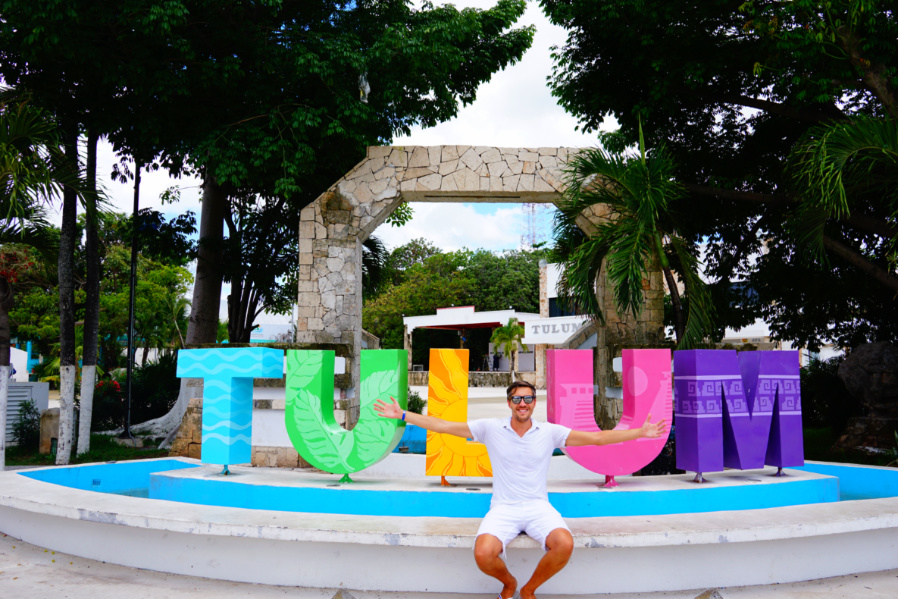 So it's a little touristy.
Ok, so it's a lot touristy.
But, come on… you know you want to!
Tulum, like towns all around Mexico, has a sign in its center just begging for you to take a photo with it. You'll find the sign in the main square in the center of town. It's among the most popular things to do in Tulum, so you may have to wait in line to grab that shot.
18. Join a Cooking Class with a Mayan Family
This is one of the more authentic and local experiences to have in Tulum. After being picked up, you'll drive to a colonial city to visit the local market there and enjoy breakfast before visiting the traditional Mayan home.
Stop at a cenote on your way to the village to cool off.
Once you arrive, you'll head into the kitchen to cook a delicious meal while interacting and learning from the local Mayan women. You'll discover and learn many new things about the Mayan life, traditions, and customs. Everyone will eat together inside the home.
By joining this activity you will contribute to preserving the local culture and traditions of this Mayan community. Find out more about this unique thing to do in Tulum here.
19. Visit Offtrack Cenotes
Skip the overly touristy cenotes in Tulum and head into the jungle to find 2 hidden gems. On this fun experience, you'll visit two secret cenotes, and enjoy a tasty Mexican lunch either in a restaurant or as a picnic.
This is one of the best things to do in Tulum (even when it rains), the weather doesn't matter, as you'll be getting wet while swimming in the cenotes anyways!
Find out more about this highly-rated, unique cenote experience here.
20. Eat Tasty Tacos
When visiting Tulum, it can be easy to find yourself eating international food (there are some great restaurants here), but make sure you eat some tacos as well!
There are lots of small taco joints in the town, but definitely check out Taqueria Honorio, El Carboncito, and Antojitos la Chiapaneca which is known for its Yucatecan snacks. Don't miss the al pastor tacos here.
Another option is to join this taco-tasting tour for some legitimately authentic tacos. Whatever you do, just make sure to eat some tacos when in Tulum!
21. Get in the Water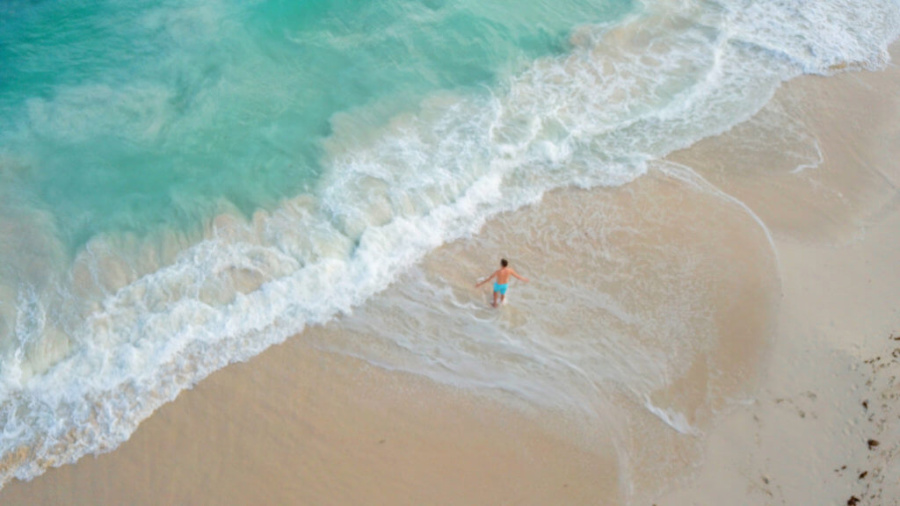 Ok, so this may seem like an obvious thing to include on a list of the best things to do in Tulum. But, with so many other activities in Tulum, it can be easy to forget that the gorgeous water is the star here.
Be sure to build in some time in your Tulum itinerary to take a swim in the sea. Or take it one step further and enjoy some snorkelling, paddle-boarding, riding a banana boat or jet ski, or any of the many incredible water activities on offer in Tulum!
You'll find vendors all throughout the beach and in the town willing to help you get your adventure on.
More Activities in Tulum
There are so many things to do in Tulum (and around) that you'll never be bored. Here are a couple more excursions to add to the list.
Join a Pub Crawl
If you want to party and meet new people in Tulum, join this pub crawl for a fun night out. The ticket includes unlimited free drinks for 30 minutes at the start, followed by a free shot or drink at each bar, discounts on other drinks, cover charge, and more.
Join a Pottery Class
For a more unique thing to do in Tulum, check out this pottery lesson which includes food. During the class, you'll work with clay from the area, while learning how to create your own pieces.
Now You Know What To Do in Tulum
There are so many incredible things to do in Tulum, so be sure to plan plenty of time for your visit to this stunning destination. You'll quickly realize why Tulum has become one of the hottest tourist spots on the planet.
(Note: All photos copyright Nate of Travel Lemming)
---
Goats On The Road Recommended
Travel Resources for Tulum, Mexico
✓ Wondering where to stay in Tulum? There are numerous accommodation options on Booking.com – from luxury resorts on the beach to midrange hotels and cute guesthouses in town. Goats On The Road uses and recommends Booking.com due to their awesome cancellation policy, discounts and deals. Click here to see properties available in Tulum, Mexico.
✓ With all of the fun things to do in Tulum, it's important to have adequate travel insurance. Goats On The Road use and recommend Safety Wint. Click here for a free quote.
✓ If you'd like to rent a car in Tulum or any other place in Mexico, we recommend checking out the prices on Expedia.com. This is the booking company we went with when we spent 2 months in Manzanillo Colima. Be warned though, in Mexico, you'll have to pay around $15 more per day for mandatory insurance fees. Goats On The Road always uses Expedia for our car rentals. Click here to find the latest prices.
✓ For tours, activities and other things to do in Tulum, check out Get Your Guide for low prices and excellent service. Always cross-reference your tours with reviews and find one that suits your needs.
Like This Article? Pin it!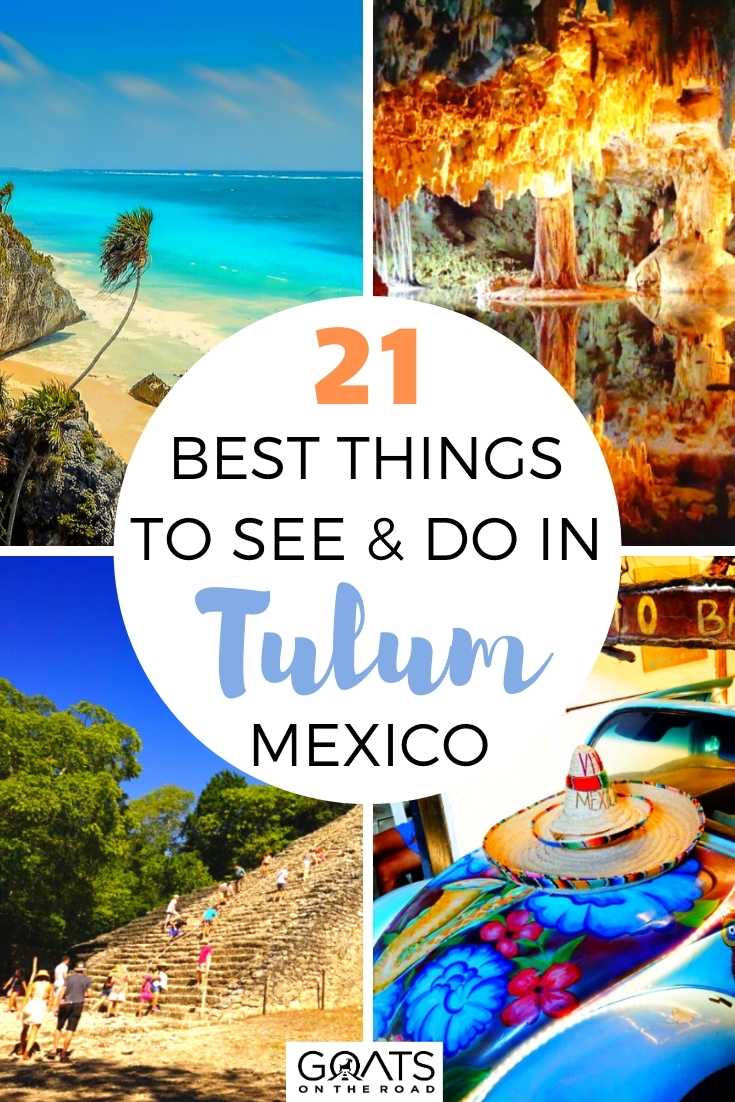 Disclaimer: Goats On The Road is an Amazon Associate and also an affiliate for some other retailers. This means we earn commissions if you click links on our blog and purchase from those retailers.