Over the last few years, working as an online English teacher has become a popular way to travel long-term without breaking the bank.
With dozens of online teaching companies to choose from and endless destination possibilities, teaching online is a great option for people with big travel dreams.
Not long ago, I was one of those people. I had been working as a science teacher for three years before the travel bug snuck up on me. But once it arrived, I couldn't shake it.
I'd always had an adventurous side, but the responsible side of me didn't think it was possible to have a legitimate job, and save money, and travel long-term.
One day, my co-worker casually mentioned that she had started teaching English online on the weekends to save money for a house.
I'd never heard of online teaching before so I went home that night and started researching a then-obscure company called VIPKID.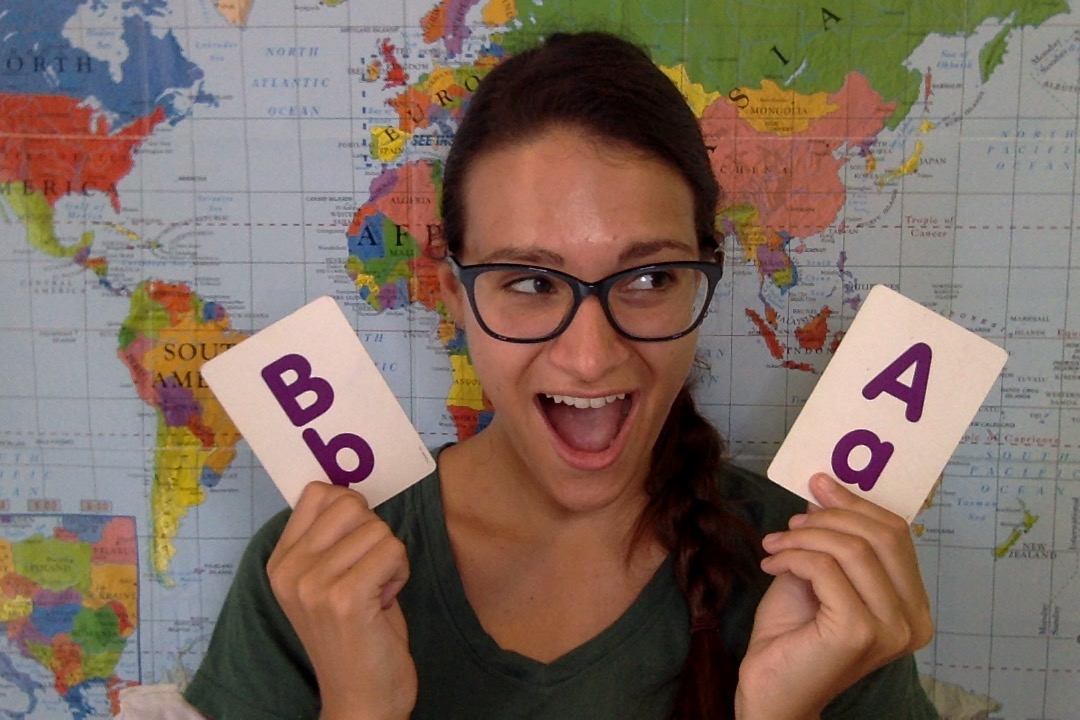 For a few days, I wrestled with what to do, but I figured I didn't have anything to lose and so I decided to give online teaching a try.
As you probably guessed, I loved it! It took teaching exactly one adorable student from the comfort of my home in sweatpants to realize that this was a lifestyle I wanted.
I taught online all through the summer, totally shocked that such a cool opportunity existed. My new job was so flexible, I was making good money, and I could officially "go to work" in my pajamas!
Slowly, I started to hatch a plan to combine my two passions: teaching and travelling.
What started as "a few months abroad, just to see what it's like" quickly turned into a new lifestyle, a remote career, a blog, and a whirlwind of travel experiences around the globe.
Now, when I'm not belting the ABC song in my online classroom, I love writing blog posts like this one to help you start teaching and travelling too!
To learn more about what a day in the life looks like, see this post about living in the USA as an online ESL teacher.
Who Is This Guide For?
I'll be honest with you, before I took my first trip as an online English teacher, I was a nervous wreck. At that time, there wasn't much information on the internet about teaching online and travelling. I had no idea how I should prepare.
Now that I've been on the road for over two years while teaching remotely, I've got a good system to keep my travels as stress-free as possible.
My goal is to remove some of the guesswork so you can transition smoothly into life as a location-independent online teacher.
This guide is for anyone interested in teaching online, either while living at home, or while travelling.
First, we'll talk about how to choose an online teaching company and get hired. Next, we'll look at how to prepare for travel as an online English teacher.
In order to get hired to teach, most companies require you to have a
TEFL
certificate. Not only is it required in some cases, but having one will help you be a better teacher, understand the ins and outs of being an English teacher, and give you a "one-up" on the competition. The cost of an
online TEFL course
varies but is worth the money, and in many cases, it's necessary in order to get a teaching gig. Learn more
here
.
Things To Know Before You Get Hired
The first thing you'll need to do before becoming a teacher is to get hired with an online ESL company. Luckily, there are dozens of reputable companies to choose from.
Below are the general requirements to become an online English teacher. If you don't meet one of these requirements, don't worry! There are some exceptions to these guidelines that we'll talk about in a minute.
You must be a native English speaker
You must have a BA Degree (in any subject) or pursuing one, and a TEFL certification
You'll need reliable access to high-speed WiFi
You should have some experience working with children
You should enjoy working with people and have patience and enthusiasm.
Which Companies Are Trustworthy?
With so many online ESL companies out there, choosing a trustworthy one can be overwhelming. The following companies have been around for a while and have a large pool of happy teachers and students.
Magic Ears: This is a great option for potential teachers as they hire from many English-speaking regions of the world. If you're from the UK, the USA, Canada, South Africa, New Zealand or Australia, you can apply. Of course, you must meet other requirements as well (be pursuing a BA degree and hold a TEFL). Read our Magic Ears review, or apply here.
VIPKID: This is one of the oldest and most established online ESL companies. It's my personal favourite and even though their hiring process is intense, they provide an advanced teaching platform, timely payments, and a supportive teaching community.
VIPKID hires teachers from the USA and Canada and you must have a BA Degree. This is one of the highest paying companies at $22/hour. Apart from the salary, the next best "pro" to teaching with VIPKID is that you can do it from anywhere in the world. Click here to learn more about VIPKID, and click here to read my personal review.
Qkids: This company is similar to VIPKID in what they pay, that you must have a degree, and must be Canadian or American. However, one main difference is that you must physically be in Canada or the USA. Click here to learn more about Qkids.
EF Education First: A highly reputable company with classrooms worldwide. EF now offers online teaching for citizens of the UK and the USA. Pay is upwards of $20/hour, you must have a degree, a TEFL certificate and you must be physically in the UK or the USA. Click here to learn more about teaching with EF Education First.
GoGoKid: GoGoKid is a bit newer but it already has many happy teachers. GoGoKid has a similar structure and payscale to VIPKID. Like VIPKID, this company hires native English speakers with degrees from the USA and Canada. Read our GoGoKid review.
Palfish: I added Palfish to my teaching portfolio because I wanted to try teaching adults. This company focuses on the Chinese market and you can choose between Palfish Freetalk (teaching adults) and Palfish Official Kids Course (teaching children). Palfish is the highest paying option for teachers without a BA Degree that I know of. Read my Palfish review here.
Cambly: Cambly also hires teachers without BA degrees and focuses on a worldwide student base. This is a free talk platform so the focus is on conversation practice. Cambly pays by the minute and hires native English speakers. Read our review here and apply here.
iTalki: iTalki is different from the other options listed because it's a language learning platform, not an English-specific company. Here, you can teach any language that you are fluent in as a Community Tutor (no BA required) or as a Professional Teacher (BA and teaching experience required). You'll set your own pay rate and create your own lessons with iTalki.
This is only a small list of ESL companies out there. If you find a teaching company that you're interested in, make sure to do some research before applying.
Look for blog posts about teacher experiences or head to forums like Reddit to see what real teachers have to say. Read More: 10 Top Online English Teaching Companies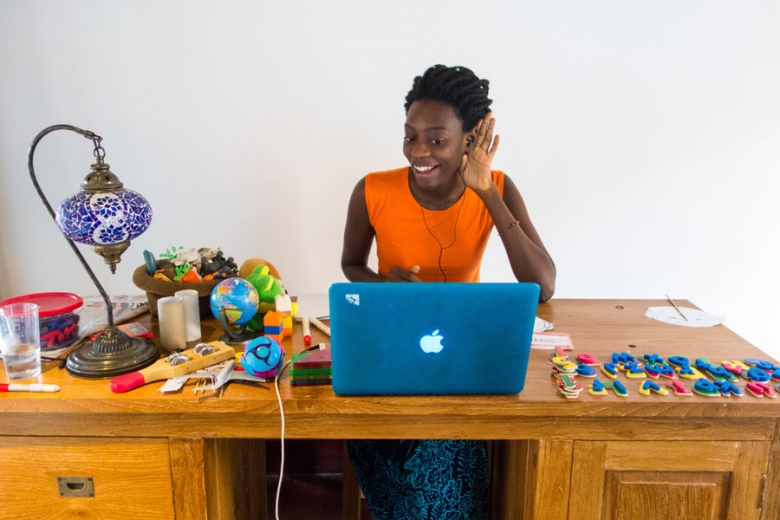 Will You Need a TEFL Certification?
For most online teaching companies, you will need a Teaching English as a Foreign Language (TEFL) certification. If you don't have one, you can get certified online or through an in-person course.
In China, legislation surrounding online English education recently changed.
Before, it was possible to teach without a TEFL certification as long as you were a native English speaker. Now, all online teachers must have either a teaching license or a TEFL certification to work with children in China.
It's a good idea to get TEFL certified if you're able to do so. Having a TEFL certificate will give you more job options and the course will give you some foundational teaching skills.
That said, you still have a few options for teaching without a TEFL certification.
VIPKID will hire teachers without a TEFL certification but you'll have to do an additional in-house TEFL training module during the hiring process. Magic Ears offers an affordable TEFL, and you can also teach for Cambly without a TEFL certification because Cambly focuses on markets outside of China.
Will You Need a University Degree?
For many online English companies, especially the ones focused on the Chinese market, you will need a Bachelors's Degree to get hired. Your degree can be in any subject — it doesn't need to teaching-related.
There are a few exceptions to this though, but they won't pay as well as Magic Ears or VIPKID. If you're interested in teaching online without a Bachelors degree, check out:
Cambly: Cambly will hire native English speakers – no experience or degree required.
Palfish: You'll only need to be a native speaker with a TEFL certification to apply for Palfish.
iTalki: On iTalki, you can make a Community Tutor profile without any degree or experience required.
Can You Work From Anywhere?
As an online English teacher, you can work from anywhere with a reliable internet connection — depending on the company you choose to teach with.
If you're hired by Qkids or EF Education First, you must be in the USA or the UK (but you can move from city to city). With Magic Ears and VIPKID, you can work from any destination in the world.
That said, there are a few things you need to consider before jetting off to the prettiest beach you can find on Pinterest.
You'll need to have a quiet workspace for your classroom. Most companies expect that you'll provide a school-like experience for your students. This means you'll need a quiet classroom set up free from distractions. Unfortunately, this rules out teaching poolside while sipping from a coconut.
You'll need consistent WiFi. Just booking a hotel with the little "WiFi" sticker in the window might not be enough. You need to make sure that your internet connection is reliable and fast enough to support video calls without disconnecting.

What Other Requirements Are There?
There are a few other things to consider before you start firing off online teacher applications.
You need a computer. With the exception of Palfish where you can teach from your smartphone, most companies require that you teach from a laptop. While you don't need to go out and buy the latest model, your device should be able to handle the demands of video streaming. I teach on a 2015 MacBook Pro and it performs beautifully.
You need to have a headset with a microphone attachment. Clean audio quality is essential to online teaching. Make sure you have some kind of headset with a microphone to ensure there is no weird echo or feedback during your classes.
Plan to use props if you're teaching kids. Companies that cater to children will want to see you use some props and fun online teaching backgrounds. You'll want to know some fun and engaging games for English class as well.
You should have your classroom all set up and ready to go for your initial interview. I understand not wanting to spend a ton of money upfront, but having your classroom prepared shows your interviewer that you're serious and improves your chance of getting hired.
When Should I Apply?
You should apply for your online teaching job at least two months before you plan to travel. This gives you time to:
Complete the hiring process without feeling rushed
Get used to the online teaching platform and gain confidence in your teaching skills
Go through one payment cycle and ensure it's all working properly
Start to save money for your travels
Build up some regular students and parent reviews
The sooner you get started, the easier it will be to start travelling down the road.
Things To Know After You Get Hired
After deciding which company is best for you and getting hired, it's time to start planning your travels! Before setting off into the world, consider the following tips.
Check The Time Zone And Local Event Calendar at Your Destination
Most online ESL companies focus on teaching students in China. The demand for classes is highest from around 4:00 pm – 9:00 pm on weekdays and 9:00 am – 9:00 pm on weekends, Beijing Time.
If you're travelling in North America, this means you'll be teaching early in the morning or through the night. If you're travelling in Asia, you'll be teaching in the evenings and if you're travelling in Europe, you'll teach in the afternoons.
Before choosing your travel destination, look at the time zone conversion to ensure that you can still have classes at a comfortable time.
You'll also need to keep track of your schedule in your new time zone. Some companies like VIPKID allow you to update your time zone directly on the teacher platform.
To update your timezone with VIPKID,
Log into the Teacher Portal
Click on "My Info "
Click on "Account Center" then "Account Information"
Scroll down and you'll see a place to update your time zone
Choose your new time zone and save
Refresh the page and go to the booking calendar. Now your classes will show up in the correct time zone.
If your company doesn't have a way to update your time zone, head to the "Clock" feature in your phone and add a world clock for Beijing. Use this clock to make sure you arrive on time for your classes.
It's also a good idea to check the local events calendar before you arrive at your destination. Avoid scheduling classes during big festivals or events you may want to attend. Also, remember that large events can impact internet connectivity and power connections.
Book Accommodation With Good WiFi
Since your teaching job is internet-dependent, it makes sense to stay somewhere with a good connection.
Most companies require around 20 Mbps of internet speed, but I've been able to teach on 5-10 Mbps without a problem. Still, low speeds aren't ideal, so following these steps can help ensure you don't run into dreaded WiFi problems.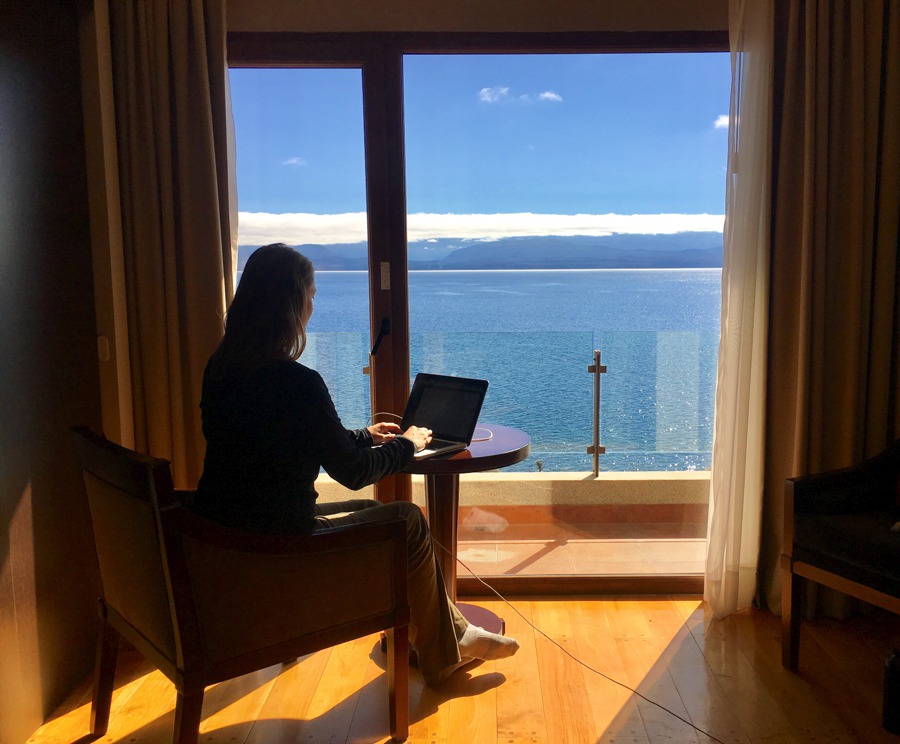 If You're Staying in an Airbnb: Send your host a message asking them to run a speed test in the unit you'll be renting. They can use a website like www.speedtest.net. Have them tell you the internet speeds before you book.
If You're Using a Platform Like Booking.com: Filter search results so you can only see listings with WiFi available. To do this, type in your destination and dates in the main Booking.com search bar. Click "search," then scroll down until you see the left-hand sidebar with filters.
Under the "facilities" filter, you'll see an option to filter by "Free WiFi." Select this option to only see properties with WiFi included.
Unfortunately, just booking a place with WiFi often isn't enough. While the internet demands of online teaching aren't too extreme, shared hotel or hostel internet is notoriously sub-par.
To avoid any dramatic WiFi-induced meltdowns, I always go a step further and look for reviews that mention the internet quality.
When you see a property you like on booking, click on the "Guest Reviews" tab. Scroll down to the section that says "Select a Topic to Search Reviews." You should see a little magnifying glass icon that you can use to begin a custom search. I type something like "WiFi" or "Internet" in the search bar and see what reviewers said.
If You're House Sitting: House sitting is an awesome option for remote teachers. Not only is house sitting a way to get free accommodation, but you also get privacy, space, and your very own WiFi connection. What luxury!
Before committing to a house sit, you can have the host run a speed test for you. You can also "test" the connection yourself by speaking to the homeowner on Skype before the sit. Usually, if the connection is strong enough for Skype and Facetime, it will be fine for online teaching.
Bring a Back-Up Source of WiFi
Even with the most diligent planning, sometimes the unexpected happens. To make sure you don't get in any hot water with your teaching company, it's a good idea to always travel with a back-up source of WiFi.
Here are your best options:
Use an Unlocked Smartphone and Local Sim Card: If you've paid off your Smartphone, you can call your carrier and ask them to unlock it. If your phone can't be unlocked, bring an old smartphone to use as your "hotspot" phone. (I'm currently rocking my worn-out iPhone5!)
Once your phone is unlocked, you can put a local SIM card in it when you arrive at your destination. You can get a traveller SIM card at the airport or at most cellphone stores.
Having a local SIM card will give you data on that phone. If the WiFi isn't working, you can turn on your phone's hotspot and connect it to your computer.
For reference, the average 25-minute class with VIPKID takes about 100mb of data. This means that you can teach about ten, 25-minute classes on 1GB of data. I usually buy at least 5GB per month as my emergency plan.
Use a Portable WiFi Device Like Teppy or SkyRoam: I haven't personally tried these options for online teaching but I know other online teachers love them. Teppy and Skyroam are portable devices that connect to the cellular network. Then, you can create a hotspot connection to your computer.
These options tend to be more expensive than the unlocked smartphone method. Also, make sure to read the fine print before signing up as some plans throttle your speeds after a certain amount of use.
Wait To Open Your Schedule Until You've Arrived
I know this isn't always possible, but if you can, wait to open your teaching schedule until you've actually arrived in your destination and tested your internet connection in person.
I know it's tempting to open your schedule up weeks in advance. You've made connections with your students and you want to make sure to keep them around!
I feel you, but one of the best lessons I've learned as a travelling teacher is to wait and open your schedule after you know for sure you'll have reliable internet. This method works much better if you've been teaching online for a few months already and have some regular students.
If you're worried about losing your regular students, let them know you'll be travelling and tell them when they can expect your schedule to re-open again. You can tell them directly in class or in the teacher feedback.
Packing Up Your Travelling Classroom
As I mentioned before, most companies that cater to children will expect you to use classroom props and backgrounds.
Many teachers are worried about how they'll lug an entire classroom around in their travel bag, but thankfully there are some lightweight options available.
Printable 2D Props: Printed-out images make great props because they don't take up any space in your bag and are easy to make before you leave. You can find generic images on the internet or search Etsy for specific online teaching printables. Then print them out, laminate, and slide them into your bag.
Lightweight Background: Create an easy, portable background by hanging a piece of fabric with detachable command strips. You can also use a paper map that folds up for another lightweight option. Read about the best online teaching backgrounds here.
Selfie Ring Light For Good Lighting: You won't always have the best lighting in your accommodation, so bring a small source of portable light like a selfie ring light. Selfie ring lights clip onto your laptop and keep your face nice and bright during classes.
Laptop Stand: A laptop stand will help you keep your computer at the right height. Ideally, you want to be able to look into your webcam head-on for the best video quality.
Final Thoughts
Teaching online is a great option for people who want a fun online job that lets them travel. With a little preparation, you can smoothly transition to a life of travelling and teaching.
Before you leave, remember to:
Research different companies to find one that matches your strengths and qualifications.
Sign up for your online teaching job at least two months before you plan to travel.
Set up your classroom from the very beginning since many companies will look for this in your interview.
When you're ready to start travelling, remember to:
Pay attention to time zones and consider what your schedule will look like
Book accommodation with reliable Wifi
Pack a backup source of Wifi
If possible, wait to open your class schedule until you've tested your WiFi on site.
Pack up your travelling classroom with printable and lightweight teaching materials
You're all set to start your adventure as an online English teacher! I know it can be scary to take a jump into the remote work lifestyle — I remember that feeling like it was yesterday.
But you absolutely can do this and if you follow the tips above, you'll have a much smoother transition into the location-independent lifestyle you desire. If you're already out there teaching, let's share the love! What's your biggest tip for travelling as an online ESL teacher?
Some images in this article are courtesy of Shutterstock.com.
Like This Article? Pin it!