The Philippines is a awe-inspiring archipelago consisting of over 7000 islands. Obviously, you won't be able to see and do everything there in just one visit, but here's a list of our Top 10 Things To Do In The Philippines:
1. Go Scuba-Diving
The underwater world in the Philippines is stunning. It's like being in an aquarium. Don a mask and fins and get under there. You can see everything from sharks to puffer fish, to moray eels and sea snakes. Definitely make sure to bring your underwater camera to catch the magic. The scuba diving in the Philippines is world-class.
2. Island Hop
As I said, there are over 7,000 islands in the Philippines. Hiring a boat and exploring the various islands is one of the highlights of a trip to the archipelago. Each island has something unique to offer travellers, and many of them are home to the best Philippines beaches. Don't miss the beaches around Palawan, Boracay and Panglao islands.
SEE ALSO: Top 8 Best Places to Visit in Manila
3. Ride In A Jeepney
These contraptions are hilarious! They are leftover vehicles from WWII, which have now been turned into the most popular mode of transportation in the Philippines. Get ready for a cheap and bumpy ride.
4. Spend The Night On A Deserted Island
In our opinion, this is the highlight of a trip to the Philippines. Being dropped off at a deserted island by a boatman and picked up days later is truly an off the beaten path experience! Bring your mosquito net, some basic food, matches, snorkel gear and enjoy your castaway adventure. Not keen on sleeping on the sand? Check out these top Palawan resorts for a bit more luxury!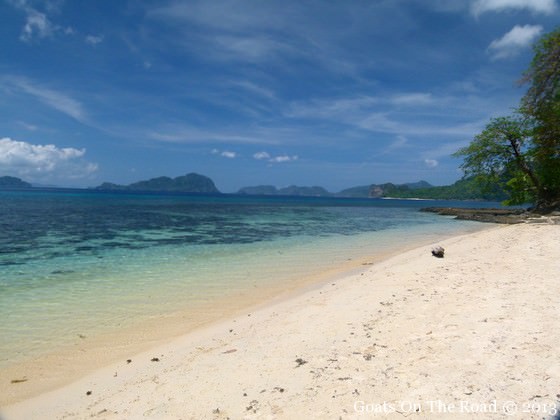 5. Eat Local Food
The Philippines has many of the western fast food chains, however, they also have some delicious authentic dishes. Try the pancit bihon, chicken adobo and anything BBQ'd. The fresh mangoes are outstanding and the fresh seafood is to die for! You won't be disappointed.
6. Snorkel With Whale Sharks
Many people come to the Philippines for this specific experience. Seeing these goliaths soaring under the water is a moment you will never forget. Insider tip: try not to scream into your snorkel or you'll scare the animal away! Make sure that you go with a reputable company that are responsible and ecofriendly.
☞ Click here to compare prices and read reviews on accommodations in the Philippines on Booking.com
7. Have Cocktails In The Water At Sunset
Ahh, the sunsets in the Philippines are some of the best in the world. Grab yourself a cocktail and soak in the sea while the sun sets over the horizon, the perfect end to a perfect day.
8. Visit The Newest Natural Wonder Of The World
The Underground River near Sabang on the island of Palawan is beautiful. Take a boat through the river system, walk around the jungle and then check out the nearby mangrove as well.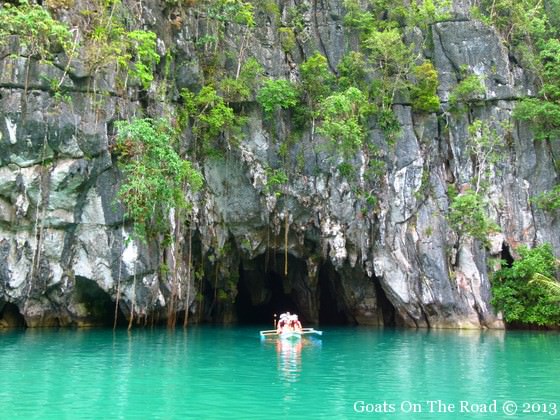 9. Trek Through Rice Terraces
The rice terraces around Banaue, Batad and Bontoc are gorgeous! Go for a walk between villages or just gaze at the terraces in awe. They were constructed thousands of years ago. It's unbelievable that people were able to complete this amazing feat of engineering without the use of machines.
10. Take A Jump Shot With The Locals
For whatever reason, Filipinos love taking 'jump shot' photos! It's hilarious. While you're standing still posing nicely for a shot, the locals will be jumping for joy.
There are so many things to do in the Philippines, this could have been a Top 100 list! It's such a fabulous country with beautiful scenery, stunning beaches, friendly locals, funky transportation and delicious food. Come and see for yourself.
For more information on travelling through this awesome archipelago, check out our Budget Backpacking Guide To The Philippines.
Have you ever been to the Philippines? What are your favourite things to do there? Leave a comment below!
Like it? Pin it!

Disclaimer: Some links in this article are affiliate links, which means that if you purchase through them, we receive a small commission. This will never cost you extra and in many cases you receive a special discount. We appreciate your support!