Ah, the holiday season – the most wonderful time of the year. Across the world, snow-drenched streets come alive with shimmering garland and brightly coloured lights. Even in the warmest of cities, Christmas carols hijack the airwaves and the sweet smell of cinnamon hangs in the air.
If you're planning a last-minute holiday vacation, or researching holiday travel destinations for next year, you've come to the right place. These are 3 of the best travel destinations for the holiday season:
1. Copenhagen, Denmark
First place goes to Copenhagen, Denmark's straight-out-of-an-oil-painting capital city. The best way to soak up Copenhagen's festive holiday atmosphere, is to experience one of the city's Christmas markets.
In fact, if you'll be anywhere near the capital this holiday season, a visit to Tivoli Gardens is a must. Each winter, the historic grounds flourish with 60 different stalls, decorated wooden houses, fairy lights and illuminations, snow-capped spruce trees, Santa's reindeer, and even rides—27 of them!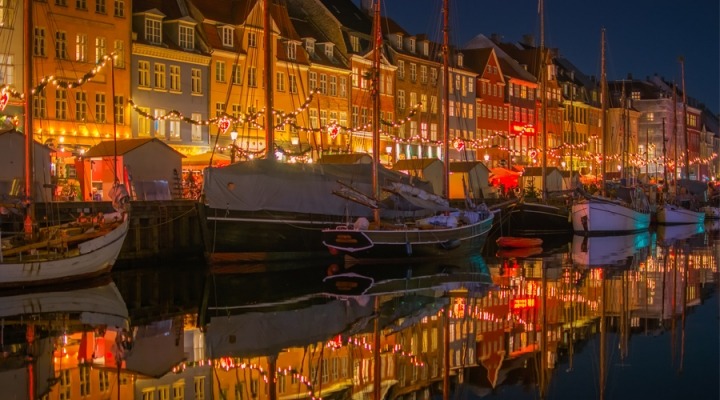 Another way to experience Danish Christmas traditions is to spend an evening in Nyhavn, Copenhagen's 17th-century waterfront canal and recognizable entertainment district. Walk the cobblestone streets that lie parallel to the district's colourful, 15th-century houses, indulge in traditional Christmas beverages (be sure to try gløgg, a delicious hot drink), and bask in the scent of sugar-roasted almonds that's sure to fill the air!
If Christmas lights are your favorite thing about the holidays, then take a stroll down Kronprinsensgade, a charming street in Copenhagen's Old Town. In the wintertime, the street is strung up with thousands of twinkling lights that blanket the sky. And be sure to take in the incredible displays and décor that adorn the world-famous Hotel D'Angleterre at Christmastime!
Outdoor skating rinks are another must-do winter tradition, and no rink in Copenhagen beats the one at Frederiksberg Runddel—it's free, open to the public, and decorated with beautiful lights.
Finally, visitors in the months of November and December should plan to visit the Royal Copenhagen Christmas Tables exhibition, a tradition dating back to 1963. The exhibition, which takes place on the first two floors of the Royal Copenhagen flagship store at Strøget, features tabletops set by artists and celebrities. Each person utilizes Royal Copenhagen's assortment of porcelain and collectibles to showcase his or her own unique holiday vision.
2. Vienna, Austria
Second place goes to Vienna, Austria, a city that truly exudes the spirit of the holiday season. Starting in mid-November, Vienna's lavish Christmas markets start popping up before the glorious Baroque palaces known as the Belvedere. These Christmas markets draw in millions of annual visitors, and it's not hard to see why.
Christkindlmarkt, Vienna's largest Christmas market, sits on the square of Rathausplatz opposite Vienna's Burgtheater. Its own yuletide market—Wiener Christkindlmarkt—attracts around 3.5 million visitors each year and has roots dating back nearly 3 centuries. Like a fine Christmas wine, it's only gotten better with age.
Vienna's holiday lights are another seasonal sight to behold. In lieu of light-up elves and reindeer, the locals string up millions of LED lights, crystal chains, and sparkling chandeliers throughout the city.
For the best-and-brightest views, take a leisurely walk beneath a quasi-sky of lights in the City Centre, ride the tram around Ringstrasse (the boulevard of trees that encircles the heart of the city) at twilight, or marvel at the sight of the Christmas markets from the lake at Belvedere Palace.
If outdoor ice skating is on your "must-do" list, then head over to Wiener Eislauf-Verein, the Vienna Ice Skating Association's open-air ice rink situated beside the Viennese concert house. For nativity scenes, organ recitals, or choir concerts, head over to the Peterskirche (St. Peter's Church) in Petersplatz square – or check out these event listings from VisitingVienna.com.
How would you like an opportunity to win a prize you can put toward that dream holiday vacation? Enter the Dream Holiday Contest for a chance to win a $250 gift card to Hotels.com!
3. Edinburgh, Scotland
Third place goes to Edinburgh, Scotland's beautiful and historic capital. Spending the holidays in Edinburgh is akin to tumbling into a magical winter wonderland in the center of a fairytale city.
The city's annual holiday festivals and events are held between November and January, when Christmas markets and nativity scenes spring up throughout town and cool winter winds carry the tunes of your favorite Christmas carols.
As a guest in Edinburgh, you can shop for unique Christmas gifts at Mound Precinct's European Market, indulge in local fare at George Street's Scottish Market, or head over to St. Andrew Square to skate the oval ice rink that encircles Melville Monument. Or, for incredible panoramic views of the entire city, take a ride on Edinburgh's giant ferris wheel!
Bring your holiday trip to a close by taking part in Edinburgh's Hogmanay, Scotland's epic New Year festival. This 3-day event features candlelit concerts, a notorious street party, and a stunning fireworks display. Be sure to observe the entrancing Torchlight Procession that makes its way through Old Town on December 30th.
And don't head out before January 1st—you'll want to cheer on all the "brave souls" willing to submerge themselves in the ice-cold waters of the Firth of Forth during Edinburgh's annual Loony Dook!
Bonus Holiday Destination (For Those Who Hate the Cold): Kauai, Hawaii
For some travelers, the ideal holiday getaway is all about escaping the cold—and spending Christmas relaxing on the beach with their toes in the sand. If you're all about a tropical holiday, then consider setting sail to Kauai, the oldest of Hawaii's main islands.
Wintertime in Kauai means gorgeous warm weather, highly-anticipated surf, and prime time to see migrating humpback whales! Plus, you don't have to give up your traditional holiday celebrations—Kauai does plenty to celebrate Christmas and ring in the New Year.
And, if you're traveling in December, be sure to hit up the Festival of Lights at Kauai's historic county building!

Enter the Dream Holiday Contest for a chance to win a $250 gift card to Hotels.com!
Like this Post? Pin it!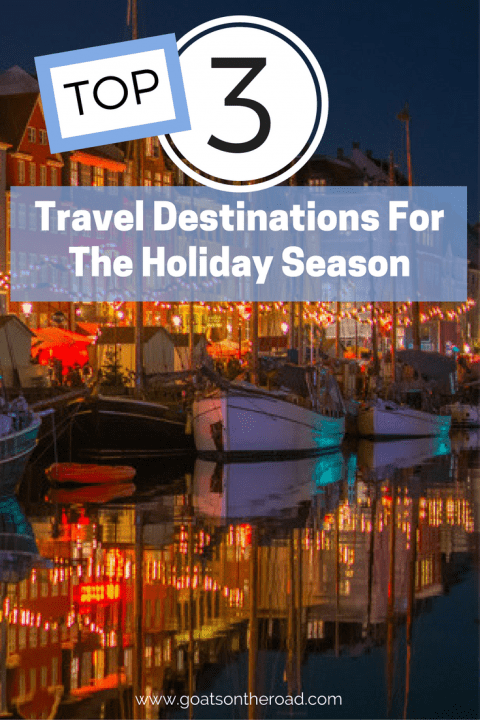 Disclaimer: Some links in this article are affiliate links, which means that if you purchase through them, we receive a small commission. This will never cost you extra and in many cases you receive a special discount. We appreciate your support!