When it comes to sleeping and eating in Cancun, there are a plethora of options. As far as accommodation goes, you'll find everything from hostels and hotels to resorts and condominiums set right on the beach. There are even more options when it comes to finding a meal. There are so many things to do in Cancun, and there's definitely something for everyone!
If you're interested in travelling like The Goats, read on.
Where To Sleep:
We spent 6 nights at the Hotel Hacienda de Castilla, which is about a 15 minute walk north of the bus station. The area is great because it's away from the noise and parties of the center of town, but close enough that you can walk there easily. There are small family homes nearby, mini-markets and dogs! We loved the area because it felt very authentic.
There are 43 rooms here, a small restaurant on site, free parking and a pool. The double rooms are clean with a king-sized bed. They have a small table with two chairs, end tables, a desk with a stool, two large mirrors and a closet. Rooms also include a private bathroom with hot water, free wi-fi and a huge t.v.
Phone # +52 998 843 0620
Update 2018: There are numerous places to stay in Cancun, and while we did enjoy the above hotel when we were there, that was back in 2014 so there are many more options available now. Click here to see the many accommodation options in Cancun!
Where To Eat:
The food in Cancun is fabulous! Don't be afraid to eat from the small hole-in-the wall eateries either, they serve up the most authentic food and they are very hygienic. We felt great after every meal. Eating is definitely one of the best things to do in Mexico, don't miss out!
1. Lupitas: This little place is right across from the bus station on the south side of Tulum Ave. For dinner they have set meals of fresh fillets of fish or grilled chicken with rice, salad and tortilla shells for 60 pesos.
2. Restaurante Altamar: Located on Calle Tulipanes 29, just off of Ave Tulum. You can choose to sit inside, or opt for the tables set outside. The dinner menu here includes the catch of the day, different types of paella, and pastas. Dinners cost from 100 pesos and up. They have a smaller and cheaper lunch menu (you can ask to see for dinner as well) which includes tacos, quesadillas, nachos and other Mexican fare.
3. La Tabasquena: Located in the local market, this restaurant is great. The food is delicious and well seasoned. They have lots of options for breakfast and lunch (they aren't open for dinner). Breakfasts are from 35 pesos, chicken meals are 70 pesos and fresh juice shakes are 20 pesos. The portions here are also really big.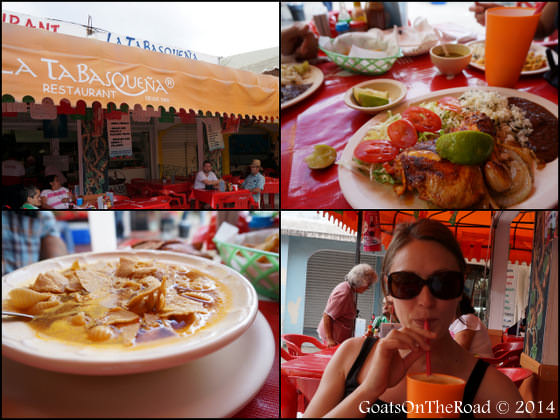 4. Comidas y Tacos: This small place is right beside the Comercial Mexicana supermarket, right near a bus stop. Come here for snack/lunch food (tacos, quesadillas, etc.) The food here is cheap and delicious. The fresh shakes are massive – definitely big enough to share.
5. Las Quekas: A small place on the corner of Ave. Tulum and Calle Tulipanes serving up quesadillas and sopes for 15 pesos each. This is a great place to go for snacks, a quick-lunch or a late night bite to eat.
6. Gory Tacos: A popular place on the pedestrian street leading to the Parque de las Palapas, off of Ave. Tulum and Tulipanes. When we were here, lots of people were eating and drinking and having a great time. For us, the meals were a bit pricey at about 85 pesos a meal and up. We did, however, come for the 2-for-1 margaritas! You get two drinks for 60 pesos here…and they don't scrimp on the tequila.
7. Quesadillas Tierra del Sol: This fast food joint is located near the Parque de las Palapas and is a great place to go for cheap, local, delicious snack food. The huaraches, quesadillas, tacos and empanadas are great. Prices are from 15 pesos and up.
Cancun has so many options for eating. We even saw Domino's Pizza, McDonald's, Subway, Chinese food, Indian food and Italian. For us, we were there strictly to sample the delicious Mexican cuisine, but if you want other types of food, I'm sure you would find what you're looking for.
Enjoy Cancun!
Like This Article? Pin it!
Disclaimer: Some links in this article are affiliate links, which means that if you purchase through them, we receive a small commission. This will never cost you extra and in many cases you receive a special discount. We appreciate your support!