After our memorable experiences in the small village of Arslanbob, we decided it was time to make a move and head south to the city of Osh. With a population of 300,000 people, it's the 2nd biggest city in Kyrgyzstan.
Day 1: Planning The Adventure in Osh
We had a few plans for our time in Osh. The main goal was to arrange transport with other backpackers to make our way along the Pamir Highway, into Tajikistan and through the Wakhan Valley. The other goals were to get caught up on the website & emails, wander around Osh and check out the city.
After our first couple of minutes at the Osh Guesthouse, we took a look at the massive whiteboard with tons of scribbles from other travellers looking for rides to various places around Central Asia and China. We saw one at the bottom that read:
"Leaving September 23/24. Looking for people to share a ride from Osh to Murgab, via Ishkashim – Jason"
It sounded perfect to us! All we had to do was figure out who this Jason guy was and if we'd get along for 4 days. Just as I was thinking that, he popped his head out of the dorm room and in a very English accent, told us his travel plan. Him and his friend, Jessica from Germany were wanting to do the same route as us and we all had the same idea of what to see along the way.
Perfect!
Two hours in Osh and we had our travel plans arranged.
The only problem was Nick and I wanted to leave Osh on September 26th, 25th at the earliest. Since we got along with the two other travellers so well, they both spoke English and we all had the same mind-set, we figured we should just go with the flow and leave earlier than expected.
We met with the CBT (Community Based Tourism) Office in Osh and calculated how much a driver and car would cost us to go from Osh to Murgab. (Everything together came out to about $25/day per person)
Once everything was settled with CBT, our plan was this:
We would drive from Osh to Sary Mogul on the first day, visiting the second highest peak in the Parmir Mountains, Pik Lenin (7,134m), sleeping in Sary Mogul that night.
Then we would drive from Sary Mogul to the highest lake in Central Asia, Kara-Kul (3,914m). Sleeping at the lakeside village that night.
From Kara-Kul we would drive to the town of Murgab (Tajikistan) via Rang-Kul Lake, and do some day treks around there.
After that we weren't entirely sure what the plan was. We all decided that we would see how we felt about the driver and the car and whether or not we all wanted to continue travelling together. We all knew that we wanted to continue on the Parmir Highway, through the Wakhan Valley and up to Dushanbe, but we weren't sure if we would all be getting along by that point!
We then stocked up on food and water for the next 4 days of driving through desolate mountain ranges and through places without any water, shops or electricity. We took out money from the ATM for the journey, did laundry, lots of websiting, wandered around Osh, got a haircut and tried to find some downtime!
After only 2 nights in Osh, we were off on the adventure of a lifetime!
Making our plans to travel on the second highest highway in the world, the Pamir Highway, from Kyrgyzstan to Tajikistan left us shaking with excitement! The Pamir Highway runs from Osh (in Kyrgyzstan) to Khorog (in Tajikistan) and was built by the Russians between 1931 and 1934 in order to transfer military personnel, goods and supplies during the war.
Travelling through the Pamir Mountains is the trip of a lifetime. The border of Afghanistan is meters away, towering over the road are the 7,000m high snow-capped pinnacles of the infamous Hindu Kush which run through Afghanistan and Pakistan. Apart from mountains, we'd be looking for the rare Marco Polo Sheep, trekking over high passes, staying in homestays with local families, going to natural hot springs, visiting ancient forts, wandering around markets and exploring small villages.
Saying we were excited for this journey would be an understatement.

View Pamir Highway in a larger map
Many travellers make the choice to travel from Osh, through the border with Tajikistan, over two very high passes, ending in Murgab…all in one day. We made the decision to not drive straight from Osh to Murgab, we wanted to sleep at 2 different villages along the way. There is a serious risk of altitude sickness when travelling in these high mountains and we didn't want to take any chances. We thought it was best to properly acclimatize ourselves before continuing on.
We all agreed: going from 600m in Osh up to 4,600m on the highest pass in only one day was just plain stupid.
Day 2: Osh to Sary Moghul
On September 24th it felt like Christmas, we were stoked to start this epic adventure. When our Landcruiser and driver pulled up at our guesthouse we couldn't wait to pack up our things and get on the road!
Unfortunately, Jason ate some not-so-sanitary mantis (Kyrgyz dumplings) the night before and was feeling really sick and Jessica's cough had become worse. Also, our driver was different from who we thought we were getting. According to CBT (Community Based Tourism), our driver had been a border guard for many years, but the guy that stood before us was 18, if that. I don't think he did much border guarding when he was in high school. Also, for some reason we had a 6th person in the vehicle, another guy about 18 as well.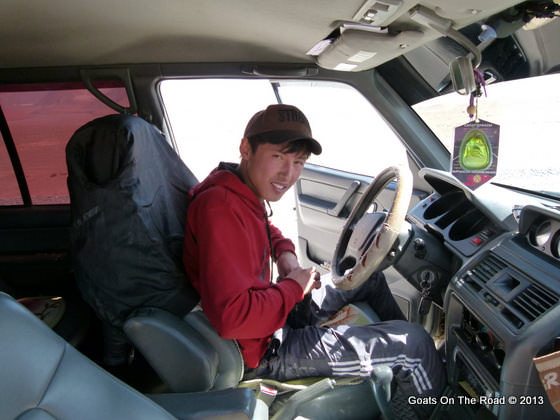 Immediately I knew something was up and none of us were too happy about having bags on our laps rather than in the back of the jeep (where the random passenger sat). We called CBT, and the man at the office said that he didn't know this would happen, blah, blah, blah and that if we could take our driver's friend, it would be nice of us. We all looked at each other, even Jason turned his head slightly and moaned, and we all decided screw that. We paid good money for the vehicle. We want to be comfortable.
We ditched the guy and we were off! Just us, our 18-year-old "experienced" driver and lots and lots of hilarious music, which would be played on repeat for the duration of the journey.
It was an interesting start to our much-anticipated journey, to say the least. From Osh all the way to Sary Moghul, there was this weird fog/haze/smoke laying low in the valleys, which prevented us from seeing any views of the massive Pik Lenin mountain. We were all slightly disappointed, especially Jason who had to make a few vomit-stops along the way. We just hoped that the fog would clear up the next day.
When we arrived in Sary Moghul, we dropped off our things at our homestay, had some lunch and drove out to the base of Pik Lenin. As we got closer to the mountain, we could actually see it! The peak was covered in snow, but all around the base it was dry. Nick, Jessica and I set off on a trek while Jason, feeling like he was dying, stayed in the vehicle.
As we were hiking, we realized just how much the altitude was affecting us. The three of us had taken altitiude-sickness pills (Diamox) so we weren't feeling ill, just very, very winded! At around 3,600m, every step we took was laboured. We wandered around to the base camp and took some photos of the massive mountain, before returning to the village.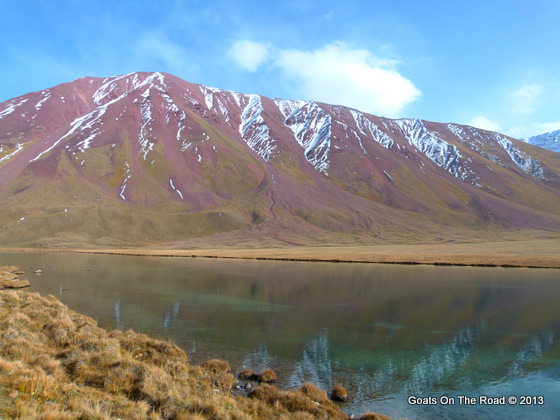 Even though Sary Moghul is a tiny village in the middle of nowhere, we loved it. There's something about village life that Nick and I really enjoy. People were riding donkeys, children waved shyly, men and women worked in the fields and all of the houses here were made of mud. It was a very photogenic place.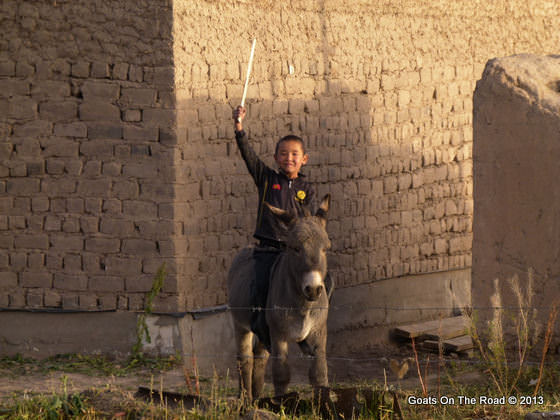 We had a meal at the homestay and after that, Jessica announced she had the German version of Yahtzee (Kniffel) and Jason had a Scrabble board with him! It was settled, it was a board game night.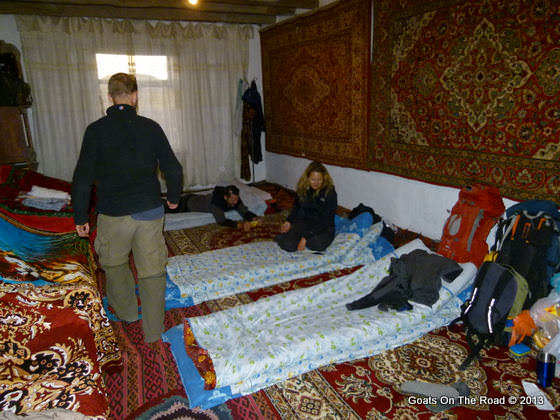 We all went to bed with our fingers crossed that the haze would lift from the mountains the following morning and that Jason and Jessica would be feeling better. Snow-capped mountains and small villages in the middle of nowhere filled our dreams that night. The best was yet to come…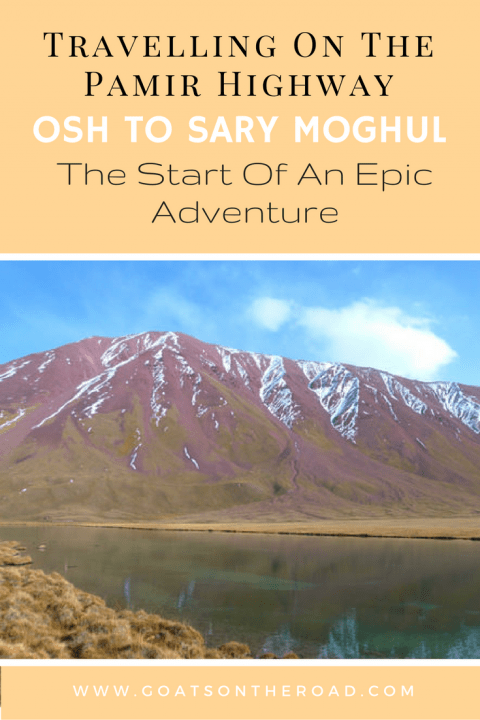 Day 3: Sary Moghul to Karakul
We all awoke to the sounds of donkeys crying out and cows mooing in the distance. It was about 7:30 and time for some breakfast at our homestay. The smiley grandmother served us milky rice porridge, bread, apples and tea. Crossing our fingers the night before must have worked because the fog had slightly lifted and we could see some views of Pik Lenin.
On the road again!
Today was the day we would say goodbye to Kyrgyzstan and hello to our fifth country of the trip, Tajikistan.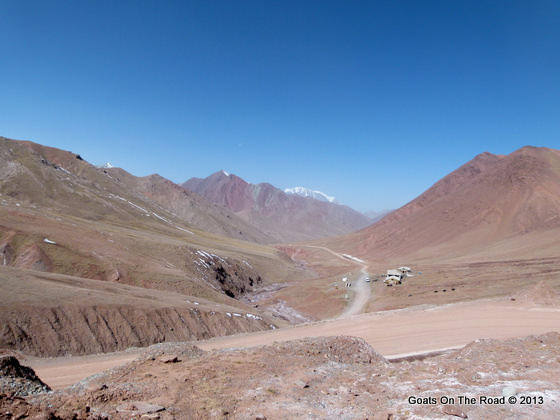 We drove for a couple of hours before crossing the 4,282m high Kyzyl-Art Pass. The views from the top were spectacular. Even though our driver was barely legal and there was a mix-up when our vehicle arrived at our guest house, he turned out to be a good driver. We were constantly yelling "stop!" for photos and the car would come to a screeching halt. We took some pictures at the top of the pass and carried on to the border crossing with Tajikistan.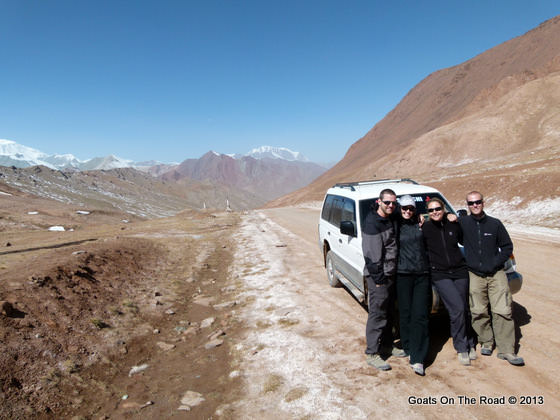 Our entrance into this mountainous country was an interesting one. The border guards must be really bored up there and not get much action…with the ladies. One of the guys in particular was a bit too friendly with Jess and I. He wanted photos with us and had some wandering hands! It was a weird situation because normally we'd yell at him or slap him or something, but we were trying to enter this country and pissing off the guy who would decide whether or not we were allowed in to Tajikistan wasn't the best idea. Such an abuse of power.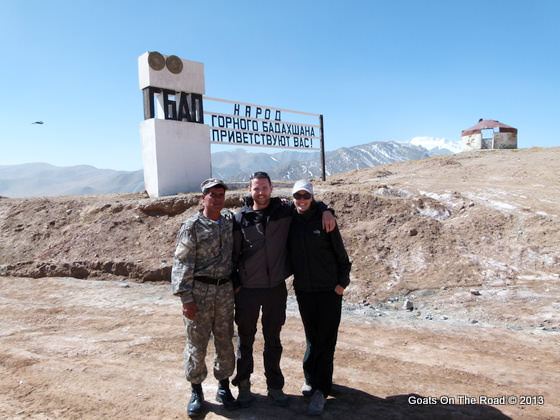 We had another permit check a little further past the border. We were expecting lots of red tape and bureaucratic nightmares with Tajikistan and figured we'd have to show our passports quite a few times along this journey. We showed our visa and GBAO permit and the guard there was saying how beautiful Jess and I were! After about 20 minutes of being in Tajikistan, we were 0-for-2 with the men. They seemed much more aggressive and flirtatious than any guy I came across in Kyrgyzstan.
From the border, we continued our journey to Lake Kara-Kul, which sits at 3,914m and was created about 10 million years ago by a meteor. Once we rounded the bend in the road and saw the glistening lake, the dodgy border guards left our minds.
We pulled into the teeny-tiny Karakul village and stayed at Sarat Homestay. The family who owned it were so friendly and provided us with a warm bed, food and lots of smiles. We left the family and made our way down to the lakeside shores, which was a picture perfect setting.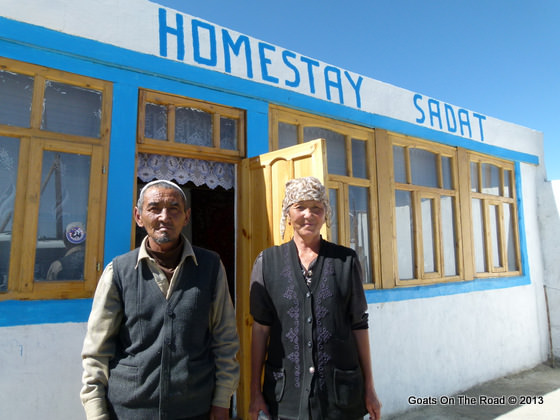 After wandering around the lake, we made our way back to the homestay for some dinner and board games. We were told we were having meat with potatoes and vegetables, which sounded good to us. What came out was basically a massive bowl of potatoes and some risky meat sprinkled on top. It was official, we weren't in Osh anymore!
Nick and Jason ate most of theirs, I pushed around some potatoes and managed to eat a couple and Jess gagged and spat hers out.
It turned out Jess and I had the right idea. Later that night, Nick got to experience his meal for a second time and Jason was squatting in the outhouse (long-drop) all night long.
Nice family, bad food.
We had planned to make ourselves lunches each day for the next 2 weeks and eat dinner and breakfast at the homestays. After that night, we re-evaluated our plan and decided we would have to stock up on food for of our meals the following day in Murgab.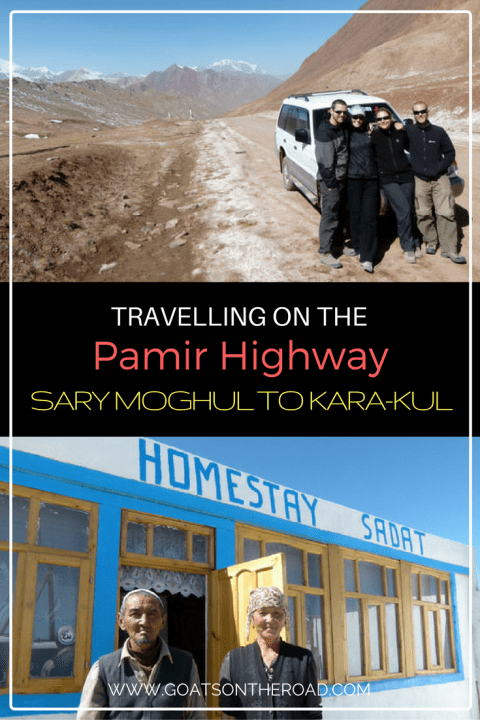 Day 4: Karakul to Murgab
We left the beautiful lakeside village of Kara-Kul and made our way to the town of Murgab, our final destination with our current driver and car. When we were in Osh, we only arranged to have our driver from Osh to Murgab and after that, we planned to hire a new car and driver to take us further into the Pamir Mountains and Wakhan Valley.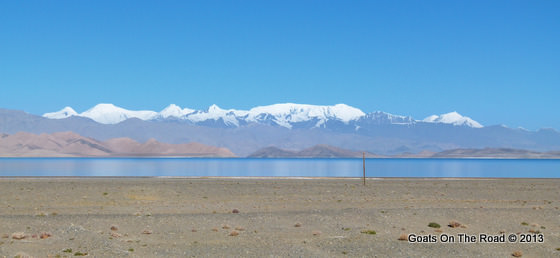 Today was the day we had been thinking about for a while, we would be taking the highest pass on the Pamir Highway: The Ak-Baital Pass at 4,655m! The road was actually really good and the views from the pass were spectacular. We truly felt like we were, as the local people would say, On The Roof Of The World.
After the pass, we descended down the mountainside and veered off the main highway to check out Rang-Kul Lake. There are many different side trips to valleys, lakes, cave paintings and more around this area. We couldn't do everything, but Rang-Kul was recommended and it didn't disappoint.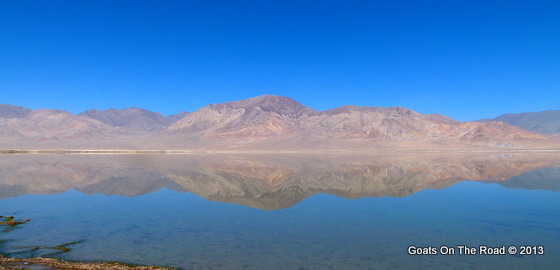 The waters of the lake were like glass, which showcased the incredible reflections of the mountains. We attempted to drive further along the lake towards the town of RangKul where we would have great views of the Shatput mountain range in China. Unfortunately, the Tajik border guards are now patrolling that area and wouldn't let us through. After a heated discussion with the border guards, our driver gave up and handed us back our passports.
We weren't too bothered though. We went back to the lake and had a great lunch with gorgeous views of the mountains.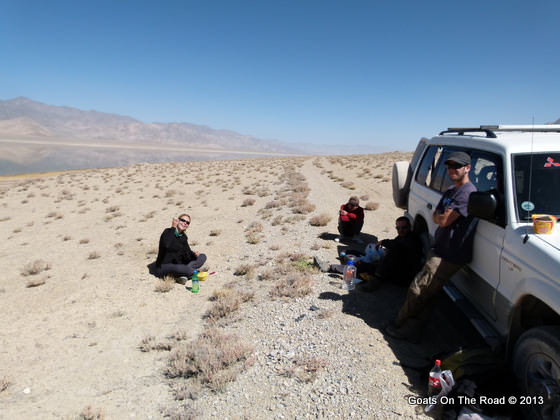 After a 5 hour day, we arrived in the town of Murgab. This was the hub we were waiting for. Here we found a hotel with hot shower, western toilet, real beds, electricity and amazing food! It was also the place where we would stock up on fresh supplies for the next 9 days of our travels.
We eventually found the META office which arranges drivers, guides and homestays in Tajikistan – similar to CBT in Kyrgyzstan. There are a couple of ways to travel through the Pamir Mountains: hitch-hiking, by shared taxi/van, cycling, or hiring a car and driver. The latter is the most ideal way (in our opinion) because you can see any sight you want, you have someone who speaks the local language (and hopefully English) and you have a reliable form of transportation. Shared vans just go from point "a" to point "b", missing all of the good side-trips in the middle.
The four of us told Gulnara, the helpful woman at META, that we wanted a good driver with a Landcruiser vehicle (not a van) and that we wanted him to speak English, which is rare. Usually the driver is just the driver and you have to hire a separate person to be the guide.
Lucky for us, our new driver, Nurali, spoke English, had a great vehicle and seemed like a really nice guy! We were thrilled. We planned the rest of our journey, figured out where we wanted to go and what we wanted to see along the way.
The following morning, Jason was still feeling a bit ill so Jessica, Nick and I did a day trip with our new driver, Nurali. We drove for about 45 minutes before reaching the unbelievable Pshart Valley. The multi-coloured mountains surrounding the valley were outstanding.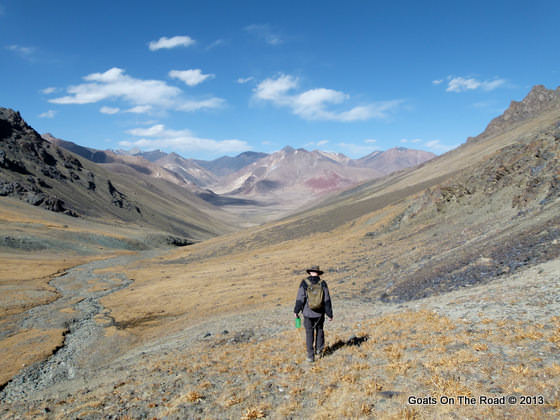 The three of us walked for about 3 hours up the valley and enjoyed the views and a very scenic lunch.
From there, we decided it was time for a soak and made our way to the Madiyan natural hot springs. We knew the hot springs would be fantastic after a day of hiking but we weren't expecting the drive out there to be so awesome. The sun was on its way down, casting a golden glow over the river and valley. We drove for about an hour before reaching some very sketchy dirt roads leading up to the hot springs.
It was Nurali's first test with dangerous road conditions and he passed with flying colours.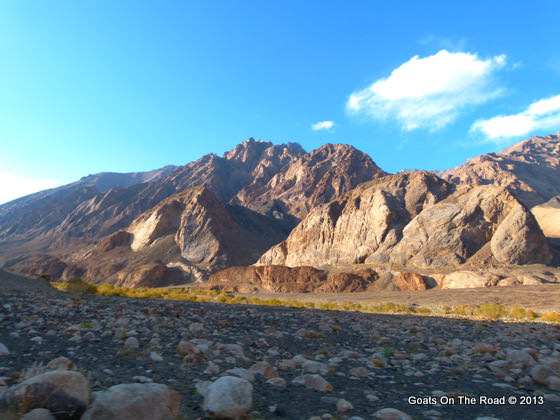 It felt like we drove up and up forever, but we eventually spotted the elusive buildings down below. We parked the vehicle and hiked/skidded down a couple hundred meters and crossed a make-shift bridge before arriving at the hot springs.
No one was there to collect payment so we got in for free, gotta love that! The hot water was just what we needed after our day of hiking. We relaxed for a while before making our way back uphill to the Landcruiser.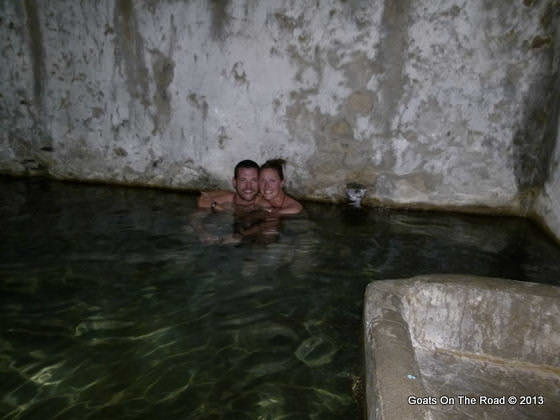 It was the perfect end to the perfect day in the Pamirs. After spending two nights in Murgab, we were ready to continue our trip with our new friend, Nurali.
Check Out The Video Of The Trip So Far!