Beep-beep… beep-beep…beep-beep. As I rolled over to hit "snooze" on our alarm, I had to smile. It was 9:30 and we had to get up. During our Pamir Highway trip, not once did we have to get up earlier than 8:00/8:30am! Which is perfect for us. We're 9:00am kind of people.
We had a nice breakfast, slowly packed up the vehicle and took off. We had four ancient sites on the agenda today. But first, we would have to stop at a military checkpoint. We'd show our passports, Nurali would have to answer some questions and then finally we could head out. As annoying as the checkpoints were, they had become a part of our daily Pamir routine.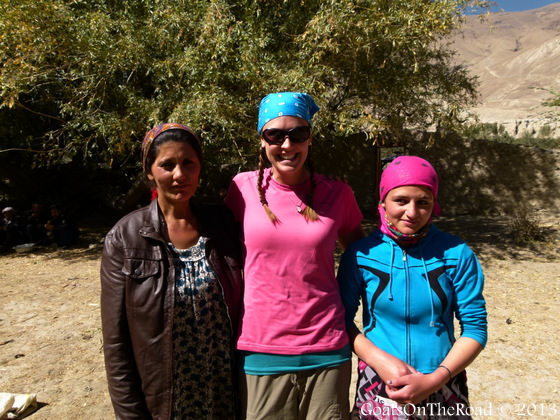 As we were driving along the highway, listening to Tajik music, each of us daydreaming, four men jumped out into the middle of the road and flagged us down. Nurali pulled over and spoke with the enthusiastic men. Apparently because it was Thursday (the day of celebration and prayer for the people of the Ismaili faith), they were offering to feed us lunch for free! We were all skeptical of what would happen once we entered through the wooden doors. We all took our belongings from the car, in case it was a scam to steal from us, and headed in with trepidation.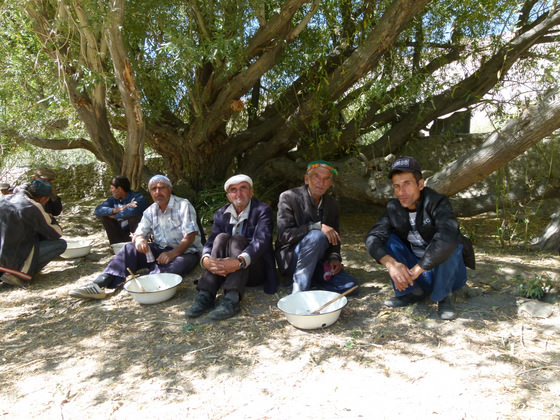 The whole scenario couldn't have been further from what we were all envisioning! The villagers had a massive cauldron with fresh goat soup boiling inside and people sat around their individual bowls enjoying the free lunch and company. Jess and I weren't particularly interested in slurping up random bits of goat meat from a community bowl, but Nick was!
He dug in there like a true Tajik, gnawing on the bones like he hadn't eaten in days…which is kind of true, we hadn't had meat in a long time. We were told (with hand motions of course) to eat more and to continue to eat. Even though Jess and I didn't eat anything, the atmosphere was warm and the people were very generous.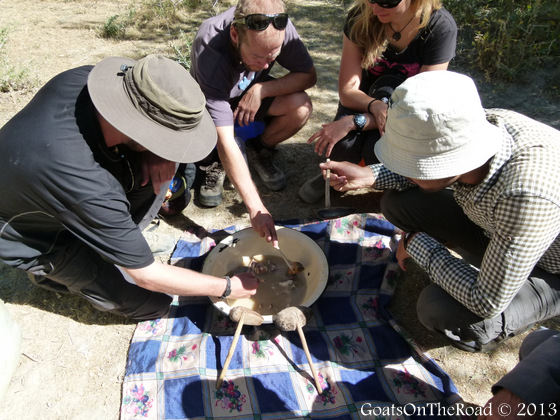 It was one of those spontaneous and random moments in travel that we'll never forget.
From there we carried on to see the sights planned for the day. First we stopped at an ancient Buddhist Stupa from the 5th-6th century AD, which was built precariously on the edge of a cliff surrounded by hermit caves.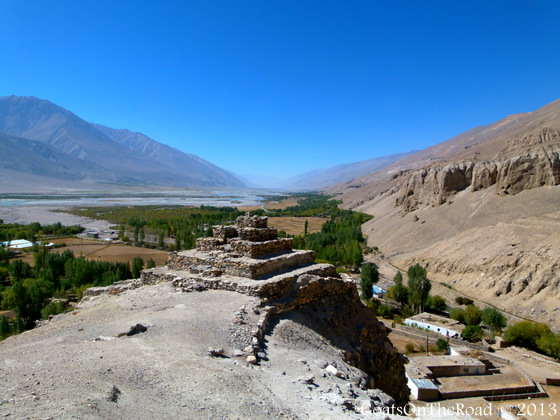 Carrying on, we made it to a solar calendar built in the 1800's and a museum. From there, we were invited into a traditional Pamiri home. These homes are extremely symbolic; the ceiling is layered with intricately carved wood which represents the 5 elements, while each pillar in the home represents one of the Prophets of Islam.
Eventually, we made it to our homestay for the night at Yamchun Village. We unpacked, had some chai and snacks and got back in the car to head up to the nearby Yamchun Fort. Built in the 12th century, this ruined fort sits atop a massive hillside with fabulous views across the Wakhan Valley.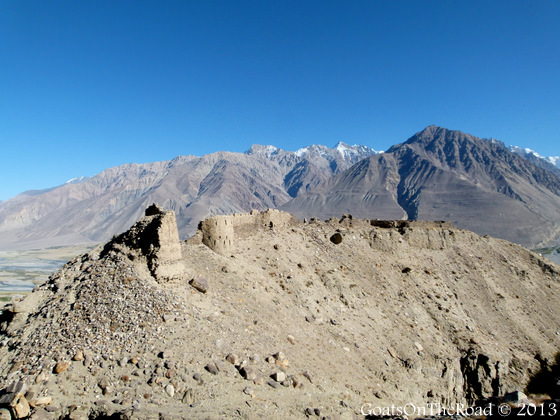 From there, we continued up the mountain about 1km before arriving at the highly-anticipated Bibi Fatima Hot Springs. We had heard about this place when we were in Arslanbob, Kyrgyzstan. That's one of the many great things about being a backpacker, we're always hearing about the must-see places from other travellers around the hostel dinner tables.
The 5 of us jumped out of the car and were surprised at the amount of local people waiting in line. Women have a turn for 20 minutes, then, it's the men's turn for 20 minutes, alternating on and off every 20 minutes each and every day. Nick and Jason had their swimming shorts and Jess and I whipped out our bikinis.
Nurali sort of looked at us with the clothes in our hands but didn't say anything at first. Finally, I asked him if it's ok to wear a bikini (thinking maybe it was a bit too inappropriate for this part of the world). He said, "no, you wear nothing". Huh? Then he asked one of the Tajik women and she looked at me very confused and shook her head. Naked it was! I have to say, I've been in a bath house in Almaty, Kazakhstan and in a hammam in Istanbul, Turkey, but never have I been naked in a hot spring with strangers.
When it was our turn, Jess and I made our way into the hot springs with 5 other women. We were in awe of what we saw – not the naked bodies, but the actual hot spring! We stepped down about 10 stairs and found ourselves at the bottom of a cave. Around us were natural cave walls. The steaming hot water is constantly running through this cave, making it always very hot and always very clean. Because so much water is passing through, it makes a perfect pool for relaxing in.
This wasn't your ordinary hot spring though, Bibi Fatima is the place to go to boost fertility. No wonder there were so many women in line! Although I didn't want any help with my fertility levels, I went in anyways. The other women in there immediately took charge. There were many things I had to do in order to make sure I got the most out of my fertility boosting trip to the hot springs:
1. Drink the running water (I opted out of this);
2. Touch a particular part of the stone with my hands, then with my lips and then with my forehead;
3. Put water that had collected in a small pool over my eyes, three times;
4. There was a small cave within the cave that women believe looks like a womb. I had to climb up there (naked, don't forget), go inside, go under the hot water and pick up a handful of small stones;
5. Put the biggest, whitest stones I found under my tongue for the duration of the bathing;
6. Walk out of the hot springs backwards; and
7. Don't use a towel to dry off. Doing so would wipe away all of my fertility chances.
Needless to say, it wasn't the most relaxing experience, but it was a very interesting and a very local/traditional one. Afterwards, the women all went to pray for pregnancy as well…which I also opted out of.
When the guys were done their turn in the hot springs, we all headed back to the homestay for a delicious meal of lentil soup. Both Jess and I went to sleep that night hoping our fertility treatments hadn't worked, and we all were looking forward to what tomorrow would bring.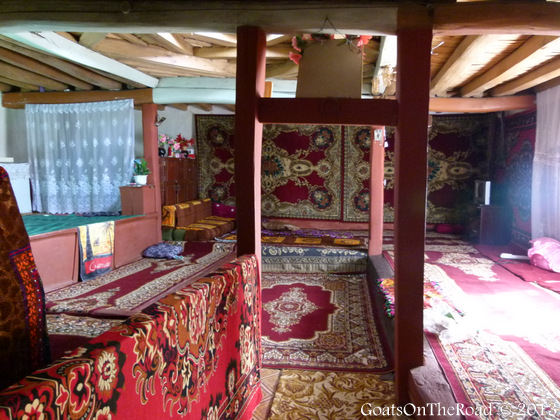 Would you ever get naked and go in a hot spring with complete strangers? Have you ever done anything that is supposed to boost your fertility? Did it work?! Let us know below.
Like this Post? Pin it!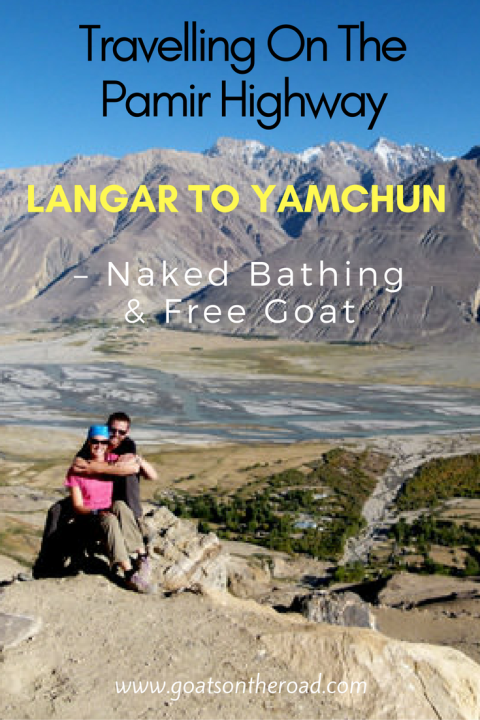 Disclaimer: Some links in this article are affiliate links, which means that if you purchase through them, we receive a small commission. This will never cost you extra and in many cases you receive a special discount. We appreciate your support!