After our memorable experiences in the small village of Arslanbob, we decided it was time to make a move and head south to the city of Osh. With a population of 300,000 people, it's the 2nd biggest city in Kyrgyzstan.
Day 1: Planning The Adventure in Osh
We had a few plans for our time in Osh. The main goal was to arrange transport with other backpackers to make our way along the Pamir Highway, into Tajikistan and through the Wakhan Valley. The other goals were to get caught up on the website & emails, wander around Osh and check out the city.
After our first couple of minutes at the Osh Guesthouse, we took a look at the massive whiteboard with tons of scribbles from other travellers looking for rides to various places around Central Asia and China. We saw one at the bottom that read:
"Leaving September 23/24. Looking for people to share a ride from Osh to Murgab, via Ishkashim – Jason"
It sounded perfect to us! All we had to do was figure out who this Jason guy was and if we'd get along for 4 days. Just as I was thinking that, he popped his head out of the dorm room and in a very English accent, told us his travel plan. Him and his friend, Jessica from Germany were wanting to do the same route as us and we all had the same idea of what to see along the way.
Perfect!
Two hours in Osh and we had our travel plans arranged.
The only problem was Nick and I wanted to leave Osh on September 26th, 25th at the earliest. Since we got along with the two other travellers so well, they both spoke English and we all had the same mind-set, we figured we should just go with the flow and leave earlier than expected.
We met with the CBT (Community Based Tourism) Office in Osh and calculated how much a driver and car would cost us to go from Osh to Murgab. (Everything together came out to about $25/day per person)
Once everything was settled with CBT, our plan was this:
We would drive from Osh to Sary Mogul on the first day, visiting the second highest peak in the Parmir Mountains, Pik Lenin (7,134m), sleeping in Sary Mogul that night.
Then we would drive from Sary Mogul to the highest lake in Central Asia, Kara-Kul (3,914m). Sleeping at the lakeside village that night.
From Kara-Kul we would drive to the town of Murgab (Tajikistan) via Rang-Kul Lake, and do some day treks around there.
After that we weren't entirely sure what the plan was. We all decided that we would see how we felt about the driver and the car and whether or not we all wanted to continue travelling together. We all knew that we wanted to continue on the Parmir Highway, through the Wakhan Valley and up to Dushanbe, but we weren't sure if we would all be getting along by that point!
We then stocked up on food and water for the next 4 days of driving through desolate mountain ranges and through places without any water, shops or electricity. We took out money from the ATM for the journey, did laundry, lots of websiting, wandered around Osh, got a haircut and tried to find some downtime!
After only 2 nights in Osh, we were off on the adventure of a lifetime!
Making our plans to travel on the second highest highway in the world, the Pamir Highway, from Kyrgyzstan to Tajikistan left us shaking with excitement! The Pamir Highway runs from Osh (in Kyrgyzstan) to Khorog (in Tajikistan) and was built by the Russians between 1931 and 1934 in order to transfer military personnel, goods and supplies during the war.
Travelling through the Pamir Mountains is the trip of a lifetime. The border of Afghanistan is meters away, towering over the road are the 7,000m high snow-capped pinnacles of the infamous Hindu Kush which run through Afghanistan and Pakistan. Apart from mountains, we'd be looking for the rare Marco Polo Sheep, trekking over high passes, staying in homestays with local families, going to natural hot springs, visiting ancient forts, wandering around markets and exploring small villages.
Saying we were excited for this journey would be an understatement.

View Pamir Highway in a larger map
Many travellers make the choice to travel from Osh, through the border with Tajikistan, over two very high passes, ending in Murgab…all in one day. We made the decision to not drive straight from Osh to Murgab, we wanted to sleep at 2 different villages along the way. There is a serious risk of altitude sickness when travelling in these high mountains and we didn't want to take any chances. We thought it was best to properly acclimatize ourselves before continuing on.
We all agreed: going from 600m in Osh up to 4,600m on the highest pass in only one day was just plain stupid.
Day 2: Osh to Sary Moghul
On September 24th it felt like Christmas, we were stoked to start this epic adventure. When our Landcruiser and driver pulled up at our guesthouse we couldn't wait to pack up our things and get on the road!
Unfortunately, Jason ate some not-so-sanitary mantis (Kyrgyz dumplings) the night before and was feeling really sick and Jessica's cough had become worse. Also, our driver was different from who we thought we were getting. According to CBT (Community Based Tourism), our driver had been a border guard for many years, but the guy that stood before us was 18, if that. I don't think he did much border guarding when he was in high school. Also, for some reason we had a 6th person in the vehicle, another guy about 18 as well.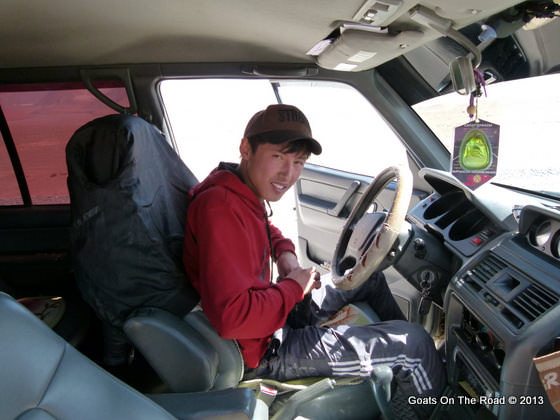 Immediately I knew something was up and none of us were too happy about having bags on our laps rather than in the back of the jeep (where the random passenger sat). We called CBT, and the man at the office said that he didn't know this would happen, blah, blah, blah and that if we could take our driver's friend, it would be nice of us. We all looked at each other, even Jason turned his head slightly and moaned, and we all decided screw that. We paid good money for the vehicle. We want to be comfortable.
We ditched the guy and we were off! Just us, our 18-year-old "experienced" driver and lots and lots of hilarious music, which would be played on repeat for the duration of the journey.
It was an interesting start to our much-anticipated journey, to say the least. From Osh all the way to Sary Moghul, there was this weird fog/haze/smoke laying low in the valleys, which prevented us from seeing any views of the massive Pik Lenin mountain. We were all slightly disappointed, especially Jason who had to make a few vomit-stops along the way. We just hoped that the fog would clear up the next day.
When we arrived in Sary Moghul, we dropped off our things at our homestay, had some lunch and drove out to the base of Pik Lenin. As we got closer to the mountain, we could actually see it! The peak was covered in snow, but all around the base it was dry. Nick, Jessica and I set off on a trek while Jason, feeling like he was dying, stayed in the vehicle.
As we were hiking, we realized just how much the altitude was affecting us. The three of us had taken altitiude-sickness pills (Diamox) so we weren't feeling ill, just very, very winded! At around 3,600m, every step we took was laboured. We wandered around to the base camp and took some photos of the massive mountain, before returning to the village.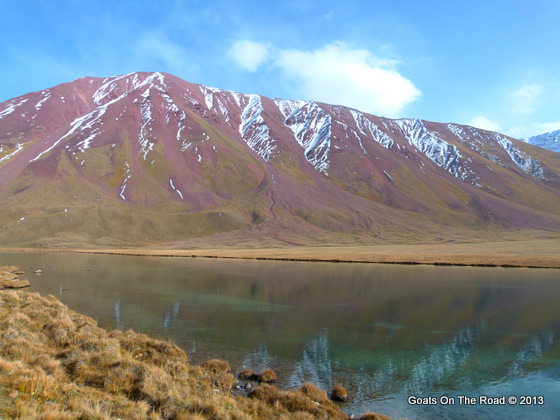 Even though Sary Moghul is a tiny village in the middle of nowhere, we loved it. There's something about village life that Nick and I really enjoy. People were riding donkeys, children waved shyly, men and women worked in the fields and all of the houses here were made of mud. It was a very photogenic place.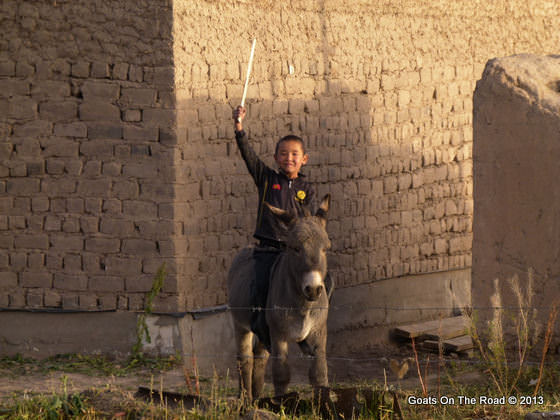 We had a meal at the homestay and after that, Jessica announced she had the German version of Yahtzee (Kniffel) and Jason had a Scrabble board with him! It was settled, it was a board game night.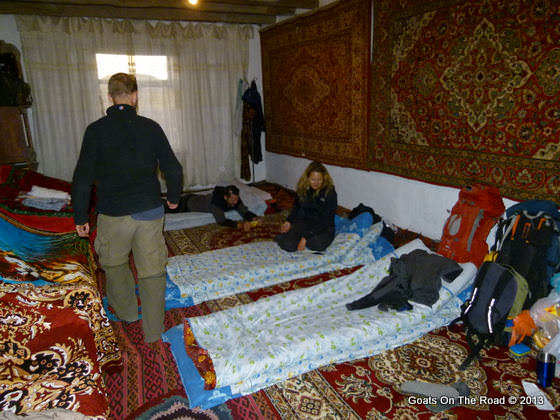 We all went to bed with our fingers crossed that the haze would lift from the mountains the following morning and that Jason and Jessica would be feeling better. Snow-capped mountains and small villages in the middle of nowhere filled our dreams that night. The best was yet to come…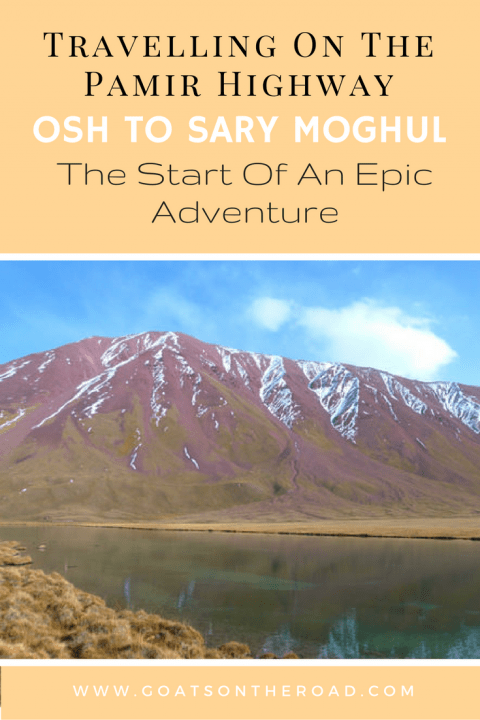 Day 3: Sary Moghul to Karakul
We all awoke to the sounds of donkeys crying out and cows mooing in the distance. It was about 7:30 and time for some breakfast at our homestay. The smiley grandmother served us milky rice porridge, bread, apples and tea. Crossing our fingers the night before must have worked because the fog had slightly lifted and we could see some views of Pik Lenin.
On the road again!
Today was the day we would say goodbye to Kyrgyzstan and hello to our fifth country of the trip, Tajikistan.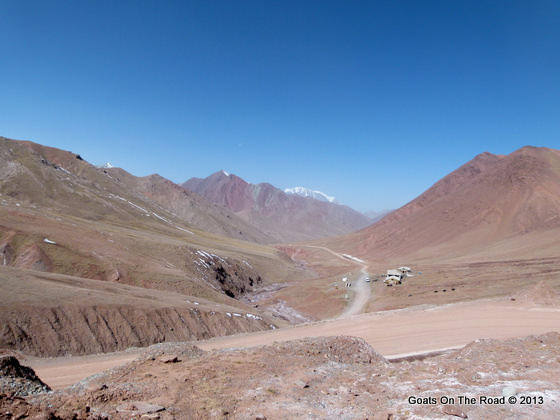 We drove for a couple of hours before crossing the 4,282m high Kyzyl-Art Pass. The views from the top were spectacular. Even though our driver was barely legal and there was a mix-up when our vehicle arrived at our guest house, he turned out to be a good driver. We were constantly yelling "stop!" for photos and the car would come to a screeching halt. We took some pictures at the top of the pass and carried on to the border crossing with Tajikistan.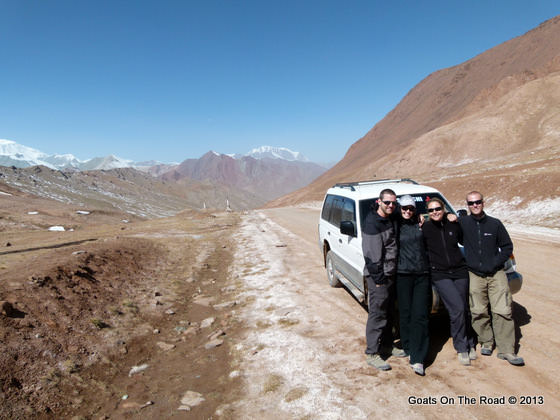 Our entrance into this mountainous country was an interesting one. The border guards must be really bored up there and not get much action…with the ladies. One of the guys in particular was a bit too friendly with Jess and I. He wanted photos with us and had some wandering hands! It was a weird situation because normally we'd yell at him or slap him or something, but we were trying to enter this country and pissing off the guy who would decide whether or not we were allowed in to Tajikistan wasn't the best idea. Such an abuse of power.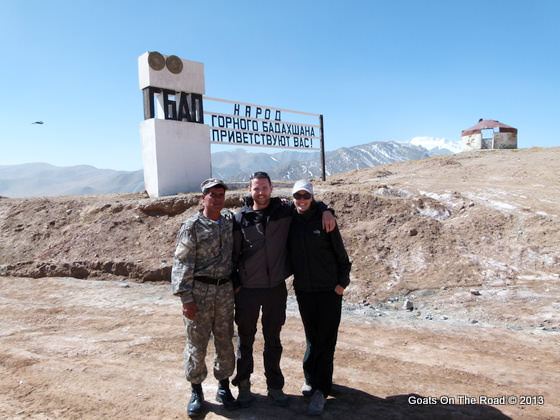 We had another permit check a little further past the border. We were expecting lots of red tape and bureaucratic nightmares with Tajikistan and figured we'd have to show our passports quite a few times along this journey. We showed our visa and GBAO permit and the guard there was saying how beautiful Jess and I were! After about 20 minutes of being in Tajikistan, we were 0-for-2 with the men. They seemed much more aggressive and flirtatious than any guy I came across in Kyrgyzstan.
From the border, we continued our journey to Lake Kara-Kul, which sits at 3,914m and was created about 10 million years ago by a meteor. Once we rounded the bend in the road and saw the glistening lake, the dodgy border guards left our minds.
We pulled into the teeny-tiny Karakul village and stayed at Sarat Homestay. The family who owned it were so friendly and provided us with a warm bed, food and lots of smiles. We left the family and made our way down to the lakeside shores, which was a picture perfect setting.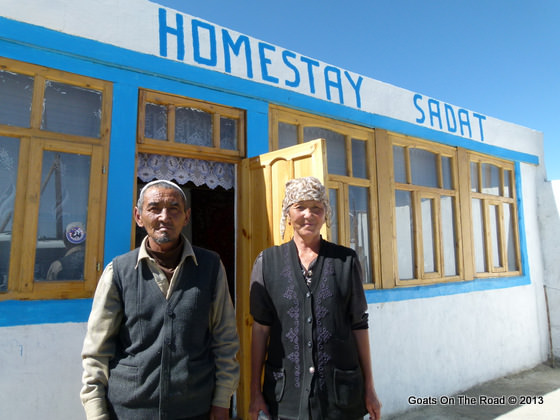 After wandering around the lake, we made our way back to the homestay for some dinner and board games. We were told we were having meat with potatoes and vegetables, which sounded good to us. What came out was basically a massive bowl of potatoes and some risky meat sprinkled on top. It was official, we weren't in Osh anymore!
Nick and Jason ate most of theirs, I pushed around some potatoes and managed to eat a couple and Jess gagged and spat hers out.
It turned out Jess and I had the right idea. Later that night, Nick got to experience his meal for a second time and Jason was squatting in the outhouse (long-drop) all night long.
Nice family, bad food.
We had planned to make ourselves lunches each day for the next 2 weeks and eat dinner and breakfast at the homestays. After that night, we re-evaluated our plan and decided we would have to stock up on food for of our meals the following day in Murgab.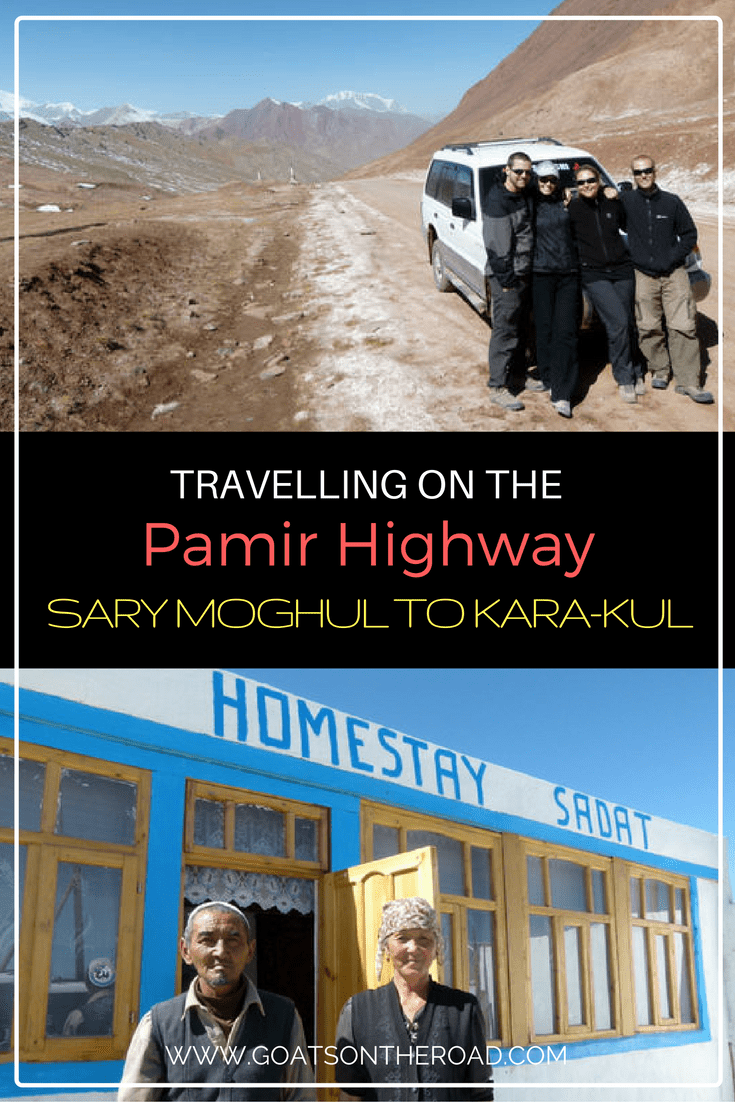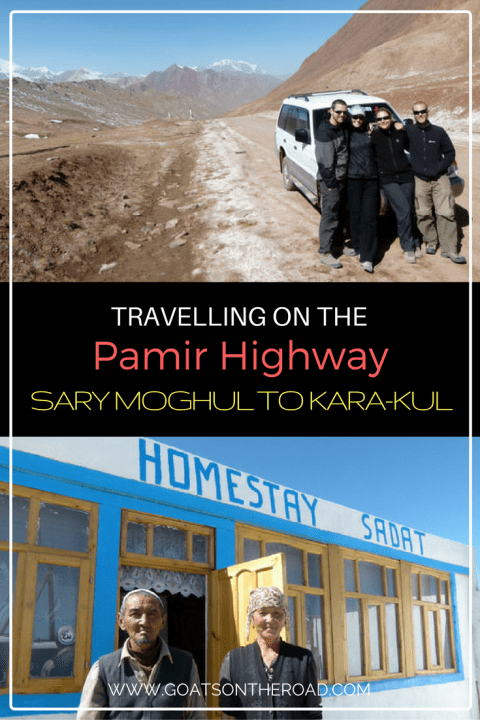 Day 4: Karakul to Murgab
We left the beautiful lakeside village of Kara-Kul and made our way to the town of Murgab, our final destination with our current driver and car. When we were in Osh, we only arranged to have our driver from Osh to Murgab and after that, we planned to hire a new car and driver to take us further into the Pamir Mountains and Wakhan Valley.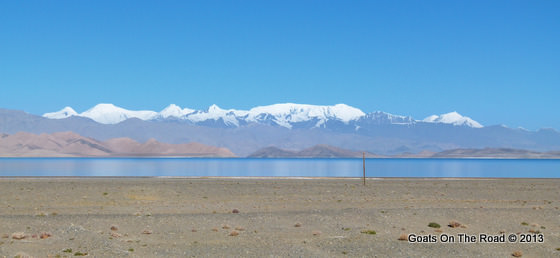 Today was the day we had been thinking about for a while, we would be taking the highest pass on the Pamir Highway: The Ak-Baital Pass at 4,655m! The road was actually really good and the views from the pass were spectacular. We truly felt like we were, as the local people would say, On The Roof Of The World.
After the pass, we descended down the mountainside and veered off the main highway to check out Rang-Kul Lake. There are many different side trips to valleys, lakes, cave paintings and more around this area. We couldn't do everything, but Rang-Kul was recommended and it didn't disappoint.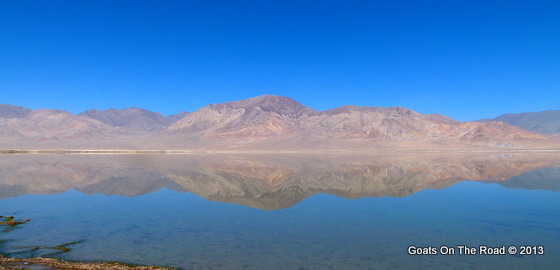 The waters of the lake were like glass, which showcased the incredible reflections of the mountains. We attempted to drive further along the lake towards the town of RangKul where we would have great views of the Shatput mountain range in China. Unfortunately, the Tajik border guards are now patrolling that area and wouldn't let us through. After a heated discussion with the border guards, our driver gave up and handed us back our passports.
We weren't too bothered though. We went back to the lake and had a great lunch with gorgeous views of the mountains.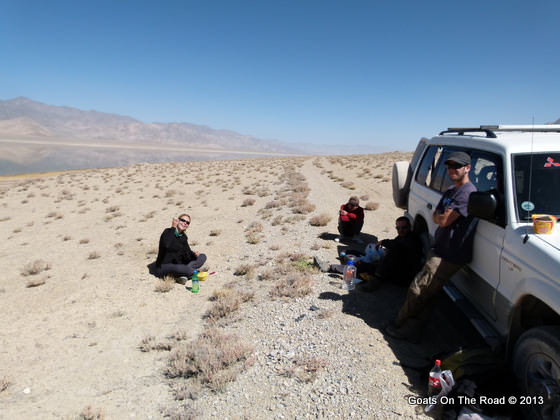 After a 5 hour day, we arrived in the town of Murgab. This was the hub we were waiting for. Here we found a hotel with hot shower, western toilet, real beds, electricity and amazing food! It was also the place where we would stock up on fresh supplies for the next 9 days of our travels.
We eventually found the META office which arranges drivers, guides and homestays in Tajikistan – similar to CBT in Kyrgyzstan. There are a couple of ways to travel through the Pamir Mountains: hitch-hiking, by shared taxi/van, cycling, or hiring a car and driver. The latter is the most ideal way (in our opinion) because you can see any sight you want, you have someone who speaks the local language (and hopefully English) and you have a reliable form of transportation. Shared vans just go from point "a" to point "b", missing all of the good side-trips in the middle.
The four of us told Gulnara, the helpful woman at META, that we wanted a good driver with a Landcruiser vehicle (not a van) and that we wanted him to speak English, which is rare. Usually the driver is just the driver and you have to hire a separate person to be the guide.
Lucky for us, our new driver, Nurali, spoke English, had a great vehicle and seemed like a really nice guy! We were thrilled. We planned the rest of our journey, figured out where we wanted to go and what we wanted to see along the way.
The following morning, Jason was still feeling a bit ill so Jessica, Nick and I did a day trip with our new driver, Nurali. We drove for about 45 minutes before reaching the unbelievable Pshart Valley. The multi-coloured mountains surrounding the valley were outstanding.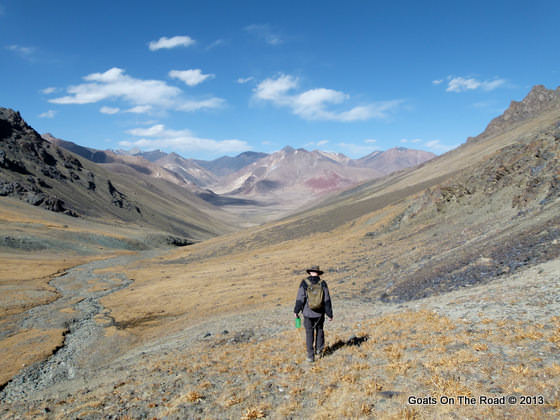 The three of us walked for about 3 hours up the valley and enjoyed the views and a very scenic lunch.
From there, we decided it was time for a soak and made our way to the Madiyan natural hot springs. We knew the hot springs would be fantastic after a day of hiking but we weren't expecting the drive out there to be so awesome. The sun was on its way down, casting a golden glow over the river and valley. We drove for about an hour before reaching some very sketchy dirt roads leading up to the hot springs.
It was Nurali's first test with dangerous road conditions and he passed with flying colours.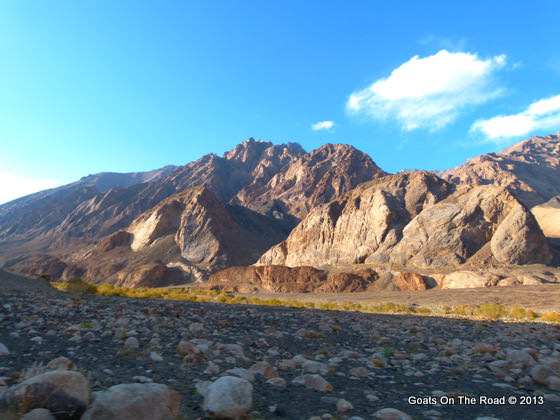 It felt like we drove up and up forever, but we eventually spotted the elusive buildings down below. We parked the vehicle and hiked/skidded down a couple hundred meters and crossed a make-shift bridge before arriving at the hot springs.
No one was there to collect payment so we got in for free, gotta love that! The hot water was just what we needed after our day of hiking. We relaxed for a while before making our way back uphill to the Landcruiser.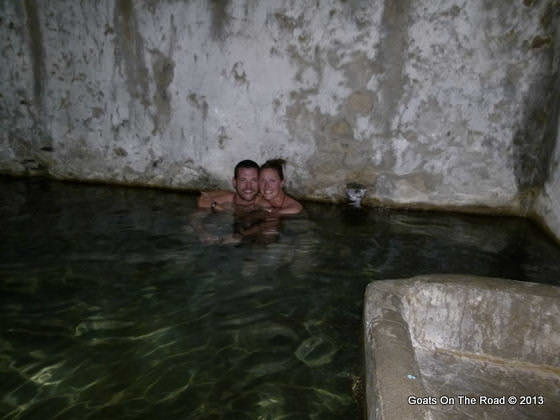 It was the perfect end to the perfect day in the Pamirs. After spending two nights in Murgab, we were ready to continue our trip with our new friend, Nurali.
Check Out The Video Of The Trip So Far!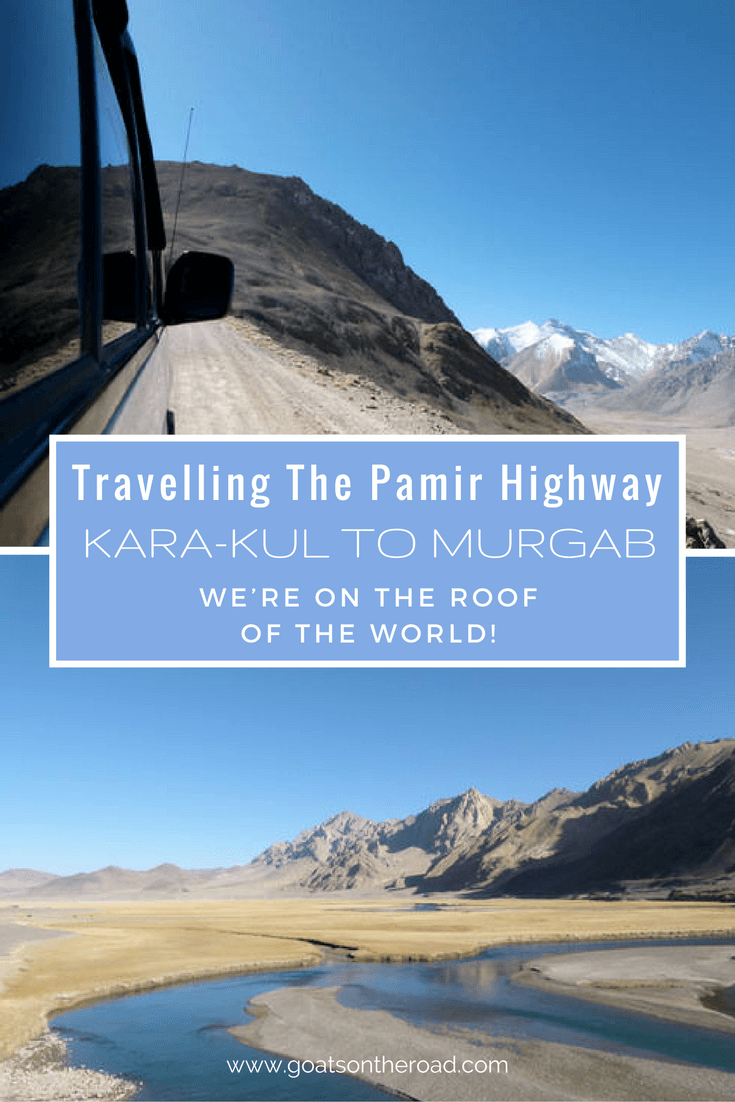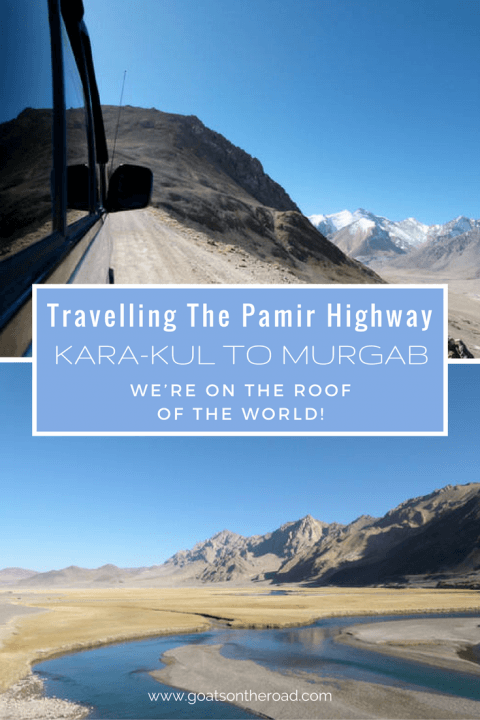 Day 5-6: Murgab to Keng Shiber
After a fantastic couple of nights in Murgab, we had officially started the next leg of our journey with our new driver, Nurali. Everyone was feeling healthy and excited for what the rest of the Pamir Highway had to offer!
We loaded up the Landcruiser and set off. Since there are better views of the surrounding mountains and landscapes from the front seat, we had a seat-rotation system in play, and today was my turn to enjoy the views from the front…and what great views they were!
Like I said before, the best part about having your own car and driver for the Pamir Highway is the freedom to be able to stop and see different sights along the way. After a few hours of driving we pulled over to see the Neolithic-era cave paintings of a boar hunt at Shakhty, which is at 4,200m high.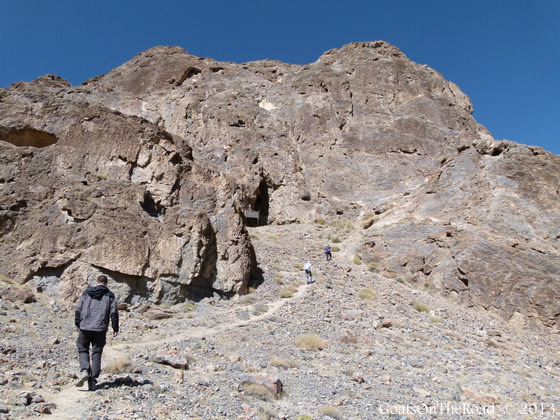 These were the first cave paintings we'd ever seen and they were pretty impressive. After enjoying the views of the area, we were back in the vehicle and carrying on to our final destination of the day, Keng Shiber.
The sky was pure blue, the sun was shining, the company was great and the fact that we were travelling on the Roof Of The World was so surreal. After a couple of hours of driving, Nurali pointed and said "there's the village we're sleeping at tonight".
It was nothing more than one yurt, one outhouse and 2 small buildings…oh, and one really yappy dog. Keng Shiber is a hunting base during the high season, but since it wasn't hunting season, we were able to stay there. There was nothing around this village, and I mean nothing. Just mountains and the odd donkey walking by.
It was amazing!
We spent the late afternoon walking through the valley, taking some photos and just relaxing. The women of the family who lived there were constantly coming into our yurt to fill our stove with dung, boil water for us and give us anything and everything we needed.
Since we were off of meat for the duration of the trip, we cooked up some instant noodles, cut up some cucumbers and peeled some hard-boiled eggs, which would pretty much be the dinner we'd be having for the next 10 days!
That night, in between rounds of Yahtzee and Scrabble, we all went outside and witnessed the most amazing starry sky any of us had ever seen. Because there wasn't a single bit of light pollution, we were able to see the Milky Way, every single star in the sky and even many shooting stars! Truly outstanding.
The next day we set off into the valley by foot. We trekked for about 3 hours before coming to the pass at 4,600m high. It was a bit of a scramble up loose gravel rocks and boulders but once we made it to the top, the views from the pass were outstanding!
From our vantage point, we were able to see the Great Pamir Range in Afghanistan and Zor-Kul Lake, which is right on the border of Afghanistan & Tajikistan. The wind was howling at the top, but it didn't matter, seeing the lake and the mountains was superb.
Nurali was running around like a mountain goat, constantly looking through his binoculars trying to spot the "near threatened" Marco Polo Sheep, which are hunted by the local people and by trophy hunting foreigners who spend thousands of dollars on expeditions in this area. Named after Marco Polo, these sheep live high in the hills of Central Asia and huge in size and have massive spiral horns.
Finally, Nurali spotted a group of about 30 or so down near the lake! He was so ecstatic and proud of himself for finding them. We were also excited to see the rare sheep, but the 4 of us were freezing from the wind and basically just wanted to come down from the pass! After some ooo's and aww's of the sheep, we descended back down to the valley and stopped for a nice lunch.
The trek was about 5 hours long and just one of the many great things we would be doing on this Pamir Mountain adventure! After spending two nights in the middle of nowhere village of Keng Shiber, we were on the move again.
Day 7: Keng Shiber to Bulankul
After spotting Marco Polo Sheep, trekking to 4,600m and seeing some of the most awesome starry skies ever, it was time to move on from Keng Shiber. We decided to continue on as planned towards Bulunkul, a stunning alpine lake at 3,734 meters.
Waking up in our yurt and peeking out at the golden, sun-kissed peaks of rugged mountain ranges is a great way to start the day. The morning was made even better when Jason brought out his French press and made us all fresh coffee! What a life.
Travel comes in different forms. Sometimes we are relaxing in a city or village, sometimes we're hiking over mountain passes, and sometimes we are constantly on the go. This Pamir trip was a constant adventure, but it was made easy by our friendly driver Nurali, and the fact that we were in such good company with our new friends. Waking up and not knowing what the day has in store is what our lives are all about sometimes, and this Pamir trip was the epitome of that type of excitement.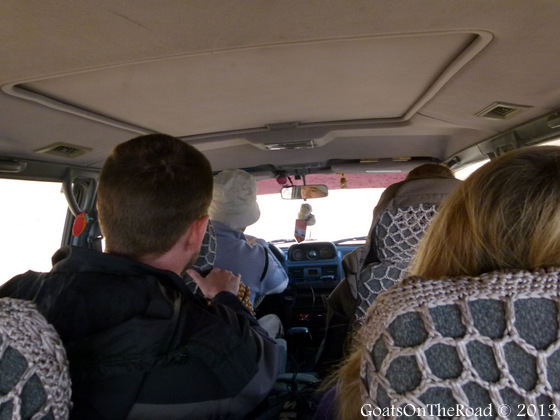 We packed up the jeep and headed off once again. Today we were only driving for three and a half hours so we had plenty of time to stop where we wanted for photos and videos. Our Gobi Desert Tour in Mongolia was amazing, but there was far too much driving every day. The amount of driving in the Pamirs was perfect and it never felt like a chore because the scenery was always jaw-droppingly gorgeous.
As we were driving down the highway we noticed an alluring blue-green pool approaching us on the right side. We told Nurali to stop and we all poured out of the truck to gaze at the tantalizingly clear pool which sat right next to the highway. I readied myself for an icy swim, while Jason and Dariece looked for a secluded place to pee. When Nurali noticed what we were all doing he hollered at us to stop. It turns out that this particular road-side spring is a Holy pool, and Jason and Dariece were about to urinate on a holy shrine… oops!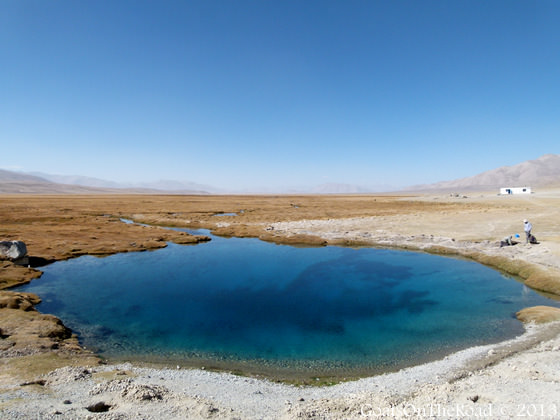 We passed through Alichur Village where Nurali visited his sister while we shopped for some lunch food (more noodles and eggs!) After leaving the village we passed by Sassyk-Kul, also known as "stinking lake" for the sulphur stench that escapes its surface.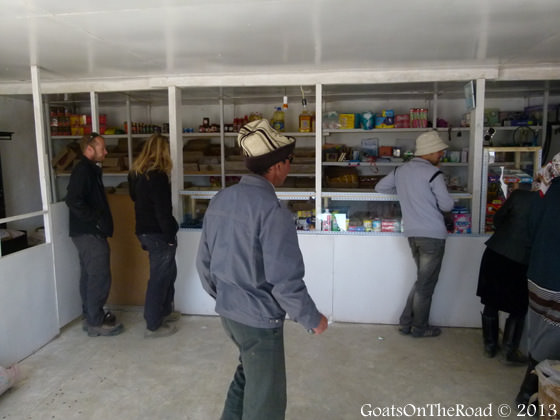 We also passed by Salt Lake which looked like a tiny Dead Sea, with white salt crystals sparkling on its shores.
We arrived in Bulunkul around 2:30 and started unpacking the jeep. Kul is the word for Lake, and the village of Bulunkul is so named for its proximity to Bulun-Kul lake just a few hundred meters east of the village. Also nearby is Yashil-kul, another lake which is a popular trek for travellers along the Pamir highway.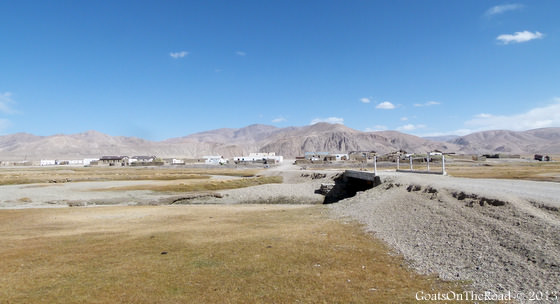 We checked into our homestay and set out on a hike up to Yashil-Kul Lake at 3,734 meters. The pass was only a few hundred meters higher than the elevation of the village, so after reaching the top in just a little over an hour, we felt the need to embark on a more demanding hike.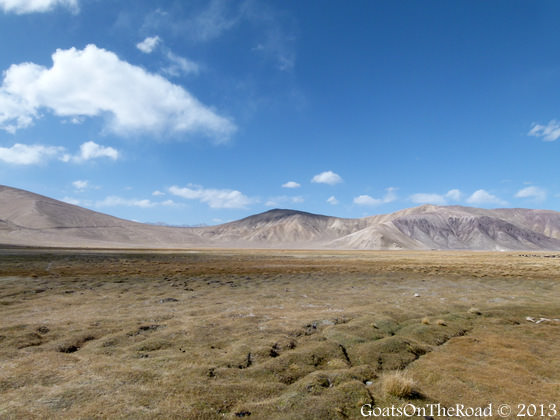 Jason spotted the perfect mountain east of the lake and we joked about trying to climb it in. Before we could decide if it was a good idea, we were all scrambling up the mountainside trying to make it to the top first.
The wind picked up as we ascended the mountain and by the time we reached the top it was howling at us from all angles. We weren't the first people to take on this hill as there was already a pile of rocks on top, which we promptly added a new stone to.
The views from the top of the hill were amazing. We could see for miles in all directions and the vantage point gave us a better perspective on Bulunkul village, Bulunkul lake and Yashil-kul. Both lakes sparkled turquoise in the afternoon sun and we enjoyed the views for about a half hour before beginning our descent.
We didn't want to just go down the same way we came up, so we plotted another route down the steep valley on the southern end of our now-conquered hill. The way down was quick and slightly dangerous as we all skied freely down the mountainside. The entire trek took us just a little over three hours and soon we were back in the village.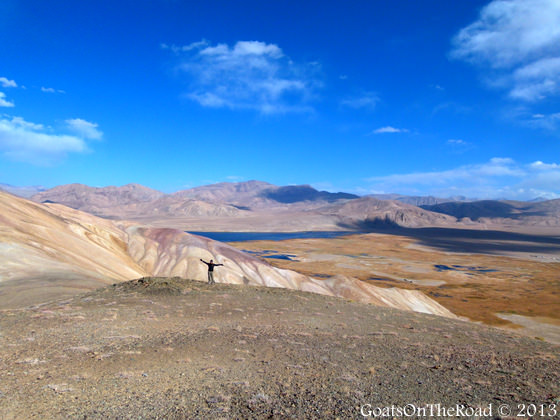 Bulunkul village is just a small scattering of mud homes set in a flat basin of ochre desert. We wandered around the village as the sun dipped low in the sky, illuminating the mud homes with a golden-red hue.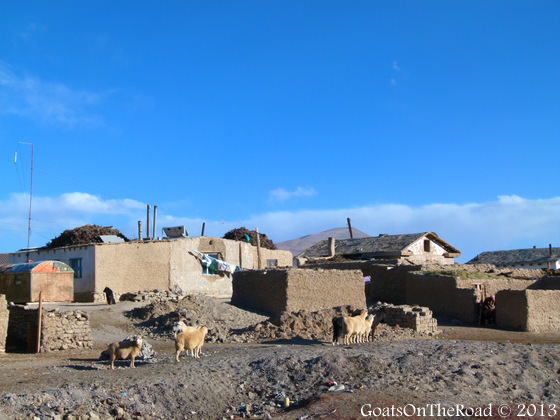 The villagers herded their donkeys, sheep and cattle back into their pens as the icy cold evening wind returned to the valley. Bulunkul is known to be the coldest place in Tajikistan, but we retreated safely to our cow-poo fire-heated homestay.
We enjoyed a delicious home-cooked vegetarian meal and a long chat with our new friends. Just before bedtime, Nurali announced that he would be sleeping in the same room with us. He then also announced that he sometimes talks in his sleep. "okay, no problem" we told him. And then he admitted shyly, that he also cries in his sleep.
Confused and a little worried of what we would hear in the night, we turned out the lights and read our Kindles while the wind howled outside. Nurali made it through the night without sleep-weeping, but we did hear him holler a couple of things around midnight. A smile creased my face as I peered out the window of our tiny homestay at the impossibly bright stars twinkling in the sky above. I couldn't help but wonder what tomorrow would have in store for us.
Check Out Part 2 Of Our 4 Part Pamir Video Series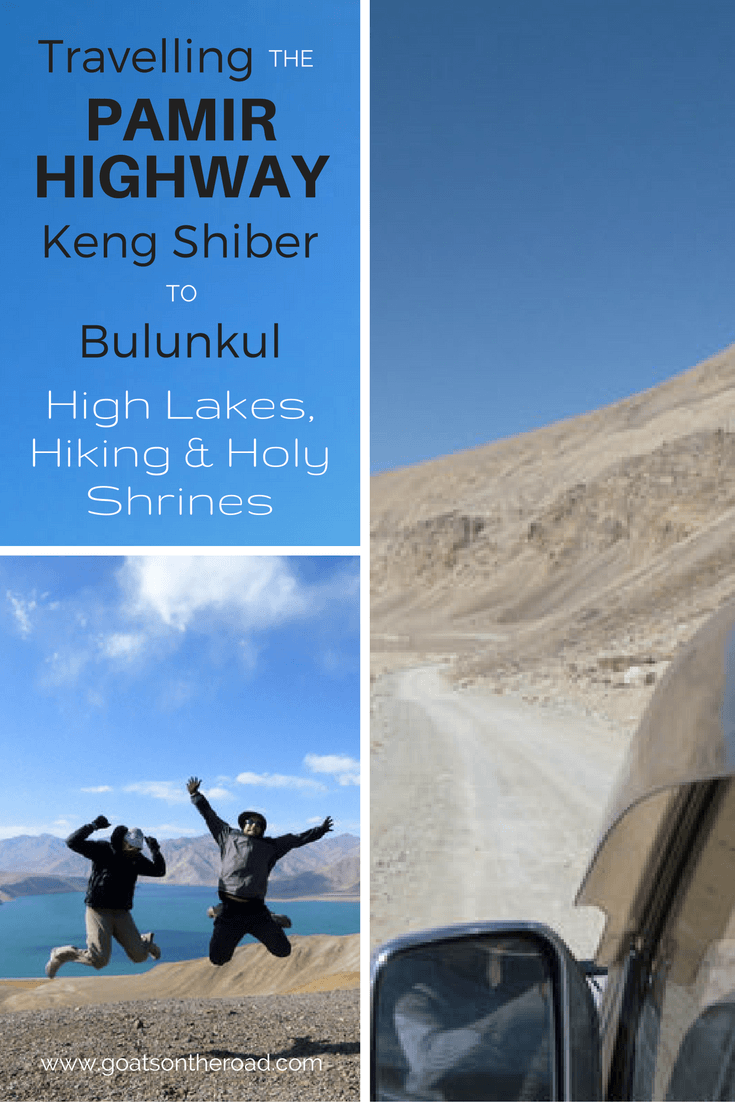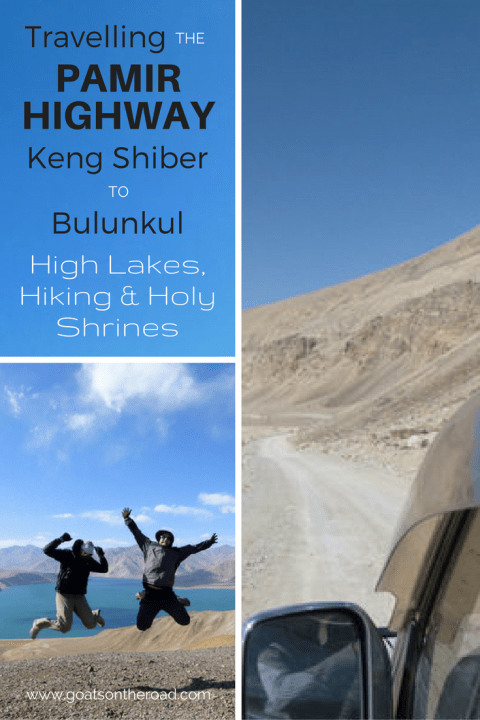 Day 8: Bulankul to Langar
After just one night in Bulunkul, we packed up again and hit the road. With the jaw-dropping sites we had seen so far, it was hard to believe that the trip could get any better. Today would prove that the best was yet to come.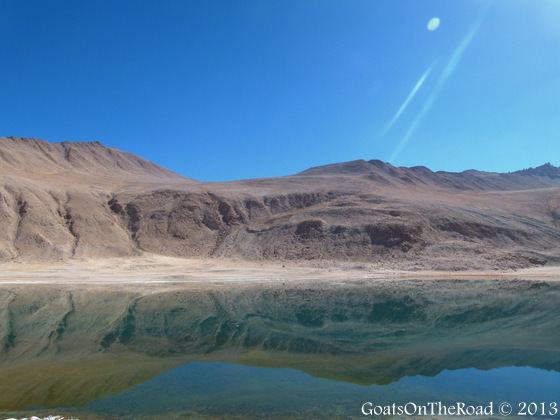 After about an hour of driving, we began climbing up the twisted road towards Khargush Pass at 4,344 meters. From the top of the pass we had more spectacular views of the peaks and valleys around us. Reading this blog series and seeing the photos, the sites and views along this trip may sound redundant. But to be in the vehicle, with the crisp mountain air rushing in the window and the sound of the rivers rushing beside us was never boring and always incredibly exciting.
We went through yet another check point and handed our passports over to the smiling guards with AK-47's hung from their necks.
As we left the check point, we followed the Pamir River and we were suddenly within 20 meters of the Afghanistan border, the closest we had been yet! From the check-point on, the views opened up and were absolutely breathtaking.
We first had views of Carl Marx and the Great Pamir Mountains where we stopped for a quick lunch. We parked on an outcropping which hung precariously over the river border. The spot rewarded us with our final views of the Great Pamirs.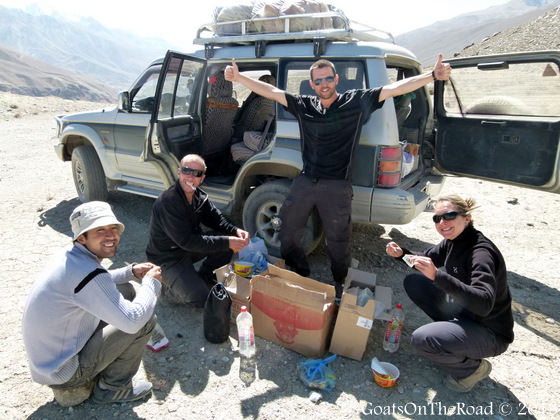 After Lunch we reached The Road Of Fallen Soldiers, so named for the amount of soldiers who died on this dangerous stretch of dirt road during the war. From here began the views of the spectacular Hindu Kush (Killer of Hindus Mountains) on the border with Pakistan.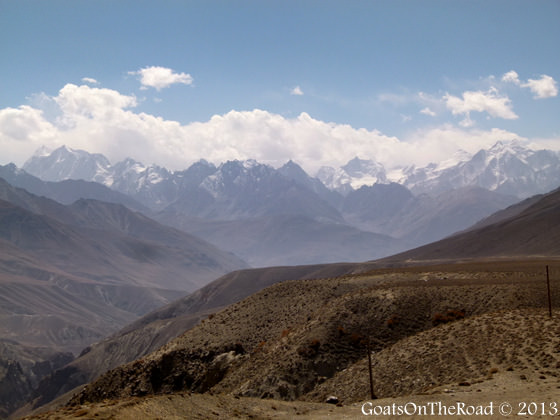 The road was etched deep into the cliff side. On the left was a steep cliff to the roaring river 100 meters below, straight ahead were the almighty peaks, piercing the sky like icy daggers, and to the right, an ominous looking, dynamite blasted wall.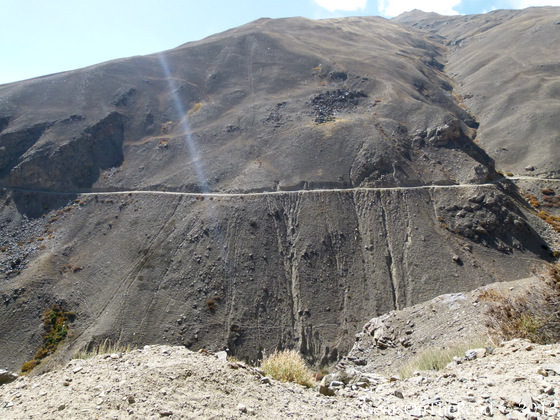 After The Road Of Fallen Soldiers, we started to descend into the infamous Wakhan Valley. Shrubbery turned to trees, which then gave way to lush farmland and alpine forests. Steep, babbling creeks drenched the road and fell towards the border river beneath us.
After another hour we were entering the picturesque village of Langar, without a doubt the most beautiful town on the entire journey. The roads were covered by an arch of green trees and rivers followed along our path. We passed by cheerful kids who yelled and waved as we drove by. The farmers were hard at work in the fields, tilling and collecting their precious golden wheat, which gleamed in the afternoon sun.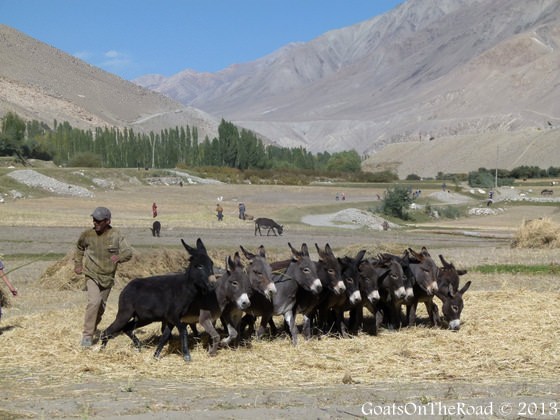 We checked into our delightful little guest house and immediately set out on the village. After a short stroll through Langar, taking photos of the friendly locals along the way, we knew we were going to want more time here.
The next morning we woke up and Nurali walked us 500 meters above the village to a rocky lookout point. Although the views of Langar were outstanding, we were here to gaze upon the rock carvings known as petroglyphs, which were carved here during the Bronze Age. Almost all of the pictures depicted scenes of stickmen hunting ibex, but some illustrated ancient Buddhist temples, a small reminder of the religion's presence in the area. The petroglyphs were very interesting, despite the incredible amount of graffiti carvings added by locals.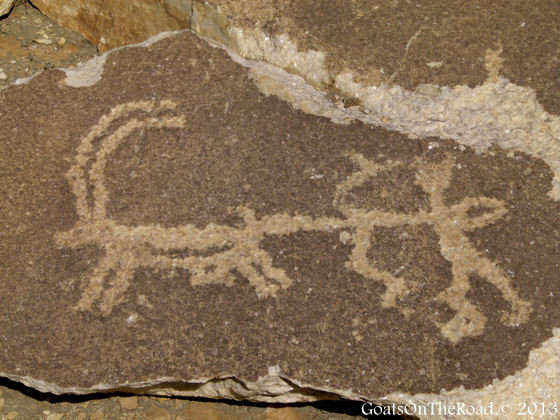 After our hike and some lunch, we hopped back into the vehicle and headed for Abrashim Qala, a fort built to guard this part of the Silk Road from Chinese and Afghan invaders.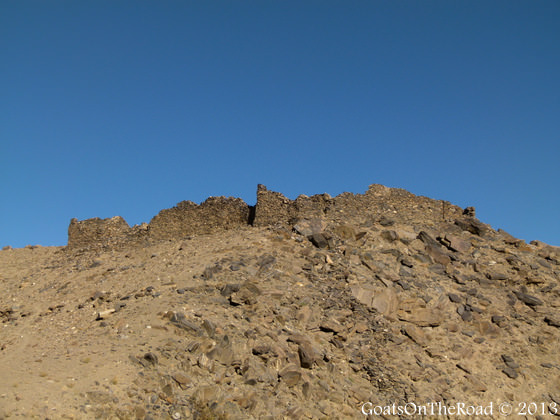 We hiked up to the fortress and spent a couple of hours inspecting its ancient roofless rooms and corridors. I even spent some time repairing one of the fallen walls. The sun was getting low in the sky and from Abrashim Qala, way above the valley floor, we had excellent views into the Wahkan Corridor, a narrow, scenic strip of land separating Pakistan from Tajikistan.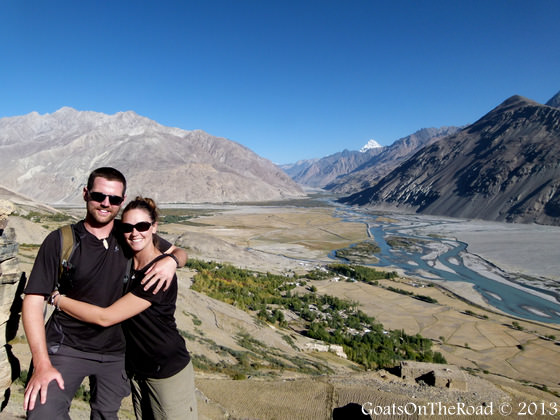 After yet another perfect day on this trip, we retreated, cold beers in hand, back to our cozy homestay. That night we enjoyed a delicious (vegetarian) dinner and taught Nurali how to play Kniffel (German Yahtzee). We played 3 games, he had 5 Yahtzees and won every time! Beginners luck. We bedded down around midnight, with a slight buzz, again excited for the rest of the trip.
Check out our video: Travelling The Pamir Highway, Bulunkul to Langar:
Day 8: Langar to Yamchun
Beep-beep… beep-beep…beep-beep. As I rolled over to hit "snooze" on our alarm, I had to smile. It was 9:30 and we had to get up. During our Pamir Highway trip, not once did we have to get up earlier than 8:00/8:30am! Which is perfect for us. We're 9:00am kind of people.
We had a nice breakfast, slowly packed up the vehicle and took off. We had four ancient sites on the agenda today. But first, we would have to stop at a military checkpoint. We'd show our passports, Nurali would have to answer some questions and then finally we could head out. As annoying as the checkpoints were, they had become a part of our daily Pamir routine.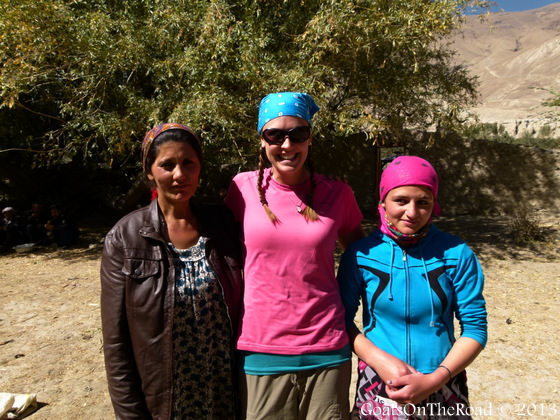 As we were driving along the highway, listening to Tajik music, each of us daydreaming, four men jumped out into the middle of the road and flagged us down. Nurali pulled over and spoke with the enthusiastic men. Apparently because it was Thursday (the day of celebration and prayer for the people of the Ismaili faith), they were offering to feed us lunch for free! We were all skeptical of what would happen once we entered through the wooden doors. We all took our belongings from the car, in case it was a scam to steal from us, and headed in with trepidation.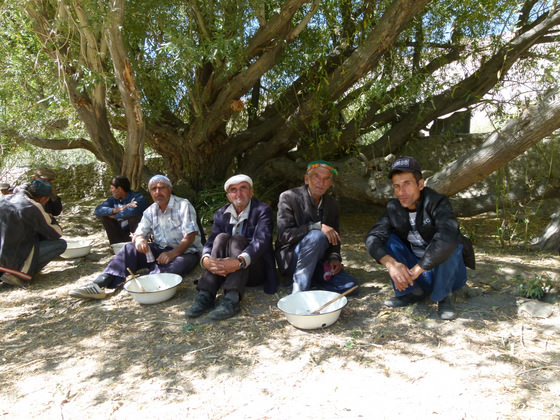 The whole scenario couldn't have been further from what we were all envisioning! The villagers had a massive cauldron with fresh goat soup boiling inside and people sat around their individual bowls enjoying the free lunch and company. Jess and I weren't particularly interested in slurping up random bits of goat meat from a community bowl, but Nick was!
He dug in there like a true Tajik, gnawing on the bones like he hadn't eaten in days…which is kind of true, we hadn't had meat in a long time. We were told (with hand motions of course) to eat more and to continue to eat. Even though Jess and I didn't eat anything, the atmosphere was warm and the people were very generous.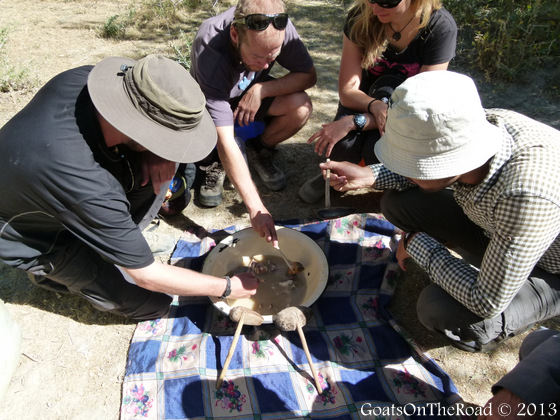 It was one of those spontaneous and random moments in travel that we'll never forget.
From there we carried on to see the sights planned for the day. First we stopped at an ancient Buddhist Stupa from the 5th-6th century AD, which was built precariously on the edge of a cliff surrounded by hermit caves.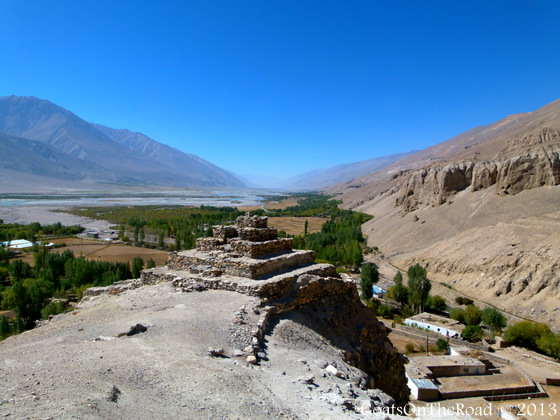 Carrying on, we made it to a solar calendar built in the 1800's and a museum. From there, we were invited into a traditional Pamiri home. These homes are extremely symbolic; the ceiling is layered with intricately carved wood which represents the 5 elements, while each pillar in the home represents one of the Prophets of Islam.
Eventually, we made it to our homestay for the night at Yamchun Village. We unpacked, had some chai and snacks and got back in the car to head up to the nearby Yamchun Fort. Built in the 12th century, this ruined fort sits atop a massive hillside with fabulous views across the Wakhan Valley.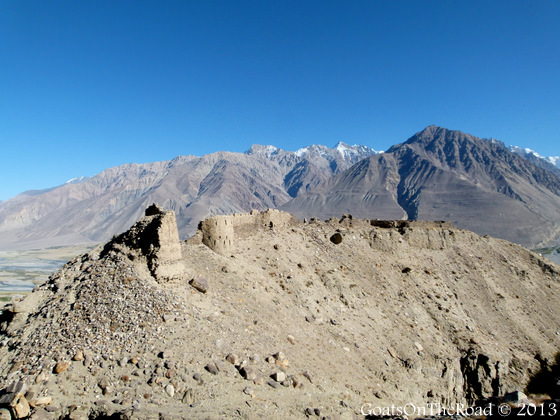 From there, we continued up the mountain about 1km before arriving at the highly-anticipated Bibi Fatima Hot Springs. We had heard about this place when we were in Arslanbob, Kyrgyzstan. That's one of the many great things about being a backpacker, we're always hearing about the must-see places from other travellers around the hostel dinner tables.
The 5 of us jumped out of the car and were surprised at the amount of local people waiting in line. Women have a turn for 20 minutes, then, it's the men's turn for 20 minutes, alternating on and off every 20 minutes each and every day. Nick and Jason had their swimming shorts and Jess and I whipped out our bikinis.
Nurali sort of looked at us with the clothes in our hands but didn't say anything at first. Finally, I asked him if it's ok to wear a bikini (thinking maybe it was a bit too inappropriate for this part of the world). He said, "no, you wear nothing". Huh? Then he asked one of the Tajik women and she looked at me very confused and shook her head. Naked it was! I have to say, I've been in a bath house in Almaty, Kazakhstan and in a hammam in Istanbul, Turkey, but never have I been naked in a hot spring with strangers.
When it was our turn, Jess and I made our way into the hot springs with 5 other women. We were in awe of what we saw – not the naked bodies, but the actual hot spring! We stepped down about 10 stairs and found ourselves at the bottom of a cave. Around us were natural cave walls. The steaming hot water is constantly running through this cave, making it always very hot and always very clean. Because so much water is passing through, it makes a perfect pool for relaxing in.
This wasn't your ordinary hot spring though, Bibi Fatima is the place to go to boost fertility. No wonder there were so many women in line! Although I didn't want any help with my fertility levels, I went in anyways. The other women in there immediately took charge. There were many things I had to do in order to make sure I got the most out of my fertility boosting trip to the hot springs:
1. Drink the running water (I opted out of this);
2. Touch a particular part of the stone with my hands, then with my lips and then with my forehead;
3. Put water that had collected in a small pool over my eyes, three times;
4. There was a small cave within the cave that women believe looks like a womb. I had to climb up there (naked, don't forget), go inside, go under the hot water and pick up a handful of small stones;
5. Put the biggest, whitest stones I found under my tongue for the duration of the bathing;
6. Walk out of the hot springs backwards; and
7. Don't use a towel to dry off. Doing so would wipe away all of my fertility chances.
Needless to say, it wasn't the most relaxing experience, but it was a very interesting and a very local/traditional one. Afterwards, the women all went to pray for pregnancy as well…which I also opted out of.
When the guys were done their turn in the hot springs, we all headed back to the homestay for a delicious meal of lentil soup. Both Jess and I went to sleep that night hoping our fertility treatments hadn't worked, and we all were looking forward to what tomorrow would bring.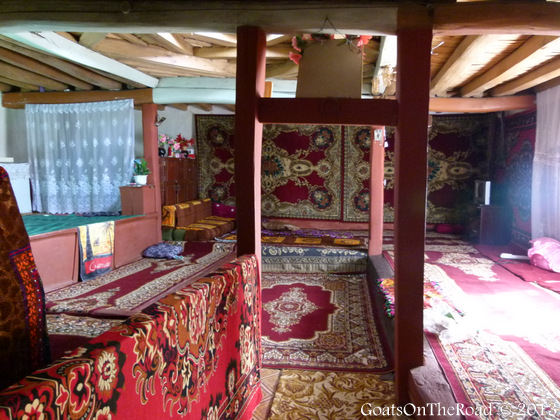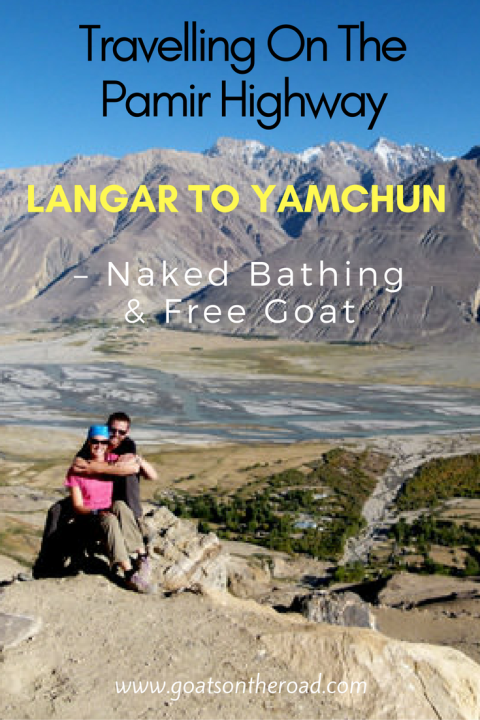 Day 9: Yamchun to Khorog
We were nearing the end of our amazing adventure on the Pamir Highway and had planned our trip perfectly to coincide with the cross-border market with Afghanistan at the town of Ishkashim on Saturday.
We left Yamchun on a Friday and made our way towards Ishkashim. The drive was still beautiful as ever with the Wakhan River rushing beside us, mountains towering over us and green trees dotting the landscape. On our way to Ishkashim, we visited the Khaakha Fort, built in the 3rd century B.C. Even though the fort is armed by Tajik guards, we were still able to wander around and take photos.
Arriving in Ishkashim we all felt mixed feelings of excitement and melancholy. We were happy to be in a proper village with shops and were looking forward to the cross-border market the next morning, but on the other hand, we all knew our journey was almost finished.
We checked into our guesthouse and wandered around town. There was some sort of festival going on in the city and girls were decked out in brightly coloured, beautiful traditional clothing. We watched the performance they were putting on at their school before returning to the guesthouse, and were pleasantly surprised to see other backpackers had checked in!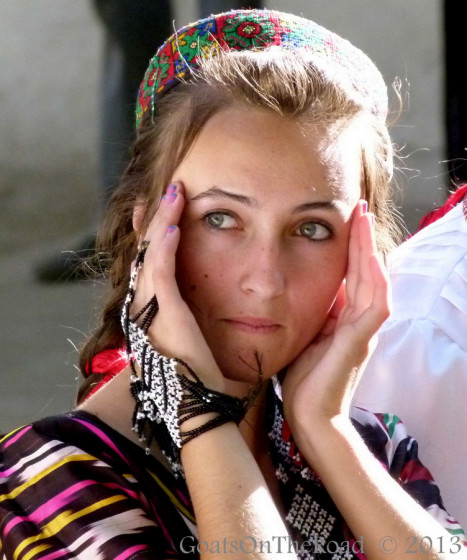 Up until this point, we had hardly seen anyone on our journey. So, we all figured we should have some beers together. There were us 2 Canadians, Jess from Germany, Jason from England, and the newcomers were from Australia, Switzerland, Spain and Hong Kong. It was going to be a good night. We all drank the Russian brew, Baltika, shared travel stories and information on the highway and called it a night at midnight.
Around 5:00am the windows to our room were rattling and banging like crazy. I freaked out, shook Nick out of his deep slumber and announced: "someone's breaking in!" …but then I realized that the bed was also shaking. The cows, chickens, horses and dogs were going crazy outside and there was this deep rumbling sound.
No one was breaking in, it was an Earthquake! Not one, but two in a row.
Everyone came out of their rooms, half asleep, half drunk, but all fully wondering what was going on. That was the first proper earthquake we've ever felt.
After an eventful night we awoke around 10:00 to get ready for the market! This bustling market happens every Saturday. The bridge between Afghanistan and Tajikistan is opened up and people on the Tajik side are able to cross the river to the Afghan side. Passports are taken by the police, it's heavily guarded and everyone is there to sell their wares.
We were a bit early and were able to see the men from Afghanistan setting up everything. They came pouring through their border crossing with wooden carts filled with clothing, housewares, carpets, fabrics, you name it, they had it.
Although the women of Afghanistan don't attend this market, it was amazing to see the local men in their traditional clothing, scarves and hats. We wandered around, shopped, bargained, mingled and had a great time. Since we weren't able to go to Afghanistan, it was nice to still be able to meet the people…who were extremely friendly and curious of us.
From the market, we all piled into the vehicle and made our way to our final destination of this road trip, the city of Khorog. But first, we stopped at one more hot spring!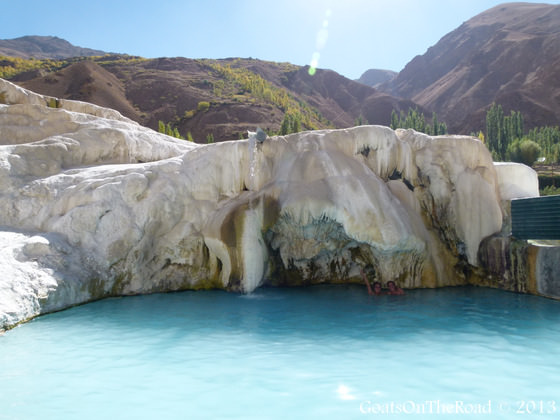 We enjoyed our last soak of the trip and continued on. After being in the mountains for so long and seeing villages of only a few hundred people, Khorog (population 27,000) seemed massive. We checked in to our guesthouse and decided to go out for some celebratory Indian food as one final hurrah together.
Travelling the Pamir Highway was such a memorable experience. We're so fortunate to have had such a professional driver and great friends to enjoy the ride with. The sites we saw, the people we met and the mountains we drove through were some of the best we've ever encountered. This journey will remain in our hearts and in our minds forever.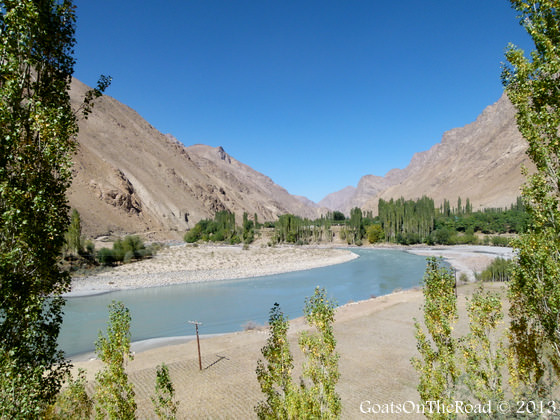 The next day we all made our way down to the "airport" to try to get on a helicopter flight to Dushanbe.
Check Out Pt.3 Of Our 4 Part Pamir Video Series!
Day 10: Khorog To Dushanbe
After an amazing 14 days travelling the Pamir Highway from Osh to Khorog, it was time to find our way back to civilization. We were originally planning a shared taxi ride but when we found out that a flight was just $90 while the taxi was $60, this one was a no brainer.
Seeing the small plane on the runway and knowing that it flies THROUGH the mountains rather than over them, really made this an easy decision. We usually book tickets online, but there was no online booking at this office. Just a hole in the wall with a grumpy man on the other side. We suddenly realized just how much we take the ease and efficiency of booking online for granted.
When we got to the "airport", we were disappointed to find out that the plane was sold out for 2 days! We really needed to get to Dushanbe within 24 hours to get our visas going for Uzbekistan, Turkmenistan & Iran, so we were slowly retreating from the idea and looking back at the long, uncomfortable taxi ride. It's not like we're not used to uncomfortable modes of transportation!
That's when the man at the "airport" (really just a patch of pavement with a luggage conveyer) asked if we wouldn't mind getting on a helicopter instead.
"Mind?! We would be stoked if we could get on a helicopter!"
He must've seen the glee in our eyes, because within two hours he had arranged for us to be in a helicopter with the owner of Tajik Airlines. There were no other tourists in the chopper, just a couple of other Tajik Air employees and the man behind it all, who spoke perfect English and even let us sit up in the cockpit with him for most of the two hour flight!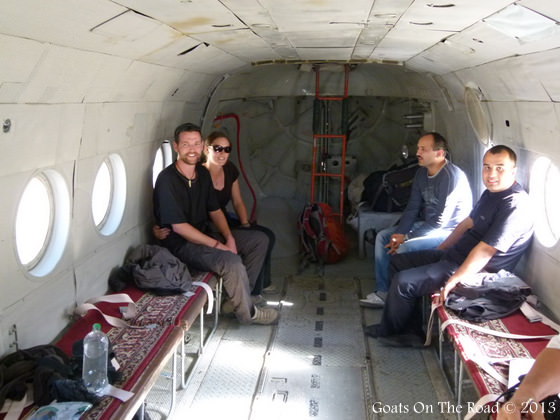 Sometimes in travel, things just come together and make for the perfect trip, this was one of those times. After having such an incredible trip through the Pamir Mountains, we were now flying through them. The cabin in the helicopter wasn't even pressurized, so the windows were open and we could put our hands (and our camera) outside for amazing views.
The smiles didn't leave our faces for the entire 2 hour flight, and for two days afterwards. Sometimes words lack the capacity to describe an experience, this is one of those times.
Check out the quick video below!
This was our first helicopter ride. Have you ever been in a helicopter? Tell us about it below…
Like this Post? Pin it!