When preparing and planning for a trip to Cuba, it's important to think about your budget, the prices in Cuba and how you're going to pay for things while gallivanting around this incredible island nation. With internet and wi-fi being scarce and a hassle to find and use, you must have your finances and your budget sorted out beforehand.
It's not as easy to check your bank balance online and deal with acquiring currency as it is in other countries.
We travelled independently around Cuba for 3 and a half weeks and we're here to give you a full breakdown of what things cost, how much money to bring to Cuba, and how much you can expect to spend while Backpacking Cuba.
☞ For more information on preparing and planning for your trip to Cuba, see our article here
First Things First
You'll need to have travel insurance in order to travel to Cuba. It's actually mandatory that all travellers have insurance, and you may or may not be asked to show proof of insurance on arrival.
Unfortunately, the popular World Nomads insurance company no longer covers Cuba. You'll need to make sure you have insurance before you leave your home country, or you will be subject to the insurance coverage on offer at the arrival desk.
Ok, moving on to your Cuba budget. Before even figuring out how much money you'll need in the bank, it's important to understand the Cuban currency (of which there are two) and the rates.
1 Cuban Convertible Peso (CUC) = 1 US Dollar
25 National Pesos (CUP) = 1 Cuban Convertible Peso (CUC)
The National Peso (CUP)
This currency is what most of the local people are paid their salary in. Using the National Peso, you can purchase smaller items, and the "basics" that one needs. It's important to realize that this isn't the "Cuban people's currency", foreigners can use this money as well, and buy the following items with CUP:
Rides in the local inter-city buses (jam-packed full, no room to breathe)
Fruit and vegetables from the markets and side-of-the-road stands
Street snacks such as popcorn and fried plantains
Rides in a collectivo (shared) taxi
"Peso" food such as: pizza, ice cream, sandwiches, rice & bean meals, and other smaller meals (pork & rice, spaghetti)
Basic groceries and produce
The Cuban Convertible Peso (CUC)
This currency is used for "luxury" items and is the money you'll mostly find yourself spending during your travels in Cuba. Locals who earn this currency rather than the National Peso are typically those in tourism (casa owners, tour guides, taxi drivers, hotel staff, etc.)
Being a Cuban and earning CUC is definitely ideal. With just 1 CUC (after exchanging it into 25 National Pesos), they can buy 25 rides on a bus, 25 fresh cups of juice, or some rice and beans. This is the currency everyone wants.
Keep this in mind when musicians or dancers ask you for a tip – your 1 CUC goes a long way in Cuba.
With CUC, you can pay for:
Meals at a sit-down restaurant
Tourist bus (Viazul) tickets
Hotels and casa particulares
Scuba Diving, horseback riding and other excursions
Anything you want to buy, you can with this currency
The two currencies actually look quite similar so when you first arrive, familiarize yourself with them to avoid being ripped off.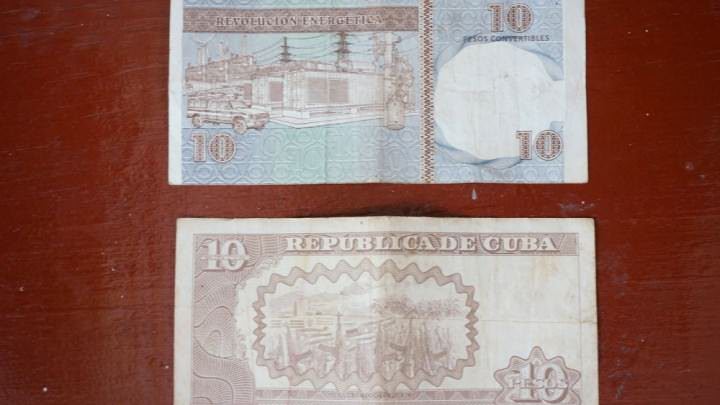 Also, always check your change to make sure that if you paid in CUC, you receive CUC back, (sometimes people will try to scam new travellers by giving them change in CUP, which is worth significantly less).
You can buy things that are normally charged in CUP with CUC and vice versa.
Note: If you have a debit or credit card issued by an American bank (ie: CitiBank), then it will NOT work in Cuba's ATM machines. If you have a bank card from any other nation, it should work, but a 3% fee will be charged each transaction. Even if you opened your account in your home country, but it is affiliated or run by a US bank, your card will not work in Cuba.
Many people ask us "how much cash should I bring to Cuba"? Well, if you're not an American and you don't have a bank that's affiliated with the USA, I would only suggest having a couple hundred Canadian Dollars, or Euros or Pounds on you as back-up funds. Otherwise, you can use your debit and credit card at the machines in Cuba.
If you need to know how much spending money for Cuba an American couple would need to bring in cash, we suggest budgeting $90 / day. Read on to see how much we spent, and what everything costs in the country.
Do NOT bring in US Dollars, as you will be charged a 10% conversion fee. Also, note that Australian dollars are NOT accepted. The best currencies to bring into Cuba to convert over to CUC are Canadian Dollars, Euros, Pounds and Mexican Pesos.
For the sake of simplicity, prices in this article are in CUC / USD (they're equal), unless otherwise stated.
Now that you understand the currency, let's move on to the prices in Cuba…
How Much Does Cuba Cost?
People often ask us "is Cuba expensive?" Cuba is very strange in that it can simultaneously be one of the cheapest travel destinations in the world, and one of the most expensive, depending on how you travel. Here's a breakdown of what things cost in the country:
Accommodation in Cuba
$20 – $30 / night for a double room in a casa particular. Solo travellers can get a discount.
$25 – $180 + / night for a hotel room.
For authentic Cuba travel, Casa Particulares are the way to go! If you're wondering where to stay in Cuba for cheap, this is it. Casas are affordable, comfortable and you will enjoy a more local stay while in the country. This is the best way to get to know the locals – feel free to chat with them about their life in Cuba, and practice your Spanish! The food served by the casa owner is also very good. We highly recommend eating at least a meal or two at your casa particular.
Read more: What is a Casa Particular? All You Need to Know, with Video
Check out this video where we give you a tour of a casa so you can see what it's like.
We recommend booking your casas on HostelsClub.com. None of the other top booking engines (booking.com, hostelsworld.com, hostelbookers.com) cover Cuba. Once you're in Cuba, finding internet can be a hassle and it's expensive, so it's best to have your accommodation sorted out ahead of time, unless you're prepared to wait in queue for internet.
**Update 2017: The popular booking sites Airbnb and Booking.com now offer accommodation in Cuba! Click here to see options for casas, homestays and apartments and compare prices on Airbnb, and Click here to compare accommodation costs on Booking.com.
Another option is to just show up at each city and look around without booking ahead. Many casa owners will greet you at the bus station and offer you a room (or sometimes lie and pretend that they are the casa that you booked with).
Food & Drink
The prices in Cuba for a meal out varies greatly. Some cities are cheaper than others, such as Camaguey, while some are much more expensive. The cost of alcohol varies as well depending on where you choose to drink.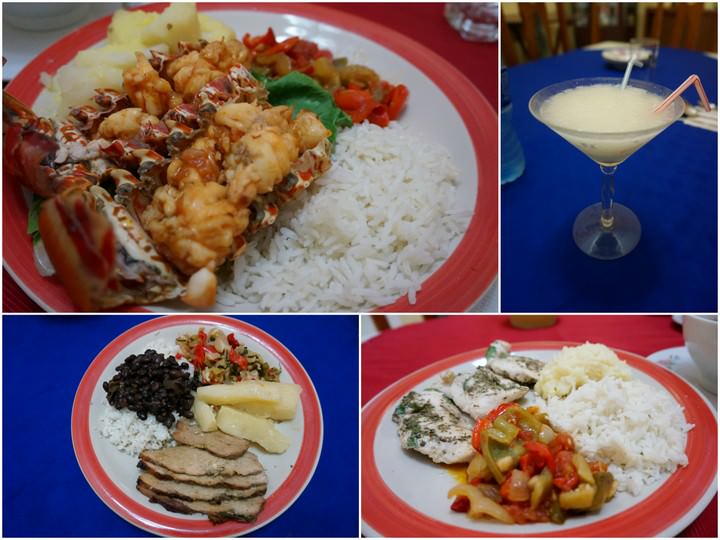 Cocktails at your casa are often cheaper that at a bar. Expect to spend $2 for cocktails and $1 for a beer.
At a nicer restaurant or bar, cocktails and beer are often similar in pricing – $2 – $3 each. Go for a mojito, trust us, you'll love it!
Bottled water is what you need to watch out for. It's hot in Cuba and you'll want to make sure you stay hydrated. The cost of a 1.5L bottle should be $0.70, however, most shops charge tourists $1.50 because they know we need it!
Shop around until you find the real price, or better yet, just hand them $0.70 and act like you know what it should cost. Also, some casas have fresh water and juice for free. Just ask.
RESTAURANTS

Pizza – $2.50

Tapas – $1.50 – $3.00 each

Beef stew with rice and salad – $8

Spaghetti – $5.50

Fish in sauce with rice and salad $9

Lobster/fish with sides at a restaurant $8-$10

Fish, pork or chicken meal at casa (too much food to finish) – $7 – $10

PESO FOOD

Egg sandwich w/cheese – 9p ($0.36)

Cheese pizza – 6p – 30p ($0.24-$1.20)

Fresh fruit juice – 1 – 2p ($0.04 – $0.08)

Ice cream cone – 1p ($0.04)

Grilled pork & rice – 35p ($1.50)
Check out our video where we sample peso food around Cuba!
Contrary to belief, the food in Cuba is pretty good! Don't believe us? Check out our article about Cuban cuisine.
Attractions and Activities
All of the museums, sites and activities that you'll want to partake in will be paid for in CUC.
Havana: Museo de la Revolucion (Museum of the Revolution) – $8 entrance fee
Havana: Fortaleza de San Carlos de la Cabana (Fort of Saint Charles) – $7 entrance fee
Havana: Museo de Bellas Artes – $5 entrance fee
Havana: Ride in a Classic Car down the Malecon – $15 – $25 for 30 minutes depending on your bargaining skills. A better idea is to book your Classic Car ride here, and enjoy 2 hours of cruising around Havana – plus, you won't have to deal with tourist pricing.
Check out the 2 Hour Classic Car Tour here:
Vinales: Horseback riding tour – $25 for a 4 hour trip
Trinidad: Horseback riding tour – $15 for a 3 hour trip
Vinales: Santo Tomas Cave – $10 entrance fee (with guide)
Cayo Jutias: One scuba dive, including equipment – $40 (bad service though)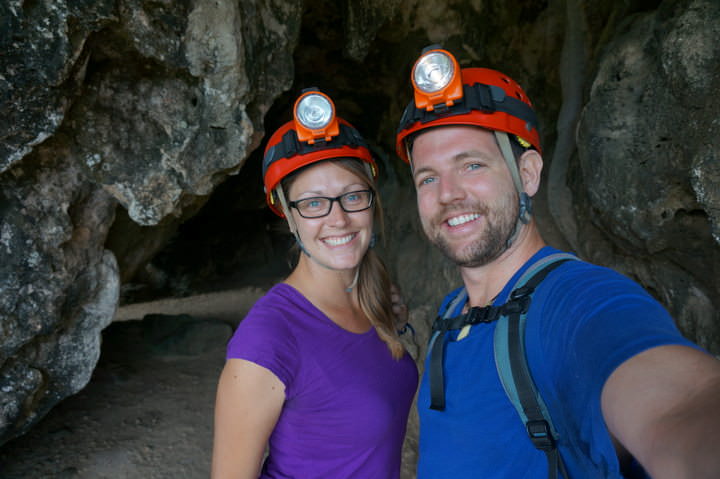 Cubans can enter museums and other attractions as well using the National Peso. For example: If it is 5 CUC for foreigners to get in, it's 5 CUP for locals ($5 vs $0.20). This is one situation where it feels like there is a currency for foreigners and a currency for Cubans.
Although it truly is tourist pricing in this case, we do believe that if it weren't this way, then many of the local people wouldn't be able to visit the historic sites of their country. Tourist pricing is a hot topic, something we've covered in length before, but we won't get into that here.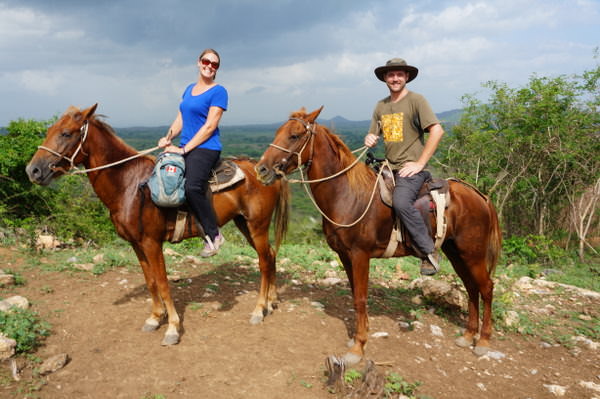 Transportation
The transportation in Cuba is comfortable and reliable, and the options are plentiful. The cost of transport varies with each city, and with all of the transport listed below, make sure the price is per vehicle, not per person.
Here's a rundown on the types of transport, and their costs:
Private Taxis: $2.50 – $7 for a journey within a city.
From the airport in Havana to Central Havana, the cost is $25 for a taxi. An intercity, 60 minute private taxi costs around $30. Cuba taxi prices are quite high compared to other modes of transportation and although taxis have meters in them, they won't be turned on. Arrange a price before you get in.
Shared Taxis (Collectivos): $0.50 / ride in the city (paid with 10 CUP. Don't pay with CUC)
In Havana, very old classic cars run up and down various streets, on a set route. They will pull over and pick up people who are going in their direction, but you must flag them down. If you don't know the route, this can be confusing.
You can also take shared taxis in between cities for (often) the same cost as the bus. From Trinidad to Havana, the cost is $25 / person. Ask at the Infotur offices for more details.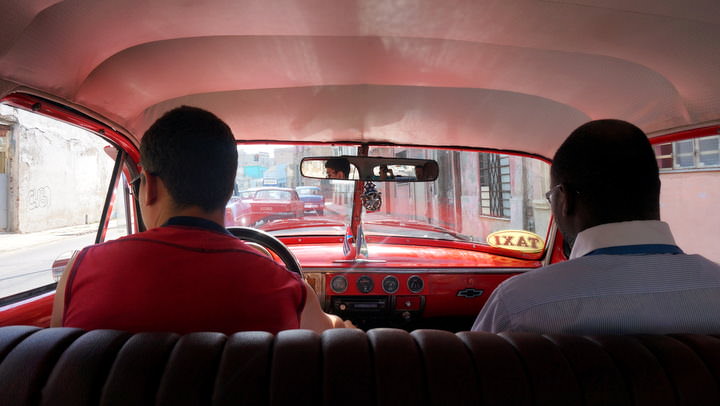 City Bus: $0.04 (yes, 4 cents!)
This transportation is very cheap, but the buses are packed to the brim with people. If you know the route and where you want to go, this is a good option.
Astro Bus: (generally around 1/2 the price of a Viazul bus)
This is the regular choice for intercity buses in Cuba. The prices of the Astro are cheaper than the Viazul below, however, there are only a few seats reserved for foreigners, the buses aren't as new, and they aren't as reliable.
Note: locals pay in CUP, while tourists pay in CUC.
Viazul Bus: $4 – $5 / hour
This is the tourist bus, which has air conditioning, and runs on a reliable schedule. Some sample costs:
Havana to Vinales: $12
Vinales to Cienfuegos: $35
Cienfuegos to Trinidad: $6
Trinidad to Camaguey: $15
Cycle Taxi: $1 – $3 (depending on your bargaining abilities)
This is one mode of transportation where we always felt bad for the poor guy who had to cycle our big butts around in 35 degree heat! Bargain with the cycle drivers, but remember that this is a very hard job.
Scooter: $25 / day ($20 if you rent for 3 days)
This is the best way to get around in our opinion…especially in Vinales!
Check out our video of us scootering around Vinales!
Total Daily Budget:
After spending 25 days in Cuba, we spent $2,175. That's $87 / day for two people. However, I have to say that we lived pretty well while we were in Cuba as it was our vacation from blogging and being online! It would be possible to travel here for less if you ate more peso food, and took the local transportation, rather than Viazul buses.
We did stay in casa particulares, we often ate peso food, we limited the amount of entrance fees we paid, and we took many cycle taxis. However, we did drink mojitos and beers on the regular, ate good food and did a few activities (scuba diving, horseback riding and caving). We also rented a motorbike in Vinales.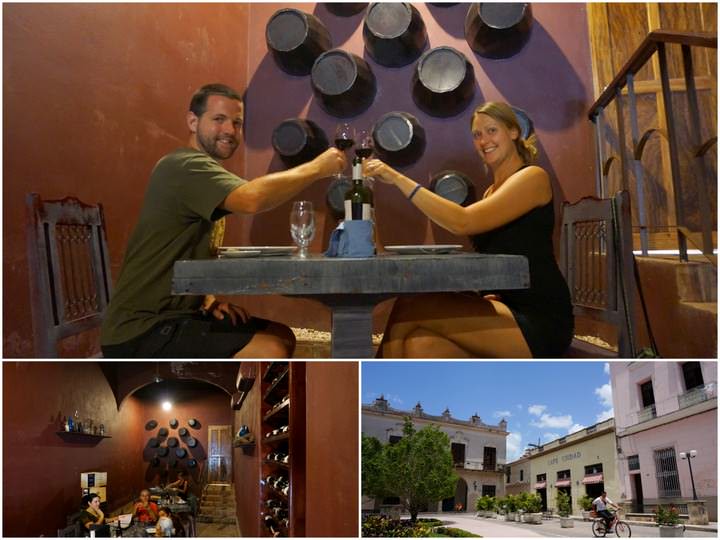 We think that $87 / day for two people to travel around an incredible Caribbean island is worth every penny!
Like This Article? Pin it!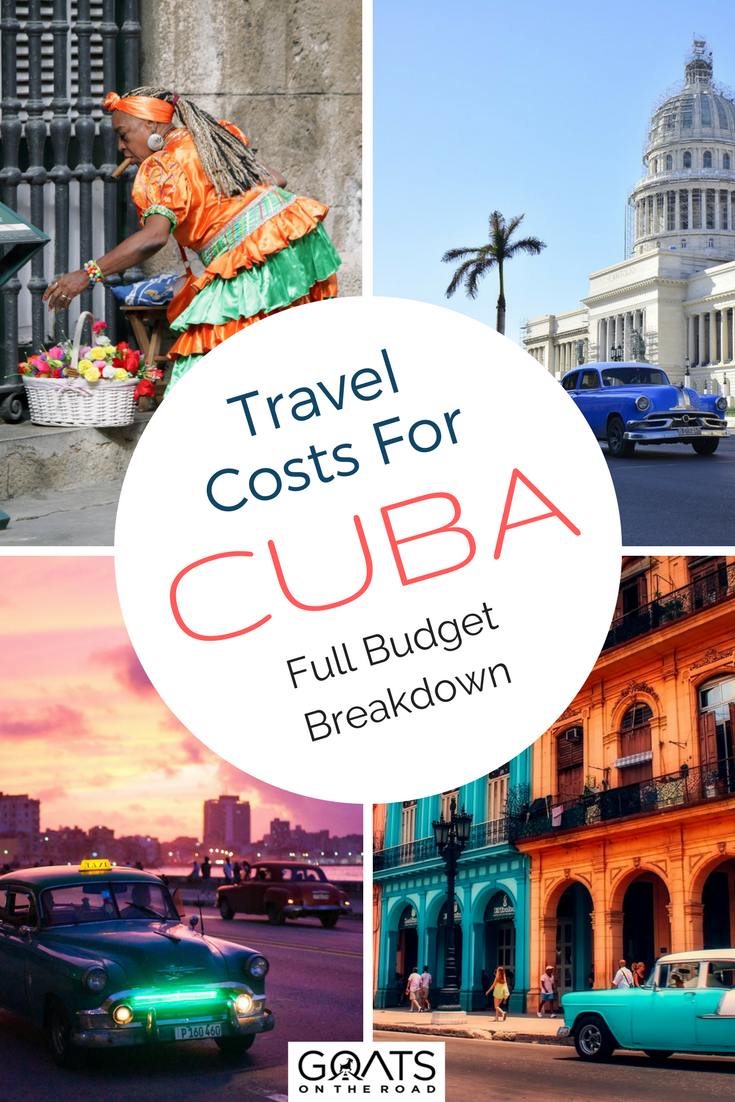 Disclaimer: Some links in this article are affiliate links, which means that if you purchase through them, we receive a small commission. This will never cost you extra and in many cases you receive a special discount. We appreciate your support!