Traveling to Rome will blow your mind! There's just something magical about this city. From the historical sites to the fabulous food, and everything in between. Traveling to Rome is something that everyone should try to do at least once during their lifetime. There are many amazing places to visit in Italy, but Rome is still our favourite.
Here is some essential information and advice (based on our personal experience) to make your trip to Rome a very memorable one.
Traveling to Rome: Planning & Arriving
Here's some key information to know when planning your Rome adventure.
Do You Need A Visa?
Italy is part of the Schengen Area, which is a zone in Europe made up of 26 countries. Essentially, these countries have given up their borders for the free and unrestricted movement of goods, people and services.
Those with a Schengen Visa in their passport (if required), or travellers from countries who can visit visa-free, are able to travel around for up to 90 days within this zone, without having to stamp in and out of countries, or worry about border crossings.
Here is a list of Schengen countries:
Canadians, Americans, British, Australians and New Zealanders do not require a visa to visit Italy. However, you should always do your research and check with your embassy. Click here or here to see whether or not you will require a tourist visa when traveling to Rome.
Purchasing Travel Insurance
Although this isn't a requirement to enter into Italy, having travel insurance is just a good idea! We personally use and recommend Safety Wing.
How To Get from the Airport to the Historical Center of Rome
Once you're in the city, you'll need to figure out how to get from the airport to the center of Rome. Luckily, the transportation system is really good.
From the main airport (Fiumicino – Leonardo da Vinci International Airport) you can take the modern Leonardo Express train, which takes just 30 minutes to arrive at the Roma Termini Train Station. The cost of the ticket is €11 ($12.20).
From the Roma Termini train station, buses link you all over the city. For example, bus #64 and #70 will bring you to the popular Campo de Fiori area.
If you have the Google Maps app on your smartphone, it's easy to figure out which bus you need, and what time it departs. We used this app the whole time we were traveling in Rome.
Traveling to Rome: Budget & Finance
Rome is on the Euro. ATM machines are located throughout the city, and credit cards are widely accepted. You'll have no problems sorting out your currency in this city.
At the time of writing, this is the conversion rate: 1 USD = 1 EUR
Costs
Rome is located in Western Europe, not Eastern Europe, Asia or Central America, so naturally, it's going to cost more than some of the traditional budget destinations.
However, the great thing about traveling to Rome is that there is something for every level of budget, and the value for money is excellent.
You can travel here on a shoestring, midrange or top-end budget.
How much money you'll spend when traveling to Rome really depends on which part of the city you sleep in, which type of accommodation you choose, how many sites you want to see, which restaurants you want to eat at, and how many activities you want to partake in.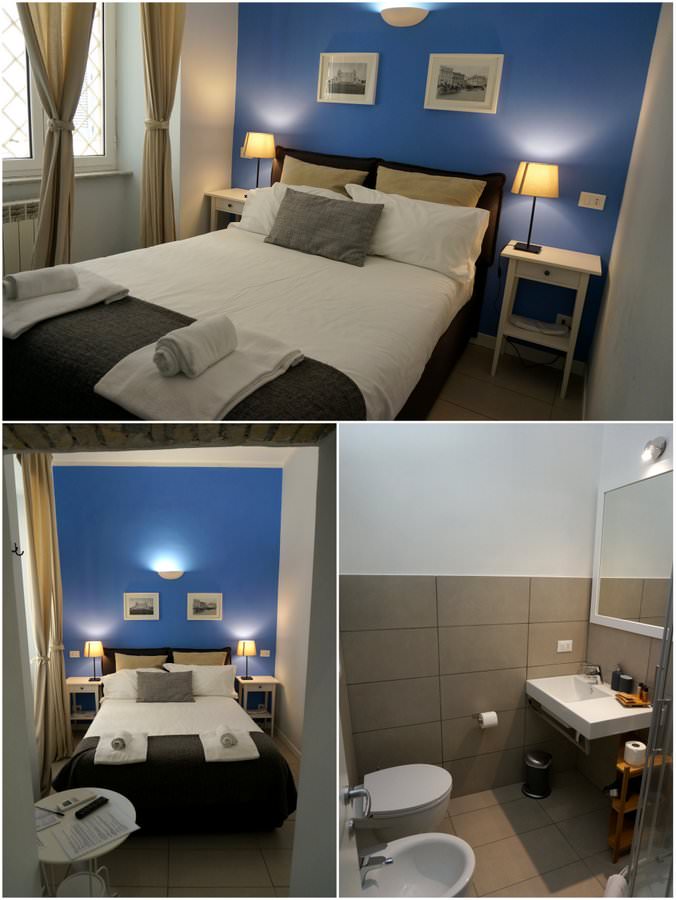 We have suggestions for where to eat and where to stay in Rome below, but here are some examples of the costs in Rome:
Hostel Double Room: Low Season: €60, High Season €80.
Hotel Room: Low Season €80, High Season €150+.
Glass of Wine: €3 – €6
Plate of Pasta: €7 – €12
Pizza: €6 – €10
Coffee: €1.50
We'll get into more details about the costs of things in Rome below.
Tipping & Gratuity
Tipping is not the norm. I repeat… you don't tip when traveling to Rome (or Italy for that matter). This is hard for North Americans to get their heads around, because we are so used to tipping for anything and everything at home, and we feel sooo guilty when we don't leave a tip on the table.
Most Italians don't tip. But, if they do decide that the service was excellent and they want to leave something extra, they will leave 1 or 2 Euros on the table. They won't leave a percentage of the bill. Oftentimes, rounding up the bill is sufficient as well.
Before sitting down and ordering, look at the menu to see if the restaurant charges coperto (cover charge), or servizio (service charge). If it's not listed on the menu, then you do not have to pay it when you receive your bill. Further, if there is a service charge added, definitely don't tip on top of that.
Typically, these charges are added in more touristy areas, and usually, Italians do not pay these charges, as they would eat at restaurants that don't have this fee!
Just one more reason why you should dine where the locals do.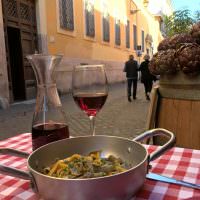 Don't leave tips for coffee, wine, meals, taxis, etc. The one time when it is appreciated and maybe a bit expected is during a tour. Depending on the tour, €5 per person should suffice.
To learn more about tipping and the Dos and Don'ts, click here.
Traveling to Rome: Transportation
There are numerous ways to see the city, but in our opinion, walking is your best bet. This way you'll be able to see all of the "in-between" bits. In Rome, it's really all about the journey, just as much as it is about the destination.
But, if you're too tired to walk, or feel like having a lazy day, check out these options:
Bus
Bus is the next best way to get around. The bus system is really good in this city, with buses running from 5:30 – midnight, and special buses running during the night. There are many routes to take, with Roma Termini being the main bus terminal (located just outside of the train station).
There are numerous routes around Rome, but these are some of the popular ones for tourists:
#40 (Limited stop express) – Termini – Piazza Venezia – Argentina – Piazza Pia (for St Peter's/Vatican)
#64 – Termini – Piazza Venezia – Argentina – Vatican
#62 – Repubblica – Spanish Steps – Piazza Venezia – Argentina – Vatican
#81 – Vatican Museums – Piazza Imperatore (Spanish Steps) – Piazza Colonna (Trevi Fountain) – Piazza Venezia – Circo Massimo – Colosseum
#60 – Termini – Piazza Venezia – Colosseum – Circo Massimo
H – Termini – Piazza Venezia – Argentina – Trastevere
#8 (Tram) – Piazza Venezia – Argentina – Trastevere
A bus ticket can be purchased from a newspaper stand, tobacco shop, or corner store, and cost €1.50 each. These are valid for 100 minutes from the time of activation (note: you must scan your ticket once on the bus to activate it), and you can transfer to another bus with the same ticket – within the 100 minute period.
Other options include:
24 Hour Ticket – valid for unlimited metro, bus, and train travel within Rome for 24 hours from validation. €7.00
48 Hour Ticket – valid for unlimited metro, bus, and train travel within Rome for 48 hours from validation. €12.50
72 Hour Ticket – valid for unlimited metro, bus, and train travel within Rome for 72 hours from validation. €18.00
C.I.S. €24.00. Weekly ticket – valid for 7 calendar days
Traveling to Rome: The Neighbourhoods
One of the many great things about traveling to Rome is the cool neighbourhoods! There are many areas that you can choose to base yourself in, but here are the most popular:
Roma Termini District
This is where you'll find the most budget and mid-range accommodation options. It's also the perfect area in terms of transport connections. This is where the Roma Termini train station is located, which is where some international trains depart from, as well as metros, and buses around the city.
You can also take a direct metro from here to the airport.
On the flip side, you are a bit further from of all of the main sites, and the area can seem a little bit "seedy". On one of our visits to Rome, we personally stayed in this area however and really liked how connected we were, and we loved the walk to the historical area (about 20 minutes), as we were able to see many things along the way.
The Historical Center
This is where most of the famous sites of Rome are located. It's also one of the most expensive areas to stay in, and can be a bit loud and busy. But, the trade-off is that you're just a few steps from everything!
Here you'll find many restaurants and bars, the Colosseum, Vatican City, Piazza Navona and the Trevi Fountain.
Campo de' Fiori and The Ghetto
This area is technically part of the Historical Center, but it doesn't have as many of the "big-ticket" sites, which gives it more of a laid-back feel. Here you'll find many back streets filled with cafes and boutique wine bars. We've also stayed in this area and enjoyed being in the action.
Just southeast of Campo de' Fiori is the Jewish Ghetto, which is an atmospheric neighbourhood with lots of accommodation options.
Monti
This is an up-and-coming, hip area in Rome. Back in Roman times, this was the red light district. Things have changed now, and Monti is located in a great spot for sightseeing – it's just steps from the Colosseum.
Trastevere
This is one of the most quaint neighbourhoods we've ever been to. Located on the other side of the Tiber River from the Historical Center, this is where you'll find cute restaurants, small plazas and baroque-style architecture.
The buildings here are actually shorter than the rest of Rome as well, meaning it stays lighter, longer.
Trastevere also has many narrow lanes which are perfect for exploring. Even if you don't choose to stay here (and we wouldn't blame you, it's the most expensive area), you should definitely consider checking out this neighbourhood for a meal and an evening stroll.
During our latest trip to Rome, we opted to stay for 3 weeks in Trastevere in an apartment and loved it. This neighbourhood may not be known for its historical sites, but its charm alone makes it worth the visit.
Traveling to Rome: Where to Stay
Now that you know a bit about the different neighbourhoods in Rome, all you need to do is decide on the area that's right for you and book a room.
Roma Termini area
We recommend The Beehive Hostel and Hotel Urbe. The hostel and the hotel are tastefully decorated, modern and secure. The owners are from the United States, but have lived in Rome for many years.
The double rooms and the dorms at the hostel are bright and large, and the shared bathrooms are very clean. There is a great on site cafe serving up wholesome breakfasts and drinks at an added (affordable) cost.
In the low season, rooms at the Beehive go for €60 ($66.50) / night, and in the high-season, their rates are still very competitive at around €80-100 per night for a private room with shared bathroom.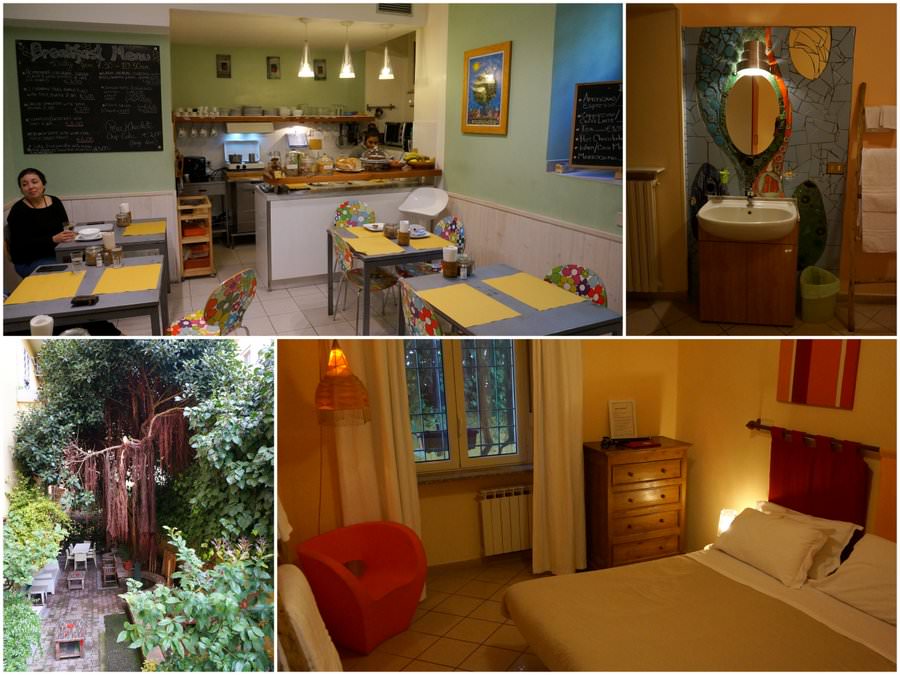 The price includes wi-fi, fan, luggage storage, daily cleaning, hair dryers, safe deposit box, a free travel app for Rome, assistance with onward travel if needed, and more.
Urbe is owned by the same people, but is more of a hotel rather than a hostel. Urbe is just a block from the Beehive, and you can have access to the common areas and cafe at the Beehive.
Rooms have air conditioning, a TV, ensuite bathroom, small fridge and balcony. The price starts at around €100 with a private bathroom.
Historical Center / Campo de' Fiori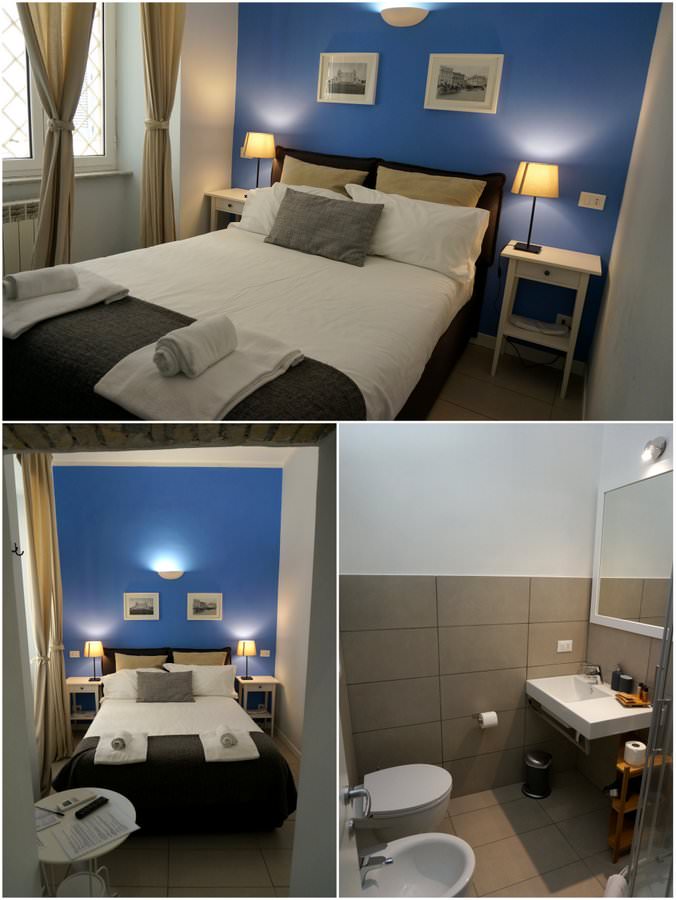 Here we recommend the The Spanish Suites, which is located in a quieter area, yet is steps to the Piazza Navona. You can walk to Trastevere, the Pantheon, restaurants and wine bars. You really can't beat this location.
Rooms here are on the smaller side, but have ensuite bathrooms, a TV, wi-fi, air conditioning and breakfast. The breakfast is small but it's free.
Trastevere
Here you'll find many accommodation options. Have a look at Booking.com for excellent apartments and suites, such as this gorgeous modern loft and this highly rated one-bedroom apartment with balcony. If you'd rather stay in a hotel, have a look at Divine Bed and Breakfast.
For more accommodation options in Rome, check out our in-depth article:
Where to Stay in Rome: The Absolute Best Neighbourhoods & Accommodation Options
☞ Are you planning to travel to Florence after Rome? Check out our article and learn what to do in Florence!
Traveling to Rome: Eating
Not all restaurants are created equal in Rome, and there are many things to watch out for before sitting down to a meal.
Location
How much your meal costs, and how authentic it is, will depend on where you are in the city. If you are in a touristy area (including popular plazas and main tourist sites), then you will be paying more money, for a lower-quality meal.
Avoid a restaurant if you don't see any local people eating there; if you're being propositioned by a waiter outside; or if there is a "Tourist Menu".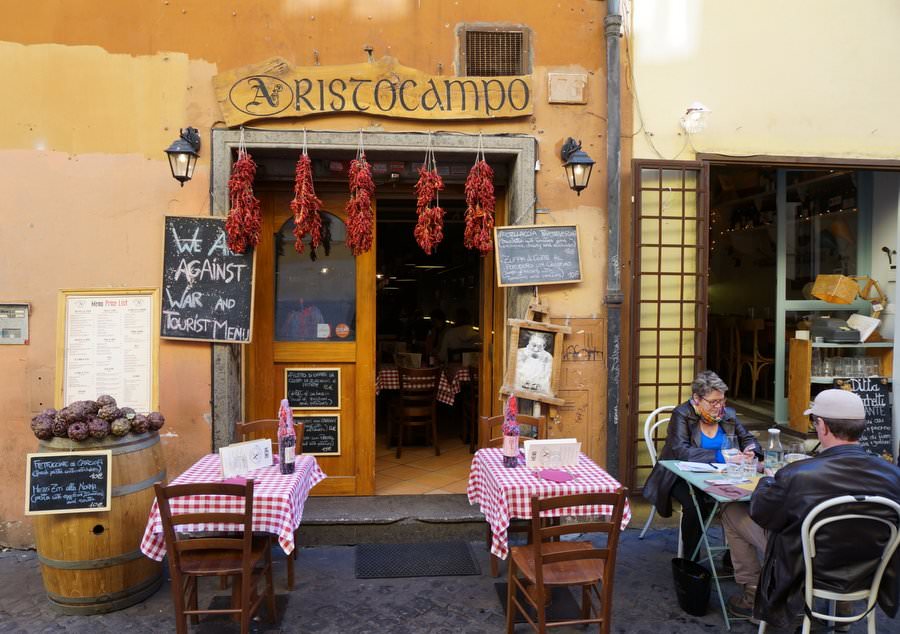 Cover Charge
Many restaurants in Rome have a pane e coperto charge (bread and cover), and if you're not aware of it, you'll be very surprised when you receive your bill at the end of your meal. Depending on the restaurant, you will be charged this fee per person, or per table – whether there actually is bread on your table, or not.
In some places, expect to pay upwards of €2.50 per person. Note, this charge must be written on the menu, or you do not have to pay it. Not all restaurants have this charge either, so if you don't want to pay this fee, just move on.
Stand, Don't Sit
This mostly applies to cafes and bars, as opposed to restaurants. When traveling to Rome, do as the locals do! Italians like to take their coffee and drinks while standing at the counter, rather than sitting down at a table. Part of the reason for this is that there are two menus – banco (standing price) and tavolo (sitting). As you can guess, the prices for sitting are higher.
Servizio Charge
Before sitting down, check the menu to see if there is a servizio (service) charge, on top of the cover charge. This amount ranges from 10% – 20%, and you'll typically only see this in touristy areas. Again, this charge must be listed on the menu, or you do not have to pay it.
Sometimes waiters will try to add it to your bill, so just be aware of all charges before sitting down to a meal. If you do pay the service charge, do not tip on top of it.
Further, if you see a service charge or a cover charge on your bill, but it's not listed on the menu, ask for it to be removed.
Tipping
See above.
As North Americans, it's hard for us to get our heads around not tipping. We cringe at the thought of exiting a restaurant without leaving the customary 20% gratuity. But, try to remember that this is Italy, and not North America. Tipping is not customary here.
Water
For whatever reason, you cannot get free tap water in Rome (even though it's perfectly safe to drink). You must pay €2 – €3 for bottled water. Which is an annoying, additional item on your bill. Not to mention, a needless use of plastic bottles.
Traveling to Rome: The Restaurants
This is the exciting part of the guide! The food in Italy is exceptional (make sure to check out the best restaurants in Florence too), and because Rome is such a massive city, you'll find endless dining options – including traditional Roman food.
Piccolo Buco
Address: Via del Lavatore, 91, 00187 Roma RM, Italy
If you're looking for the best pizza in Rome, this is definitely the place to go. So far, it's probably the best pizza we've ever eaten (and we've been to Naples).
The crust is fluffy and flavourful, the toppings are simple and exquisite. It's a very small restaurant so you'll definitely have to wait for a table.
Ombre Rosse
Address: Via Garibaldi, 27/G, 00153 Roma RM, Italy
A fabulous option in Trastevere. If you're looking to sit outside and people watch in a nice atmosphere, this is a good spot. It's a great place for an apertivo, or a full on meal.
Seu Pizza Illuminati
Located outside of the city center, you'll find this pizzeria. While the decor is modern, the pizzas are authentic and very delicious.
Emma Pizzeria
Address: Via Monte della Farina, 28/29 00186 (Campo de' Fiori)
Website: https://www.emmapizzeria.com
This is a great place to go for affordable pizza. The basic pies start at around €7, with the most expensive pizza costing €18 – this pizza has scallops on it. Make sure to try a pizza with buffalo mozzarella, the quality and flavour is much better than just regular ol' mozzarella.
Emma has a full kitchen as well with starters, pastas, salads and vegetables.
I Suppli
Address: Via san Francesco a Ripa 137, Rome (Trastevere neighbourhood)
This is a favourite street food in Rome, and after sampling it, you'll understand why. Suppli is a ball of rice mixed with herbs and tomato sauce, with cheese in the center of the rice. This ball of rice and cheese is then breaded and deep-fried. The result is a crispy outside with gooey, melted cheese on the inside.
The supplis here cost €1.10 ($1.20) each and are actually quite filling.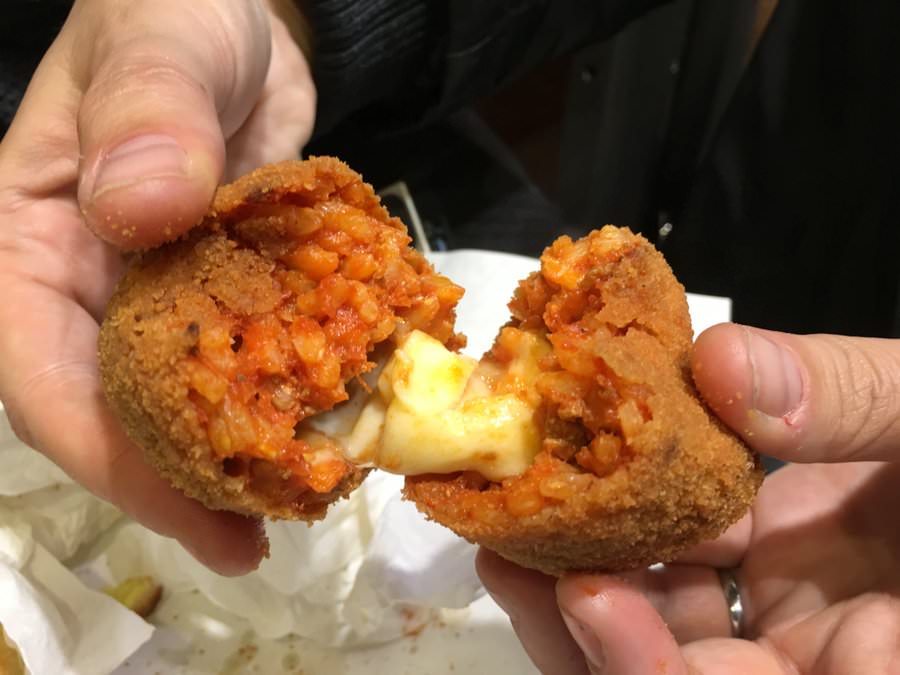 Da Francesco
Address: Piazza del Fico, 29, 00186 Roma (Near Piazza Navona)
Website: https://www.dafrancesco.it/
This is a must-visit restaurant for anyone looking for a buzzing atmosphere, with fantastic food. You must make a reservation for this place, or wait in line outside. The tables here are shared, so prepare to get cozy with your neighbours. The turn around time is also quite fast, so you may feel a little rushed, but it's worth it.
There are daily, seasonal specials, as well as the normal menu. Everything here is tasty and affordable, with fresh pastas starting at €7 ($7.70)
La Prosciutteria
Address: Via della Scala, 71, 00153 (Trastevere)
You will be blown away by the decor and style of this place, and that's just before you sample the food and wine. The restaurant is narrow and has small tables. This place is always busy, so expect to wait in a lineup outside until a table frees up.
The wine and platters of meats, cheeses and breads are fabulous! Don't miss it. Platters for 2 start at €10 ($11), and glasses of wine from €2.50 ($2.75).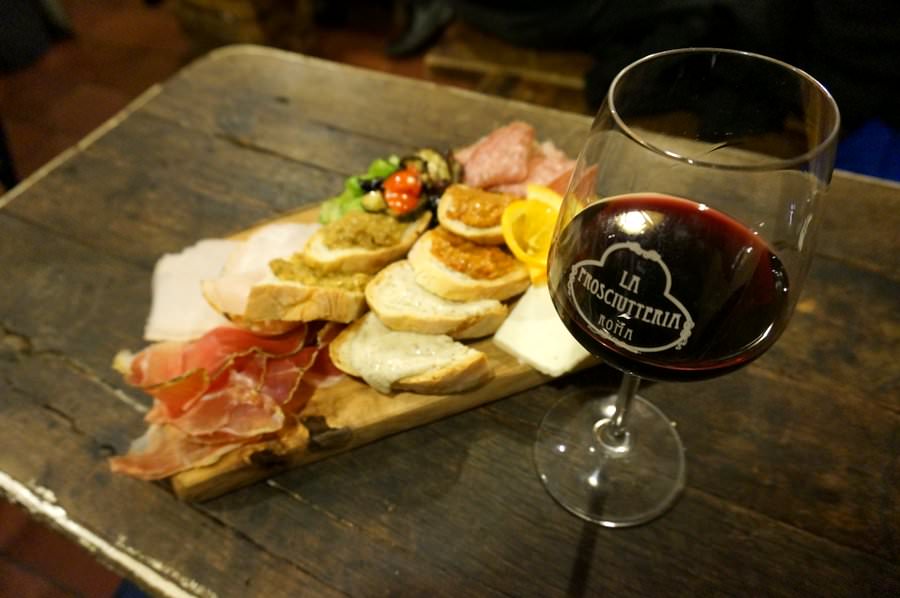 Gelateria Della Palma
Address: Via della Maddalena, 19-23, 00186
Even though the best gelato is found in Florence (in our opinion), the gelato here was very good. Located on a street near the Pantheon, the cones here are tasty and there are many flavours to choose from. Gelato costs €2.50 ($2.75) each.
Traveling to Rome: What to See and Do
Rome is one of the most famous cities in the entire world, due to its history and numerous attractions. This list of things to see and do in Rome could be endless, but here are our top picks.
Pasta Making Class
This is one of the best things we did during our stay in Rome. If you're going to be eating the food, you may as well learn how it's made. A tour with Walks Of Italy will bring you to an apartment with a gorgeous terrace overlooking the city.
You'll learn how to make noodles and sauces for the pasta, but you won't just watch, you get to make your own as well.
Starters and dessert are included, as is unlimited wine. Click here to learn more.
Explore the Neighbourhoods
This is one of the top things to do when traveling to Rome. What better way to actually get a feel for the city than by wandering around by foot?
You'll see small shops, local people, and numerous churches. You'll probably stumble upon some Roman ruins as well. Each neighbourhood has something to offer.
Trevi Fountain
Until recently, this fountain was under construction, but if you are heading to Rome now, you're in luck! It's not just a small fountain with water spouting out of it, it's a masterpiece.
The carvings are intricate and the design is incredible. It's said that if you toss a coin over your right shoulder and into the fountain, you'll be returning to Rome some day. A lot of money is collected from that fountain…
Admission: Free.
Click here for directions.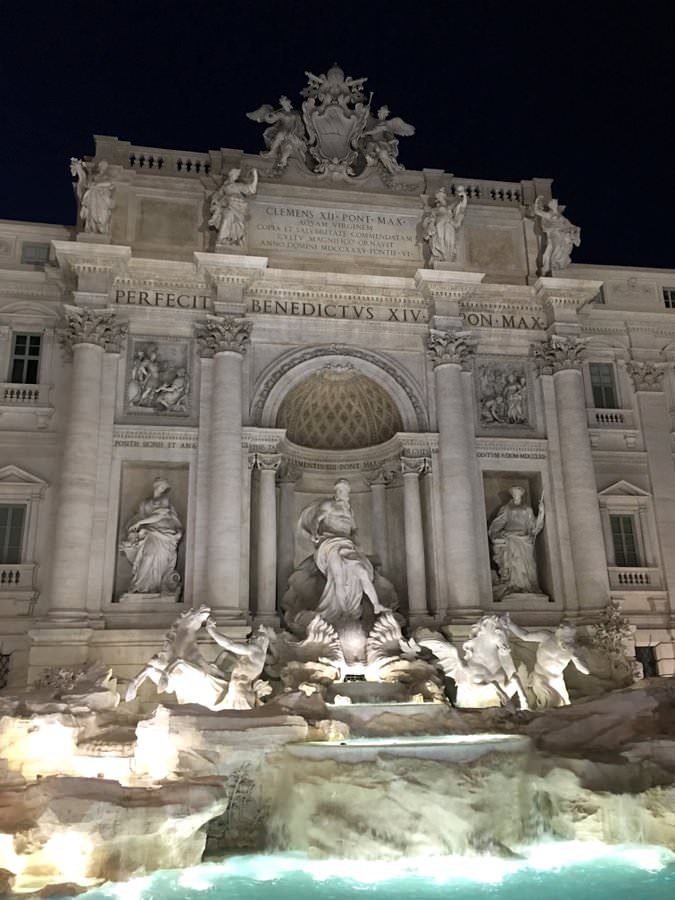 Vatican City
You'll need a whole day to explore this city-state. The Vatican is home to the Pope, the famous Sistine Chapel, and it's the headquarters of the Roman Catholic Church. You can go on a tour to avoid the line-ups (and trust me, they are huge). Click here for a list of tickets and tours available.
Admission to the Sistine Chapel and Museums: around €25.
Tours:
Pristine Sistine – The Chapel At Its Best
Complete Vatican Tour with Vatican Museums, Sistine Chapel & St. Peter's Basilica
Click here for directions.
The Colosseum
This iconic piece of architecture is a must-see for anyone traveling to Rome. Construction was between 70 and 80 AD. You can view it from just the outside, but it's worth spending the money to visit inside, and in particular, the lower level where the gladiators would fight.
Admission: Adults €12, Reduced €7.50 for European Union members between 18 – 24. Free entrance for under 18 and over 65 years old from the European Union. Find a list of various tickets and tours of the Colosseum here.
Tours:
VIP Colosseum Underground Tour with Roman Forum & Palentine Hill
VIP Colosseum at Night Tour with Underground and Arena Floor
Click here for directions.
The Pantheon
Entrance to this stunning building is free, and because of this, expect crowds. To this day, the dome here is the largest, unreinforced, concrete dome in the world. The granite columns are massive and the marble flooring is gorgeous. Don't miss it!
Admission: Free
Click here for directions.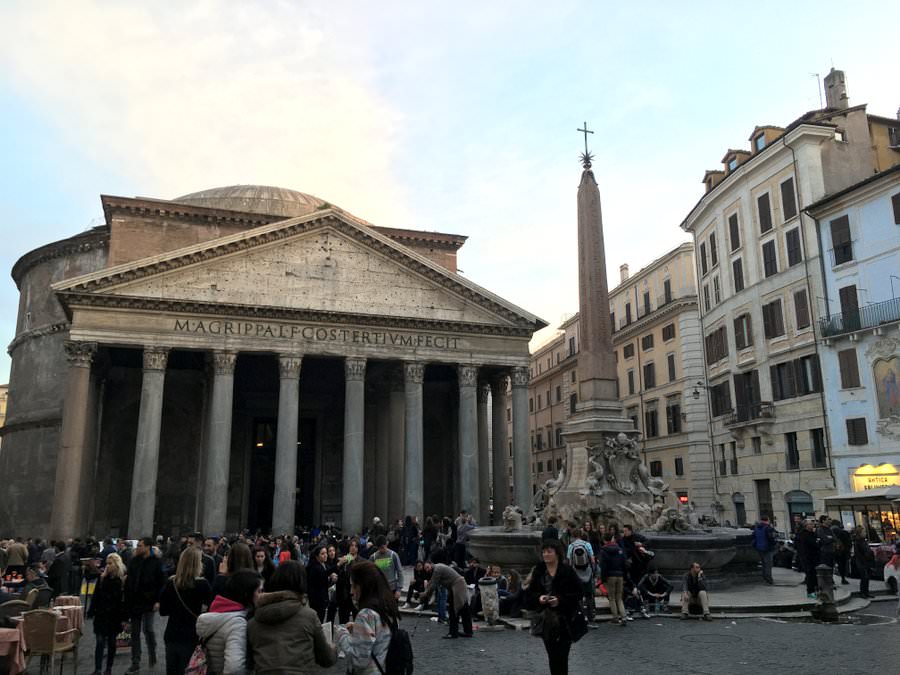 Check Out a Wine Bar
Wine bars are common all around the city, and can be a lot of fun. The bars are typically very small and wine is sold by the glass (no table service). The really good bars will have people spilling out onto the street, with a glass of wine in hand. This is a great way to spend a night in Rome.
Walking Tour
To get your bearings in Rome and to learn about the city's history, join a walking tour. Typically the groups will be small and intimate, and the information is useful. Click here to learn more about the walking tour from Walks of Italy.
Church of San Luigi dei Francesi
There are over 4,000 churches in Rome! Obviously you won't be able to see them all, but we recommend visiting the Church of San Luigi dei Francesi. The ceiling is stunning, and in the Contarelli Chapel you'll find paintings by the famous artist Caravaggio from 1599-1600.
Admission: Free
Click here for directions.
The Basilica di Santa Maria Maggiore
This is the largest church in all of Rome, and is one of the oldest as well (built in 440). The interior is filled with art, artifacts and mosaics. Try to time your visit for August, when thousands of petals fall from the ceiling to commemorate the summer snowfall.
Admission: €3 for Basilica
Click here for directions.
Watch Street Performers
In many (most) of the plazas around the city, you'll see street vendors and performers. Look out for the spray paint artists and musicians! Sitting in the plaza while watching the performances with gelato in hand makes for a great couple of hours. In particular, check out Piazza Navona.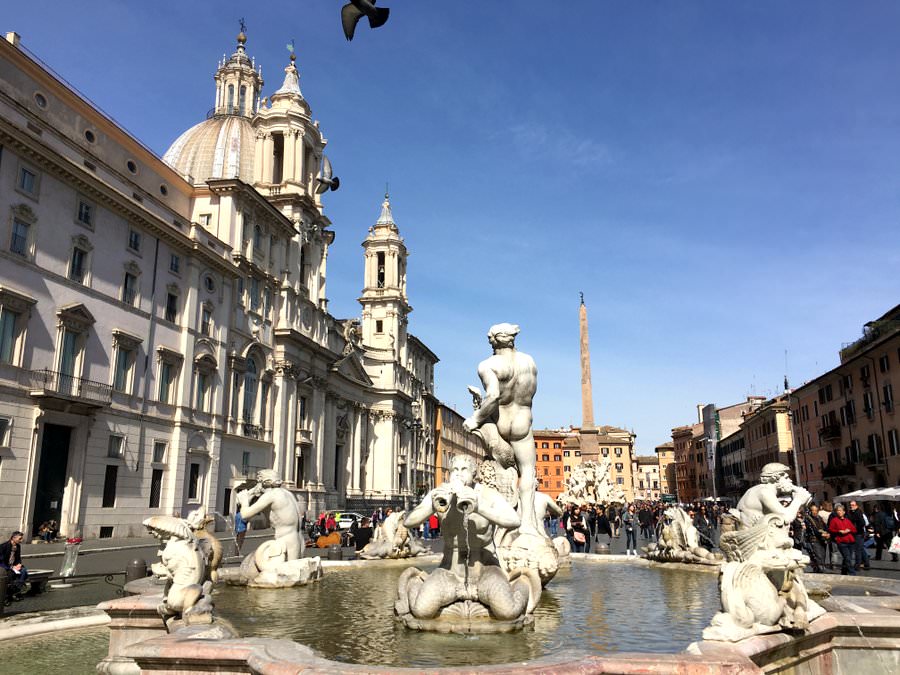 Go For Cappuccino
In Italy, the only coffee you should be having in the morning is a cappuccino! The cafes and coffee "bars" are bustling in the mornings with croissants flying off the shelves and coffee being frantically prepared for the many customers. It's quite the experience.
Alter Of The Fatherland
This monument dominates the Piazza Venezia. You really can't miss it. Built in honour of Victor Emmauel, the first King of a unified Italy, the Alter Of The Fatherland has actually sparked a lot of controversy.
The construction destroyed much of Capitoline Hill and old neighbourhoods – many Romans believe this site is pompous. Regardless, it's quite the feat of architecture and you should visit the inside, and the rooftop.
Admission: Free
Click here for directions.
Traveling to Rome: Scams, Hassle and Annoyances
There are scams and annoyances in nearly every city in the world, and Rome is no exception. However, compared to other major metropolises such as New York, Paris or London, Rome is a very safe city. Violent crime toward tourists is basically unheard of.
Walking around at night is safe as well, so don't be afraid of the dark.
We were told stories of how there are pickpockets everywhere in Rome, and how they are the masters at it. Although this is true, we didn't have any issues with this. Keep your belongings close and don't let your guard down, especially in public transport and busy squares.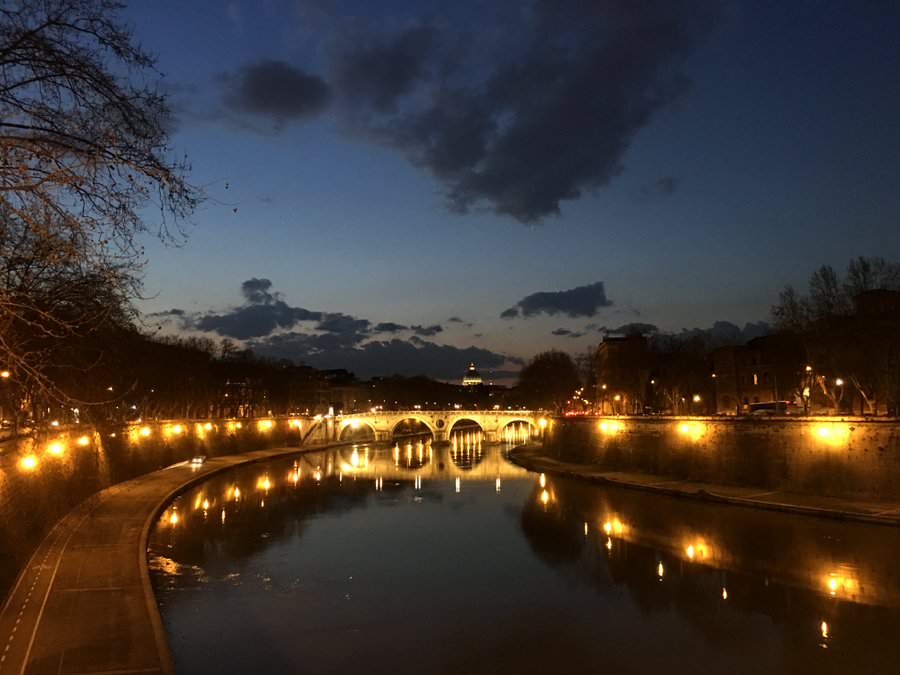 For women, expect some cat-calling, ciao Bella (hey beautiful!) can be heard practically everywhere in the city. Italian men love women – both local and foreign. Typically, the men aren't threatening and if you're not interested, simply ignore them, or swear at them.
As with many parts of the world, there are taxi scams as well – especially towards new tourists to Rome. Always make sure your taxi driver is licensed and that there is a meter running.
Use your smartphone as well to follow the map while the taxi is driving. This will make him aware that you know the route and he'll probably avoid taking you on a random trip through Rome.
Traveling to Rome is For Everyone
No matter your age, your nationality or what sites and activities you're interested in, you'll find something you love in Rome. With such an incredible history, wonderful sites, divine cuisine and an overall energy like no other, how could anyone not love Rome?!
This is a city that has so much to offer, you could return again and again.
For more about traveling to Rome, check out:
The Goats Do Rome: Our Week in The Eternal City
Where To Stay in Rome: The Absolute Best Neighbourhoods and Accommodations
Also, have a look at our videos from our time spent exploring Rome:
Like This Article? Pin it!