Beautiful white sand beaches, challenging treks, intriguing Islamic culture, amazing architecture and some of the most breathtaking scenery in Asia or Europe, this cross-continental country is the perfect spot for the ultimate holiday. But before put away your Holiday Planner, make sure you're completely ready for a trip to this spectacular destination.  This guide will help you ensure that you've ticked all of the boxes and you're ready to maximize your fun in Turkey!
Booking Your Flights:
Most likely you'll be flying into Istanbul and this city is a great place to start your Turkish holiday, but make sure you know which airport you're flying into. Both the Istanbul Ataturk International Airport and Sabiha Gokcen International Airport have international services and connections but the latter is twice as far out of town (45km)! It's nice to know where you're landing and how much your taxi or bus should cost when you arrive.
Taxis are available from Sabiha Gökçen Airport to the historic Sultanahmet district. The ride takes between 60 and 90 minutes and costs around 85 YTL (€35).
From Ataturk Airport the taxi will cost about half as much, but there also frequent tram services that cost only a couple of Euros!
Travel Insurance
It's wise to have insurance when travelling anywhere and nowadays you can find great deals on holiday insurance online. Check out Holiday Extras Insurance as they have a wide variety of plans that cover all budgets.
Make sure your plan covers every aspect of your trip to Turkey. If you'll be scuba diving, trekking, surfing or sky diving, you'll need to ensure that your insurance will have your back in case of an emergency.
Your First Night's Stay
There's really no need to book your hotel stays all at once. Turkey has a wide variety of rooms for all budgets and you can usually just show up and get a room. But it is a good idea to book your first night's stay so that when you land, you have peace of mind in knowing that you have a comfortable place to stay that night.
Your Itinerary
Now comes the fun part! Where do you want to go in Turkey? There are literally hundreds of places worth visiting here so you'll have to narrow it down to suit your type of holiday. To make things easy, we've listed some places that are good for different styles of vacations.
A Beach Holiday:
Kabak: Find your way away from the package tourists and dip in the aquamarine seas at this beautiful little cove. There are accommodation options to suit all budgets and you can stay right on the sand, or on the massive cliffs overlooking the bay. Kabak is our favourite beach in Turkey.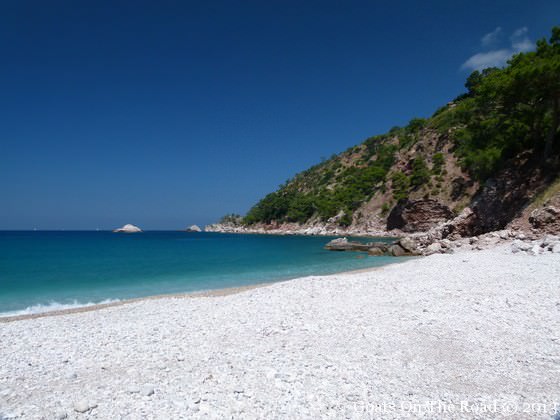 Ölüdeniz: Literally translated to "Blue Lagoon", this stunning stretch of pebbly sand is frequently listed as one of the most beautiful beaches in the world and while we believe there are far nicer beaches, Ölüdeniz is a beautiful place to lounge and gaze out at the sparkling Mediterranean Sea.
Iztuzu Beach: Named Turkey's most beautiful beach by Trip Advisor, Iztuzu is a stunning sandy cove that is fringed by pine-covered hills. This is also a nesting place for turtles so if you time your visit, you may be able to see the tiny baby turtles desperately attempting to make it to the sea.
A Trekking Trip:
Cappadocia: Probably the best place for hiking and trekking in Turkey, Cappadocia is a lava-covered plain located between the volcanic Erciyes, Melendiz and Hasan mountains. There are dozens of marked trails to follow in the area and you can see the Troglodyte way of life in Göreme and Nevşehir.
Fethiye: The start of "The Lycian Way", Turkey's premier long-distance trek, Fethiye is the perfect place to get stocked up for this epic, 25 day 509 km trek along the Mediterranean coastline.
Kaçkar Mountains: If you don't have enough time to take on an epic 25 day trek in Turkey, consider heading to the Kaçkar, a cluster of day-walks through Barhal and Olgunlar villages in the Yusufeli area. A brochure containing 6 walks is available from pensions in these villages.
An Adventure Vacation:
Ölüdeniz: Not just for lazing on the beach, Ölüdeniz is one of the best places for adventure in Turkey. Choose from a dizzying array of adrenaline-pumping activities like sky-diving, paragliding and scuba diving!
Göreme: Situated in Cappadocia, there is possibly no better place in the world to take in the views from a hot air balloon. 
A History Lovers' Holiday:
Istanbul: Your flight into Turkey probably lands and one of Istanbul's airports, so get ready for some incredible history in this 2,000 + year-old city! Make sure to visit Hagia Sofia, possibly the most beautiful mosque you'll ever see.
Ani: You may have to extend your holiday to make it to this little-visited gem on the Turkey-Armenian border. Ani was once the capital of the Armenian kingdom and walking around these ancient, crumbling ruins is sure to be a highlight of your trip.
Harran: One of the oldest known, continuously inhabited towns on earth, Harran's beehive settlements date back to the 3rd millennium BCE!
Now You're Ready!
Now that you have your flight planned, your insurance covered, your room booked and your itinerary set, you're ready to head to Turkey! With great food, excellent history and amazing architecture, Turkey is one of our favourite countries to travel. There are many reasons to travel to Turkey but for us, the friendly people really made our trip. So book your trip and get ready to experience some of the best hospitality the world has to offer!
If you would like more information on travelling to Turkey, check out our Turkey Goat Guide!
Have you been to Turkey? What did you think of the country? Share with us below!
Disclaimer: Some links in this article are affiliate links, which means that if you purchase through them, we receive a small commission. This will never cost you extra and in many cases you receive a special discount. We appreciate your support!