Trinidad was one of the cities that we were most looking forward to visiting during our one month backpacking trip around Cuba. Before arriving, other travellers had spoke of cobblestone streets, brightly coloured buildings and blindingly white beaches nearby. And although we did find all of those features during our week in Trinidad, we also found a few more things that both surprised, and disappointed us.
Don't miss the quick video of our time in Trinidad at the bottom of this post!
As our bus pulled into town, mobs of touts swarmed us yelling and waving signs in the air…we definitely weren't in Cienfuegos anymore – which had no touts and basically no tourists! Luckily, we had already booked our accommodation at Casa Bernardo, so we just by-passed the massive group of people desperately trying to gain the attention of one of the many tourists getting off of the bus.
Needless to say, it was an interesting welcome to Trinidad.
After searching on foot for our casa, we finally spotted it and were greeted by a soft-spoken, kind man named Bernardo. He was the owner and showed us to our room – which just so happened to be the penthouse suite.
Our rooftop room included two huge decks all for ourselves. The bedroom was spacious with two beds, a mini-fridge, a table and an area to hang our clothes. There was an attached bathroom, and (thankfully) the room had air conditioning. Bernardo didn't speak much English, but we were able to get by with our basic Spanish.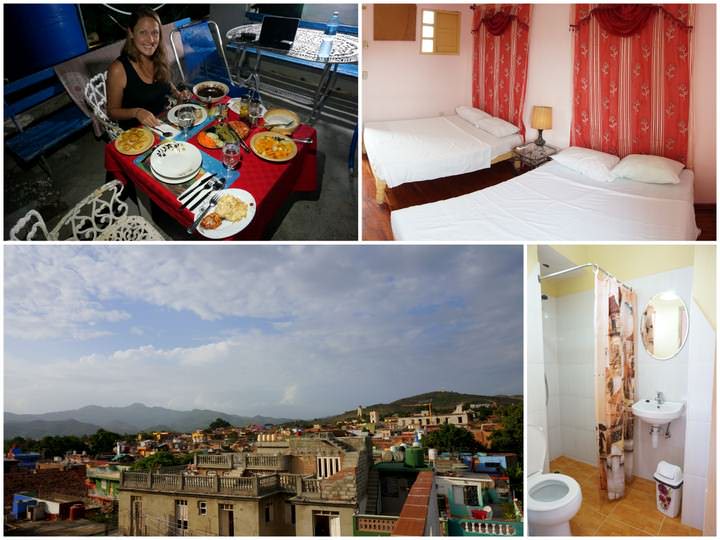 We actually ended up spending our time in Trinidad split between two casas. Our second one was incredible as well. Due to the fact that they were making additions and doing some construction work, they only had two rooms available, which meant that we basically had the whole (detached) house to ourselves!
The room was big and bright, the location was perfect, the breakfast was delicious and the owners Mirelis and Edilberto were very welcoming. The prices in Cuba are very fair for casa particulars, and we highly recommend you stay in them during your travels around Cuba.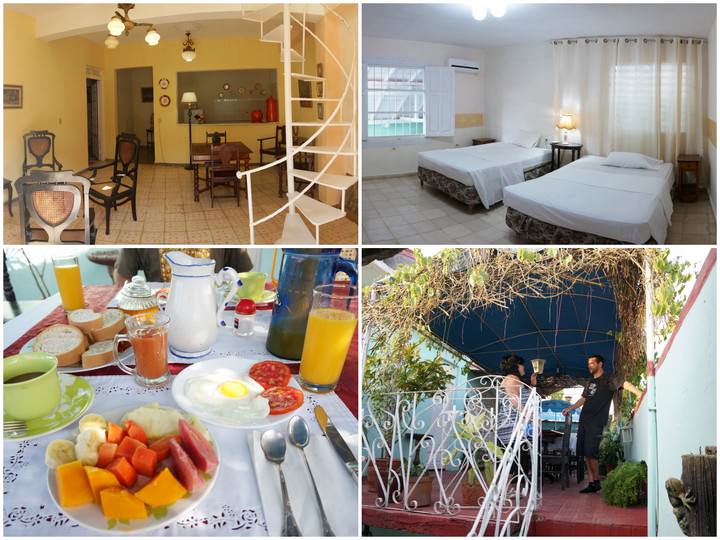 I know we've been going on and on about how wonderful it was to stay at the casa particulares around the country, but that's because it truly is one of the main things that makes travelling in Cuba so unique!
However, I also realize that many people may prefer to travel to Cuba on a tour (meaning you wouldn't have to deal with the crazy mobs!), and if that's the case, check out eshores.co.uk for tours around Cuba, and hotel options as well.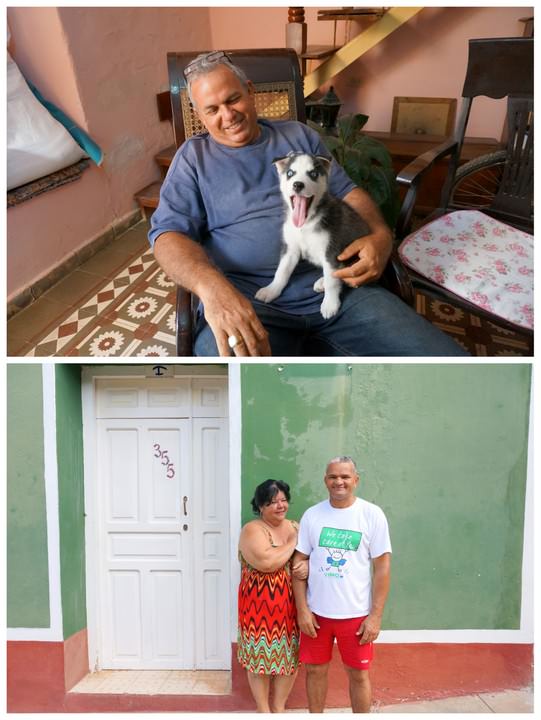 Where to Stay in Trinidad
---
We stayed at Casa Bernardo and at Casa Mirelis in Trinidad and can recommend them both. You can learn more and book a room there on Airbnb. Click here to see the latest price for Casa Bernardo, and click here for Casa Mirelis. It will show an option to rent the whole casa, but you can opt to book just one room.
☞ Click here to compare prices for casas and guesthouses in Trinidad on Booking.com, and click here for Airbnb
When we arrived at Casa Bernardo he offered us a delicious glass of fresh mango juice and after guzzling it down, we were off to explore. The first thing we noticed were the cobblestone streets – how beautiful they looked, and how difficult they were to walk on – followed by the gorgeous buildings and horses trotting by.
Although the city was lovely at first glance, we couldn't help but be in shock at just how many tourists and touts there were. We were in Trinidad in May, which is considered the off-season, and when we were planning our trip to Cuba, we were so thrilled that we'd be arriving outside of the peak period.
Travel Insurance for Cuba
---
You'll need to have travel insurance in order to travel to Cuba. It's actually mandatory that all travellers have insurance, and you may or may not be asked to show proof of insurance on arrival. To get a free quote from World Nomads, just enter your details below:
Casa owners also assumed that this would be the slow season (including the owners of the casas we stayed at), so they started on their much-needed renovations, additions and expansions. As a result, many casas were under construction when the tourists arrived, and some even had to turn travellers away. They simply weren't expecting to have occupancy in May!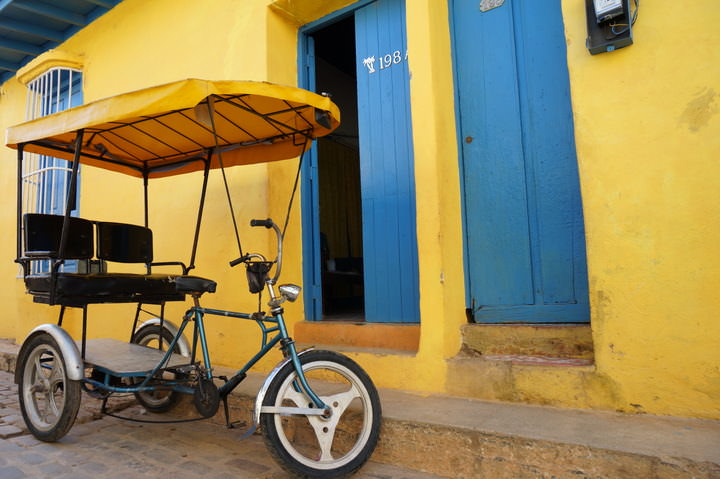 However, we were still able to find our own slices of paradise among the crowds and the hustlers. Just venturing a few streets away from the main Plaza Mayor revealed quiet lanes and Cubans going about their days. We enjoyed watching the horse and carts clambering by, observing locals bargaining for fruits and vegetables and really loved the small-town vibe in some of the areas that we found ourselves in.
Seeing "baseball" being played in the streets, with nothing more than a tennis ball was a great moment as well. For a bat, they used their hands, and for bases, they created squares in the mud on the streets. It was pure, natural fun – something that we don't often see these days, as kids their age are usually inside playing video games or are on their tablets.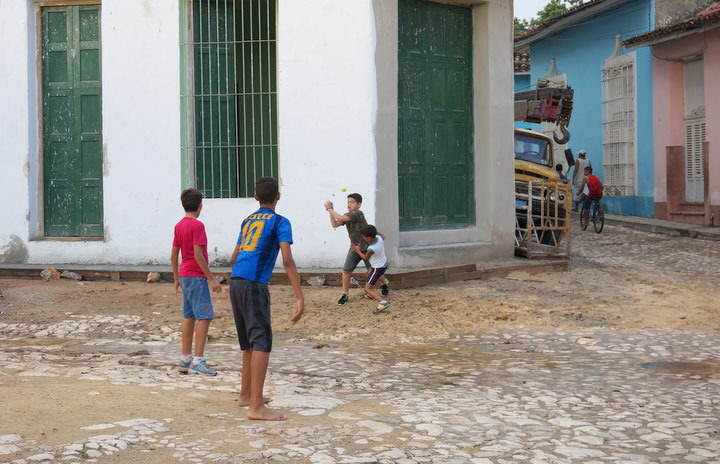 Apart from walking around and exploring the back streets, we also really enjoyed our night's out with salsa and rumba music! That's definitely the highlight of any trip to Cuba in my opinion – the music and the fun that goes along with it.
We found an excellent tavern to eat at (La Botija), which was open 24 hours, and had Happy Hour and specials for 2 hours each day. This was the second best restaurant (#1 for Nick) we ate at in Cuba and the tapas here were fantastic. There was a live band each night and we met some really cool backpackers at the tavern as well.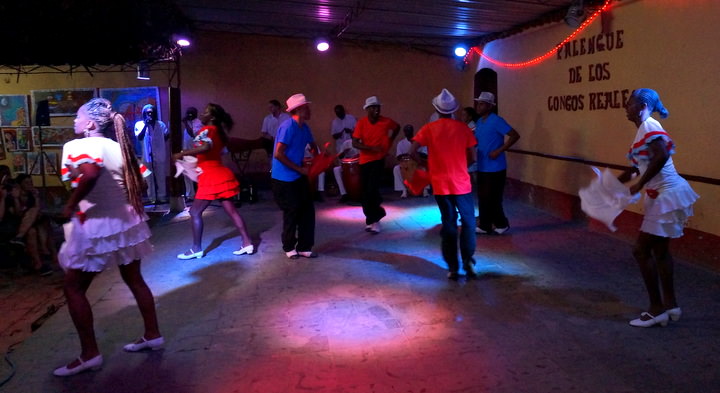 Before arriving in Cuba, we had heard lots of great things about Trinidad's nearby Playa Ancon beach, which is just a quick, 10 minute ride away. So, we decided to check it out – and ended up going back three times!
Playa Ancon is a gorgeous stretch of white sand and greenish-blue water, which spans for 4 kms. There are a couple of resorts on the beach, but there are many open areas to just pull up a blanket or a towel and enjoy the sun. There are a couple of bars as well, the one at the public parking lot makes a delicious pina colada. Our days here were spent lounging, swimming and walking.
If you hangout near Hotel Club Ancon (where the bus will drop you off), you can use their lounge chairs for 2 CUC / day, or you can sit on the sand for free, but still have access to their fresh water shower.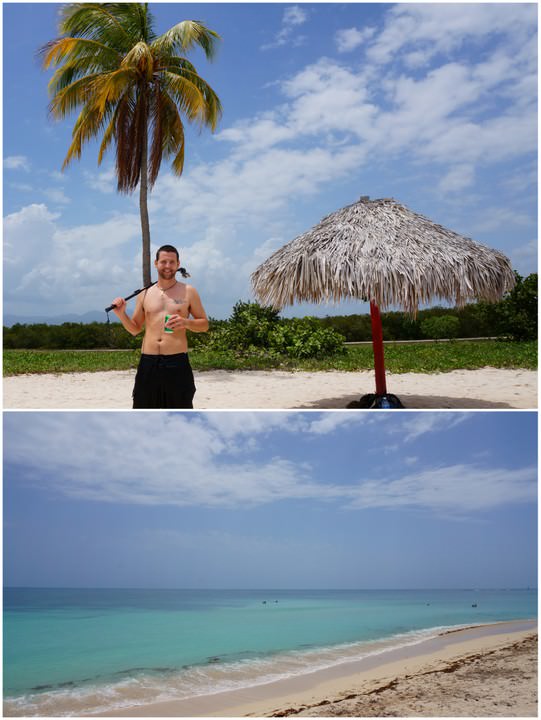 We felt like Playa Ancon was a nice retreat from the hassle and bustle of tiny Trinidad. I do think that the city felt extra busy because of its size. Havana was busy and had some hassle too, but it was such a sprawling place, so the annoyances didn't seem so concentrated. Trinidad however, is quite small, so the touts were right in our face, constantly trying to sell us anything and everything at all hours of the day.
In the end, I think we had mixed feelings about Trinidad. We were expecting an amazing, colonial town, which came highly recommended from travellers, and although we had some great moments in the city and it was really charming, we were a bit distracted and bothered by the constant hassle and unavoidable "tourist pricing". We (personally) preferred our time spent in Havana, Cienfuegos and Camaguey!
Traveller's Tips:
It's a 1.5 hour bus ride from Cienfuegos to Trinidad, the cost is 6 CUC.
You can use wi-fi at The Iberostar Grand Hotel, but you must purchase an overpriced drink. They sell the time cards there, or you have to go to the Etecsa office, which is located in the same plaza/square.
A taxi to Playa Ancon costs 6 CUC for the whole car, each way. Find other travellers to share the costs. Some people got coco taxis down to 8 CUC both ways with wait time.
Another option to get to the beach is to take the shuttle bus, which costs 2 CUC/person/return trip. The bus departs right across from Cuba Tour (9am,11am,2pm,5pm)
Tavern La Botija is located at 71B on Boca and San Jose.
To get to Havana, it's easier, faster and the same price to take a shared taxi! Check out the Infotur office. They can hook you up with a casa-to-casa ride for 25 CUC, the same price as the bus.
The bus from Trinidad to Camaguey is 5 hours and costs 15 CUC.
Don't miss our Ultimate Guide To Independent Travel In Cuba.
Check out our quick 4 minute video from our time travelling in Trinidad, Cuba
A special thanks to HostelsClub.com for showing us the two awesome casas that we stayed at! As always, all thoughts, opinions and reviews remain our own, despite any complimentary services offered. 
Like This Article? Pin it!