If there's one thing everyone should try to do when staying near the beach, it's to search for the local fishermen bringing in the catch of the day! We've done this in a few countries now and we decided to try it again during our stay on Holbox Island in Mexico.. and we're really glad we did.
If you hangout around the docks, or talk to any of the locals, they'll know where the fishermen bring in their bounty. It helps to know a few words in the local language in order to bargain for the price – which almost always will be increased for foreigners.
Depending on where in the world you are, you should be able to get a medium-sized fish for about $3 in Mexico.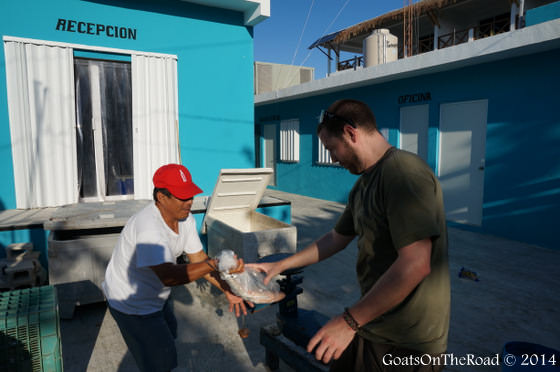 Just point to the fish of your choice, agree on a price, cook it and presto, dinner!
…or usually it's that easy. In some cases, the fish hasn't been gutted or scaled. You'll have to get a knife and do the butchering yourself. Luckily, I don't have to get my hands smelling of fish, I just leave the dirty work up to the expert, Nick.
Going to the local vegetable market is usually the place to start searching for accompaniments for your meal. We love preparing a fresh salad of cucumbers, tomatoes, onions, peppers and carrots. Mix it all together with a little bit of cilantro, squeeze in some lime juice and drizzle with oil.
Rice, bread, boiled potatoes and fried vegetables also go well with a fish dinner.
Not only is it fun to go out searching for a local fisherman and bargaining for his catch, but you can't beat the flavour of freshly grilled or fried fish!
We highly recommend this independent way of enjoying a meal. Sometimes it's nice to cook for yourself while on the road.
Check Out This Quick Video of Our Fishy Adventure!
Like this Post? Pin it!