Tsilivi Beach and Tsilivi Town is one of the best areas to stay in Zakynthos for sure. It has a stunning beach, some great restaurants and plenty of accommodation options. It's a good option for a place to stay on the east coast of Zakynthos, or you can just pop in for a day.
As we stayed in nearby Psarou, we came to the beach here quite often and even though it lost its Blue Flag status for cleanliness and ecological awareness in 2018, it still made our list of the best beaches to visit in Zakynthos.
About Tsilivi Beach
Also commonly referred to as Planos, this was one of our favourite stretches of sand in Zakynthos. It's a beautiful, wide beach with plenty of restaurants and things to do nearby. I was really surprised to hear that it lost its Blue Flag status, but when we were there it was after it had lost the award and it still looked incredibly clean to me.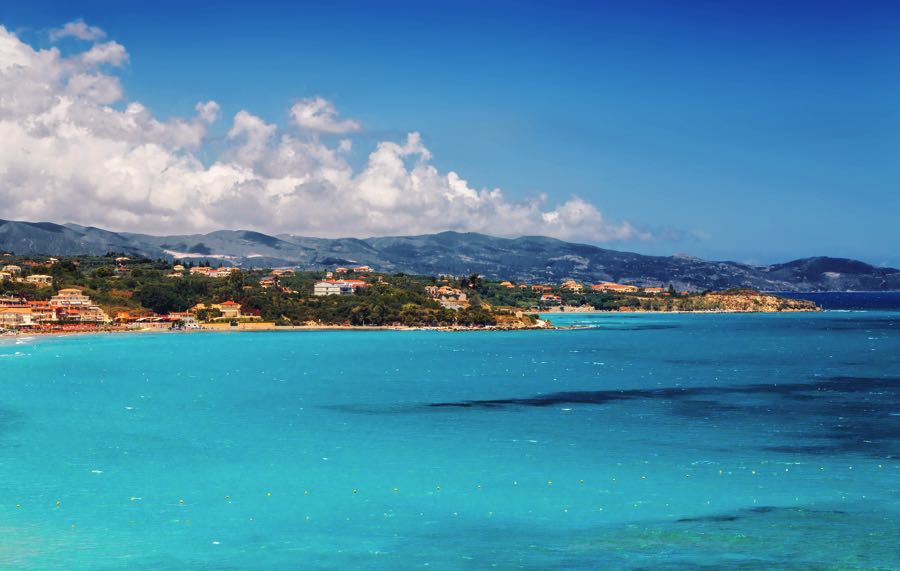 Read More: Planning to travel to different places in Greece? Check out our epic Grece Travel Guide which has everything you need to know about travelling to this beautiful country.
Where is Tsilivi Beach?
Tsilivi is located smack dab in the center of the eastern coast of Zakynthos with Zante Town to the south and Alykes to the north. It's also very close (almost walking distance) to nearby Psarou Beach where we stayed.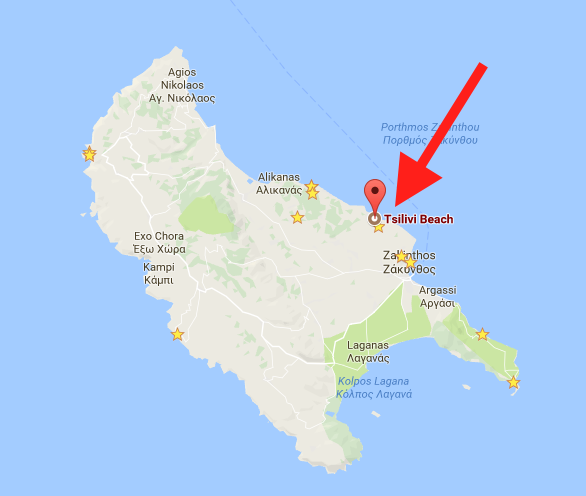 Zakynthos Island itself is located in the Ionian Sea in western Greece. It's a small island of just 405 kilometres² (156 miles²), but it's a popular tourist destination in the summer months. It's around 20 kilometres west of mainland Greece and about 250 kilometres west of the capital of Athens.
Other Popular Places in Zakynthos
How To Get To Tsilivi Beach
The best way to get to Tsilivi Beach (and to all of the places to visit in Zakynthos) is to rent your own car. Prices start at just €15 per day and it's really worth it to have the freedom to explore the island at your own pace.
Alternatively, if you're staying in Zante town or one of the other beach towns on the east coast, you could rent a boat and take it around the many different coves on the west side of Zakynthos before arriving in Tsilivi.
Lastly, there are some public transport options to get you to Tsilivi Beach but the buses in Zakynthos don't run that often and all of them start in Zante Town and make their rounds from there. You'll have to ask your hotel or apartment for the bus times as they change based on season and they're not often posted. Here is the route:
Argassi – Xirokastelo – Vassilikos – Porto Roma – Tsilivi – Planos – Tragaki – Kipseli – Alykanas – Alykes – Katastari – Orthonies – Anafonitria – Volimes – Exo Hora – Kambi – Agios Leon – Agios Nikolaos – Machairado – Galaro – Gyri – Keri – Agalas – Lithakia – Laganas.
Again, the buses aren't that reliable which is why we recommend hiring your own car.
Read More: The Top 15 Best Beaches In Greece
Best Time To Visit Tsilivi Beach Zakynthos
To make the most out of any visit to the beach, you'll want to come at the perfect time of the year when the sun is shining and the water is warm enough for a swim. Furthermore, it's nice to come to the beach at the right time of day. Here's what we think the best time to visit Tsilivi Beach is.
The Best Time of Day To Visit Tsilivi Beach
The best time of day to visit Tsilivi Beach is in the middle of the day between 11 am and 2 pm when the sun is directly overhead and the sand is being illuminated from below. Alternatively, sunset is a good time to come here, though you're facing east so you won't see it hit the water.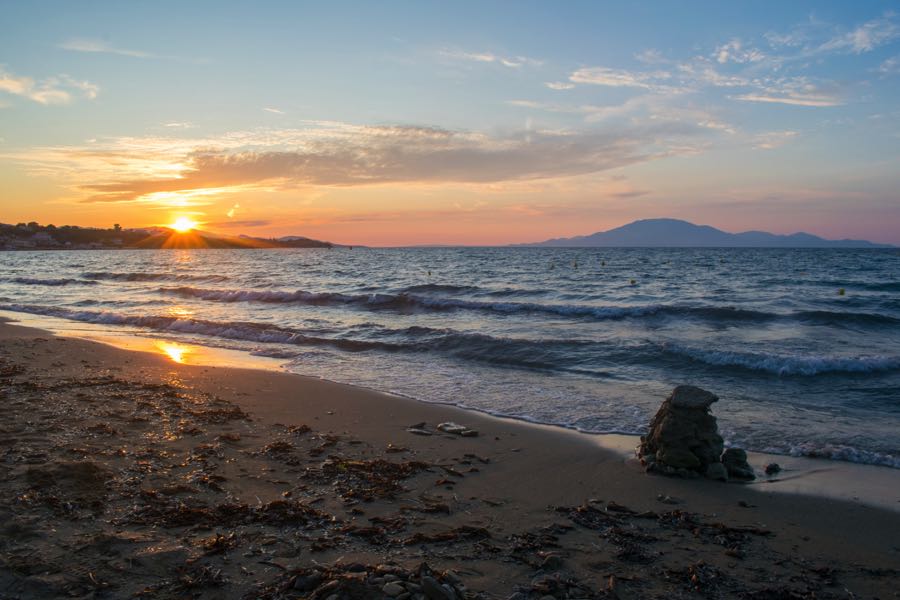 The Best Time Of Year to Visit Tsilivi Beach
The best time to visit Greece is between the months of March and November, but for a beach holiday you'll want to stick to April to September when the sea is still warm enough to swim.
We love to visit Zakynthos in May (or September) as there are fewer tourists at that time but the weather is sunny and the sea is warm enough for a brisk dip.
The Type of Sand on Tsilivi Beach
The sand here is golden, squeaky clean, and soft to walk on. Many beaches on Zakynthos Island and around the Mediterranean are pebbly, making it uncomfortable to walk around in bare feet, but not Tsilivi.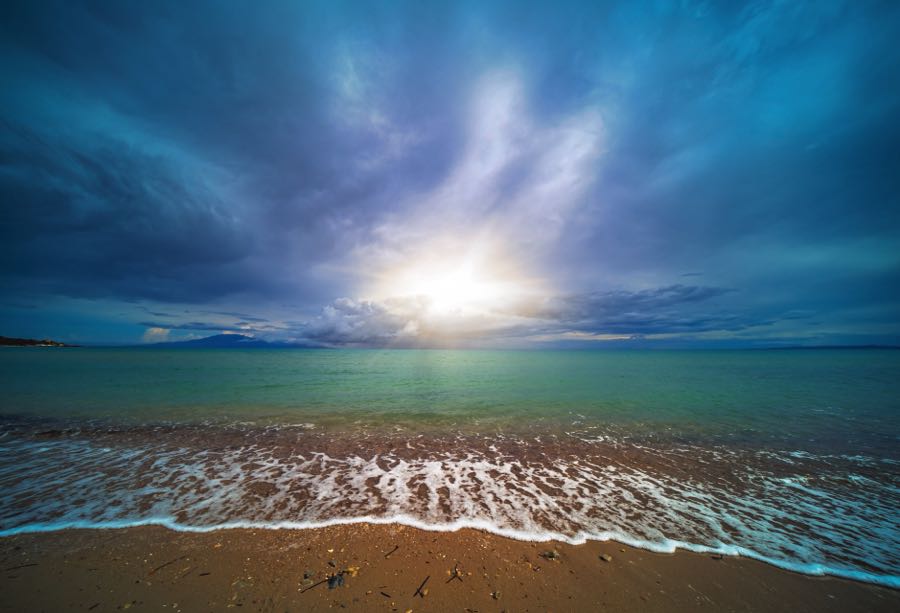 There is a gradual drop into the ocean so it's a great place for shallow water sports like frisbee, and also a good place for families. The water is almost always calm as it's in a relatively secluded bay.
Facilities on Tsilivi Beach
There are plenty of facilities on Tsilivi Beach Zakynthos to make you comfortable. There are sunbeds and umbrellas for rent from €7 per day for two sunbeds and an umbrella. There are also some watersports like windsurfing, water skiing, banana, pedaloes, jet skiing, and paragliding.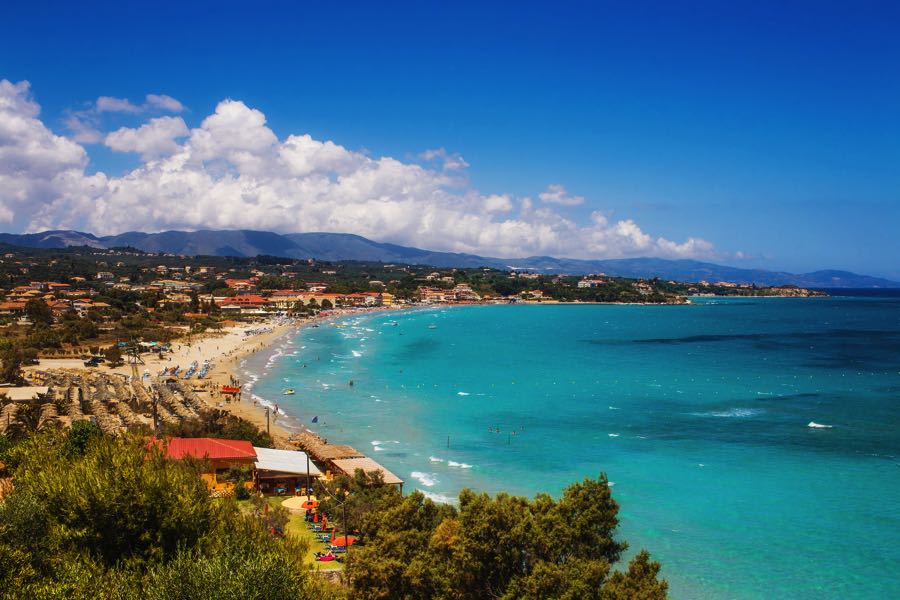 There are some equipment rental places on the beach as well and plenty of restaurants. Many of the restaurants also have sunbeds and umbrellas for rent, as well as toilets. Some of them also have beach showers.
Where To Stay Near Tsilivi Beach
There are quite a few options for hotels, guest houses, villas, apartments and resorts around Tsilivi Beach. There are also some nearby beaches like Buka Beach, Gaidaros Beach and Belussi Beach, all of which have their own accommodation options and are within walking distance.
Here are the best hotel and apartment options near Tsilivi Beach:
Katarina Rooms
📍 Méson Yerakaríon, Meson Yerakarion, 29100, Greece
★ 9.6/10 (100 Reviews)
💵 Rooms From €60/night
If you don't mind driving 10 minutes from Tsilivi Beach area to Psarou, you can stay where we chose to stayed, Katarina Rooms. These super-modern looking little places offer great value for money. While I've quoted the average high-season price above, we were able to get these for nearly half of that in the shoulder-season (May) so look out for nice discounts when you're out of peak times.
Click Here to see the latest prices on Booking.com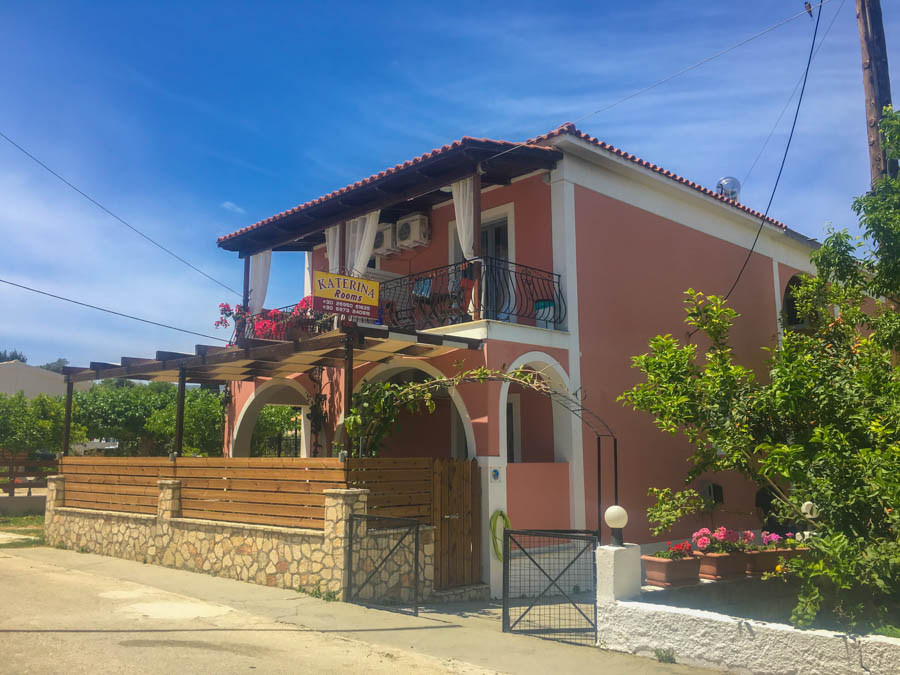 Olea All Suite Hotel
📍Katastari, Amoudi, 29100, Greece
★ 9.3/10 (119 Reviews)
💵 Rooms From €392/night
Just an 11-minute walk from Tsilivi Beach, this beautiful luxury hotel offers an outdoor pool, a full fitness center and a massive terrace overlooking the sea. The units all have flat-screen TVs, AC, a desk, a private bathroom and a wardrobe.
Click Here to see prices on Booking.com
Zante Maris Suites
📍Katastari, Amoudi, 29100, Greece
★ 9.1/10 (110 Reviews)
💵 Rooms From €200/night
Another beautiful luxury hotel just 13 minutes to Tsilivi Beach by foot, Zante Maris has a variety of rooms, most with AC and views. There is a massive shared pool and some of the more luxury suites have a heated swim-up pool.
Click Here to see prices on Booking.com
Abaton Luxury Resort
📍Katastari, Amoudi, 29100, Greece
★ 9.5/10 (78 Reviews)
💵 Rooms From €300/night
This super-modern looking place has a massive swimming pool and well-decorated rooms. The most luxurious of these have a private pool, while others are set in a contemporary building of 4 units with a swim-up pool on the front of each villa.
Click Here to see prices on Booking.com
SEE MORE PLACES IN TSILIVI ON BOOKING.COM
Best Restaurants Near Tsilivi Beach
While there are a lot of great restaurants right on Tsilivi Beach, you'll notice that the first two on this list are out of town. That's because if you have a car, these places are worth the 10-minute drive from Tsilivi to eat at, but I've also included some right on the sand.
Taverna Psarou
📍 Unnamed Road, Psarou 291 00, Greece
★ 4.4/5 (36 Reviews)
💵 Mains from €8
If you don't mind the 10-minute drive from Tsilivi, then don't miss this place. There's nothing like watching the sunset over Zakaynthos while drinking a delicious glass of wine and listening to the Ionian Sea lap the sand just a few feet away. This was one of the best restaurants in Zakynthos that we went to and in our opinion, having sunset dinner here is one of the best things to do on the island as well.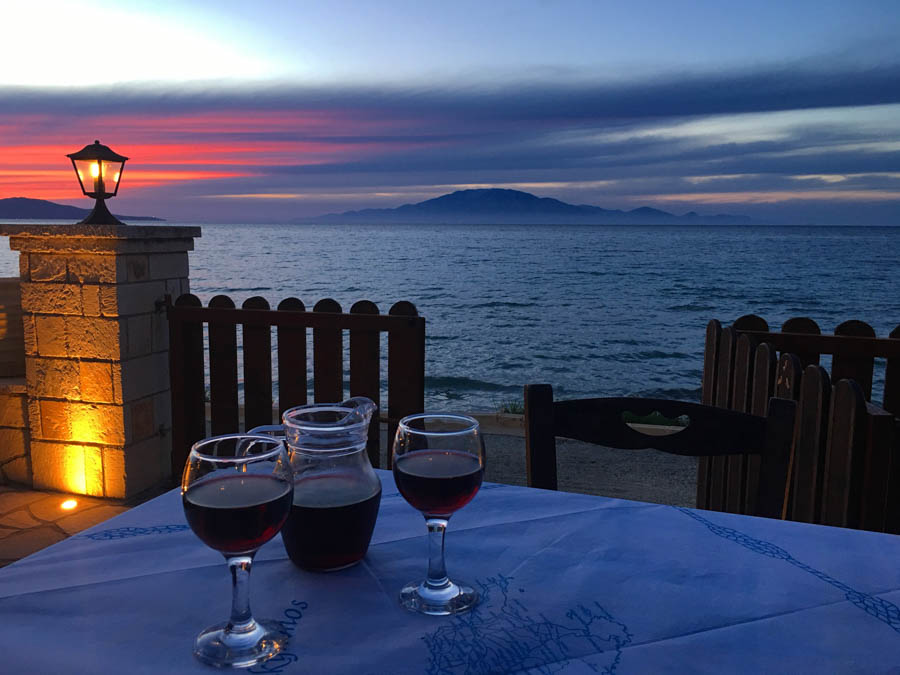 Lofos Restaurant
📍 Unnamed Rd, Meso Gerakari 291 00, Greece
★ 4.7/5 (313 Reviews)
💵 Mains from €7
Again, you'll have to get in the car and drive here from Tsilivi Beach (about 10 minutes), but it's worth it! This is without a doubt our favourite little taverna in Zakynthos. The view from the hilltop here is spectacular and the food and service is amazing as well.
Benikos Greek Gourmet Taverna
📍Planos 291 00, Greece
★ 4.7/5 (351 Reviews)
💵 Mains from €7
This is easily one of the most popular taverns in Tsilivi Town. Set a couple of blocks back from the beach, this family-run place has great service, excellent food and a nice cozy feel. They serve breakfast, lunch and dinner and the wait staff will help you order the freshest seafood on the menu.
Taverna by the Sea Paradeisos
📍 Zakynthos 291 00, Greece
★ 4.6/5 (389 Reviews)
💵 Mains from €8.50
With tables set on a patio overlooking the beach, this is one of the best beach restaurants in Tsilivi Beach Zakynthos. Sit here and gaze out over the sea towards the island of Kefalonia while sipping a glass of red wine and eating delicious Greek food. You can't beat this place for value and quality in Tsilivi town.
Should You Go To Tsilivi Beach?
Tsilivi Beach is not as busy as it's cousins further south but has enough going on to keep you here for a few days. Whether you visit Tsilivi Beach as a stop on a tour around the island or you choose to rent an apartment here and base yourself here to explore Zakynthos, you won't be disappointed.
Soft golden sand, great restaurants, plenty of water activities and a lot of accommodation options make this one of the best areas on the island of Zakynthos.
Like This Article? Pin it!