Swimming with turtles in the Ionian Sea is one of the best things to do in Zakynthos and the islet of Marathonisi (aka Turtle Island Zakynthos) is known by scientists as the most important area for endangered turtle species in the world.
Zakynthos is one of the best places to visit in Greece, so if you're looking to get up close and personal with these beautiful animals, then perhaps there's no place better to do so in Greece than this tiny Ionian Island.
The beach on Turtle Island is so beautiful that it even made our list of The Best Beaches In Zakynthos That You Won't Want To Miss.
Where is Zakynthos?
Zakynthos is a small island in the Ionian Sea of western Greece 249 kilometres west of the Capital of Athens, and about 20 kilometres off the westernmost point of the Greek Mainland.
The island is known for having beautiful beaches (like the famous Navagio Beach), as well as some great restaurants, some all-night party spots and a wide variety of accommodation options.
The best place to see the turtles is on Turtle Island Zakynthos, a tiny little islet off the southeastern shores of the main island of Zakynthos.
What Species of Turtles Are in Zakynthos?
The rare Loggerhead Turtle is what most people come here to see and this is one of the few places in the world where you can be pretty much guaranteed to spot these ancient creatures. This is one of the best things to do in Greece, so it's no surprise that a lot of tourists (and scientists) come to Turtle Island Zakynthos specifically for these turtles.
Known locally as Caretta Caretta Turtles and by tourists as Zante Turtles or Zakynthos Turtles, Loggerheads are one of the world's most frequently studied sea turtles. They get their name form their enormous head and pointed beak. Adults can grow up to 114 cm (45 inches) in length and way as much as 160 kg (352 lbs).
Their shell has a beautiful golden-brown clour and their reptilian skin is yellow and brown. If you've already seen other species of sea turtles while snorkelling or diving around the world, then you'll likely notice the unique appearance of the loggerhead right away.
See Also: The Ultimate Guide To Travel in Greece
Best Time To See Turtles in Zakynthos
The best time to see the Loggerheads on Turtle Island Zakynthos is actually during the best time to visit Greece, between May and October. In 2018, a record number of the animals were found on the shores of Laganas Beach with more than 1,460 nests being counted by scientists.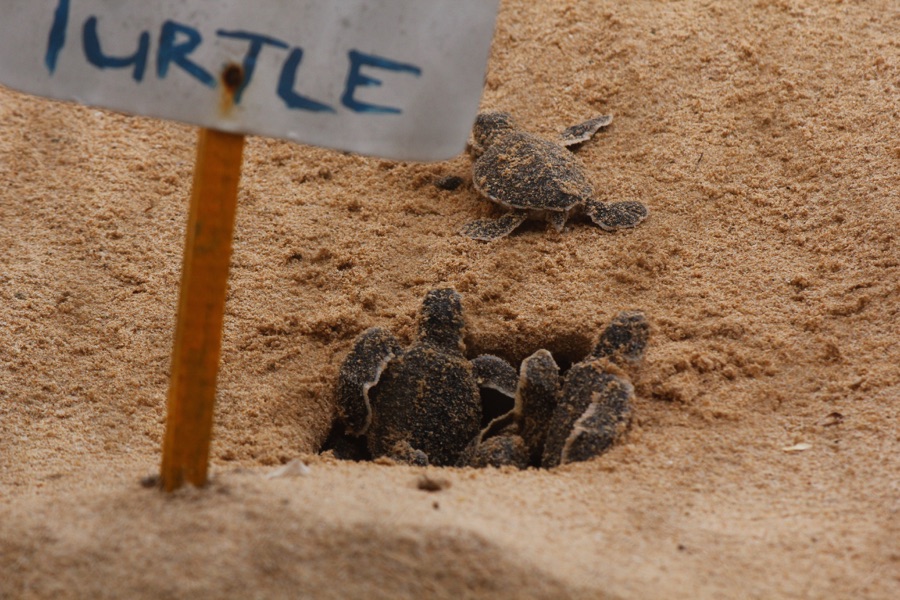 This means that while they are still very rare, the numbers are increasing and you have a better chance of spotting them now than in the past decade or so.
Scientists consider Zante to be one of the most important endangered sea turtle nesting grounds and habitats in the world, so during the summer months, you may find that staff and a few volunteers from the National Marine Park of Zakynthos will be perusing the beaches, handing out pamphlets about the turtles and educating tourists, and stopping people from accidentally damaging their most important nesting areas.
This the summertime is likely the best time to visit Zakynthos if you're looking to see these turtles and learn about them from the experts who study them year-round.
Where To See Turtles In Zakynthos
Whether you want to see them laying eggs, hatching or you want to go for a swim with one of these majestic creatures, one of the best beaches in Greece to see the famous Zante turtles is Lagana Beach on Turtle Island Zakynthos (which is also one of the best beaches in Zakynthos).
It's actually on Laganas Bay on the tiny little islet of Marathonisi (aka Turtle Island Zakynthos) off the southeast coast of the main island. Most people join a tour to get to Turtle Island Zakynthos. More about tours later in this post.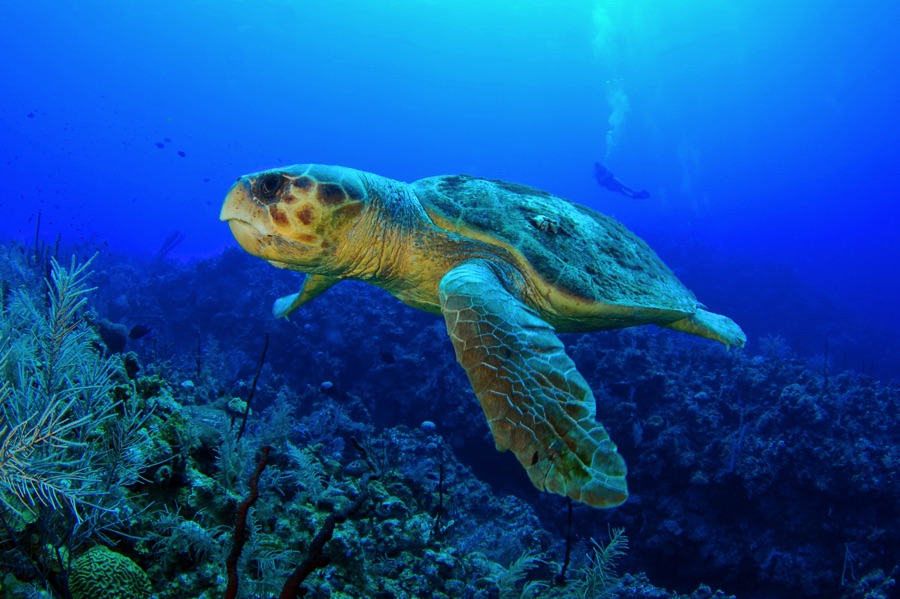 While they do have habitats and nesting grounds on other beaches, this is probably the beach where they are most frequently found. If you head out into the water between May and October, you have a pretty good chance of coming face to face with a Loggerhead Turtle during these months.
Make sure you head out with a mask and a snorkel whenever you go swimming if you want to see the turtles, but make sure to keep your distance and respect the animals. More on how to responsibly interact with these animals later in this post.
Turtle Spotting Tours To Turtle Island Zakynthos
Not surprisingly, given that this is one of the best places in Europe to see Loggerheads, there are plenty of tour operators offering experiences with these turtles. Not all tours are created equal and not all tour companies are eco-friendly, so be mindful when choosing who you go with.
A company with good reviews that always treats the turtles with respect and never allows too many tourists to get close to the animals and stress them out is a must.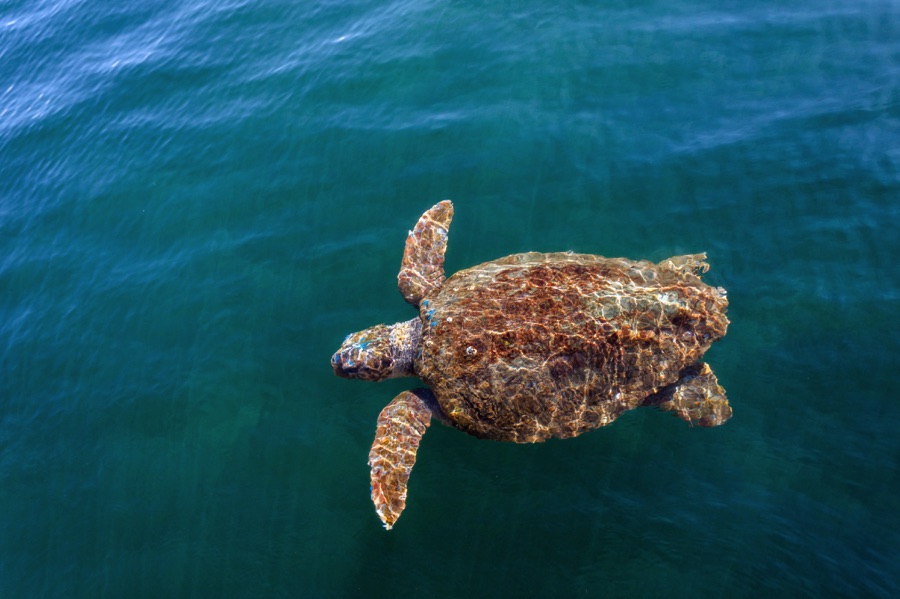 You can learn a lot about a company and their intentions by checking out their website or reading their reviews on Trip Advisor.
Viator has a well-recommended tour that is put on by the Sea Turtle Protection Society. A company on the island that provides a detailed presentation of the famous Caretta Caretta turtle while you cruise out towards the National Marine Park and Turtle Island Zakynthos.
Upon entering the natural habitat of the turtle, guests can take photos of them swimming beneath the glass bottom boat and there are opportunities to snorkel around them as well. This tour is unique in that they abide strictly to eco-friendly behaviour and don't simply drop boatloads of tourists off right next to the turtles.
You'll hop in the water at a specific spot and if you get to see them, great! This tour costs €45 and that's actually around the average cost of turtle spotting tours in Zakynthos.
How To Responsibly Spot Loggerheads in Zakynthos
While these enormous animals with hard shells may seem like they are nearly invincible, they are actually quite sensitive creatures and can easily be stressed out or injured if you're not careful while you're around them.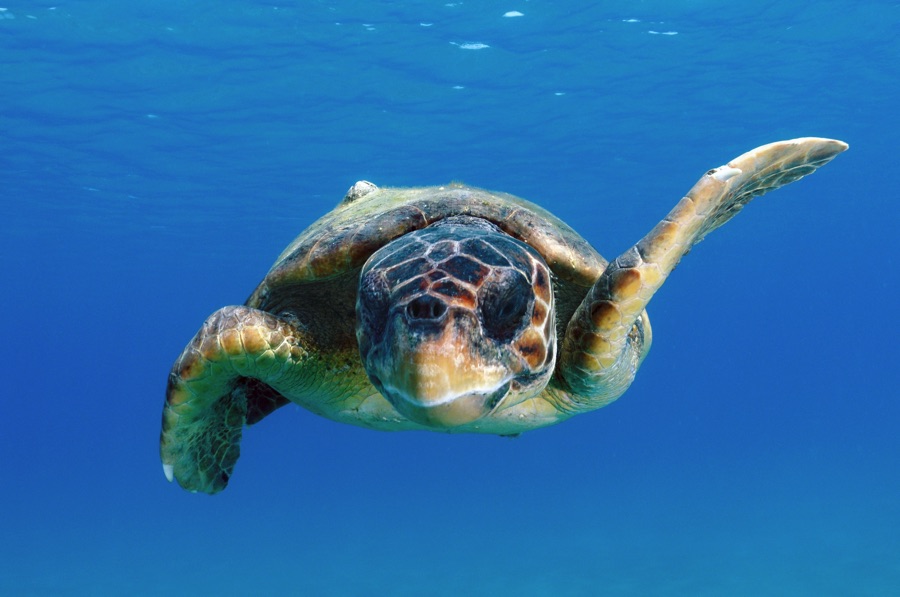 Their nesting grounds are incredibly vulnerable and while the numbers of Mediterranean Loggerhead turtles is growing in recent years, the Loggerhead Turtle is still considered endangered globally.
Here are a few tips to make sure that you're spotting Loggerhead turtles in a way that won't harm them, their eggs, or their fragile habitats.
Keep The Beaches Clean: Plastic and other types of litter is one of the major threats for Loggerhead Sea Turtles in the Mediterranean and in the world. To help ensure that their young have a safe passage to the sea, and to keep their delicate digestive systems free of toxic debris, clean up after yourself at the beach, or better yet, take a garbage bag and do some beach clean-ups while you're in Zakynthos.
Turn Off The Lights: Loggerhead Sea Turtles' eyes are actually extremely sensitive and their babies use the moon to guide them to the sea when they hatch. Be mindful of bright lights on your devices. Never point flashlights directly at them and if you're taking photos, turn off the flash (even in mid-day).
Watch Out For Signs: The wonderful people at the Sea Turtle Protection Society have marked thousands of Loggerhead nests each year. Keep your eye out for signs and make sure you don't get too close to known nests.
No Fires On Nesting Beaches: You'd be surprised how many tourists unknowingly go to nesting beaches and have a bonfire. I don't think I have to explain why this is a horrible idea.
Slow The Boat: If you're on a tour near a known nesting area (even if it's not a turtle-spotting tour) and you notice that the driver is going too fast, tell him or her to slow down. There have been countless turtles injured and killed by boats in Zakynthos and drivers need to know that tourists won't stand for putting the turtles at risk by driving too fast.
Call The Sea Turtle Conservation Center: When in doubt, call an expert. If you see an injured or dead sea turtle or you spot a nest that hasn't yet been marked and is vulnerable to foot traffic, contact the Sea Turtle Conservation Center and alert them of the situation.
Enjoy The Loggerheads of Turtle Island Zakynthos
Whether you end up seeing a Loggerhead turtle as part of a tour in Zakynthos, or you just stumble upon one unexpectedly, take a moment to admire these incredible creatures.
Be sure to keep your distance and if you see anything out of the ordinary, like fishing line or injury, contact the Sea Turtle Conservation Center.
While you're walking the beaches, if you see a volunteer or a scientist studying the animals, don't be afraid to walk over and ask some questions. They are usually very happy to educate people on these prehistoric creatures.
The best way to see the turtles is as part of an eco-friendly tour. Be sure to do your research to make sure you go with a reputable, eco-minded company.
If you're visiting between May and October, you have a very good chance of spotting the famous Caretta Caretta turtles. Make sure you bring your snorkel and mask or rent one on the beach and enjoy your time interacting with these slow-moving sea creatures.
Like This Article? Pin it!