In a land far away where snowcapped mountains dot the country and rugged coastlines shape it, New Zealand is a magical place. Although a journey to get to, there are so many reasons why New Zealand should be your next backpacking destination.
Filled with world-class adventure activities such as hiking, skiing and bungee jumping, this country has become a haven for outdoor lovers and adventure junkies.
Boasting some of the most beautiful coastlines and mountains in the world, New Zealand urges to be explored.
It comes as no surprise, that it is a mecca for tourism with double-digit growth in annual visitors.
While it is also a popular destination for vacationers and honeymooners, the best way to see the country is to strap on your backpack and spend some quality time exploring.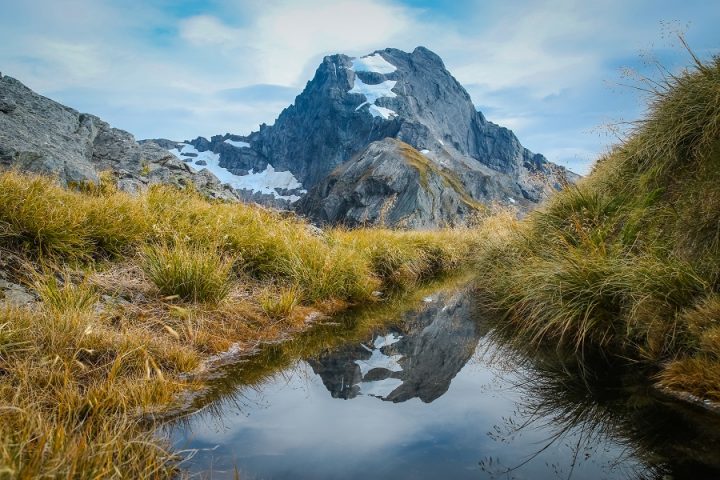 Backpacking New Zealand is the trip of a lifetime! Check out this in-depth guide for all you need to know about travelling here.
When to Visit New Zealand
Tourism in New Zealand is very seasonal.
Unless you are looking for winter activities such as skiing or snowboarding, it's best to visit between November and May.
The summer, from December to February, gets very busy at tourist attractions. Campsites and backpackers tend to fill up quickly during this time.
Our favorite time of the year is April and May.
The temperatures start dropping quickly, but so do the tourists. This is a great time to hike and you should still be able to access the entire country before snowfall hits.
The best time to visit New Zealand really depends on what you're interested in doing. But in reality, there's no bad time to visit the country! Have a look at this website which provides more in-depth information and articles on when to visit New Zealand.
Visa Options for Backpacking New Zealand
Visitor Visa – If you want to stay longer than three months or you are not from a visa waiver country, you must apply online before your trip. This visa is valid for up to nine months stay in New Zealand.
Visa Waiver Visitor Visa – If your passport is from a visa waiver country, you do not need to apply for a visa prior to arriving. Visas are granted for three months. Some of the visa free countries include Canada, the USA, and the UK.
Working Holiday Visa – If you are between the age of 18 and 30 and mostly want to come to New Zealand to travel, but also want the option to work or study, this may be a perfect option. The visa is valid for 12 months and requires proof of $4,200 NZD ($3,000 USD) equivalent in your bank account as well as full medical insurance.
To read more on visa options related to your country and interest, check out the New Zealand Immigration page.
Sim Card
Skinny Direct was our preferred mobile carrier of choice. They have the best rates for a prepaid monthly plan and very good service backed by the Spark Mobile network.
Prices are $30 ($21 USD) per month for 3GB of data or $50 ($36 USD) per month for 10 GB of date. All plans come with unlimited text and minutes.
Don't forget to purchase travel insurance for your trip to New Zealand. It's the one thing you should always pack. World Nomads is a popular choice for adventurers and travellers. Enter your details below to get a free quote.
Banking in New Zealand
If you are planning to work, you may consider opening a local bank account. We recommend a free basic checking account with ANZ Bank.
A document, such as a vehicle insurance or registration, with a local address and a working holiday visa was enough to open an account.
This was also very useful when selling a car. We could transfer New Zealand dollars to our own bank for under $100 ($72 USD), less than any other wire transfer option. ATMs are wildly available and most establishments take credit card.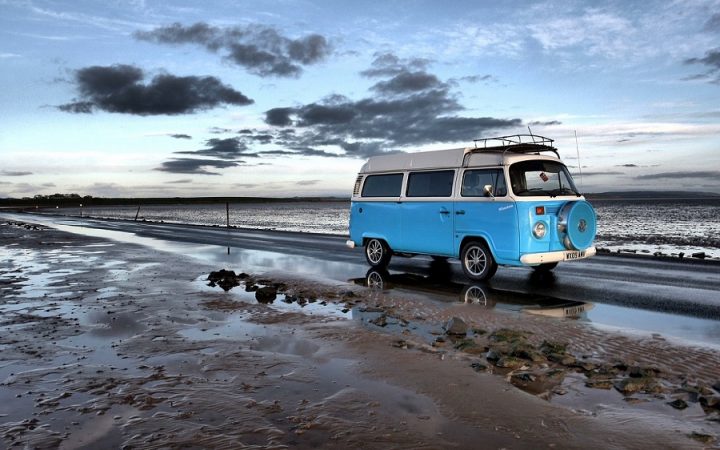 Transportation
There are numerous ways to get around when backpacking New Zealand. Here are some of the popular options:
Shared Rides
Shared rides are very common with backpackers. This could include hitchhiking. The best way to partner up with another traveler is by posting on Backpacker Boards or the New Zealand Backpackers Facebook group.
Public buses
Between major cities there are some public buses, however, we felt their prices were very high considering the distances. For example, a bus from Wanaka to Queenstown cost $50 ($36 USD) for an hour drive.
Campervanfinder
One great option for finding a campervan around New Zealand is Campervan Finder.
They've been helping travellers and road trippers source the best deals on motorhomes, campervans and 4×4 campers since 2006 and they work with over 30 rental companies across New Zealand to help you find the best deal.
Their website works much like any booking site. Just enter your pick up & drop off locations, as well as the dates and times you'd like to rent and their algorithm will search through their 30+ partner rental companies to find the best deal.
Hop-on/Hop-off Bus
There are two major companies in New Zealand, Kiwi Experience and Stray Travel. Prices range from $650 NZD ($470 USD) for a two-week package to $1200 NZD ($860 USD) for a 6-week package. These services gear towards a younger backpacker crowd.
Rent a Vehicle
Renting can get expensive, but is the best choice for those coming for only a few weeks or one month. New Zealand is perfect for self-driving enthusiasts and having your own vehicle allows the freedom to create your own itinerary.
If you are looking for a smaller campervan, check out Wicked Campers and Jucy.
Costs range from $700 ($500 USD) to $1,500 ($1,080 USD) for one month. They come stocked with beds and cookware.
For those looking for a larger motorhome, check out Maui Rentals with prices ranging from $2,000 ($1,440 USD) to $6,000 ($4,300 USD) depending on the camper size.
Buy a Vehicle
If you're staying for more than two months, buying a car or campervan is the most economical option.
This is very popular in New Zealand and a great way to save money. Try to find a vehicle with good resale value and consider the timing of buying/selling.
It is common to buy in the summer and sell just before winter. Depending on when you sell there is sometimes potential for a serious loss.
We recommend buying a station wagon such as a Nissan Wingroad. The seats fold flat and can sleep two, they are much better on petrol, and have a better resale value.
There is a lot of information to read in advance before making a purchase. Check out Beard and Curly's article the Ultimate Backpackers Guide to Buying a Campervan in New Zealand.
Self-Contained Vehicles
Many areas of New Zealand allow freedom camping.
There are approximately 350 free campgrounds that are allocated only for self-contained vehicles. Although not as plentiful, there are free options for regular campervans.
There is a large cost increase to purchase a self-contained vehicle, but you can almost always find a free campsite to sleep at. For more on self-containment, check out the NZ Motor Caravan Association.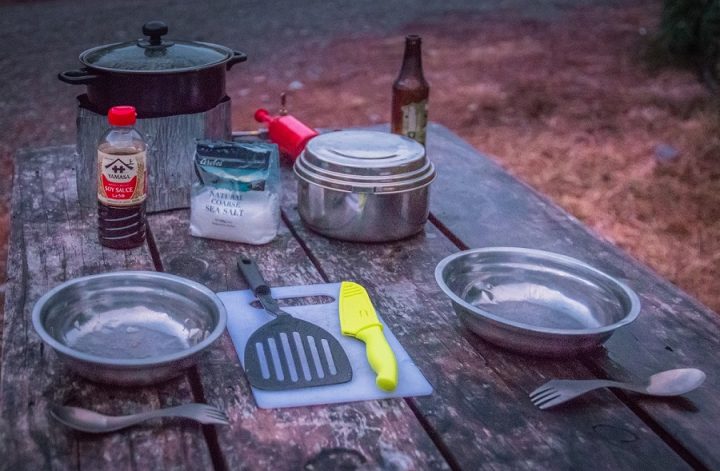 ☞ Click here for more free travel guides!
Accommodation in New Zealand
There are lots of options for accommodation, many of which are great for budget backpackers.
Campsites
A great option to cut down on costs is to camp. Campsites are either private or run by the Department of Conservation. They can range from basic with only vault toilets and no running water to full kitchens and shower/laundry facilities.
Costs range from $6 to $18 ($4 to $13 USD) per person. There are also a decent number of free campsites for both self-contained vehicles and non-self-contained vehicles.
In cities, there are limited campsites available and freedom camping is almost always prohibited.
Holiday Parks
If you are looking for an upgrade from camping, holiday parks are your best bet. They usually come stocked with wifi, electric hookups, showers and laundry facilities. Prices typically range from $40 to $60 ($28 to $43 USD) per camper.
Backpackers
In cities, backpackers are a great choice to meet other travelers and to stay right in town. Check out Base Backpackers or Nomads, both have hostels in major cities. Backpackers charge between $20 and $30 ($14 and $21 USD) for a dorm bed.
Airbnb
We stayed at AirBnB's while we were in a few of the major cities. As a couple, we often found prices lower than staying at a backpackers hostel. You can find a nice private room for $30 – $40 ($21 – $28 USD). Click here to check out Airbnbs in New Zealand, and click here to get your discount coupon.
Hotels
Not many backpackers stay at hotels while in New Zealand, but if you want to splurge, hotels start from $100 ($70 USD) per night.
☞ Click here to compare costs of hotels in New Zealand on Booking.com
Must-Have App For New Zealand
Before going to New Zealand, download the Campermate App on your mobile device. It is crucial and we used it daily.
It provides information such as top things to do, wifi hotspots, toilet locations, supermarket locations, and most importantly, campsite information. The user reviews and comments are also helpful, especially when picking between campsites.
Recommended Campsites
There are hundreds of campsites in New Zealand, but these stuck out to us as a great deal or just an overall amazing campground:
Whatipu campground – $7.50 ($5 USD)
Earl's Paradise Coromandel – $10 ($7 USD)
Mangaowkewa Gorge Scenic Reserve – Free
Kidd's Bush Lake Hawea – $8 ($5.75 USD)
Lake Pukaki Reserve – Free
Mrs. Woolly's campground Glenorchy – $16 ($11.50 USD)
Moke Lake – $13 ($9 USD)
Lumsden parking area – Free
Milford Sound Lodge – $27 ($19 USD)
Wwoofing
Wwoofing is an opportunity to work on a farm in exchange for housing and food. Although typically unpaid, during high season, paid jobs may be offered.
This is one of the top travel jobs for backpackers! Check out more information at www.wwoof.co.nz.
What to Eat in New Zealand
Restaurants are expensive in New Zealand and are not ideal for most backpackers. In cities such as Wellington or Queenstown there are some more affordable and great cheap eats for dishes under $12 ($8.50 USD).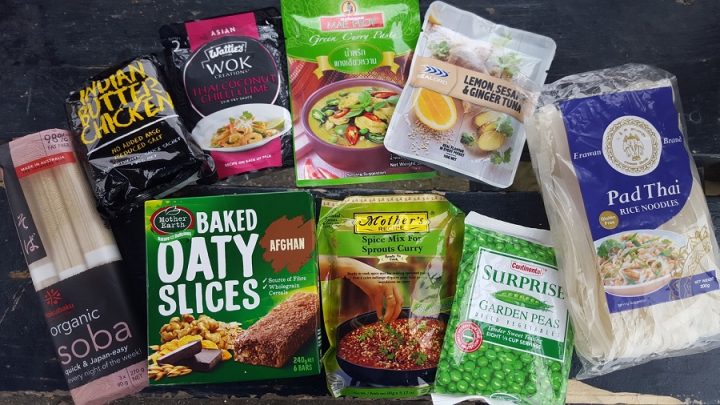 Takeaway is widely available throughout New Zealand and is typically fish and chips, Chinese food, or burgers. Takeaway can be cheap with meals for $6 ($4 USD), but at times could creep up to $10 ($7 USD).
Cooking for yourself is the best idea since most campervans come equipped with a stove and cookware.
Where to Stock Up
Four Square – small convenience store size supermarkets with all basic needs. Slightly higher priced, but not by much, sometimes with cheap veggies
Countdown – large supermarket chain, often with the best prices
New World – more upscale supermarket with good quality products, some prices are good
Pak'N'Save – only located in larger towns and cities, has very good prices and good options for dry food and bulk
The Warehouse – some stores carry dry food, cheapest option for canned chickpeas, four bean, peanut butter, chocolate, and candy
Bunnings or Mitre 10 – building supplies stores (fuel and kerosene options)
Specialty Stores
Fruit and Veg – there are many fruit and veg stores throughout NZ, especially located within proximity to farming areas. There are also often fruit and veg stalls or fresh produce sold directly from farms with signs on the road.
Asian – Auckland, Wellington, Christchurch and some other cities have good Asian supermarkets with great specialty Asian/Indian items.
Awesome Food Options for Backpacking New Zealand
Cheese – Mainland Vintage Cheddar 1kg $11.49 ($8.25 USD)
Tuna pouches – Sealord Lemon, Sesame & Ginger Tuna pouch $2.50 ($1.80 USD)
Soba noodles – Hakubaku organic noodles from $3 ($2.15 USD)
Indian spice mixes – Mother's pre-made sauce and spice mixes $1.79 ($1.29 USD) (Only saw these in Auckland so stock up)
Watties WOK creations – Thai Coconut Chili and Lime, Ginger and Sesame 3 for $5 ($3.60 USD)
Pad Thai noodles – Erawan noodles from $2 ($1.45 USD)
Thai curry paste – Mae Ploy green curry paste (spicy) $1.50 ($1.10 USD)
Ramen: Just Noodles – Mexican Salsa, Indian Butter Chicken $6 for 5 packets ($4.30 USD)
Bars – Mother Earth Baked Oaty Slice bars, Afghan and Sultana & Manuka honey flavors 2/$6 ($4.30 USD)
Dehydrated Peas – Continental Surprise Garden Peas $6 large bag ($4.30 USD)
Hot Sauce – Mr Number One Sriracha hot chili sauce $6 ($4.30 USD)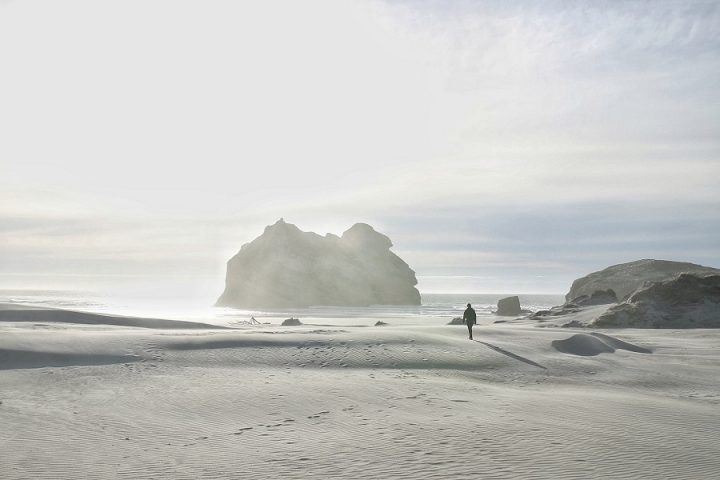 How Much Time Is Needed?
The more time the better. We spent three months in New Zealand, with one month in the North and two months in the South Island.
We could have stayed much longer.
While it is not always possible to come for several months, we do not recommend going less than two weeks. With less time, focus on a smaller area such as Mount Aspiring and the Fiordlands on the South Island.
How Much Will Backpacking New Zealand Cost?
New Zealand can be an expensive country to visit, but road trips and epic hiking does not have to be expensive. Renting a vehicle will be the biggest expense, but if you are staying long enough to buy a vehicle, this can significantly cut down costs.
To save money, cook your own meals and try to stay at free campsites.
If you enjoy hiking, especially multi-day hikes, consider the DOC Hut Pass. It costs $92 ($66 USD) and covers any hut aside from Great Walks and a few others.
We spent on average $85 ($60 USD) per day between two people, and sold our car the same price we bought it for, making New Zealand an affordable destination for us.
For more budget tips and ways to save money when travelling in New Zealand, check out this 3 week road trip itinerary for budget travellers.
Typical Costs when backpacking New Zealand
Total Daily Budget – $60 to $100 ($42.50 – 70 USD) per couple, not including cost of renting/buying a vehicle
Basic Campgrounds – $6 – $10 ($4 – 7 USD) per person
Dorm Rooms at a Backpackers – $20 ($14 USD) per bed
Fuel/Petrol – $1.70 – $2.20 ($1.20 – 1.55 USD) per liter
Eating – $5 – $15 ($3.50 – $10.50 USD)
Alcohol – $8 ($5.70 USD) pints at a bar, $12 ($8.50 USD) for a six-pack at a supermarket, $8 – $12 ($5.70 – 8.50 USD) bottle of wine or $20 ($14.20 USD) box of wine at supermarkets
Things To Do in New Zealand
There are many amazing things to do and places to visit in New Zealand. Here are some of the best.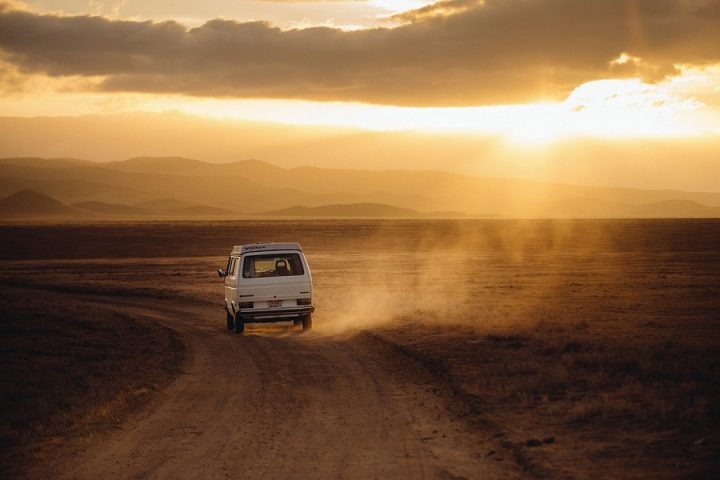 Road Trip
A visit to New Zealand is not complete without an epic road trip. Whether you plan to search for the best surf spots, waterfalls, mountain hikes, or complete the drive from Cape Reinga down to Bluff, road-trippin' should be #1 on your list. It is a perfect way to explore New Zealand.
For the best road trip, we recommend starting in Auckland and ending in Christchurch. Spend more time on the South Island. There is much more to see!
Go Surfing
New Zealand has some stunning coastline. While the water is cold, it does have some pretty good surf.
Some of the popular surf spots are Raglan, Piha, Shipwreck Bay, Ahipara Bay, Fitzroy Beach, St Clair Beach, Kahutara, Westport and Colac Bay. Don't forget to bring a wetsuit!
Adventure Activities
Take your pick at one of the ohh so many adventure activities. Queenstown is a perfect base and known as the adventure capital of the world.
Choose between bungee jumping, skydiving, white river rafting, canyoning, cave exploring, jetboat tours, and for those craving some fresh winter snow, nothing tops heli-skiing.
Activities are very expensive in New Zealand and can range from $100 ($70 USD) to several hundred for tours. Heli-skiing starts at $1,000 NZD ($700 USD) per person.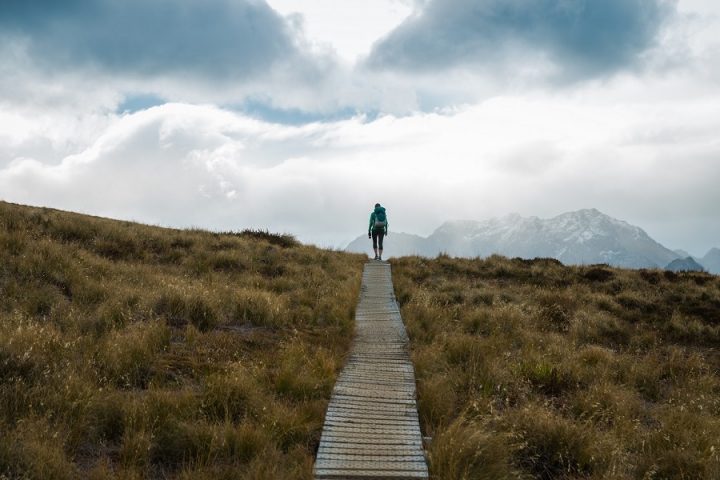 Hiking
Great Walks – There are nine Great Walks in New Zealand (soon to be 10) and these are the most popular tracks in the country. They are marketed by the DOC and have world-class infrastructure and huts. Because of their popularity, they can feel like a highway at times and are not good for solitude.
We recommend the Tongariro Northern Circuit, the Routeburn track, the Kepler track, and the Milford Sound.
These hikes require bookings in advance and cost between $30 and $70 ($21.50 and $50 USD) for a bunk. Read Beard and Curly's full article on the Nine Great Walks of New Zealand for more information.
Hut System – With over 1,000 huts across New Zealand, this is a perfect way to explore the outdoors and immerse yourself into some Kiwi culture. The DOC manages 950 huts, most of them are very affordable.
Buy a Backcountry Hut Pass for $92 ($66 USD) for 6 months which covers your stay at nearly all the DOC huts. There are only a few popular huts which are excluded from the pass in addition to the Great Walk huts.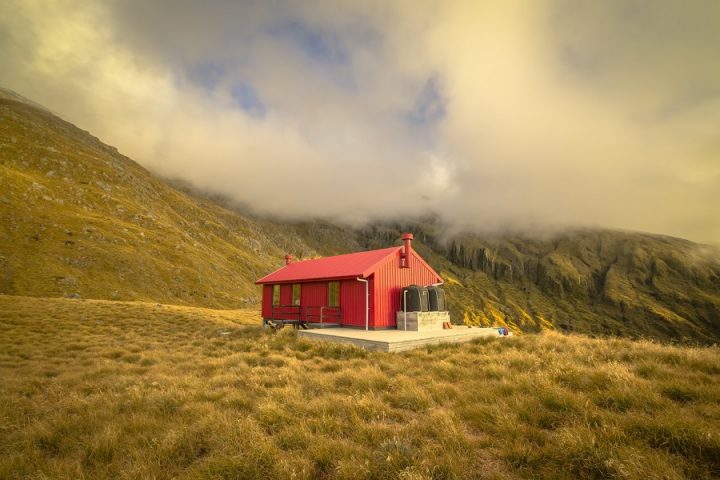 Day Hikes – There are so many day hikes with views that are completely out of this world. Our favorite day hikes were Mount Taranaki, Roys Peak, Isthmus Peak, Diamond Lake, Mueller Hut, Ben Lomond, Gertrudes Saddle, Key Summit, Lake Marian, and Avalanche Peak.
Multi-Day Hikes – Where to begin. One of the main reasons we went to New Zealand was for this alone. While it does require more gear (portable stove, sleeping bag, camping gear), it is completely worth it. Our best memories of New Zealand were days in the middle of the mountains with no people or towns in sight.
Our favorite multi-day hikes were the Tongariro Northern circuit, Travers-Sabine circuit, Cascade Saddle, Gillespies Pass, Mount Brewster, Copeland track, Routeburn track, Kepler track, and the Milford Sound track.
READ MORE: The Ultimate Guide to Trekking & Camping the "O" Circuit, Paine del Grande Chile
Places To Visit in New Zealand – North Island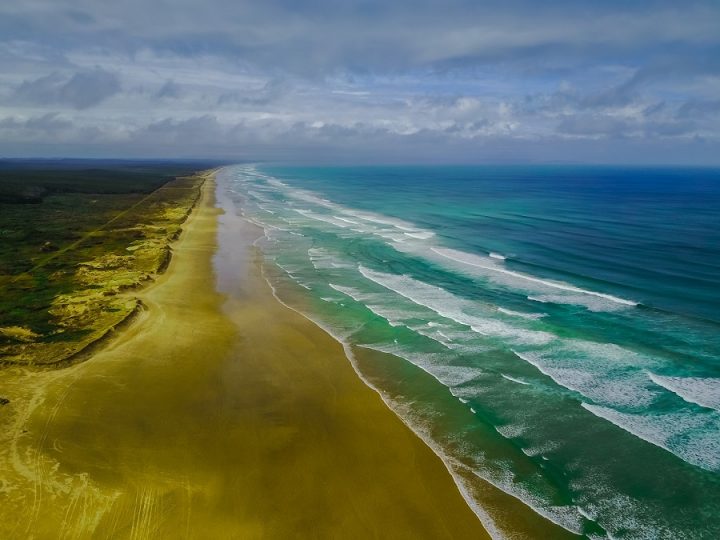 Northland
The northernmost region of New Zealand has stunning coastline and many places to see. The drive through the Northland on its own is worth it. Check out the Bay of Island, 90 Mile Beach and Cape Reinga.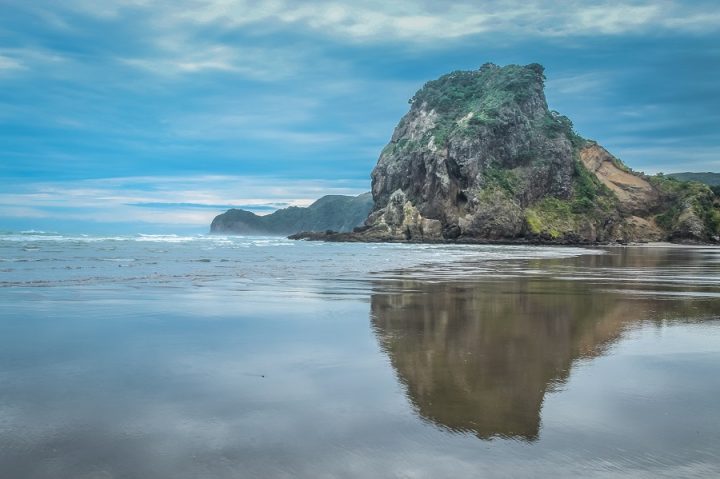 Waitakere Regional Park
Piha is one of the country's most popular black sand beaches and great for photos. Our personal favorite beach was nearby Whatipu with very few people and a great coastal walk called the Omanawanui Track.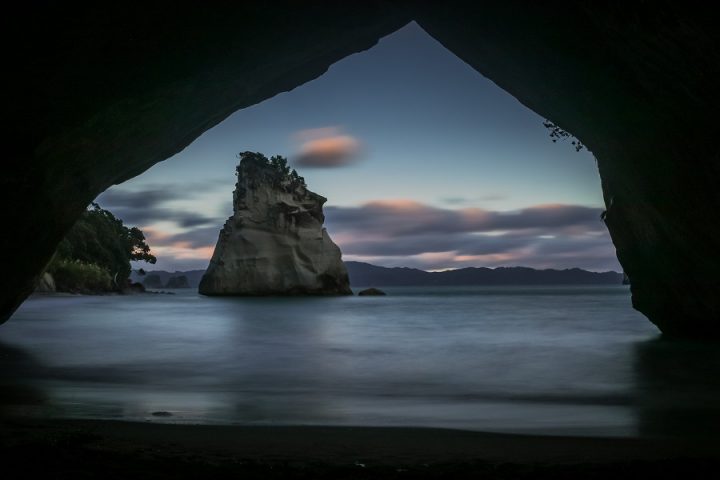 Coromandel
One of our favorite spots on the North Island, Coromandel has white sand beaches and the famous Cathedral Cove. Check out New Chumms Beach, Hot Water Beach (low tide only), Cathedral Cove (low tide), and the Karangahake Gorge.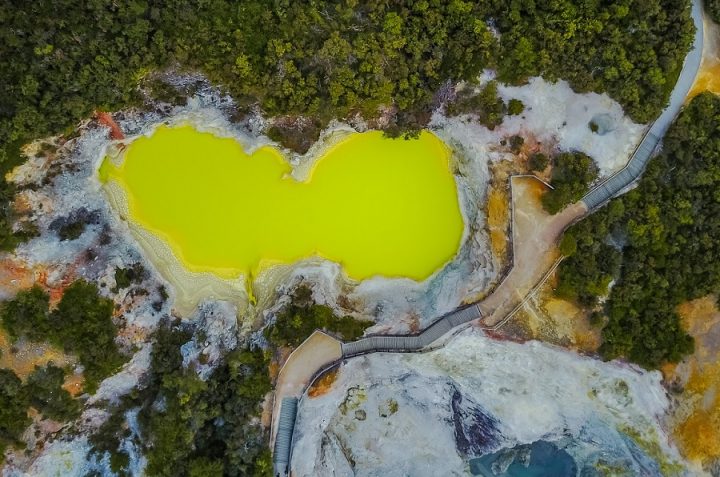 Rotorua
Bursting with volcanic activity and geothermal hot springs, Rotorua is one of the most popular and expensive tourist destinations in New Zealand. Wai'o'tapu is the main attraction, but Hellsgate Geothermal Park and Kuirau Park are other options.
Entry prices are around $30 ($21.50 USD) per person. Also, check out the Redwood Forest for some short hikes and world-class mountain biking trails. If on a budget, soak in the free natural hot springs, kerosene creek and secret spot.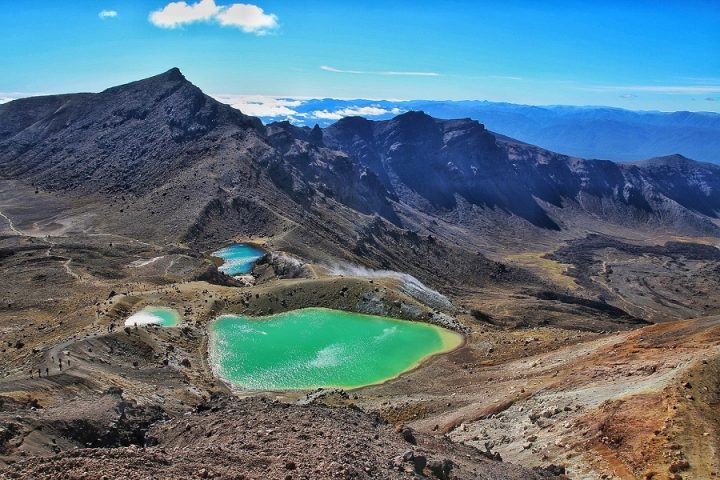 There are numerous hot pools (both natural and manmade) around the North Island. There's no better way to relax your aching muscles after backpacking and hiking around New Zealand. Check out this epic list of 40 pools that can be found in and around Aukland.
Tongariro National Park
Tongariro is known for its famous alpine crossing, the most popular day walk in New Zealand. This hike is truly something special. The Lord of the Rings has made this location even more famous.
Mount Ngauruhoe, the main volcanic peak on this track was filmed as Mount Doom. The stunning emerald lakes alone are reason why this is a must-stop for all visiting New Zealand.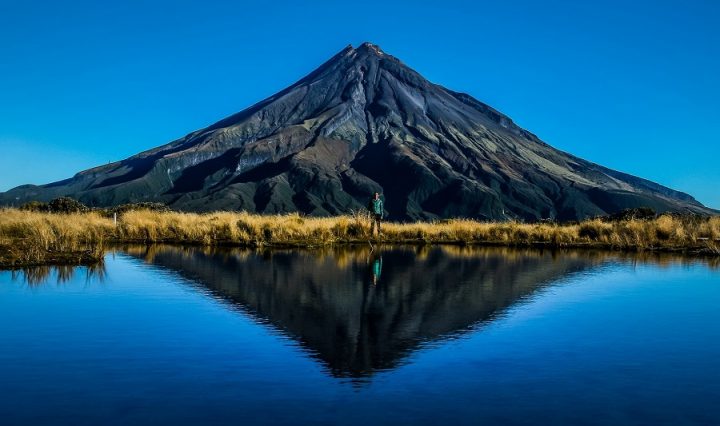 Mount Taranaki
This volcanic peak stands alone and on a clear day can be seen from hundreds of kilometers away. It is strikingly beautiful and one of the best day hikes in New Zealand. It also is one of the hardest, so for those not able to make it to the summit, a hike to the Pouakai Tarns is much easier and might have a better view.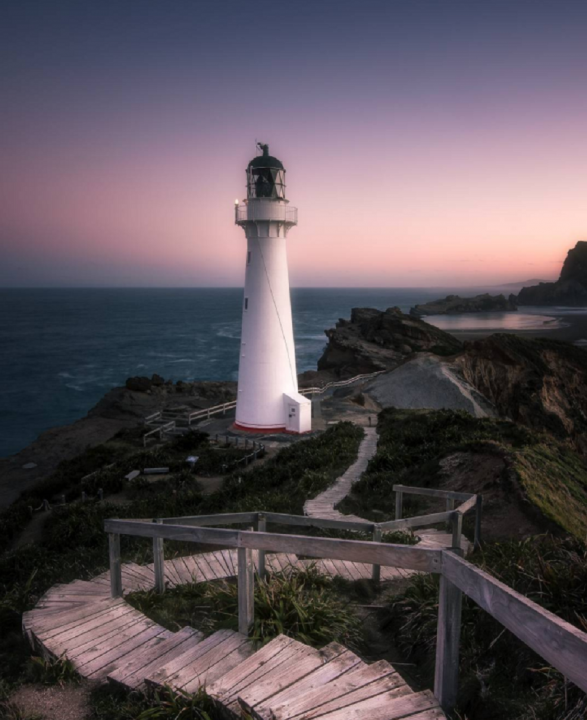 Castlepoint
One of the most stunning coastal areas and New Zealand's best lighthouse resides at Castlepoint. It is only a 45-minute walk out to the lighthouse which comes with amazing views along the way.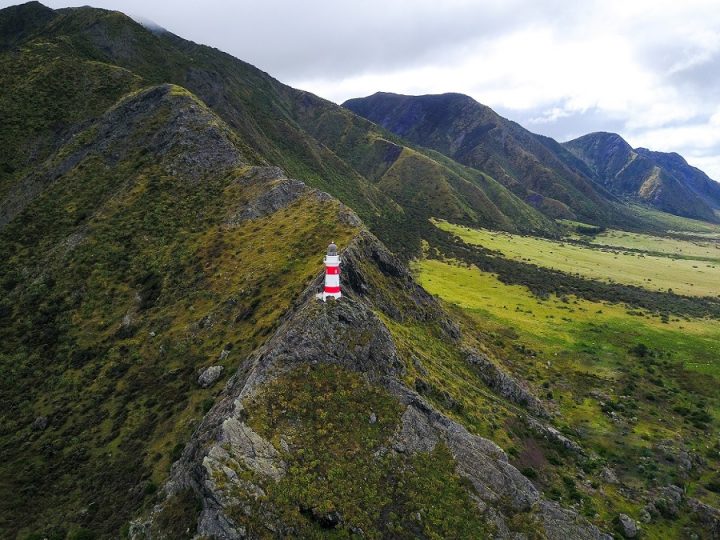 Cape Palliser
Check out the seal colony on the way to the Cape Palliser lighthouse. The nearby Pinnacles is a great 1 hour walk through unique rock formations that were featured in a scene of the Lord of the Rings.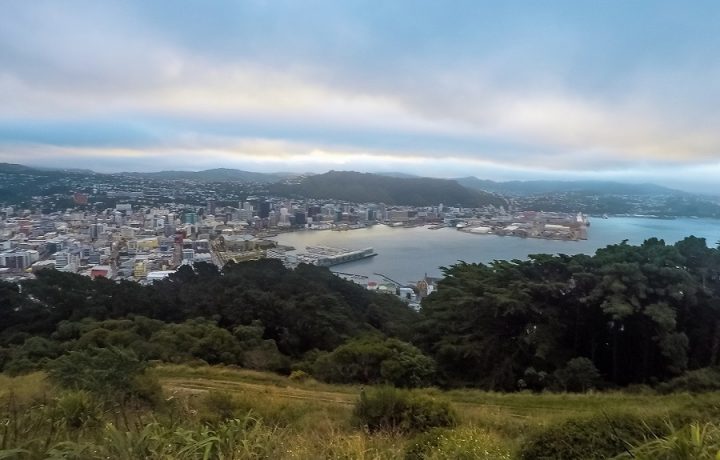 Wellington
Ferries between the North and South Island depart from Wellington, so this likely will be in your travel plans. With that said, it was our favorite city in New Zealand.
There are so many great cafes to lounge during the day and hipster bars for the evening. The Te Papa National Museum is one of the best in the world (and free), and still to this day talk about our two for $40 ($28.50 USD) offer on large pizzas at Tommy Millions.
Places to Visit in New Zealand – South Island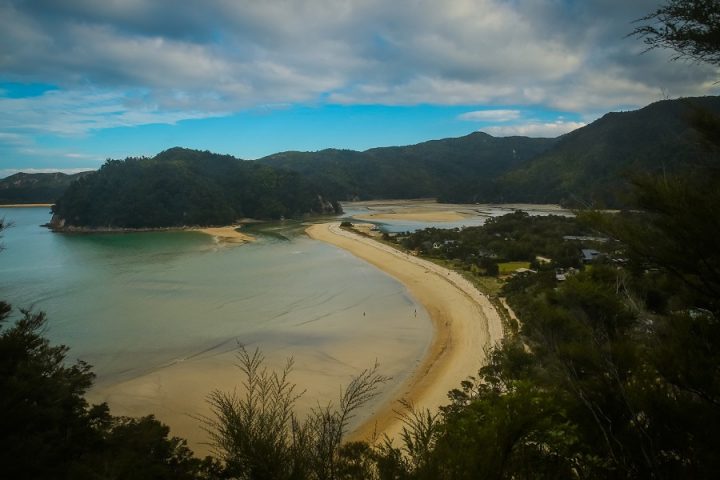 Abel Tasman
One of the most popular national parks in New Zealand, Abel Tasman has stunning coastline and emerald water. Boats offer shuttles to nearly any beach in the park.
As a result, the coastal track which is a Great Walk, is like a superhighway. We recommend skipping the walk and sticking to a kayak rental with R&R Kayaks starting from $60 ($43 USD).