Havana is the most fascinating city we've ever come across. It's vibrant, bustling, exotic and raw. Cuba as a whole is a fantastic country to independently travel, but with so much to see, do and experience in the capital, you may never want to leave…
Here is some essential information and advice (based on our experience) to make your trip to Havana a memorable one.
Budget & Finance
Let's start with the money. If you don't have a firm grasp on the two currencies in Cuba, you can easily be taken advantage of and end up spending more than you need to.
CUC = Cuban Convertible Peso (pegged to the USD)
CUP = Cuban National Peso (1 USD = 25 CUP)
1 CUC = 1 USD
1 CUC = 25 CUP
1 CUP = 0.04 CUC
The Cuban Convertible Peso (CUC) is the currency that you'll be using for almost all of your purchases (accommodation, transportation, restaurant meals, bus tickets, internet). The Cuban National Peso (CUP) is the currency that the locals are paid in, and the one that they most often spend. Street-food, small snacks, local buses and fruits & vegetables at the markets will be charged in CUP.
Is Cuba expensive? No. Cuba can be travelled on a budget, especially if eating at the peso shops and taking local transportation.
It's a good idea to have both CUC and CUP in your wallet. If you want to buy an ice-cream, a glass of fresh guava juice, a small pizza, or some popcorn (among other things), you'll need some CUP. It is possible to pay with CUC, but it's difficult to figure out the conversion, and the person selling to you will have to come up with a lot of change.
You can take your Cuban Convertibles (CUC) to a money changer called Cadeca, this is also the place that you will change your Euros, Pounds or Dollars. Make sure to bring your passport.
Note: CUC is not a "tourist currency". The locals have to spend it on the same items as you do. The only time that the CUC is actually more expensive for tourists is at museums and some historical sites when the cost is equal in CUC for tourists as it is in CUP for locals (ie: Foreigner pays 10 CUC ($10 USD) and locals pay 10 CUP (40 cents)).
For more information about the currency in Cuba, click here.
Airport Advice in Havana
Tourist Card:
Before arriving in Cuba, you will need to purchase a Tourist Card. This is similar to a visa, but it does not get placed in your passport, it's a separate piece of paper. Sometimes the card is included in your flight price, but more often than not, you'll have to purchase it at the airport before departing for Cuba. Sometimes there is a separate booth for purchasing the card, while other times you can simply buy it right where you check-in for your flight.
We flew out of Guatemala City and were able to purchase the card at the Copa Airlines check-in counter. The cost of the card was (and always is) $20 USD.
On arrival at the Havana airport, the immigration officer will stamp the card, and give you back half of it. You must keep this until you depart. Losing this part of the card will result in a whole bunch of unwanted bureaucracy when you try to leave. Bottom line… don't lose it.
Insurance:
As of May 1, 2010, it's obligatory to have insurance coverage to travel to Cuba and you must show proof of health/travel insurance upon arrival at immigration. This needn't be a big expense. We purchased our insurance for just $1.60 / day.
As of 2016, the popular World Nomads Insurance covers most travellers to Cuba – sorry fellow Canadians, we are not covered by them for visiting Cuba – yet. Enter your details below to get a free quote:
For more on planning and preparing for a trip to Cuba (including purchasing travel insurance), click here to see our updated article.
Getting into the City:
The Havana airport is about 30 – 40 minutes away from the center of town, depending on traffic. If you are travelling early in the morning, there will be no traffic and it will only take you 20 minutes.
The cost of a taxi is 25 CUC at most. Bargain hard – we got our taxi for 20 CUC into Centro Havana.
Other Notes & Tips:
The arrivals hall is quite hectic and hot, and it takes a long time for your luggage to arrive.
The line-ups for immigration/security are very long.
There are two money changers located just outside of the airport, one to your left, and one to your right. The line-ups for the changers are massive.
If you have a debit or credit card that will work for you in Cuba, we suggest going upstairs to the 2nd level where there is an ATM machine. There are hardly any line-ups here and it can save you a lot of time.
Leaving Havana:
The line-ups to check-in and drop off your bags can be very long (we waited 1.5 hours in line). If you are able to, we highly recommend finding some wi-fi and doing a web check-in (the web check-in line was 5 times faster).
There is a money changer inside the airport at Departures. In theory, it is open 24 hours a day, 7 days a week. If that one isn't open, there is another money changer after security.
There is only one small snack shop for food in the departures hall after you've checked-in.
As of May 1, 2015, there is no departure tax. Nobody will be charged to leave Cuba from the Havana airport.
Areas of Havana
Downtown Havana can basically be broken down into three main areas:
Havana Vieja: Havana's colonial masterpiece. Located to the east of the center, a popular tourist area, many beautifully restored historic buildings, lots of sights, the most hassle from touts and lots of restaurants/bars.
Vedado: Located to the west of the center, the business/financial district, the most modern area, great nightlife, best live music, many restaurants and hotels.
Central Havana: Located between Havana Vieja and Vedado, the more "local" area, great location, many old buildings and homes, practically no hassle from touts, equal walking distance to Vieja and Vedado.
The seafront promenade (The Malecón) stretches for 8 kms along the northern coast of Havana, from Havana Harbor in Havana Vieja, along Central Havana and ending at the Vedado neighbourhood.
Where to Sleep in Havana
In our opinion, casas particulares (directly translated: Private Houses in Spanish) are the way to go! They are the popular accommodation option in Cuba, and are a huge part of what makes this country so unique to travel in. Casas are like homestays – you have your own private room, attached private bathroom, air-conditioning, meals are available and you get to meet families all around the country.
You have three options for booking hotels and casas (one in the same in Cuba):
Show up unannounced and look around until you find something that you like.
Have your previous casa/hotel call ahead to your proposed next one and reserve you a room.
Book your casa/hostels online before you go, or during your stay.
Keep in mind that finding and using internet and wi-fi in Cuba is a bit of a hassle, it's best to book ahead if you can so you don't waste your time in the country looking for a wi-fi connection!
Where to Stay in Havana
---
There are endless casas particulares and guesthouses to choose from in Havana. The first casa we stayed at in Cuba was "Casa Habana Blues 1940", and it was a great introduction to casas particulares! The location was good, the hosts were excellent and our room was spacious and clean. Click Here to see the latest price on HostelWorld for that casa.
☞ Click Here to compare prices and see reviews on hotels and casas in Havana on Booking.com
☞ Click Here to compare prices and see reviews for casas & guesthouses in Havana on HostelWorld
There are also numerous properties available on Airbnb. If you want to join Airbnb, click here to sign up and receive $35 off of your first stay!
In Havana, we chose to stay in the Center, as we always prefer to be just outside of the main touristy areas, and walk there when we feel like it. This casa was a 5 minute walk to the Malecón, the room was very clean with private bathroom and a/c. The food cooked there was very delicious and the home was gorgeous. Daniel and Fina are very kind and welcoming.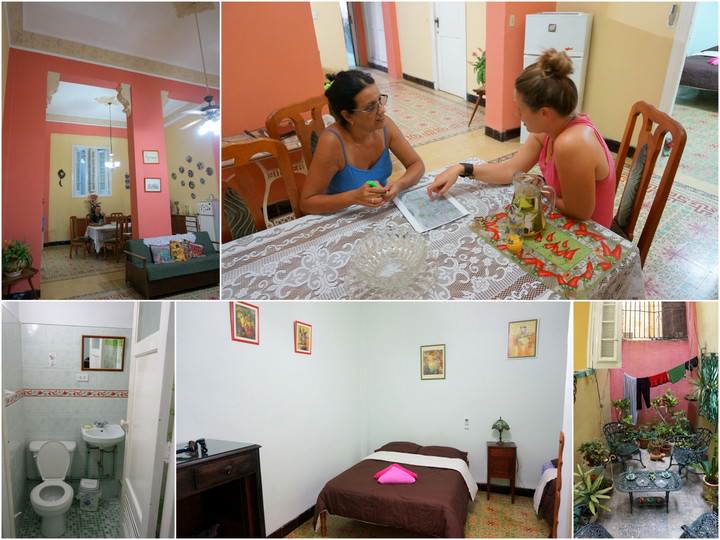 For more on Casa Daniel y Fina, click here to see our article.
Casa Daniel y Fina (also known as Casa Habana Blues 1940)
Calle Belascoain No. 360, Apartment 1
Between San Rafael and San Jose
Centro Havana
Phone: (53) 7-870-0945
Email: daniel_renta@yahoo.es
☞ Click here to see the latest price of Casa Habana Blues on HostelWorld 
Where to Eat in Havana
Contrary to belief, the food in Cuba is actually quite good. Havana has some excellent restaurant options and it's definitely fun to go out in the evenings for dinner. However, we suggest having at least one meal at your casa (the home cooked food is really good!)
Paladar Dona Eutimia
Located on a side-street just off of the Plaza de la Catedral in Havana Vieja.
The food here is delicious and affordable (especially for Havana). There are many touts trying to show you menus and steer you into other restaurants, but just ignore them and continue to the end of the road until you find Dona Eutimia. This place is packed so call (or have your casa owner call) and book ahead.
Location and Contact Information
Address: Callejon del Chorro # 60-C | Plaza de la Catedral, Habana Vieja, Havana 30600, Cuba
Location: Caribbean  >  Cuba  >  Havana
Phone Number: +53 7 8611332
Two must-try dishes at Dona Eutimia:
Enchilado de la Casa: This delicious snapper fish was sautéed in white wine and a spicy red sauce. The meal was accompanied by a salad, black beans and rice, as well as the fried plantain chips on the plate. At the end of our trip, this was still my favourite meal during our travels in Cuba!
This meal cost 9 CUC.
Ropa Vieja: A very popular meal in Cuba, this dish of shredded beef or lamb is fantastic. The meat is stewed in a tomato sauce with green peppers, onions, garlic, cilantro and cumin and is typically served with rice.
This meal cost 8 CUC, but can be found elsewhere in the country for much less.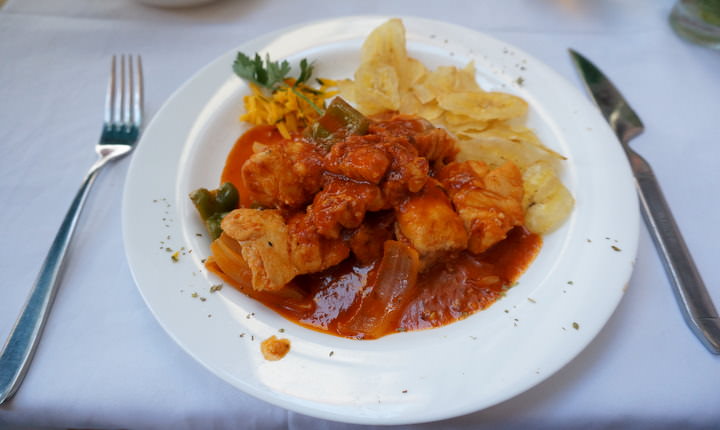 La Abadia Restaurant
Located right on the Malecón, this little outdoor eatery is a great place to watch the sun set while enjoying fresh seafood and a mojito!
Arroz La Abadia (rice with shrimp, lobster and fish) is a fantastic meal and well worth the 20 minutes it takes to bake.
The cost is just 5 CUC.
Filete de Pescado (fish fillet). The fish on offer when we were there was snapper, and the meal was very good.
The cost of fish with rice and salad was 4.50 CUC.
Bar Cafeteria Lluvia de Oro (located in Havana Vieja)
This bar/restaurant has been in operation since 1920 and is very popular. While we only stopped in for a beer, many others were enjoying meals. Main dishes of chicken, pork or beef.
Meals start at 3.50 CUC.
Sloppy Joe's Bar (Located just off of Parque Central)
Did you know that the sloppy Joe sandwich originated in Havana? Come here to try the famous sandwich, or just to enjoy a drink. The food is good, the actual bar itself is beautiful, but be warned, the staff and service are awful.
Meals are 5 CUC and up.
Peso Shops
You can also find many peso food spots around the city where you can enjoy cheap pizza, sandwiches and fresh juices. We highly recommend eating at peso shops, as it'll definitely help your budget as all purchases are charged in the very cheap National Peso (pizzas are 10 CUP – 25 CUP and fresh juice is 1 CUP).
*Note: If you are backpacking Cuba on a tight budget, you can eat for very, very cheap in Havana by enjoying the peso food. However, in our opinion, if you only eat this type of food, you'll be missing out on some of the country's delicious local cuisine. The seafood meals are of great value and the home-cooked food at the casas is amazing.
For more, check out our article:
7 Dishes That Will Shatter Your Misconceptions About the Food in Cuba
What to See and Do
The list of attractions, tours and activities in Havana is endless. There are over 900 buildings of historical importance in this city alone! With amazing nightlife, wonderful museums and a gorgeous beach nearby, you'll never be bored here.
Here are a few of the Must-See's:
El Capitolio Building
Museo de la Revolución (Museum of the Revolution) – 8 CUC entrance fee
Grand Theater
National Hotel
Fortaleza de San Carlos de la Cabaña (Fort of Saint Charles) – 7 CUC entrance fee 10 minutes from Centro.
Museo de Bellas Artes – 5 CUC entrance fee
Plaza Vieja
Basilica and the Monastery of San Francisco de Asis
The Cathedral of The Virgin Mary of the Immaculate Conception (Havana Cathedral)
Plaza de Armas, the oldest square in Havana.
Playas Del Este
There are many more things that you can see while in Havana, those listed above are just our top picks.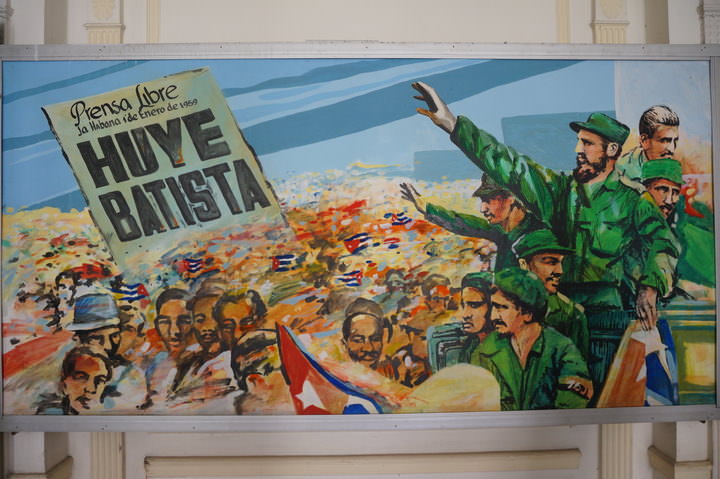 Here are a few of the Must-Do's:
Walk the Malecon in the late evening when all of the locals are out. Friends, families and couples hangout along the cement wall, music is played, people sing and dance and the atmosphere is very lively and fun.
Ride in a classic car down the Malecon at sunset: 15 – 25 CUC depending on your bargaining skills.
Explore the back streets of Central Havana.
Listen to live music at one of the many night clubs and bars.
Visit the nearby beaches of Playas del Este on a busy weekend (just 20 minutes away by bus).
Ride in a coco-taxi and cyclo taxi.
Drink mojitos.
Chat with the local people about their country and way of life.
Try salsa dancing.
…and the list goes on. This is one of the most lively cities in the world, you'll always find something to see and do, at all hours of the day.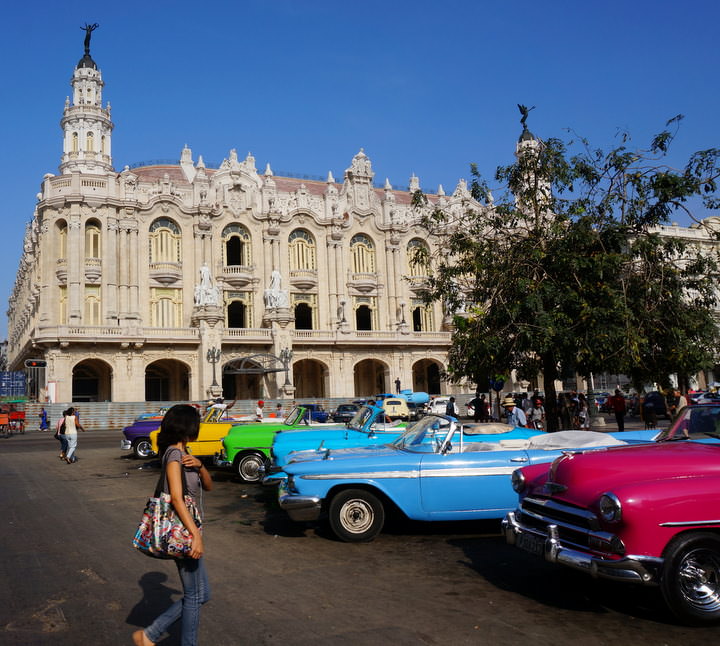 Scams, Hassle and Annoyances
There are scams in nearly every city, and Havana is no exception. The people here are fantastic if you really get to know them and you'll enjoy it more if you learn to laugh off the hassle.
In the Vieja area, you will encounter the most annoyances, as this is the main tourist hang-out. Walking away from this part of town and into central Havana will feel like a breath of fresh air – no one will bother you.
Hustlers in Cuba are so common that they have their own Spanish name (Jineteros) and when you feel like someone is being overly friendly… beware.
Things to watch out for in Havana:
People befriending you on the street. Although you may want to be friends with people, often (always?) if they approach you on the street, they want something other than conversation. Many times they will suggest a nearby bar or a fantastic restaurant that you should "join them at". This will inevitably lead to you paying the bill. You'll see unsuspecting tourists being suckered in to this little scam at nearly every local restaurant in Havana. Beware.
Check your bill and check your change. At every single restaurant in Havana (except for one), we were short-changed, or there were random additions on our bill. Make sure you remember the price of your meal, or ask to see the menu again when it's time to pay the check. Look out for "tax" and other random items added to the bill.

Service fees are often already included in the price, so make sure before paying that they haven't charged you two times for this. When you get your change back, count it. Almost always, you will have been short-changed. Sad to say, but very true.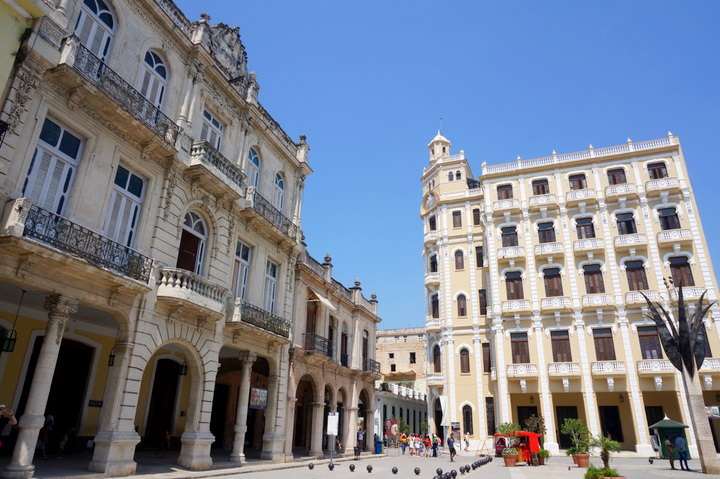 Check the currency. As listed above, there are two currencies in Cuba. If you're new to Cuba (and the hustlers can sense it!), they will often try to rip you off by giving you change back in CUP, rather than CUC. Another scam is when the price is listed in CUP, but they charge you in CUC.
Make sure of the cost. If you've agreed on a taxi ride for 2 CUC, make sure it's not 2 CUC/person, and that it's 2 CUC for the whole vehicle, otherwise when you get dropped off, expect to pay 2 CUC a head. If you agree on a price before hand, don't pay a cent more when you arrive (no need to tip).
Paying commission. If someone recommends that you try out the nearby restaurant, have a drink in a bar, or stay at a particular hotel/casa (and they lead you there), you'll end up paying more for your meal, your drinks or your room – as the restaurant/hotel will be expected to pay the hustler a commission, which will be tacked on to your bill.
Bottled water. This isn't really a scam per se, but it is a way to overcharge tourists. Mostly foreigners purchase bottled water and it's the one item that often won't have a price written on it. In the touristy areas, shop owners will try to charge you 1.50 or 2 CUC per 1.5L bottle. In reality, the price is 0.70 CUC or less. It's so hot and humid in Havana, so if you're spending 2 CUC every time you're buying water, you'll be spending a fortune each day.
Catcalling. Ladies, be prepared to be whistled at, stared at, and shouted at. The men in Cuba are relentless! "Hey mama, how you doin'?" "Hey baby, what's up?" "Oh mommy, you're so fine", "Wow, beautiful lady" etc. etc. Women who travel alone will receive much more attention than those who are travelling with male friends or their spouse. It's harmless, but can be annoying (or perhaps flattering?!)
Horrible service. A couple of the restaurants that we ate at had pretty good service and we were happy to pay the service fee. Other staff at restaurants, bars, museums and the shop owners, bus drivers, etc. were all pretty rude. Don't have high expectations for friendly staff (except for the families at the casas) while you're in Havana.
Transportation in Havana
In Havana, walking is the best way to experience the city. However, since it's quite a large, spread-out place, you'll want to take transport once in a while (especially on those days when it's 36 degrees.)
Taxis:
You can find yellow, regular looking taxis all over the city. They have meters, but they don't use them. Arrange a price before you get in. From Vieja to the Viazul bus station outside of town, the cost is 5-10 CUC depending on your bargaining skills.
Collectivos:
There are classic cars (very old-looking ones) that run up and down certain streets in Havana. They pick up passengers on the side of the street when flagged down. The cost is 10 CUP / person (0.50 CUC). This is how many of the locals get around. This time, don't agree on a price before getting in, or they will treat you as a tourist and charge you more! Just ask "collectivo?", and when they dropp you off hand them no more than 10 CUP.
Click here for some great information on using Taxi Collectivos in Havana.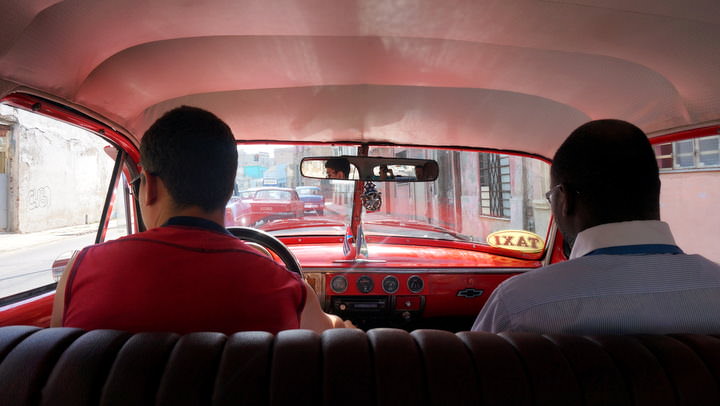 City Bus:
There are local buses in the city, going on various routes. Your best bet is to tell your casa or hotel where you want to go and they'll point you in the direction of which bus to take, and where to catch it. These buses are jam-packed, shoulder-to-shoulder and they can be very hot. Watch-out for pickpockets on the bus as well. The good news? It's 1 CUP for a ride (0.04 CUC).
Viazul Bus:
This is the 1st class, air-conditioned bus that most tourists take around Cuba. The only annoying thing about it in Havana is that the station is located outside of the center, and you can't purchase tickets in town. A taxi out to the Viazul station is between 5 – 8 CUC.
However, if you plan to travel from Havana to Vinales or Havana to Trinidad, you can take a shared car, which is the same price as the bus.
This is a much better deal as you don't have to spend money getting to  the Viazul Station to purchase tickets one day, and go back to take the bus the next. You will also be picked up at your hotel/casa and dropped off at your next accommodation (door-to-door service). Plus, you will arrive much sooner than if you took the bus.
You can purchase these tickets at an Infotur office. Ask your hotel/casa for directions (there is one at the airport and one near Cafe Paris in Havana Vieja).
If you're travelling from Havana to Vinales, or from Havana to Trinidad, taking a shared car is a no-brainer in my opinion!
Cyclo-Taxi:
Apart from walking and taking the local bus, this is the cheapest way to get around. The cost of a journey from Centro to Parque Central, or Parque Central to Vieja is officially 1 CUC, but the cheapest we found was 2 CUC. We always feel bad for the guy who has to cycle our big butts around in 30+ degree heat, and we end up tipping!
Bus to Playas del Este & Fort:
There is a bus that will take you for 5 CUC from Parque Central to Playas del Este, via the Fort, and back to Parque Central. These buses run every 40 minutes from 9:00am to 6:00pm. You can get off at the fort if you want, and then get back on another bus after you're done, and make your way to the beach.
To be clear, this isn't the hop-on-hop-off bus with open-air seating on the roof, this is a closed in bus with air conditioning. There is a number in the front window, look for T3.
This is actually a very good deal as a taxi to the fort will cost you around 5 CUC each way and more for wait time.
Hop-On, Hop-Off Bus Tour:
This is probably the most touristy thing you could do in Havana! But many people choose to ride this bus to get themselves orientated around the city before exploring on foot. There are 60 stops on the route, and the cost is 5 CUC. The bus runs from 9:00am to 9:00pm.
Click here for more information. 
Coco-Taxi:
These yellow, half-shell, three wheelers are basically a novelty for tourists, but they are a fun way to get around. The cost from Parque Central to Central Havana is 4 CUC. This is definitely not the cheapest way to get around, so bargain hard with these coco drivers, this is known to be a tourist experience (and thus charged accordingly).
Havana is for Everyone
No matter your age, your nationality or what things you're interested in seeing and doing, you'll find something you enjoy in Havana. Aside from those who are hustling to make a buck, the people are very friendly and will help you out with directions or anything else if they can.
The sites are incredible and the buildings are beautiful. The live salsa and rumba music is intoxicating, and after a few mojitos you'll probably find yourself up and dancing, even though you may not know the steps.
Havana is a very safe place to travel – although at times it may not feel safe. There's hardly any crime. Cubans are very proud of how safe their country is for tourists, and they want to keep it that way. The best part about the city is just simply walking around and getting lost in the many narrow back streets.
Bring your camera, your Spanish phrasebook, your walking shoes and an open-mind and you'll have an excellent time in this brilliant city.
For more about Havana, check out:
Havana, Cuba: Could This Be Our New Favourite City?
Also, have a look at this exciting video of our time spent exploring Havana!
Like This Article? Pin it!