It's one thing to pack your backpack and set off on a trip to a specific destination, or one region of the world, but when you're trying to pack for a life of full-time travel, deciding what to put in your bag can be a difficult decision.
You'll be travelling through different continents, cultures and climates. What was appropriate or suitable for one area of the world may not be for another. So, what do you do?
We've been full-time globetrotters for almost eight years now and have learned how to pack and what to pack for this type of lifestyle. Check out our advice, tips and lists:
Disclaimer: GoatsOnTheRoad.com is a participant in the Amazon Services LLC Associates Program, as an Amazon Associate we earn from qualifying purchases. Please see our Privacy Page for more information.
Choosing Your Luggage
First of all, you will want to have a good piece of luggage to put all of your belongings in. Find something that you think is conducive to your travel style. For us, it's a backpack or nothing. And not just any backpack, it has to be luggage-entry style so that we can see all of our items at once.
Some backpacks only open from the top ("top-loaders"), but these can be inconvenient because if you pack something at the bottom, you have to empty everything out of your bag to get to it.
Luggage-entry means that the bag unzips all the way to reveal everything in your pack so you don't have to go rooting through your stuff at airports, hotels and bus stations.
We both travel with Osprey Farpoint 55L backpacks and love them.
Here's a quick rundown of what to look for in a backpack:
Padded hip belt and shoulder straps.
Proper suspension and weight distribution.
The correct size for your height. 
For more information and details on how to choose the best backpack for travel, check out our article here. 
What to Pack for Different Climates and Cultures
This is where it gets a bit tricky. If you're going to be living out of a backpack, it's difficult to carry items around the world for every single climate and culture that you will encounter. Here are a few tips to help you get around this:
Choose multi-purpose items
When travelling from Europe to the Middle East (for example), you're going to need to change your style of dress to be more conservative. Here are some of our favourite items to help you get around this:
A sarong can be worn as a beach cover-up or a skirt, but then can be turned into a headscarf, or neck scarf when you need to dress more appropriately. As a bonus, it can also be a towel or blanket.
Pants one minute, shorts or capris the next. Look for a pair of pants that you can either zip off to turn into a pair of shorts or capris, or find pants that you can roll up and clip into place to create a stylish pair of 3/4 length pants. (I have the Halle Pant by prAna, and love them)
A long skirt is great for cooler climates or when you need to cover up your legs. When you're in a more liberal destination, you can hike up the long skirt over your bust and turn it into a shorter dress. Throw a belt around your waist, or create an empire line for a more fitted look.
Leggings have so many uses. Wear them by themselves, with a longer shirt to cover your bottom when needed, or underneath a short skirt when in conservative countries. You can also use them as a base layer for warmth.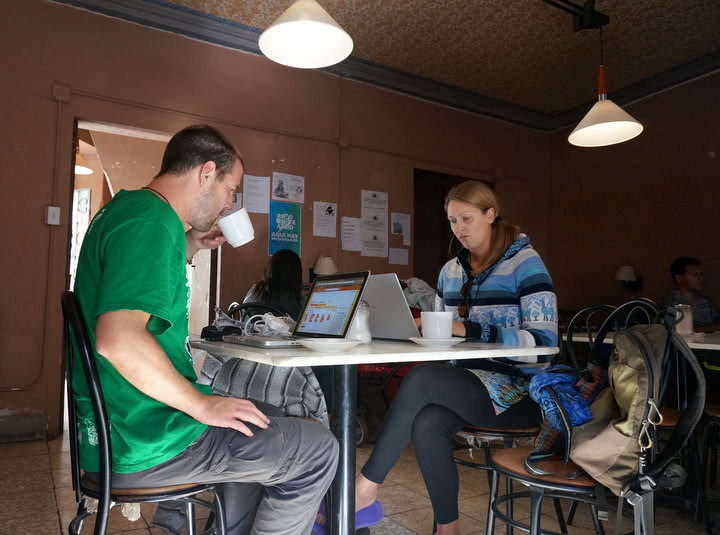 For men, choose to buy shorts that are for swimming at the beach and wearing in cities. Wearing shorts in many countries screams "tourist" as it is, but if you have bright, colourful patterns, you'll stick out like a sore thumb.
Try to find a nice pair of pants that are comfortable and practical for hiking and trekking, but that are stylish enough for a night out (Nick has Bluffworks and loves them).
A hoodie (zip sweater with a hood), can be used for warmth when needed, and also as a pillow for overnight buses and trains.
Go with basics and solid colours
If you stick to blacks, browns and darker colours like navy or greens, you'll be more able to mix and match your clothing, which will give you more outfit options when on the road.
Try to stay away from white clothing as it's impossible to keep clean while travelling.
Having a few key, solid-coloured pieces of clothing in your wardrobe will really go a long way.
Think about layers
If you're going to be in hot and cold climates, have a couple of items that can stand on their own, but will act as extra warmth when needed. Leggings, tight-fitting t-shirts or tank tops, and fitted long sleeve shirts are great for this.
They can be worn by themselves when in hot climates, or underneath a jacket or sweater when it's cooler.
Depending on the temperature, rather than purchasing a bulky jacket that will take up a lot of room in your pack, it may be best to have some base layers for warmth, followed by a nice sweater that you can wear for a night out, and then a windproof / waterproof jacket on top when it's extra chilly.
Picking items that can stand alone, and be used for warmth is key. This way, you can add to your travel wardrobe, without adding any items that only have one purpose.
Lightweight and Quick-dry
Living out of your backpack means that you're literally carrying around your house and all of your possessions. The lighter the load, the better!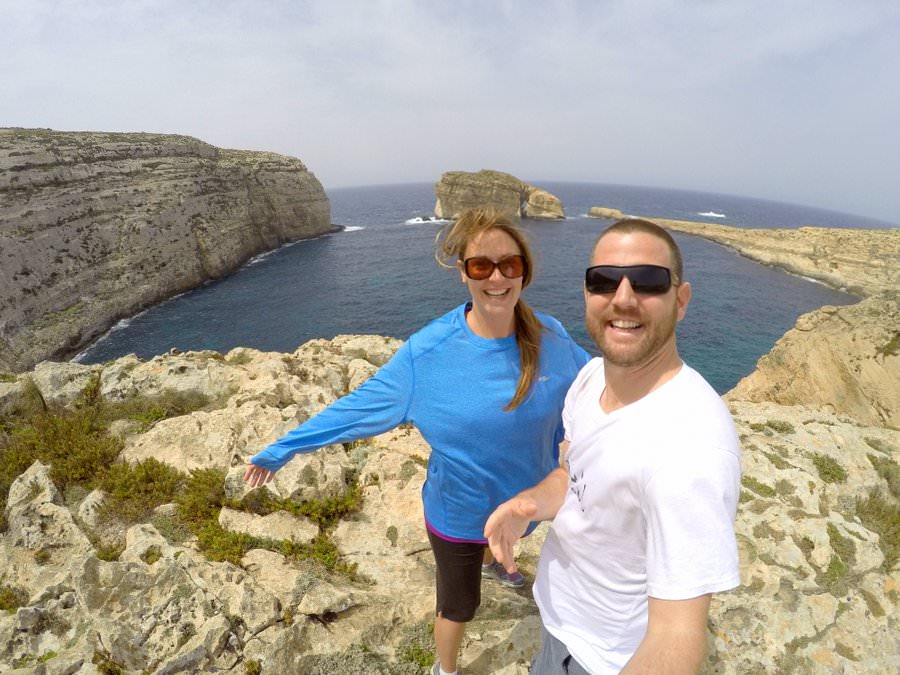 Think of the material of the item before you purchase it. If it's a heavy cotton or denim, not only does that add weight to your pack, but it's not going to dry very fast if you're going to hot and humid climates.
If you can, choose clothing that is lightweight and quick drying. For men, there are numerous brands of underwear, socks and t-shirts that are thin, anti-wicking for your sweat, and of course, they dry very fast. Perfect for those days when you haven't done laundry.
Don't Pack For Every Scenario
Something else to consider is to not pack for every possible situation. If you plan to do some camping on your trip, purchase a tent and sleeping bag when you need it. Don't buy it months and months in advance, otherwise you'll have to carry it around for no reason.
Keep in mind that you can always purchase items on the road as you need them, and donate or sell items that you are finished using.
What We Pack for Our Digital Nomad Lifestyle
Because we're now living and travelling abroad as a full time lifestyle, we dress differently, we take better care of our health, and we have items in our bags that we never would have if we were just going on a trip. Not every product listed below will be something that you feel that you need, but these are the items that work well for us, and better our quality of life on the road.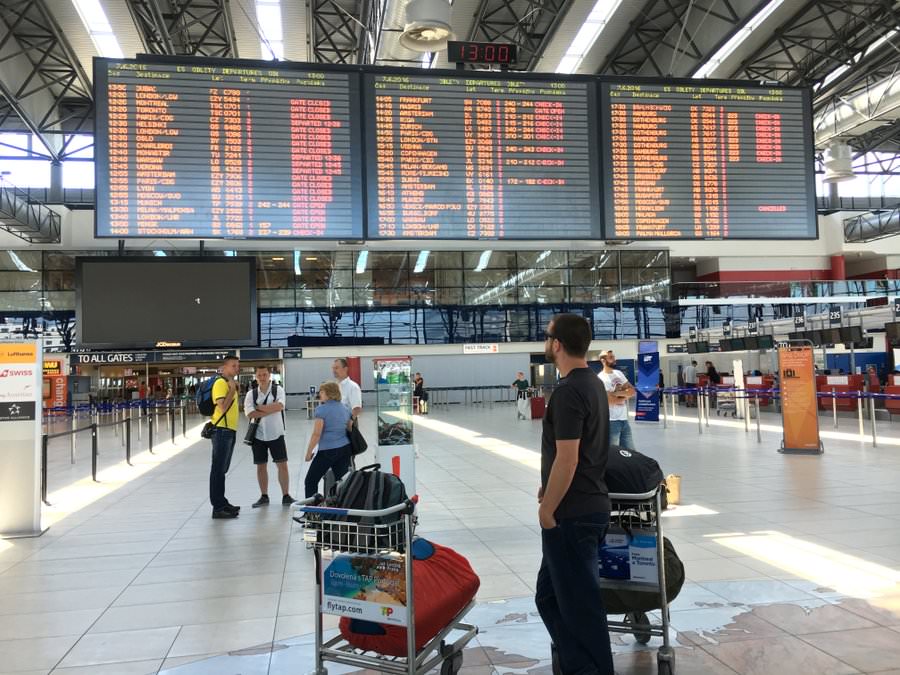 The Basics
Toiletries (Diva Cup for Women, electric toothbrush, toothpaste, deodorant, shampoo, conditioner, razor & blades for Dariece, electric razor for Nick, basic makeup, and perfume/cologne)
Clothing (See a full break down below)
MSR Travel Towel (quick-dry, microbial, lightweight)
First Aid Kit (antibiotic ointment, bandages, gauze, safety pins, tweezers, antihistamines, Pepto Bismol tablets, Ibuprofen, broad spectrum antibiotics, altitude sickness prevention pills, motion sickness pills, tiger balm, oil of oregano, vitamin C tablets, sunscreen, Odomos mosquito repellent.
Padlocks (1 large padlock, and smaller combination locks for our backpacks)
Electronics (see breakdown below)
Clothing We Pack
Nick:
1 x long-sleeved, collared dress shirt (thin and lightweight)
2 x prAna t-shirts (can be dressed up, or down)
2 x cotton t-shirts
1 x Bluffworks dress pant (lightweight, wrinkle-free)
1 x Columbia hiking pant with cargo pockets
1 x jeans
1 x pajama / comfortable cotton pant
1 x swimming shorts
2 x casual / dress shorts by Fox
5 x quick dry socks
1 x thermal, long sleeve, base layer top
1 x windproof, waterproof jacket
1 x basic flip-flop
1 x Keen Hiking shoe
Dariece:
1 x hiking / casual pant by prAna
2 x dress / casual pant by Anatomie
2 x chillin' beach pants
1 x leggings
1 x jeans
1 x capri pant (dress up or down)
1 x exercise capri pant
1 x shorts
1 x long skirt
1 x dress (can be casual or dressy)
1 x beach dress
2 x short skirts
6 x basic t-shirts
5 x tank tops
1 x dressy top
7 x underwear
2 x bras
1 x sports bra
3 x bathing suits
1 x sarong
1 x thermal, long sleeve, base layer top
1 x sweater
1 x NorthFace shoes
1 x basic flip-flops
Electronics
Because we work online, we need to travel with electronics. We've recently downsized our camera gear, but we still have the following items:
1 x GoPro Hero 4 Silver, with underwater casing
1 x GoPro external mic
1 x portable projector (Rif 6 Cube)
1 x Scuba diving computer (watch)
Travel adaptors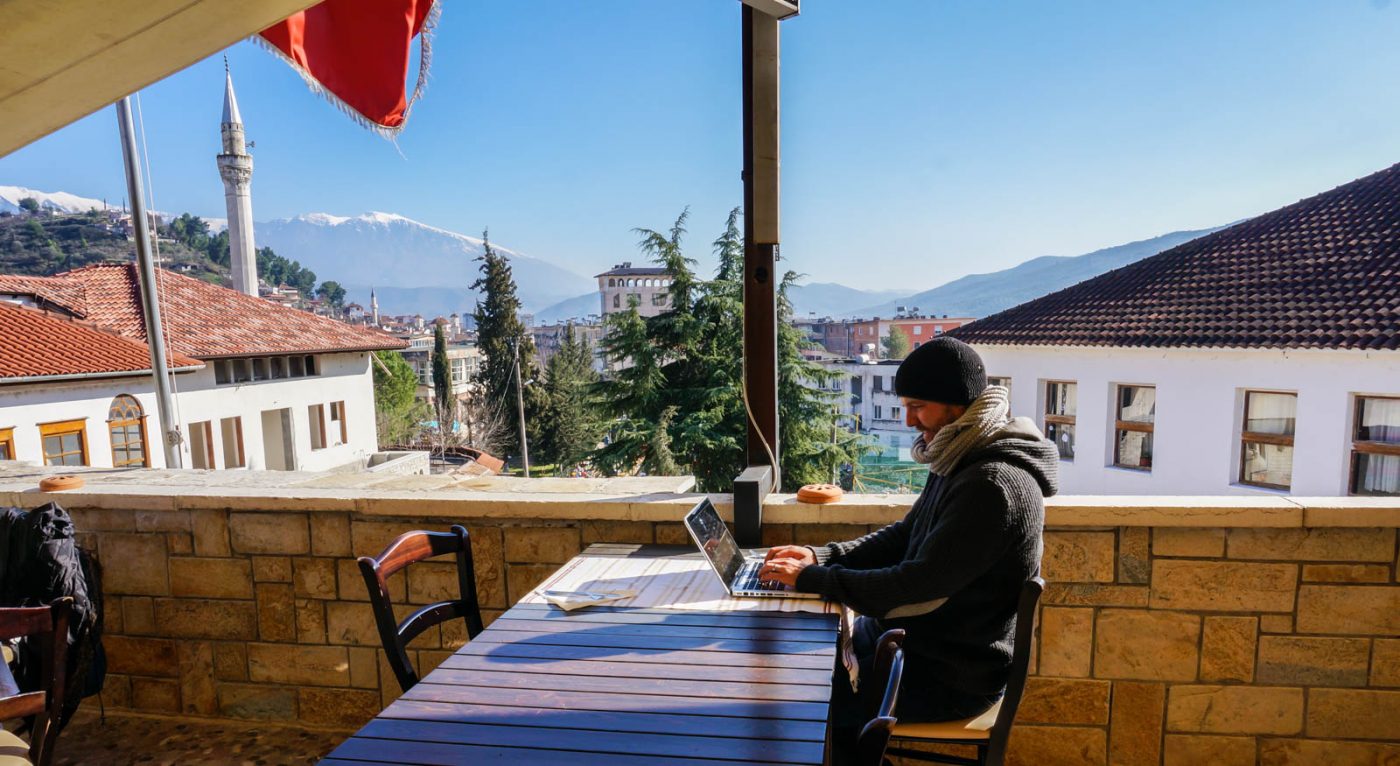 Must-Have Items for Full Time Travellers
On top of the items listed above, there are some particular brands, and pieces of clothing that we recommend carrying with you. These are a few of our favourites that have been in our backpacks for quite a few years.
prAna Clothing – In particular, the Halle Travel Pant listed above. These clothes are practical, comfortable, lightweight and stylish.
Lems Primal 2 Shoes – Not only are they comfy, but they are lightweight and roll up into a ball! Perfect for packing.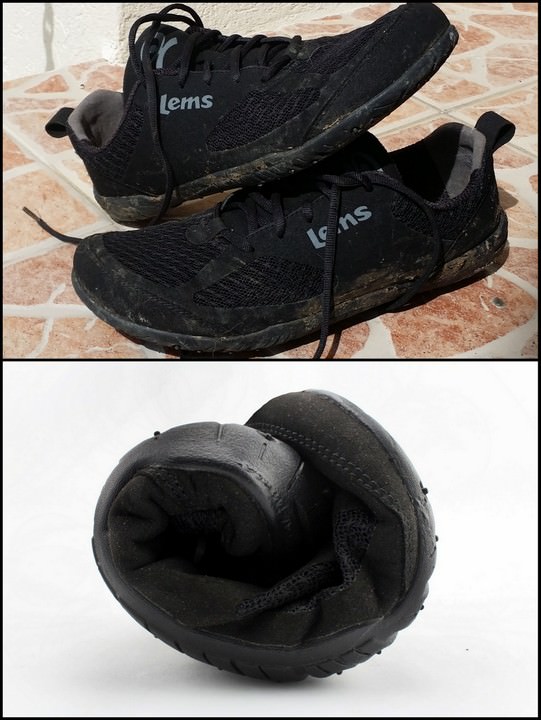 Handpresso – A portable, hand-pump espresso machine. Saves money on coffee, we love it.
Yoga Mat – Great for doing yoga, sit ups and stretching. Or, you can sleep on it in an airport and use it to sit on at the park / beach. We have the thin, lightweight mats by Nike.
Waterproof cases – Even Zip-Loc Bags will do, but we also have clear, plastic, thicker covers that zip shut. We use Zip-Loc bags for charge cords, toiletries, make up and the thicker ones for documents.
Money Belt – An actual belt with a zipper on the inside for stashing your cash.
Diva Cup – Menstruation cup for women, a must have.
Packing Cubes – These nylon zip cubes are the best for keeping your clothing and items organized, and condensed. We've used Eagle Creek cubes for many years.
Wine cups – We love wine! Buying a bottle of wine at a shop is much cheaper than at a restaurant, so we carry around plastic travel wine cups.
Games – We carry a deck of cards, dice, and a Crib board for those rainy days.
Get Packin'!
These packing tips and tricks are ideas that we've picked up after a lot of trial and error over the years! My main piece of advice is to not overpack, and keep in mind that you can purchase items as you go, and give away items when you're finished with them.
I hope this article helped you figure out some of the tough packing questions you may have had. Make sure to give us your packing advice in the comments below.
Travel on 🙂
Like this Post? Pin it!