If you're looking for unique experiences in London, you've come to the right place!
London is one of the most exciting destinations for travelers thanks to its massive range of things to do, foods to try, and places to see. London hosts millions of visitors annually, from the Houses of Parliament to Soho, Kensington, and Camden.
But it's not all about Big Ben and the London Eye. In this article, I will tell you about some of the more unusual experiences in London that you may never have known existed.
Having lived in and around London for over 20 years, I can give you the lowdown on some cool and unusual London experiences.
From hidden bars and historic pubs, to unique photoshoot locations, graffiti tours and silent discos, this post will help you discover a quirky side to the nation's capital that most people don't get to see.
Add some of these fun trips to your list whether you're visiting or two weeks London for two days – it's always a good time!
Here are 15 Unique Experiences in London you won't want to miss.
1. Take a Black Cab Tour
London's black cabs, (taxis), are a symbol of the capital and are an excellent way to get around the city. London cab drivers are famed for their "knowledge" of the city's streets and landmarks, and for being able to find the shortest routes to anywhere in London.
So what better way to really get to know the city than to take a tour with one of London's knowledgeable cabbies? On this unique experience in London, you will be chauffeured around the city in your own private black cab.
This three-and-a-half-hour tour will take you on a 20km journey across the capital where you'll see famous, and not-so-famous landmarks as your driver fills you in on the trivia of the places along the way.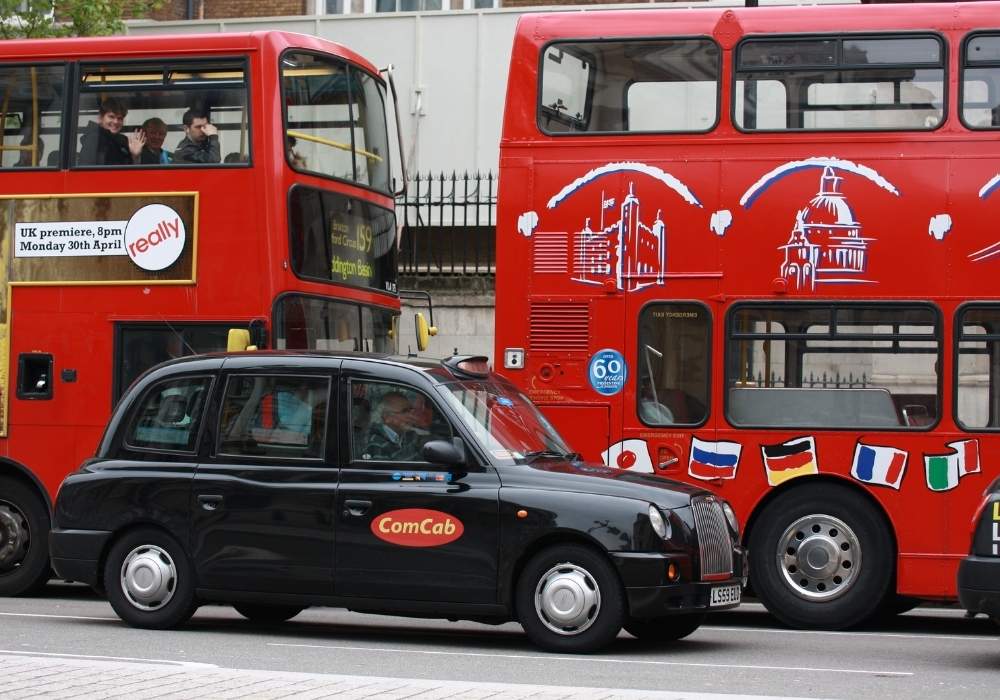 Prices start at £105 per person, but there is a minimum of two people, making it a great option for couples and groups of friends.
A black cab tour is definitely one of the coolest experiences in London, and is a great introduction for those wishing to learn more about the city from a local perspective.
☞ SEE ALSO: 10 Fun Day Trips from London (By Train and Car)
2. Hidden Pubs of London Tour
Forget the packed-out pubs and bars of Soho, and opt instead for this unique tour that takes you on a trip through the backstreets of old London town.
You will discover some true hidden gems, including pubs dating back over 500 years, as you sip your way across some of London's most charming public houses.
The tour lasts three hours and takes you on a journey that will follow in the footsteps of some of London's most iconic residents from Shakespeare to Dickens.
This tour is perfect for lovers of craft beer, (or real ale as it's called here), but is also a great choice for those looking to sample the city's gins, wines and cocktails. Of course, there are non-alcoholic options available for those just interested in the history too.
The tour lasts from 2:00pm until 5:30pm. It begins close to St Paul's Cathedral and finishes up in Covent Garden. For those lucky enough to look younger than their age, be sure to bring a valid ID such as your passport or driving license.
☞ SEE ALSO: 15 Best Foodie Tours in London (and Drinks)
3. Shoreditch Graffiti and Street Art Tour
Now for a truly unique experience in London, discover the city's underground art scene on this graffiti and street art tour of hip Shoreditch. As you experience the murals and artworks on display, you will learn first-hand all about the processes from someone deeply involved in the scene for over 30 years.
You will get to see graffiti from both local and worldwide artists, and if you're really lucky, you might even get to see one of these in action, (though this can't be guaranteed).
This two-hour tour is one of the more unusual experiences in London and costs just £25, ($30). Be sure to wear comfortable shoes as you'll be pounding the streets, and as this is England, you might also want to include an umbrella on your list of things to bring.
Insider Tip: Here is a list of the Banksy artworks on display in London.
4. Unique Photoshoot Locations
If you are looking for that perfect picture for "the Gram", then check out this cool photoshoot experience that takes you to the tower bridge for a quick photo shoot with a profesisonal photographer.
Alternatively, you can try this photo shoot tour. You'll have your own private photographer who will take gorgeous pictures of you in locations that will leave your friends and family in awe.
What's more, your guide and photographer will share tips on how you can take the perfect picture on your own camera, or even from your phone.
The cost of the Tower Bridge photoshoot starts at around $35, and includes unedited and professionally edited photos, sent to you within two weeks of your shoot, while the longer tour second option visits more iconic attractions and includes more photos.
This really is one of the best unique luxury experiences in London and will leave you with a permanent reminder of your trip to enjoy and share for years to come.
5. Explore Harry Potter's London
It's no secret that Harry Potter is hugely popular with both kids and adults alike. So, whether you're a small kid or a big kid, this walking tour of London is the perfect way to see the city through a wizard's eyes.
The tour takes in many of the places made famous in the Harry Potter film series such as Diagon Alley, the Ministry of Magic, and the Leaky Cauldrons.
This two-and-a-half-hour tour requires a fair amount of walking, and you'll also need an Oyster Card or contactless payment card with a minimum of £2.40, in addition to the £15, ($18), cost of the tour. Click here to book tickets today.
6. Explore London's Canals by Kayak
Did you know that London has a network of canals that criss-cross the capital? One of the best ways to experience the city at a comfortable pace is to take to these calm waterways by kayak or canoe.
This unique trip takes in some of the most picturesque parts of London, including the Regents Canal and Camden Lock. Kayaking the canals is definitely one of the most interesting experiences in London, and it's a great way to see the city whilst getting some exercise – it makes indulging later on all the sweeter.
The experience lasts for 90-minutes and costs just £35, ($42), per person. The tour starts and ends in Camden, so this gives you the perfect opportunity to explore this trendy part of the city after your tour.
7. London History Tour
History buffs will love this unique tour of London. You'll get to learn about London's history from its Roman origins to the present-day metropolis it is now.
This walk takes in some of London's most iconic landmarks such as Tower Bridge, The Tower of London, and St Paul's Cathedral, in addition to lesser-known sites that few tourists get to experience.
This is one of the unique experiences in London for those looking to dig a little deeper into the city's history. The experience lasts for two and a half hours and costs £35, ($42), per person.
8. Party Through the City with a Silent Disco
If you're looking for really unique experiences in London, then why not boogie your way through the city streets with this silent disco? Show Britain your moves as you dance through the streets with a headset playing a selection of funky tunes.
This fun experience is perfect for those who don't mind making a bit of a fool of themselves and is a great way to meet new people or have a laugh with your friends.
This one-hour walking-party costs from £19, ($23), per person and takes in some of London's most famous tourist attractions including Piccadilly Circus and Trafalgar Square.
9. Discover London's Gruesome History
Fans of the macabre will love this spooky tour of dark London. Learn all about the city's bloody past from the plague, (Black Death), to Jack the Ripper, the Fire of London and the infamous Kray twins who terrorized the East End in the 1960s.
You'll take in the Tower of London, where criminals were tortured and had their body parts displayed for all to see, Tower Bridge and the Monument, before heading to the stomping grounds of Jack the Ripper in east London's back alleys of Aldgate and Whitechapel.The trip lasts for two hours and costs £18, ($21), per person.
☞ SEE ALSO: 25 FREE Things To Do in London
10. Penny Farthing Tour of London
Ever fancied having a go on a penny farthing, (an old-style bicycle from the 1800s)? This really is one of the most unusual London experiences as you ride through the streets of Westminster on an oversized bicycle.
You won't need a top hat and monocle for this tour, but a safety helmet is provided whilst you get the hang of riding one of these beauties.
This unique London experience will have you cycling past the Houses of Parliament, Downing Street, and Buckingham Palace, so it's a great way to take in some of the capital's most famous landmarks.
This three-hour tour costs around $45 per person. Click here to book tickets.
11. See the Palaces with a Retired Royal Guard
Discover London's famous royal palaces with a retired member of the Royalty Protection Squad; an elite unit of London's Metropolitan Police tasked with keeping the Royals safe.
On this tour you will get to see the Changing of the Guard, before walking along the Mall to Clarence House; home of His Royal Highness Prince Charles. You will take in St James Palace, Buckingham Palace, and Parliament Square.
As you experience some of London's most iconic landmarks, your guide will retail you with stories of the Royals from his time as a serving officer.
The walking tour lasts for three hours and costs around $250 per private group. This is definitely one of the most unique experiences in London and will fascinate those with an interest in history, the Royals, and contemporary politics.
12. Enjoy a Coach Tour with Six-Course Meal
If you are looking for unique luxury experiences in London, look no further than this sumptuous six-course meal aboard a luxury coach. Feast your palate and your senses as you're driven around some of London's most well-known attractions.
During this three-hour tour you'll be served a selection of British and French cuisine, freshly cooked on board by expert chefs. There's also the option of a wine-pairing for those looking for the ultimate luxury experience.
The coach has free WiFi and you'll be given an audio pen that will highlight London's landmarks in nine different languages. This is one of the best things to do in London at night.
The coach trip leaves from Victoria Embankment and costs from £120, ($143.50), per person for the meal, or £150, ($180), with wine.
13. Notting Hill Walking Tour
Notting Hill is one of London's most famous boroughs and has been immortalized in film and television. Discover the places where Hugh Grant and Julia Roberts filmed the famous 1999 romcom of the same name.
On this fun-packed walking tour you'll see the homes of the rich and famous, a Banksy artwork, and will also learn about the darker side of this well-known suburb.
The walk lasts less than two hours and costs around $20 per person.
14. Indulge in High Tea at Kensington Palace
If you've ever wanted to indulge in a traditional British high tea, this perfect tour pulls out all the stops. Think cucumber, salmon, and English ham sandwiches with the crusts cut off. Earl grey tea, cakes and scones. It doesn't get more British than this!
The tour first takes in the beautiful Kensington Gardens including Queen Victoria's very own garden, created by her husband Prince Albert. This is also where the young Princes William and Harry grew up.
High tea at Kensington Palace is certainly a unique luxury experience in London, and a must-have experience for anglophiles and those with an interest in the royal family.
High tea costs £89, ($106), per person and lasts for two hours. See also: 15 Traditional Foods to Try in London.
15. Kelvedon Hatch Secret Nuclear Bunker
Exploring a "secret" nuclear bunker has to be one of the quirkiest experiences in London and is a great option for so-called "dark tourists".
Kelvedon Hatch, which is actually 32 miles from central London, was the secret location of a nuclear bunker where the Prime Minister and Cabinet would have taken refuge in the event of a nuclear strike.
The bunker lies deep beneath the Essex countryside, on the outskirts of London, and would have been the major command center in the event of an all-out nuclear war.
The site now houses a fascinating museum that covers three floors of exhibits, including dioramas, staff quarters, propaganda posters and much more.
To reach Kelvedon Hatch take the Central Line, (red line), to Theydon Bois or Epping, and then take a taxi the rest of the way (20 minutes / £15, ($18.00).
FAQs About Visiting London
Here are some answers to commonly asked questions about visiting London.
Is London Easy to Get Around?
London is incredibly easy to get around. With 11 underground (subway)lines, some of which operate 24 hours at the weekend, this is one of the best ways to get around the city.

It's also worth noting that many of the underground stations are close enough to walk between, so consider getting off a stop or two early to take in the sites and get a bit of exercise and fresh air.
Is London Safe for Tourists
London is very safe for tourists. In fact, it was voted the 15th safest city in the world by the Economist in 2021. As with anywhere busy, be aware of pickpockets, and avoid quiet and dimly lit areas at night.
Is London an Expensive City?
In 2022 London was voted the fourth most expensive city in the world, but that has more to do with the high rents than anything else, so visitors to the city shouldn't be put off. I frequently book hotels in London if I plan on staying late, and am always able to find a bargain under £100, ($120), per night on Booking.com.

Another option for places to stay in London is an Airbnb – shared apartments can be quite affordable. Have a look at this list of the 10 best in the city.

Some money-saving tips include staying in London's fun hostels, buying food from the supermarket, and picnicking in London's fantastic parks. You can also do this with drinks instead of going to expensive bars.

Be sure to pick up an Oyster Card, or ensure you have a contactless payment card for reduced tube, bus and rail fares.
Enjoy These Unusual Experiences in London
With these unique experiences in London you'll be sure to have bags of fun. Whether you're interested in history, the royals, contemporary art, or food, there's something to please everyone. The only question is, which experience to try first?
Like This Article? Pin it!