Travelers who chose not to go to the Chichen Itza ruins will undoubtedly have a wonderful vacation on the powdery beaches of the Mayan Riviera.
The truth is, however, that they missed out, big time. As one of the New Seven Wonders of the World, Chichen Itza deserves its place alongside Machu Picchu and the Great Wall of China as an exemplary archeological marvel.
I mean, would you visit Lima and not make the long trip to Machu Picchu? Would you visit Beijing and not spend a day getting to the Wall and back?
Chichen Itza is one of the must-see places in Mexico!
In this guide, learn all you need to know about visiting the famous Chichen Itza ruins in Mexico.
Chichen Itza Facts and History
With several million people visiting Chichen Itza every year, it's one of the most popular tourist destinations in Mexico.
The majestic, angular pyramid of Kulkulkan is one of the most important symbols of Mexico as well.
And there's much more to the ruins than the iconic pyramid. Visiting Chichen Itza involves at least three or four hours of exploring the extensive site, which also has walls of skull carvings, a large ball court, an astronomical observatory, fields of columns, and two cenotes.
Chichen Itza was an active city from 525 a 1200 CE, and it was the capital of a large Mayan territory from 987 to 1200 CE, which corresponds to the end of the Classical Mayan period and the beginning of the Postclassical period.
Like other major Mayan cities, Chichen Itza experienced a rapid decline and collapse about a thousand years ago. The reasons for this are still uncertain, although most scholars believe it had to do with problems with the water supply.
The advanced civilization disappeared, but the Mayan people survived. Today they live in large numbers in southern Mexico and northern Central America, especially Guatemala.
Today, Chichen Itza remains a sacred center for local Mayans.
The spring and fall solstices are the most important days at the ancient city. As the sun sets, moving shadows on the main pyramid's edges resemble the body of a snake slithering down to the stone snake heads at the base.
This important occurrence not only brings in local shamans and other spiritually-minded folks, but also thousands of tourists visiting Chichen Itza from all over the world.
Chichen Itza Temples and Pyramids to Visit
The famous pyramid is El Castillo (the Castle). It's also called the Temple of Kukulcan, named after the feathered serpent, one of the most important Mayan deities.
The pyramid was built in such a way that clapping at certain points in front of it results in a loud, sharp echo. If you go on your own, without a guide to show you, look for clapping tour groups to find the right spot.
El Castillo's design is symbolic of the Mayan calendar, with 91 steps on each of the four sides, which add up to 364. Add the platform, and it's 365.
What's more, the pyramid was actually built over a cenote, one of the freshwater sinkholes found throughout the Yucatan Peninsula.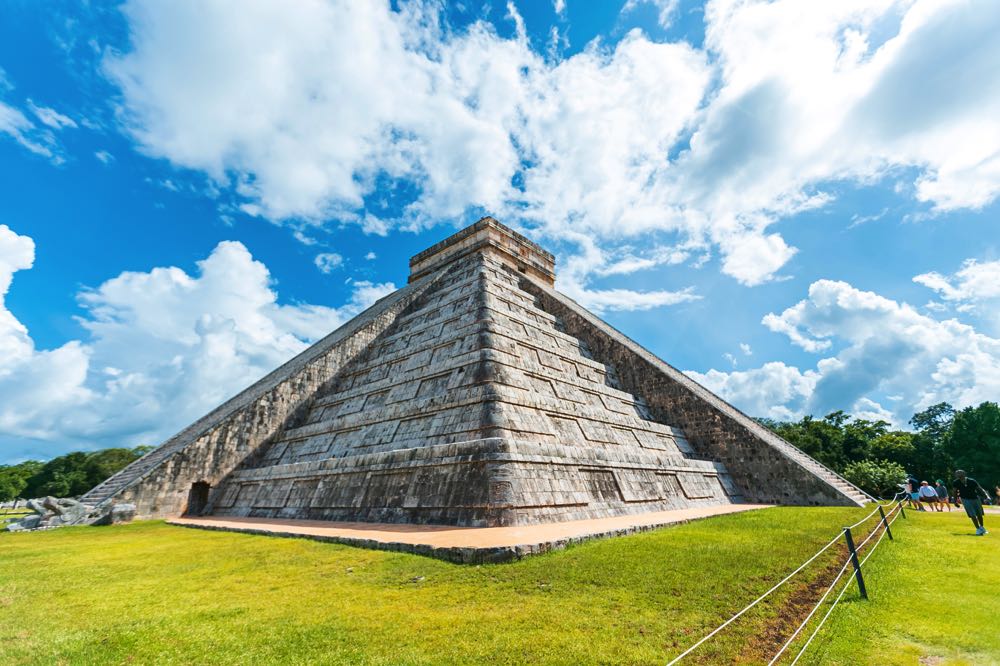 El Castillo is roughly in the center of the archeological site, with the park entrance and ball court to the west, the Sacred Cenote to the north, the Thousand Columns Group and market to the east, and the circular observatory El Caracol (the Snail), another cenote, and several interesting temple complexes to the south.
You can visit these areas in any order you like. Check the maps on-site carefully to make sure you don't miss anything.
Things To Do at the Chichen Itza Ruins
You'll spend your time visiting Chichen Itza by walking around, taking photographs, and sitting on park benches in the shade.
The area around the Sacred Cenote has dense jungle and many places to sit. It's a good spot to get away from the heat and crowds. You can't swim in the cenote to cool off, but you can get ice cream from the little shop located there.
There's a gift shop and a decent restaurant at the entrance. The restaurant is a little overpriced and not as good as the excellent options in the nearby town of Valladolid, but it's better than leaving early or going hungry.
In the evenings, there's a night show at the Chichen Itza Mayan ruins called the Nights of Kulkulkan. Visitors sit on chairs, watch lights projected on El Castillo, and listen to dramatic voices narrate the ancient city's history in Spanish.
It's a separate ticket from the regular entrance fee, and the park closes down before the light show, so you can't stay inside to wait for it.
3 Best Chichen Itza Ruins Tours
Because there are so many other places of interest in the area, many tours to Chichen Itza include a visit to the town of Valladolid, a swim in a cenote, or a stop at another archeological site.
Booking a tour means you'll have a knowledgeable guide to explain the history and significance of the place. You won't have to figure out the logistics of getting there and back, which is especially beneficial if you don't speak Spanish.
1. Chichen Itza, Saamal Cenote & Valladolid All-Inclusive Tour
If you're going to make the trip all the way to Chichen Itza from Cancun, Playa del Carmen, or Tulum, you might as well visit two other top attractions in the area.
After visiting Chichen Itza, on this tour you'll go to the town of Valladolid and the Saamal cenote. It includes a buffet lunch. You'll have lots of free time as well, which is always nice.
This is the top tour of Chichen Itza. Learn more about the costs, logistics, and more about this highly-rated tour here.
2. Chichén Itzá: Hubiku Cenote, Tequila & Valladolid Tour
This tour is guided by an archeologist and includes a visit to the Hubiku cenote, lunch, a tequila tasting, and a trip to Valladolid town as well.
Of course, you'll explore Chichen Itza and learn all about this magical site. Learn more about this fun day trip here.
3. Chichen Itza, Coba and Tulum Ruins & Ik-Kil Cenote
With stops at Chichen Itza, Tulum, and Coba, this tour takes you to the three major archeological sites near Cancun, Playa del Carmen, and Tulum.
Between ruins, you'll have the chance to cool off with a swim in the Ik-Kil cenote. The tour offers pick up in Cancun and Playa del Carmen. Learn more about this top trip to Chichen Itza here.
7 Top Tips for Visiting the Chichen Itza Archeological Site
Here are some tips to ensure you have a great trip to Chichen Itza.
If you go on your own, arrive at the Chichen Itza ruins as early as possible. This is especially true on weekends and during peak travel season. It gets both hot and crowded starting around 11 AM.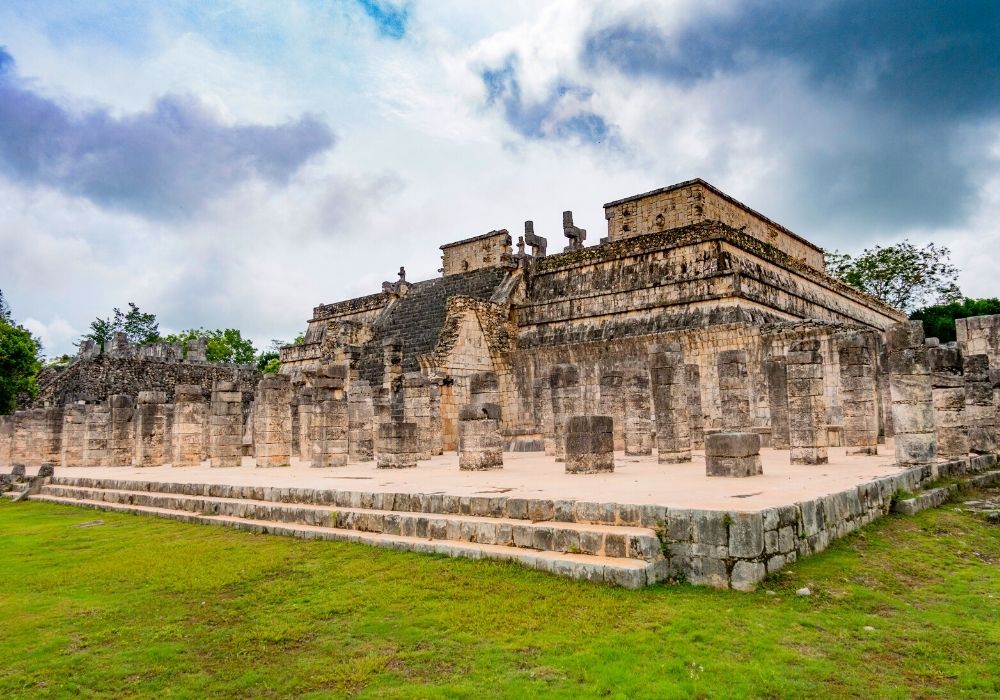 2. If possible, don't go on Sunday, when the entrance to the site is free for Mexican nationals, or during a Mexican holiday, when it's busier than normal.
3. If you have the time, stay a night or two in Valladolid, the colorful colonial town near Chichen Itza. There's a lot to see in Valladolid, and it has a much more authentic vibe than the resort towns on the Caribbean coast. Plus, staying there puts you in a great position to visit the ruins early the next day.
Staying two nights in Valladolid means that after a day of visiting Chichen Itza under the hot sun, you can return to the tranquil small town instead of taking a several-hour bus ride back to your travel base.
4. If you go to the Chichen Itza Mayan ruins on your own and want to learn all about the history and archeological significance of the site, hire a guide inside the park, not outside.
The guides outside may be cheaper, but they're not official guides and may be more skilled at driving a hard bargain than actually explaining anything. Resist their insistence with a firm "No thanks." Better yet, join a tour so you don't have to worry about anything.
5. To save money and learn some Chichen Itza facts, buy a guidebook to the ruins from the gift shop. Also, once inside, eavesdrop on tour groups — outside El Castillo, for example, to see where to clap to hear the echo.
6. Make sure to bring mosquito repellant, sunscreen, snacks, and lots of water. You can buy whatever you forget at the shops outside the ruins or at the gift shop near the entrance, but for inflated prices.
7. If you're going to visit a cenote after the ruins for some swimming, don't wear sunscreen. It's bad for the freshwater. If that's your plan, cover up well with a hat and long sleeves while visiting Chichen Itza.
Frequently Asked Questions
Below are some answers to frequently asked questions about visiting Chichen Itza.
Where Is Chichen Itza Located?
Chichen Itza is located in the center of the northern half of the Yucatan Peninsula in southeastern Mexico. It's about halfway between Merida, the capital and largest city in Yucatan state, and Cancun, the famous resort city on the Caribbean Sea to the east.
Driving to Chichen Itza takes about two hours and 15 minutes from Cancun or Playa del Carmen and about two hours from Tulum. Add 30 minutes or more to these times for taking a local bus, depending on the route and number of stops.
Note that Yucatan state, where Chichen Itza is located, and destinations on the Mayan Riviera (in Quintana Roo state) are in different time zones. Chichen Itza is one hour behind Cancun, Playa del Carmen, and Cancun.
When Is the Best Time to Visit?
The weather is hot year-round in the interior of the Yucatan Peninsula where Chichen Itza is located. Winters are dry and summers are often rainy, and the weather is generally unpredictable, especially in summer.
If you visit from the late spring to the early fall, you should bring a raincoat or an umbrella. A gorgeous sunny morning can become a hard afternoon rain with little warning. Fortunately, storms are often brief, and once the hot sun returns, you'll dry off in no time.
Chichen Itza gets extremely crowded during peak travel season and Mexican holidays. Expect large crowds, especially on weekends, from late December to early January (particularly between Christmas and the New Year), and from late July to early August.
Semana Santa (Holy Week), the week before Easter, is another time when many Mexicans travel. If possible, don't travel in Mexico during Semana Santa.
As mentioned, moving shadows on the Castillo pyramid resemble a slithering snake on the spring and fall equinoxes. Unless you're determined to see this and don't mind a massive crowd, avoid visiting Chichen Itza on these days.
Whether you go on your own or with a tour group, Chichen Itza is best appreciated in the morning.
Try to get there when it opens at 8 AM, or look for a tour that arrives early. A long line of tour buses begins to form around 11, and other groups may still be arriving right up to the last minute.
What Is Chichen Itza's Entrance Fee?
The basic fee for Chichen Itza is 80 pesos ($4 USD), which is the current price for most archeological sites in the Yucatan Peninsula. Check the official website for updates.
Chichen Itza has additional charges from the state of Yucatan, which at the moment are 417 pesos (about $21 USD) for foreign visitors and 130 pesos (about $6.50 USD) for Mexican nationals with official identification.
This may seem expensive compared to other archeological sites in Mexico, but keep it in perspective — it's not really all that expensive for a world-class attraction.
The ruins are free for Mexican nationals and foreign residents of Mexico (with identification) on Sunday.
What Are Chichen Itza's Opening Hours?
Chichen Itza is open every day from 8 AM to 5 PM, with the last access at 4 PM.
Many of the outer areas of the park, including the ball court, the Sacred Cenote, the Thousand Columns Group, and the observatory, close at 4 PM.
Where Can You Park at Chichen Itza?
There's plenty of parking at Chichen Itza, with large lots outside the entrance and spots on the street too.
As soon as you start getting close, guys will wave at you to park in their lot or on the section of road they're watching. They wear vests and uniforms, look official, and wave at you as if you're obliged to stop.
You're not. Keep going, because you might be able to get much closer.
Can You Climb the Ruins of Chichen Itza?
No, you can't climb anything when visiting Chichen Itza. The sheer quantity of tourists makes it impractical, both because of potential damage to the ruins as well as the likelihood that one would slip and tumble down a steep slope.
For Mayan ruins you can climb, check out Coba to the south of Chichen Itza and enormous Palenque in the nearby state of Chiapas.
How About Visiting Chichen Itza on Your Own?
It's absolutely possible to visit Chichen Itza without a tour, and it's a good idea for several reasons.
Visiting Chichen Itza on your own means that you can spend as long as you want at the site and see it at your own pace. If you plan things right, you can get there right as it opens at 8 AM and enjoy it before large, noisy tour groups start arriving around 10.
The best way to see Chichen Itza on your own is to stay in the town of Valladolid the night before. You'll have no problem getting to the Chichen Itza ruins early the next morning, and besides, Valladolid is a gorgeous colonial town with lots to do and see.
It's also possible to travel all the way from Cancun, Playa del Carmen, or Tulum on a day trip. Renting a car is the most convenient option, although public transportation is also possible.
There's an early bus from all three places that will get you to Chichen Itza just before it opens, and other buses leave regularly all day.
Later, you can either leave right from the ruins, or take a colectivo (passenger van) into Valladolid for a late lunch and a little exploring before catching a bus back to wherever you're staying.
The first-class bus company is ADO. Check the website for schedules and to buy advance tickets. Or, visit the ADO station in Cancun, Playa del Carmen, Tulum, or elsewhere to work out your plan.
Conclusion
I hope this guide has given you some insight into how to visit Chichen Itza, Mexico. Many travelers skip it on a vacation to the Mayan Riviera, but if you have the time, it's absolutely worth the trip.
Plan carefully, give yourself plenty of time, slow down, and breathe. It may be hot, it may be crowded, but has architecture and an atmosphere unlike anywhere else in the world.
Like This Article? Pin it!