Adventure lovers, history buffs and nature seekers rejoice! The third largest island in Greece will delight you with its endless activities, ancient sites and stunning coastline.
From the mountainous pottery-filled village of Agiasos in the south and the ancient towns of Petra and Mithymna in the north, to the Petrified Forest in the west and the neoclassical architecture of Mytilene in the east. Lesvos Greece truly has something for every style of traveller and is one of the best places to visit in Greece.
…and that's without even mentioning the food, ouzo, beaches, adventure and wildlife!
*Note: Don't miss the traveller tips and our travel video at the end of the post.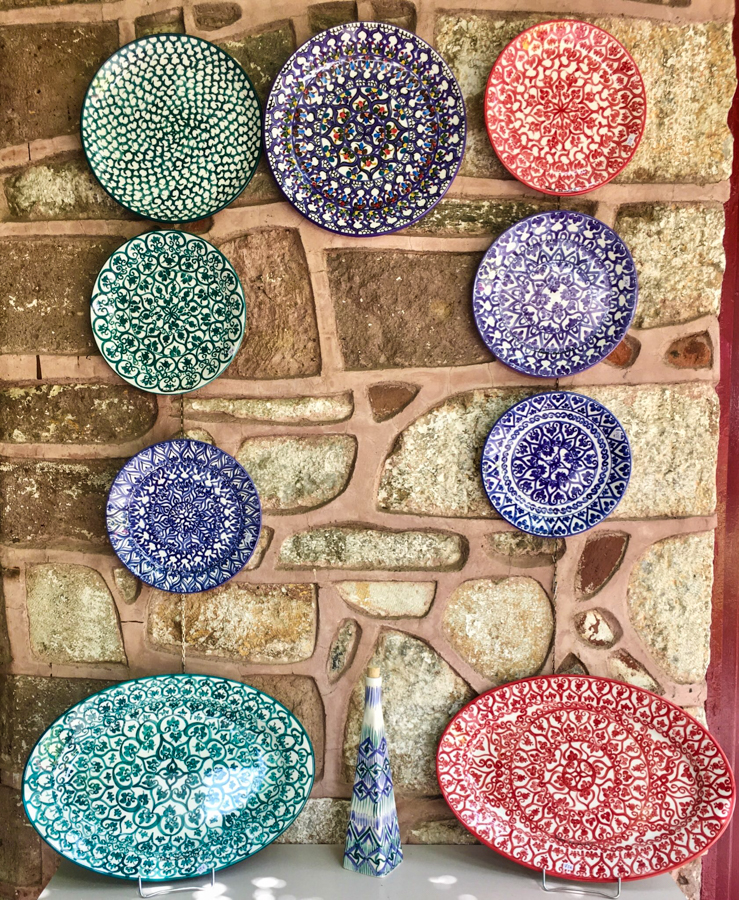 ---
As with its neighbour, Chios Island to the south, tourism in Lesvos was hit hard during the recent refugee crisis. Because of the island's proximity with Turkey, this was one of the first stops refugees made when fleeing their war-torn homes in search of a better future in Europe for themselves, and their families.
Foreigners flooded the shores, with the people of Lesvos island helping out in every way they could – providing blankets, shelter and food, plus assistance with registering these people at the administration centers.
In return for their kindness, the generous residents of Lesvos Greece have suffered economic hardship with many international airlines, tours and cruise ships stopping service to this beautiful island.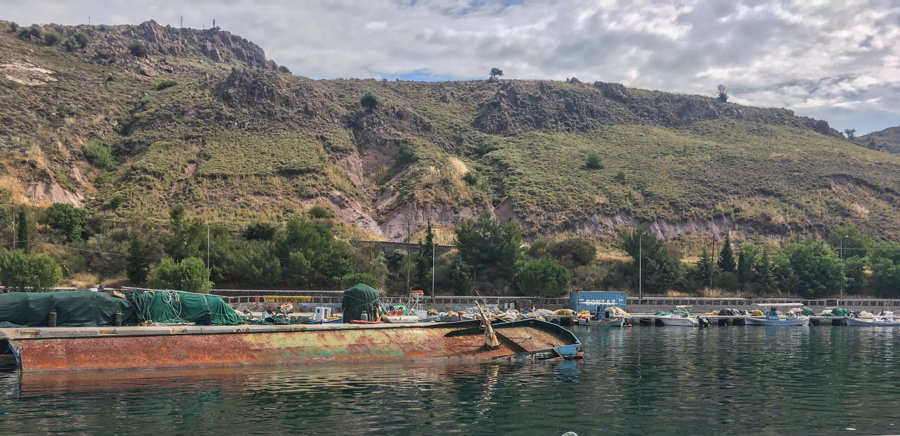 Thankfully, things have turned around this year, and more flights are returning to Lesvos Island! During our stay, which was in the shoulder-season of June, we saw lots of happy tourists exploring the villages, and dining on freshly caught seafood at little tavernas.
If you're planning a trip to Greece, consider the islands in the Aegean. Not only are they unique and absolutely stunning, but the wonderful people who live here are more than deserving of your tourism dollars.
---
Lesvos Greece was the last stop on our month-long trip through this country, and although we were excited to explore the island, it was bittersweet as we knew our journey through this diverse area was coming to an end.
☞ SEE ALSO: Best Beaches in Greece – a List of The Top 15
We arrived in the colourful capital city of Mytilene after an easy ferry-boat journey from Chios. Numerous cafes, shops and restaurants spilled out onto the cobbled side streets, while surrounding the harbour were beautiful mansions, churches, museums and more – all in the lovely neoclassical style.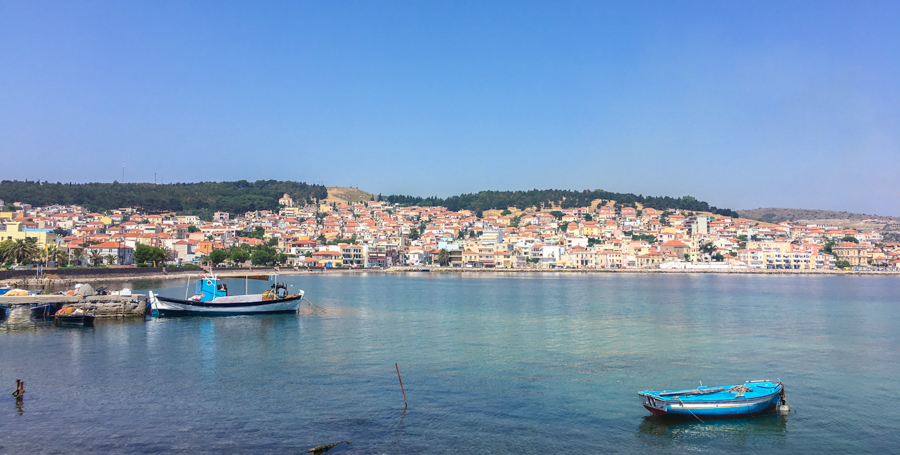 Towering above the city was the Castle of Mytilene, which covers 60 acres and is one of the largest in all of the Mediterranean! We had just stepped foot on Lesvos Island and were already in awe of the architecture.
As with all of the islands we've visited during our Greece travels, we had a rental car to explore Lesvos Island. An hour's drive from the port brought us to the top of a hill with expansive views over the village of Petra, the islands offshore and further out to the Aegean Sea. We also spotted a strange rocky mound jutting out of the ground in the middle of the village.
After a windy, hairpin turn descent, we reached Petra and soon realized that atop that odd rock sat the church of Glykfylousa Panagia, from 1747. We were absolutely blown away by this scenic monument!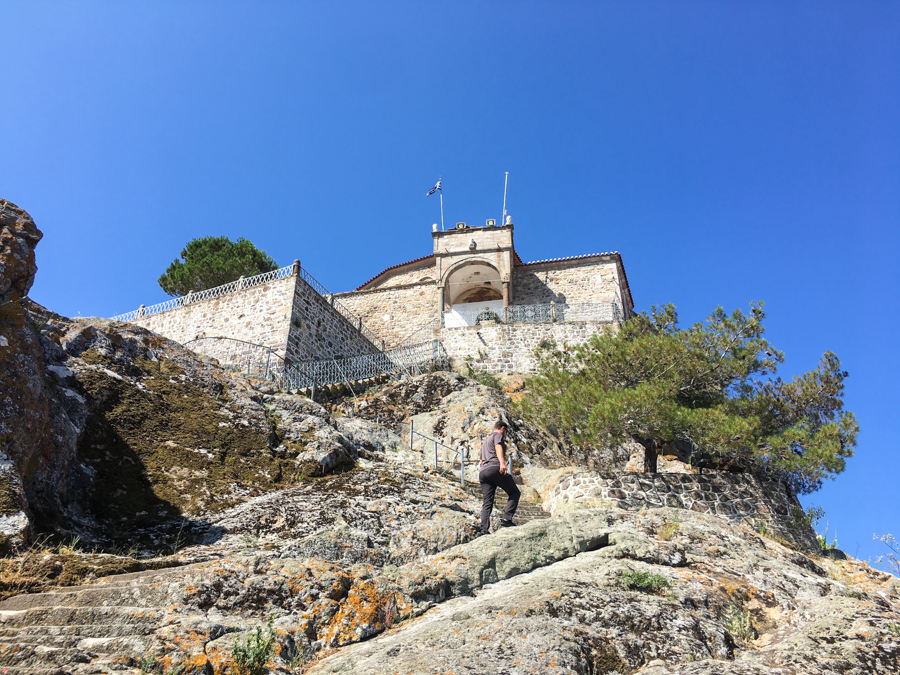 We drove down small alleyways before arriving at our boutique hotel, Archontiko Petras 1821. As the name suggests, this beautiful hotel was built in 1821. We've always loved boutique hotels because of their quaint feel and interesting furniture, and this one was no exception.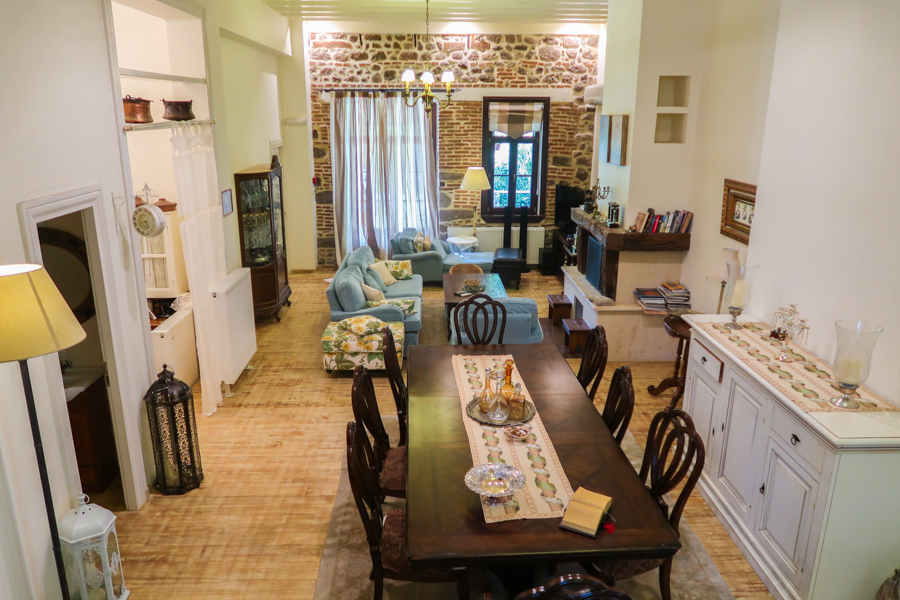 The two-level hotel offered two common areas and a community kitchen for guests' use, which was very well-stocked. To the back of the hotel was a balcony with a hanging chair and beautiful garden. The interior was tastefully decorated, while our room itself was exquisite. The ceilings were at least 15 feet high, the king-sized bed was incredibly comfortable and the antique dresser and chairs were a nice touch.
☞ SEE ALSO: Weather in Greece – When is the Best Time to Visit?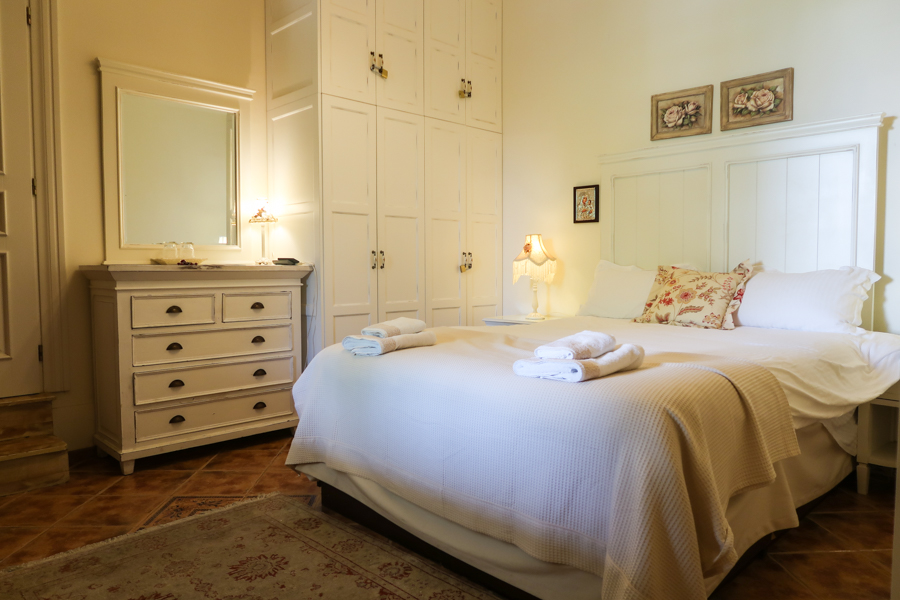 This would be our home for the next five nights, and it was perfect for us.
The village of Petra is built up around a sandy bay. Along the shoreline you'll find numerous cafes, bars, hotels and tavernas, all with free sun beds for customer's use. This is where you'll see most tourists, but if you take a few steps back from the beach, and venture off into the quiet back streets, you'll be one of the only foreign faces!
People seem to congregate around the sea, leaving the pretty little lanes void of tourists.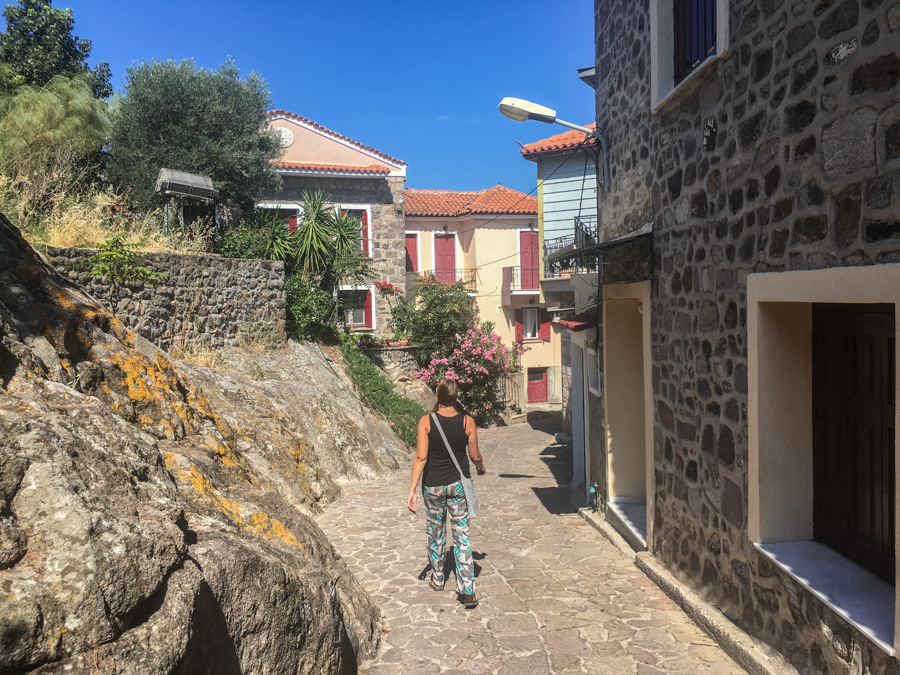 Petra proved to be the perfect base for exploring the island of Lesvos and after getting a feel for the town itself, it was time to head a little further north to neighbouring Molyvos (Mithymna) and the hot springs of Eftalou.
After driving for just 5 minutes, we could already see Molyvos in the distance, and its castle towering above the town.
A further 5 minutes and we arrived in the town itself. Although we could spot the castle, we weren't entirely sure of the route to reach it. So, we just started walking uphill through little back lanes.
☞ SEE ALSO: Things to Do in Corfu
Apart from a few local people who were going about their day-to-day lives, there was no one else around. One woman showed us a plum tree and suggested we pick some fruit, another women surrounded by about 6 cats waved and smiled, while a man said hello while pruning his trees.
There were no tourists here and we enjoyed our slow saunter through the lanes to the castle.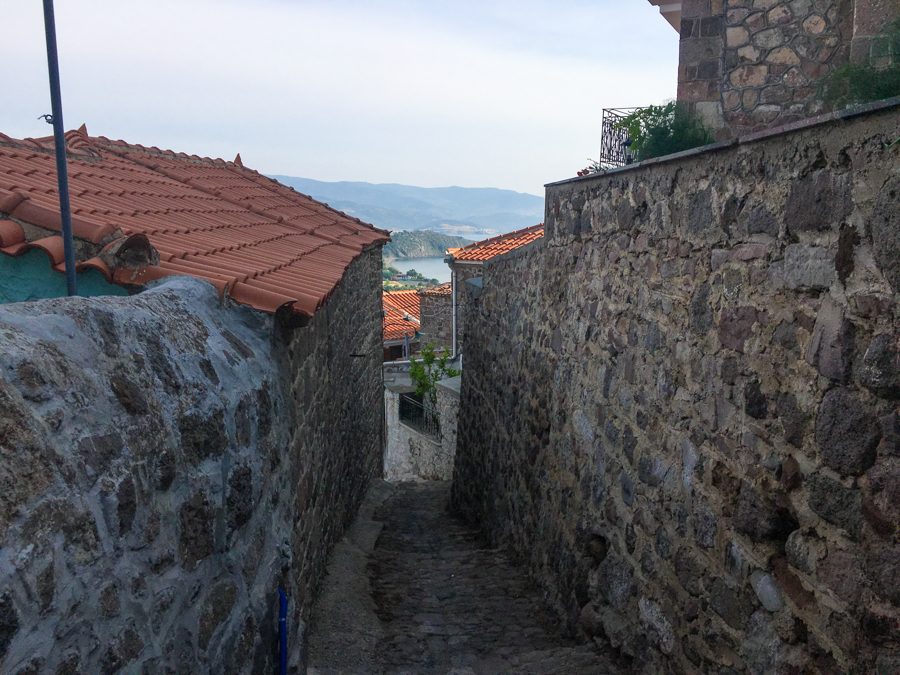 Reaching the Byzantine Castle, we were in awe of the structure and the expansive views of the sea and the town of Molyvos. This ancient castle is one of the most impressive in all of Greece, and although it was built by the Byzantines, apparently there are stones here from a previous castle during the Trojan War.
From the Venetians, to the Catalans, to the Genovese and the Ottoman Turks, this castle has seen it all and there is an incredible amount of history here. However, we were disappointed to find that we had missed the opening hours by just 30 minutes. We peered through the gates, but unfortunately the only views we would get were from the outside.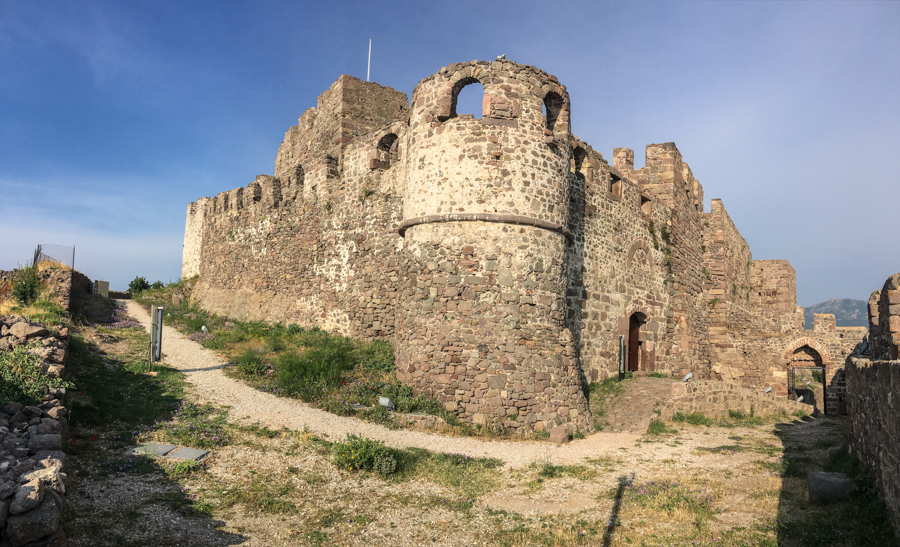 After hiking up to see the castle and wandering around the beautiful seaside town, it was time to soothe our muscles.
There are numerous hot springs on Lesvos island, but we opted for the healing properties of the most radioactive springs, Eftalou. At the beginning of the path leading to the white domed bath house, there was a sign that said the water temperature of the hot spring is around 46°C!
These would be the hottest hot springs we had ever been in.
☞ SEE ALSO: Things to Do in Zakynthos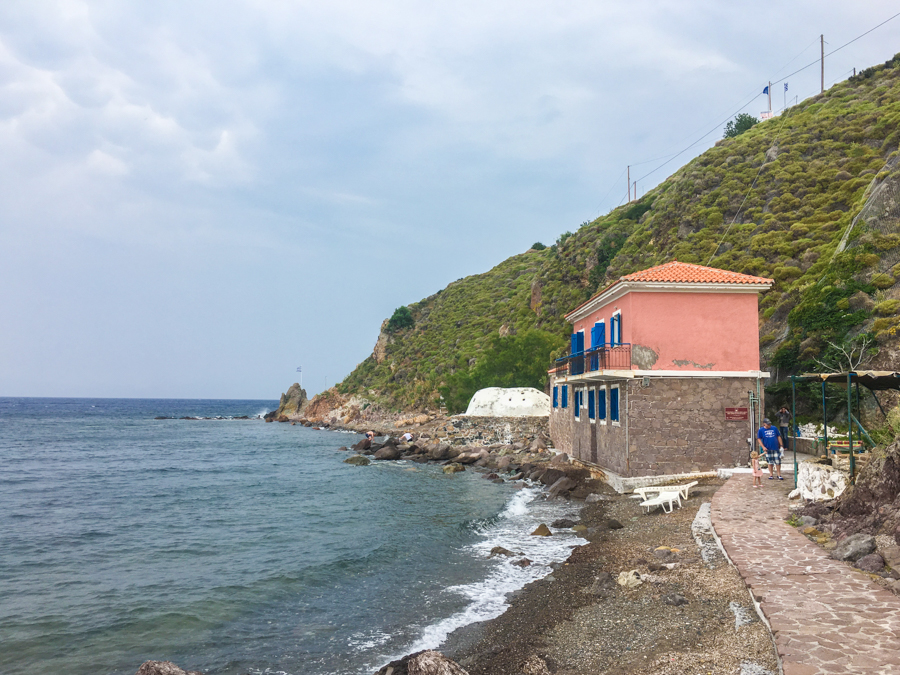 With our bathing suits on, we opted for the communal bath in the older house, as opposed to the newly renovated private ones. Steam was rising off of the clear water and the entire room was misty. Two men were submerged up to their necks, so we figured it couldn't be all that hot. We were wrong.
It took what seemed like an eternity to just get our feet in the water, let alone our whole bodies!
After watching us struggle with getting in the bath, the two men suggested we go out to the cool sea and sit in the water for 3 minutes. Apparently, when your body is cold, the hotspring doesn't feel as hot. We were skeptical, but gave it a try and after having my breath taken away by the chilly sea water during a cold day, it was time to give the bath another go.
This time we were able to get our entire bodies in the water, and it felt great.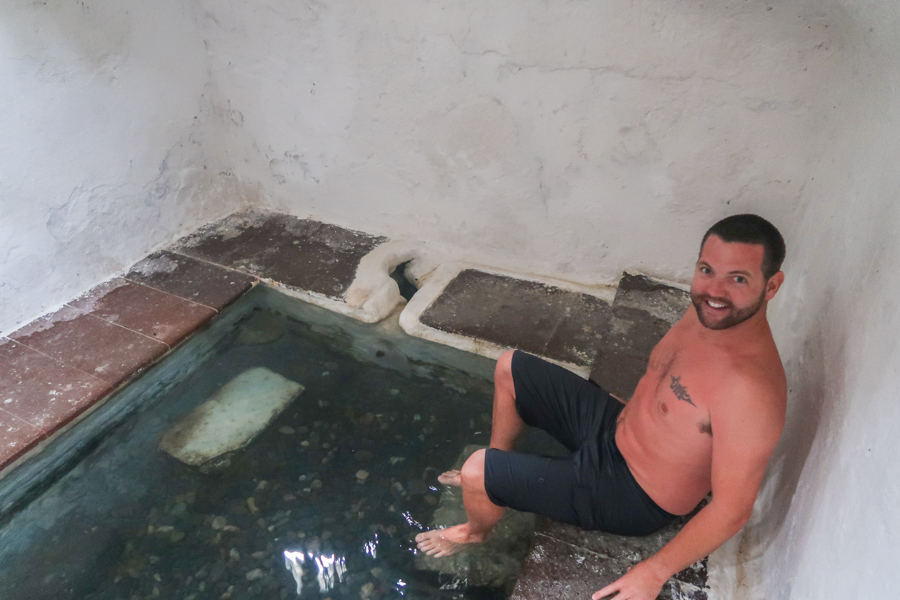 We relaxed in the piping hot bath for the maximum allowed time of 4 minutes, before heading to the cold sea again. This routine was completed three times and is said to cure ailments such as rheumatism, arthritis, sciatica, neuralgia, skin diseases, kidney and gall gravel and gynecological issues.
Whether or not it cured anything I'm not sure, but it was an experience we won't forget.
From historical sites and natural wonders to pretty villages and lovely beaches, we had really been enjoying our stay on Lesvos Greece. Rather than continue our enjoyment from land, we decided it was time to explore the royal blue sea – both on, and under.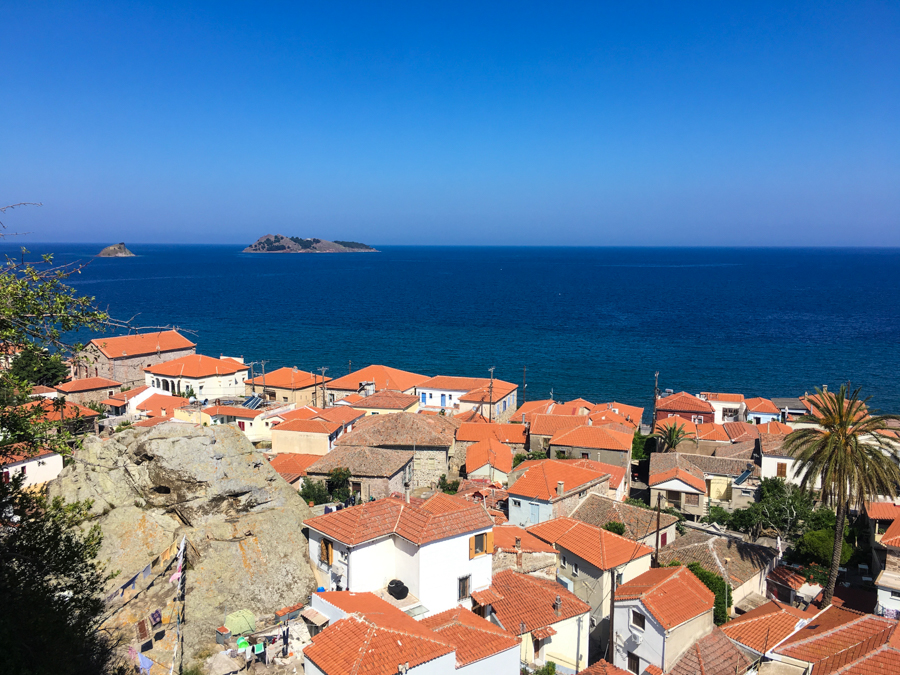 Lesvos is a volcanic island, and earthquakes and volcanic activity have shaped the land. From the strange rocky mound that sits the Glykfylousa Panagia church in Petra, to the forest which was covered in lava 20 million years ago, resulting in petrified trees today.
Not only was the topography above water filled with rocky mountains and unique volcanic formations, but the same went for below the water's surface.
Nick has been a scuba diver since 2008 when he got his PADI certification on Koh Tao, Thailand and has dove all around the world. But even though we'd been to Greece in the past, he hadn't been diving in this country yet!
Excited to spend a day at sea, we met up with George from Lesvos Scuba Diving Center, and George from Alternative Sailing – "Diving George and Sailing George" as we began to call them.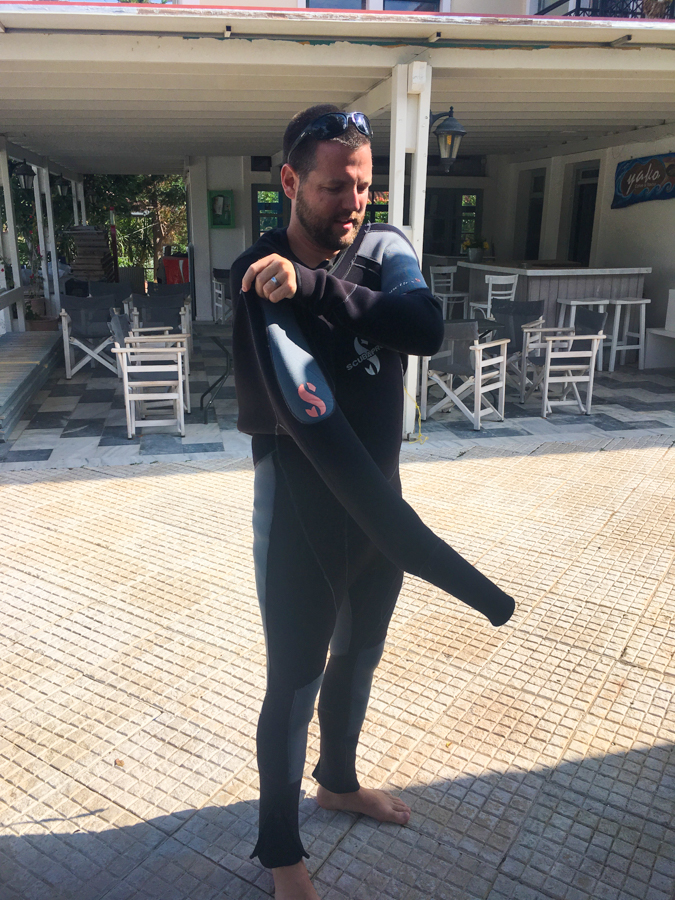 There's a really cool arrangement on Lesvos Island between these two companies. You can combine sailing with many other adventures, such as hiking, biking, or scuba diving.
We first met up with Diving George at the dive shop where we had a chat about life, the island and diving. Nick picked out his scuba gear and George loaded it into the back of his truck. He drove us to the port where we met up with Sailing George from Alternative Sailing. We were dropped off and hopped aboard the beautiful Salona 42′ boat.
The sky was blue, the wind was fair and the sea was the perfect condition for sailing. We've sailed aboard the Savvy and the Timshell in Grenada, a boat with no name in Mozambique, and the Yannis in SVG (plus numerous random fishing boats). But this was the first time I would experience sailing at the speed we did this day aboard the Selana.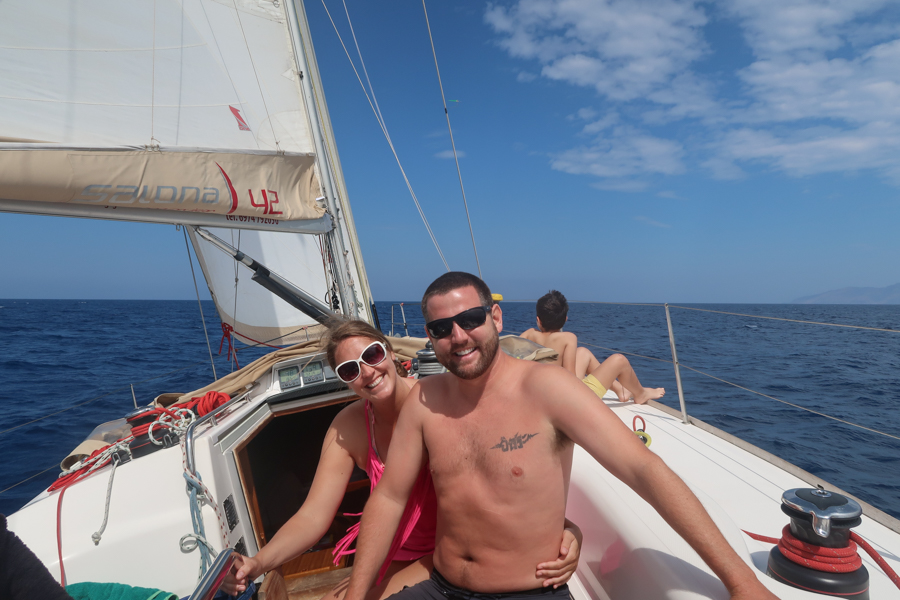 George was an expert and was extremely passionate about sailing. We caught so much wind in our sails that the boat was heeling (tilting) completely on its side! Sensing that I was a bit nervous about this (meanwhile, no one else was), George assured me that sail boats cannot tip over, and after gliding across the water for a few minutes on the speedy boat, I relaxed and was able to fully enjoy the experience, which included stunning views of the Villages of Molyvos and Petra.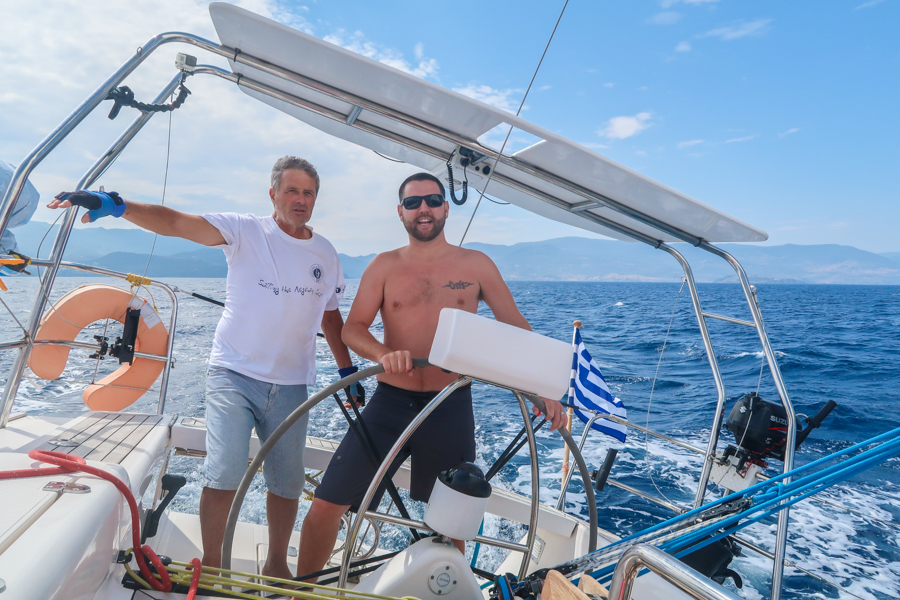 We zipped around the coastline, while Nick was given a bit of a sailing lesson from George. The trip was wonderful and we loved learning about the sea, the boat and the island from captain George and his wife Mirella.
Eventually, we pulled up behind one of the rocky offshore islands, where the sea was glass calm. We moored up and a few moments later, dive instructor George arrived in a zodiac and tied his boat to ours.
After a briefing about the dive site, Nick put on his gear, hopped in the zodiac, and just like that, it was time to dive!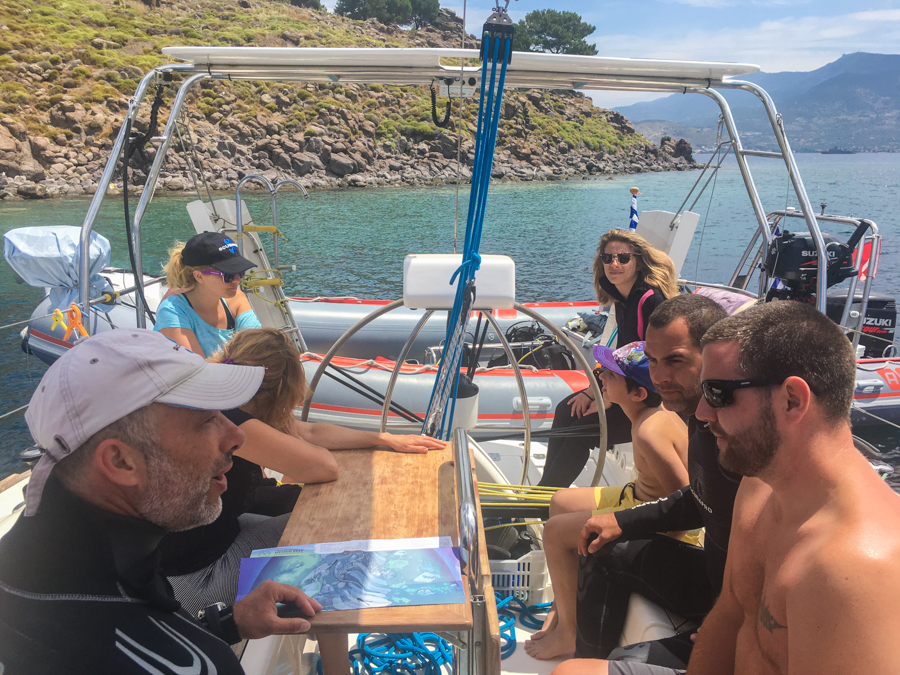 I stuck back on the sailboat with everyone else, and helped prepare lunch. There's a full kitchen on board where Mirella was creating a wonderful meal of fresh octopus, salads and pasta. Meanwhile, George jumped in sea and swam towards the rocks, returning with freshly caught sea urchins.
It felt like we were living on the boat, rather than just on a tour. Nick was diving for the day, I was swimming and tanning, Mirella was cooking, George was out collecting appetizers and others were just relaxing. A fantastic afternoon in Lesvos Greece.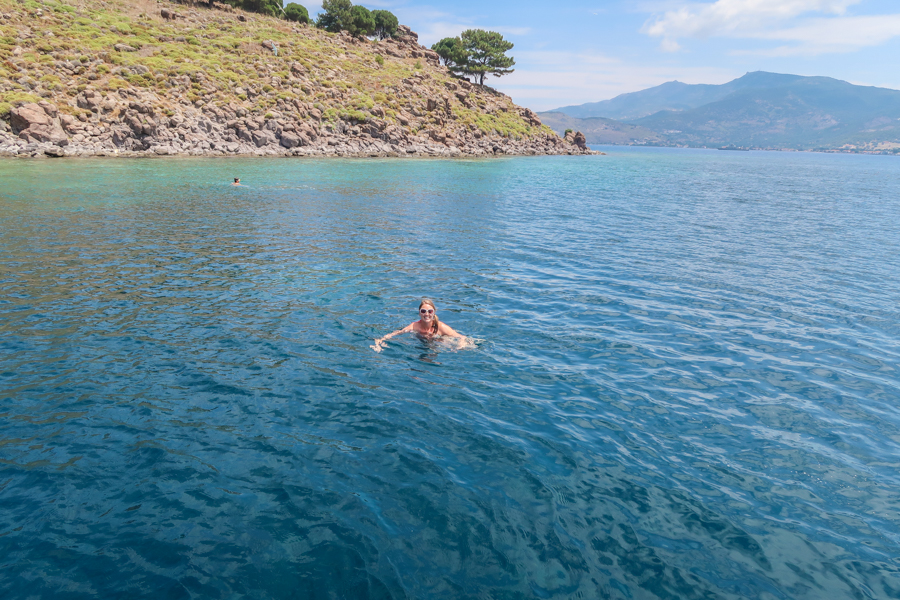 An hour or so later, Nick returned from his dive. Although there wasn't a whole lot of sea life, he did spot an octopus, a lobster and some fish. But the highlight was swimming through, and around, the ancient rock formations, which were created by volcanic activity over 10 million years ago.
Together with our friends from Alternative Sailing and Lesvos Dive Center, we sat around the table on the sailboat and enjoyed the homemade meal and great conversation. It was a wonderful day at sea and as we sailed back in the late afternoon sun, we reflected on our trip to the lesser-known Lesvos Island and all of the beautiful people we met there.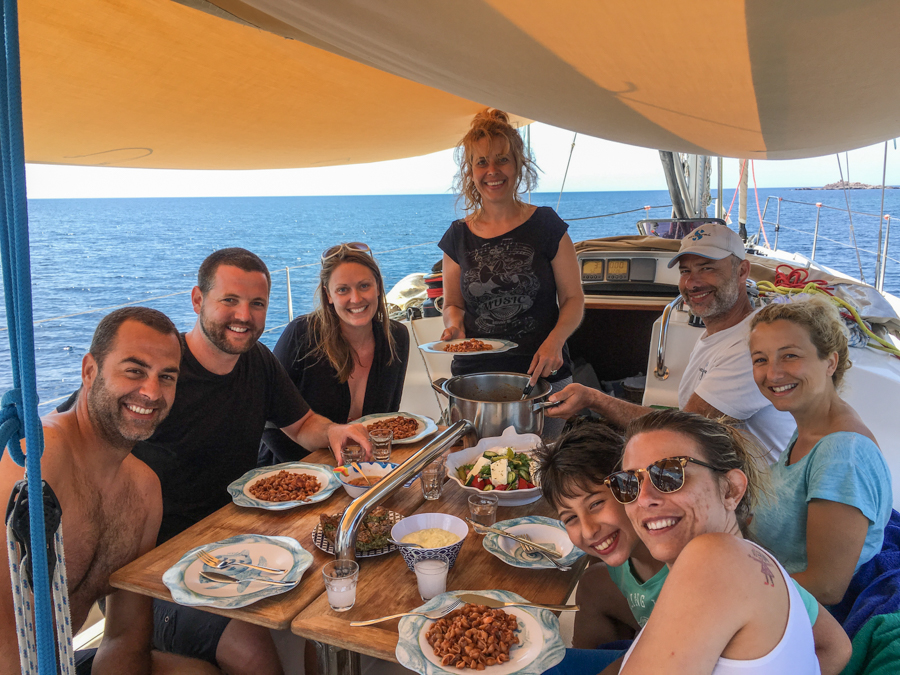 With full hearts and stomachs we headed back to our hotel and prepared ourselves for departure the next day. Lesvos Island was a great place to finish up our journey in Greece. We'll never forget the ancient villages, the fantastic cuisine and of course, our new friends.
Traveller Tips for Lesvos Greece:
We found Petra a great place to base ourselves during our stay. There are loads of restaurants, bars, cafes and a nice beach. Plus, the beautiful church on the rocky mound is here and we loved the quiet little back streets. Another great option would be Mithymna, with its gorgeous castle, beaches and restaurants.
Archontiko 1821 was an amazing hotel and the breakfast spread was huge. We recommend this place based on the quality of the rooms, the beautiful setting and the perfect location. Click here to see the latest prices on Booking.com.
A few of our favourite restaurants and bars in Petra are Sunset of Petra (€12 huge mixed grill, €5 appetizers), Thalassa / The Sea Restaurant (€9.50 shrimp meal, €8 meatballs and rice), Reef (€15 Prosecco, with free snack), Dak Cafe (€1.50 freddo coffee) and Kalderimi Restaurant and Grill House (€2.40 gyros takeaway).
For rental cars on the island, check out Expedia.com. Book as far in advance as you can for the best deals. We paid €25 / day, and booked just a couple of days in advance.
Entrance to the Eftalou Thermal Bath was €4 / person.
For scuba diving on Lesvos Island, check out the guys at Lesvos Scuba Center in Petra. The equipment and service were excellent. Phone: (+30) 6945998764, (+30) 6981026085 or email: info@lesvoscuba.gr, lesvoscuba@gmail.com.
For an exciting day of sailing (whether combined with another activity, or not) make sure to contact George at Alternative Sailing in Petra. Phone: +30 697 889 3703, +30 697 479 2050 or email: info@alternativesailing.gr.
For flights to and from Lesvos Greece, check out the latest deals on Aegean Airlines here.
To take a ferry boat from a neighbouring island, or to make the longer journey to Athens, click here to see ferry routes. We spent around €21 each to take the 2.5 hour ferry ride from Chios. To search for boats, check out websites like Direct Ferries and Hellenic Seaways.
For more useful information about Greece, check out the wonderful travel portal, Discover Greece.
Lesvos Travel Video:
In this week's episode we're on one of Greece's lesser visited islands, Lesvos. Our favourite town on the island was Petra, but there are lots of hidden villages, bays and beaches to explore.
Lesvos has recently seen tourism numbers plummet due to negative media coverage regarding refugees in Lesvos, but in our experience the island felt safe and there were plenty of visitors enjoying a less hectic Lesvos Island.
From the church of Panagia Glykofilousa to the Eftalou Hot Springs, there are plenty of unique sights for tourists to see in Lesvos. Molyvos Village and Molyvos castle were breathtaking, as is Mytilini and Mytilini castle, while Agiasos Town is famous for pottery.
What's not to love about Lesvos?
A huge thank-you to Discover Greece for assisting with our flight back to Athens, two nights accommodation and tours during our trip to Lesvos Island. As always, all opinions and thoughts remain our own, despite any complimentary services received.
Like This Article? Pin it!