If you're looking for a fun and exciting destination for a city break, consider spending a weekend in Mexico City.
The high-altitude capital of Mexico is home to over 22 million people and is one of the most vibrant and cultured cities on Earth. There's something for everyone here, from ancient ruins to world class restaurants, hipster neighbourhoods and incredible museums.
If you're planning on only spending two days in Mexico City, you'll have to be selective. There's enough to see and do here to keep you occupied for months, so it can be tricky deciding what to see in Mexico City in just two days.
This two-day itinerary will help you make the most of your time in CDMX.
I spent a month living in Mexico City earlier this year and am familiar with many of the city's top sights and best neighbourhoods. I quickly fell in love with this amazing place and would definitely spend more time here in the future. This is one of the top places to see in Mexico, for good reason.
Read on for a detailed look at how to spend a weekend in Mexico City.
Day 1 in Mexico City
Start your weekend in Mexico City with a bang by heading straight to the Centro Histórico. This district is the historical centre of CDMX and contains many of the city's most recognisable landmarks.
Morning
The first stop on your itinerary today will be Café Regina, in the Centro Histórico. This fantastic little cafe serves some of the best coffee in CDMX and is a great place for breakfast.
Once you're sufficiently fuelled and caffeinated, I recommend taking a walking tour of the Centro Histórico. Mexico City is a truly vast place, and taking a tour will help you get your bearings, especially if this is your first time in CDMX.
This walking tour starts at 9:30am, lasts for three hours, and is highly rated.
You'll visit some of the city's top sights and learn about the rich, and sometimes turbulent, history of this fascinating place. Highlights of this tour include the iconic Palacio de Bellas Artes, the Metropolitan Cathedral, Parque Alameda, the Templo Mayor, and the vast Zócalo.
The Zócalo, (or Plaza de la Constitución), is the main central square of CDMX and was built directly on top of the Mexica, (or "Aztec"), city of Tenochtitlan.
The tour also visits some less well known spots, including traditional shops, attractive backstreets, and old colonial houses. Your guide will teach you about the city's Mexico and colonial history, and discuss a range of historical and contemporary topics such as religion, migration, architecture, politics, and more.
Afternoon
After all of that walking, you'll likely have worked up an appetite. For lunch, it's time to sample one of CDMX's most iconic street food dishes – the mighty taco.
There are literally hundreds of amazing taco places to choose from in Centro Histórico. Los Callejeros is one of my favourites, but honestly, they're almost all great.
After lunch, head over to Chapultepec Park. This is one of the largest parks in Latin America, and is definitely worth a visit.
There are plenty of things to do in Chapultepec Park, including visiting the castle, taking a boat ride on the lake, or simply relaxing in the green spaces.
On the other side of the park is the National Museum of Anthropology. I suggest spending the rest of the afternoon here. It's an incredible museum, easily one of the best in the world, and contains an enormous collection of artifacts from Mexico's many ancient cultures.
Everything is extremely well presented and the museum's curators have done an excellent job of making it both interesting and accessible to all, no matter how much knowledge about pre-colonial Mexico you have before visiting. I had close to zero beforehand and learnt a huge amount here.
The museum is huge with over 20 exhibit halls spread across two giant floors, so it would be difficult to see everything in one afternoon.
I recommend spending some time in the Mexica, (i.e. "Aztec"), section which includes the famous Sun Stone, as well as the Maya, Oaxaca, and Teotihuacan sections.
In addition to the Sun Stone, some of the most significant artifacts include the Coyolxauhqui Stone – a fragment of a sculpture depicting the goddess Coyolxauhqui, the Teotihuacan murals – depicting scenes from life in the ancient city of Teotihuacan, the Mayan Mask of Kings, and the Crystal Skull.
Evening
If you only have two evenings in Mexico City, you need to make them count.
For your first night, I recommend either watching a football, (soccer), match, or going to the Lucha Libre for Mexican wrestling. Both sports are incredibly popular throughout Mexico, but particularly in CDMX.
For football, try and catch a game at the Estadio Azteca. This legendary stadium is home to Club América, Cruz Azul, and the national Mexican football team. The atmosphere here is incredible – even if you're not a massive football fan, this is likely to be a highlight of your time in CDMX.
If you can't get tickets to a match at the Azteca, don't worry. In Mexico City, football is a big deal and there are several other stadiums where you can try to catch a game including the Estadio Azulgrana and the Estadio Olímpico Universitario. Click here for more information.
Alternatively, consider going to watch a Lucha Libre match.
This is Mexico's version of wrestling, and it's an experience you won't forget in a hurry. It's incredibly popular throughout the country, and Mexico City's Arena México, ("el Catedral de la Lucha Libre"), is the official home of Lucha Libre.
The wrestlers compete in colourful outfits, including full-face masks, before a roaring audience. Tickets are available at the arena and start at around $15USD. I'd suggest buying them online in advance to ensure you get good seats.
It's important to note that Lucha Libre stadiums tend to be located in sketchier parts of the city. When you go out, only bring necessary items with you, and take an Uber to and from the event.
Alternatively, you can take an organised group trip to the Lucha Libre. These usually include dinner and/or drinks, and sometimes transport to and from the venue. Click here to learn more.
If your evening activities don't include dinner, head across to the Roma neighbourhood where you'll find a large range of different dining options, from cheap and casual food stalls to high end restaurants.
One of my favourite places here is La Roma Brewing, a microbrewery with a restaurant attached. Here you can enjoy some delicious locally-brewed craft beer along with a traditional Mexican meal (their shrimp tacos are amazing!).
☞ SEE ALSO: 25 Best Things To Do in Mexico City
Day 2 in Mexico City
The second day of your Mexico City weekend itinerary will be a little more leisurely than the first, but can still pack a lot in to maximize your 48 hours in Mexico City.
Morning
On your second morning, I'd recommend going for a leisurely breakfast, (or brunch, if you'd rather sleep in a little), in La Condesa – my favourite neighbourhood in the city.
Condesa is leafy and elegant, with gorgeous architecture. Here you'll find a wide range of eateries, excellent shops, and several tranquil parks to explore.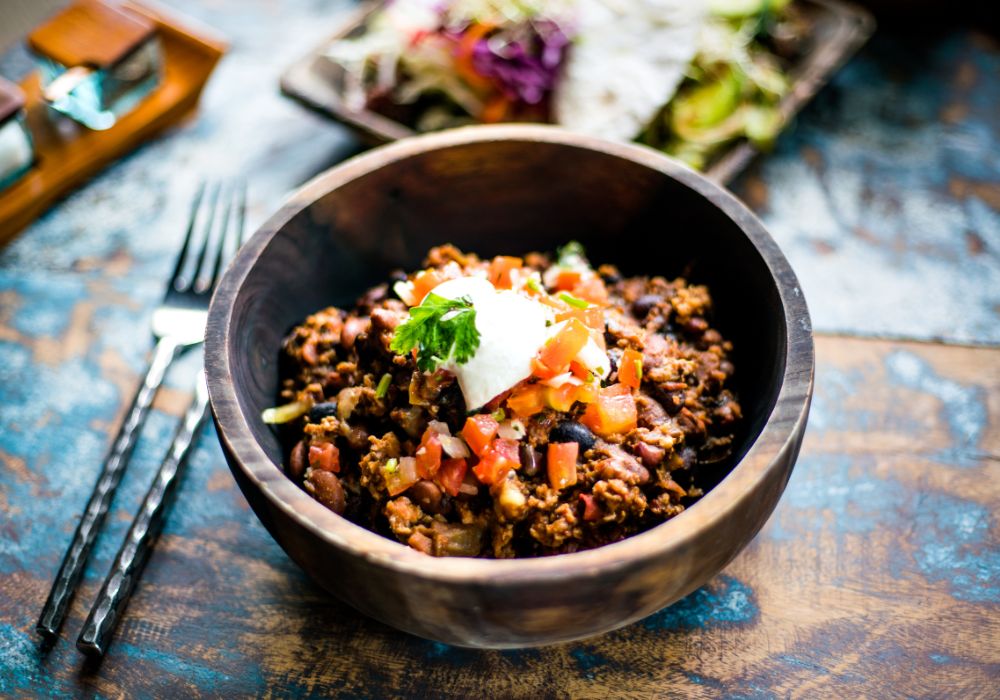 There are plenty of great restaurants and cafes for breakfast in Condesa, but I particularly like Lardo. This trendy spot offers a delicious mixture of Mexican-European fusion dishes, as well as the classic egg-and-avocado combinations.
After you've eaten, take a stroll around La Condesa. This neighbourhood is really great and is both calm and serene whilst also offering an enormous number of amazing places to eat, drink, and shop.
Have a wander through Parque México, one of the loveliest parks in the city, or explore some of the vintage shops and boutiques that line the streets.
If you need a second caffeine hit, stop by one of the many excellent cafes in Condesa. I like Blend Station, but there are plenty of other great choices.
Afternoon
In the afternoon, it's time to explore another part of the city.
Jump on the Metro, or take an Uber, to Coyoacán. This vibrant and eclectic neighbourhood has no end of excellent restaurants and food markets.
I recommend checking out either Tortas don Coyote or Tostadas Coyoacán for a traditional Mexican lunch. Alternatively, the Antojitos Mexicanos Market is an amazing place to try some delicious local street food.
If you'd prefer to discover Coyoacán with a guide, this excellent tour will introduce you to some of the neighbourhood's best spots, including the Plaza of Coyoacán, Church of San Juan Bautista, the Plaza de la Conchita, and the main food markets.
Afterwards, make your way to La Casa Azul, (the Blue House). This is one of the most famous and iconic buildings in Mexico City, and houses the Frida Kahlo Museum. The legendary Mexican artist spent most of her life living here, and the museum is really excellent.
If you're not already familiar with Kahlo's work, this is a great place to learn more about one of the 20th century's most important artists. The museum contains a range of her paintings, as well as personal belongings, photographs, and other artifacts. It's definitely worth a visit.
Evening
For your second and final night in Mexico City, head to the Torre Latinoamericana for sunset.
This skyscraper is one of the most famous landmarks in CDMX and offers some of the best views in the city. There's a restaurant on the 43rd floor where you can dine in style with jaw-dropping views, or simply head to the bar for a drink and watch the sun set behind the volcanoes surrounding the city.
Next, head to Conejo en la Luna, one of my favourite mezcal bars in Mexico City. Mezcal – the smoky, complex cousin of tequila – is one of Mexico's most famous and iconic drinks. It's produced from the agave plant and can only be made in certain regions of Mexico.
You can try sipping the spirit neat, or taste it mixed into a cocktail. Conejo en la Luna has a large range of different mezcals to sample, and the bartenders will be happy to help you discover one that you like.
If you don't drink, there are plenty of alternative activities for your last night in the city.
For example, why not take a salsa lesson? Salsa dancing is popular all over Mexico and is a really fun way to spend an evening. You'll find lessons for all ages and abilities, and it doesn't matter how much experience you may, (or may not!), have.
This is an excellent class for beginners.
After your class, head over to Condesa and the Parque México to put your skills to the test. Locals gather here most nights especially for salsa dancing, and the atmosphere is fantastic. It's a great way to meet new people and get a feel for the local culture.
If you didn't eat earlier, Condesa is full of amazing restaurants, ranging from budget spots, to super high end. For a cheap, delicious and authentic meal, try Las Costillas De La Condesa. This is one of the best places to enjoy Mexico City specialities, including tacos al pastor and costilla, (t-bone), tacos.
☞ SEE ALSO: 15 Best Things To Do in Mexico City at Night
Tips for a Weekend Trip to Mexico City
Here are a few tips to make your trip to Mexico City even more enjoyable.
1. Learn a bit of Spanish – Even though many people in Mexico City, (especially younger people), speak some English, learning a little bit of Spanish before you visit is a great way to help you get even more out of your time here. The locals will really appreciate you making the effort, and it will help you to immerse yourself deeper into the local culture.
2. Pick the right neighbourhood to stay in – Mexico City is huge, and it can be daunting trying to figure out where to stay. I would recommend basing yourself in one of the neighbourhoods like Condesa, Roma, or Centro Histórico.
All of these areas are centrally located, safe, and full of great bars, restaurants, and things to do. Most of the activities suggested in this Mexico City weekend itinerary are located in and around these districts. Have a look at these highly rated Mexico City Airbnbs in safe locations.
3. Know which parts of the city to avoid – Whilst many areas of the city are perfectly safe, others can be quite sketchy, particularly at night. The Ciudad Neza, Iztapalapa, Doctores, and Tepito districts should all be avoided. As when exploring any city, it pays to be cautious wherever you are.
4. Be aware of your surroundings – The best way to stay safe in CDMX is to be aware of where you are and what's going on around you. After dark, avoid walking alone in unfamiliar areas, don't carry clearly expensive-looking items, (cameras, jewelry, etc.), avoid using noise-canceling headphones, and don't display your phone too obviously. Of course, being mindful applies whenever you're travelling.
5. Take Ubers at night – The public transportation system in Mexico City is fantastic, and it's usually quite safe to use throughout the day. However, it's best to take Ubers to get around town in the evenings. Whilst crime on the Metro is fairly uncommon, you're more likely to encounter it at night than during the day.
How to Get to Mexico City
Most visitors arrive in Mexico City by air, but there are several other ways to get there. These are the most popular.
By Air
If you're flying into Mexico City, chances are you'll land at Mexico City International Airport, (Aeropuerto Internacional Benito Juárez). This is a big airport and one of the major flight hubs for all of Latin America.
A large number of airlines fly into Mexico City, including most major North American and European carriers, so you shouldn't have any problem finding a flight that works for you.
Once you arrive at the airport, there are several ways to get into the city. I recommend taking an Uber, which is by far the easiest and quickest way to get to wherever you need to go. Alternatively, you could take the Metro from the airport. See my full article on how to get from the Mexico City airport to downtown.
By Bus
If you're already in Mexico, it may be cheaper to take a bus to Mexico City. There are several bus companies that operate routes to and from the city, including ADO, Primera Plus, and others.
The main bus terminal in Mexico City is the Terminal Central de Autobuses del Sur, located in the southern part of the city. This is where most long-distance buses arrive and depart from. Be sure to check which terminal your bus uses.
From any of the major bus terminals, you can either take the Metro, bus, or Uber to wherever you need to go in the city.
By Car
I wouldn't really recommend driving into Mexico City unless you have to. The traffic is notorious and having a car is likely to be more of a hindrance than a help once you're in the city.
If you are driving, I would recommend looking for a secure parking garage to leave your car. These are relatively easy to find and usually reasonably priced. Ask your accommodation host for their advice on the best places nearby.
Where to Stay With 2 Days in Mexico City
The best neighbourhoods for travellers to stay in with just a weekend in Mexico City are:
Condesa
Roma
Centro Histórico
These are all centrally located, safe, and full of great bars, restaurants, and things to do. Find out more about the best neighbourhoods in Mexico City in our guide.
I recommend staying in an Airbnb for your weekend getaway in Mexico City. Three of the best are:
FAQs About a Weekend Getaway in Mexico City
Here are some answers to commonly asked questions about spending a weekend in Mexico City.
Is two days in Mexico City Enough?
Two days is definitely enough time to get a taste of Mexico City. You can't hope to see all of Mexico City in two days, but you'll definitely be able to scratch the surface.
During a weekend in Mexico City, you'll be able to explore some of the most popular neighbourhoods and visit some of the top sights.
You'll still have a fairly large list of things left to see though, so expect to want to come back another time to explore more of what this amazing city has to offer.
☞ SEE ALSO: 10 Best Mexico City Tours
Is Mexico City Worth Visiting?
Absolutely! Mexico City is an incredible place with so much to see and do
Even if you only have a weekend in Mexico City, you'll be able to pack a lot into your trip. Whether you're interested in history, culture, food, art, architecture, or a bit of everything, this is a city that has something for you.
Mexico City is also a great place to base yourself for exploring other parts of Mexico. With its central location, it's easy to take day trips or weekend getaways to nearby towns and cities.
How Can I Spend 48 Hours in Mexico City?
With just two days in this amazing city, you'll have to make the most of your time. Hopefully this article has given you some ideas on how to spend 48 hours in Mexico City.
My personal highlights would be the National Museum of Anthropology and the incredible tacos that are found on virtually every street in Condesa and other areas of the city.
Enjoy Your Weekend Trip to Mexico City
There you have it – everything you need to know about spending a weekend in Mexico City!
With a mere two days in Mexico City, you can still pack a lot into your trip. Just make sure to plan ahead, and pick the right neighbourhood to stay in.
Like This Article? Pin it!