Wondering what to do with 2 days in Seattle? Read on for a detailed look at how to spend the perfect weekend in the Emerald City!
First of all, let's talk about the nickname. It's not that Seattle is full of shiny gemstones, but rather that it's surrounded by evergreen forests and mountains.
Located in the Pacific Northwest, Seattle is nestled between Puget Sound and Lake Washington. With views of both the Olympic and Cascade mountains, this is definitely one of the most scenic cities in the United States.
You don't have to go very far to enjoy nature here, though. There are plenty of beautiful green spaces right in the middle of the city. With a weekend in Seattle, you'll be able to explore some of them along with iconic attractions like the Space Needle.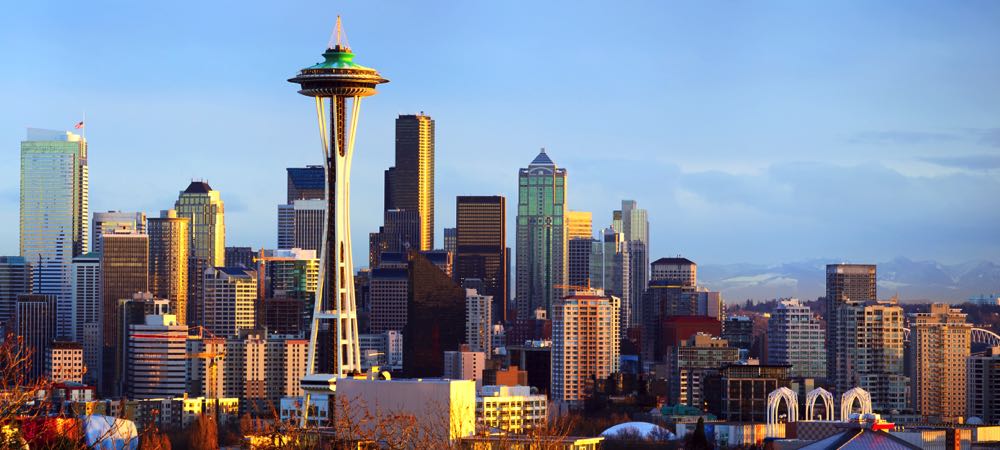 As an avid music fan, I've always known Seattle as the birthplace of grunge. This is where bands like Nirvana, Pearl Jam, and Soundgarden got their start. Jimi Hendrix was born here, too.
There are many things to see and do in Seattle — no matter what your interests are. With two days in Seattle, you'll be able to check out a few great spots.
Here's a look at how to spend the perfect weekend in Seattle!
Day 1 in Seattle
With just a weekend in Seattle, you'll want to take in some of the sights in the city and also get out in nature. On the first day, we'll take care of the sightseeing aspect and dive into the local culture a bit.
Morning
A busy 2 days in Seattle kicks off at the famous Pike Place Market. This historic farmers' market has been in business here for over 100 years and is a Seattle institution.
While we're on the topic of Seattle institutions, this is where the original Starbucks first opened back in 1971. It actually moved a few blocks away 5 years later to its current location.
Seattle is known for its coffee, so if you're more into finding a local gem that doesn't have a line of tourists out the door, there are dozens of cafes to choose from in downtown Seattle. Around the market, a few solid choices are Storyville Coffee and Ghost Alley Espresso.
With a nice caffeine buzz, you're ready to explore this bustling market. There's a lot to see and do here, so be sure to check out their website in advance to plan your visit.
One thing the market is famous for is its flying fish. The fishmongers working there are known to throw the massive fish to each other across the shop.
You may recognize these flying fish from the intro to the "Real World: Seattle." It's quite the sight and a very Seattle thing to see.
You can try to figure out where to eat on your own, or you can just leave it up to an expert.
The fine folks at Eat Seattle have a 2-hour culinary adventure called the Pike Place Market Chef Guided Food Tour. Be sure to come hungry for this one, as you'll stop by ten different vendors for samples!
In addition to the markets, shops, and restaurants, Pike Place has a lot of positive local initiatives. From a food bank to a pre-school, it's a big part of the community. You can show your support by making a donation at Rachel the Piggy Bank.
Afternoon
Following a busy morning at Pike Place, you have a few options for how to spend your afternoon. With just 2 days in Seattle, you'll have to make some important decisions!
If it's a nice day, I recommend heading to nearby Waterfront Park. This is the perfect place to enjoy the views of the Olympic Mountains on a clear day. If you have some change in your pocket you can get a closer look with the coin-operated telescopes.
While you're over here, you may want to take a ride on the Seattle Great Wheel. Regular tickets are $15 for adults or you can splurge on a glass-bottom VIP cabin for $50. It comes with a t-shirt, a drink, and a photo as well as line-skipping privileges.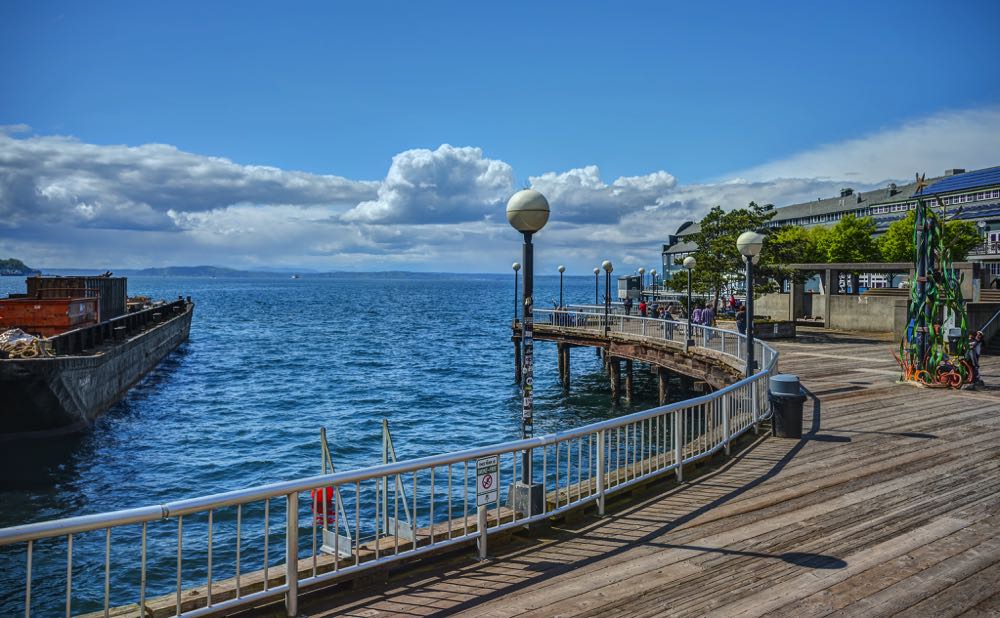 Have a look at this highly rated, 3-hour tour which takes in many of the sights I list. Transportation and guide are included in the rate. Find out more on Viator, here.
The views from land are great and all, but they're even better out on the water. Argosy Cruises comes highly recommended for trips around Elliot Bay and Puget Sound.
You can choose from their 1-hour harbor cruise ($34) or 2.5-hour cruise of the Ballard Locks ($47). Both are excellent choices and afford some fantastic views of the city and its surroundings.
On the budget end, you can simply head down to the Colman Dock to catch the local ferry. It heads over to Bainbridge Island and only costs $8.50 for a return ticket.
If it's raining on your weekend in Seattle (which is quite possible), you might tuck into a museum for a few hours. The Seattle Art Museum boasts an impressive collection and is well worth a visit.
The SAM has upwards of 25,000 different artworks here so it's easy to kill some time on a rainy day! Tickets are $29.99 for adults and free for kids 14 and under.
Evening
I didn't give a specific recommendation for lunch as I'm encouraging you to go big at the market in the morning. Plus it's not hard to find a quick bite to eat when you're out and about in downtown Seattle.
Whether it ends up being a late lunch or early dinner, it doesn't matter. It's worth it to head back to Pike Place to get a table at Matt's in the Market.
They're known for classic Pacific Northwest fare, such as oysters on the half shell, king salmon, and seared scallops. Here's a pro tip — between 5 and 6pm you can enjoy an excellent Happy Hour menu if you're OK with a barstool.
If it's a craft cocktail that you seek to get your evening going, head over to Zig Zag Cafe. It's a bit tucked away down a long staircase and definitely has that speakeasy vibe. Just be careful going back up if you decide to have a few drinks here!
Here's one more solid recommendation for a night out in Seattle. Can Can Culinary Cabaret is a dinner theater below the market and is tons of fun. Click here to check out their schedule and grab your tickets online.
Seattle is definitely a unique city, and it shows in the many interesting things you can get up to on any given evening. Love dogs and craft beer? Then join an event with Dog Gone Seattle.
This only happens on the weekend in Seattle and it's a fun way to support a good cause. Your ticket includes your first drink and 100% of the proceeds go to the non-profit organization.
While Seattle may not be known for its nightlife like New Orleans or Los Angeles, you can still find plenty to do once the sun goes down.
If you just want to bounce around and check out different bars and clubs, then Pike/Pine is a happening place to go. This area is home to places like Unicorn (a carnival-themed bar) and Rock Box (a late-night Japanese karaoke bar).
There's nothing quite like drunkenly belting out some nostalgic tunes to end the first of 2 days in Seattle!
Looking For Weekends Away in Other Major US Cities?
Day 2 in Seattle
Let's hope the weather is on your side and it's a beautiful weekend in Seattle. The plan for day two is to spend a lot of time outside, but don't worry — there will be a backup plan. Let's start day two off with the most iconic landmark in the city.
Morning
If you're looking for a place to grab a bite and some coffee, there are a few good spots on the way. Tilikum Place Cafe is a solid choice for a full meal, while Uptown Espresso works for a strong coffee and something light.
You won't need directions to our first stop of the day as you can see it from all over the city. I'm talking of course about the Space Needle.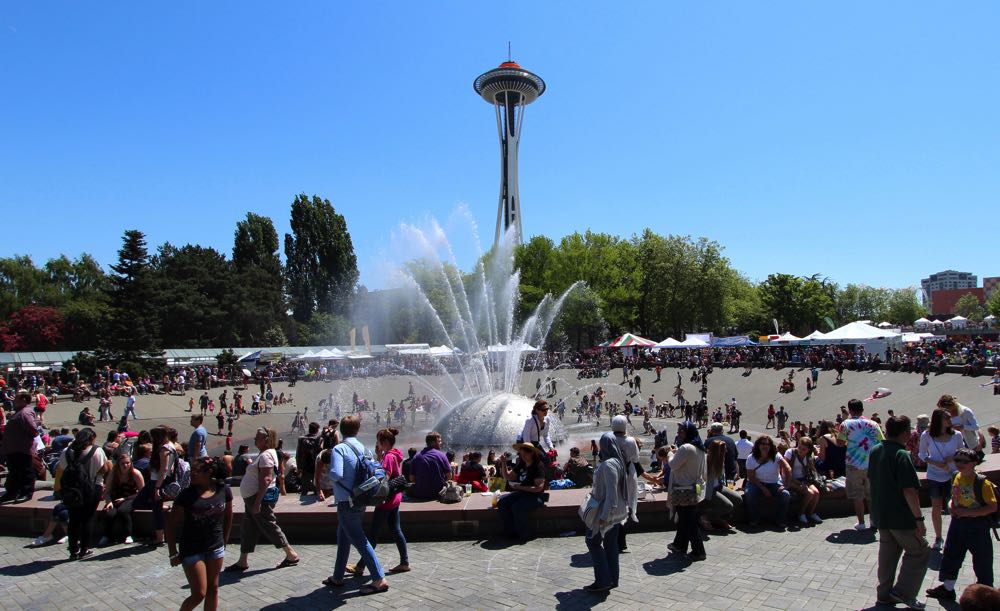 This funky looking tower has been the symbol of Seattle since its construction back in 1961. Originally built for the World's Fair, it has received some pretty sweet improvements in recent years.
Way up at 520 feet (158 meters), the observation deck provides some epic views of the Emerald City. The Space Needle now features The Loupe, which is the first rotating glass floor in the world.
Tickets range in price from $32.50-37.50 for adults. You can also pick up combo tickets that get you access to other Seattle attractions, so check their website for all the info.
Alternatively, you can consider saving your visit to the Space Needle for the evening. It stays open until midnight, so you have all day to figure it out!
Another option is to join a day tour of Seattle, which takes in many sights in the city, including the Space Needle. Transport and guide are included in this highly rated tour. Find out more on Viator, here.
Perhaps you'd rather ditch the city and get out in the mountains. There are plenty of options for doing just that in Seattle!
There are also two National Parks within reach of Seattle. Either one will take up the entire day, but it's worth it for those who really want to see the natural beauty of the area. Check out these two tours – one to Mt. Rainier and another to Olympic National Park.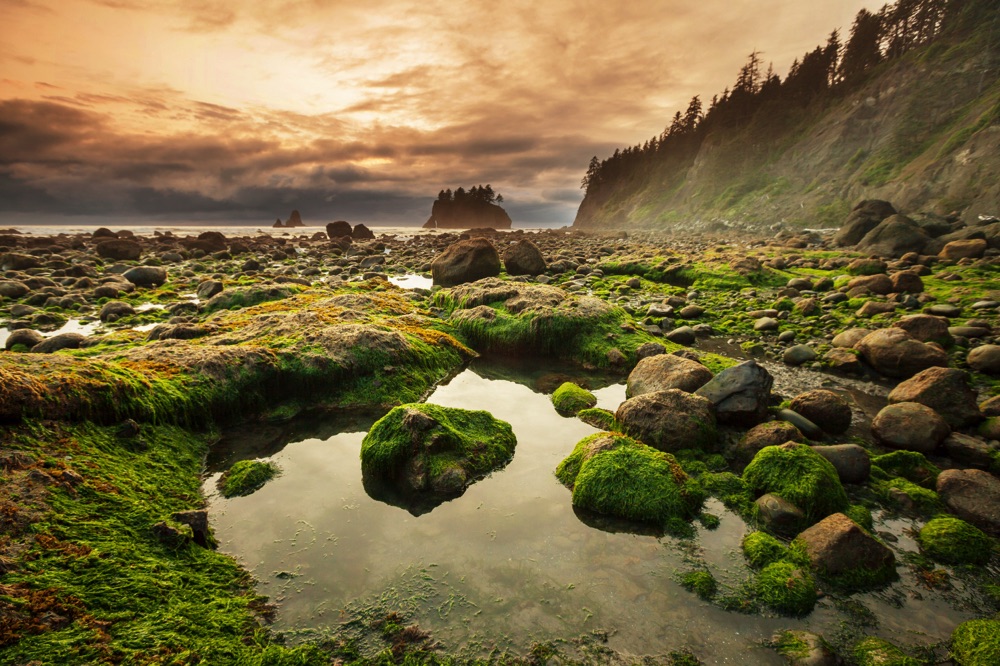 Afternoon
While it's definitely the most famous building there, the Space Needle is just a part of the larger Seattle Center complex. There's so much to see and do that you could spend your whole 2 days in Seattle trying to take it all in.
Some of the highlights include the International Fountain, which is synchronized to music at different times of the day. Another must-see over here is the Chihuly Garden & Glass Museum.
Featuring the work of renowned artist Dale Chihuly, it's spread out over three different areas. There's the garden, an indoor exhibit area, and the stunning glasshouse.
Tickets cost $32 and you can take a free audio tour or sign up for one with a guide. Head over to their website to see all the options and book in advance.
If it's a typical rainy day in Seattle, there's lots of fun to be had indoors over here as well. I personally recommend the Museum of Pop Culture. It's worth heading over there just to check out the building, designed by world-famous architect Frank Gehry.
Inside, there are exhibits dedicated to some of Seattle's biggest music legends like Jimi Hendrix and Nirvana. It's far more than music, though — it also covers science fiction, comedy, video games, and more. This just might be the coolest museum I've ever been to!
Tickets for MoPOP cost $30, and you can save a few bucks by booking them online. Rain or shine, I think this place is a fantastic addition to any Seattle 2 day itinerary.
There's always something cool going on at the Seattle Center, from festivals to concerts to fitness classes. Check their event calendar to see what's happening during your stay.
If you're traveling in a small group, one way to make your weekend in Seattle just a bit more fun is to try a scavenger hunt. It's basically a mix of the Amazing Race and a sightseeing tour that you do from your smartphone.
This awesome challenge from Urban Adventure Quest is for a group of up to 5. It starts at the Seattle Center and takes about 3 hours to complete. Click here to check it out!
Finally, if the above options don't appeal to you, you can visit the Olympic Sculpture Park, the Washington Park Arboretum, or Discovery Park in the north of the city to enjoy trails, beaches, sand dunes, and more.
Evening
It's been a pretty huge two days in Seattle, regardless of which options you chose! After covering so much ground in the Emerald City, it's time to enjoy a nice dinner and maybe an adult beverage or two.
One fun area to check out for dinner and drinks is Belltown. It's conveniently located between downtown and the Seattle Center and has lots of options for wining and dining.
Seattle has some pretty fantastic Asian cuisine and Belltown is a great place to try it. There's Umi Sake House for Japanese, Green Leaf for Vietnamese, and Bangrak Market for Thai.
Chances are you'll be feeling a bit worn out after such a jam-packed weekend. Who knows when you'll make it back up to the Pacific NW, though. It's time to power through and go out for one more night.
My recommendation goes to catching some local live music. With just two days in Seattle, you have to rock out a bit and honor the city's musical history. Click here to see what shows are in town.
Insider's Tips for a Weekend in Seattle
That's a pretty solid plan for how to spend 2 days in Seattle. You'll have an even better time if you follow these tips:
Try to visit when the weather is nice – While the weather in Seattle is known to be gloomy and rainy, the city sees plenty of sunshine in the summer months.
As you might expect, these are definitely the busiest months in terms of tourism. Consider planning your visit in May or September to enjoy pleasant weather with smaller crowds.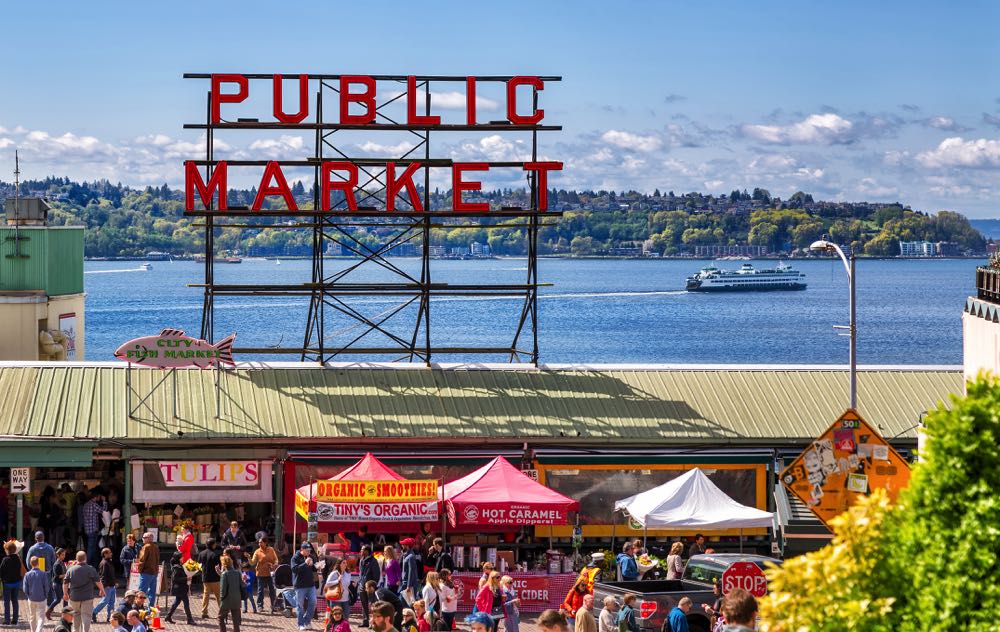 Be prepared for unpredictable weather – One minute you'll be comfortable in a t-shirt and shorts, while the next you're wishing you had brought a sweater. Then it starts to rain and you wish you had a raincoat or umbrella. Be prepared for all kinds of weather.
Have an outdoor and indoor plan – It's best to have a backup plan if the weather turns on you, which is quite likely in Seattle. Hopefully, you can enjoy the great outdoors, but it's not a bad idea to have a list of museums or other indoor attractions to fall back on.
Book tickets online – With only a weekend in Seattle, you don't want to waste time. Decide which attractions you want to visit and book those tickets online in advance. You can also save money on combo tickets if you plan to visit places like the Space Needle. Find out more about the top tours on Viator here.
Getting to Seattle
If you're flying into Seattle, you'll arrive at the Sea-Tac International Airport (SEA). It's about 15 miles south of the city and is a major transportation hub with direct flights all over the world.
By Metro
One great thing about Seattle is that it has a solid public transportation network. You can easily get from the airport to downtown by hopping on the Link Light Rail.
A one-way ticket costs just $3.00 and it takes about 40 minutes to reach downtown. It runs every 10 minutes during the day on the weekend so you won't have to wait around too long.
By Taxi
There are also flat-rate and metered taxis at the airport. The flat-rate ones are two colors and give you a set price depending on the area you're headed to. Metered taxis are a solid color and charge per mile and/or time.
By Rideshare
Three different rideshare apps work in Seattle. You can catch Uber, Lyft, or Wingz from the airport on the 3rd floor of the parking garage.
Renting a Car
Renting a car is also an option but isn't really necessary for a weekend in Seattle. As I said, the city has great public transportation. There's really no need to worry about finding and paying for parking.
By Train
If you're traveling to or from Seattle via other American cities, you may want to consider taking a scenic train. The Amtrak Cascades, Coast Starlight, and Empire Builder lines all pass through Seattle. Click here to read about your options.
Where To Stay for a Weekend in Seattle
For such a short trip to the Emerald City, you'll want to stay in a central area. For a weekend in Seattle, it's best to stick to downtown or the adjacent neighborhoods.
Staying here gives you easy access to and from the airport via light rail. It also puts you within walking distance to Pike Place Market and Waterfront Park. Public transportation makes it easy to get up to the Seattle Center as well.
Of course, downtown Seattle is also home to a wide range of hotels, restaurants, shops, and bars. This makes it a super convenient place to stay for a short trip.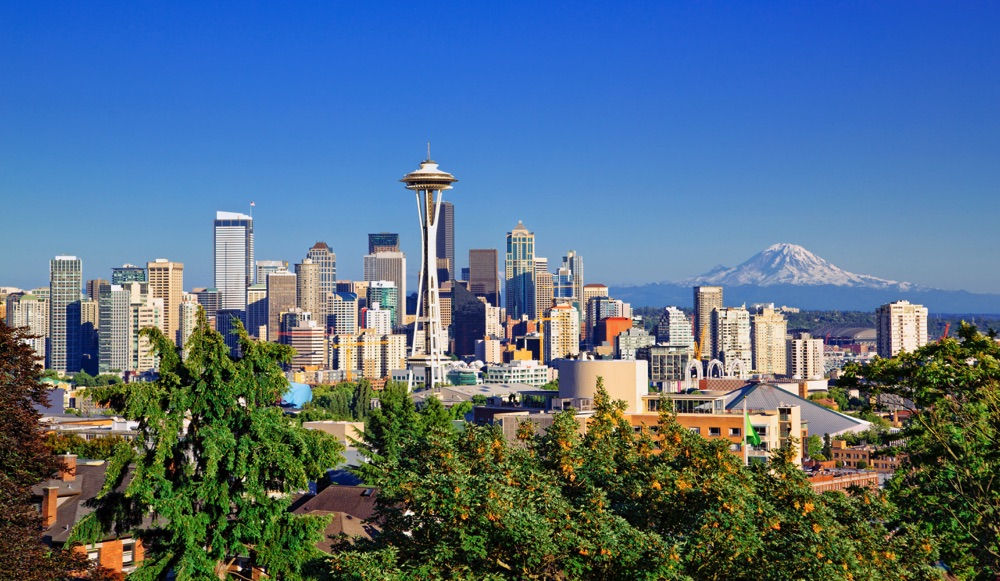 Here are a few recommendations for downtown Seattle accommodation to suit all budgets:
If you don't want to be right in the middle of the city, you can look for options in nearby Pioneer Square, Belltown, or Pike/Pine. Explore all the places to stay in Seattle here.
Seattle in 2 days is doable, just make sure your accommodation is centrally located.
Enjoy Your Trip to Seattle
I've had a lot of fun writing this 2 days in Seattle itinerary and guide, so I hope you've enjoyed it.
Seattle is a fantastic choice for a weekend getaway and it's definitely one of my favorite American cities. If you're wondering if 2 days in Seattle is enough time, the answer is yes.
As with anywhere, you could always spend longer, see more, do more, or travel slower. But, if you just have a weekend available, it's possible to enjoy a fun itinerary.
There aren't many destinations that have such a wide variety of activities, restaurants, events, and bars on offer. There really is something for everyone in Seattle. Enjoy your trip.
Images in this post are sourced on Shutterstock, a website for finding beautiful royalty-free videos and images. Find out more, here. 
Like This Article? Pin it!