Upon arrival in the bustling city of Kathmandu, we realized this was just what we needed! There was so much going on all around us – motorbikes dodging pedestrians, music blaring out of bars, men on the streets selling Tiger Balm (and everything else) and hundreds of shops selling souvenirs, clothing and trekking gear.
It was the kind of hustle and bustle that our travel destinations in Africa were lacking. We took it all in and actually enjoyed the constant horns, almost getting hit by buses and bikes…and even the hassle from the street hawkers. After being there for a day, we met up with our friends we had met in Egypt – Toni and Bernie. We split ways after Lebanon and hadn't seen them in about 7 months! They had been all over Eastern Europe, Morocco, Iran and India during that time and we had been to Greece, Turkey, Armenia, Georgia and parts of Africa. Needless to say there was lots to catch up on…and we did so over cocktails and beers.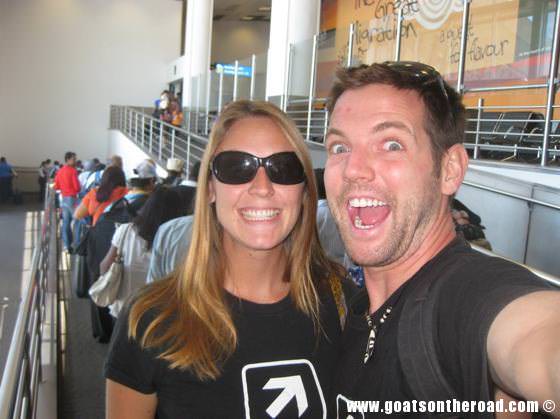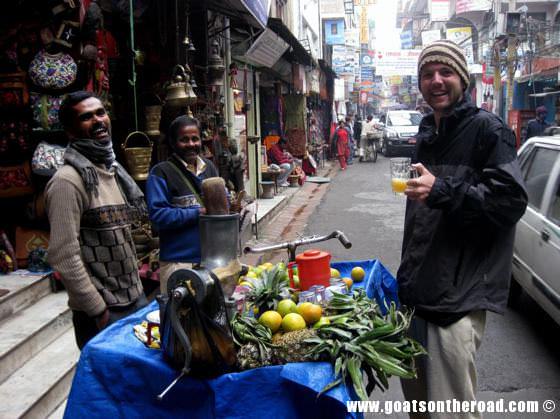 The following day we all decided to walk to the Monkey Temple, or "Swayambhunath". The Buddhist and Hindu cultures are very prominent in Nepal and both co-exist in perfect harmony. This particular temple was a Buddhist temple. After walking up many steps, we reached the top and were greeted by Buddha's eyes gazing at us from atop a white stupa.
Below that were prayer wheels. Each copper coloured wheel carries the mantra "om mani padme hum" and when spun, that prayer/mantra is sent spiralling out into the universe, hopefully to be answered. One spin is worth many prayers. It was a beautiful temple set up on a hill overlooking the city, unfortunately, there was low lying clouds that day (and many days after that) so we didn't get the views we were hoping for, but that's ok, it was a great day and we saw many Nepali people going on about their day to day things on our walk to and from the temple.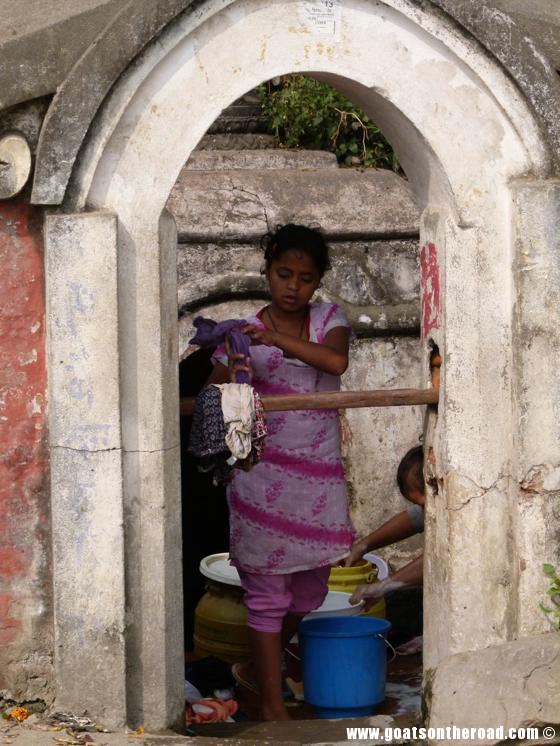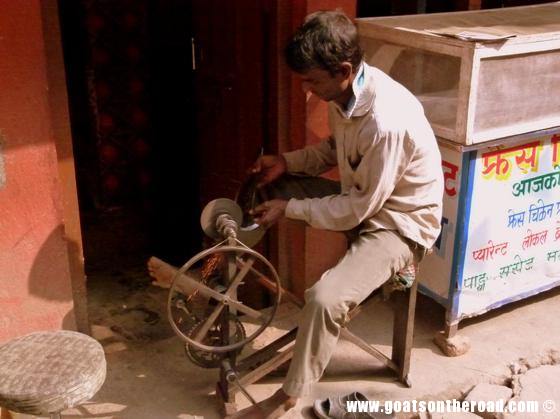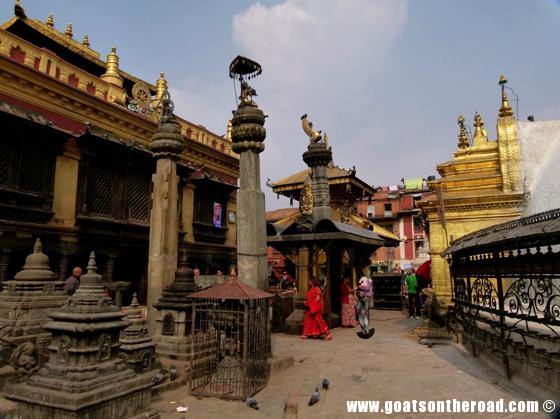 Other days were spent enjoying the company of our friends, walking around the city and devouring scrumptious food. Our favourites were momos, which is a Tibetan dish. They're delicious dumplings stuffed with chicken, veggies or buffalo and come either fried or steamed.
As Nick's 27th birthday was approaching (and since we were going to be in the mountains aka – boozeless), the 4 of us went out to a very popular steak house in Kathmandu to celebrate early. I know it seems weird because Buddhists and Hindus do not eat beef, but for some reason this restaurant chain is in Nepal, and thank God…whichever God that may be. We had 8oz steaks with peppercorn sauce, rice, fries and veggies, oh, and 2 bottles of Everest Steakhouse's finest French red wines and beers. We had a late night there and much to our surprise, Bernie and Toni got the bill. Thanks again guys!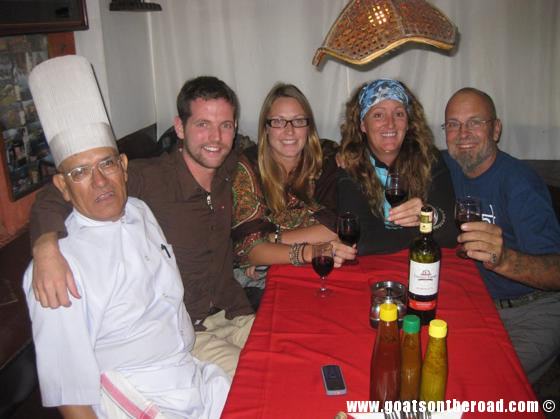 Our main reason for coming to Kathmandu was to stock up on gear for our trek high into the Himalayas. We ended up finding everything we needed: sleeping bags, trekking poles, water bottles, purification tablets, maps, a knife, gore-tex pants, sunglasses and much more. Once stocked up, we said our goodbyes (again) to Toni and Bernie and were on an early morning bus to the trailhead of our Annapurna Circuit trek.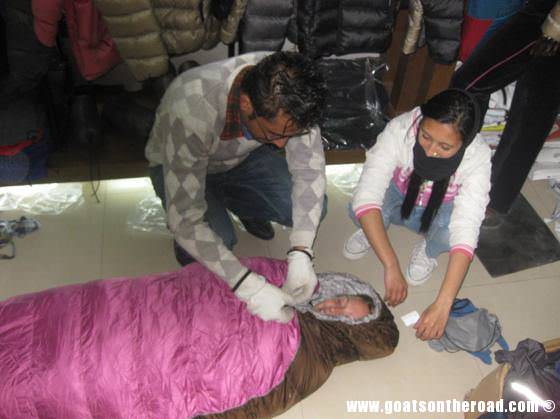 We were so excited to start our epic journey through the beautiful Himalaya mountain range. Having never gone on a 2 week trek before, let alone to high altitudes, we were unsure of what to expect. Fortunately what lay in store for us was more than we could have ever imagined and is at the top of our most amazing experiences in travel, and in life.
Like it? Pin it! 🙂