If you're wondering what to do in Florence, you've come to the right place. The old town of Florence is compact and walkable, making it easy to wander around and find awesome things to see and do! Read on for our list of what to do in Florence, one of the top places to visit in Italy.
☞ Traveling to Rome after Florence? Check out this accommodation guide and learn where to stay in Rome!
Where To Stay
If you're looking for some great accommodation options in Florence, particularly for longer stay apartment rentals, then check out HousingAnywhere.com.
They have some great deals on accommodation and because they price them based on monthly rentals, you can get really affordable vacation rental prices in the city of Florence, and around other parts of Italy and the world.
1. Eat Gelato (we couldn't tell you what to do in Florence and not put this on the list!)
Ok, this has to be first on our list of what to do in Florence, because the best gelato we had during our 3 week trip through Italy was found here. There's nothing more enjoyable than grabbing a cone and strolling alongside the river, or having gelato during an evening walk.
Check out these top spots for gelato in Florence:

Our number 1 pick for gelato in Florence is Il Procopio (Address: Via Pietrapiana, 60). We were introduced to this gelateria by our Walks Of Italy guide, and went back 3 other times by ourselves. We could not get enough of this place!
It's located a bit away from the main touristy areas and doesn't have a website. This gelateria is as authentic as it gets. The consistency of the ice cream is perfect, the flavours are to die for and the service is amazing – the staff are incredibly friendly here. Highly recommended 🙂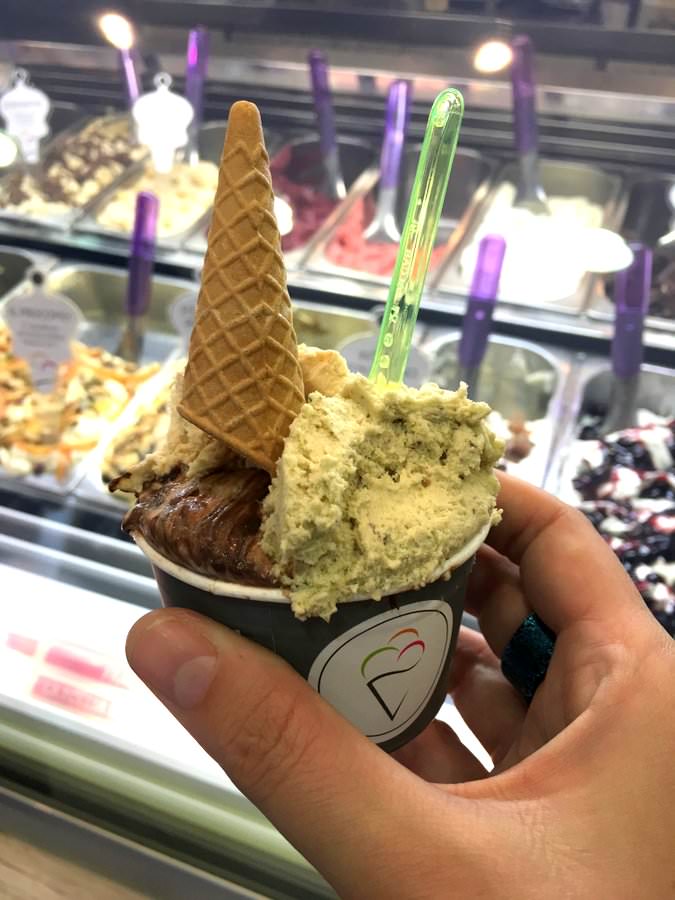 Gelateria La Carraia (Address: Piazza Nazario Sauro, 25/r)
The production and sale of ice cream at this place started in 1990, and it was so popular that this gelateria decided to open up a second shop. We recommend the one listed above. Try the decadent dark chocolate.
Perché no! (Address: Via dei Tavolini, 19/r)
This is a go-to favourite for travellers to Florence, which comes as no surprise considering the ice cream is homemade fresh every morning, and has been since 1939. Perche No is proud to say that they don't use any colouring, preservatives, emulsifiers, or hydrogenated vegetable fats. The result is high-quality ice-cream and satisfied customers.
2. Market Hop
There are many markets in Florence selling everything you could possibly need, or want.

Our top choice market in Florence is the Mercato Sant'Ambrogio, which has been around since 1873. This is the place to go for fresh meat, cheese, fruits, vegetables, bread and more. This is where the residents of Florence do their shopping. You won't find many (any) tourists here, meaning it definitely makes the list.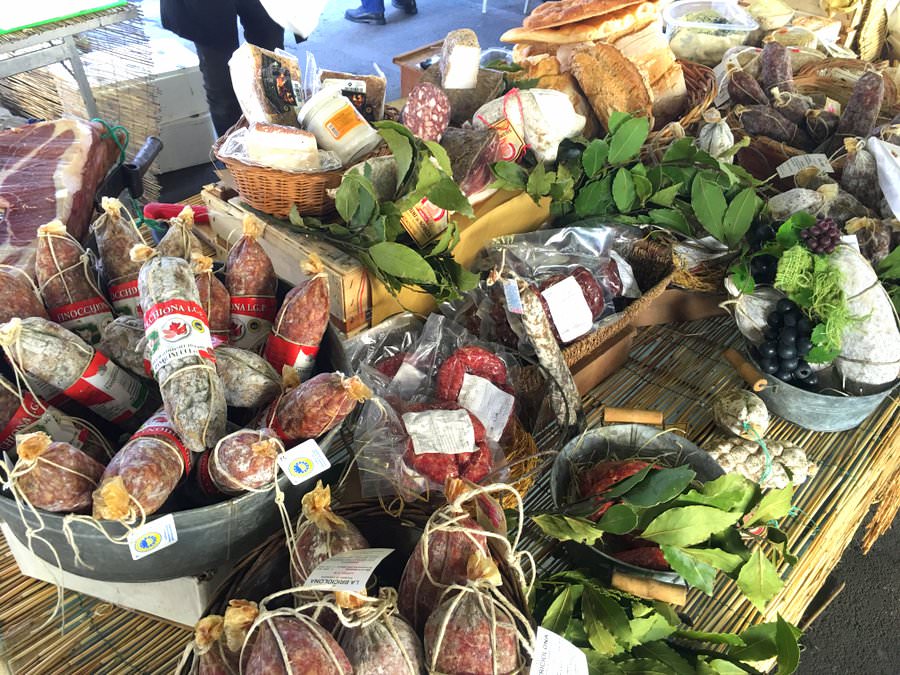 The open-air San Lorenzo Market sells everything from leather to clothing and souvenirs. The market starts at the Church of San Lorenzo, and runs along Via Ariento to Via Nazionale.
Randomly throughout the city, you'll find food markets. Keep your eyes peeled for international markets popping up in the Piazza della Santissima Annunziata.
3. Visit the Duomo
This is a highlight to any trip to the city, and when considering what to do in Florence, place a trip to the Duomo prominently on your itinerary. Dominating the Piazza del Duomo is the Santa Maria Cathedral, or Duomo.
The outer facade is in gothic style, while the inside offers incredible paintings and frescos. For an even more memorable experience, purchase the ticket that allows you to climb to the top of the Duomo for incredible vistas across the city. Click here to learn more.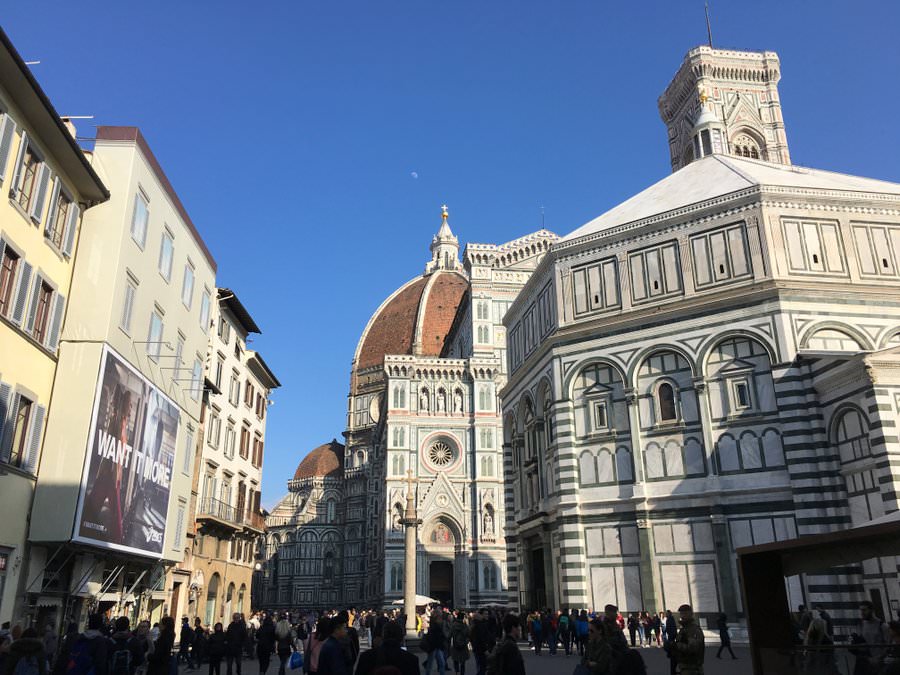 4. Enjoy an Aperitivo (wondering what to do in Florence in the evening?)
If you're wondering what to do in Florence during the evening, this is it. Going for an aperitivo is a favourite pastime of Italians, and is something that we could definitely get used to. Basically, for a couple of hours (generally between 7pm – 9pm, or later), you can enjoy some free snacks with your drinks.
There aren't any drink discounts, or any 2-for-1 specials like you would see in other parts of the world (and if you see this, run the other way!), but what you will get is a lot of free food.
You were probably going to order a glass of wine, a beer or a cocktail anyways, so you may as well do it during these hours.

Check out Plaz Bar for an awesome apertivo. Purchase a drink and have access to all of the yummy finger food – pasta, bruscetta, rice, sandwiches, polenta, pizza and more. Address: Via Pietrapiana, 36/38 r. The special starts at 8:00pm here.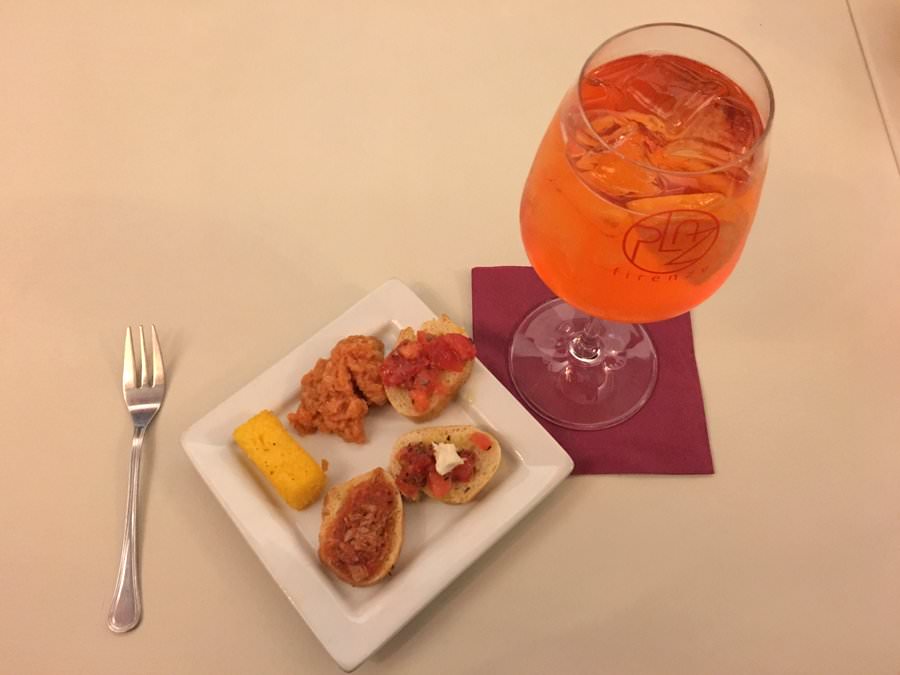 5. Watch Street Performers
During the evenings, be on the lookout for musicians and street performers. Grab a gelato (of course) and find a seat to enjoy the show. The musicians are actually very talented! Also don't miss out on the art work that you can find on the streets, which pop up randomly as well.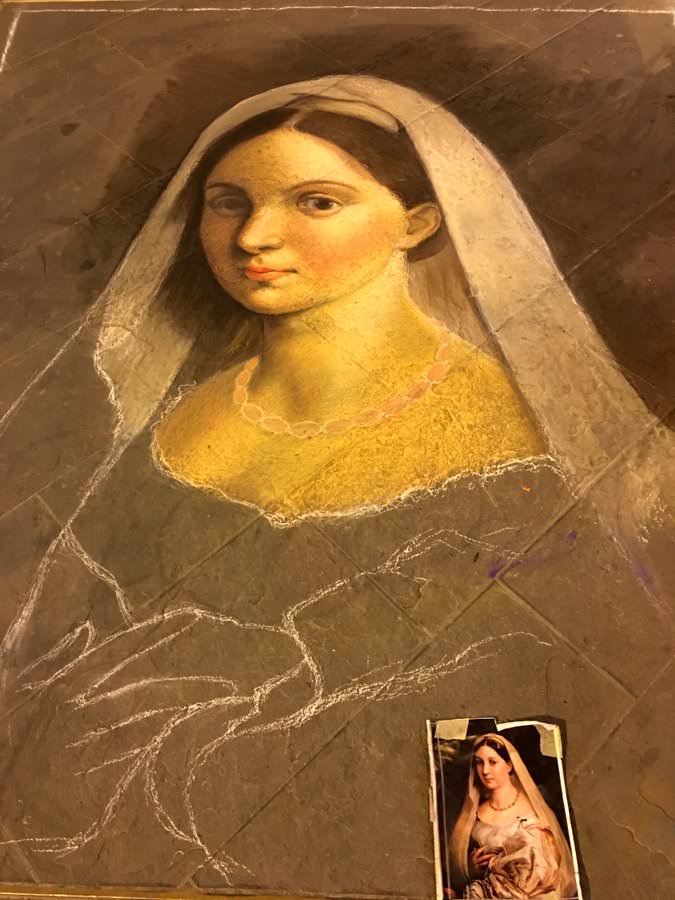 6. Go on a Walking Tour
To maximize your time in the city of Florence, join a walking tour to show you around some of the lesser-visited areas. It's easy enough to figure out what to do around the touristy spots, but if you head out on a market / walking / eating tour with Walks Of Italy, you'll find some awesome, lesser visited areas.
The local market listed above is included in the tour, as is a visit to the best gelateria. But, you will also visit an off-track wine bar to sample some wine straight out of the vat! You'll do a lot of eating and walking and the guide will point out some important sites along the way. When travellers ask us what to do in Florence, we always suggest joining this walking tour – we had such a great time!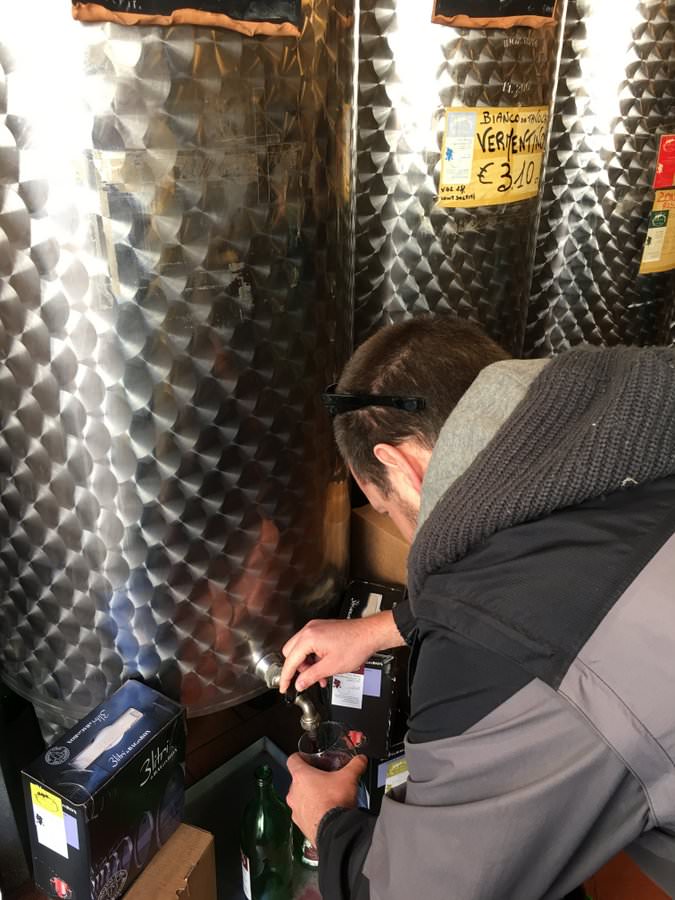 7. Wander Along the River
The River Arno, which flows between Florence and Pisa, is a great walking destination. It's a bit congested around the Ponte Vecchio (old bridge), but the further away from that one particular bridge you go, the quieter and more enjoyable the walk will be.
You'll probably spot people rowing on the river, either for pleasure, or training for upcoming competitions.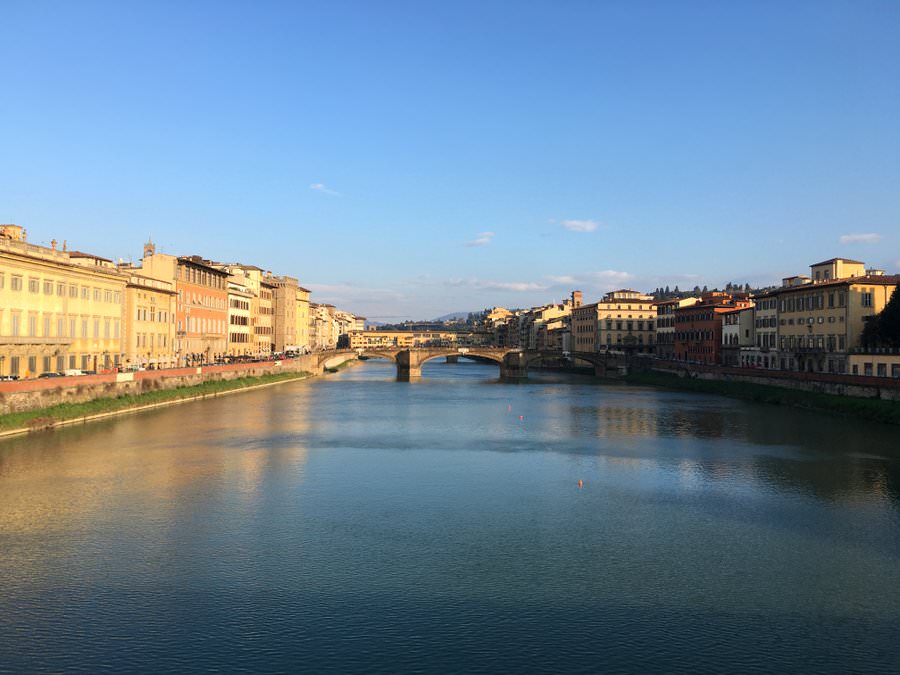 8. Look For The Signs
You'll start to notice random looking street signs around the city of Florence. Make a game of it and look out for them, seeing how many you can find. They're so unique and really add some character to the city.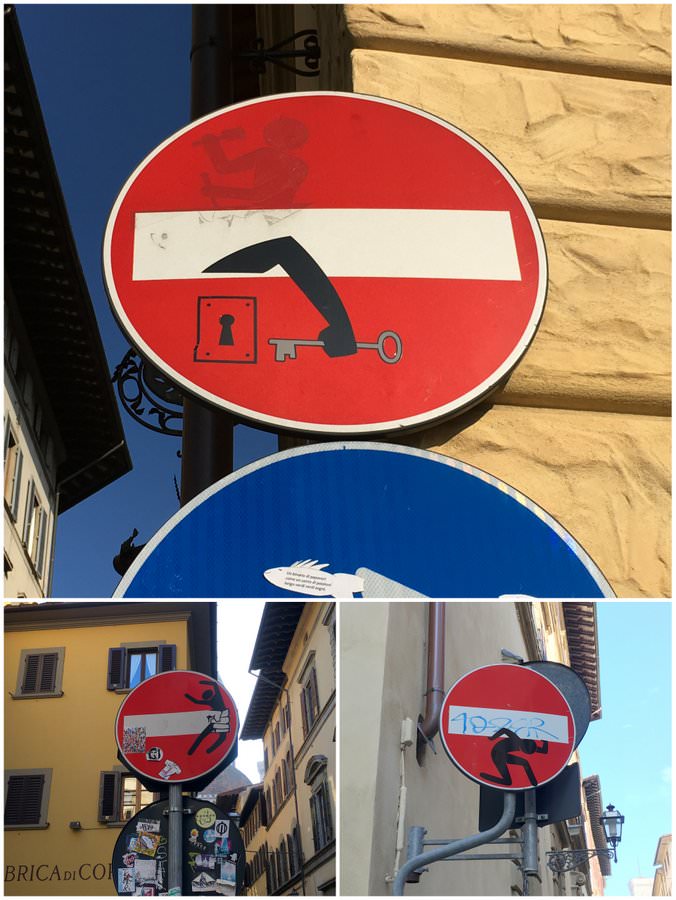 9. Check out CLET's Art Studio
Florence may be world-renowned for its Renaissance artwork and sculptures, but there's a new man on the scene: CLET. This locally based Frenchman has found a really cool way to transform otherwise boring street signs (as noted above).
All around Florence you'll notice these signs, which have sometimes been removed by authorities. Check out CLET's studio and have a chat with the artist about his unique work. Click here to learn more.
10. Explore Borgo La Croce
This street runs from Sant' Ambrogio Square to Piazza Beccaria, and is one of the best spots for pedestrians to saunter. There are so many small wine bars, artisan shops, and hidden gems here!
Don't miss the wine holes (below), the many eateries, the old homes and beautiful architecture.
11. Look For Wine Holes
Keep your eyes peeled for the "wine holes" (buchette del vino). In the past, the noble families of Florence would have large homes in the center of the city, but they also had farms and agricultural property outside of the walls.
They kept their wine in cellars, or in the basement of their homes and sold wine by the glass or jug to passersby, via the little window. Just a couple of knocks on the wooden window, pass your bottle through, and receive a full bottle back.
It's too bad these aren't in use today!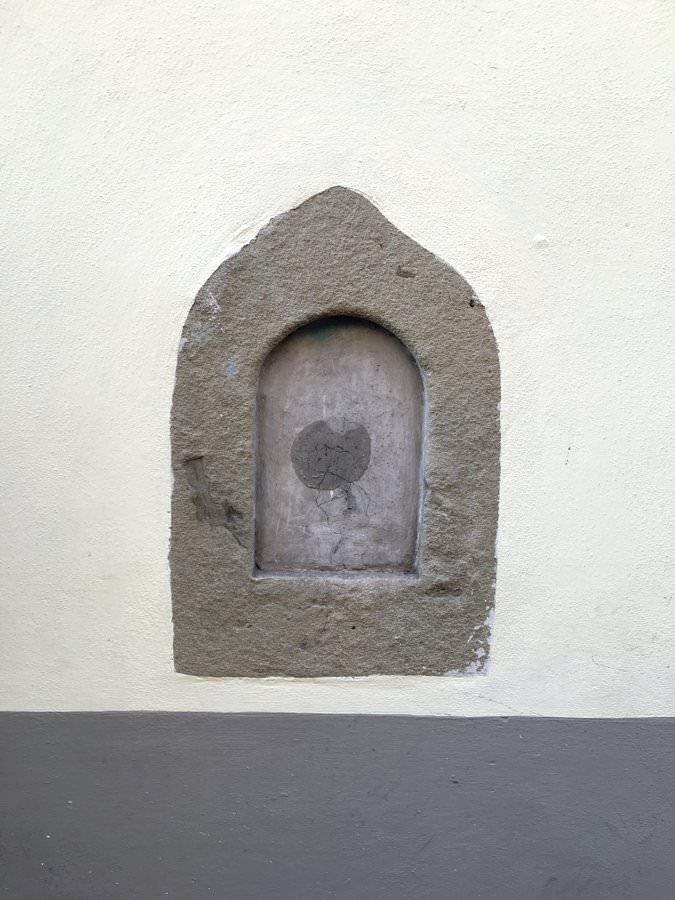 12. Visit the Viewpoint
It's nice to be right in the city and see all of the buildings and sites from ground level, but to get a great vantage point right over the entire city of Florence and the Arno River, head up to the Piazzale Michelangelo.
If you're going on a tour of the surrounding cities, often your guide will stop here. If not, take a taxi, a bus (#12 or #13), or walk.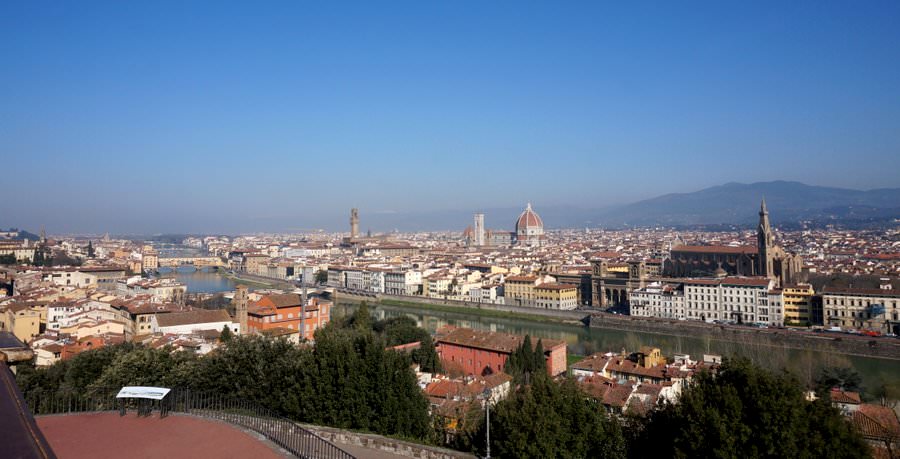 13. Head to Tuscany
Visiting the Tuscan countryside is a must. For anyone wondering what to do in Florence, put this trip high on your itinerary. No, it's not exactly in Florence but it's nice to get out of the city and explore this region.
Check out Walks Of Italy's Tuscany Wine Tour, which takes in a trip to the medieval town of Siena, Chianti winery and farmhouse (with many free drinks), delicious olive oil and bread, pasta lunch with cheese and meats, and the walled town of San Gimignano. We went on this tour and had an amazing day with new friends. Click here to learn more.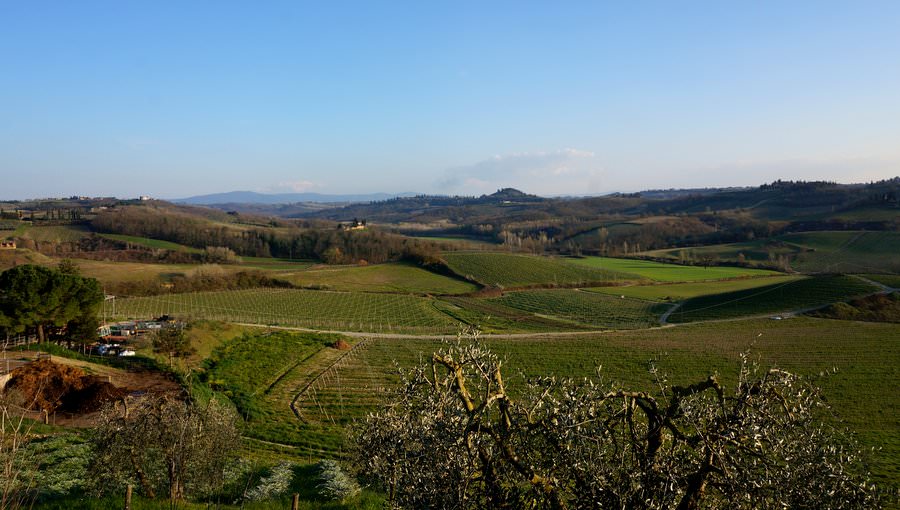 14. Get Some Exercise
Most of the things to do in Florence involve eating, drinking and wandering! Getting some exercise during your travels is a good idea as well. Hire a bicycle and explore the city at your own pace.
Florence is a good size for biking and the traffic isn't too bad. Bikes go for around 15 Euros / day.
15. Relax in Piazza della Signoria
This impressive plaza is a great place to chill out, people watch and soak in the sites. Enjoy some gelato and sit on one of the steps or fountain's edge and spend an hour or so relaxing.
In the plaza you'll find the Uffizi Gallery, a copy of Michelangelo's David, The Palazzo Vecchio ("Old Palace") and the Loggia dei Lanzi…to name a few!
16. Stroll Through Uffizi
An art enthusiast's paradise! The Uffizi Gallery is a very prominent art museum in Florence. The building alone was established in the 1500's.
Inside, you'll find pieces by the likes of Sandro Botticelli, Leonardo da Vinci, and Michelangelo. During the high season, expect to wait 5 hours (or more) in line.
Book your tickets online here to make sure you're not waiting too long in line for the Uffizi Gallery. And, if you plan on visiting other museums in Florence, have a look at this list of available tickets online.
17. Dinner and a Concert
Enjoy a fantastic local experience at the Teatro del Sale. Here you can dine on Italian cuisine, while listening to one of the many genres of music on offer – tango, rock, jazz and classical.
The nightly specials and shows are what makes this night out special…that and the fact that you'll be dining inside of a 14th century convent! Although this is a "members-only" type of place, you can purchase tickets at the door for 5 Euros. Click here for specials and to learn more.
18. Sample Regional Dishes
Food again. Sorry, but food plays such a prominent role in any trip to Italy, and Florence is no exception. There are so many amazing dishes try, don't miss these ones:
Bread and vegetable soup (Ribollita), T-Bone Steak served rare (Bistecca alla Fiorentina), Bean soup (Zuppa di fagioli) and Tripe (lampredotto). Obviously, there are many more meals to sample, but these are our top picks. Make sure you visit the best restaurants in Florence!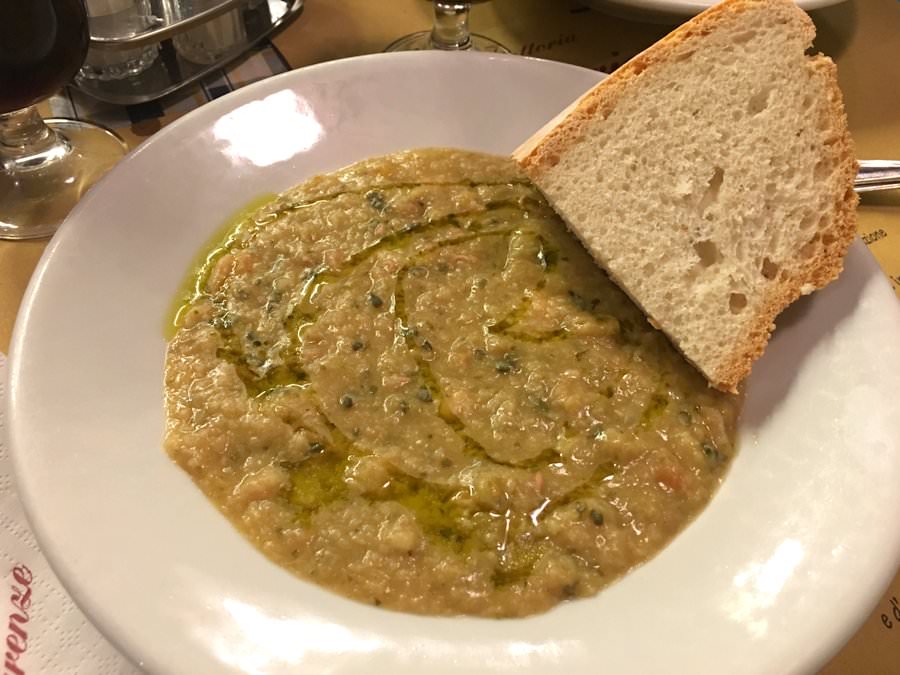 19. Gawk at Michelangelo's David
If you're going to travel all the way to Florence, you should probably visit this incredible statue at the Accadamia. Created between 1501 and 1504, and standing at 4.3 meters (14 feet), the David truly is impressive.
Note, line ups here for the David are often around the block. We waited in line for well over an hour, which isn't ideal when you're travelling – wasting precious time is never a good thing.
We recommend booking a tour for this portion of your Florence trip, so that you can skip the (massive) line-ups, and have the David all to yourself. Click here to learn more.
20. Ponte Vecchio
Even though it's busy with locals and tourists alike, the medieval, stone bridge is a must see landmark in Florence. This bridge has been around since the 1300's and has withstood, WWII bombings and floodings.
Vendors have been selling their wares here since the 14th century! You absolutely must visit this unique bridge.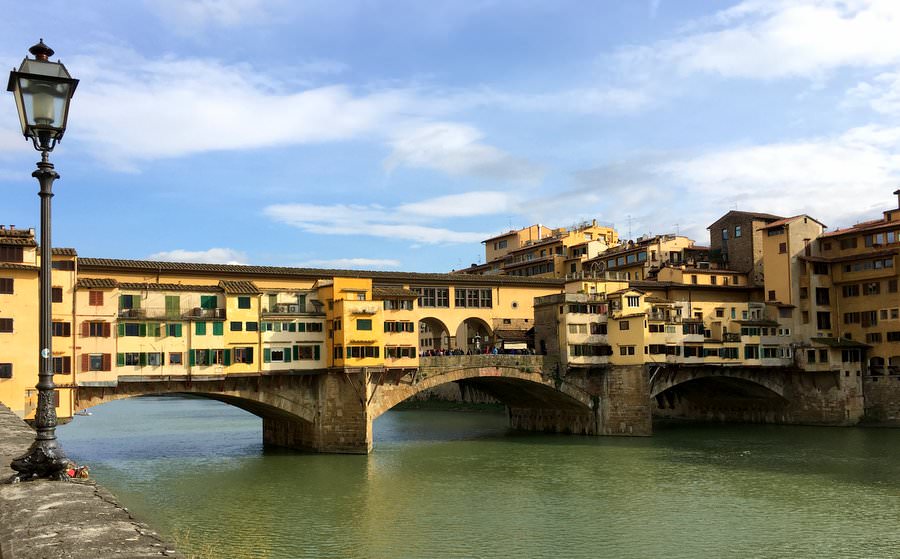 21. Drink Coffee Like a Florentine
Even the simple art of having coffee in Florence is exciting! To have your morning caffeine hit, head to one of the buzzing cafes, stand at the counter and order up a cappuccino. Italians stand at the bar, rather than sitting down – sip, chew and go.
The hustle and bustle in the mornings is quite the experience. Check out Finisterrae at the Piazza id Santa Croce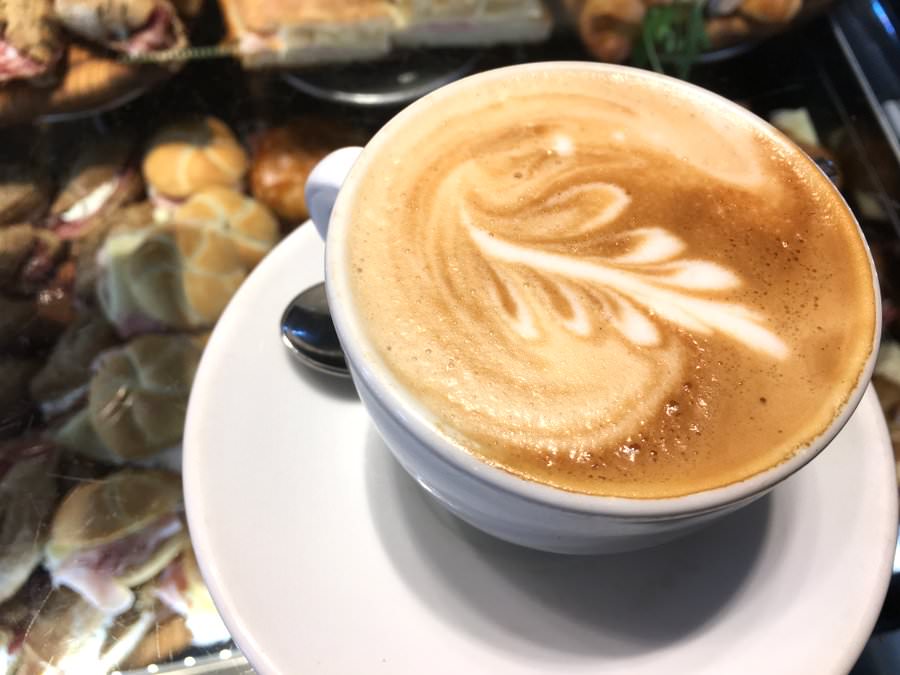 To Summarise
There you have it! Our list of 21 awesome things to do in Florence. If you're wondering what to do in the city, hopefully this list helped you out. What would you add? Share with us in the comments. Ciao!
Like This Article? Pin it!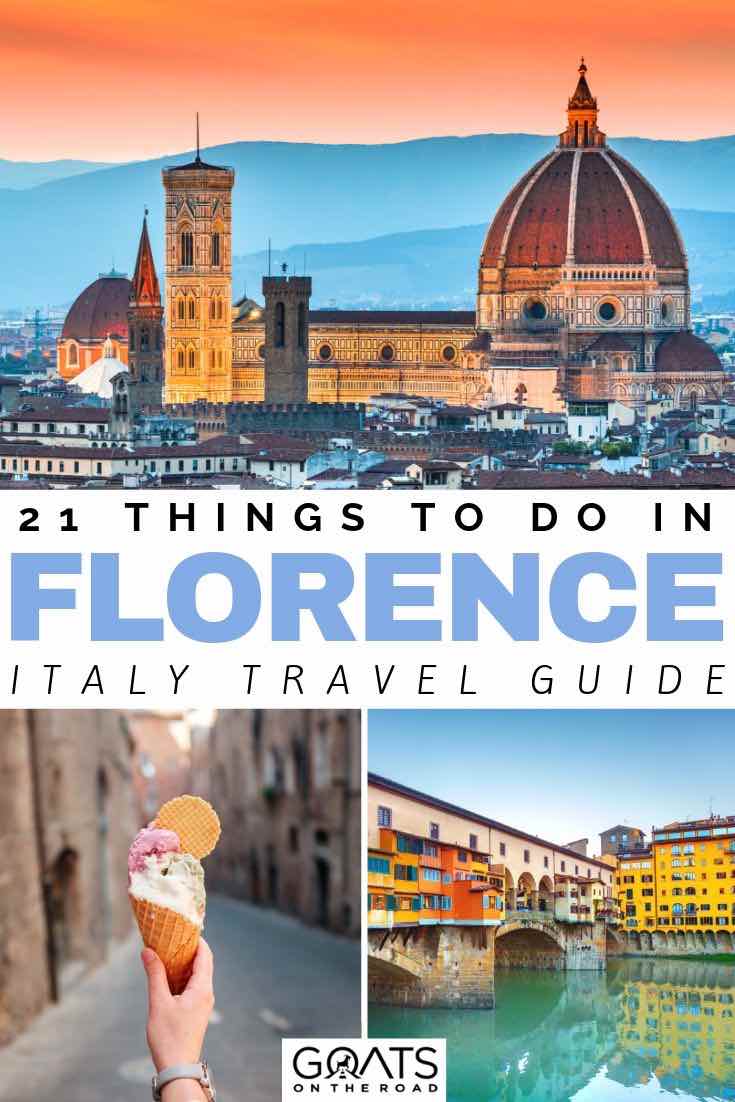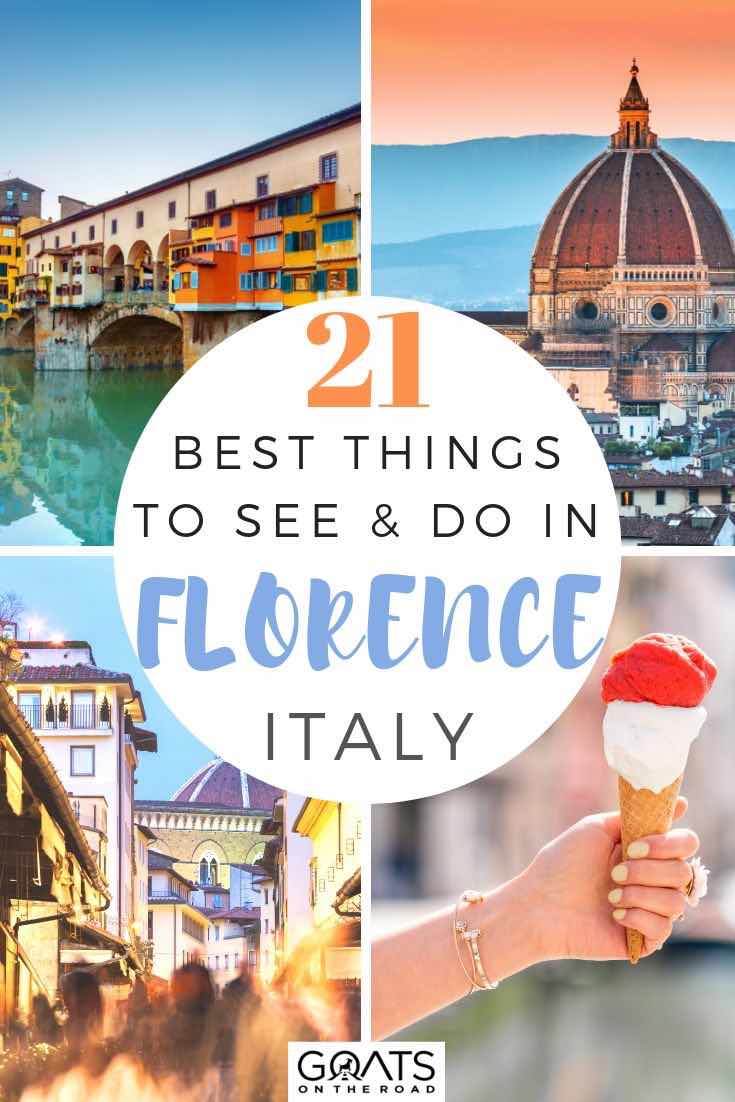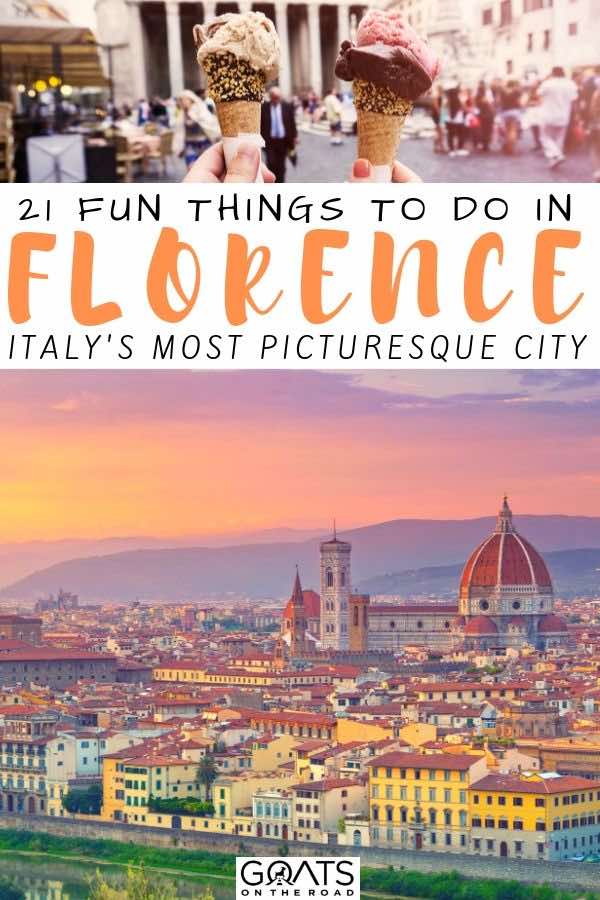 SaveSave